WWE No Mercy Results – Sep. 24, 2017 – Lesnar vs. Strowman
---
WWE No Mercy
September 24, 2017
Los Angeles, CA – Staples Center
---
Kickoff Show
Apollo Crews vs. Elias
Elias was in the ring to sing a song. "They say this is the city of angels. City of angels? As far as I'm concerned, I'm in hell." He then sang a song about how he can't stand LA until he was interrupted by Apollo Crews's entrance theme. Apollo was accompanied by Titus O'Neil.
After an evenly-matched basic WWE match, Elias won with the Drift Away. After the match, Elias stared down Titus O'Neil then started stomping on Apollo Crews until Titus ran in to check on him.
Winner: Elias (~8 minutes)
---
WWE Intercontinental Championship
The Miz (c) vs. Jason Jordan
Bo Dallas and Curtis Axel accompanied The Miz, but no Maryse. The crowd seemed to be well behind Miz even though Jason Jordan rules. Jordan hit a bunch of cool suplexes, while Miz did his regular basic move set of kicks, punches, etc.
Bo Dallas tried to interfere on the outside, but Jordan gave him an overhead belly to belly into Axel and Miz. Jordan hit Miz with another big belly to belly, then speared him in the corner. Bo Dallas ran into the ring and the referee tried to remove him. Jordan rolled up Miz but the referee was distracted. Curtis Axel then nailed Jordan, and Miz hit the Skull Crushing Finale for the win. Pretty good match, mostly due to Jason Jordan.
Winner: The Miz (~10 minutes)
After the match, Jason Jordan was interviewed in the ring by Renee Young. Jordan said he still doesn't respect Miz and wants a rematch. He said when Kurt Angle comes out, the crowd lovingly chants "you suck," but the Miz "really does suck." Crowd was booing him for some reason like a bunch of dickheads, which seemed to fluster him a little. Jason Jordan rules… Terribly-written promo though.
---
Finn Bálor vs. Bray Wyatt
Wyatt attacked Balor from behind before the match started. A bunch of referees came down to stop the beat-down and help Balor. Michael Cole talked about Balor's ribs being injured from the attack. The refs started to help Balor back down the aisle, but Wyatt got on the mic and said Balor was no demon, he was a coward. Balor then ran in and the match was officially underway. Balor had new pale greyish-blue tights and knee pads.
They kept mentioning Balor's "injured ribs" throughout the match and Wyatt worked on them. After a few minutes, Wyatt went for Sister Abigail, but Balor reversed and hit a double stomp down onto Wyatt. Coup de Grace from the top, but Wyatt kicked out. Wyatt regained control for a couple of minutes, but Balor fought back with a dropkick into the corner and another Coup de Grace for the win. Pretty good match. Way better than their last few matches.
Winner: Finn Balor (~11 minutes)
---
WWE Raw Tag Team Championship
Seth Rollins and Dean Ambrose (c) vs. Cesaro and Sheamus
Early in the match, Cesaro was catapulted into the ring post and got his two front teeth literally knocked out. Crazy… Mouth bleeding, two (or more) teeth completely missing, gross…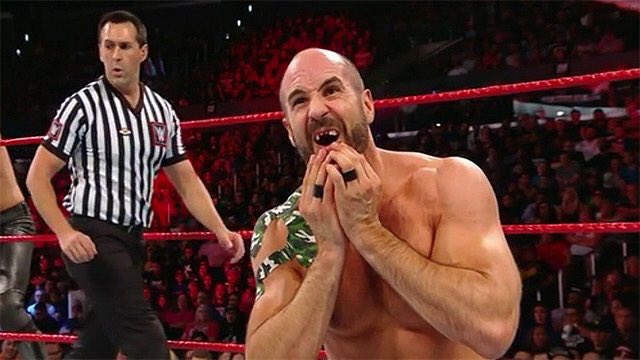 Cesaro seemed to stay out of the match for a bit, but then got involved a lot. He came in and locked on a Sharpshooter on Ambrose, then a crossface, which gave us a good look of his gross teeth and bloody mouth injury.
Sheamus hit White Noise on Ambrose, then Cesaro powerbombed Rollins off the middle rope onto Ambrose, but Ambrose kicked out. The crowd came to life. Sheamus went for a Brogue Kick on Ambrose, but he ducked and Sheamus nailed Cesaro with it. Rollins hit his knee finisher on Sheamus, and Ambrose hit the Dirty Deeds for the win. Pretty brutal match with Cesaro dripping blood out of his mouth throughout. Good PPV so far.
Winners: Seth Rollins and Dean Ambrose (~16 minutes)
---
WWE Raw Women's Championship
Fatal 5 Way Match
Alexa Bliss (c) vs. Bayley vs. Emma vs. Nia Jax vs. Sasha Banks
A few minutes in, Nia Jax hit a cool double Samoan Drop onto Alexa Bliss and Sasha Banks, holding both women on her back and dropping them both. Later, Alexa and Emma teamed up to take out Sasha Banks, but Alexa Bliss immediately turned on Emma. Nia Jax then got powerbombed off the apron to the outside (after being hit with a double dropkick), landing on the back of her head.
Banks hit a Backstabber into the Bank Statement onto Alexa, but Bayley broke it up. Bayley to Belly onto Alexa, but Sasha broke it up. Nia Jax then came in and hit a big leg drop onto Sasha, but Emma broke it up. Alexa then threw Emma out of the ring. Nia tried to spear Alexa, but Alexa moved and Nia went shoulder-first into the ring post. Alexa then hit a DDT onto Bayley for the win.
Winner: Alexa Bliss (~10 minutes)
Alexa was interviewed after the match and she said there's only one true champion, the Goddess Alexa Bliss.
---
John Cena vs. Roman Reigns
The crowd chanted "you both suck" and Cena started walking back down the aisle as if to leave the match… OK. Reigns followed him down and they started fighting. The crowd seemed to mostly be behind Cena, but the reactions were very mixed.
After a few minutes, Reigns went for the Superman Punch, but Cena reversed and locked on an STF, but Reigns escaped and powerbombed Cena. Reigns dived at Cena, but Cena caught him and hit the AA, but Reigns kicked out. Cena went to the top but Reigns caught him with a botched powerbomb. Superman punch, but Cena kicked out. Reigns went for a spear, but Cena moved and Reigns hit the ring post. Cena then nailed a big AA off the middle rope. 1-2-no.
The crowd chanted "one more time," but Cena waved them off, then smiled and winked at the camera and went outside to clear off the Spanish and German announce tables. He went for another AA on top of the table, but Reigns wriggled free and speared Cena through the table. Reigns landed right on top of his head, damn. Reigns rolled Cena into the ring for a pin, but Cena kicked out.
Reigns taunted again in the corner and ran at Cena, but Cena picked him up and hit an AA. He then rolled through and hit another AA… 1-2-no. Cena couldn't believe it. Superman punch out of nowhere… then a spear… 1-2-3.
Winner: Roman Reigns (~22 minutes)
After the match, they stood in the ring and stared each other down. Cena grabbed Reigns' arm and raised it, then they hugged each other. The crowd mostly booed, then started to clap a little. Reigns' theme hit as he walked down the aisle and a tired Cena sat down in the corner of the ring. After Reigns left, Cena stood up and the crowd gave him mostly a standing ovation. He then bowed and waved, then gave his arm band to a little boy in the front row before "saluting" the crowd and leaving. Seems like he's going to take some time off again.
---
Backstage: The Miz and Kurt Angle
You heard it here FIRST: @mikethemiz will host @WWERomanReigns TOMORROW NIGHT on #MizTV to KICK OFF Monday Night #RAW! #WWENoMercy pic.twitter.com/0u9VsJHQZY

— WWE (@WWE) September 25, 2017
Backstage, The Miz spoke to Kurt Angle and told him that he wanted to interview Roman Reigns on Miz TV tomorrow on Raw. Angle said that was a good idea and booked it.
---
WWE Cruiserweight Championship
Neville (c) vs. Enzo Amore
Corey Graves and Vic Joseph were on commentary for this match. Enzo Amore was dressed in a black and white striped suit like Beetlejuice. Enzo said that Neville was the ugliest of all the Cruiserweights and he looked like if Gollum and Frodo had a baby. He said he was going to take his Cruiserweight title and finally show her a good time, and some other stuff.
Neville dominated about 99% of this match. After a few minutes, he went up for the Red Arrow, then changed his mind and went for a Phoenix Splash, but Enzo moved out of the way. Enzo then jumped off the top rope and hit a DDT, which Vic Joseph called a "DD-G," but Neville kicked out. Enzo ran at Neville, but Neville kicked him in the head and threw him over the crowd barricade. Enzo grabbed the Cruiserweight title and ran into the ring with it. The referee told him to give it to him, and he did. The ref went to remove the title from the ring, and while his back was turned, Enzo kicked Neville square in the balls. 1-2-3.
Winner and new Cruiserweight Champion: Enzo Amore (~11 minutes)
---
WWE Universal Championship
Brock Lesnar (c) vs. Braun Strowman
At the start, Lesnar charged at Strowman, but Strowman grabbed him by his throat and threw him down. Lesnar got up and laughed it off then charged again, but Strowman tossed him away easily. Lesnar got up again and hit Strowman with a German suplex, but Strowman immediately got up and chokeslammed Lesnar, then hit him with a running powerslam, but Lesnar kicked out.
Strowman had a small cut below his left eye. Strowman controlled the match for a couple of minutes until he charged at Lesnar in the corner and missed, hitting his shoulder into the ring post like he does in almost every match. Lesnar then locked on a kimura submission for a minute, but Strowman grabbed the ropes. Strowman's nipple hanging out of the top of his tank top again… don't like when that happens…
German suplex by Lesnar… and four more. He went for the F5, but Strowman escaped, then hit a running powerslam… And another running powerslam, but Lesnar kicked out. Strowman went to pick up Lesnar, but Lesnar hit him with an F5 out of nowhere… 1-2-3. Sort of a weird, unexpectedly abrupt finish that kinda fell flat with the crowd. Lesnar walked back down the aisle with Heyman as his music hit, and Strowman sat down on the floor outside, defeated, as the show came to a close.
Winner: Brock Lesnar (~9 minutes)
AUTHOR'S LINK: