December 17, 2017
Boston, MA – TD Garden
Commentary: Tom Phillips, Corey Graves, Byron Saxton
---
---
Kickoff Show
Zack Ryder vs. Mojo Rawley
Mojo dominated this match early on. He grabbed Zack Ryder and asked him, "Where is your killer instinct?" Ryder slapped him in the face and took control of the match, hitting a flurry of offense until Mojo hit him with a chop block to the knee, then a running forearm to the side of the head for the win. Mojo intensely screamed at Ryder after his win.
Winner: Mojo Rawley (~7 minutes)
---
WWE Intercontinental Championship – Triple Threat Match
Baron Corbin (c) vs. Bobby Roode vs. Dolph Ziggler
The crowd was well behind Bobby Roode and seemed to hate Corbin and Ziggler. A few minutes in, Corbin hit Deep Six on Roode, but he kicked out. Later, Ziggler went for a superkick on Roode, but he moved and hit Ziggler with a spinebuster, then went for a Glorious DDT, but Ziggler reversed into a DDT of his own for a near fall.
Later, Roode finally connected with a Glorious DDT on Ziggler, but Corbin pulled him out of the ring during the pinfall, then hit Roode with a backbreaker on the outside. In the ring, Corbin went for the End of Days on Corbin but Ziggler somehow jumped on and hit Corbin with a Zig Zag for the win…
Winner and new WWE United States Champion: Dolph Ziggler (~13 minutes)
---
Backstage: Shane McMahon and Daniel Bryan
#SDLive Commissioner @shanemcmahon is a little confused as to how tonight's tag match is going to work with TWO referees… #WWEClash pic.twitter.com/SVcEM3HxtZ

— WWE (@WWE) December 18, 2017
Backstage, Shane McMahon and Daniel Bryan had a lot of extremely unnatural dialogue, recapping how they ended up as referees for the match tonight. Shane McMahon said that he'd be back later and they would discuss a gameplan for how they would both referee the match.
---
Backstage: Baron Corbin
Backstage, Corbin was asked if he was earning a reputation for squandering opportunities. Corbin was angry and said that he didn't squander anything; he was robbed.
---
WWE SmackDown Tag Team Championship – Fatal 4-Way Match
The Usos (c) vs. The New Day vs. Chad Gable and Shelton Benjamin vs. Rusev and Aiden English
Aiden English introduced Rusev and the crowd chanted "Rusev Day." Aiden then sang a "12 Days of Christmas" parody, the "12 Days of Rusev," which the crowd was pumped about. English then asked if they wanted an encore and the crowd cheered, so he started singing again, but was interrupted by Gable and Benjamin. The Usos came out and screamed some shit, then the New Day came out and handed out pancakes to the crowd at ringside.
The match was all over the place for the first 10 minutes or so. Rusev locked on the Accolade on Gable, but Big E broke it up. Rusev then locked it onto Big E, but Gable broke it up and hit a huge German suplex on Rusev, then a huge German on Aiden English, then a roll through sick German suplex on Big E. He tried to hit one on Jimmy Uso, but Jey Uso was tagged in and nailed him with a superkick. Big splash off the top rope by Jimmy Uso for the pin on Gable. Good ending. Chad Gable rules…
Winners: The Usos (~13 minutes)
---
WWE SmackDown Women's Championship – Lumberjack Match
Charlotte Flair (c) vs. Natalya
The lumberjacks were given their own entrances… Naomi, Carmella, Lana and Tamina, The Riott Squad.
Natalya did her "yeaaaaaaaaaaaaaaaaaaa" thing… piercing my ears… God… A few minutes into the match, Charlotte was thrown outside and the lumberjacks all started to attack her, then started to fight each other until Naomi got into the ring and dived onto everyone. Another "yeaaaaaaaaaaaaaa" thing from Natalya… Head hurts…
Natalya locked on a Sharpshooter, but Charlotte grabbed the rope to break it up. Lana and Tamina dragged her out of the ring and attacked her, then all the lumberjacks started fighting again.
Suddenly, Carmella grabbed her Money in the Bank briefcase and slowly climbed into the ring, but Ruby Riott attacked her. They all started fighting on the outside again until Charlotte hit a top rope moonsault onto them. Natalya attacked her though and brought her into the ring and tried to lock on the Sharpshooter again, but Charlotte reversed and locked on the Figure Eight… Natalya tapped.
Winner: Charlotte Flair (~11 minutes)
After the match, Natalya was interviewed in the ring. She said that Charlotte used her family's name to cut corners. She said that she has carried the entire division for 10 years and everyone has treated her with nothing but disrespect. "The WWE Universe wants to turn their back on me? The women want to turn their back on me? Well, now I'm turning my back on all of you." She then stormed out of the ring "crying" as the crowd mostly cheered.
---
Backstage: The Singh Brothers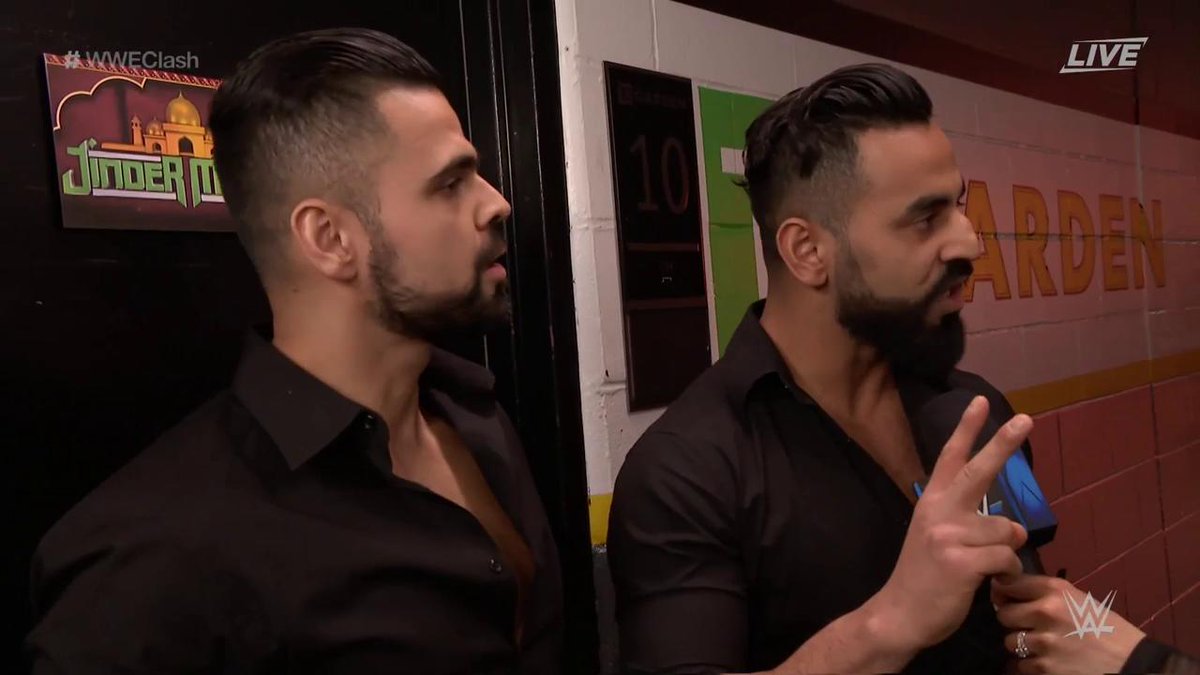 Backstage, the interviewer knocked on Jinder Mahal's locker room, but the Singh Brothers came out and said that he was meditating and can't be disturbed. They said he's so confident, that he doesn't even need their help. They were asked if that means they won't be at ringside, and they said you'll just have to watch to find out.
---
Breezango vs. The Bludgeon Brothers
Breezango got in a small bit of offense at the start of the match, but the Bludgeon Brothers took control easily, as if swatting away flies. They then hit a double chokeslam on Fandango and won in about 2 minutes…
Winners: The Bludgeon Brothers (~2 minutes)
The Bludgeon Brothers then cut a really corny ass promo in the ring after the match, saying really "deep things" like "The Bludgeoning is just beginning," like the video promos that were played before their debut. The crowd chanted "what" after each thing they said.
---
Backstage: Kevin Owens and Sami Zayn
"The Sami and Kevin Show is not getting canceled any time soon…"@FightOwensFight & @SamiZayn are confident heading into their showdown with @RandyOrton & @ShinsukeN at #WWEClash! pic.twitter.com/Lp7erScxzv

— WWE (@WWE) December 18, 2017
Kevin Owens and Sami Zayn were interviewed and Sami said that Daniel Bryan was the only reasonable person on SmackDown and that's why he made himself a referee. Kevin Owens said that Bryan knew that Owens and Zayn were A+ talent. Sami said that the "Yep Movement" rages on. The interviewer asked what if they don't win and are fired? They both stared at her, disgustedly.
---
Special Guest Referees: Shane McMahon and Daniel Bryan
Randy Orton and Shinsuke Nakamura vs. Kevin Owens and Sami Zayn
Owens and Zayn controlled most of the match early on and the first 10 minutes or so of this match were really slow and uneventful. Nakamura finally got the "hot tag" and hit a bunch of kicks on Owens and Zayn, but the crowd seemed too tired to really care.
Zayn went for a Helluva Kick on Nakamura, but Nakamura kicked him away. Zayn was able to hit a Blue Thunder Bomb, though, for a near fall. On the outside, Owens and Zayn cleared two announce tables… Owens stood on one, then hit a frog splash onto Nakamura through the other table.
In the ring, Orton hit Zayn with a DDT, then called for the RKO… and nailed Zayn with it. Shane went for the count, but Daniel Bryan was shoved by Kevin Owens and fell into Shane, breaking up the pin. Shane got in Bryan's face, angrily yelling at him. Owens came up from behind but Orton hit him with an RKO.
Zayn then rolled up Orton and Bryan counted, but Orton reversed and Shane counted. They took turns with roll ups until Zayn rolled Orton up again and Shane started to count, but abruptly stopped at two, "screwing" Zayn. Daniel Bryan then got in Shane's face and they started to argue.
Orton came up from behind and tried to hit an RKO on Zayn, but Zayn escaped and rolled him up. Bryan counted to three really fast and Owens and Zayn won.
Winners: Kevin Owens and Sami Zayn (~22 minutes)
After the match, Shane sat in the ring, despondent.
---
WWE Championship
AJ Styles (c) vs. Jinder Mahal
Jinder was accompanied by the Singh Brothers, who remained at ringside for the match. Jinder controlled the match early on, for the first 10 minutes or so, working on AJ Styles' ribs. Styles tried to fight back and went for a Phenomenal Forearm, but Jinder tripped him up as he tried to springboard off the top rope and Jinder continued to slowly work on his ribs…
Styles again finally started to fight back and went for the Styles Clash, but Jinder broke it up and regained control again. Each time Styles would try to fight back, Mahal would attack his ribs.
Mahal sat on the top rope and tried to hit Styles with Khallas, but Styles broke free, then hit a springboard 450 splash. The Singh Brothers then tried to drag Jinder out of the ring, but AJ took them out with an over the top rope dive, then hit a Styles Clash on one of them on the outside.
Styles went for a Phenomenal Forearm, but Jinder moved and hit a knee into Styles' back, then hit a Khallas. 1-2… Styles kicked out. Weird, slow count by the ref.
Jinder went for a Styles Clash of his own, but AJ escaped and locked on the Calf Crusher. Jinder reached for the ropes, but AJ rolled him back into the middle of the ring… and Jinder tapped.
Winner: AJ Styles (~23 minutes)