June 17, 2018
Rosemont, IL – Allstate Arena
---
Kickoff Show – SmackDown Tag Team Championship
The Bludgeon Brothers (c) vs. Luke Gallows & Karl Anderson
Shockingly, this was another "basic WWE tag match." Harper and Rowan beat down on Anderson for a while until he made the hot tag to Gallows. Gallows and Anderson tried to hit the Magic Killer, but it was broken up, and the Bludgeon Brothers hit their double team powerbomb for the win. Whatever.
Winners: The Bludgeon Brothers (~7 minutes)
---
Daniel Bryan vs. Big Cass
A few minutes in, Cass started to favor his injured knee and Bryan capitalized on that, slamming his knee into the ring post a few times. Bryan then locked on the Yes Lock, but Cass was able to grab the rope. Bryan hit a few Yes Kicks, then led a "Yes" chant and ran at Cass, but Cass caught him with a big boot for a near fall. Cass set Bryan up in a torture rack, then tried to toss him off, but Bryan landed on his feet and nailed Cass with a flying knee, then locked on a leg lock submission and Cass tapped. Pretty OK match to start the show (much better than their last match) and the crowd was really into it.
Winner: Daniel Bryan (~16 minutes)
---
Backstage: The New Day, Kevin Owens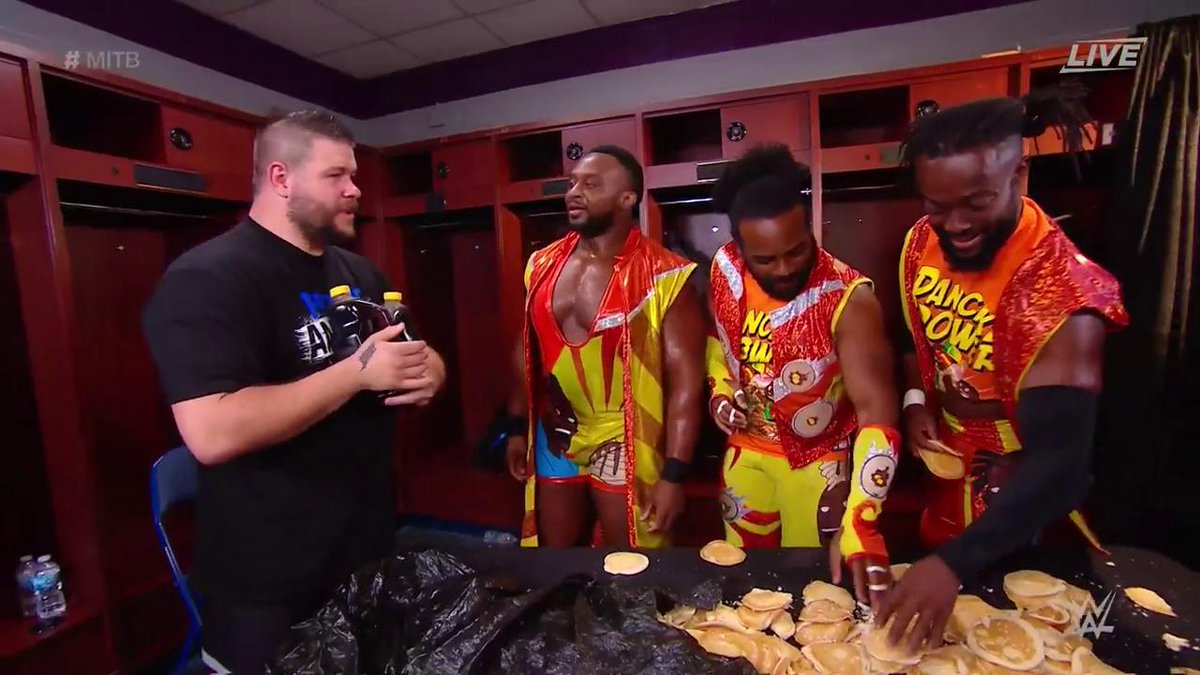 Backstage, The New Day were talking strategy when Kevin Owens came in and dropped a garbage bag full of pancakes on their table, which made them happy. Kevin Owens suggested that they help him take out Braun Strowman and they asked him to sit down over the pancakes and talk. Owens said that he doesn't like pancakes and also said that he doesn't like cereal and that their cereal sucked. They got angry and told him to get out of their locker room. Owens said that he was glad IHOP changed their name to IHOB and he hates them and he hates Chicago.
---
Bobby Lashley vs. Sami Zayn
After a standard back and forth match for a few minutes, Lashley hit two of his delayed vertical suplexes… then picked Zayn up and hit him with a third. 1-2-3. Weird, short match that made Zayn seem like a jobber.
Winner: Bobby Lashley (~6 minutes)
---
Intercontinental Championship
Seth Rollins (c) vs. Elias
Elias was in the ring with his guitar. He said he knows he's in Chicago since he's surrounded by a bunch of loud-mouthed scumbags who just want attention. The crowd started chanting "we are scumbags." He started to strum his guitar to play a song, then stopped and said "You know what Chicago, you're just not worth it."
A few minutes into the match, Elias clotheslined Rollins on the apron and Rollins fell on his "neck," which the announcers pointed out was hurt from being hit with Elias's guitar on Raw previously. Elias then started to work on Rollins' neck. Rollins then landed on his knee and "tweaked it" so there was another "injured body part" story in the match.
Elias went to the top, but Rollins ran up and hit a top rope superplex, followed by a Falcon Arrow. Rollins went for a suicide dive on the outside, but Elias moved and threw him into the barricade, then the ring steps, then the post, then tossed him into the ring and hit a top rope elbow, but only got a near fall.
Elias went for Drift Away, but Rollins rolled him up for a 2 count… Elias then rolled him up for a 2 count… and then Rollins rolled him up and grabbed the tights… 1-2-3. Good match.
Winner: Seth Rollins (~17 minutes)
---
Women's Money in the Bank Ladder Match
Alexa Bliss vs. Becky Lynch vs. Charlotte Flair vs. Ember Moon vs. Lana vs. Naomi vs. Natalya vs. Sasha Banks
This was a super fast-paced match with spot after spot and hardly any down time. Early, Ember Moon hit a big springboard crossbody onto Sasha, who landed back-first into a ladder. Lana then came in and hit Ember with an X-Factor onto a ladder. Later, Charlotte grabbed a ladder and tried to climb up, but Becky Lynch ran in and grabbed the other end and the two friends started to argue over the ladder until Naomi ran in and jumped on top of the ladder and clotheslined Natalya.
Six women fought atop two ladders for a while until everyone was eventually taken out. Charlotte powerbombed Ember Moon into a ladder in the corner. Later, Lana tried to climb up, but Naomi springboarded off the ropes and onto the ladder, then kicked Lana off and got her hands on the briefcase for like five seconds, but couldn't pull it down. Becky then knocked her down and climbed up herself. Charlotte then joined her and the two of them started punching each other at the top of the ladder until Alexa Bliss pushed it down.
Later, Becky hit Charlotte with a Becksploder and got her hands on the briefcase for a couple of seconds until Alexa Bliss ran in and shoved the ladder down, sending Becky face-first into a ladder in the corner. Alexa then climbed up the ladder and grabbed the briefcase!
Winner: Alexa Bliss (~18 minutes)
---
Backstage: Kurt Angle, Paige, Baron Corbin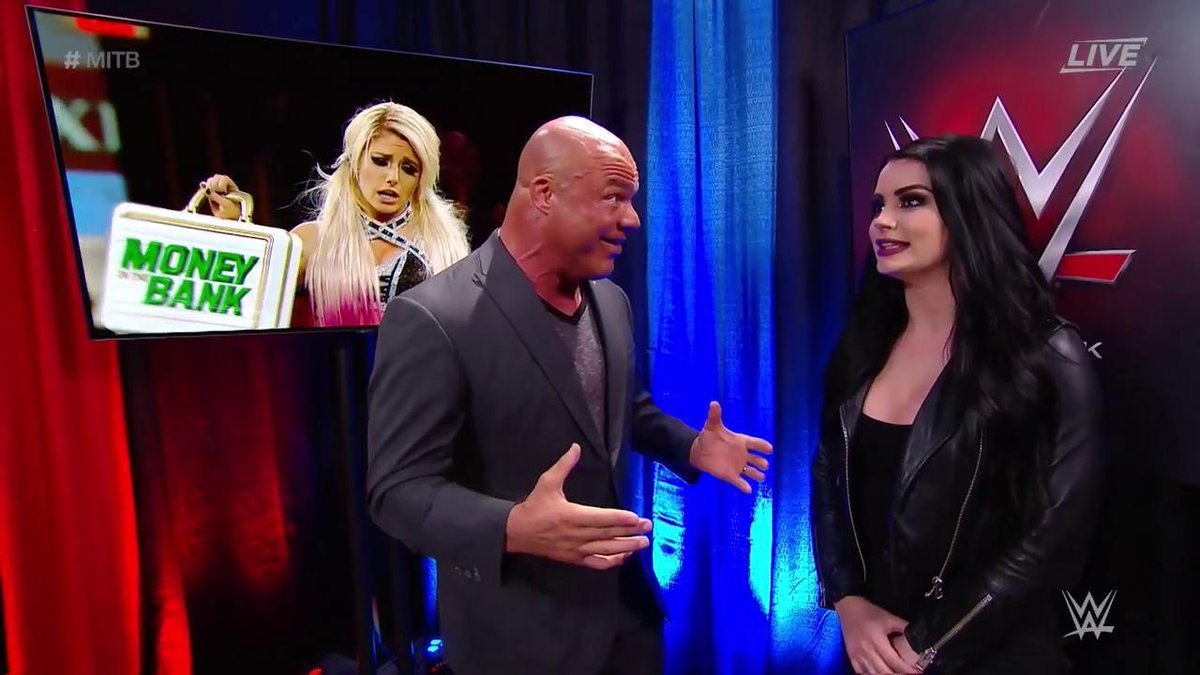 Backstage, Kurt Angle said that he was so excited that Alexa was bringing the MITB briefcase to Raw. Paige said that there was still a men's MITB left. Incredibly bad dialogue and acting.
Baron Corbin then came in and said that tonight was about bringing both briefcases to Raw and that Angle doesn't want to disappoint his boss Stephanie. Paige then took a shot at Corbin, pointing out that he failed to cash in with his MITB briefcase last year.
---
Roman Reigns vs. Jinder Mahal
Sunil Singh introduced Jinder. Sunil was in a wheelchair and had a neck brace and arm brace. Roman was booed upon his entrance, but then feels like the crowd noise volume was turned down. The bell rang and the crowd started chanting "CM Punk." Roman hit a Samoan drop and a minute into the match, the crowd chanted "boring."
On the outside, Sunil Singh suddenly got up out of his wheelchair and shoved Roman Reigns into the ringpost. Really long sleeper hold by Jinder Mahal to get the hostile crowd back. Cool. Two minute long rest hold… Jesus… Crowd booing loudly. Lots of punches and kicks and Jinder Mahal locked on another chin lock… Unbearable. Something going on in the crowd, possibly a beach ball.
The wave by the crowd. Jinder went for the Khallas, but Reigns escaped and hit a Superman punch. Reigns went for a spear, but Jinder kicked him and threw Reigns into a ringpost. On the outside, Sunil tried to toss Reigns into a ringpost again, but Reigns blocked it and hit Sunil with a Superman punch, then hit Jinder with a Superman punch. Spear on Sunil.
Roman went into the ring and Jinder rolled him up for a near fall, but Reigns got up and nailed him with a spear for the win.
Winner: Roman Reigns (~16 minutes)
---
SmackDown Women's Championship
Carmella (c) vs. Asuka
Early, Carmella tried to grab her title and walk out, but Asuka attacked her. Carmella was able to eventually take control of the match by tossing Asuka into the ring post.
Asuka regained control with some kicks when suddenly, someone dressed like Asuka (with a mask) stepped up onto the apron… Asuka looked confused as she and the person stared each other down. Carmella went for a rollup for a near fall, but Asuka kicked out then kicked Carmella away. The person removed their Asuka mask and it was JAMES ELLSWORTH!
Carmella came up from behind and kicked Asuka in the head and pinned her.
Winner: Carmella (~11 minutes)
James Ellsworth is back baby… Carmella and Ellsworth celebrated with the title.
---
WWE Championship – Last Man Standing Match
AJ Styles (c) vs. Shinsuke Nakamura
They fought outside the ring and in the crowd for what felt like the first 20 minutes of the match. Seemed like they were just killing time, not really doing anything interesting.
Finally back in the ring, Nakamura hit a reverse exploder then went for a Kinshasa, but Styles hit him with a forearm. Styles then went for a Phenomenal Forearm, but Nakamura kicked him in the head. Back outside, Nakamura suplexed Styles onto an announce table. Nakamura then stood on the third announce table, ran across and nailed Styles with a Kinshasa on top of the table. The referee counted to 9 but Styles got up off the table.
Nakamura set up a table in the corner then tossed Styles through it. The ref counted to 9 again and Styles got up. Nakamura exposed the top turnbuckle and tried to slam Styles' face into it, but he blocked him. He set Styles up on the turnbuckle and ran at him with a knee, but Styles moved and Nakamura's knee hit the exposed turnbuckle.
Styles locked on a calf crusher on Nakamura's injured knee and Nakamura started to tap, but there were no submissions in this match. Styles finally let go and Nakamura rolled to the outside. Styles grabbed a chair and went to hit him, but Nakamura nailed him with a low blow. Again, the ref counted to 9 and Styles got up.
Kinshasa on the outside… and again, Styles got up at 9. Nakamura put Styles on the announce table and lifted him up, but his knee went out and Styles shoved him off, then nailed him with a Phenomenal Forearm off the table.
Styles then went on top of the steel steps with Nakamura and hit him with a Styles Clash off the steps to the floor. Oh shit… that looked dangerous. Nakamura got up at a count of 9.9 and grinned at Styles, then shouted "come on!"… and Styles kicked him right in the nuts. Styles then springboarded off the top rope and hit a Phenomenal Forearm on Nakamura on the outside, through the table! Nice… The referee counted to 10… And Styles is the winner. Excellent match that got really good in the second half after a slow start.
Winner: AJ Styles (~31 minutes)
---
Raw Women's Championship
Nia Jax (c) vs. Ronda Rousey
Rousey started the match with some strikes but Nia quickly gained control and gave her a splash in the corner, then lifted her up, but Ronda locked on a kimura lock… but Nia lifted her up and gave her a sit out powerbomb. On the outside, Nia violently swung Rousey into the barricade. Worried that Rousey is gonna get injured by Nia… Nia then brutally slammed Rousey's head into the ring mat a few times…
Brutal/sloppy Samoan drop… Rousey was taking pretty brutal bumps. Nia then missed Rousey in the corner and did the spot where she runs shoulder-first into the ring post, like she does in almost every match. Rousey then went to the top and nailed a cross body block. Ronda then got pumped up and nailed Nia with punches and a knee strike… then nailed her with a crazy judo throw. This is actually great….
Rock bottom by Rousey, then she tried to lock on an armbar, but Nia tried to block it… but she couldn't and Rousey was about to lock it on, but Alexa Bliss ran into the ring and nailed Ronda Rousey with the Money in the Bank briefcase! The ref called for the bell.
Winner by Disqualification: Ronda Rousey (~11 minutes)
---
Raw Women's Championship – Money in the Bank Cash-In
Nia Jax (c) vs. Alexa Bliss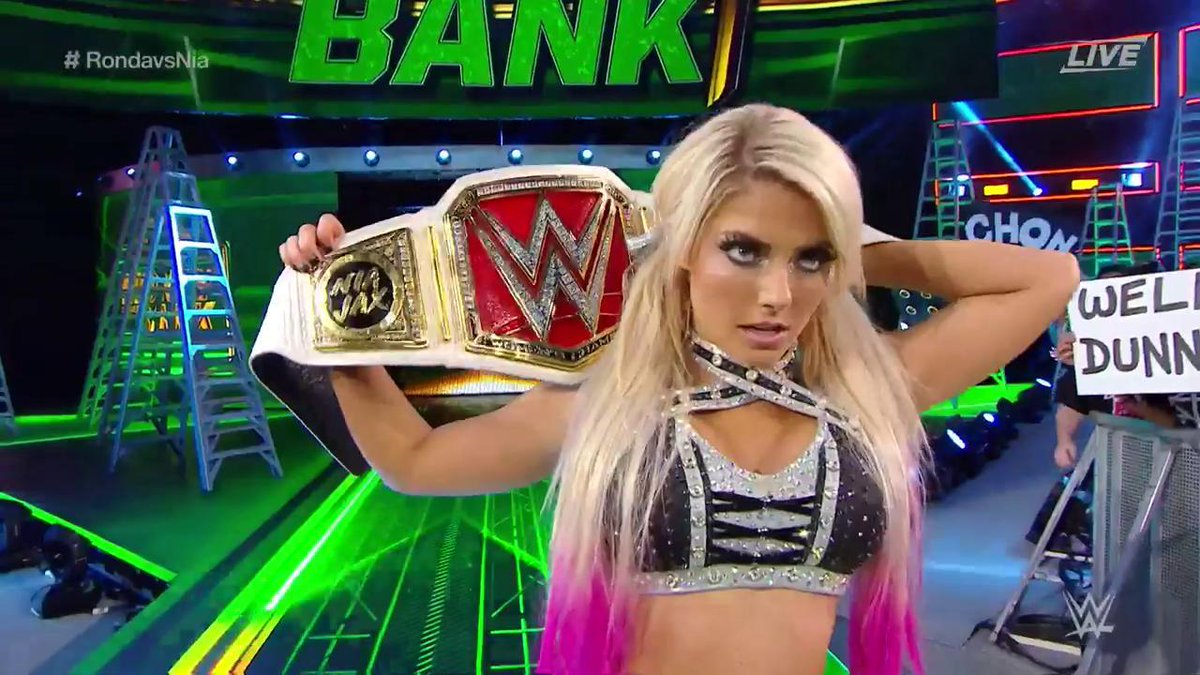 Alexa nailed Nia Jax with the briefcase, then went and nailed Ronda Rousey with the briefcase again. She then handed the briefcase to the ref and said that she was cashing in…
Alexa immediately hit a DDT on Nia, then went to the top rope… Twisted Bliss… 1-2-3.
Winner and New Raw Women's Champion: Alexa Bliss (~35 seconds)
---
Men's Money in the Bank Ladder Match
Bobby Roode vs. Braun Strowman vs. Finn Bálor vs. Kevin Owens vs. The Miz vs. Rusev vs. Samoa Joe vs. Kofi Kingston
Kofi Kingston was the member of The New Day in this match. The bell rang and everyone immediately went after Braun Strowman in the corner. They then attacked Strowman all the way down the entrance ramp and tossed a bunch of ladders on top of him.
A few minutes later, Strowman tried to get up, but everyone attacked him again. They set him up on a table as Kevin Owens climbed up a huge 15 foot ladder… but Strowman got up and knocked everyone away, then climbed up to Owens and tossed him off the top of the ladder through a table below! Strowman then ran through a horizontal ladder that was held up by Roode and Balor and bent it in half.
Later, Rusev attacked Bobby Roode and Kofi Kingston and The Miz and put all three of them on top of each other, then went to lock on a triple Accolade, but Samoa Joe locked him in a Coquina Clutch, but he was able to break free.
Later, Finn Balor climbed a ladder on the outside of the ring and jumped into the ring and nailed Bobby Roode with a Coup de Grace. Balor tried to climb up to grab the briefcase, but Braun Strowman climbed up the other side and punched him down. Kofi Kingston then climbed on Strowman's back… but Strowman eventually tossed him away and grabbed the briefcase…
Winner: Braun Strowman (~20 minutes)
---
Quick Match Results
SmackDown Tag Team Championship (Kickoff Show)
The Bludgeon Brothers (c) defeated Luke Gallows & Karl Anderson
Daniel Bryan defeated Big Cass
Bobby Lashley defeated Sami Zayn
Intercontinental Championship
Seth Rollins (c) defeated Elias
Women's Money in the Bank Ladder Match
Alexa Bliss defeated Becky Lynch, Charlotte Flair, Ember Moon, Lana, Naomi, Natalya, Sasha Banks
Roman Reigns defeated Jinder Mahal
SmackDown Women's Championship
Carmella (c) defeated Asuka
WWE Championship – Last Man Standing Match
AJ Styles (c) defeated Shinsuke Nakamura
Raw Women's Championship
Ronda Rousey defeated Nia Jax (c) by DQ
Raw Women's Championship
Alexa Bliss defeated Nia Jax (c) (Money in the Bank Cash-In)
Men's Money in the Bank Ladder Match
Braun Strowman defeated Bobby Roode, Finn Bálor, Kevin Owens, Kofi Kingston, The Miz, Rusev, Samoa Joe