October 22, 2018
Providence, Rhode Island
Commentary: Michael Cole, Corey Graves and Renee Young
Results by: Mike Tedesco of Wrestleview.com
---
In-Ring: Roman Reigns
Roman Reigns' music hits, and the WWE Universal Champion makes his way to the ring to loud boos from the crowd. The commentators talk about his triple threat match at WWE Crown Jewel against Braun Strowman and Brock Lesnar. They do not mention where Crown Jewel is taking place. Reigns is in a black shirt and jeans, not his usual attire. Reigns has an interesting look on his face. Reigns stands in the ring and chuckles at the boos. Reigns stands there for a few moments, and his eyes look red. Reigns says he feels like he owes everyone an apology. For months — maybe even a full year — he's come out and spoken as Roman Reigns. He said he'd be a fighting champion and a workhorse, but that's all lies. The camera zooms in on the championship. Reigns says the reality is his real name is Joe, and he's been living with leukemia for eleven years. Unfortunately it's back. Reigns cannot fulfill his role and will relinquish the Universal Championship.
Reigns was diagnosed at 22, but he fought and it went into remission. That was a tough time. He didn't have anything and a baby on the way. Football was done with him. Reigns puts over WWE and the fans. A loud "Thank you, Roman" chant picks up. Reigns looks moved to tears. Reigns says they all know the deal. Life is not fair. It's not all peaches and cream. Sometimes life throws you a curveball. The right thing to do is to go home and focus on his family and his health. This is by no means a retirement speech. After he's done whooping leukemia's ass once again, he's coming back home. When he does, it's not just going to be about titles and being on top. It's about a purpose. He's coming back because he wants to show the whole world, his family, friends, children, and wife that when life throws a curveball at him, he'll stand in the batter's box, crowd up on the plate, and hit for the fences. Reigns says they will see him very soon. Reigns thanks the fans and says he loves them. Believe that. Reigns puts the Universal Championship down in the middle of the ring while a "Thank you, Roman" chant picks up. Reigns leaves the ring and shakes hands with fans.
Seth Rollins and Dean Ambrose join him on the stage. They embrace. Reigns and Rollins are crying. Rollins is really holding back tears. They join fists while the crowd applauds. Ambrose looks misty eyed as well.
The commentators are holding back tears. Michael Cole's voice is quivering. Renee Young acknowledges Dean Ambrose as her husband and talks about their relationship with him. Corey Graves talks about how their families and kids play together.
---
Finn Balor vs. Bobby Lashley (w/ Lio Rush)
Finn Balor makes his entrance. Lio Rush soon follows and talks about the man that looks and smells like money. Can he get a witness for his man, Bobby Lashley? Lashley makes his entrance while Rush tries for a "Lashley" chant.
Lashley kicks and clubs Balor down before posing. Rush talks him up on a house microphone at ringside. Lashley scoop slams him for a one count. Lashley applies a nerve hold before scooping him up. Balor slides off, but Lashley grabs him by the face and backs him into the ropes. Lashley hits the ropes, but Balor dropkicks him down. Balor charges Lio Rush before chasing him around the ring. Lashley then clotheslines Balor on the floor.
We come back from the break to see Lashley applying another nerve hold to Balor. Rush is chanting Lashley's name at ringside. Balor fights up, but Lashley powers him to the corner and punches him down. Lashley poses, but Balor soon follows up with a dropkick to stun him. Balor boots him back and hits a running forearm. Lashley stays on his feet. Lashley lifts him, but Balor takes him down and hits a double stomp to the chest. Lashley eventually comes back with a Samoan Drop and tries for his big slam, but Balor rolls him up for the upset victory.
Winner by Pinfall: Finn Balor
Bobby Lashley is flipping out in the ring. Lio Rush looks absolutely stunned in the ring.
---
Backstage: Drew McIntyre, Dolph Ziggler
.@DMcIntyreWWE says he doesn't have ANY fear of @BraunStrowman…#Raw pic.twitter.com/TLbp79JdQD

— WWE (@WWE) October 23, 2018
Backstage, Ziggler thanks McIntyre for saving him last week. McIntyre says he saw the writing on the wall with Strowman. Ziggler talks about having to look over their shoulders. McIntyre says he's not afraid of Braun Strowman. After tonight, Ziggler won't have to worry about a thing. McIntyre walks off, and Ziggler wants to know where he's going. McIntyre says, "Monster hunting."
---
Sasha Banks vs. Ruby Riott
Sasha Banks was accompanied by Natalya and Bayley and Ruby Riott was accompanied by Liv Morgan and Sarah Logan. They lock up, but they cannot gain position. Banks applies a waistlock, but Riott hooks a side headlock before taking her down. Banks wrenches the arm, but Riott stomps the foot. Banks whips her off and shoulder blocks her down. Banks connects with a double knee for a two count. Riott gets to the ropes to keep her back. Riott takes her down and slams her face off the mat. Riott picks up a two count. Banks soon knees her in the face to knock her to the floor. Banks and Bayley square off with The Riott Squad at ringside, but punches are not thrown. Riott then takes Banks down.
We come back from the break to see Riott stomping Banks. Banks tries to fight back, but Riott takes her down with an STO for a near fall. Riott applies a neck vice. Banks tries to fight up, but Riott kicks her legs out from under her. Banks gets out and boots her back before knocking her into the turnbuckle. Banks knees Riott in the face and hits a pair of clotheslines followed by a dropkick. Banks hits a running double knee in the corner before following up with a meteora off the second rope. Banks hits a Bank Statement, but Riott blocks her from locking it in. Sarah Logan runs in, so Bayley cuts her off. Natalya joins in the ruckus, but Liv Morgan and Logan eventually take them down. Banks goes outside and levels Morgan and Logan with forearms. Banks gets in the ring, but Riott kicks her head-first into the turnbuckle. Riott follows up with a Riott Kick for the win.
Winner by Pinfall: Ruby Riott
---
Backstage: Nia Jax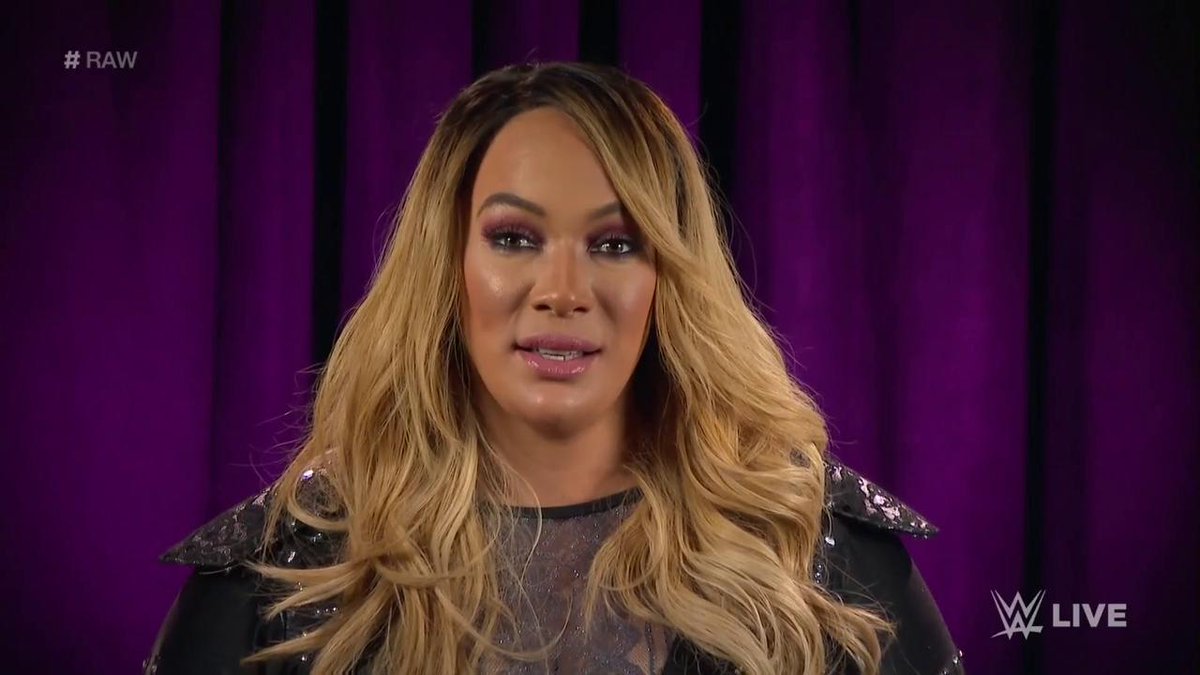 Nia Jax is shown in a pre-taped promo talking about how she won't squander her opportunity at WWE Evolution this Sunday.
---
In-Ring: Triple H, Shawn Michaels, Undertaker, Kane
D-Generation X makes their entrance to a great reaction. Triple H and Shawn Michaels get in the ring and listen to a "DX" chant. Triple H says he's been hearing the word "fear" a lot. Fear of him getting out of the boardroom or Shawn Michaels coming out of retirement. It'll take a lot more to instill fear in them than taking a GoPro, going to the basement of the Knoxville County City Hall, and going into the boiler room to make threats. Michaels says they're not running for mayor. Michaels says he's been hearing the word "nostalgia" and realized it meant "old." Triple H says Halloween is a 40 year old movie, but it's #1 at the box office. A few weeks ago they packed 70,000 fans into a stadium in Australia. Maybe old just means they're better.
Triple H says they've been running an "X" for the last twenty years. This "X" may be in the past, but there's another "X" that says they're better and speaks to the future. The future is now. Michaels says they're running that, too. An "NXT" chant picks up. Triple H says to Kane and The Undertaker that they're bringing their "X" to Crown Jewel. They're not coming to make them laugh or for nostalgia. They're coming to kick their asses. Michaels says, "And if you're not down with that, we've got two words for ya…"
The bell tolls and the lights go out. The crowd pops huge. Footage is shown from in a cemetery. The Undertaker and Kane are standing there. Undertaker says pride goes before destruction. Kane says arrogance precedes a fall. Undertaker says their reunion will be a vessel of their total annihilation. They'll bring their depravity and despair and unleash their utter contempt. Kane says Triple H should have stayed away while Michaels should have stayed retired. They can't turn back the clock or avoid the reaper. They can't survive the Brothers of Destruction. Tombstones are shown with Triple H and Shawn Michaels' names with November 2, 2018 as their end date. Undertaker says they will never Rest in Peace. They pour dirt into the gravesite.
---
The vacant WWE Universal Championship will be decided at WWE Crown Jewel with Brock Lesnar taking on Braun Strowman.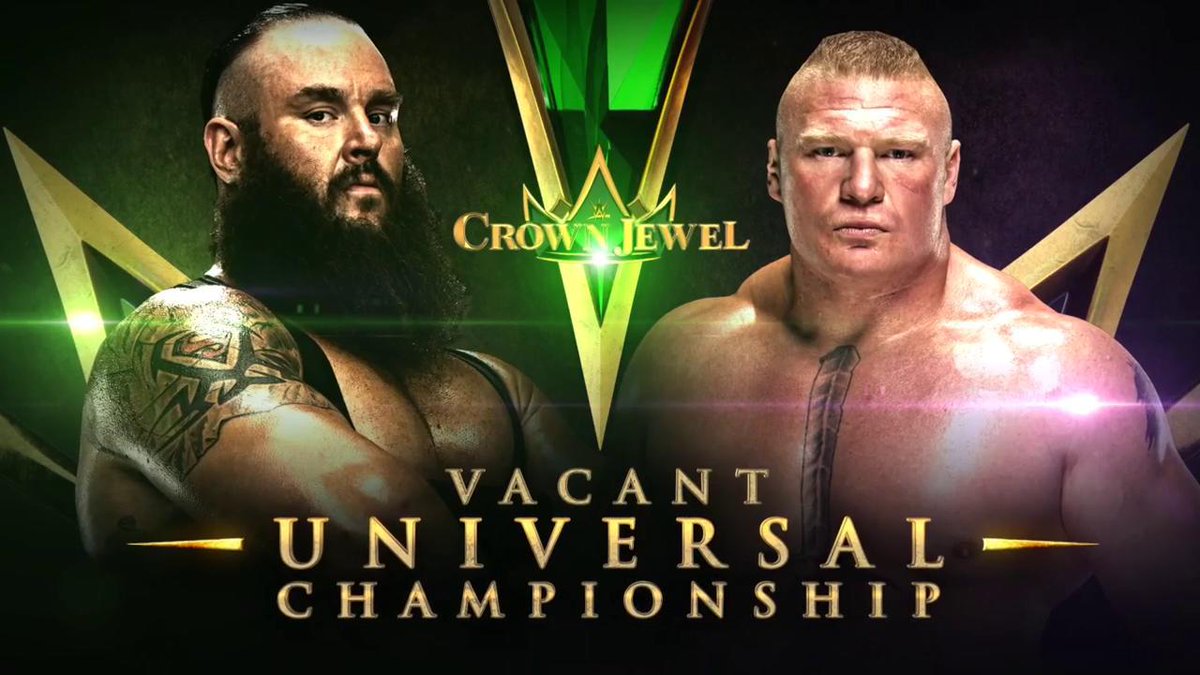 ---
In-Ring: Paul Heyman, Braun Strowman
Paul Heyman is standing in the ring looking upset. Heyman says, "Ladies and gentlemen, my name is Paul Heyman, and my thoughts and prayers are with a champion of a man you know as Roman Reigns. It is humbling to be amongst the members of that locker room tonight and to have been in the presence of such courage and greatness." Heyman is choking back tears. Heyman says when he goes home and has to explain this to his children, what he wants them to understand about this industry we all love is they witnessed sacrifice. What Reigns did tonight was sacrifice his career aspirations because he couldn't fulfill his obligations as WWE Universal Champion. The title deserves the best any champion has to offer it. The WWE Universe — fanbase — have the right to point to the Universal Champion and say, "That's the best. That's everything this presentation, this show, this industry has to offer. That's number one." Until 8:05 EST tonight, we had the right to brag that the number one was the Universal Champion.
Now what do we do? Roman Reigns does not want the title to stop because he cannot defend it. Reigns would be the first to say the show must go on. At Crown Jewel, someone will try to prove that they're worthy of the honor of being the champion. That sure as hell isn't Braun Strowman. There's only one being in that match worthy of being their champion. Lesnar will prove he's the best WWE has to offer. Braun Strowman can walk around and bill himself as a monster. His client, Brock Lesnar, doesn't bill himself as a man. He's a beast. Strowman isn't in Lesnar's league, category, or stratosphere. Strowman isn't a member of the same species.
Braun Strowman's music hits, and he makes his way to the ring looking furious. Strowman tells Heyman to tell Lesnar that he will beat his ass all over Crown Jewel. When he beats his ass, he'll bring the title back to Monday Night RAW every Monday. He's had his differences with him, but when Roman Reigns beats leukemia, he'll be first in line for a title opportunity. For right now, Brock Lesnar is gonna get these hands! Strowman raises his arms to cheers and turns into a Claymore Kick from Drew McIntyre! McIntyre walks up the ramp and looks back at Strowman. Strowman angrily gets to his feet.
---
Backstage: Drew McIntyre, Dolph Ziggler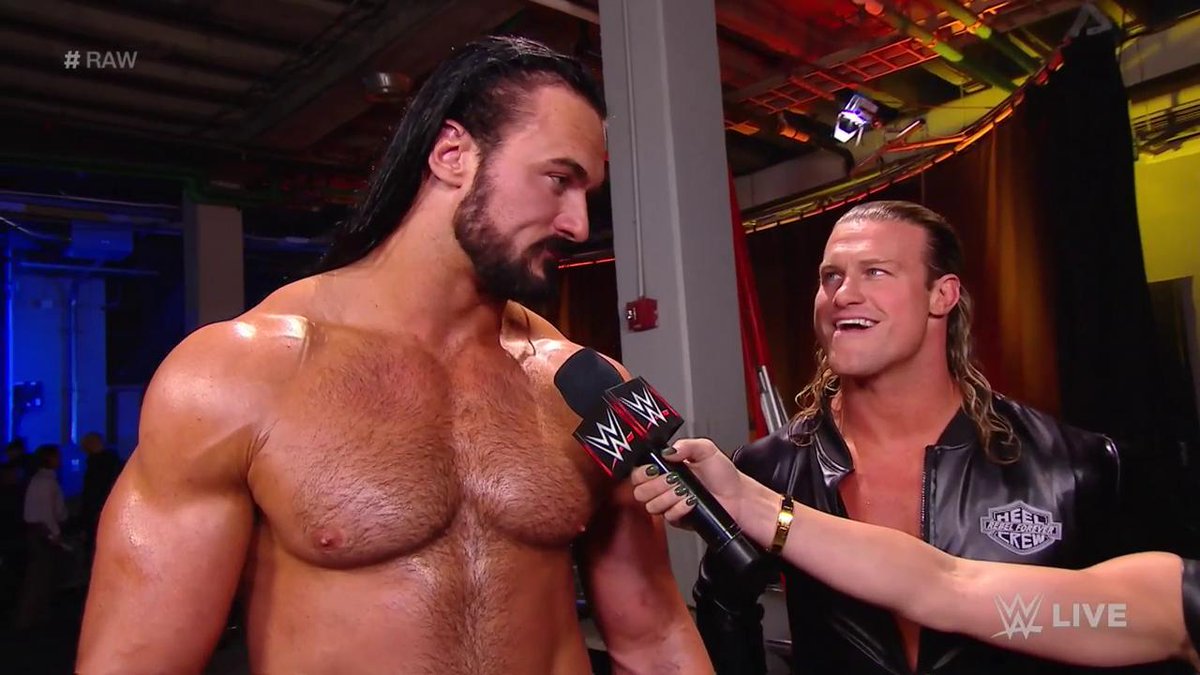 Dolph Ziggler is praising Drew McIntyre backstage for what he did to Braun Strowman. Charly Caruso asks if he's worried about repercussions. McIntyre says he's not. The roster is too scared about what ifs. Strowman received a swift kick of reality. Strowman needed them. Now they can focus on what actually matters: defending their RAW Tag Team Championships.
---
Elias vs. Apollo Crews
"Ladies and gentlemen… Elias." Elias greets the crowd and plays an awesome blues riff while the crowd claps along. They give him a great ovation for that. Elias says they are blessed because he is here. Elias has one question for everyone tonight: Who wants to walk with Elias? They're almost there, but they're not ready yet. Last week, Apollo Crews interrupted him, so he'll sing about it.
Apollo Crews' music hits, and he comes out to no reaction again. Crews will face Elias. Replays are shown of Crews taking Elias out last week. They lock up, and Crews hits a headlock takeover. Elias quickly sends him into the ropes, but Crews takes him down with a shoulder block. Crews connects with a dropkick and hits a headlock takeover. Elias fights up and whips him off. Crews sidesteps him to knock him out of the ring. Crews boots him back and hits a moonsault block off the apron.
We come back from the break to see Elias applying a chin lock. During the break, Elias booted him back. Elias keeps him grounded. Crews eventually fights up and punches him back. Crews hits an enzuigiri and boots him in the face. Crews sends him into the ropes for a jumping clothesline. Crews kips up, and the crowd boos him. Crews hits a standing shooting star press for a near fall. Crews presses him up, but Elias slides off. Crews quickly comes back with a Samoan Drop for a near fall. Crews punches the mat in frustration. Elias grabs the top rope to avoid Crews and sends him out of the ring. Crews gets back in the ring, but Elias knees him in the face and hits Drift Away for the win.
Winner by Pinfall: Elias
---
Segment: Kurt Angle
Kurt Angle is shown in a pre-taped promo. Angle says he's faced some of the best WWE superstars throughout his career. Angle thought his in-ring career was behind him. People used to debate if he was the best ever. Now he has a chance to prove he is the best ever at WWE Crown Jewel in the WWE World Cup Tournament. It won't be easy. He'll have to face Seth Rollins, Jeff Hardy, The Miz, Rey Mysterio, Dolph Ziggler, Randy Orton, and John Cena. Angle was recognized for winning an Olympic Gold Medal, won WWE Championships, and main evented WrestleMania. Angle may not be the same man he was years ago, but he'll have a chance to prove that for one night, he can be.
---
Segment: Elias, Baron Corbin
"Ladies and gentlemen, once again… Elias." Elias says he was feeling so good after his win, he wanted to give them some truth. Baron Corbin's music hits, and the Acting RAW General Manager comes out and says he needs to keep the show running. They've got a lot of things coming up. Corbin says he was talking to Stephanie McMahon, but Elias says she wants to walk with him and hear his performance. Corbin says what he has to say is far more important than his little performance on his guitar. Corbin warns him not to look at him cross. Elias works for him. If Stephanie didn't like him, he'd fire Elias. Corbin orders him off the stage. Elias looks upset. A "NO" chant picks up. Elias says while Corbin was sucking the entertainment out of the building, he was writing a song in his head. Elias tells him to shut his damn mouth.
Elias starts to sing about Baron Corbin having fear in his eyes and being a puppet with Stephanie's hand up his ass. Corbin orders production to cut Elias off. Corbin says Elias works for him and tells him to get off the stage. Elias is not happy, but he walks off to the back. Corbin turns to the crowd and looks pleased. Elias then walks out and smashes his guitar off Corbin's back! That gets a huge pop from the crowd. Corbin writhes in pain on the stage. Elias smiles and walks off.
---
In-Ring: Ronda Rousey and Nikki Bella Contract Signing
Michael Cole is in the ring, which has a table with the contract for the WWE RAW Women's Championship match at WWE Evolution this Sunday. Cole first introduces Nikki Bella, who comes to the ring with Brie Bella. Nikki throws some jabs at Brie's hands to warm up. Cole then introduces the RAW Women's Champion, "Rowdy" Ronda Rousey. She comes out smiling to a nice ovation. Rousey gets in the ring, and The Bella Twins quickly slide out. They walk off.
Rousey asks where they're going. Nikki says Rousey is here to fight, but they're here for a contract signing. The last place they'd ever fight her is in Providence, Rhode Island. Rousey says she's not here to beat them up tonight so she can make sure they sign the contract so she can beat them up on Sunday. Rousey promises not to hurt them. Unlike the two of them, her word is her bond. If they could hurt her with her arms behind her back, her mother would be ashamed of her. Nikki sneers while thinking about it, but The Bella Twins do eventually get in the ring. Rousey keeps her hands behind her back.
Nikki makes fun of Rousey for giving her word that she won't hurt them. Speaking of her mother, didn't she break her word when she said she'd win a Gold Medal at the Olympics, win championships like she did, and retire from the UFC undefeated. Rousey's mother is already ashamed of her. Nikki tells Rousey to imagine what her mother will think when a Diva beats her for her title. Rousey hands her a pen, and Nikki signs the contract. Nikki then slaps her in the face.
Rousey glares at her, but Nikki stares right back. Rousey laughs and signs the contract. Rousey says, "Come Sunday, I will end you. I give you my word." Rousey grabs her championship and walks off. The Bella Twins look concerned.
---
Backstage: Dean Ambrose, Seth Rollins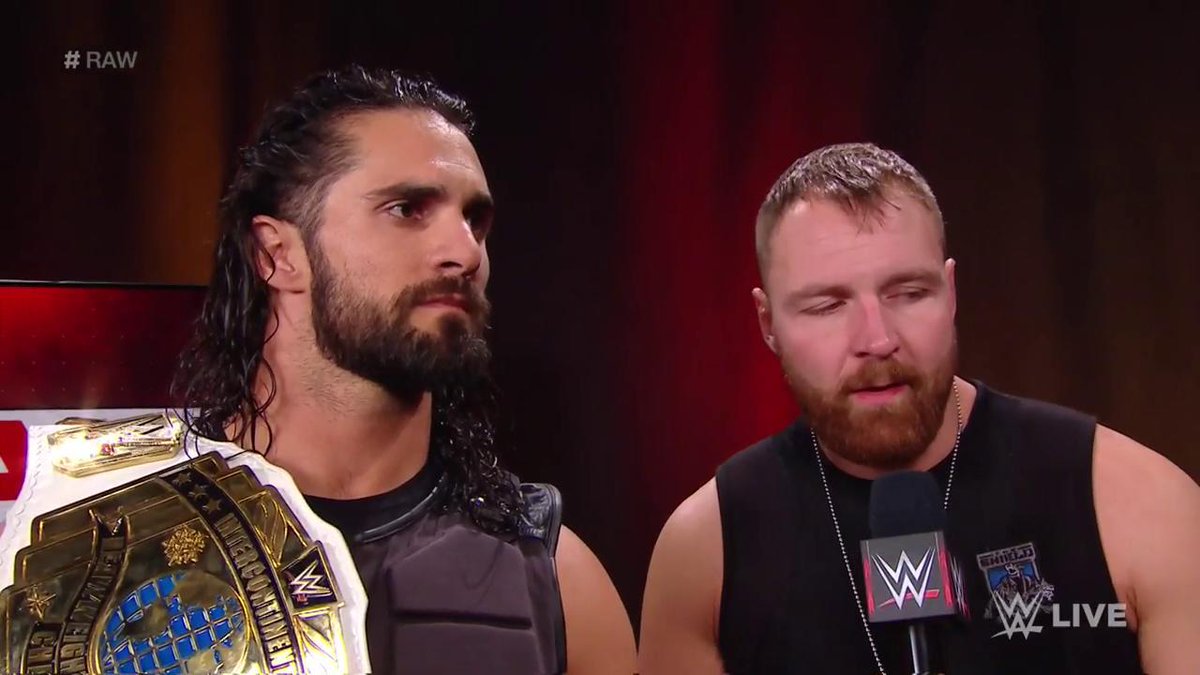 Charly Caruso is backstage with Seth Rollins and Dean Ambrose. Ambrose says there are no words to describe the ride they've been on for the last six years. There are no words to describe the ups, downs, and everything in between. When you don't know what to do or what to say, you have to do what you always do. Tonight, they'll do what they always do — win. Rollins says there are no words, but there are plenty of emotions. Tonight, they'll channel those emotions, beat Drew and Dolph, and become the new RAW Tag Team Champions. They'll do it for Roman. They love him. Believe that.
---
Fatal 4-Way Match
Nia Jax vs. Dana Brooke vs. Tamina Snuka vs. Ember Moon
Nia Jax and Tamina Snuka clear the smaller women from the ring. Brooke and Moon quickly attack, and they all square off. Brooke then rolls Moon up for a two count. Moon then shoves Brooke. Brooke punches away at her. Jax quickly scoop slams Brooke, elbows Snuka, and takes Moon down. Jax hits a rolling senton on Brooke before shouldering Snuka in the corner. Snuka sidesteps her and punches. Jax quickly comes back and tries for a Samoan Drop, but Snuka slides off and superkicks her. Moon hits Snuka with the Eclipse out of nowhere for the win.
Winner by Pinfall: Ember Moon
---
Segment: Titus O'Neil, Breast Cancer Awareness
Titus O'Neil is on the stage with breast cancer survivors. O'Neil says we are six days away from making history with WWE's all-women PPV Evolution. They're also looking to make history by defeating something else… something unacceptable. October is Breast Cancer Awareness Month. WWE is proud to be with Susan G. Komen to defeat breast cancer. A video is shown of the partnership. O'Neil mentions his grandmother succumbed to breast cancer. He's on stage with survivors. The survivors are Claire DiCenzo, Lindsay McGloughlan, Susan Lane, Monique Costa, Patrice Shelton, and Cheryl Cuddy. O'Neil says they can't have their guests come to RAW and not be cheered like champions. O'Neil tells the fans to give it up for them.
---
Backstage: Trish Stratus, Lita, Alicia Fox, Mickie James
Charly Caruso is backstage with Trish Stratus and Lita. She asks how they feel about Alexa Bliss and Mickie James taking two Attitude Era superstars lightly. Stratus says they're telling jokes, but that's not what this is about. Lita says they're ready for this. They bring out the best in each other. Alicia Fox walks up and says Bliss and James will beat them up. Lita says since she appears that she's the messenger, they have a message. Mickie James attacks them from behind, and a brawl breaks out. Alexa Bliss is not there. Referees break it up and escort Trish and Lita off. They then run back in and leave James and Fox beaten.
---
RAW Tag Team Championship
Dolph Ziggler and Drew McIntyre (c) vs. Seth Rollins and Dean Ambrose
Seth Rollins and Dean Ambrose make their Shield entrance through the crowd in tribute to Roman Reigns. They both look incredibly emotional. They'll contend for the RAW Tag Team Championships, next.
Dean Ambrose will start against Drew McIntyre. McIntyre quickly clubs him and goes for a scoop slam, but Ambrose gets out. Seth Rollins blind tags in, and they take McIntyre down. Dolph Ziggler runs in, and they hit a double-team suplex. Rollins and Ambrose clear the ring of Ziggler and McIntyre.
We come back from the break to see Ambrose drop Ziggler onto the top rope. Rollins is tagged in, and he hits Ziggler with a Sling Blade. Rollins knocks McIntyre off the apron, ducks a clothesline from Ziggler, and hits McIntyre with a suicide dive. Rollins quickly gets Ziggler out of the ring, and he hits Ziggler and McIntyre with a suicide dive. Rollins gets the crowd going before getting Ziggler in the ring. Rollins goes to the top rope, but McIntyre shoves him off. Ziggler hits Rollins with a famouser for a near fall.
McIntyre tags in and stomps away at Rollins. Ziggler tags in, and they both stomp Rollins. Ziggler applies a chin lock. Rollins fights up, so Ziggler jumps on his back to apply a sleeper hold. Rollins tries to walk himself over to his corner, but Ziggler cinches it in. Rollins gets out of the sleeper hold with a back suplex. McIntyre quickly tags in and tries for a back suplex, but Rollins chops him before hitting a step-up enzuigiri. Rollins walks toward Ambrose, but he has to sidestep an attack by Ziggler. Rollins then superkicks McIntyre out of the ring. Rollins goes for a tag, but Ziggler pulls Ambrose off the apron. Ambrose chases Ziggler around the ring, but McIntyre wipes him out. McIntyre gets in the ring, but Rollins stuns him. Rollins goes for the Stomp, but McIntyre cuts him off. McIntyre hits a reverse Alabama Slam for a near fall.
We come back from the final break of the evening to see Ambrose put McIntyre on the top rope. McIntyre blocks a superplex and punches him down. McIntyre comes off the top rope, but Ambrose moves. Rollins blind tags in. Ambrose hits a neckbreaker on McIntyre before hitting a suicide dive on Ziggler. Rollins hits McIntyre with a frog splash for a near fall. A "This is awesome" chant fires up. Rollins goes to the top rope, but McIntyre cuts him off. Rollins fights him off and hangs him in the tree of woe. McIntyre then sits up and turns Rollins inside out with a slam off the top rope. Ambrose quickly dropkicks McIntyre in the corner, but Ziggler soon tags in, pulls him out, and throws him into the barricade.
Ziggler goes to the top rope, but Rollins catches him with a superplex and a falcon arrow for a near fall. A loud "Burn it down" chant fires up. Rollins gets fired up and stomps his foot. Rollins kicks Ziggler and goes for the Stomp, but Ziggler moves. Rollins goes for a Buckle Bomb, but Ziggler rolls him up. Rollins goes for a Buckle Bomb, but McIntyre catches Ziggler. Ambrose goes for Dirty Deeds on McIntyre, but he gets out. McIntyre then hits the Claymore Kick on Ambrose. Rollins sends McIntyre out of the ring, and Ziggler sends Rollins into the ring post before hitting him with a Zig-Zag for a near fall. Ziggler cannot believe it. Ambrose pulls McIntyre out of the ring.
Braun Strowman's music hits, and he slowly walks down to the ring. The referee is accidentally taken out, and Ziggler and Rollins hit a double clothesline on one another. Strowman and McIntyre start brawling, and it quickly spills into the crowd. Strowman sends him into the barricades and chases him backstage.
In the ring, Ziggler comes to and leaves. Ziggler gets his title, but Ambrose cuts him off. Rollins hits Ziggler with the Stomp. Ambrose gets the referee in the ring, and the referee counts the pin.
Winners and new RAW Tag Team Champions: Seth Rollins and Dean Ambrose
Seth Rollins and Dean Ambrose celebrate in the ring. Ambrose then hits Rollins with Dirty Deeds out of nowhere! Ambrose gets emotional and punches the mat in frustration. The crowd is absolutely stunned. Rollins comes to and says it's ok. Ambrose then wildly attacks Rollins and yells in his face. Ambrose makes Rollins say "sorry" before attacking him again. The boos are pouring down on Ambrose. Ambrose gets out of the ring and tells him to watch his mouth talking about "Lunatic Time." Ambrose throws him into the timekeeper's area and attacks him again.
Ambrose takes the RAW Tag Team Championships and throws them onto Rollins before rolling back the padding at ringside. Ambrose attacks Rollins again and hits Dirty Deeds on the exposed floor! The crowd is completely floored. Ambrose rips off his black shirt and leaves through the crowd.
---
Quick Match Results
Finn Balor def. Bobby Lashley
Ruby Riott def. Sasha Banks
Elias def. Apollo Crews
Ember Moon def. Nia Jax, Dana Brooke, and Tamina Snuka in a Fatal 4-Way match
RAW Tag Team Championship: Seth Rollins and Dean Ambrose defeated Dolph Ziggler and Drew McIntyre (c) to become the new champions
---
E-Mail – MikeyT817@gmail.com
Twitter – @MikeTedescoWV