Results by Richard Trionfo of PWInsider.com
---
Winter Park, FL – Full Sail Live
Commentary: Mauro Ranallo, Nigel McGuinness, Percy Watson
---
Quick Match Results
Fatal Five-Way: Adam Cole defeated Matt Riddle, Ricochet, Aleister Black, and Velveteen Dream via The Last Shot on Ricochet
---
In-Ring: Triple H
Triple H makes his way to the ring and he has Goldie with him. Hunter says he does not have to remind everyone how special this place is. The building and the environment. NXT is something special. Because it is here in this ring that dreams can become possibilities. For some people, the dream starts here in this ring. For others, it takes a long time. For others, it takes years scratching and clawing for the chance to step in this ring. The reality of it is, for every man and woman who steps into this ring, that dream can end at any moment.
Hunter says he was going to announce the main event of Takeover, an epic match, years in the making. A match between Johnny Gargano and NXT Men's Champion Tommaso Ciampa. The truth is that reality has made that match an impossibility. For Tommaso Ciampa, the dream has been put on hold. Reality means that he will need neck surgery. He sits in a hospital with a neck brace on and he has had to relinquish the title.
Hunter says that when one dream ends, another dream begins. That dream begins tonight and continues for Johnny Gargano. He will move on to New York to fight for the title.
Who will be his opponent? We will find out tonight when five men will step into the ring. Former champions Ricochet, Adam Cole, Aleister Black, the current North American Champion Velveteen Dream, and the undefeated Matt Riddle. Those five men will step into this ring with an opportunity to live their dream to go to Takeover and compete for the NXT Championship against Johnny Gargano. That match has to be decisive, so it will be two out of three falls. The winner of that match will walk out of New York and into the history books as the new NXT Champion.
Hunter puts the title belt on the announce table while Mauro talks about the match at Takeover. Nigel says that it is a seismic shift in the title picture.
---
Backstage: Kona Reeves
We go outside the locker room and Kona Reeves emerges. Kona asks Cathy if she is checking him out. He is asked about the main event. He says the match will be alright.
---
Backstage: The Forgotten Sons
The #ForgottenSons are laser-focused on the finals of the #DustyClassic! #WWENXT pic.twitter.com/gTTIKQTZp9

— WWE (@WWE) March 21, 2019
The Forgotten Sons walk out and they are asked about tonight's main event. Wesley asks about their match next week. They mention that they are hoping Aleister or Ricochet win tonight because it will make things easier for them next week to win the Dusty Classic and then go on to beat the War Raiders.
---
Backstage: Ricochet, Aleister Black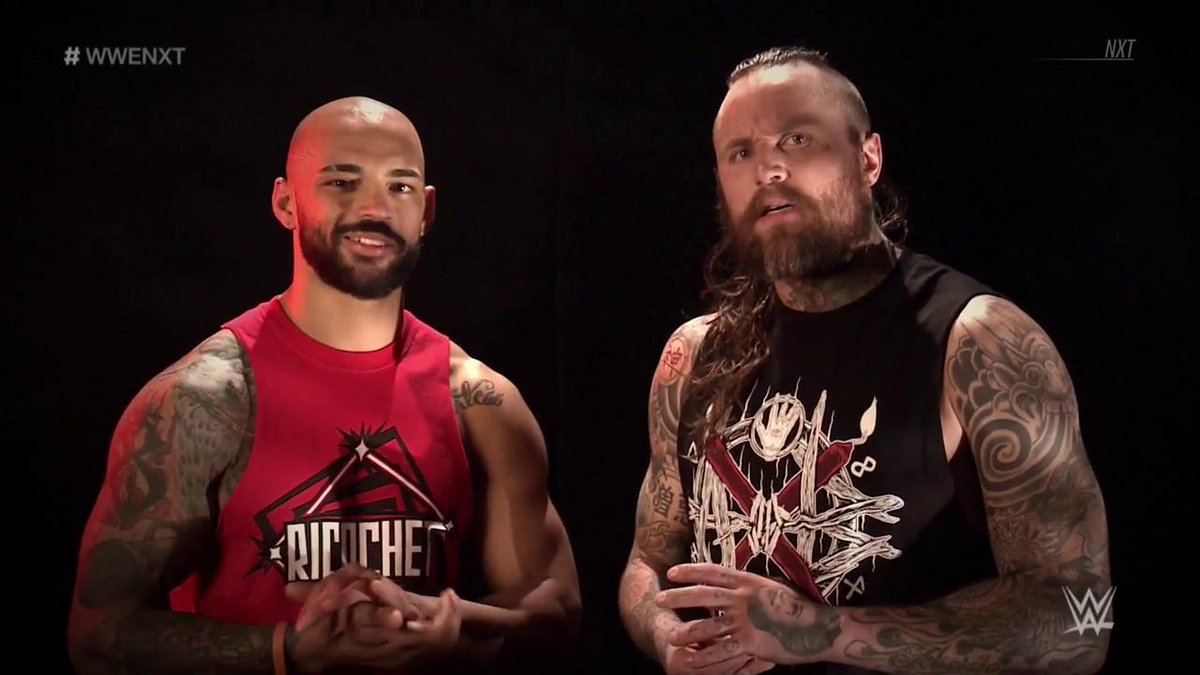 Ricochet says he did not come to NXT to be the highlight reel. Aleister Black says he walked through hell to get here, but that is just his life. Ricochet says it is every man for himself. They expect the best for each other. When they win the Dusty Classic, one of them will be doing double duty. Black says tonight is not about alliances, it is about the most important title in NXT. Everyone else will fade to black.
---
Backstage: Velveteen Dream
Is this the soon-to-be first-ever dual champion in #WWENXT?@VelveteenWWE says it's DREAM OVER in tonight's #Fatal5Way! pic.twitter.com/zt5PtacZxA

— WWE NXT (@WWENXT) March 21, 2019
Velveteen Dream says with the title on the line, the biggest spotlight will be on. There is only one person deserving that spotlight. When the Dream wins it all, you can call him NXT's first dual champion.
---
Segment: Tommaso Ciampa
We go to footage of Tommaso Ciampa getting ready for surgery. He says he has been to Birmingham too many times over the last few years. The doctor mentions he has done three surgeries for Ciampa. He returned successfully but then he suffered the neck injury that just got worse over time. He is told that he could be paralyzed with the situation the way it currently is. They are going to take the pressure off the spinal column. They say it could take up to a year to recover. The doctor talks about the dedication that Ciampa has to show with the number of surgeries he has had.
---
Backstage: Matt Riddle
.@SuperKingOfBros says he's your next #NXTChampion, BRO! #WWENXT pic.twitter.com/f0TGaJu8tr

— WWE Universe (@WWEUniverse) March 21, 2019
We hear from Matt Riddle. He says he is stoked. He has been here long enough and he finally gets an opportunity for the NXT Championship. Nothing will change him or his undefeated streak. At Takeover, he will become the next NXT Champion, BRO.
---
Backstage: Adam Cole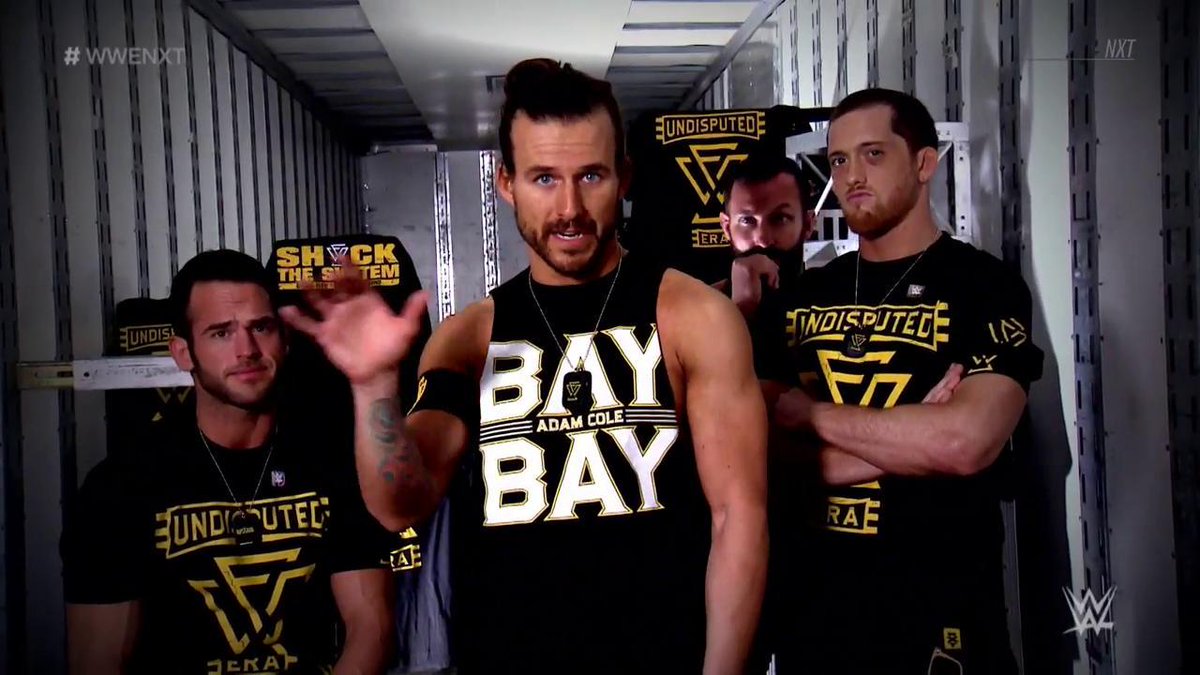 Adam Cole says no one deserves the title more than him. Tonight, he fights four of NXT's best and the winner gets a chance at the vacant NXT Title at the Barclays Center. He mentions he debuted two years ago in Brooklyn and he held the title over his head. This time, you will call him the NXT Champion.
---
Backstage: Kairi Sane, Io Shirai, Bianca Belair
.@BiancaBelairWWE promises to run through both @KairiSaneWWE AND @shirai_io on her way to becoming NXT Women's Champion at #NXTTakeOver: New York! #WWENXT pic.twitter.com/b2DklBtHPA

— WWE (@WWE) March 21, 2019
Kairi Sane and Io Shirai are asked about the main event. Kairi says they are excited to see who will go to Takeover. They are asked about being part of the NXT Women's Championship Match. Io says nothing can come between their friendship. May the best woman win. Kairi says both of them want the championship and they will fight each other if they have to.
Bianca Belair stops by and she says that neither of you deserve to be in the match. If Shayna had not interfered, she would have beaten Io. Bianca says she will have to run through both of you and become the next NXT Women's Champion.
---
Fatal Five-Way
Adam Cole vs. Matt Riddle vs. Ricochet vs. Aleister Black vs. Velveteen Dream
This is a number one contender match to determine who faces Johnny Gargano for the vacant NXT Championship.
Cole kicks Black and punches Ricochet while Riddle goes after Dream on the floor. Dream sends Riddle into the guardrails. Cole pulls Ricochet to the floor and hits a forearm. Dream gets a near fall on Black. Dream sends Black into the corner but Black kicks Dream away and misses a double stomp. Black with a waist lock and Dream rolls through to get Black onto his shoulders. Black with a small package for a near fall. Cole trips Black and pulls him to the floor. Black with a round kick to the chest. Dream knocks Black off the apron. Ricochet kicks Dream and Ricochet with a handstand head scissors followed by a drop kick to send Dream to the floor.
Riddle with a gutwrench suplex to Ricochet and he holds on for two more to complete the BroTrio. Cole with an enzuigiri to Riddle and then he kicks Riddle in the corner. Black hits Cole from behind and Cole with a kick. Black with a knee and Ricochet with a standing moonsault. Cole hits Ricochet from behind and Black goes to the floor. Cole with kicks and a neck breaker to Ricochet for a near fall. Cole with a suplex on Ricochet for a near fall. Cole kicks Black off the apron. Cole with a belly-to-back suplex and he gets a near fall on Ricochet.
Dream with a shoulder to Cole from the apron. Ricochet with a drop kick to Cole and Dream with a running knee to send Ricochet to the floor. Dream with punches to Cole. Dream goes to the floor and punches Cole from the floor. Dream goes up top and hits a double sledge to Black on the apron. Dream sends Cole to the floor and hits a double sledge onto Cole. Dream goes up top and Riddle catches Dream and hits a German suplex. Riddle applies the BroMission on Black but Dream breaks it up.
Dream sends Riddle to the floor. Black with a leg sweep and flying boot to the head. Black with a quebrada to Dream and Cole. Black with a kick to Dream and he gets a near fall. Black picks up Dream but Cole sends Black to the floor and hte ring steps. Cole and Riddle are in the ring and Cole with a forearm but Riddle chops Cole. They continue the exchange but Cole stomps on the foot. Cole has a super kick blocked and Riddle with an ankle lock into the BroMission. Dream breaks up the hold.
Riddle chops Dream while Cole punches Riddle and Dream does the same. Cole with a forearm to Riddle followed by one from Dream. Dream with a European uppercut to Cole but Riddle chops Dream. Dream with a super kick to Dream. Ricochet with an enzuigiri to Dream. Cole with a super kick to Ricochet. Riddle with a knee to Cole. Black and Riddle kick each other and everyone is down. Ricochet is the first to get to his feet and he goes to the apron and turnbuckles but Cole stops Ricochet. Cole sets for a superplex but Ricochet blocks it. Dream comes from behind and stops Cole. Dream goes to the turnbuckles as well. Black and Riddle make their way over and they sets for a superduperplex on Ricochet. Everyone is down again.
Black and Dream try to get to their feet and Black with a punch from his knees. Dream punches Black. They go back and forth with punches and Black gains the advantage. Dream backs Black into the corner and Black kicks Dream away and Black with Meteora. Black with a German suplex to Dream but Riddle with a back senton to break up the cover. Riddle with a suplex for a near fall. Riddle with punches and strikes to Cole. Cole with a super kick and shoulder breaker for a near fall.
Ricochet kicks Cole in the knee and then hits a jumping axe kick. Ricochet gets Cole on his shoulders but Cole with a rake of the eyes followed by two super kicks. Cole misses the Last Shot and Ricochet with a reverse rana that sends Cole to the floor. Ricochet looks around and hits a Space Tiger Drop onto Cole. Riddle and Dream are in the ring and Riddle with a chop and Riddle goes for a power bomb but Dream blocks it. Riddle with a jumping knee to the head. Riddle with the BroMission on Dream but Cole pulls the referee out of the ring. Riddle kicks Cole. Black with Black Mass to Riddle. Dream with a rolling Death Valley Driver on Black.
Dream goes up top but Ricochet with a Frankensteiner that sends Dream onto Black and Cole. Ricochet goes up top for a shooting star press on Riddle but Cole with the Last Shot and he gets the three count.
Winner: Adam Cole