March 12, 2019
Dayton, Ohio
Commentary: Tom Phillips, Byron Saxton and Corey Graves
Results by: Roy Nemer of Wrestleview.com
---
Quick Match Results
Aleister Black, Ricochet & The Hardy Boyz vs. Rusev, Shinsuke Nakamura & The Bar was no contest after The New Day attacked everyone
Asuka defeated Sonya Deville via Asuka Lock after Mandy Rose "accidentally" tripped Deville
Rey Mysterio & R-Truth defeated Andrade & Samoa Joe via rollup by Mysterio on Joe
Kevin Owens & Mustafa Ali defeated Daniel Bryan & Rowan via Iron Claw by Rowan on Ali
---
In-Ring: Shane McMahon
WWE Smackdown Live starts with Shane McMahon coming out to the ring. The best tag team trophy is in the ring. Shane calls for the ring announcer to get into the ring and he whispers something to him. The announcer calls Shane McMahon the best in the world. The fans boo as Shane makes the ring announcer repeat himself two more times, telling him to say it with conviction. Shane shakes his hand as the announcer leaves the ring.
Shane says a lot of people are asking him why he attacked The Miz. Shane says he's sick of it, he's tired of all of the people that have ever been in his life. Not just the fans, the superstars, the thousands of WWE employees. He says people always ask him how to get a promotion, stock options. Shane says people have no idea what he does behind the scenes every day. What he can do for them and that stopped on Sunday when he attacked The Miz.
McMahon says that he's not the best in the world because he won a trophy or because he became a tag team champion. He's the best in the world because he was born that way. And from this point forward, he will start doing things for him. And that started on Sunday when he attacked The Miz. Shane says it was liberating and felt good attacking The Miz. McMahon challenges The Miz at WrestleMania and leaves the ring.
---
Aleister Black, Ricochet & The Hardy Boyz vs. Rusev, Shinsuke Nakamura & The Bar
Black and Nakamura start the match. Both men exchange right hands and kicks as Black tags Ricochet into the ring. Both men double team Nakamura. SRicochet with a standing moonsault. He goes for the cover but Nakamura kicks out. Ricochet tags Matt Hardy into the ring as Nakamura tags Sheamus into the match.
Hardy takes Sheamus down and tags Jeff Hardy in. Both men double team Sheamus. Hardy goes to attack Cesaro and a clothesline by Sheamus onto Hardy. Sheamus tags Cesaro in. A leg drop by Cesaro onto Jeff Hardy. He goes for the cover but Jeff kicks out. Cesaro tags Rusev into the match. Both men double team Jeff. Rusev with a sleeper hold onto Jeff as Jeff tries to get out of it but Rusev slams Hardy into the mat. Rusev tags Sheamus into the match.
Rusev hits Jeff in the corner and tags Nakamura into the match. Nakamura beats up on Jeff and tags Rusev into the match. A jaw breaker by Jeff onto Rusev as Jeff tags Ricochet into the match. Ricochet with a drop kick. Ricochet jumps off the top rope but Rusev with a right hand and Ricochet falls to the outside of the ring.
Back from commercial, Cesaro is in the ring with Ricochet and both men are down in the ring. Ricochet tagged Matt Hardy into the match and he bashes Cesaro's head into the turnbuckle. He tags Jeff Hardy in and a side effect on Cesaro. All six men get in the ring as all hell breaks loose. Hardy with a twist of fate onto Cesaro. Jeff climbs the top rope and the swanton bomb. He goes for the cover but his team breaks it up.
All eight men are in the ring fighting. In come the New Day and they attack everyone and clear the ring.
Winners: No contest
---
Backstage: The Usos
Backstage we see The Usos cutting a promo about which tag team they will go up against.
---
In-Ring: Randy Orton, AJ Styles
Randy Orton's music hits and he comes out. He says that this is the house that AJ Styles built? But what he doesn't understand is that in 2002, Styles was wrestling for $10 in a high school gym while he was here making his WWE in ring debut. And in 2004, AJ Styles was shaking hands with his opponents in bingo halls while he became the youngest WWE champion ever. And in 2006, Styles was getting a tan with Dixie Carter while he was facing the Undertaker at WrestleMania. And in 2006, 2007, 2008, 2009, 2010, 2011, 2012, 2013, 2014, 2015, he was here and he was a champion. This isn't the house that AJ Styles built. This is the house that Randy Orton built.
AJ's music hits and he comes down to the ring. Styles tells Orton that for someone who looks down on indies, he did follow his career closely. He says he did come from the indies and he's proud of it too. And he's heard it said that guys like Orton weren't made for his world, they were build for WWE. And that's good because guys like Orton would not have made it in his world, not with a knock off Diamond Cutter.
Orton asks Styles if he or any one of his indie palls ever ripped anyone off? Orton does the too sweet sign. Styles says backstage, he is surrounded by his indie palls. They earned the right to be in WWE, they didn't go to their fathers to get a job in WWE. Styles said in Orton's first year, he had help with Evolution to make sure he didn't fail. Orton said he achieved more by the age of 24 than anyone in the industry ever did. He's a 13 time champion, he won the Royal Rumble twice, main evented WrestleMania and performed at 15 WrestleManias. No one ever had to help him.
Styles says Evolution or Legacy. Or Rated RKO, him and Edge. Did he forget? Or the Wyatt family. AJ says sounds to him that he had a lot of baby sitters. Styles says Orton is a viper, he uses everyone around him and when he's done, he tosses them to the curb. And that's why he got the jump on him at WWE Fastlane, he won't be his next victim. Orton says he won't get to choose. As long as he wants to rent a room out in his house, he's the land lord, and rent is due as Orton calls him a son of a bitch. And the rent can be made out to RKO.
AJ points to the WrestleMania sign and tells Randy if he wants his rent, to come and take it. Randy Orton leaves the ring.
---
Asuka vs. Sonya Deville
The bell rings and we are under way. Both women with early reversals. Sonya with kicks to Asuka. Sonya goes for another kick but Asuka blocks it and delivers kicks of her own. Asuka goes for a drop kick but Sonya moves out of the way. A spear by Deville. She goes for the cover but Asuka kicks out.
Sonya Deville goes for a right hand but Asuka blocks it. Asuka with a knee to the face and Deville rolls to the outside of the ring. Asuka goes for a baseball slide but hits Mandy. Sonya throws Asuka back in the ring. Sonya on the ring apron and Mandy, while trying to get up, accidentally trips Sonya. Asuka grabs Sonya and gets her in the Asuka lock as Sonya taps out.
Winner: Asuka
After the match, Mandy Rose and Sonya Deville talk and Mandy asks Sonya if she thinks she tripped her on purpose. Sonya says no as Mandy walks away with Sonya behind her.
---
Backstage: The IIconics
The IIconics are backstage and they talk about the women's tag team champions Sasha Banks and Bailey. They mention how there's still no sighting of them and how they can't hide from them forever. And their future is on Smackdown Live and the future is IIconic.
---
In-Ring: Becky Lynch, Charlotte Flair
Becky Lynch's music hits. She throws her crutch away and gets in the ring. Becky says it feels good to walk down the ramp on her own two feet and the man is back. And back in the main event of WrestleMania. Becky says she was the one who picked Ronda Rousey and the only reason Charlotte Flair is in there is because of Vince McMahon. She won the Royal Rumble and played Rousey like a fiddle to get back into the match. She asks if they know how hard it is to play mind games against a woman who has no brains. She says she will take the title at WrestleMania. She doesn't care who she has to defeat anymore because at WrestleMania she will reclaim everything.
Charlotte Flair's music hits. Charlotte says that first off, congratulations. Becky finally made it in her main event. Yes, the golden girl's main event. While she was off getting suspended and arrested, she was doing all of the work. Her resume speaks for itself. It is one thing to be hot for 6 months but she's been hot for 4 years. That's why she was chosen, she was chosen to get the job done.
Flair asks Becky if she wants to know why the WWE universe supports her. Because they all feel sorry for her. Like she felt sorry for her, like Ronda Rousey felt sorry for her. And no matter how hard she tries to spin it, she got a hand out because never in her life has she seen someone do so little but take credit for so much. Charlotte says she will have to make Becky and Ronda relevant again. Charlotte calls herself Miss WrestleMania.
Lynch tells her to shut up, she had the division for 4 years and did nothing. In comes Becky and now they are in the main event of WrestleMania. They need the man, not a queen.
---
Backstage: Daniel Bryan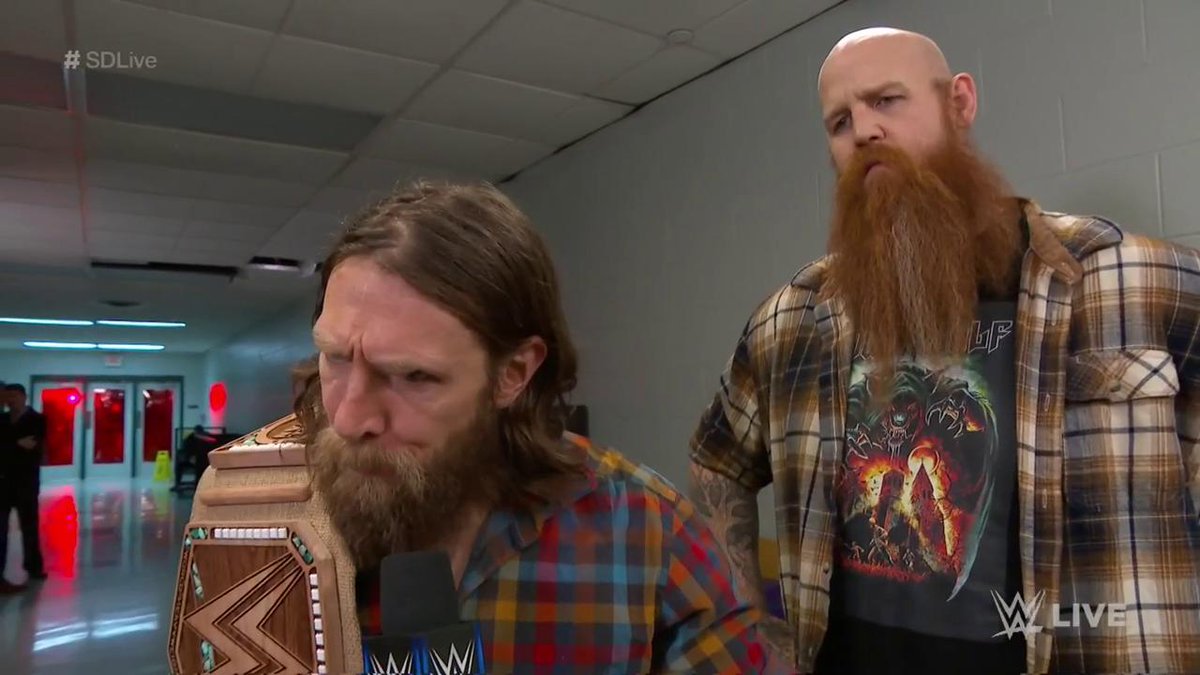 Daniel Bryan and Rowan are backstage and Kayla asks Daniel what he was doing leaving Vince McMahon's office. Bryan says that he thought maybe Vince had to hear his honest feedback before Vince talks to Kofi Kingston tonight. Kayla asks what Vince's reaction was and Bryan says Vince put him and Rowan in a match later tonight against Kevin Owens and Mustafa Ali.
---
Rey Mysterio & R-Truth vs. Andrade & Samoa Joe
The bell rings and Andrade starts the match with R-Truth and a back elbow by Andrade. R-Truth runs to the ropes and a spinning elbow by R-Truth who tags Rey into the match. Both men double team Andrade. Rey jumps and a hurricanrana as Andrade lands on the second ropes. Joe tags himself in and attacks Rey Mysterio. Samoa Joe throws Rey Mysterio to the outside.
Back from commercial and Samoa Joe has Rey Mysterio in a modified arm bar. R-Truth comes in and breaks it up. Samoa Joe tags Andrade and he goes for the three amigos but Mysterio reverses it into a piledriver. Both men are down on the mat. Mysterio makes the tag and in comes R-Truth with flying punches. R-Truth with the five knuckle shuffle. R-Truth lifts Andrade up and goes for the Attitude Adjustment but Joe tags himself in. R-Truth hits Joe and runs to the ropes as Mysterio is tagged in. Samoa Joe with a super kick takes R-Truth down to the outside. Mysterio with a hurricanrana to both Samoa Joe and Andrade.
Rey Mysterio with a 619 to both men. A frog splash by Mysterio onto Andrade. Samoa Joe with a senton on Rey Mysterio. Joe lifts Mysterio up but Rey reverses it into the cover and gets the 3 count.
Winners: Rey Mysterio and R-Truth
Samoa Joe attacks Andrade after the match.
---
Kevin Owens & Mustafa Ali vs. Daniel Bryan & Rowan
The bell rings and Kevin Owens is in the ring with Daniel Bryan. A shoulder block by Owens followed by a running forearm. Bryan tags Rowan into the match. Rowan with a shoulder block takes Owens down. A kick to the face by Owens as he tags Ali into the match. Ali jumps off the top rope, Rowan catches him, Ali moves out of the way, Rowan runs towards Ali but Ali with a kick to the face. Ali runs towards Rowan but Rowan with a forearm takes Ali down. Rowan attacks Owens who's on the ring apron. Rowan tags the WWE champion. Bryan with a modified head lock. Ali fights out of it. He runs to the ropes but Daniel Bryan with an elbow to the face. A snap suplex by Daniel Bryan.
Back from commercial, Daniel Bryan has Ali on the top rope. A double under hook suplex by Daniel Bryan. He goes for the cover but Mustafa Ali kicks out. Bryan goes for La Belle lock but Ali gets his foot on the rope. An uppercut by the WWE champion. Bryan sends Ali to the ropes but a drop kick by Ali takes Daniel Bryan down.
Mustafa Ali goes for the tag but Bryan grabs his left leg. In comes Rowan and in come Owens and a super kick by Owens. A double superkick by Ali and Owens takes Rowan to the outside. Kevin Owens gets on the ring apron but Rowan takes him down. Back inside the ring, Bryan tags Rowan in. Ali jumps off the second rope, Rowan catches Ali and slams him into the ring mat. He goes for the cover and gets the 3 count.
Winners: Daniel Bryan and Rowan
---
In-Ring: Vince McMahon, The New Day
Vince McMahon's music hits and he comes down to the ring. Vince McMahon says he's out here tonight to give Kofi Kingston an opportunity to compete at WrestleMania for the WWE championship. Vince asks to show the clip of last Sunday from Fastlane where he spoke to the New Day and Kofi was in a handicap match against Sheamus and Cesaro. McMahon says Kofi and the fans hear what they want to hear. He never said Kofi will be in the triple threat match. He gave Kofi a chance to compete and he failed. He does these things for a reason and what he does, is a teachable moment.
The New Day's music hits and out come Kofi Kingston, Big E and Xavier Woods. A loud "Kofi" chant from the crowd. Big E says if he's being honest, they're not in the mood to be taught a damn thing. He says they are everywhere, they went to India last week for him. Woods said they never threatened to leave if they didn't get what they wanted but they still get treated like garbage. Big E says Kofi has been in the WWE for 11 years, he deserves more.
Vince says Kofi doesn't deserve a damn thing. They don't deserve anything, he doesn't even deserve anything. No one deserves anything.
Big E says this is bigger than just their opinion. This is bigger than the New Day and bigger than Vince's own ego. Vince says there is nothing justifiably bigger than his ego. Woods says Vince said that no one deserves anything but they earned. Kofi has defeated the WWE champion but for some reason he was never given his opportunity to compete for the WWE championship. And that's only one of the many reasons Kofi deserves a match for the WWE title. Big E says that the WWE universe has one demand. They demand that Kofi Kingston be given the opportunity to compete for the WWE championship. A loud "Kofi" chant from the crowd.
Vince says he really wishes Kofi deserves this. He tells Kofi he's known him for a long time and if he was worthy of being in a championship match, it would have happened a long time ago. Vince says Kofi is impressive and what he's doing as of late is awesome, incredible. One day he will be in the Hall of Fame but he won't go in by himself. He'll go in as part of the New Day. And he's pretty smart, at his age, he's got these two young bucks next to him. They do all the work and he takes the glory. Vince says Kofi has a lot of qualities and he wishes he was up to par but he's not championship material. Vince says he was talking to Daniel Bryan backstage and he thinks Bryan hit it on the mark. He said Kofi is awesome but he's a good B+ player.
Kofi says that he's not asking for a free ride, a hand out or demanding a match at WrestleMania for the WWE title. But 11 years ago, he was a kid with a dream. And that dream has come true. He's been able to provide for his family and travel the world. But he would like to think at some point during those 11 years, he's proven to him that he's worthy. But he doesn't see it that way. Kofi says he doesn't complain about anything. About how he shows up every week, busts his ass while other people are given opportunities. He doesn't complain about that. He doesn't complain about how he has to be in the ring instead of with his family. He said he's never been trick or treating with his kids. A few days ago, his son lost his first tooth but he wasn't there because he was here in the ring. He never complained about the time he spends away or the fact that he has never allowed someone like him to compete for the WWE title. Kofi says he never complained and he won't start now. But what he needs is for Vince to tell him what he needs to do so that he can do it. Kofi tells Vince that the fans believe in him.
Randy Orton's music hits and out comes Orton. Vince says all Kofi has to do is defeat Randy Orton. Samoa Joe's music hits. Out comes Joe. Vince says he has to beat Samoa Joe. Sheamus and Cesaro's music hits. Vince says Kofi has to defeat them too and Rowan. All Kofi has to do is beat them next week in a gauntlet match and Kofi Kingston will go to WrestleMania.
Orton, Samoa Joe, Sheamus, Cesaro and Rowan all run to the ring. The New Day fight them all off.