April 15, 2019
Montreal, Quebec, Canada
Commentary: Michael Cole, Corey Graves and Renee Young
Results by: Mike Tedesco of Wrestleview.com
---
Quick Match Results
The Revival & The Viking Experience defeated Ricochet, Aleister Black, Ryder & Hawkins via The Fall Out by Viking Experience on Ryder
Andrade defeated Finn Balor via Hammerlock DDT
The Usos defeated Bobby Roode & Chad Gable via Double Uce on Gable
Bayley & Naomi defeated The IIconics via split-legged moonsault by Naomi on Billie Kay
EC3 vs. Braun Strowman never officially started because Strowman destroyed EC3
Becky Lynch defeated Ruby Riott via Dis-Arm-Her
Lacey Evans defeated Natalya via moonsault
Roman Reigns, Seth Rollins & AJ Styles defeated Drew McIntyre, Baron Corbin & Bobby Lashley via Phenomenal Forearm by Styles on Lashley
---
Superstar Shake-up: Moving to Raw
The Miz
The Viking Experience (Formerly known as War Raiders and now known individually as Erik and Ivar)
Cedric Alexander
Andrade and Zelina Vega
Rey Mysterio
The Usos
Naomi
Eric Young
Lacey Evans
AJ Styles
---
In-Ring: Stephanie McMahon, Shane McMahon, The Miz
We go live into the arena to hear Stephanie McMahon's music. McMahon makes her way down the ramp strutting to loud boos. This is night one of the Superstar Shake-up. McMahon welcomes the crowd to Monday Night RAW. She wants the crowd to give a standing ovation to the one and only "The Best in the World" Shane McMahon.
Shane McMahon comes out to LOUD boos from the Montreal crowd. Shane dances down the ramp showing no ill effects from his WrestleMania match against The Miz. The crowd loudly boos them, and Stephanie says they love them in Canada. Shane has the ring announcer come up and "introduce him properly." The ring announcer has to do an extended, "Ladies and gentlemen, the best in the world Shane McMahon." The crowd is red hot. Shane now asks him to say it in French. A "CM Punk" chant picks up. The ring announcer says he doesn't know French, so Shane lets it go. Shane then speaks French while the crowd boos. Stephanie says that was impressive. A loud "You suck" chant fires up. Stephanie reminds the crowd that Kurt Angle had his last match and lost. Shane says that wasn't Parisian French he was facing. It was the dirty Canadian dialect. That got more boos.
Stephanie says every part of the roster is subject to being shaken up. Shane says we'll see new match-ups, new championship contenders, and perhaps tag teams being broken up. Stephanie says regardless of what brand the superstars wind up on, they're on the long journey to next year's WrestleMania. Shane tells her to slow down and says he wants to reminisce on some of his favorite moments from this year. A photo is shown of Shane grabbing Mr. Mizanin's face. Another photo is shown of Shane putting Miz to sleep with a triangle.
The Miz' music plays, and Shane prepares for him to come out. Miz attacks him from behind and knocks him out of the ring. The Miz is now part of RAW! Shane knocks him over the barricade, but Miz comes back with a chair shot and chases Shane away. Miz is busted open and bleeding quite a bit. Miz holds the chair up while his music plays.
---
Ricochet, Aleister Black, Ryder & Hawkins vs. The Revival & The Viking Experience
Richochet's music hits and it contains a new ricochet gunshot sound. Michael Cole wonders if this means Ricochet is now part of Monday Night RAW. Aleister Black also makes his entrance.
NXT Tag Team Champions War Raiders are part of the RAW roster. They're now known as The Viking Experience and their names are Ivar and Erik.
Scott Dawson starts against Curt Hawkins. An "NXT" chant first up. Dawson shoulder blocks him down and hip tosses him. Hawkins comes back with a pair of arm drags and applies an arm bar. Dawson fights up, but Zack Ryder tags in. They hit a double-team neckbreaker for a one count. Aleister Black tags in, but Ivar comes in and takes him down. Dash Wilder tags in, as does Ricochet. Ricochet takes him down with a dropkick for a two count. Black tags back in and wrenches the arm. Wilder quickly knees Black, but he fights back. Erik tags in, and The Viking Experience catches Black trying a moonsault. Ricochet quickly stops them with a springboard dropkick. All the face superstars are in the ring, and they give The Revival back body drops.
We come back from the break to see Erik controlling Hawkins. Ivar tags in and knees Hawkins down for a near fall. Erik tags back in, and he scoop slams Ivar onto Hawkins for another near fall. Erik applies an arm bar to Hawkins, but he fights up and attacks The Revival. Erik then viciously clotheslines him down. Ivar tags in once again and takes Hawkins down with a short-arm shoulder block. Wilder tags in and stomps Hawkins. Dawson tags in, and he drops Wilder onto Hawkins with a leg drop to pick up a near fall. Dawson then applies another arm bar. Wilder tags in and attacks Hawkins for a two count. Wilder then applies a chin lock. Hawkins eventually fights out and tags in Ryder.
Ryder runs over Dawson and dropkicks Wilder off the apron. Ryder hits Dawson with a flapjack before hitting a running forearm in the corner. Ryder punches him down in the corner. Ricochet and Black take out The Viking Experience. Dawson quickly gets away from Ryder and tags in Erik. Ryder hits Erik with a flying leg drop for a two count. Ricochet and Black take out The Revival. Ricochet completely whiffed on a moonsault to the floor on Dawson. Ivar viciously clotheslines Hawkins. The Viking Experience then throw him over the top rope onto Ricochet and Black. Erik viciously knees Ryder in the face. Ivar is tagged in, and The Viking Experience hits The Fall Out for the win.
Winners by Pinfall: The Revival and The Viking Experience
---
Finn Balor vs. Andrade
Andrade and Zelina Vega debut on RAW, coming from Smackdown Live. Vega introduces herself and Andrade to the audience. She says Andrade has showcased many talents on Smackdown Live, including some extraordinary things. Andrade is a multi-linguist. Here in Montreal, English is a second language. Andrade will address the WWE Universe in their native tongue. Andrade takes the microphone and simply says, "Merci!" Andrade then yells at Balor in Spanish. Andrade gets in the ring and continues to shout before removing his jacket.
They lock up, and Andrade immediately takes him down. Andrade stomps the midsection before kneeing him into the corner. Andrade hits a double running knee to the face for a two count. Andrade stomps Balor before trying for a double underhook suplex, but Balor fights it. Balor counters a back body drop into a roll through and a dropkick to the face. Balor elbows him away before dropkicking him down. Balor is trying to catch his breath. Andrade grabs Balor and goes for a slam, but Balor counters into a DDT. Andrade rolls out of the ring to recover, so Balor hits a baseball slide. Balor goes for a running kick from the apron, but Andrade pulls Vega in front of him. Balor stops before kicking her, and Andrade flattens him.
We come back from the break to see Balor make a comeback against Andrade. Balor dropkicks him in the corner. Andrade quickly reverses a whip, but Balor slingshots over him. Balor's knees is hurt, and he can't capitalize. Andrade goes to the second rope for a tornado reverse DDT, but Balor counters into a reverse DDT of his own for a two count. Balor connects with a Sling Blade and sizes him up. Andrade pops up and does a cartwheel backflip kick to the head for a near fall.
Andrade goes to the top rope for a moonsault, but he lands on his feet when Balor moves. Andrade immediately goes for a standing moonsault, but Balor gets the knees up. Balor quickly dropkicks him into the corner and goes to the top rope, but his knee is too hurt. Andrade sweeps the feet and goes for a tree of woe stomp, but Balor moves. Balor goes for the Coup de Gras, but Andrade moves. Andrade elbows him back, but Balor counters into an inside cradle for a near fall. Balor quickly clotheslines him out of the ring. Vega stands on the apron, so Balor jumps over her with a summersault senton to Andrade! Balor puts him in the ring, and Vega hits him with a flying hurricanrana on the floor. Vega gets Balor in the ring, and Andrade hits a hammerlock DDT for the win!
Winner by Pinfall: Andrade
---
In-Ring: Elias, Rey Mysterio, Lars Sullivan
"Ladies and gentlemen… Elias." Elias greets the crowd and plays a funeral dirge. Elias says his music is so powerful it brought back The Doctor of Thuganomics John Cena and woke The Dead Man from his grave. Why do these legends interrupt him, a legend as well. An "Undertaker" chant fires up. Elias says he'll be ready for Undertaker next time. Elias says Cena and Undertaker understand a universal truth that WWE stands for Walk With Elias. The Bell Centre is packed and energetic. They could feel this energy all the time if the Canadiens were good enough to make the playoffs. The crowd LOUDLY boos him and won't let him talk. Elias just has to shout over them. This is super loud.
Rey Mysterio's music hits, and he's making his way over to RAW from Smackdown Live. Elias tries to charge him, but Mysterio gets away. They get in the ring, and Mysterio knocks Elias back. A "619" chant picks up. Mysterio hits him with a sloppy hurricanrana before knocking Elias out of the ring.
Lars Sullivan's music hits, and he comes down to the ring. Mysterio dropkicks him, but Sullivan doesn't feel it. Mysterio avoids him and boots him back twice. Mysterio goes for a springboard, but Sullivan grabs him. Mysterio punches him back, but Sullivan picks him up. Mysterio hits a chop block, but Sullivan hits him with the Freak Accident. Sullivan is angry and picks Mysterio up again. Sullivan then hits a running sit-out powerbomb. The crowd loudly boos Sullivan.
---
Bobby Roode & Chad Gable vs. The Usos
Bobby Roode and Chad Gable are in the ring. Roode says as long as he and Gable are on their game, they can defeat any tag team in WWE. Gable says it doesn't matter where you come from — RAW, Smackdown, NXT — they can beat them. Gable challenges whoever is back there to come out. The Usos answer the call.
Jimmy Uso will start against Chad Gable. They circle the ring and Gable quickly takes him down. Gable takes him down a second time before applying an arm bar. Jimmy quickly fights up and backs him up to the corner. Jimmy then catches him with an enzuigiri. Jey Uso tags in and punches Gable. Gable reverses a whip to the corner, but Jey knocks Roode off the apron. Jey knocks Gable out of the ring and teases a plancha, but Roode grabs the feet. Gable knocks Jey out of the ring, and Roode clotheslines him on the floor. Roode tags in and throws Jey into the barricade. Roode gets Jey in the ring for a two count. Roode punches away at Jey before tagging Gable in. The crowd chants, "Let's go Usos." Gable gets Jey in the corner and tags Roode in. Roode applies a chin lock, but Jey fights up and hits him with a spin kick.
Jimmy and Gable are tagged in. Jimmy clotheslines him twice before kicking him in the midsection and hitting an uppercut. Jimmy hit a Samoan Drop before catching him with a running hip attack for a near fall. Gable quickly comes back with an arm bar over the top rope. Roode and Gable hit a German Suplex/Blockbuster double-team for a near fall. Roode knocks Jey off the apron. Jimmy avoids a neckbreaker/moonsault double-team. Jey tags in and superkicks Gable. Roode is superkicked off the apron. The Usos then hit a double superkick on Gable before going to opposite corners. The Usos hit stereo splashes on Gable for the win.
Winners by Pinfall: The Usos
---
A Moment of Bliss w/ Sami Zayn
Alexa Bliss says it's time for the Superstar Shake-up to have A Moment of Bliss. This may be her last time on RAW, so she'll have Sami Zayn as her guest. Sami Zayn comes out to a huge ovation from his hometown Montreal crowd. Zayn dances around while the crowd sings his theme song. Zayn sits down while the crowd is chanting "Sami." Zayn's theme song starts up again, and the crowd erupts. Zayn takes a bow and listens to the crowd sing his song. Bliss says that was quite a reception. Zayn's music then fires up a third time, and the crowd is just as loud as the first time. Zayn then sits down in exhaustion. The crowd continues to sing his song. Zayn shouts in French to them, and there is a mixed reception. Zayn says he's going to kick it up a notch and gets the crowd to chant, "Olé." Zayn dances all around while the crowd sings to him.
Zayn says he's going to stop because he could do this all night. Bliss says he returned to Monday Night RAW last week and it's fantastic to have him back. Zayn says he's been in this city all week. He's seen friends and family. Zayn hit up all the hot spots in the city. Zayn says he absolutely loves this city. This city is great… it's just the people that he can't stand. Montreal has world class cuisine, art, architecture… but the people. The low point of his week is right now being in a room with all these people. There's something in the air that is so Quebec. Zayn says he doesn't want to be here and didn't want to do Bliss' show. Bliss says he's rude. Zayn says nine months ago he'd have looked forward to getting this reaction, but now the chants make him sick. The crowd loudly chants at him. Zayn says they project their unaddressed issues onto him. Zayn says he will not accept it. Zayn says they are disgusting and should be ashamed. Zayn says these aren't even fans. They're too busy playing critic and being kingmakers. It's disgusting.
Bliss says that the people are not the problem with WWE. She says Zayn is the problem. Zayn says he was born here, but these are not his people. Zayn says he doesn't even live here anymore. He moved to sunny Orlando, Florida. Zayn chose to leave Montreal just like he's choosing to leave it now. Zayn says he knows where he's going. The crowd sings the goodbye song to him. Zayn says, "Yeah, see you in hell," and walks off.
---
Backstage: Bayley, The IIconics
A WWE.com exclusive is shown of Bayley trying to get in touch with Sasha Banks to no avail, so The IIconics made fun of her. Bayley says she'll find another partner.
The IIconics vs. Bayley & Naomi
WWE Women's Tag Team Champions The IIconics are in the ring. They can cross brands due to having the titles, so they are not officially part of RAW.
Naomi is the newest addition to RAW.
Bayley quickly attacks Billie Kay, and Naomi tags in. Naomi bounces Kay off the corner. Kay quickly boots her down. Peyton Royce tags in and stomps away at Naomi. Royce applies a chin lock. Royce lets go and knocks Bayley off the apron. Naomi hits a jawbreaker. Kay tags in, but Naomi makes a comeback. Bayley hits Royce with a Bayley-To-Belly. Naomi hits Kay with a split-legged moonsault for the win.
Winners by Pinfall: Bayley and Naomi
---
Segment: Puppet
#RAW pic.twitter.com/wObq7JA11O

— WWE (@WWE) April 16, 2019
The box with the buzzard puppet is back. The puppet laughs and flashes out.
---
EC3 vs. Braun Strowman
Strowman immediately runs over EC3 and throws him across the ring before the bell rings. Strowman throws him across the ring again before avalanching him. Strowman then throws him out of the ring. EC3 starts running up the ramp, so Strowman crushes him from behind. Strowman whips EC3 into the LED wall and punches him around the stage. Strowman then chokeslams him through the stage! The bell never rang.
---
Superstar Shake-up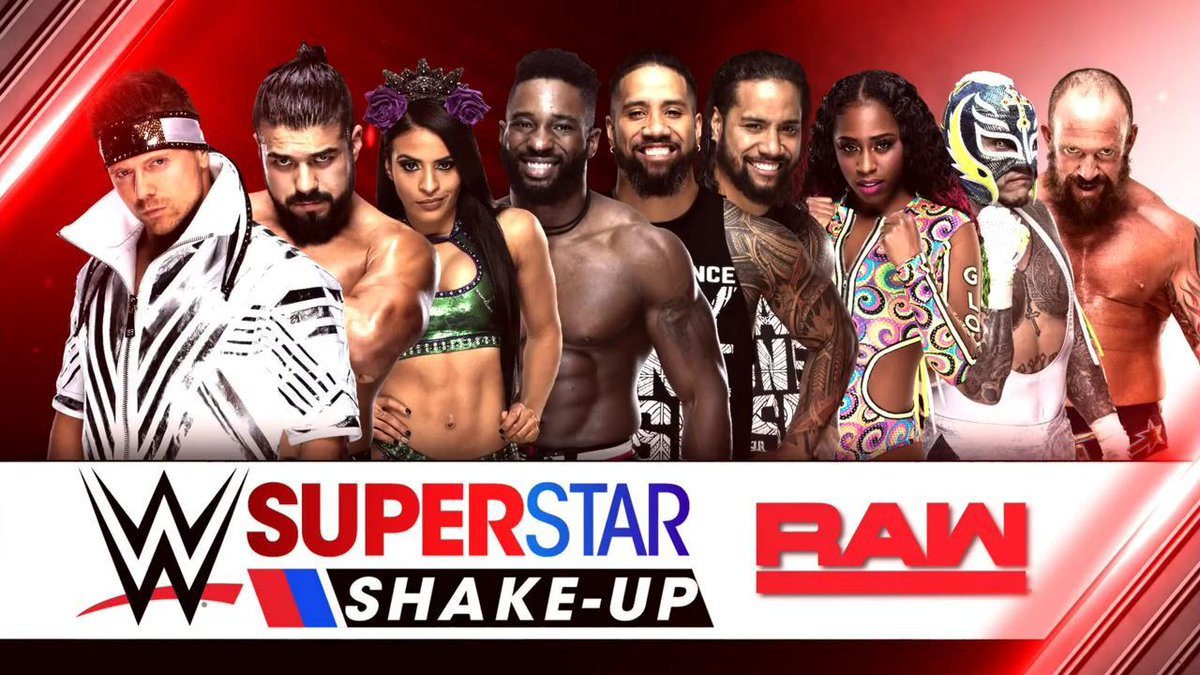 They announce that Eric Young of Sanity has come over to RAW.
---
Becky Lynch vs. Ruby Riott
Becky Lynch quickly takes her down before stomping her in the corner. Riott blocks a shot into the corner, but Lynch stops her as well. Lynch takes her down and poses. Lynch then hits Riott with a baseball slide. Lynch hits a clothesline off the apron before getting Riott in the ring. Lynch quickly knocks Liv Morgan off the apron. Riott takes Lynch down for a two count. Riott punches away at her before hitting a snapmare and applying a neck vice. Lynch fights up, kicks her, and hits a pair of clotheslines before hitting a diving shoulder. Lynch connects with the Bexploder. Riott quickly drops her on the apron, but Lynch punches her back. Riott cuts her off and slams her off the top rope. Riott hits a second rope senton bomb for a near fall. Riott goes to the top rope, but Lynch moves. Lynch applies the Dis-Arm-Her, but The Riott Squad pulls Riott out. Lynch hits The Riott Squad with a cross-body off the apron. Lynch then catches Riott with the Dis-Arm-Her for the win.
Winner by Submission: Becky Lynch
Lynch quickly stops Sarah Logan and Liv Morgan from attacking her. Lynch kills Morgan with a scary Bexploder that lands her on her head. Lynch celebrates in the ring with her two belts.
---
Backstage: Baron Corbin, Drew McIntyre, Bobby Lashley, Lio Rush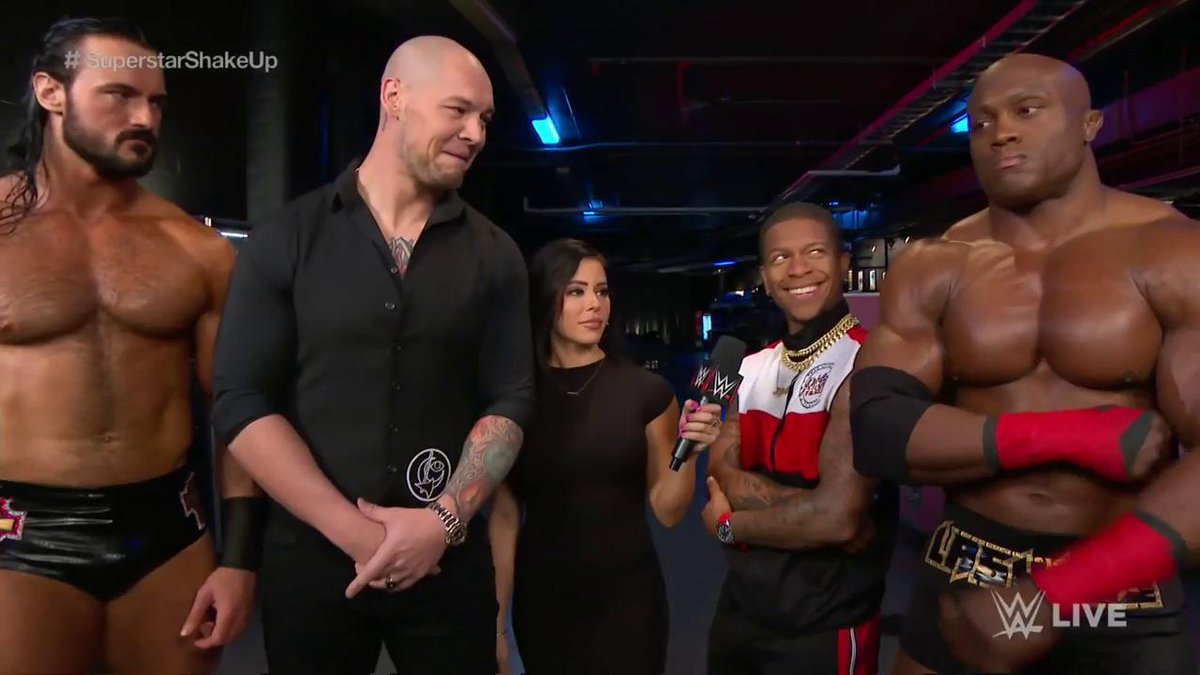 Charly Caruso is backstage with Baron Corbin, Drew McIntyre, and Bobby Lashley. Corbin is hoping Charly got traded to Smackdown. She asks for speculation on who is coming from Smackdown Live. McIntyre says he doesn't give a damn. All he wants is to get his hands on Roman Reigns. Corbin says Reigns might be riding high, but that's over. They're going to run Seth Rollins and Roman Reigns off RAW. Lio Rush asks after what Lashley did to Dean Ambrose, who would be stupid enough to team with Reigns and Rollins?
---
In-Ring: Natalya, Becky Lynch, Lacey Evans
Natalya makes her way to the ring. Becky Lynch is still in the ring. Natalya congratulates her on all her success. Last week, Lynch said she had to sleep with one eye open. Natalya is here to look her in the eye to tell her that she's the best there is, the best there was, and the best there ever will be. She's coming after the RAW Women's Championship.
Lynch says she has spent years in the trenches with a lot of overlooked women, just like she was. Natalya is the same. The second she held the titles over her head, she knew the overlooked women would come for her. To take over the world, you have to take out the person on top. They have traveled the world as teenagers looking to fight anyone to get a foot in the door. Now look at them. A "You deserve it" chant picks up.
Lacey Evans' music cuts Lynch off. Evans says she admires Natalya, but the RAW Women's Championship could never be around the waste of a has-been like her. A lady knows how to curry favor and use her influence to get what she wants. Now that she is officially on Monday Night RAW, she wants that RAW Women's Championship. Evans says she has the authority per The McMahons that Natalya's next match will be against her. The winner will be the first in line to take on Lynch for the RAW Women's Championship. Evans is going to educate Natalya on a Woman's Right. Lynch should pay attention. A lady can teach a man a thing or two.
Natalya vs. Lacey Evans
Evans quickly fights out of a waistlock. Natalya immediately spikes her on the tailbone and dropkicks her. Natalya clotheslines her before throwing her out of the ring.
We come back from the break to see Natalya take Evans down and attempt a Sharpshooter, but Evans gets away. Natalya hits a baseball slide and slaps her in the face. Natalya gets Evans in the ring and powers her to the corner. Natalya punches away at her before the referee backs her up. Evans quickly pulls Natalya face-first into the corner. Evans stomps Natalya and bounces her head off the bottom turnbuckle. Becky Lynch is seen watching on from backstage. Evans then applies a chin lock. Natalya fights up and catches her with an inside cradle for a two count. Evans goes back to the chin lock. Evans cinches it in, but Natalya gets out. Natalya boots her back and hits a Discus Clothesline. Natalya then applies a Sharpshooter. Evans tries to get to the bottom rope, but Natalya pulls her to the center of the ring. Evans refuses to tap out and gets to the bottom rope. Evans leaves the ring. Natalya powers her into the barricade and slaps her. Natalya gets her in the ring, but Evans hits the Woman's Right. Evans then kills her with a big moonsault for the win.
Winner by Pinfall: Lacey Evans
Lacey Evans is now first in line for a championship match against Becky Lynch.
---
Backstage: Seth Rollins, Roman Reigns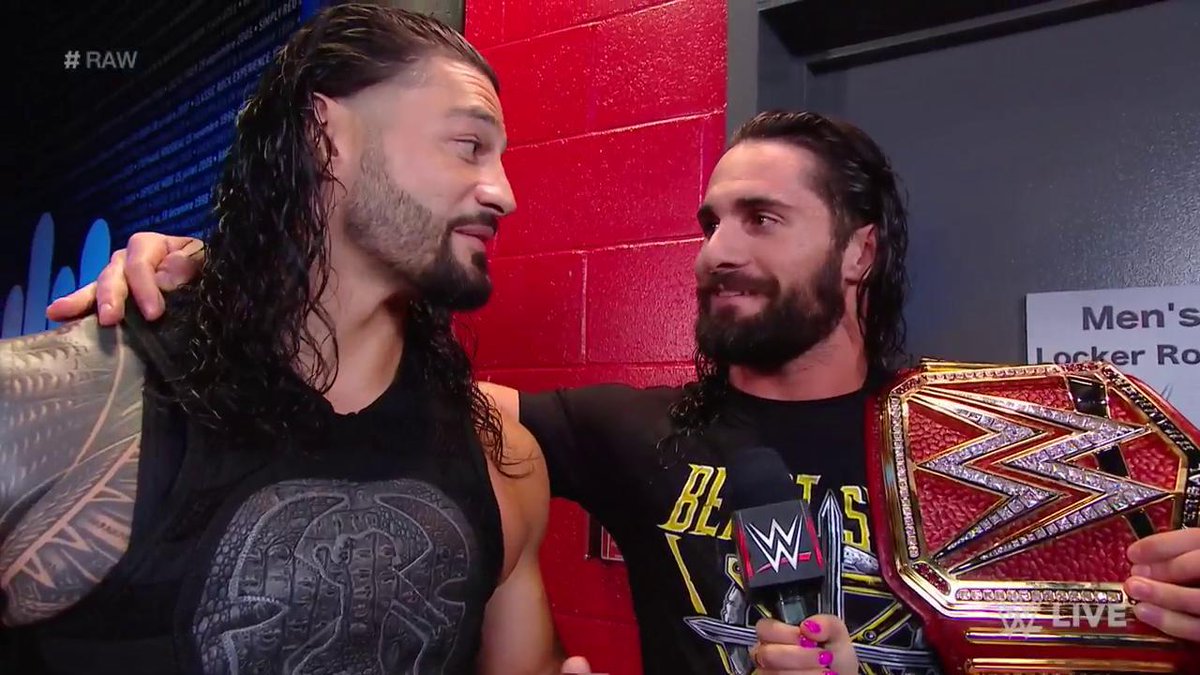 Charly Caruso is backstage outside the Men's Locker Room. Seth Rollins and Roman Reigns come out. She asks who will be their tag team partner. Rollins is going to tell, but Reigns says she has to wait like everyone else. Rollins says he heard what was said earlier. This is the honeymoon phase, but why not? Life is good for them. For their opponents, life won't be so good. They haven't forgotten about what Bobby Lashley did to Dean Ambrose last night. This could be either of their last night's on RAW. Reigns says regardless of whether it's their last, they'll tear Montreal down.
---
Segment: Dolls
A creepy dollhouse is shown before we see a rocking horse rocking back and forth quickly. We then see another rocking chair with a ventriloquist dummy sitting in it. The dummy starts to laugh before the shot ends.
---
Drew McIntyre, Baron Corbin & Bobby Lashley vs. Roman Reigns, Seth Rollins & AJ Styles
Bobby Lashley starts against Seth Rollins. Lashley punches him to the corner, but Rollins fights out. Roman Reigns tags in, and they hit Lashley with a double-team wishbone split. Reigns punches Lashley to the corner, and AJ Styles tags in. Styles punches away at Lashley, but he's powered to the corner. Baron Corbin tags in, and Styles chops him. An "AJ Styles" chant picks up. Styles leapfrogs Corbin and connects with a dropkick. Drew McIntyre tags in, and he points at Reigns. Styles tags Reigns in.
Reigns comes in and punches McIntyre. McIntyre quickly kicks him, but Reigns comes back with an uppercut. Reigns clubs away at him in the corner before hitting the ropes, but McIntyre counters with a belly-to-belly overhead suplex. McIntyre connects with the Glasgow Kiss for a near fall. McIntyre catches him with a suplex for a two count. McIntyre grounds and pounds him before throwing him out of the ring. Corbin tags in, and he backs Reigns into the barricade. Corbin whips him into the barricade, and McIntyre talks a little trash to Reigns. Corbin gets him in the ring and hits a chokeslam backbreaker for a near fall.
We come back from the break to see Reigns punch Corbin back and tag Rollins in. Rollins hits Corbin with a springboard forearm and a Sling Blade. Rollins hits McIntyre with a plancha before covering Corbin with a two count. Rollins superkicks Corbin before kicking him in the midsection. Corbin quickly gets out of the ring. Rollins goes for a suicide dive, but Corbin forearms him. Corbin catches him with a slam for a two count. Corbin punches him to the corner and puts him on the top rope. Rollins fights off a superplex and boots him back. Rollins hits a blockbuster, and they're both down.
Styles and Lashley are tagged in. Styles punches away at him before taking him down with a clothesline. Styles knocks McIntyre off the apron and lifts Lashley, but Lashley slides off. Styles quickly comes back with an overhead kick on Lashley. Corbin runs in and meets the same fate. Styles sets up for a Styles Clash, but McIntyre catches him with a Claymore Kick. Reigns runs in to give McIntyre a Superman Punch, but McIntyre counters into an overhead suplex. Rollins quickly superkicks McIntyre. Reigns then hits McIntyre with a Superman Punch. Reigns hits Corbin with a Drive-By Dropkick. Rollins then hits him with a suicide dive. Styles sets up for a Phenomenal Forearm, but Lio Rush grabs the feet. Lashley slams Styles, but Rollins breaks it up with a Stomp! Reigns connects with a Spear on Lashley, and Styles follows up with the Phenomenal Forearm for the win.
Winners by Pinfall: Roman Reigns, Seth Rollins, and AJ Styles
---
The Superstar Shake-up continues tomorrow night on Smackdown Live.
---
E-Mail – mike@wrestleview.com
Twitter – @MikeTedescoWV