April 8, 2019
Brooklyn, New York
Commentary: Michael Cole, Corey Graves and Renee Young
Results by: Mike Tedesco of Wrestleview.com
---
Quick Match Results
RAW Tag Team Championship: Zack Ryder & Curt Hawkins (c) defeated The Revival via rollup by Hawkins on Dawson
Alexa Bliss defeated Bayley via DDT
Ricochet & Aleister Black defeated Bobby Roode & Chad Gable via Codebreaker by Ricochet on Gable
Dean Ambrose vs. Bobby Lashley never started as they just brawled outside
WWE Intercontinental Championship: Finn Balor (c) defeated Sami Zayn via Coup de Grace
Winner Take All – WWE and Universal Championships: Kofi Kingston defeated Seth Rollins by disqualification when The Bar attacked Kofi
Kofi Kingston & Seth Rollins defeated The Bar via Trouble in Paradise and The Stomp on Cesaro
---
In-Ring: Seth Rollins, The New Day
Michael Cole, whose voice is still shot, welcomes us to the show. Seth Rollins' music plays, and the new WWE Universal Champion makes his way to the ring to a huge ovation. A video package highlights the match Rollins had against Seth Rollins to kick off WrestleMania last night.
We go back into the arena to see the ovation still going on for Rollins. Rollins looks very pleased with the reception. A "You deserve it" chant fires up. Rollins says, "No, no, no — WE deserve it!" Rollins says he's waited a long time to stand in this ring and hold this title above his head. All it took was climbing Mt. Everest and beating the most dominant champion in WWE history. A "Thank you, Rollins" chant picks up. Rollins nods his head and thanks the fans. Rollins says he feels terrible today. If there were a human version of a Mac Truck, it'd be Brock Lesnar. Lesnar destroyed him before the match started, but he got back up. Rollins took everything Brock Lesnar had to dish out and got back up. He may have taken what some might call some questionable tactics to gain an advantage (a "BURN IT DOWN" chant fires up), but truth be told he didn't do anything to Lesnar that Lesnar wouldn't have done to him.
Rollins says he has some news for the fans. Last night, he heard Brock Lesnar and Paul Heyman were taking a flight to Las Vegas for some meetings. As far as Rollins is concerned, they can stay in Las Vegas because Brock Lesnar is no longer the reigning, defending, undisputed Universal Heavyweight Champion. He is. Rollins will do them one better. He is the reigning, defending, FIGHTING, undisputed Universal Heavyweight Champion. Rollins is a champion everyone can be proud of.
"OHH BROOKLYN — DON'T YOU DARE BE SOUR! CLAP FOR YOUR WORLD FAMOUS 5-TIME CHAMPS AND YOUR NEW WWE CHAMPION!!"
The New Day comes out to an ENORMOUS response with WWE Champion Kofi Kingston leading the way. A loud "Kofi" chant fires up. Kingston says he can see the look on Rollins' face. Rollins seems confused. Rollins says it's Monday, not Tuesday. Kingston says his eyes don't deceive him because "'tis your boys, The New Day!" Big E says they're on RAW because last night was cause for celebration. They just could not wait until Smackdown Live. Xavier Woods says Rollins became WWE Universal Champion last night when he defeated Brock Lesnar. Woods didn't realize people don't like Lesnar. Big E says their brother Kofi Kingston did the unthinkable. His dream would not be deferred when he won his first WWE Championship match in 11 years and became your WWE World Heavyweight Champion (they gyrated their hips at every letter and syllable). Big E does an unbelievable full split in the ring. A "Big E" chant fires up while Renee Young cracks up on commentary.
Kingston says after his match, he was in his locker room with his sons watching the Winner Take All main event. Kingston thought that was a great idea for Becky Lynch… so how about the new Universal Champion and the new WWE Champion have a Winner Take All match here tonight? The crowd erupts and a "YES" chant fires up! Kingston says it seems like The Shield is not a thing, so no Shield or New Day. Just Kingston versus Rollins one-on-one, title for title. They go face-to-face while the crowd chants, "This is awesome." Rollins says, "Challenge accepted!" The crowd erupts again!
---
RAW Tag Team Championship
Zack Ryder & Curt Hawkins (c) vs. The Revival
Zack Ryder and Scott Dawson lock up, but Dash Wilder quickly tags in. Ryder locks up with Wilder, and Wilder applies a side headlock. Ryder tries to whip him off, but Wilder keeps it cinched in. Ryder eventually fights out and tags in Curt Hawkins. Dawson also tags in, and he grounds Hawkins. Dawson shoulder blocks him down, but Hawkins comes back with a dropkick. Hawkins hits a running forearm and punches away at Dawson. Wilder runs in and takes Hawkins down. The Revival double-team him while the referee is inadvertently distracted by Ryder. The Revival hits Hawkins with the Hart Attack for a near fall.
We come back from the break to see Dawson and Hawkins down. Ryder and Wilder are tagged in. Ryder hits him with a missile dropkick before giving Dawson a flapjack. Ryder hits Wilder with a back body drop. Ryder hits The Revival with Broski Boots before Hawkins comes in for a near fall on Wilder. Hawkins' knee seems blown out, but he's just playing possum. Hawkins nearly picks up the win. Hawkins clotheslines him down before tagging Ryder in. Wilder quickly rolls Ryder up with his feet on the ropes, but he only picks up a near fall. Dawson hits Hawkins with a brainbuster on the floor. The Revival hit Ryder with a torture rack diving knee, but Ryder kicks out to a loud pop. The Revival are in shock.
They try to suplex Ryder into the ring, but he counters into a neckbreaker attempt. Dawson rolls Ryder up for a near fall. Hawkins blind tags in, and Dawson knocks him off the apron. The Revival hit Shatter Machine on Ryder as they think he's still the legal man. Hawkins rolls Dawson up for the win.
Winners and still RAW Tag Team Champions: Zack Ryder and Curt Hawkins
---
In-Ring: Kurt Angle, Baron Corbin
Ring announcer Mike Rome starts reading off a list of Baron Corbin's accolades, including listing him as the man who defeated Kurt Angle in his farewell match. Baron Corbin comes out to loud boos from the crowd. Corbin mocks the crowd while they chant, "Asshole" at him. Corbin says he takes that as a compliment. For weeks he listened to them all cry about how Angle deserves someone better as his opponent at WrestleMania. Angle chose him, and he showed everyone that Angle doesn't deserve to be in the same ring as him. A "Shut the f**k up" chant picks up. Corbin says they're really classy. Corbin says he proved that he's better than an Olympic Gold Medalist. After that dominating victory, he feels like he deserves a Gold Medal of his own.
Kurt Angle's music hits, and he comes out to a big pop from the crowd. A "Thank you, Kurt" chant picks up. Angle thanks the fans. Angle says Corbin was the better man last night and his career is officially over. Corbin's is just getting started, so Angle wishes him all the luck in the world. Angle shakes his hand and says, "…bad luck!" Angle hits him with an Angle Slam and applies an Ankle Lock! Corbin screams and taps out. Angle lets him go while his music plays.
In-Ring: Kurt Angle, Lars Sullivan
All of a sudden Lars Sullivan's music hits! Sullivan comes out onto the stage, and Angle looks stunned. Angle steps up to Sullivan in the ring. Sullivan appears to be growling something at him. Sullivan then grabs Angle and viciously slams him down! The crowd boos him. Sullivan then goes to the top rope and hits a diving head-butt on him. Sullivan then goes to the back pleased with himself.
---
Video: Superstar Shake-up Promo
The Superstar Shakeup takes place next week on Raw and SmackDown.
---
Alexa Bliss vs. Bayley
Alexa Bliss' music hits, and she makes her way to the ring dressed to compete. She had issued a challenge on social media to Sasha Banks or Bayley. Bayley will be the one accepting the challenge.
Bliss mocks Bayley a bit at the sound of the bell. Bayley forearms her down and puts her in the corner. Bayley punches her down and drops her on the top rope. Bliss quickly pulls her out of the ring and punches her down at ringside. Bliss applies a chin lock while the crowd starts singing for Bayley. Bayley fights up, but Bliss hits her with a mistimed clothesline. Bliss charges and slaps her in the face. Bayley soon rolls her up and grabs the ropes, but the referee sees. Bayley hits a sunset flip into the corner, but bad ring positioning has Bliss' arm under the rope. Bayley is knocked out of the ring. When she gets in the ring, Bliss hits her with a DDT for the win.
Winner by Pinfall: Alexa Bliss
---
In-Ring: Becky Lynch, Lacey Evans
Becky Lynch's music hits, and the new RAW and Smackdown Women's Champion makes her way to the ring. Lynch holds up the Smackdown Women's Championship while the RAW Women's Championship is secured around her waist. The crowd erupts at the sight of her.
Video Package: Becky Lynch defeats Ronda Rousey and Charlotte Flair in the main event of WrestleMania.
The crowd is singing her theme song and when that ends, they chant her name. Lynch is really pleased. Nine years ago, she worked in a bar not too far from here. A loud "You deserve it" chant picks up. Lynch thanks the fans and says, "We did it!" Another "Becky" chant fires up. Becky says her name is Becky Two Belts. A "Becky Two Belts" chant pick up. For two months, Ronnie and Ric's Daughter talked about how great their resumes were, but at WrestleMania when all was said and done, this woman who walked in with nothing left with everything. She may not be the most athletic person in the company, but she does have a good theme song, which the crowd is singing to her. Lynch says leaving home at 15 years old to fight around the world taught her how to survive. She'll always persist, overcome, and find a way to win at the end. A "You're The Man" chant fires up.
Lynch asks if that little weirdo Ronnie can hear that. Whenever she's done sulking and wants more, The Man will be waiting to slap the head off her shoulders again. As for Charlotte Flair, she's sure The McMahon Family will hand her the Tag Team Titles to help her get over losing to Lynch again. All women in both divisions probably want a piece of her, but she's the red head in leather ready to slap the head off them all. Lynch poses with the championships while the crowd applauds and chants her name. Lynch's music plays, and she leaves the ring.
While she leaves the ring, Lacey Evans' music hits. Evans comes down the ramp and stares at Lynch before punching her in the face with the Woman's Right! Evans goes to walk off, but Lynch attacks her from behind. They brawl on the ramp, and Evans gets the advantage. Lynch fights back and blocks a shot into the LED wall. Lynch tries to apply the Dis-Arm-Her, but Evans manages to get away. Referees hold Lynch back.
---
Backstage: Seth Rollins
WWE Universal Champion Seth Rollins is stretching backstage when Charly Caruso walks up to him. She asks why he'd accept the challenge. Rollins says this is what he loves and lives for. Rollins lives for the next challenge. Rollins admires Kofi Kingston stepping up to him, but he's also insulted. This is his show. If you want to get up in his face, you better be ready to accept the consequences. Last night, they both had the biggest wins of their careers. Kingston is capable of an A-level performance, but he better be prepared to bring his A-game tonight. B+ won't get the job done.
---
Ricochet & Aleister Black vs. Bobby Roode & Chad Gable
Aleister Black and Chad Gable start. Gable applies a waistlock and wrenches the arm, but Black reverses the pressure. Black takes him down, but Gable fights out. They wind up in a stalemate. Gable chops him in the throat and takes him down before hitting some crossfaces. Bobby Roode tags in, and he stomps away at Black. Roode stomps him down in the corner and goes for Ricochet, but Ricochet avoids the attack. Ricochet tags in. Black knees Roode, and Ricochet follows up with a dropkick. Black hits Gable with a meteora off the apron. Ricochet then hits Roode with a moonsault off the middle rope to the floor. Ricochet gets Roode in the ring for a near fall. Ricochet wrenches the arm and tags in Gable. Ricochet fights off Roode and Gable. Ricochet sends Gable flying with a dropkick. Ricochet hits the ropes, but Roode pulls the top rope down to get him out of the ring. Ricochet looks to have spiked himself on the head on the apron on the way down. Ricochet clutches his neck and back at ringside.
We come back from the break to see Gable taking Ricochet down. Gable knocks Black off the apron before whipping Ricochet hard into the corner. Roode tags in, and he hits Ricochet with a high knee. Roode follows up with a clothesline for a near fall. Gable tags back in, and he takes Ricochet down. Ricochet boots Gable back and elbows Roode. Ricochet then takes Gable out with a dropkick.
Black and Roode are tagged in. Black hits some running elbows before taking him down with a strike combo. Black hits a springboard moonsault onto Roode and Gable for a near fall. Roode quickly powers him to the corner, but he soon eats an elbow. Black leaps over him, and Roode rolls him up for a near fall. The crowd is doing the wave for no reason. Ricochet tags in. Black kicks Roode, and Ricochet hits a modified suplex for a near fall. Black pulls Gable out of the ring. Ricochet goes to the top rope, but Roode cuts him off. Gable causes a distraction, and Ricochet is knocked off the top rope. Roode hits a spinebuster for a near fall. Roode and Gable hits a neckbreaker/moonsault combo, but Black breaks it up. Roode and Black knock themselves out of the ring. Gable tries for a rolling German Suplex, but Ricochet lands on his feet and pins Gable after a Codebreaker.
Winners by Pinfall: Ricochet and Aleister Black
Roode immediately attacks Ricochet from behind before pulling Gable out of the ring. Black rushes to Ricochet's aid.
---
Backstage: Elias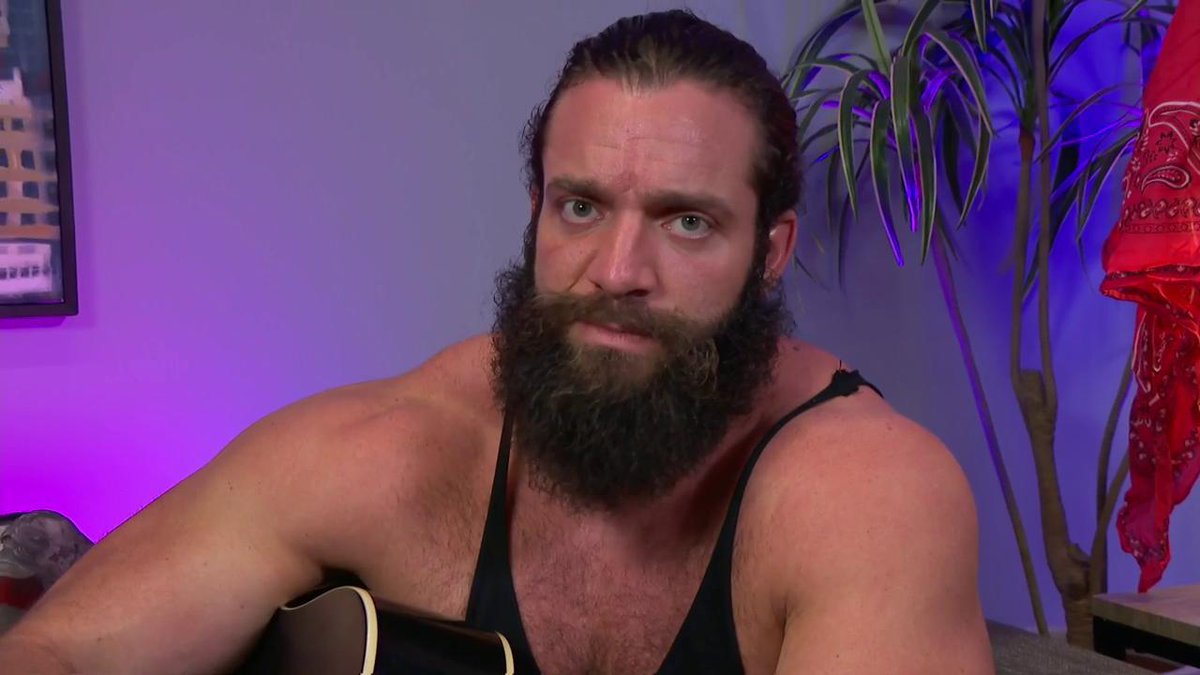 Still photos are shown of Elias' performance before being interrupted by the Doctor of Thuganomics John Cena.
Elias is backstage strumming his guitar. Elias says he was having a great performance before being interrupted by John Cena, who did what can barely be called music. Elias says if anyone interrupts him tonight, including Vince McMahon himself, there will be hell to pay.
---
Video: Cardboard Box
A bizarre video is shown of a smoking cardboard box. Out pops what looks like a demonic puppet that starts laughing.
---
Dean Ambrose vs. Bobby Lashley
Dean Ambrose's music hits, and he makes his entrance for the final time. Bobby Lashley makes his entrance with Lio Rush. Rush goes to speak, but he decides against it. They walk down the ramp, and Rush goes to speak again. Rush decides against speaking again. They get on the apron, and Lashley asks for the microphone. Lashley says, "Don't worry, Dean. When you're gone, I'll make sure to take care of your wife for you."
Ambrose immediately attacks Lashley and punches him around ringside. Ambrose shoves him into the timekeeper's area and throws a chair into his face. Ambrose sends him into the ring post before whipping Lio Rush into the barricade. Ambrose attacks Lashley going up the ramp and punches him to the stage. Lashley kicks and clubs him down. Ambrose sends him into the LED wall before dropping him with Dirty Deeds on the floor! Ambrose clears off the commentary table, and Lashley spears him down. Lashley picks Ambrose up and hits him with a big spinebuster through the table! Lashley and Rush go to the back. This match never started.
Renee Young runs up to her husband and checks on him. A "Thank you, Ambrose" chant picks up.
---
Backstage: Mojo Rawley
Mojo Rawley is talking into a broken mirror asking himself where he was at WrestleMania last night. Rawley's eye has purple lightning painted around it.
---
WWE Intercontinental Championship
Finn Balor (c) vs. Sami Zayn
Sami Zayn makes his entrance to a huge reception. The crowd sings his song as he dances down the ramp. The crowd then sings, "Olé." Zayn reintroduces himself and says if you're going to miss WrestleMania, you might as well come back on the RAW after WrestleMania. His schedule is wide open and he could go for a match right about now. Zayn challenges anyone in the back to come out and have a match against him. WWE Intercontinental Champion Finn Balor will answer the call. This match will be for the title!
They lock up, and Zayn powers him to the corner. They lock up again, and Balor backs him to the corner. Zayn turns him around and playfully slaps the chest. They lock up a third time, and Balor wrenches the arm. Renee Young has rejoined commentary and will not comment on Dean Ambrose. Zayn gets out and wrenches Balor's arm. Balor kips up and fights out. They're at a stalemate.
They lock hands, and Zayn takes him down with a waistlock. Balor fights up and hits him with some arm drags. Balor sends him out of the ring, but Zayn gets in and knocks him out of the ring. Zayn teases a plancha, but Balor moves so Zayn flips off the top rope and does a dance. Balor gets back in the ring, and Zayn applies a side headlock. Balor tries to whip him off, but Zayn keeps the headlock applied. Balor finally whips him off and connects with a nasty dropkick for a near fall. Balor applies an arm bar, but Zayn soon fights up and pounds away at Balor. Zayn chops the chest and goes for a sunset flip, but Balor rolls through and dropkicks him. Balor takes him down and hits a double stomp to the chest. They trade chops until Balor hits him with an overhead kick.
We come back from the break to see Balor knocks Zayn to the outside. Zayn quickly makes a comeback and hits a Blue Thunder Bomb in the ring for a near fall. Balor quickly comes back with a dropkick into the corner. Zayn avoids the Coup de Gras and rolls him up for a near fall. Zayn hits an exploder suplex in the corner and tries for a Helluva Kick, but Balor moves. Balor hits him with the Coup de Grace to retain the title.
Winner and still WWE Intercontinental Champion: Finn Balor
In-Ring: Sami Zayn
Zayn grabs a microphone and gets to his knees. Zayn looks out into the crowd and looks disappointed. Zayn says chuckles and says he really thought coming out here tonight would cure what ills him. All it did was reinforce what he's realized over the past few months. It genuinely seems like they missed him. A "Sami" chant lightly picks up. Zayn gets to his feet and says he can honestly say from the bottom of his heart that he didn't miss this or any one of them. The crowd boos.
Zayn says WWE is a super toxic environment. It's not because of The McMahons or the other WWE Superstars. It's because of the audience and their ugliness. Zayn says he lives a very meaningful and fulfilled life. He's very happy. The audiences' life is devoid of any happiness. They only get joy and satisfaction out of being critics instead of being fans. It's the only thing that gives them a sense of self-importance. They judge everything except themselves. It's because none of them have the balls to look inside themselves. They know the ugliness and cynicism that exists inside themselves. The crowd thinks they're the voice of reason and the ones that should be heard. Seemingly overnight, they have become the evil overlords of WWE. Zayn says he's been about one thing: doing what is right. The right thing isn't to come back and save WWE or takeover the WWE. The right thing to do is to come out here every single week and hold all of them accountable because nobody else will. Zayn says, "See you in hell" and walks off to boos from the crowd.
---
Backstage: Dana Brooke
A new backstage interviewer is shown. Dana Brooke walks up and says she wants to congratulate Becky Lynch. From what we've seen from Lacey Evans, a line is forming to face Lynch. She may not be in the front of the line, but she's not in the back. If she has an opportunity to get in front of the line, she'll take it. With that said, she congratulates Becky Lynch again.
---
In-Ring: Elias, The Undertaker
"Ladies and gentlemen… Elias."
Elias greets the crowd. Last night, John Cena ruined his WrestleMania for the second year in a row. One year from now will be a different story. They were all supposed to get the performance of his life, but instead were subjected to the Doctor of Thuganomics. As a man who can play any instrument, John Cena is no musician or artist. He's a selfish, insecure, fake humble piece of garbage riding his coattails. They all saw it last night. The crowd begins to sing to Elias. In the spirit of Brooklyn and what happened, he'll show everyone just how easy it is to rap. Elias says he doesn't even need his guitar.
Elias raps that he's sick of John Cena. He's sitting here holding up three fingers. The middle one is for Cena. Every superstar wants to make their name on Elias, but the next one to interrupt him is a Dead Man.
The bell tolls, and the crowd ERUPTS! The Undertaker's music hits, and he makes his legendary entrance. Undertaker did not appear on WrestleMania last night for the first time since the year 2000. Undertaker magically turns the lights on and enters the ring. Undertaker is not wearing his eyeliner. Elias goes to leave while the crowd is chanting, "UNDERTAKER." Elias then stops and reenters the ring. Elias removes his jacket and takes off his wireless microphone. A "Holy sh!t" chant picks up. Elias slowly steps up to the Dead Man, and Undertaker steps up to him. Elias turns to leave, but then he tries to blindside him. Undertaker quickly big boots him down before hitting a Chokeslam! Undertaker removes his trench coat before signaling for the end. Undertaker then drops Elias with a Tombstone Piledriver before posing over his body.
---
Winner Take All – WWE and Universal Championships
Kofi Kingston (WWE) vs. Seth Rollins (Universal)
The bell rings, and they circle the ring before locking up. Kingston wrenches the arm and takes him down to a knee. A "Kofi" chant picks up. Rollins rolls through, kips up, and connects with a headlock takeover. Rollins cinches in the headlock. A "Let's go Rollins/Let's go Kofi" chant picks up. Kingston fights up and whips him off. Rollins shoulder blocks him and hits the ropes. Kingston leaps over him and hits a back elbow. Kingston goes for the SOS, but Rollins gets out. Rollins tries for a Ripcord Knee, but Kingston avoids. Kingston tries for Trouble in Paradise, but Rollins stays away from that. Rollins tries for a Stomp, but Kingston slips away. They're at a stalemate.
We come back from the break to see Rollins and Kingston trading chops. Rollins sends him to the corner, but Kingston boots him back. Kingston leaps off the top rope for a cross-body block, but Rollins dropkicks him out of mid-air. Rollins goes to the second rope, but Kingston avoids him. Rollins quickly follows up with a step-up enzuigiri for a near fall. Rollins signals for the end. Kingston counters the Stomp into a roll-up for a near fall. Kingston ducks another step-up enzuigiri and plants him with a DDT for another near fall. Kingston soon catches him with a pendulum kick before going to the top rope. Rollins meets him up there, but Kingston shoves him off the top rope to the floor. Kingston sets up on the top rope, but The Bar runs in and attacks Kingston. The referee calls for the bell.
Winner by Disqualification: Kofi Kingston
Rollins runs in and helps Kingston clear the ring of Sheamus and Cesaro. The wind has been taken from the crowd's sails. Rollins says he and Kingston will finish that some other time. The crowd boos. Rollins wants to team with Kingston and face The Bar. The crowd mostly boos that.
Kofi Kingston & Seth Rollins vs. The Bar
The bell rings, and a "Bullsh!t" chant immediately fires up. Rollins knocks Cesaro from the ring and tries for a plancha, but Cesaro catches him and slams him on the apron. Sheamus then catches Kingston and slams him on the barricade. We come back from the break to see the crowd doing anything but paying attention to this match. Cesaro is beating on Rollins. Sheamus tags in, but Rollins starts fighting back. There's a beachball in the crowd. Rollins sends Sheamus shoulder-first into the ring post.
Kingston tags in, and he hits Sheamus with a springboard forearm. Kingston hits a jumping clothesline before hitting the Boom Drop. Sheamus avoids Trouble in Paradise, but Kingston quickly hits SOS. Cesaro breaks it up. Kingston knocks Sheamus and Cesaro to the floor. Kingston goes for a trust fall, but they catch him. Rollins then takes The Bar out with a suicide dive before they can hurt Kingston. Kingston hits Sheamus with a cross-body block for a near fall. The crowd is paying attention to the numerous beachballs in the crowd. The Bar hits Kingston with a super White Noise, but Rollins breaks it up. Rollins superkicks Sheamus at ringside and sends him into the ring post. Kingston counters the Neutralizer, but Cesaro counters into a Cesaro Swing. Kingston counters that counter into a roll-up for a near fall. Kingston hits Cesaro with Trouble in Paradise before Rollins connects with the Stomp for the win.
Winners by Pinfall: Kofi Kingston and Seth Rollins
Rollins and Kingston celebrate with their titles, but the crowd just doesn't seem to care.
---
E-Mail – MikeyT817@gmail.com
Twitter – @MikeTedescoWV