WWE Smackdown Results
June 18, 2019
Ontario, California
Commentary: Tom Phillips, Byron Saxton and Corey Graves
Results by: Mike Tedesco of Wrestleview.com
---
Quick Match Results
Dolph Ziggler defeated Xavier Woods via superkick
Heavy Machinery defeated The B-Team via the Compactor
Tag Team Elimination Match: Elias & Drew McIntyre defeated The Miz & R-Truth
24/7 Championship: Drake Maverick defeated R-Truth (c) via rollup after disguising himself as Carmella to win the title
2-out-of-3 Falls Match: Kofi Kingston & Seth Rollins defeated Kevin Owens & Sami Zayn 2 falls to 0
---
In-Ring: The New Day, Dolph Ziggler
"OHH CALI! DON'T YOU DARE BE SOUR! CLAP FOR YOUR WORLD FAMOUS 5-TIME CHAMPS AND YOUR WWE CHAMPION… AND FEEL THE POWER!!"
The New Day makes their way to the ring dancing and gyrating. WWE Champion Kofi Kingston greets the crowd. Xavier Woods says this Sunday at WWE Stomping Grounds, we'll see one Kofi Kingston going up against Dolph Ziggler inside of a Steel Cage… but that's only if Ziggler makes it through your boy tonight. The New Day likes to keep the show fresh for the people. Big E says he came up with a pitch for the final hour of Smackdown Live called "The Freaky Hour." It involves a slip-n-slide…
Dolph Ziggler's music hits, and he comes out to the stage. Ziggler says this is typical New Day trying to distract everyone from what we all know from Super ShowDown. Kingston doesn't deserve to be WWE Champion. Without The New Day, Kingston would be nothing. This Sunday, they won't have his back. They won't be there for him. Kingston will be unable to stand on his own. The next time Kingston goes back to Ghana won't be a celebration. It'll be an apology tour because he'll have to look every one of those people in their faces and tell them that he failed. At Stomping Grounds, Ziggler will slam and grind Kingston into the cage.
Kingston says Ziggler is trying to talk to him about Steel Cages like he doesn't know, but this whole journey to the WWE Championship began in the Elimination Chamber. Kingston says he's good with the cage. Whether he pins Ziggler or climbs over the cage… or maybe hit him so hard with a Trouble in Paradise he'll walk out the front door… no matter how it happens, he'll beat him at Stomping Grounds to remain the WWE World Heavyweight Champion. That's Sunday, but Ziggler should worry about tonight. Xavier Woods is itching to pop Ziggler in the mouth like he did at Super ShowDown.
Ziggler tells Kingston to pay attention to what will happen to his buddy. Ziggler hasn't forgotten Super ShowDown. If it weren't for his buddies, he'd be WWE Champion right now. After tonight, Woods will never be able to help him again. Onto Sunday at Stomping Grounds, all the positivity, bad inside jokes, the laughs and pretending to be something he's not comes crumbling to the ground when Kingston is locked in a Steel Cage with him. Ziggler says, "At Stomping Grounds, Kofi, you will no longer be WWE Champion… because it should have been me. It should have been me! It should have been me all along. On Sunday, Sunday, it will be me!" Ziggler's music plays, and he begins walking toward the ring.
---
Xavier Woods vs. Dolph Ziggler
They circle the ring, and Ziggler quickly takes him down, but Woods gets out. Woods soon knocks him into the ropes and connects with a dropkick. Ziggler quickly kicks him back and peppers him with strikes. Woods reverses a whip to the corner, but Ziggler boots him back. Ziggler sends him to the corner, but Woods now boots him back. Woods follows up with the Honor Roll before going to the top rope.
Kevin Owens and Sami Zayn quickly run down to ringside and attack Kofi Kingston and Big E from behind. Ziggler crotches Woods on the top rope. The referee ejects Owens and Zayn from ringside. Woods then catches them with a cross-body block to the floor. Woods gets in the ring, and Ziggler connects with a big spike DDT for a near fall.
During the commercial break, The New Day were also ejected from ringside.
We come back from the break to see Woods duck a clothesline and forearm him down. Woods gets him outside the ring and connects with a baseball slide through the middle rope. Woods gets him in the ring and press slams him into a gut-buster for a near fall. They're on the apron, and Ziggler pushes him into the ring post before hitting a superkick. Woods falls to the floor. Ziggler gets him in the ring and hits a Zig-Zag. Ziggler ties him into the ropes and superkicks him for the win.
Winner by Pinfall: Dolph Ziggler
---
Backstage: Shelton Benjamin, The B-Team, Matt Hardy
Shelton Benjamin and The B-Team are standing outside Baron Corbin's dressing room. Benjamin says they're not stupid and know Corbin just wants to use them. Matt Hardy walks out of the office, and Benjamin goes in.
---
A Moment of Bliss with Bayley
Alexa Bliss and Nikki Cross come out to the stage. Bliss calls attention to her friend Cross. Bliss then asks for a stagehand to bring her coffee, but Smackdown Women's Champion Bayley comes out instead. Bayley is drinking the coffee. Bliss mentions that Bayley crushed Cross' dream of being a champion last night.
Bayley tells Cross that Bliss is just using her. Bayley says she's had enough of Bliss talking behind her back. Bayley dares Bliss to say it to her face.
Bliss gets to her feet and says she knows the real Bayley. When she started in NXT, she saw through Bayley. Every woman told Bliss that she didn't belong, including Bayley. The only person who was nice to her was Charlotte. Now Bayley comes out with her Bayley Buddies dressed from Forever 21 pretending she's just a fan. Bayley is a liar.
Bayley says Bliss is making it up. She's doing to Cross what she did to Mickie James and Nia Jax. Bliss isn't a goddess. She's an entitled little princess who doesn't deserve a damn thing.
Bliss says she's just better than Bayley and always has been. Bayley says she doesn't need anyone but herself and is the champion now. Bliss says Bayley is a placeholder because she peaked in NXT. The one person Bayley found undeserving is the one living the career she wanted.
Bayley attacks her, and they brawl on the stage. Cross pulls Bayley off Bliss and yells at her. Bliss then attacks Bayley from behind. Bliss and Cross walk off.
---
Backstage: Zelina Vega, Apollo Crews, Andrade, Chad Gable
Zelina Vega is fixing her hair backstage when Apollo Crews comes up. Crews says Andrade isn't too far away if she's here. Vega thinks he's trying to flirt with her. Crews tells her to tell Andrade that he's looking for him. Andrade attacks Crews from behind and sends him into some crates. Andrade and Vega walk off. Chad Gable is taking notes in the background.
---
The B-Team vs. Heavy Machinery
Smackdown Tag Team Champions Daniel Bryan and Rowan are on commentary for this next match.
Tucker starts against Curtis Axel. Axel takes him down and stomps away at him. Bo Dallas tags in and stomps away at Tucker. Axel tags in and gives Tucker a DDT for a near fall. Axel applies a chin lock, but Tucker fights up and clotheslines Axel down. Otis and Dallas tag in. Otis knocks Dallas down and avalanches Axel. Otis hits a spinning scoop slam on Dallas before clotheslining Axel out of the ring. Dallas punches and kicks Otis, but he gyrates. Otis picks Dallas up and hits a fallaway slam. Axel runs in, but Otis avalanches him onto Dallas. Otis then connects with the Caterpillar. Tucker tags in, and Heavy Machinery hits the Compactor for the win.
Winners by Pinfall: Heavy Machinery
Heavy Machinery celebrates and goes to the back. WWE Universal Champion Seth Rollins all of a sudden runs into the ring and annihilates The B-Team with a steel chair. Rollins goes back and forth hitting them with the chair. The crowd chants, "Burn it down."
---
Backstage: Shane McMahon, Kevin Owens, Sami Zayn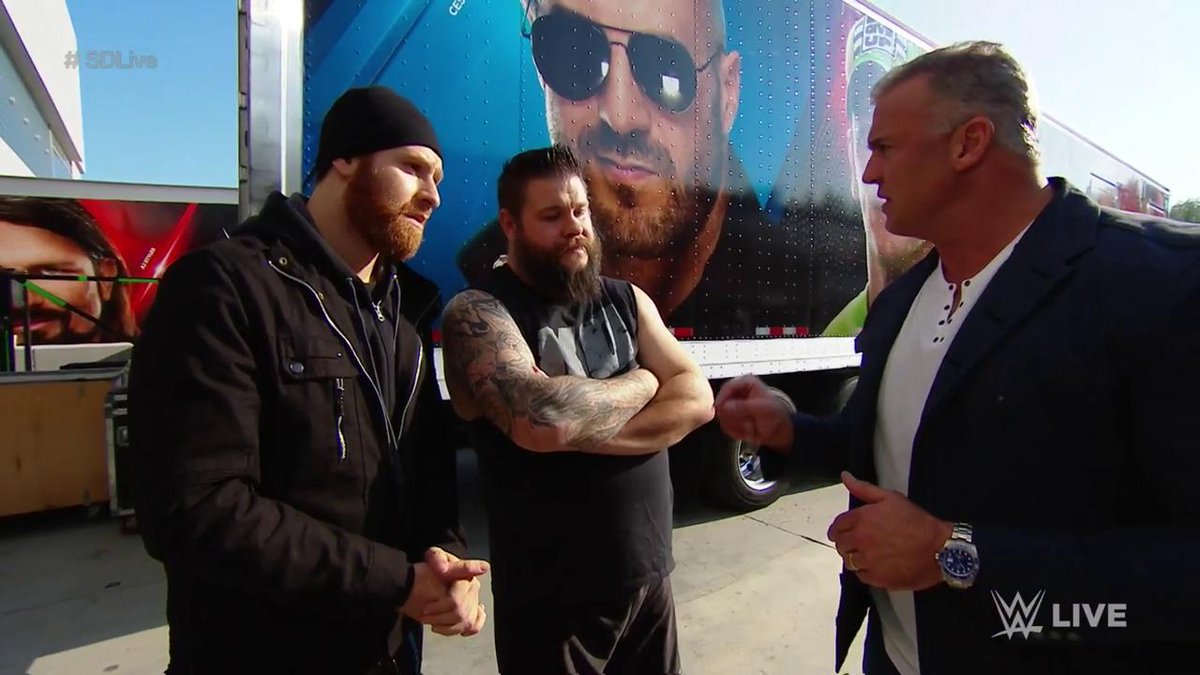 We go outside to see a limousine pulling up to the arena. The driver gets out and opens the back door. Shane McMahon comes out and walks into the arena. Kevin Owens and Sami Zayn come up to McMahon and tells him that Rollins did it again with the chair on The B-Team. They fear for their safety. McMahon tells them to take care of it by facing Seth Rollins and Kofi Kingston in a 2-out-of-3 falls match. McMahon walks off. Owens and Zayn are not happy.
---
Backstage: Aleister Black
Aleister Black is shown backstage. Black asks what it takes to change the essence of a man. Black understands why no one has come knocking on his door. Black gets why no one has picked a fight with him because he can hear the whispers as they pass by. Black says this is not a "woe is me" story. This is a "woe my opponent" story. Someone will come knocking and pick a fight with him. When they fight the fight, Black will change the essence of that man.
---
In-Ring: Shane McMahon, Drew McIntyre, Elias, The Miz
Shane McMahon makes his entrance. Elias joins him, and Drew McIntyre is soon out as well. The three men walk down to the ring. McMahon says he doesn't need Greg Hamilton to do his intro tonight because everyone knows he's the best in the world. The spotlight needs to be on Drew McIntyre tonight. McIntyre will beat Roman Reigns this Sunday at WWE Stomping Grounds. McIntyre says he wants Reigns at 100% this Sunday.
The Miz interrupts him and comes out to the stage. The Miz has footage of Roman Reigns destroying Shane McMahon on RAW last night. Miz says he has more footage, but McMahon threatens to fire everyone in the production truck. Miz says McMahon's ego is out of control. McMahon says he's putting Miz in a match with Drew McIntyre and Elias and has 10 seconds to find a partner. WWE 24/7 Champion R-Truth emerges from under the ring, and Miz says Awesome Truth will reunite.
---
Backstage: AOP, The IIconics, Kabuki Warriors, Paige
AOP is standing outside Baron Corbin's office. The IIconics walk up and look at them. Paige, Asuka and Kairi Sane come up and challenge the IIconics to a match next week in Tokyo.
---
Tag Team Elimination Match
Elias & Drew McIntyre vs. The Miz & R-Truth
The Miz starts against Elias and wrenches the arm. R-Truth tags in and drops a leg on Elias for two count. R-Truth gets pumped up, and Drew McIntyre tags in. R-Truth kicks him in the face and goes for a Scissor Kick, but McIntyre moves. McIntyre then hits an overhead belly-to-belly suplex. McIntyre viciously punches him down. Elias tags in and attacks R-Truth. R-Truth pulls the top rope down to get him out of the ring. McIntyre throws Elias into the ring and tags himself in. McMahon also pulls Miz off the apron. Elias knees R-Truth in the corner and pins him to eliminate him.
R-Truth has been eliminated from the match.
A bunch of lower card Smackdown competitors run down and take the 24/7 title. R-Truth steals it back and runs away.
We come back from the break to see Miz boot Elias in his taped ribs. Miz kicks away at him and hits a kneeling DDT for a near fall. Miz goes for the IT Kicks, but Elias counters into an electric chair. Miz gets out, and McIntyre connects with a Glasgow Kiss. McIntyre tags in and connects with a vicious Claymore Kick for the win.
Winners by Pinfall: Elias and Drew McIntyre
Shane McMahon gets in the ring and throws Miz into another Claymore Kick. McMahon holds Miz up one more time, and McIntyre connects with his third Claymore Kick.
---
Backstage: Mandy Rose, Sonya Deville, Ember Moon
Ember Moon is walking backstage when she sees Carmella. Carmella is looking for R-Truth. Moon sees Mandy Rose and Sonya Deville eating doughnuts backstage. Moon says she's tired of them and knocks the doughnuts out of their hands before brawling with them. Referees break it up.
---
Firefly Fun House
They air the Firefly Fun House segment from last night's RAW.
---
Segment: R-Truth, Drake Maverick
R-Truth is running backstage looking for Carmella. A referee is standing by a car. R-Truth thinks he's doubling as an Uber driver. R-Truth turns and sees someone dressed as Carmella. It's revealed to be Drake Maverick. R-Truth elbows him back, but Maverick rolls him up, wins the WWE 24/7 Championship, and drives off, saying he's off to get married. R-Truth looks stunned that "Carmella" did that to him and wondered why he wasn't invited to her wedding.
New 24/7 Champion: Drake Maverick
---
2-out-of-3 Falls Match
Kofi Kingston & Seth Rollins vs. Kevin Owens & Sami Zayn
The bell rings, and Kofi Kingston immediately hits Sami Zayn with Trouble in Paradise. Seth Rollins knocks Kevin Owens off the apron while Kingston pins Zayn for the first fall.
Kofi Kingston and Seth Rollins lead 1-0.
We come back from the break to see Owens and Rollins square off. Owens punches him and sends him into the ropes, but Rollins ducks a clothesline and hits a Sling Blade. Kingston tags in and hits an axe handle to the arm. Kingston wrenches the arm and tags Rollins in. Rollins comes off the top rope with an axe handle to the arm. Rollins sends him to the corner, but Owens drops him on the apron. Rollins punches Owens back and scares Zayn away. Owens quickly counters a springboard into a slam. Owens knocks Kingston off the apron and covers Rollins for a two count. Owens covers two more times for the same result.
Paul Heyman is seen happily watching backstage.
Zayn tags in and punches away at Rollins. Zayn applies a chin lock, but Rollins fights up to his feet. Zayn pushes him to the corner and punches away at him. Zayn puts him on the top rope and goes for a superplex, but Rollins fights him off and head-butts him down. Owens quickly tags in, but Rollins knocks him back. Rollins connects with a blockbuster.
Kingston and Zayn tag in. Kingston hits Zayn with a springboard chop before knocking Owens off the apron. Kingston hits Zayn with two chops and a dropkick. Kingston connects with a leaping clothesline followed by the Boom Drop. Kingston sets up in the corner, but Zayn backs away. Zayn boots him back, but Kingston comes back with a double jump cross-body block for a two count. Kingston catches Zayn trying to leave the ring, but Zayn counters back with a Blue Thunder Bomb for a near fall. Owens tags in, and Kingston takes him down. Rollins tags in and hits Zayn with a suicide dive before hitting Owens with one. Rollins gets Owens in the ring and hits a springboard clothesline. Zayn grabs Rollins' ankle, but Kingston clotheslines him. Owens rolls Rollins up for a near fall. Rollins gets out of a Pop-up Powerbomb, and Rollins soon connects with a superkick. Rollins signals for a buckle bomb, but Owens gets out. Rollins quickly takes him down and hits the Stomp for the win.
Winners by Pinfall: Kofi Kingston and Seth Rollins (2-0)
Seth Rollins and Kofi Kingston celebrate in the ring while Paul Heyman continues to watch and smile backstage.