July 14, 2019
Philadelphia, PA – Wells Fargo Center
---
Quick Match Results
Intercontinental Championship (Kickoff Show): Shinsuke Nakamura defeated Finn Balor (c) via Kinshasa to become the new champion (7:40)
Cruiserweight Championship (Kickoff Show): Drew Gulak (c) defeated Tony Nese via Cyclone Crash (7:25)
No Holds Barred Match: Roman Reigns & The Undertaker defeated Drew McIntyre & Shane McMahon via tombstone by Undertaker on Shane (17:00)
Raw Tag Team Championship: The Revival (c) defeated The Usos via Shatter Machine on Jimmy (12:35)
Aleister Black defeated Cesaro via Black Mass (9:45)
SmackDown Women's Championship Handicap Match: Bayley (c) defeated Alexa Bliss & Nikki Cross via top rope elbow drop on Nikki Cross (10:30)
Last Man Standing Match: Braun Strowman defeated Bobby Lashley via powerslam off an elevated crowd section (17:30)
SmackDown Tag Team Championship Triple Threat Match: The New Day defeated Daniel Bryan & Rowan (c) and Heavy Machinery via Midnight Hour on Bryan to become the new champions (14:00)
United States Championship: AJ Styles defeated Ricochet (c) via middle rope Styles Clash to become the new champion (16:30)
Kevin Owens defeated Dolph Ziggler via Stunner (0:20)
WWE Championship: Kofi Kingston (c) defeated Samoa Joe via Trouble in Paradise (9:45)
Universal Championship & Raw Women's Championship Winners Take All Mixed Tag Team Extreme Rules Match: Seth Rollins (c) & Becky Lynch (c) defeated Baron Corbin & Lacey Evans via three Stomps by Rollins on Corbin (19:56)
Universal Championship: Brock Lesnar defeated Seth Rollins (c) via F5 to become the new champion after cashing in his Money in the Bank briefcase (0:15)
---
Intercontinental Championship (Kickoff Show)
Finn Balor (c) vs. Shinsuke Nakamura
Towards the end, Nakamura ran at Balor in the corner but Balor moved and Nakamura smashed into the turnbuckles. Balor went to the top for the Coup de Grace, but Nakamura knocked him down.
Nakamura set him up for the Kinshasa and ran at him, but Balor jumped up and hit him with a double foot stomp. Dropkick into the corner by Balor, then he went back to the top for another Coup de Grace attempt… but Nakamura moved. Knee to the back of the head by Nakamura, then a Kinshasa! 1-2-3. New champ.
Winner: Shinsuke Nakamura (New Intercontinental Champion) (7:40)
---
Cruiserweight Championship (Kickoff Show)
Drew Gulak (c) vs. Tony Nese
Towards the end, Nese went for a sunset driver, but Gulak countered into a powerbomb for a near fall. Gulak then hit a lariat for another near fall, then finally hit his "Cyclone Crash" (twisting neck breaker) finisher for the win. Pretty good match that got a decent reaction from the crowd.
Winner: Drew Gulak (7:25)
---
No Holds Barred Match
Roman Reigns & The Undertaker vs. Drew McIntyre & Shane McMahon
After all of the entrances, the bell finally rang for the first match at 7:18 ET, 18 minutes into the show…
A few minutes in, Undertaker nailed Shane with snake eyes, then a big boot, then he knocked him out of the ring. Undertaker cleared off the announce table and prepared to give Shane the Last Ride, but Elias ran in and smashed a guitar on Taker's back.
Reigns attacked Elias, but McIntyre nailed Reigns with a Claymore. Elias went to hit Undertaker with a piece of the broken guitar, but Taker grabbed him by the throat… but McIntyre hit Undertaker with a Claymore also.
McIntyre and Elias set Undertaker up on the announce table, Shane went to the top rope and hit a flying elbow drop on Undertaker through the table.
They dragged Undertaker into the corner and put a trash can in front of his face. Shane went to the top rope for the Coast to Coast, did Undertaker's throat slash gesture and nailed the Coast to Coast.
Reigns finally came back into the match and fought with McIntyre and Elias on the outside.
In the ring, Shane dragged Undertaker's body into the middle of the ring but Undertaker suddenly sat up, vintage Undertaker. He grabbed Shane by the throat and chokeslammed him.
McIntyre entered and prepared to hit the Claymore on Undertaker but Roman Reigns ran in and speared McIntyre.
Reigns grabbed Shane and tossed him to Undertaker, who picked him up and hit him with a tombstone. 1-2-3.
Winners: Roman Reigns & The Undertaker (17:00)
Undertaker and Roman Reigns faced off in the ring in a show of respect after the match.
---
Backstage: Seth Rollins, Becky Lynch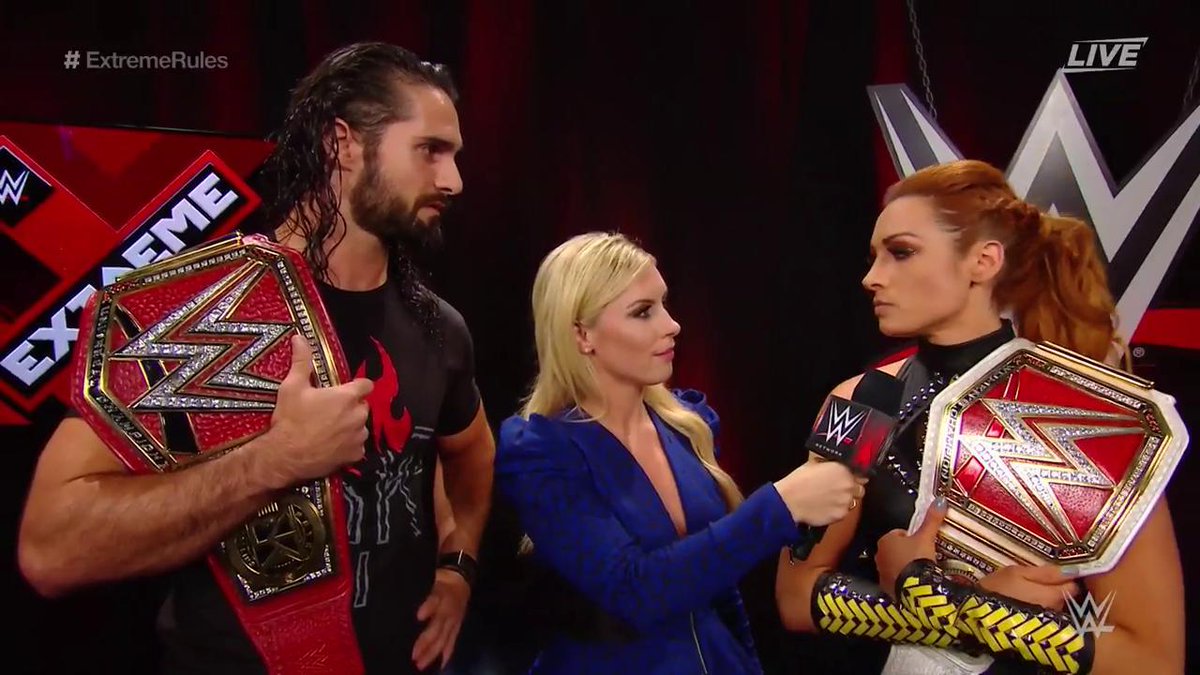 Rollins and Lynch were interviewed backstage. They said that they took a stroll through Philadelphia earlier, then cut a promo on Corbin and Evans. Rollins said that the liberty bell has a crack in it, just like Corbin's head will have after Rollins stomps him tonight. They are not good on camera together.
---
Raw Tag Team Championship
The Revival (c) vs. The Usos
This was a pretty standard match for the first 10 minutes. In the end, Jey Uso nailed both members of the Revival with superkicks. He tagged in Jimmy and they prepared to do a dive to the outside, but Dawson grabbed Jey and tripped him up and dragged him out of the ring.
The Revival then nailed Jimmy with the Shatter Machine for the win. Not a very good match and the crowd didn't seem too interested.
Winners: The Revival (12:35)
---
Aleister Black vs. Cesaro
Black went for a Black Mass immediately, but Cesaro moved. Cesaro went for the Neutralizer, but Black escaped, and Cesaro sat down in the ring like Black does, taunting him.
A few minutes in, Black went for a meteora but Cesaro caught him, tossed him in the air and hit him with an uppercut.
Black hit a lot of kicks to Cesaro's left leg and Cesaro sold like he was hurt.
They exchanged blows, then Cesaro went for the Neutralizer, but his leg gave out. Black hit him with a couple of kicks then smashed him in the face with a Black Mass… 1-2-3.
This was a really good match.
Winner: Aleister Black (9:45)
---
Backstage: R-Truth, Carmella, Alexa Bliss, Nikki Cross, Street Profits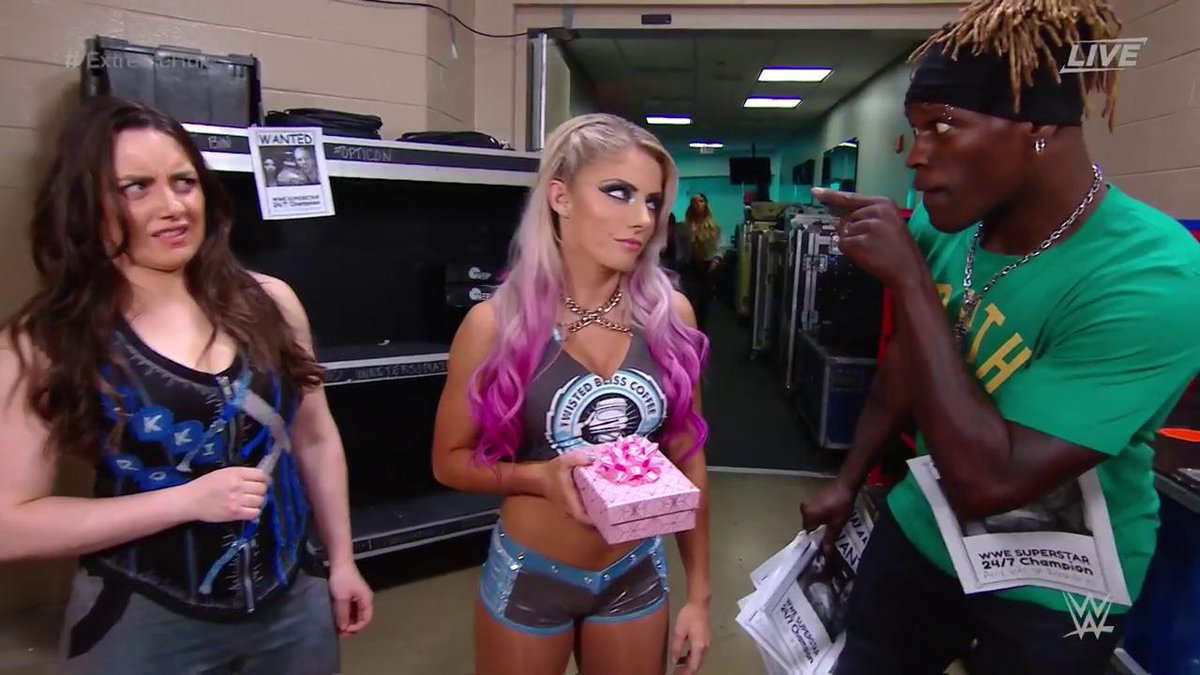 Backstage, R-Truth was putting up signs looking for "Hornswoggle" (Drake Maverick). Alexa Bliss and Nikki Cross walked in. Truth asked Bliss if she's seen Hornswoggle, but Carmella grabbed him and told him that they had to go.
Alexa handed Nikki Cross an Alexa Bliss t-shirt and Nikki said that she loved it.
The Street Profits walked in and said that that was really cute, then asked Alexa "where the party at" when she wins the SmackDown title tonight. Alexa said that they'll be co-SmackDown champions, and the Street Profits laughed at them. Nikki said that she'll prove them wrong tonight and she and Alexa walked off.
---
SmackDown Women's Championship
Handicap Match
Bayley (c) vs. Alexa Bliss & Nikki Cross
Bayley and Bliss had to tag each other in, so only one of them was in the match at a time.
Bliss and Cross controlled the match for the first few minutes, but Bayley finally fought back with a flurry of offense. Bayley locked on a leg lock on Nikki, but Alexa broke it up.
Later, after a distraction by Alexa, Nikki hit a tornado DDT on Bayley, then tagged in Alexa, who went for Twisted Bliss, but Bayley got her knees up. Alexa crawled over and tagged Nikki, who jumped off the top but Bayley nailed her with a flying knee. Bayley went to the top herself and hit an elbow drop on Cross… 1-2-3.
Winner: Bayley (10:30)
Alexa and Nikki comforted each other in the ring as Bayley celebrated.
---
Last Man Standing Match
Bobby Lashley vs. Braun Strowman
They immediately started fighting on the outside, then through the crowd, then throughout the arena and back through the crowd.
Lashley tackled Strowman through the barricade, back to ringside. He shoulder blocked him over the German announce table, then pushed the table over on top of Strowman. The ref began a 10 count, but Strowman dragged himself out and up at 9. Lashley ran at Strowman again but Strowman lifted him up and tossed him into the international announce table area.
They fought through the crowd again near an elevated section of the seats. Strowman picked Lashley up and powerslammed him into darkness below… The ref started counting to 10… and at 8, Strowman crashed through a portion of the stage, on his feet. The ref counted to 10 and Lashley was out.
Winner: Braun Strowman (17:30)
---
Backstage: AJ Styes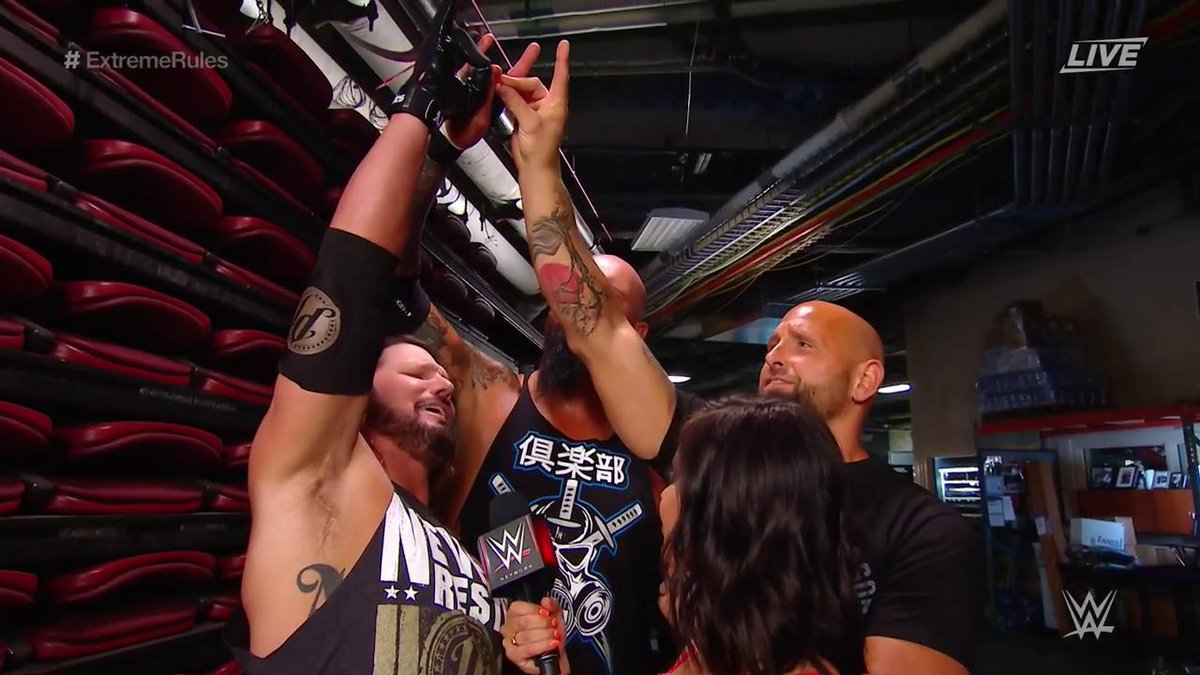 Styles was interviewed backstage, accompanied by Gallows and Anderson. Styles said that he will take Ricochet's title tonight, and that is too sweet.
---
SmackDown Tag Team Championship
Daniel Bryan & Rowan (c) vs. The New Day vs. Heavy Machinery
A few minutes in, Otis teased doing a top rope dive onto his four opponents, but stopped, walked out onto the apron, then jumped off instead, getting a big pop.
Heavy Machinery hit the Compactor on Big E, but Woods broke it up. They then hit Woods with a pop up slam.
Rowan tried to do a double claw on Heavy Machinery, but they fought him off and splashed him repeatedly in the corner, then went for a double suplex off the middle rope… but Big E came in and powerbombed Otis and Tucker. Big E then hit a superplex on Rowan, but Daniel Bryan tagged himself in before.
Bryan hit a top rope head butt on Big E, then locked on the LeBell Lock, but Big E reached the ropes. Yes Kicks by Bryan, but Big E got up and told him to hit him again. Bryan slapped him twice, then Big E turned him upside down with a huge clothesline. He tossed Bryan into the corner, but Bryan tried a moonsault, but Big E caught him on his shoulders… Midnight Hour by The New Day… 1-2-3, new champs.
Winners: The New Day (New Champions) (14:00)
After the match, Kayla Braxton tried to interview the New Day backstage, but Paul Heyman walked up and grabbed the microphone…
---
Segment: Paul Heyman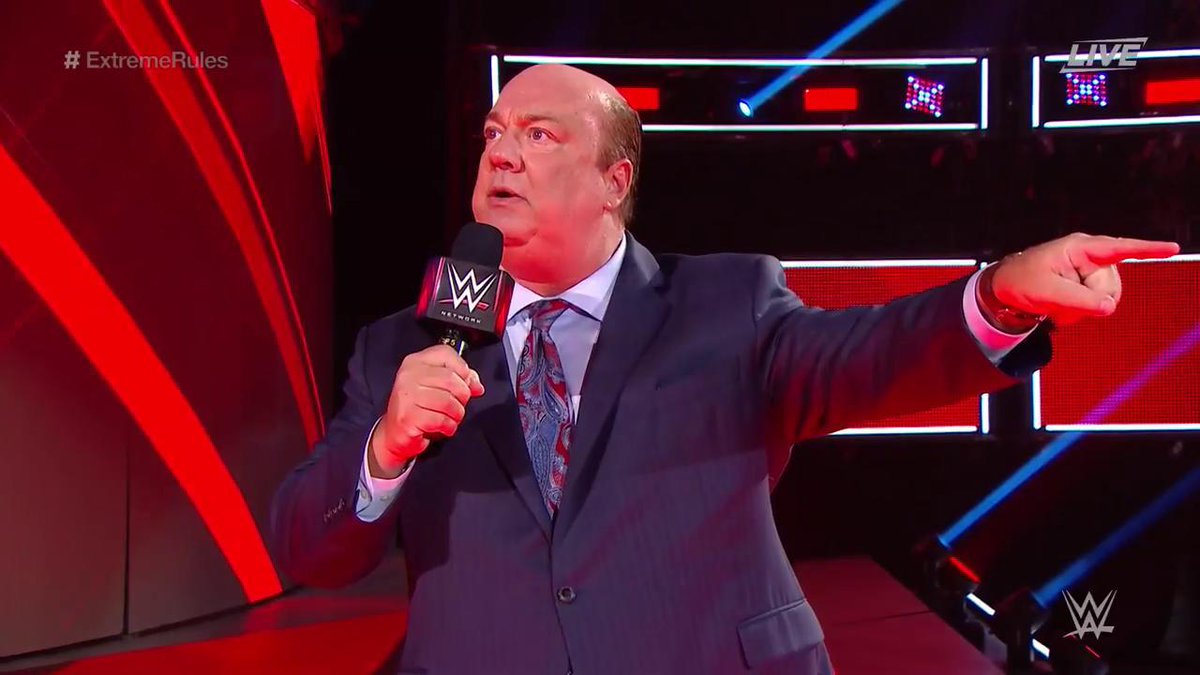 Heyman came out on the stage and said "I am Philadelphia and I am the entire concept of extreme, so I'll be damned if I leave tonight without being part of history." He said that tonight, Brock Lesnar will cash in his Money in the Bank contract. But he said that him telling us this would make him a stupid son of a bitch, so you have to ask yourself, "Am I telling the truth or am I Paul Heyman?"
---
United States Championship
Ricochet (c) vs. AJ Styles
During Ricochet's entrance, before the bell rang, Gallows and Anderson attacked him. That allowed Styles to control the first few minutes of the match, pounding down on Ricochet. But Ricochet was eventually able to fight back against Styles and dived off the top onto Gallows and Anderson on the outside.
Later in the match, Ricochet hit a springboard shooting star press and went for the pin, but Anderson yelled at the ref that Styles' foot was under the rope. Ricochet went to the top again but Anderson got up on the apron. Ricochet kicked him in the head and went to the top again. The official went to get Anderson out of the ring, but Gallows got up and knocked Ricochet down behind the ref's back.
Styles then hit a scary looking Styles Clash off the middle ropes (with Ricochet facing the turnbuckles) for the win.
Winner: AJ Styles (New Champion) (16:30)
---
Kevin Owens vs. Dolph Ziggler
Owens and Ziggler faced off and shouted at each other. Ziggler slapped Owens, then Owens nailed him with a Stunner! 1-2-3 in a few seconds…
Winner: Kevin Owens (0:20)
Owens grabbed a mic and said that he stands by what he said on SmackDown, that Shane McMahon taking up TV time makes everyone sick. He said that he thinks he can speak for everyone when he says that Shane McMahon can kiss his ass and go straight to hell.
---
WWE Championship
Kofi Kingston (c) vs. Samoa Joe
A few minutes in, Joe put Kofi's fingers between the ring steps and stomped on them. Joe dominated the match for several minutes. He locked on a Coquina Clutch, but Kofi escaped. Joe slammed him down to the mat and hit a senton for a near fall.
Joe set him up for another Coquina Clutch, but Kofi kicked him in the head. Joe ran at Kofi, but Kofi moved, threw him into the ropes then nailed him with Trouble in Paradise for the win… Weird match. Joe dominated about 95% of it.
Winner: Kofi Kingston (9:45)
---
Universal Championship & Raw Women's Championship
Winners Take All Mixed Tag Team Extreme Rules Match
Seth Rollins (c) & Becky Lynch (c) vs. Baron Corbin & Lacey Evans
Lacey had "SETH" written on her ring trunks and the camera zoomed in really close on her ass to show it.
Kendo sticks were brought into the match early. Lacey was about to hit Seth with one, but he grabbed her. Lacey seductively touched Seth's chest and Becky came up from behind and smashed her in the back and head with a kendo stick. Seth and Becky then repeatedly nailed Corbin and Lacey with kendo sticks.
Chairs were then brought out from under the ring, with Becky smashing Lacey in the back a few times. Bexploder on two chairs. Van Daminator by Becky onto Corbin, but Lacey attacked her, then went to the top and hit a sweet springboard moonsault off the top.
Lacey was bleeding from her mouth, with blood on her teeth. She went for the Woman's Right, but Becky moved and hit her with a DDT.
Seth and Becky brought out tables, then set up two of them on the outside, but they took too long and Corbin and Evans regained control. Becky was thrown into the ring steps and Corbin and Lacey both went to work on Rollins with kendo sticks. Double chokeslam by Corbin and Evans on Rollins and Lynch.
They tried suplexing Rollins through a table, but Becky got involved and broke it up. Becky set Lacey up on a table on the outside and Rollins set Corbin up on one. Becky jumped off the middle rope and leg dropped Lacey through the table, and Rollins hit a top rope frog splash on Corbin through the other table.
Rollins rolled Corbin in the ring and went for the Stomp, but Corbin picked him up and powerbombed him, then hit Deep Six. He went for the pin, but Becky broke it up.
Lacey ran in, but Becky tossed her out of the ring. Suddenly, Corbin hit Becky Lynch with End of Days! Rollins looked furious and went ballistic on Corbin with a kendo stick, then a steel chair. Stomp by Rollins. And a second Stomp. Lacey looked on and backed up down the aisle… A third Stomp, and it's over.
Winners: Seth Rollins & Becky Lynch (19:56)
Suddenly, Brock Lesnar's theme music hit! And out he came with Paul Heyman. He entered the ring and hit Rollins with two German suplexes. Heyman gave the Money in the Bank briefcase to the time keeper and Mike Rome announced that he is officially cashing in. The bell rang…
Universal Championship
Seth Rollins (c) vs. Brock Lesnar
Lesnar hit an F5! 1-2-3.
Winner: Brock Lesnar (New Champion) (0:15)
Lesnar and Heyman celebrated the victory as Rollins looked on shocked and deflated.