MLB recently released the entire 2019 MLB Playoff schedule, revealing which games and dates may affect WWE and AEW's weekly television shows.
SmackDown will be directly affected by Game 3 of the World Series due to it airing on FOX on October 23rd, which is on a Friday. SmackDown will likely air on FS1 on that date although neither WWE nor FOX have yet to confirm that will be the case.
SmackDown will remain on FOX during the American League Championship Series due to none of the games being scheduled to take place on a Friday. The only AL Division Series games scheduled for a Friday are on October 4, but they will air on FS1 or MLB Network.
If NXT does move to FS1 this fall, it could be affected by Game 4 of the ALCS due to it being scheduled to take place on October 16th, which is on a Wednesday. At the moment, it has not been decided if the game will air on FOX or FS1.
In regards to All Elite Wrestling, MLB games are scheduled on Wednesdays on TBS on October 9th (NLDS Game 5) and October 16th (NLCS Game 5), but the times are not known yet, and games 5 will only take place if needed.
AEW will also be facing TV competition from MLB's Payoffs on October 2nd (AL Wild Card game on ESPN), October 16th (ALCS Game 4 on FOX/FS1), October 23rd (World Series Game 2 on FOX), and October 30th (World Series Game 7 if needed on FOX).
Image via Brian McTaggart: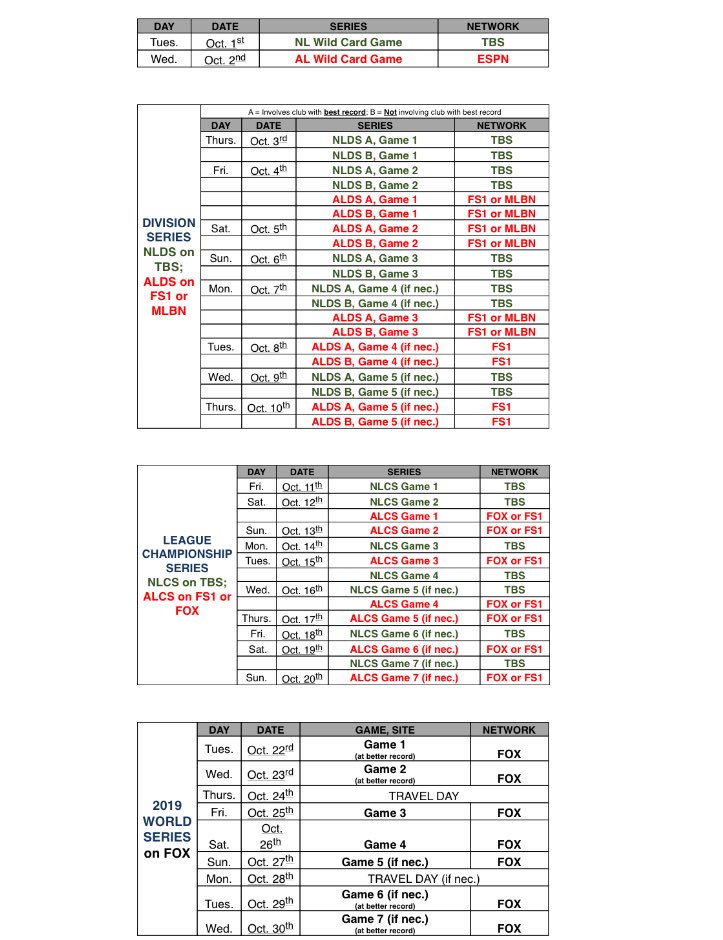 h/t: Fightful