August 12, 2019
Toronto, Ontario, Canada
Commentary: Michael Cole, Corey Graves and Renee Young
Results by: Mike Tedesco of Wrestleview.com
---
Quick Match Results
Samoa Joe defeated Sami Zayn via Coquina Clutch
The Miz defeated Dolph Ziggler via Figure Four Leg Lock
Ricochet defeated Elias via top rope sunset flip pin
2-out-of-3 Falls Match: Andrade defeated Rey Mysterio 2 falls to 0
Drew McIntyre defeated Cedric Alexander via Claymore
Robert Roode defeated No Way Jose via Glorious DDT
Lucha House Party vs. The Revival was no contest when 24/7 Championship wrestlers ran in
24/7 Championship: The Revival defeated R-Truth (c) to win the title via Hart Attack
24/7 Championship: R-Truth defeated Scott Dawson (c) to win the title after Kalisto hit Dawson with a Salida del Sol
24/7 Championship: Elias defeated R-Truth (c) to win the title via guitar shot
WWE Women's Tag Team Championship: Alexa Bliss & Nikki Cross (c) defeated The Kabuki Warriors via Twisted Bliss by Bliss on Sane
Seth Rollins defeated AJ Styles by disqualification when Anderson & Gallows attacked Rollins
---
In-Ring: Seth Rollins, AJ Styles
WWE Universal Champion Seth Rollins makes his way to the ring to a nice reception. Rollins looks like his ribs are still hurting a lot. Rollins stands in the ring, and the crowd starts chanting, "Burn it down." Rollins says he doesn't know any other way to do it but to be honest. Last night… he didn't know if he had what it took to beat Brock Lesnar. The last few weeks have been the toughest stretch of his career. Last night he walked down that ramp not 100% and facing Brock Lesnar. Lesnar is everything they tout him to be. Lesnar is a beast. The crowd chants, "Beastslayer." Rollins says last night the crowd came alive and took him to a place he's never been in his entire career. They took him to a place he couldn't go alone. Only they can go to that place together. At that moment, he knew he had what it took to slay the beast. Rollins remembered that he is Seth "Freakin" Rollins. That's why he's standing here as the Universal Champion.
WWE United States Champion AJ Styles makes his way to the ring alongside Anderson and Gallows. Styles tells Rollins to hold on. The OC gets in the ring. Styles says The OC would like to be the first to congratulate Rollins. The OC politely claps for Rollins. Styles says now it's going to get tricky. Rollins doesn't have to worry about Brock Lesnar anymore, but he does have to worry about the man standing in front of him. Styles says ever since he came to his senses, he has a lot to prove. Styles wants to challenge Rollins to prove that he's a much better champion than him. Rollins smirks and says he's always had a ton of respect for Styles. A "YES" chant fires up. Styles tells Rollins to listen to the crowd. Rollins says he lost his respect for Styles. Rollins says he isn't one to back down from a fight so he accepts the challenge. The crowd loudly cheers.
Styles goes for a handshake, but Rollins declines it. Styles orders The OC out of the ring, leaving him and Rollins. Rollins then shakes Styles' hand. The OC then gets on the apron, and Styles tells Rollins he should be afraid. The crowd is chanting for Styles. The OC walks off.
---
Backstage: Street Profits, Sami Zayn, Samoa Joe
NXT Tag Team Champions The Street Profits are backstage in Toronto Blue Jays sweaters. Montez Ford says with AJ Styles and Seth Rollins, RAW is getting all of the smoke. Angelo Dawkins says he's a little dehydrated after the SummerSlam after party. Ford asks for some electrolytes.
Sami Zayn comes up to them and says the longer they're here, this place will suck their souls. The parasites in the crowd will suck the soul out of them. Zayn says Seth Rollins used to be The Architect and gritty. Now he's a pandering fool. Becky Lynch used to be real… now she's manufactured.
The Street Profits ask if that happened to Samoa Joe. Zayn says he's a great example. Zayn runs down Joe as someone who used to be a monster, but now he's crying over Roman Reigns. Samoa Joe was standing behind him the whole time. Joe challenges him to a match to prove he's not Kevin Owens' water boy. Joe shoves him down.
---
Video: King of the Ring
The King of the Ring Tournament returns next Monday on RAW!
---
Samoa Joe vs. Sami Zayn
Sami Zayn tries to ambush Joe, but Samoa Joe takes him down very quickly. Joe quickly applies the Coquina Clutch for the win.
Winner by Submission: Samoa Joe
Samoa Joe says he wants to make himself very clear. Even though he forgave Roman Reigns for pointing the finger at him, his forgiveness is extended to no one in the crowd. They perpetuated the lie that he was involved in heinous atrocities, so he forgives none of them. Joe walks off.
---
The Miz vs. Dolph Ziggler
Dolph Ziggler made his entrance in his regular clothes. Ziggler is clutching his ribs in pain. Ziggler has a microphone, but the crowd cuts him off with "Goldberg" chants. Ziggler says he hopes Miz is happy and calls him a coward. Everyone knows Miz didn't have a chance against him at SummerSlam, so he put Goldberg on him at SummerSlam. That was all part of Miz' plan. Ziggler says he got speared so many times yesterday that he can't medically compete tonight. Miz' plan is up in smoke. Miz screwed Miz. All these bloodthirsty Canadians would love to see this match… too damn bad. Ziggler throws down the microphone and goes to leave.
Ziggler then ambushes Miz from behind and takes him down. The referee backs Ziggler up, but he continues to attack Miz. This match will officially start, next.
We join this match in progress to see Ziggler turn Miz inside out with a knee. Miz fights back and punches him down before hitting a pair of running knees in the corner before connecting with his trademark corner clothesline. The crowd is into The Miz tonight. Miz comes off the top rope with a double axe handle. Miz hits the IT Kicks, but Ziggler ducks the big kick. Miz goes for a Figure Four Leglock, but Ziggler gets away. Ziggler also avoids a Skull Crushing Finale and catches Miz with a Zig-Zag for a near fall!
The Goldberg chants start again. Miz comes back by taking Ziggler down by countering a superkick with a legbreaker and applies the Figure Four Leglock. Ziggler screams in pain and tries to get to the bottom rope, but Miz drags him to the center of the ring. Ziggler screams in pain and taps out.
Winner by Submission: The Miz
Dolph Ziggler says Miz is a coward and couldn't beat him at SummerSlam. Miz couldn't beat him fair and square. Miz isn't even the best wrestler in his family. Maryse is. This is just a flesh wound, just like Sunday. Miz is nothing. Miz returns to the ring and catches him with a Skull Crushing Finale before walking off!
---
Backstage: Becky Lynch
Charly Caruso is backstage with RAW Women's Champion Becky Lynch. Lynch takes the microphone and says she's not here to celebrate. Natalya had a debt to cash, and Lynch gives her respect. Lynch says she will not rest until everyone has been dealt with. This is a cat and mouse game. You have to get her before she gets them. Game on.
---
Elias vs. Ricochet
"Ladies and gentlemen… Elias." Elias greets the crowd. Elias says he was interrupted by a WWE legend last night in Edge. Elias says he never gets through a song, so he has the crowd countdown to see who will interrupt. No one comes out. Elias says we'll have the first uninterrupted song tonight.
Ricochet cuts him off after the first chord. Ricochet says people don't interrupt him because it's cool. They interrupt him because he sucks. Elias says a guy dressed like a comic book character isn't going to tell him what's cool or not. Elias demands a referee so he can show him what he's about.
The bell rings, and Ricochet rolls under a clothesline and hits a head-scissor takeover. Ricochet connects with a nice dropkick for a two count. Ricochet elbows Elias back, but Elias quickly comes back by punching and stomping him down in the corner. Elias chops the chest and sends him into the ropes for a high back body drop. Elias picks up a near fall. Elias rips at the face and talks trash before applying a side headlock. Ricochet fights up, but Elias takes him back down. Ricochet fights up, but Elias shoves him to the corner. Ricochet kicks him back and hits a dropkick to take him down. Ricochet blocks a right hand and punches him. Elias reverses a whip, and they botch a head-scissor takeover. Elias reverses another whip, and Ricochet kicks him in the head. Elias quickly gets out of the ring. Ricochet goes for a somersault suicide dive, but Elias moves and Ricochet crashes and burns.
Elias gets him in the ring and grabs his guitar. The referee admonishes Elias to not use the guitar. Ricochet superkicks Elias and goes to the top rope for a diving sunset flip. The referee counts the three, but Elias has a shoulder up the whole time.
Winner by Pinfall: Ricochet
Elias is not happy and arguing that his shoulder was up.
---
2-out-of-3 Falls Match
Rey Mysterio vs. Andrade
The bell rings, and Andrade big boots Mysterio down. Andrade stomps him and goes for a powerbomb, but Mysterio counters into a hurricanrana in the ropes. Mysterio goes for a 619, but Vega grabs the feet. Mysterio yells at her, so Andrade rolls him up and puts his feet on the ropes. Vega holds the feet, and Mysterio loses the first fall.
Andrade pins Rey Mysterio to win the first fall and go up 1-0.
The second fall begins, and Mysterio soon kicks Andrade in the face on the apron. Mysterio goes to the top rope and hits a diving hurricanrana off the apron! Wow! Mysterio gets Andrade in the ring and hits a springboard splash for a one count. Andrade shoves Mysterio to the corner, but Mysterio elbows him back. Andrade comes back with a big back elbow to the face for a two count. Andrade knocks Mysterio to the corner and stomps him down. Andrade goes for his running double knees in the corner, but Mysterio moves. A "Rey Mysterio" chant picks up. Andrade drops Mysterio on the apron, but Mysterio slingshots into the ring with a (sort of) Canadian Destroyer for a near fall. Mysterio knocks Andrade into the ropes and goes for the 619, but Andrade moves. Andrade rolls him up for a near fall. Mysterio then rolls him up for a near fall. Mysterio kicks him in the head and dropkicks him into the ropes. Mysterio connects with a 619 and goes to the top rope. Mysterio goes for a frog splash, but Andrade gets the knees up. Andrade follows up with a Hammerlock DDT for the clean sweep.
Winner by Pinfall: Andrade (2-0)
---
Interview: Stone Cold Steve Austin
Michael Cole is going to interview Stone Cold Steve Austin, who is joining the show on Skype. Austin gets a nice reception. Cole asks how impressed he was with Seth Rollins. Austin says the performance was off the charts. Rollins was getting his ass whipped every week on RAW. The match was badass. Rollins said this was all he is and all he's got. That's what Austin believed his whole damn career. Austin always wondered who Rollins really is. Now Austin knows who and what he is. Cole asks what Austin told Rollins at RAW Reunion. Austin told him to be himself. Cole then promotes Austin's new show, "Straight Up Steve Austin" tonight on the USA Network.
---
Backstage: Rey Mysterio
Rey Mysterio is walking sadly backstage. Charly Caruso says it seems like Mysterio has met his match in Andrade. Mysterio says he has never lost two falls like that before. Mysterio has no idea where his career is going. He just knows he has a family to support. Mysterio gets emotional and mumbles something about his family before walking off.
---
Backstage: Street Profits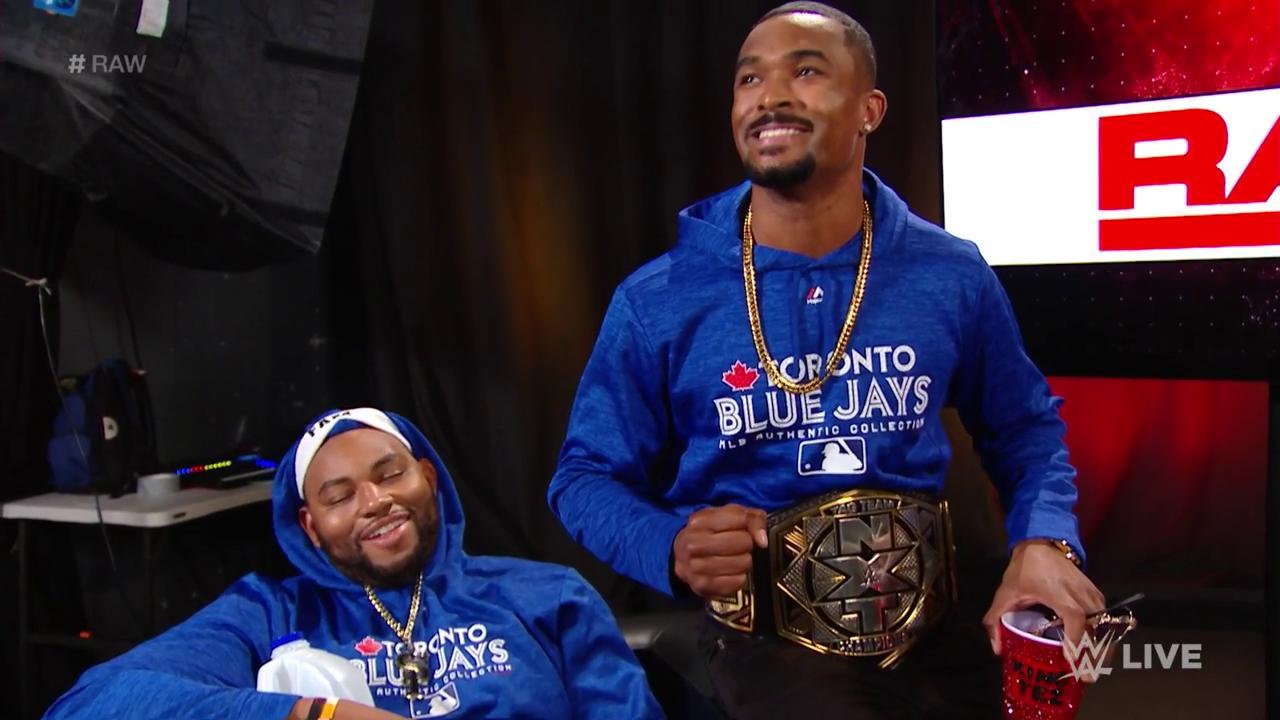 Montez Ford is backstage and tells Mysterio to keep his head up. Ford says, "619 forever, right Dawkins?" Dawkins is passed out clutching a gallon jug of water. Ford wakes him up. Ford says they have to hype up his girl Nikki Cross. Dawkins starts chugging the water jug.
---
Backstage: Drew McIntyre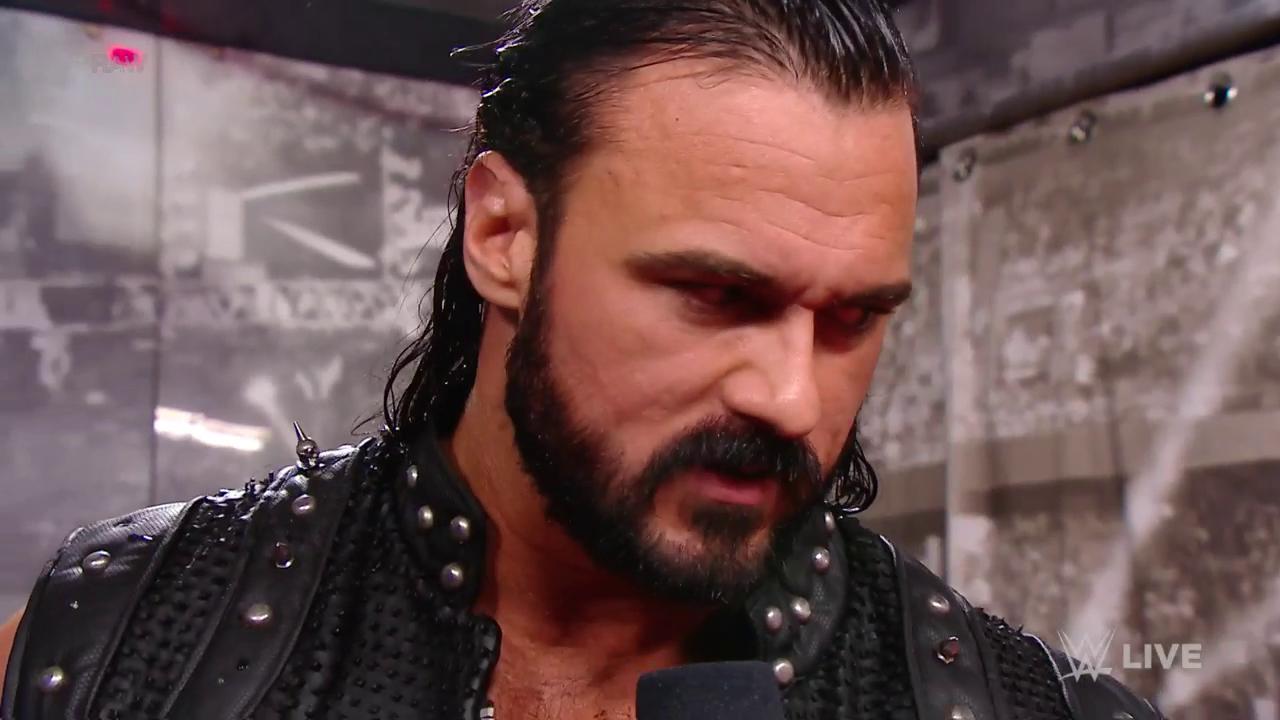 Elsewhere backstage, Drew McIntyre in being interviewed about the next chapter of his feud with Cedric Alexander. This rivalry ends tonight. Alexander is living a fairytale he's concocted in his head. McIntyre says this will not end with a victory over him. McIntyre says he'll cave Alexander's skull in and end the fairytale.
Michael Cole says Drew McIntyre and Cedric Alexander will be in the King of the Ring Tournament starting next week.
---
Drew McIntyre vs. Cedric Alexander
Alexander ambushes McIntyre and takes him down before knocking him out of the ring. Alexander hits a summersault senton and puts him in the ring for a missile dropkick to pick up a near fall. McIntyre soon cuts him off and hits a crucifix turnbuckle powerbomb for a near fall. McIntyre viciously chops the chest, and Alexander responds with a right hand. McIntyre takes him down with a chin lock. Alexander fights up and elbows out. McIntyre sends him to the corner, and they bumble over there. McIntyre hits an overhead belly-to-belly overhead suplex for a two count. McIntyre applies an arm bar. Alexander fights up, but McIntyre clubs him down. Alexander ducks a clothesline and hits a handspring kick to the skull.
Alexander gets to his feet and punches him. Alexander then hits a head-scissor DDT for a near fall. McIntyre catches Alexander and goes to the second rope. McIntyre then connects with a swinging sidewalk slam off the second rope for a near fall. McIntyre throws him out of the ring and viciously chops him down. Alexander quickly sends him into the ring post and hits a Lumbar Check on the floor! Alexander gets in the ring and looks for a count-out. McIntyre gets in the ring before being counted out. McIntyre gets him out of the ring and hits a belly-to-belly overhead suplex on the ramp. Alexander screams in pain. McIntyre gets in the ring and looks for a Claymore Kick, but Alexander collapses before it's hit. Alexander then surprises him with an inside cradle for a near fall. McIntyre quickly goes to the top rope, but Alexander stuns him with a Spanish Fly for a near fall!
The crowd is chanting, "This is awesome." Alexander goes for a Lumbar Check, but McIntyre gets out. McIntyre elbows him and goes for an inverted Alabama Slam, but Alexander counters into a victory roll for a near fall. They hit the ropes, and McIntyre absolutely turns him inside out with a Claymore Kick for the win!
Winner by Pinfall: Drew McIntyre
---
Backstage: The OC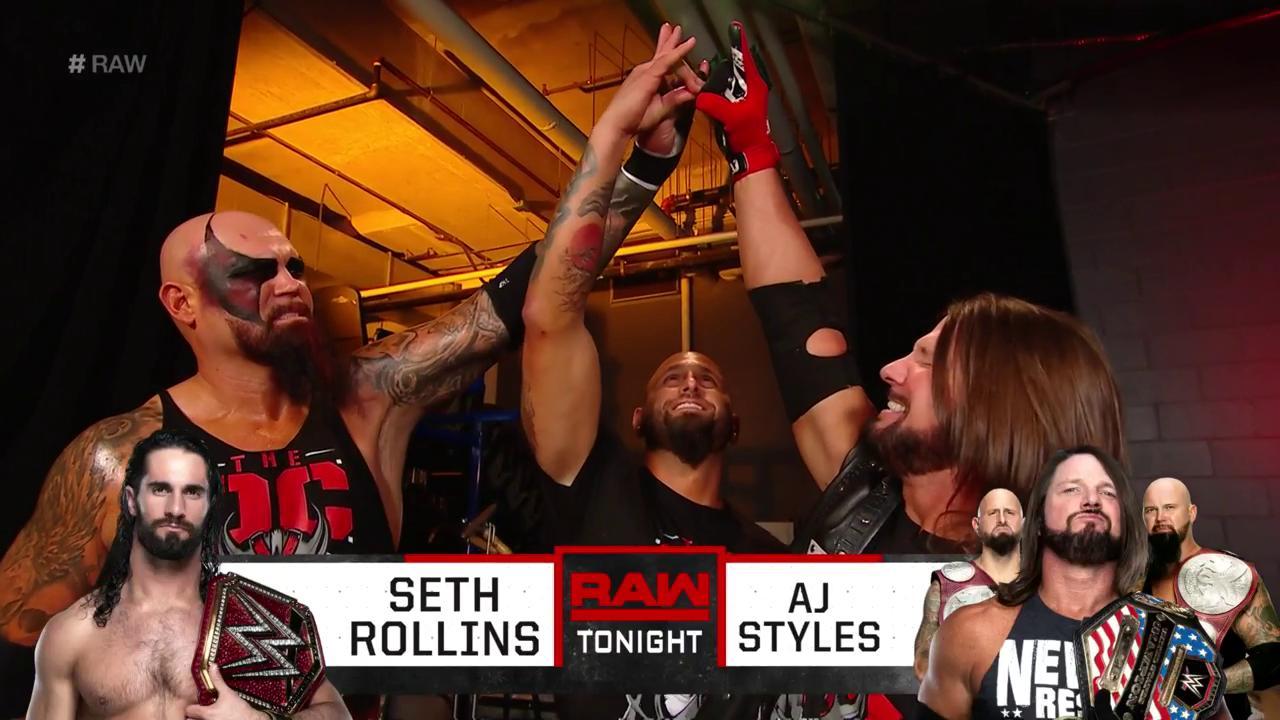 AJ Styles is backstage with Gallows and Anderson. Styles says it was a big deal that Seth Rollins beat Brock Lesnar. Gallows and Anderson say even AJ Styles couldn't beat Lesnar. Styles takes exception to that. Styles says Rollins will be a great champion one day, but tonight he'll embarrass him.
---
No Way Jose vs. Robert Roode
They lock up, and Roode grabs the hair to pull him to the corner. Roode stomps him down and sends him to the opposite corner. Jose elbows him and punches him back. Jose kicks him in the face, but Roode quickly comes back with a Double R Spinebuster. Roode does the "GLORIOUS" taunt and hits a Glorious DDT for the win.
Winner by Pinfall: Robert Roode
---
Backstage: Paul Heyman
Charly Caruso is backstage with Paul Heyman. Heyman mocks Caruso. Heyman asks why he has the big exclusive and she doesn't. Earlier today, WWE made the declarative statement that his client, Brock Lesnar, gets no rematches against Seth Rollins. Heyman asks how he is supposed to explain that. Heyman then goes back into the Lesnar locker room.
---
Lucha House Party vs. The Revival
Lince Dorado starts against Dash Wilder. Dorado runs wild until Scott Dawson holds Wilder back. Dawson tags in and takes Dorado down and drops some elbows…
Segment: 24/7 Championship
R-Truth's music hits to interrupt the match, and the WWE 24/7 Champion runs down being chased by a bunch of wrestlers. Drake Maverick is tripped at ringside by Carmella.
Lucha House Party does dives onto all the wrestlers. The Revival his R-Truth with a Hart Attack and pins him to become the first double 24/7 Champions.
New 24/7 Champions: The Revival
Kalisto hits Dawson with a Salida del Sol. Kalisto covers, but Wilder pulls him out. Carmella rolls R-Truth onto Dawson to win back the title. R-Truth has now won the title 12-times. R-Truth comes to and runs away with Carmella.
New 24/7 Champion: R-Truth
Later, R-Truth and Carmella are celebrating backstage when Elias smashes R-Truth from behind with his guitar to win the 24/7 Championship. Elias walks off with the title.
New 24/7 Champion: Elias
---
In-Ring: Natalya, Sasha Banks, Becky Lynch
Natalya makes her way to the ring with her arm in a sling. Highlights are shown of the Submission Match against Becky Lynch last night. Lynch tapped Natalya out with the Dis-Arm-Her. Natalya says she faced Becky Lynch last night and tapped out. Lynch outwrestled her and was the better woman. Natalya has a dislocated elbow and will have an MRI. Natalya doesn't take back anything she said about Becky Lynch and they will fight again when this is over.
Natalya now wants to share a story. Last night her dad (Jim Neidhart) came to her in her dream and said he was proud of her. Natalya said it was a year since her dad died.
Sasha Banks' music cuts her off. Banks comes out smiling and hugs some kids before getting in the ring. Banks gets in the ring and hugs Natalya. Banks then blindsides her with a forearm and pulls her purple hair off revealing it is a wig. Banks' hair is blue. Banks viciously attacks Natalya's injured elbow and applies a hammerlock before throwing her into the turnbuckles. Banks gets her out of the ring and sends her into the steel ring steps a few times. Banks gets her back in the ring and grabs a steel chair.
Becky Lynch comes down for the save. They brawl, and Lynch knocks her out of the ring. Banks floors her with a right hand after getting out of the ring. Banks grabs a steel chair and viciously beats her with the steel chair. Banks then sends her face-first into the ring steps. Banks walks off to boos.
---
The Viking Raiders vs. Carter Mason & Sebastian Suave
A pre-taped promo is shown of The Viking Raiders. They say they have ravaged everyone in their paths. Everyone will fall.
Ivar takes the one guy down, pulls the other one in, and splashes him. Erik tags in. They tell a story about how Erik survived a bad motorcycle accident five years ago today. Erik viciously slams the one guy onto the other. Erik throws Ivar into the guy. Ivar covers, but he pulls the guy (Suave) up. Erik hits Mason with double knees outside the ring. They hit Suave with The Viking Experience for the win.
Winners by Pinfall: The Viking Raiders
---
Backstage: Alexa Bliss & Nikki Cross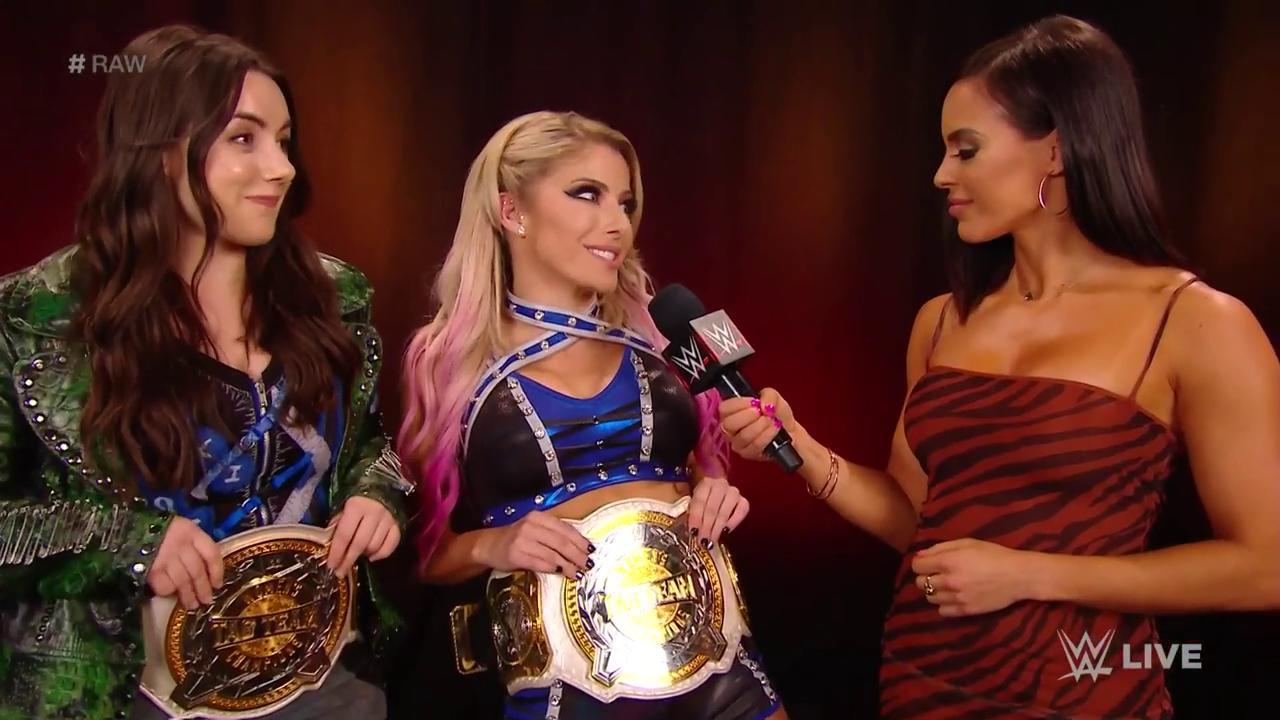 WWE Women's Tag Team Champions Alexa Bliss and Nikki Cross are backstage with Charly Caruso. Bliss says they are fighting champions. Cross says she couldn't do it without Bliss. They'll face The Kabuki Warriors next.
---
WWE Women's Tag Team Championship
Alexa Bliss & Nikki Cross (c) vs. The Kabuki Warriors
Paige is shown on a video promo. Paige says she needs to have another neck surgery, but she knows The Kabuki Warriors will be victorious tonight.
Alexa Bliss starts off against Kairi Sane. Bliss pushes her and flinches when Sane pretends to throw a punch. Sane sends her into the ropes and hits a running cross-body. Asuka tags in, and they take Bliss down. Nikki Cross is knocked off the apron. Asuka hits Bliss with a flying hip attack to the floor. Sane then clotheslines Cross off the apron. Asuka gets Bliss in the ring for a two count.
We come back from the break to see Cross applying a chin lock to Sane. Sane fights up, but Cross takes her back down. Sane fights up against and hits a jawbreaker. Sane rolls under a clothesline and tags in Asuka. Cross sends Asuka into the ropes, but Asuka hits Bliss. Asuka takes Cross down and kicks her in the chest a few times. Asuka then hits a sliding kick before hitting a release German Suplex. Bliss blind tags in. Asuka continues to attack Cross, but Bliss comes in and DDTs her. Sane breaks up the pin. Bliss yells at Sane. Bliss and Cross go for a double-team, but Asuka takes them down with a clothesline/bulldog combo.
Sane tags in and slams Cross down. Sane goes to the top rope, but Cross rolls out of the ring. Sane then catches her with a cross-body block to the floor! Sane gets her in the ring and hits the In-Sane Elbow, but Bliss breaks up the pin with a dropkick. Asuka runs in and knocks Bliss out of the ring. Bliss avoids a kick, and Asuka hits the ring post. Bliss shoves Asuka into the ring post, gets in the ring, and pulls Cross to the corner. Sane comes over and hits Bliss. Cross surprises her with a swinging neckbreaker. Bliss tags in and hits Twisted Bliss on Sane for the win.
Winners and still WWE Women's Tag Team Champions: Alexa Bliss and Nikki Cross
---
Backstage: Seth Rollins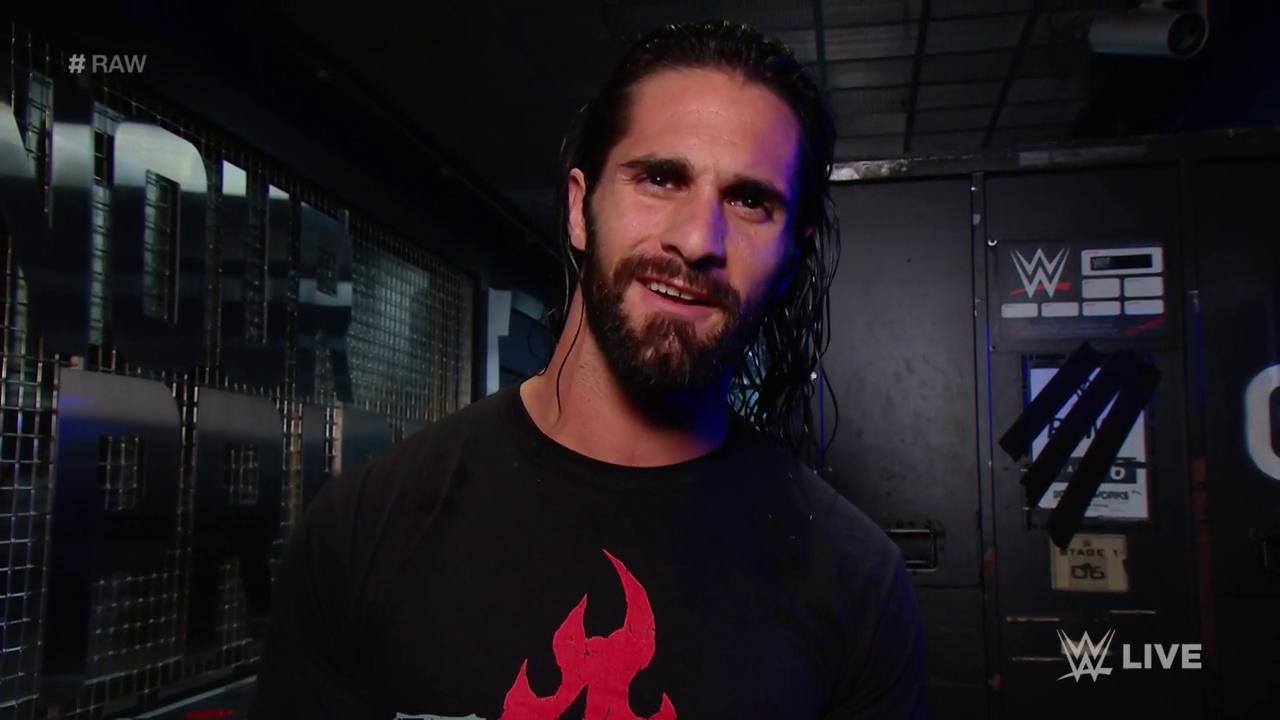 WWE Universal Champion Seth Rollins is backstage. Rollins says AJ Styles' friends were right. Rollins did something Styles never did: beat Brock Lesnar. Rollins says he'll remind him of what happened at Money in the Bank when he stomped his head into the mat.
---
Seth Rollins vs. AJ Styles
The bell rings, and Rollins soon tackles Styles to the corner and shoulders away at his midsection. Rollins puts him in the tree of woe, punches him, and hits a low dropkick. Styles comes back with a shot to the ribs to stop him. Rollins quickly knocks Styles down and goes for a Stomp, but The OC pulls Styles out of the ring. Rollins hits Luke Gallows with a suicide dive and takes Karl Anderson down. Styles quickly shoves him ribs-first into the ring apron and turns him inside out with a back suplex on the floor!
We come back from the break to see Rollins trying to fight Styles off, but Styles takes him down. Styles gets him on the apron and goes for a Styles Clash, but Rollins gets out and sweeps the feet. The OC throws Styles into the ring and look for a count-out over Rollins. Rollins gets in at nine. Rollins fights him off and takes him down twice. Rollins hits a running forearm in the corner. Rollins hits a short-arm forearm before connecting with a falcon arrow for a near fall. Rollins puts Styles on the top rope, but Styles elbows him off. Rollins scales the ropes, but Styles elbows him off again. Styles knocks him back and goes for a Phenomenal Forearm, but Rollins moves. Rollins quickly kicks Styles down and goes to the top rope. Karl Anderson distracts the referee, and Luke Gallows knocks Rollins off the top rope.
The referee ejects Gallows and Anderson from ringside. Rollins rolls Styles up for a two count. Rollins kicks him in the face and sets up for a stomp, but Gallows and Anderson run in to attack him.
Winner by Disqualification: Seth Rollins
The OC starts a triple-team until Ricochet runs down for the save. Ricochet takes them down until being caught by the Boot of Doom. Anderson throws Ricochet out of the ring. Styles, Gallows, and Anderson go back to attacking Rollins. Styles sets up for a Styles Clash off the second rope.
Braun Strowman comes down to make the save. Strowman runs through Anderson, gets in the ring, and takes Gallows down. Styles tries to fight Strowman, but Strowman floors him with a Running Powerslam. Strowman gets the crowd going and hits Styles with another Running Powerslam. Strowman grabs the WWE Universal Championship and hands it to Rollins. They shake hands to end the show.