September 16, 2019
Knoxville, Tennessee
Commentary: Michael Cole, Corey Graves, and Renee Young
Results by: Mike Tedesco of Wrestleview.com
---
Quick Match Results
The OC defeated Cedric Alexander & The Viking Raiders via Phenomenal Forearm by Styles on Alexander
King of the Ring Final Match: Baron Corbin defeated Chad Gable via End of Days to win the tournament
Ricochet defeated Mike Kanellis via the Recoil
Rusev defeated Mike Kanellis via the Accolade
24/7 Championship: Kane defeated R-Truth (c) via pinfall after Truth ran into a football goal post
Rey Mysterio defeated Cesaro via sunset flip powerbomb
Sasha Banks & Bayley defeated Nikki Cross & Alexa Bliss via Bank Statement by Banks on Cross
24/7 Championship: R-Truth defeated Kane via roll up
Lacey Evans defeated Dana Brooke via Sharpshooter
Seth Rollins defeated Robert Roode by disqualification when Dolph Ziggler interfered
---
Segment: Seth Rollins, Bray Wyatt
WWE Universal Champion Seth Rollins makes his way to the ring to a nice reception. Rollins says Knoxville is loud. Rollins had a good night at the end last night, but earlier he and Braun Strowman lost the RAW Tag Team Titles. They both lost the titles. Rollins said they couldn't sulk because they had to face each other for the Universal Title. Strowman is very large and strong. Strowman gave him the fight of his life. Rollins gives him "mad props." When push came to shove, he put Strowman down with three Stomps, a Pedigree, and a fourth Stomp. Rollins says he is happy that the rematch isn't happening anytime soon. When he pulled himself up the ramp, he didn't have any time to celebrate before being cloaked in darkness and taken down by something he can only describe as yowie wowie. A "Yowie Wowie" chant picks up. Rollins said he saw the face of The Fiend Bray Wyatt before losing consciousness. When he came to, Wyatt was nowhere to be found. The good news is in less than three weeks he'll go one-on-one with him inside Hell in a Cell!
Rollins is cut off by the Firefly Funhouse theme song. Bray Wyatt happily waves before going stone faced. Wyatt then smiles and says it is his future best friend Seth Rollins. Wyatt is glad he's here and is super glad he's ok. Rollins says Wyatt is a sick dude. The Ramblin' Rabbit tells Rollins to run. Wyatt pounds the table and shouts, "No!" Wyatt says there is no need for name calling. It's poppycock, but it's fine. It's ok to make mistakes. Rollins has made a lot of mistakes, but people forgave him. Friends forgive… but he never forgets. Maybe that's why he said hello at Clash of Champions. Who knows… he might even have more to say to you tonight. Wyatt coldly looks into the camera, and The Fiend's face flashes on the screen. Wyatt stares at the screen before bursting into laughter and saying, "See you in hell!"
Rollins looks around waiting for Wyatt to attack while the Firefly Funhouse music plays.
---
The King of the Ring Finals with Baron Corbin and Chad Gable. Alexa Bliss and Nikki Cross will take on Sasha Banks and Bayley in a non-title match. Seth Rollins will also take on Robert Roode in a non-title match as well.
The graphics were upside down the entire time for that.
---
Backstage: Braun Strowman
So what if he wasn't scheduled to be at #RAW tonight?@BraunStrowman wants someone to GET THESE HANDS! #RAW pic.twitter.com/060OVv4KF5

— WWE Universe (@WWEUniverse) September 17, 2019
Braun Strowman is shown angrily walking backstage. Charly Caruso stops him and says she thought he wasn't going to be here. She wants to know what he's got planned. Strowman says the next guy who steps in the ring will get these hands.
---
In-Ring: The Revival, Dolph Ziggler, Robert Roode, Braun Strowman
RAW Tag Team Champions Dolph Ziggler and Robert Roode make their way to the ring. They're soon followed by the SmackDown Tag Team Champions The Revival. The two teams embrace in the ring. Roode says when he and Ziggler decided to become a team, nobody could believe it. The WWE Universe, the locker room, and Michael Cole didn't know. Roode tells the crowd to look at greatness. They're getting the "WHAT" treatment.
Braun Strowman's music hits, and he makes his way to the ring. The Revival attack him on the ramp, but Strowman quickly takes them out. Strowman gets in the ring and floors Ziggler with a shoulder block. Strowman signals for a run. Strowman hits The Revival and Ziggler with running shoulder blocks at ringside. Roode escapes.
---
The OC vs. Cedric Alexander & The Viking Raiders
Cedric Alexander starts against AJ Styles. Alexander viciously kicks Styles down and beats him around the ring. Erik tags in and attacks Styles. Karl Anderson is tagged in, and Erik quickly takes him down. Erik scoops Anderson up while Ivar tags in. Erik body slams Anderson and body slams Ivar onto him for a two count. Ivar applies an arm bar, but Anderson gets out. Erik and Luke Gallows tag in. Erik punches Gallows back and knees away at him. Gallows reverses a whip, but Erik slingshots over him. Gallows quickly sidesteps Erik before throwing him out of the ring. Styles attacks Erik at ringside before Anderson hits him with a running knee.
We come back from the break to see Anderson applying a chin lock to Erik. During the commercial break, Styles dropkicked Erik. Anderson knocks Alexander off the apron before Erik knees him in the face. Ivar tags in and takes Anderson down before hitting Gallows with a sidewalk slam. Ivar hits a low cross-body to Gallows before hitting a senton on Styles. Ivar does a cartwheel and hits Anderson. Alexander tags in, and they all start trading big moves. Anderson hits the Neuralyzer on Anderson. Styles blind tags in and hits a Phenomenal Forearm on Alexander for the win.
Winners by Pinfall: The OC
Styles continues to stomp away at Alexander, but he's scared away by The Viking Raiders. Anderson and Gallows attack the Raiders from behind. They brawl to ringside before Ivar goes to the top rope for a summersault senton to the floor! Basically no one catches Ivar and he hits the floor hard. Styles goes to the top rope, but Alexander crotches him. Alexander punches away at Styles on the top rope and goes for a super hurricanrana. Styles blocks it and hits a Styles Clash on Alexander off the second rope. Styles holds up the United States Championship.
---
Backstage: R-Truth, Carmella, Kane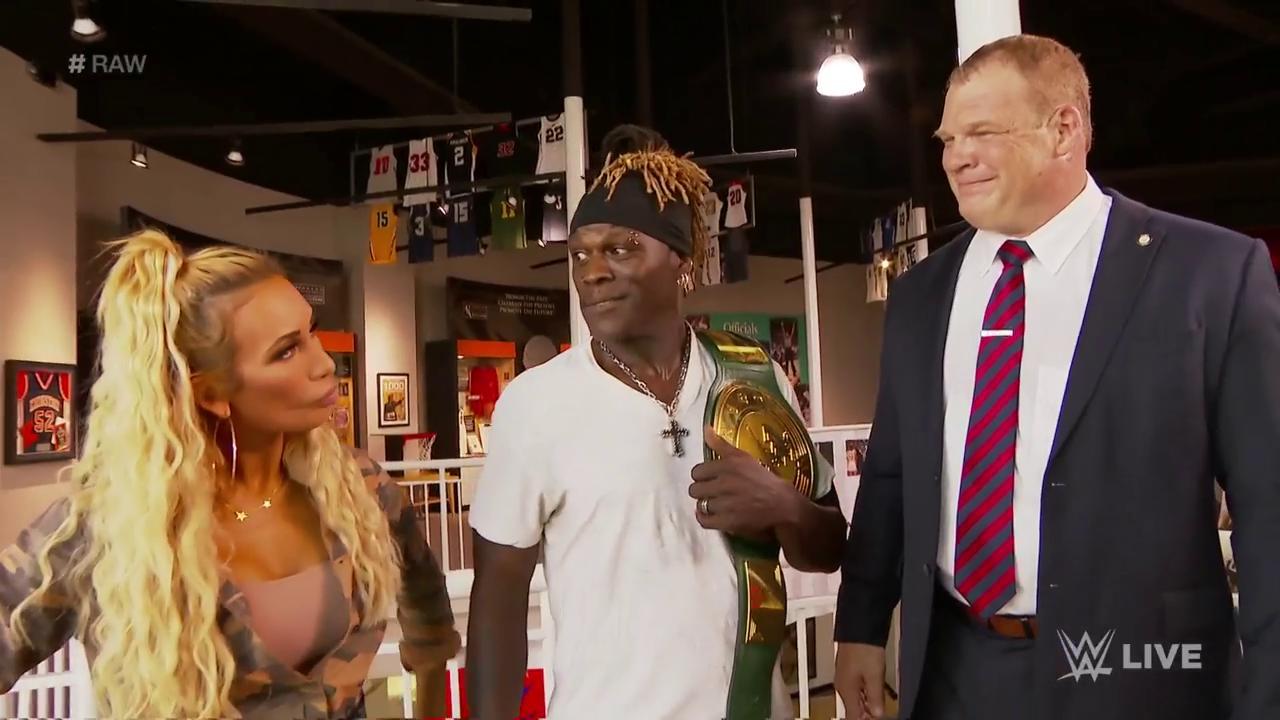 WWE 24/7 Champion R-Truth and Carmella are looking at Tennessee sports legends. Mayor "Kane" Glenn Jacobs walks up to him. R-Truth recognizes him and thinks he's Larry Bird. Kane introduces himself as Glenn Jacobs and offers R-Truth a ride in the limousine to see historic Knoxville. Carmella looks suspicious.
---
King of the Ring Final Match
Baron Corbin vs. Chad Gable
They lock up, and Gable wrenches the arm. Corbin quickly knocks him back. They circle the ring again, and Gable goes for a takedown. Corbin quickly gets to the ropes before Gable can take him off his feet. Gable dekes Corbin into dropping down and applies a front facelock. Corbin powers out and elbows him down. Corbin viciously clubs him in the back and yells at the referee. Corbin drives him into the corner and stomps him. Corbin knees him in the midsection and shushes the crowd. They were chanting, "Corbin sucks." Corbin charges, but Gable pulls the top rope down to get him out of the ring. Corbin quickly gets back in the ring, but Gable dropkicks him over the top rope. Gable goes outside and charges, but Corbin gives him a back body drop into the timekeeper's area onto a chair.
We come back from the break to see Gable make it back into the ring at the count of nine. Corbin stands over Gable and gets him to his feet. Corbin drops him with a straight right hand to the face for a near fall. Corbin looks frustrated. Corbin elbows away at Gable's ribs and applies a head and arm lock. Gable fights up, but Corbin quickly drops him with an out and in clothesline for a near fall. Corbin pushes him into the ropes and clotheslines him in the back of the head. Corbin then taunts the crowd. Gable fights back at him and hits the ropes for a flying forearm. Corbin stumbles into the ropes and immediately rebounds with a big boot. Corbin shouts, "No chance!" Corbin viciously whips him sternum-first into the turnbuckle. Corbin shouts that the crown will be on his head real soon. Corbin gets Gable to his feet and forearms him in the corner. Corbin puts him on the top rope, but Gable grabs the arm for a hanging arm lock. Corbin powers him up and hits a powerbomb for a near fall. Corbin cannot believe it and punches the mat. Corbin then goes back to the head and arm lock. Gable fights to his feet and punches out. Corbin sends him into the ropes and once again clotheslines him in the back of the head. Corbin shouts at the fans in attendance. Corbin goes for another clothesline to the back of the head, but Gable picks the leg and applies an ankle lock. Corbin kicks him off and charges, but Gable sidesteps him and posts the shoulder.
Gable pulls himself up as the crowd starts to chant his name. Gable goes to the top rope and hits a missile dropkick. Gable catches him with a pair of rolling calf kicks. Corbin soon counters into a falling powerslam for a near fall. Corbin gets him outside the ring and sends Gable into the barricade a few times. Gable manages to take him down and slams the leg off the ring post a few times. Gable punches away at him and hits the ropes, but Corbin counters back with a Deep Six for a near fall. Corbin goes for an out and in clothesline, but Gable counters into a rolling German Suplex for a near fall. Gable goes for a moonsault, but he lands on his feet when Corbin moves. Gable flips through the End of Days, takes Corbin down, and locks in the ankle lock! Corbin screams in pain as Gable grapevines the leg. Corbin crawls to the bottom rope and makes it. Gable grabs the ankle, but Corbin holds the ropes. Gable elbows away at him and goes for a head-scissor, but Corbin counters into an impressive End of Days for the win.
Winner of the 2019 King of the Ring Tournament: Baron Corbin
Baron Corbin limps up the ramp and stands in front of his throne.
---
Backstage: Maria & Mike Kanellis, Ricochet, Street Profits
The Street Profits are shown backstage. King Corbin won't stop their jaw. Montez Ford says they're hosting the Maria Kanellis gender reveal party next.
A bunch of people are celebrating backstage when the pregnant Maria Kanellis walks up. Maria says she's having a boy. Mike Kanellis and the rest of the roster celebrate.
Maria says the father of the baby is Ricochet. Ricochet looks stunned. Ricochet stutters and says he would never… not that he wouldn't… but he wouldn't impregnate a married woman.
Mike Kanellis slaps him in the face and tells him to meet him in the ring. Titus O'Neil tells Ricochet to get out there and do something.
The Street Profits talk about stipulations for the match including Maria on a pole. They say that's how Maria got into this predicament.
---
Mike Kanellis vs. Ricochet
Ricochet sidesteps him a few times. Ricochet looks upset. Kanellis punches him in the face and stomps him. Ricochet superkicks him and clotheslines him down. Ricochet connects with a running shoulder before kicking him in the face. Ricochet catches him with a springboard clothesline before hitting the Recoil for the win.
Winner by Pinfall: Ricochet
Renee Young loses it saying, "Mike Kanellis gets his ass kicked by his own baby's daddy."
---
Firefly Fun House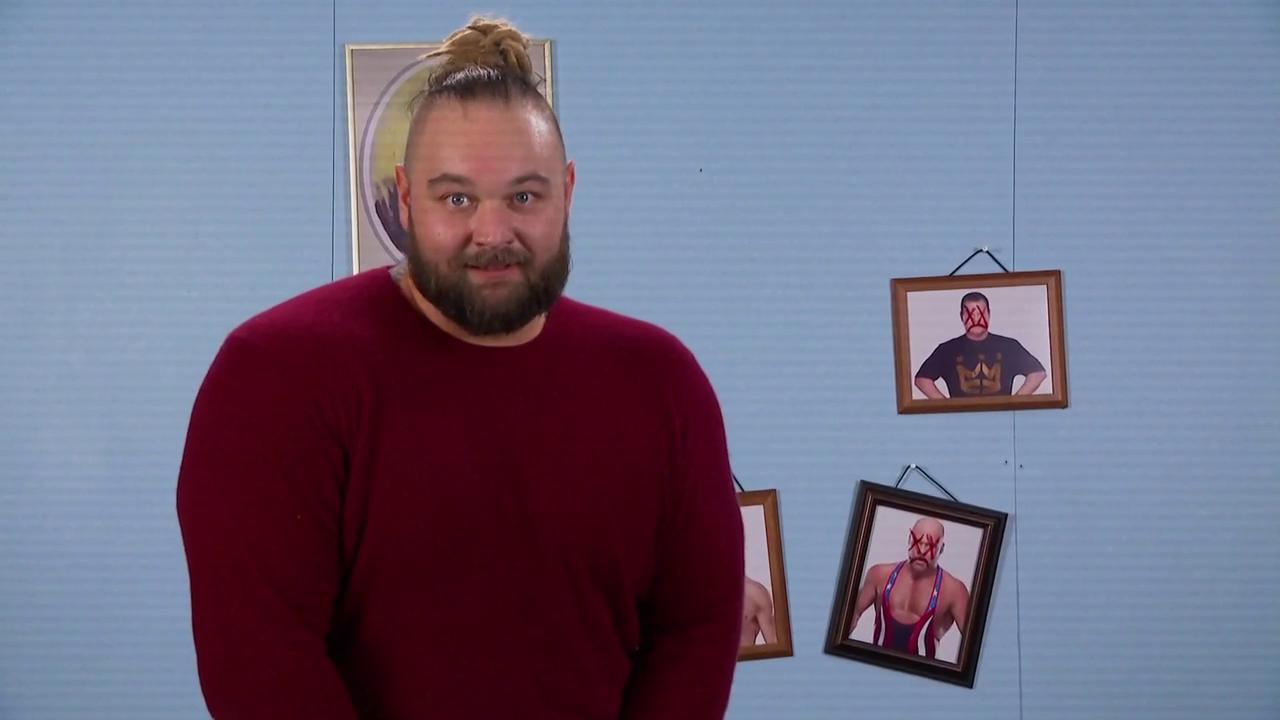 The Firefly Fun House pops up on the screen. Bray Wyatt is hanging pictures of Jerry Lawler, Kurt Angle, Finn Balor, and Mick Foley with their eyes crossed out on his "wall of friendship." Wyatt says it's time to find some more friends.
---
Mike Kanellis vs. Rusev
Mike Kanellis is sitting devastated on the apron. Maria Kanellis comes out and says she was hoping if she could get Mike fired up he'd defend the honor of her unborn child. She's going to reveal the real father… Rusev.
Rusev comes down, and Mike begs him off. Mike says he's having a bad day and will just accept it. Mike goes to runaway, and Michael Cole of all people goes, "What a loser." Rusev chases him and clotheslines him down. Rusev beats him around ringside and throws him in the ring.
Rusev superkicks Kanellis down and applies the Accolade for the submission.
Winner by Submission: Rusev
---
Segment: Kane, R-Truth
Mayor Kane brings R-Truth into the football stadium of the Volunteers. R-Truth is confused and thinks the stadium is filled with volunteers from the Salvation Army. Kane says the people that serve Knoxville make it great. Kane introduces R-Truth to a police officer. The officer is revealed to be a referee. R-Truth goes to run away, but he runs into the goal post.
Mayor Kane covers R-Truth to become the new WWE 24/7 Champion.
Kane sing-songs, "I've still got it" before running away.
---
The Coronation of King Corbin takes place tomorrow on SmackDown Live.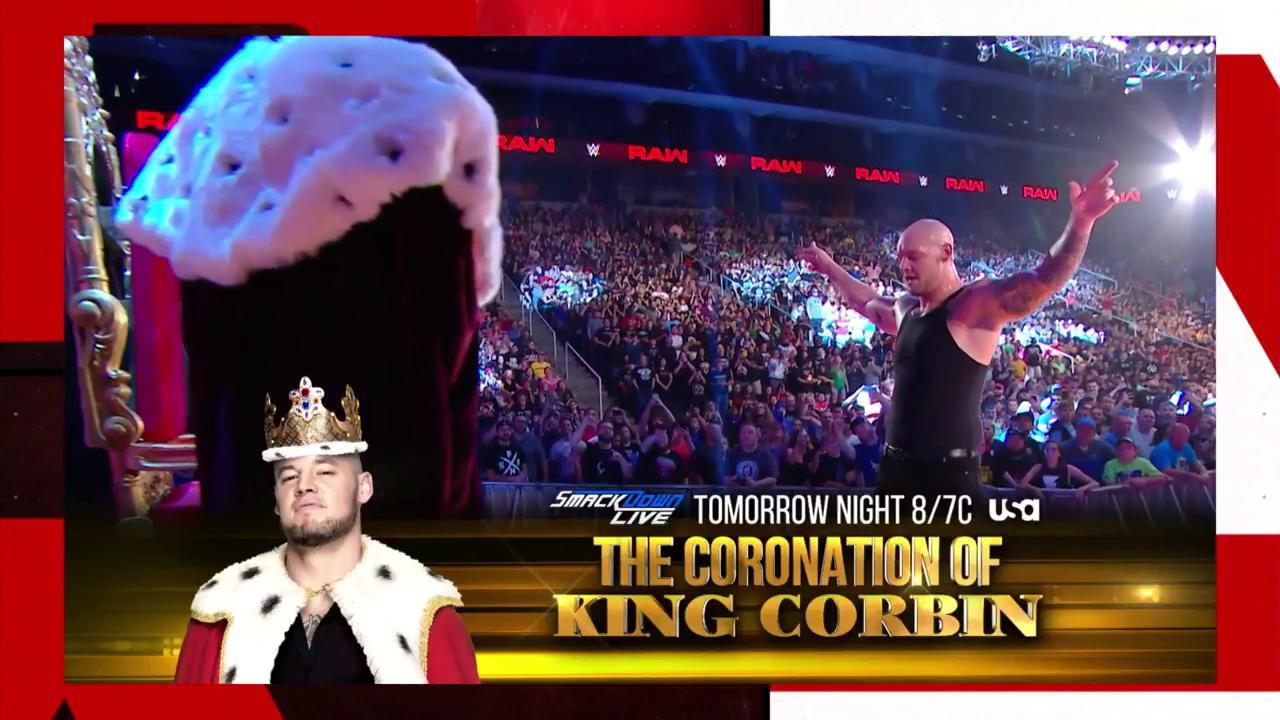 ---
Rey Mysterio vs. Cesaro
Cesaro says Rey Mysterio should have listened to his son. If Dominick shows up, he'll beat the hell out of him like he'll do to his father. Mysterio attacks him.
Cesaro gets in the ring and uppercuts Mysterio at the sound of the bell for a two count. Cesaro hits a suplex before dropping an elbow for a one count. Cesaro sends him into the corner and goes for a gutwrench suplex, but Mysterio counters into a hurricanrana to send him shoulder-first into the corner. Cesaro quickly counters a suicide dive with an uppercut. Cesaro goes for a suplex off the apron to the floor, but Mysterio knees him in the head. Mysterio hits a 619 to the small of the back. Cesaro falls to the floor, so Mysterio hits a suicide dive into a tornado DDT on the floor.
We come back from the break to see Cesaro take Mysterio down for a two count. Mysterio fights back, but Cesaro uppercuts him to the floor. Mysterio gets in the ring, and Cesaro takes him down for another two count. Cesaro then applies a chin lock. Mysterio eventually fights up and hits a springboard moonsault into a DDT for a two count. Cesaro quickly big boots him down for a near fall. Cesaro quickly counters into a crossface. Mysterio rolls over for a one count. Mysterio hits an enzuigiri. Cesaro counters a 619 into a GTS for a near fall. Cesaro goes for the Three Amigos, but Mysterio counters into a hurricanrana into the ropes. Mysterio hits a 619 and goes for a flying hurricanrana, but Cesaro catches him. Mysterio counters into a sunset flip powerbomb for the win.
Winner by Pinfall: Rey Mysterio
---
Segment: Firefly Fun House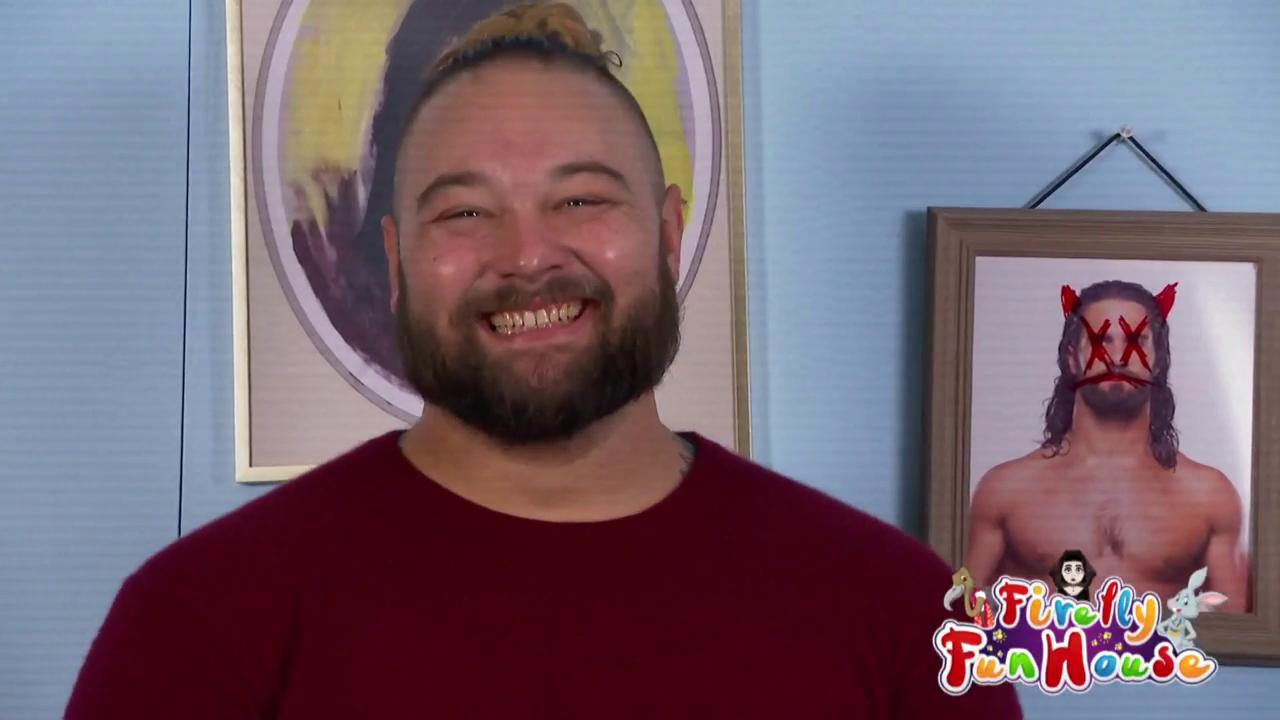 The Firefly Fun House graphic comes up. Bray Wyatt hangs up a picture of Seth Rollins with his eyes x'ed out.
---
The WWE Draft is coming next month. The Wild Card Rule will be over then.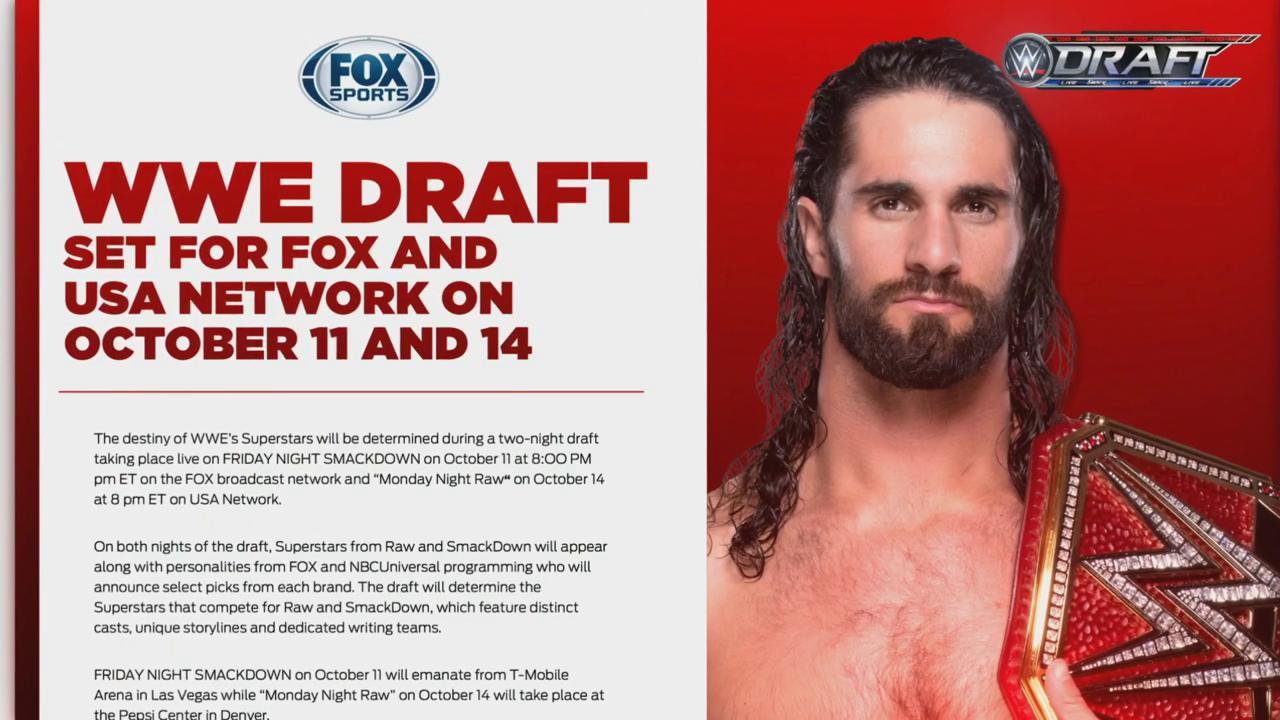 ---
Video: AOP
AOP are shown in a promo video. They're subtitled and say that they haven't had a match since before WrestleMania because no one wants to fight them. Rezar very tag team in WWE is soft. None of them are men. Akam says they don't have the heart to step up to them. They are the future of the WWE Tag Team Division. The future is written in pain.
---
Sasha Banks & Bayley vs. Nikki Cross & Alexa Bliss
Bayley starts against Alexa Bliss. Bayley pulls her down by the hair and tags Sasha Banks in. Banks stomps Bliss down and shouts at the referee. Bayley tags back in and punches Bliss. Bliss slaps Bayley in the face twice and hits Insult To Injury for a one count. Bayley powers her to the corner, but she soon runs into a boot. Bliss hits a sunset flip powerbomb, which ended the previous match, for a two count. Bliss then takes out Banks and Bayley with a somersault senton off the apron. Bliss gets Bayley in the ring for a two count. Nikki Cross tags in and dropkicks Bayley for a two count. Banks soon tags in and takes Cross down for a two count. Banks suplexes Cross for a two count. Banks stomps Bayley before kicking Bliss. Banks sends Cross to the corner, lays her on the second turnbuckle for a double knee, but Cross boots her. Cross sends Bayley out of the ring, but Bayley pulls Bliss off the apron. Banks attacks Cross from behind. Bayley drops Bliss knee first on the steps. Bayley then slams the injured leg off the steps. In the ring, Banks stomps Cross and chokes her. Trainers check on Bliss.
We come back from the break to see Banks and Bayley beating on Cross. Bliss was brought to the back for an evaluation. Cross makes a comeback and fights them off. Banks gets tied up in the apron, and Cross beats on her. Cross hits Bayley with a cross-body block for a two count. Cross attacks Banks again and hits Bayley with a tornado DDT. Cross hits a swinging neckbreaker, but Banks breaks it up. Banks tags in, and Cross gets an inside cradle for a two count. Banks then applies the Bank Statement for the win.
Winners by Submission: Sasha Banks and Bayley
Banks goes outside and grabs a steel chair. Becky Lynch's music hits, and she comes out to a good reception with a chair. They get into a swinging war with their chairs. Banks and Bayley both square off with Lynch.
Charlotte Flair's music hits. Flair gingerly walks down the ramp in heels that are too high for fighting. Flair boots Bayley and takes the chair. Banks looks upset. Lynch hits Banks with the chair in the midsection before smacking it off her back. Lynch stands tall as the crowd chants her name.
After commercials, Sasha Banks angrily talks to the camera and challenges Becky Lynch to a rematch at Hell in a Cell. Banks says, "Your move, bitch."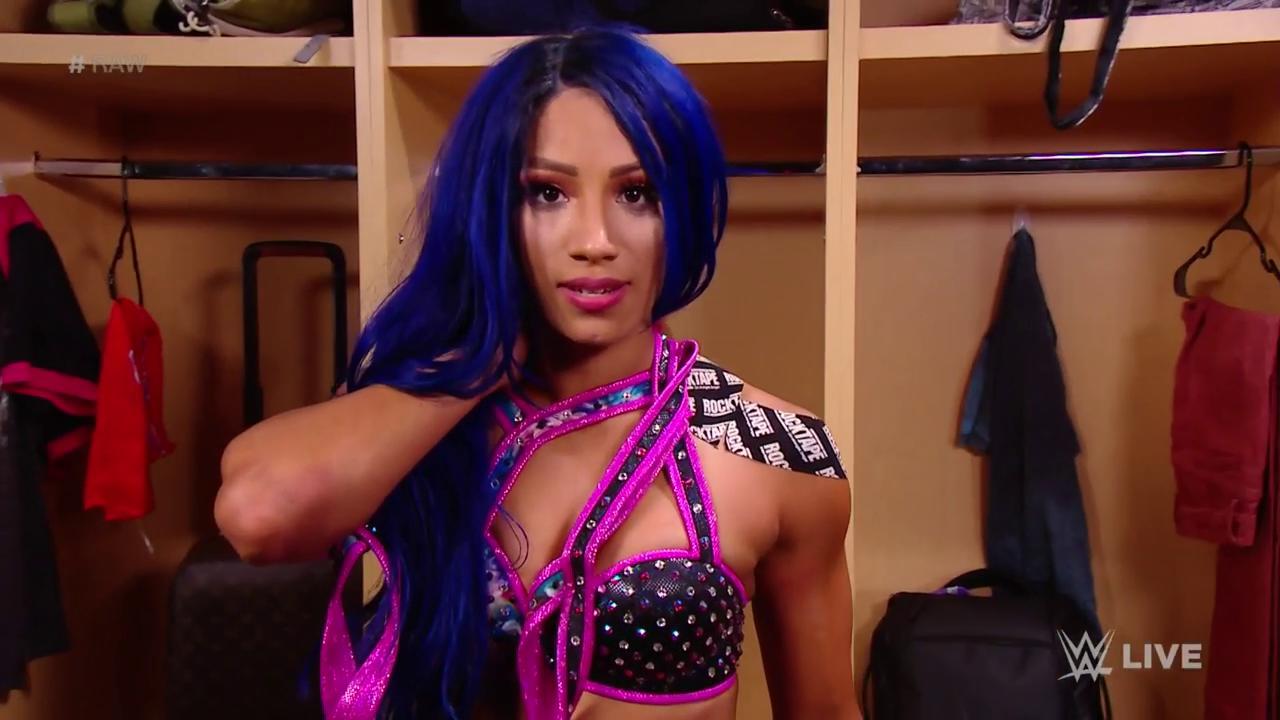 ---
Segment: Kane, R-Truth
Mayor Kane's limousine pulls up with R-Truth on top of it. The WWE 24/7 Champion Mayor Kane gets out of the limo. R-Truth rolls him up to win the title back.
Kane grabs him by the throat, but R-Truth says he did him a favor since being the mayor is a 24/7 job. Kane says they should go enjoy the show.
---
Backstage: Becky Lynch
#TheMan isn't interested in a match against #TheBoss at #HIAC.

She wants to DESTROY @SashaBanksWWE INSIDE of Hell In A Cell! @BeckyLynchWWE #RAW pic.twitter.com/16VOjQ4TDm

— WWE (@WWE) September 17, 2019
RAW Women's Champion Becky Lynch has a rebuttal. She's not interested in facing Sasha Banks at Hell in a Cell. She's interested in facing Banks INSIDE Hell in a Cell!
---
Lacey Evans vs. Dana Brooke
Brooke starts off taking Evans down, but Evans comes back with a slingshot dropkick. Evans hits a Woman's Right and locks in a Sharpshooter while shouting Natalya's name for the win.
Winner by Submission: Lacey Evans
---
Seth Rollins vs. Robert Roode
The bell rings, and Rollins soon slams Roode down. Roode goes outside, and Dolph Ziggler gets on the apron to distract from the suicide dive. Rollins comes off the apron with a flying knee to the head. Ziggler distracts Rollins, and Roode knocks him to the floor. Roode hits a front suplex on the barricade.
We come back from the break to see Roode hit Rollins with a tilt-a-whirl backbreaker. Rollins is put outside the ring, so he superkicks Ziggler. Rollins manages to send Roode into the barricade before getting him in the ring. Rollins hits a Sling Blade, but Roode soon puts him on the apron. Roode avoids a springboard knee. Rollins counters a spinebuster and hits a falcon arrow for a near fall. Roode cuts Rollins off on the top rope, but Rollins counters into a buckle bomb. Rollins kicks him and hits the Stomp, but Ziggler breaks up the pin.
Winner by Disqualification: Seth Rollins
Rollins and Ziggler brawl around the ring. The OC run down, and Rollins has to fight them off too. Ziggler takes Rollins down. Gallows and Anderson hit Rollins with the Magic Killer. Styles then hits Rollins with a Styles Clash. A 5-on-1 beating ensues.
All of a sudden, Kane's music hits! "The Demon" Kane comes out and clears the ring. Kane hits Gallows with a Chokeslam before grabbing Anderson and Styles for a Double Chokeslam. The crowd is buzzing. Kane goes to set the ring posts ablaze when the lights go out. The lights flicker, and "The Fiend" is behind Kane. The Fiend applies a Mandible Claw to incapacitate the Mayor of Knoxville County. The Fiend then crawls over to Rollins and stares at him.
The Firefly Fun House video and music play all distorted. It's 10:59 so this played for literally about a minute straight before finally ending.