September 30, 2019
Phoenix, Arizona
Commentary: Vic Joseph, Dio Maddin, and Jerry "The King" Lawler
Results by: Mike Tedesco of Wrestleview.com
---
Quick Match Results
Sasha Banks defeated Alexa Bliss via roll up
Raw Tag Team Championship: Robert Roode & Dolph Ziggler (c) defeated Heavy Machinery via Glorious DDT by Roode on Tucker
The Viking Raiders defeated Gallows & Anderson via top rope splash by Ivar on Gallows
Ricochet defeated Cesaro via springboard hurricanrana
WWE United States Championship: AJ Styles (c) defeated Cedric Alexander via Styles Clash
Lacey Evans defeated Natalya via roll up
Universal Championship: Seth Rollins (c) vs. Rusev was no contest when Lashley and Bray Wyatt interfered
---
Raw Intro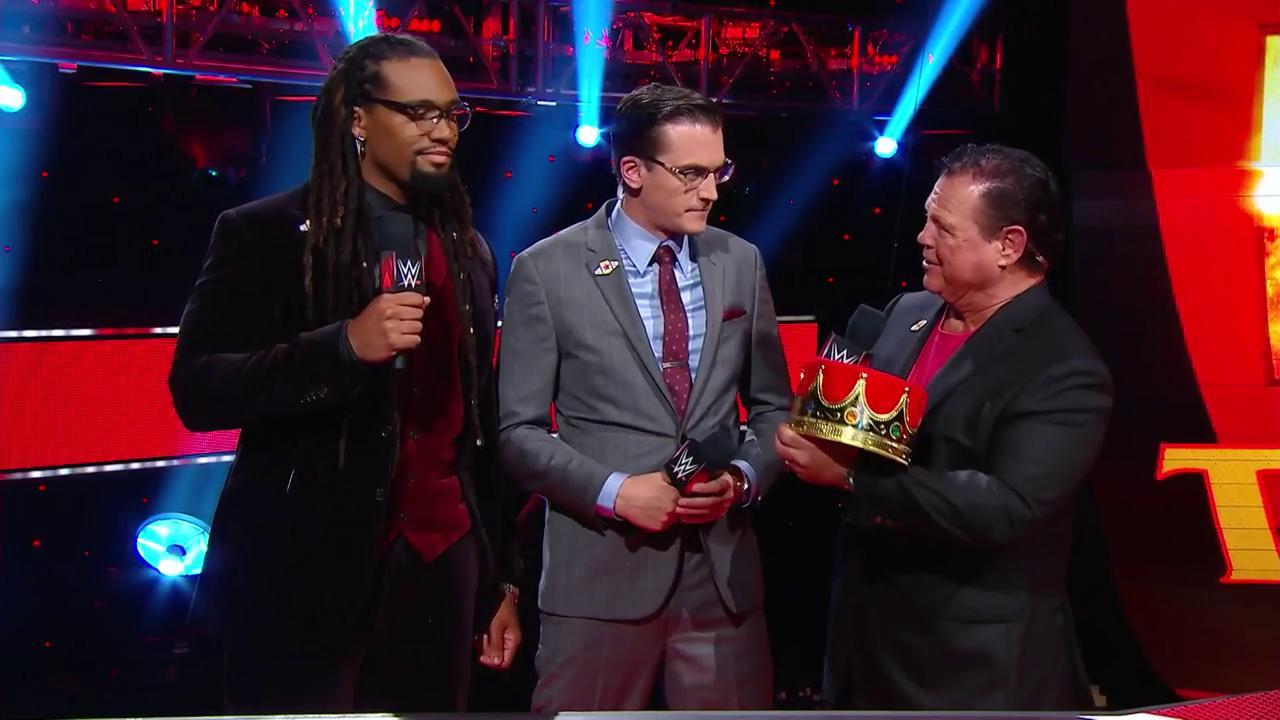 The new Raw theme song and intro video kicks off, and we go into the arena to see the new set for the show and a big pyrotechnics display. The revamped Raw commentary team of Vic Joseph, Dio Maddin, and Jerry "The King" Lawler welcome us to the season premiere of Raw.
---
In-Ring: Rey Mysterio, Brock Lesnar, Dominick
Rey Mysterio, who will challenge Seth Rollins for the WWE Universal Championship later tonight, makes his way to the ring. Mysterio points to his son Dominick. Mysterio greets the crowd and says he owes this match tonight to his son. The match is happening because of his son. Tonight, he'll bring the Universal Championship home.
Brock Lesnar's music cuts him off, and he makes his way to the ring alongside his advocate, Paul Heyman. They get in the ring, and Lesnar rips the microphone out of Mysterio's hand before handing it to Heyman. Heyman goes to do his shtick, but Mysterio rips the microphone out of his hand. Lesnar immediately grabs Mysterio and hits him with an F-5! Lesnar stands over Mysterio before picking him up and hitting a second F-5.
Dominick looks upset at ringside. Lesnar paces around the ring and looks at Dominick. Lesnar stares at him for a bit and gets out of the ring. Lesnar approaches Dominick, and Dominick sits down. Lesnar then grabs Dominick and viciously yanks him over the barricade! Lesnar scoops him up, nearly drops him, but recovers and slams him spine-first into the ring post before giving him a scoop slam on the floor! Lesnar gets Dominick in the ring and stands over him. Lesnar then turns Dominick inside out with a German Suplex. Mysterio looks devastated watching his son get demolished by Lesnar. Lesnar then grabs Mysterio and drops him with a third F-5! Heyman looks stunned at ringside as the crowd loudly boos Lesnar. Lesnar looks at the annihilated Mysterio family and leaves the ring looking intense. Lesnar then turns around and gets back in the ring. Mysterio is covering Dominick up. Lesnar grabs Mysterio and gives him a release suplex. Lesnar then takes Dominick and gives him a release suplex as well. Mysterio crawls over to his son as agents and referees come down to help.
Lesnar gets out of the ring, and Heyman speaks with him. Mysterio is crying in the ring. Lesnar once again gets in the ring and viciously takes one of the agents out. Lesnar kicks Fit Finlay out of the ring before throwing Rey Mysterio. Lesnar then throws Dominick out of the ring and looks more conflicted than ever. The crowd is loudly booing Lesnar. Lesnar paces in the ring while the crowd chants "asshole" at him. Lesnar then rips off his shirt, smiles, and taunts the crowd. Lesnar and Heyman then walk off.
During the commercial break, Dominick was taken out on a stretcher. Rey Mysterio was sobbing as he apologized to his son.
---
Sasha Banks vs. Alexa Bliss
Bayley and Nikki Cross have been banned from ringside. Raw Women's Champion Becky Lynch makes her way to the commentary table.
The bell rings, and they circle the ring before Banks takes her down by the hair. Banks punches away at Bliss before putting her in the corner. Bliss turns Banks around and stomps her. Banks quickly drops her on the apron and knocks her to the floor. Banks gets on the turnbuckle and points over at the commentary table. Lynch stands on the table and holds up her Raw Women's Championship.
We come back from a very short break to see Bliss take Banks down for a two count. Bliss goes for a baseball slide, but Banks pulls the apron up. Bliss blocks a right hand and gets out from under the apron, but Banks kicks her in the face. Banks gets her in the ring, and a siren is heard in the arena signaling Dominick Mysterio being taken away in an ambulance. Jerry Lawler says he heard Brock Lesnar is being questioned by the authorities over the attack.
Bliss makes a comeback with a pair of clotheslines and a slam. Bliss goes for Insult To Injury, but Banks moves and hits a running knee to the face for a near fall. Bliss slides out of a slam and slaps her in the face. Banks shoves her off and begs her off. Banks calls for Bayley, and Bliss is distracted. Banks kicks her in the knee and rolls her up with a handful of tights for the win.
Winner by Pinfall: Sasha Banks
Becky Lynch quickly goes down to the ring and takes Banks down. Lynch kicks her, and Banks quickly escapes through the crowd. Lynch says she can run now, but this Sunday she isn't leaving the Hell in a Cell before she's done with her. All those attacks woke up that Irish thing in her. Banks made it personal, so she'll make it painful. This Sunday retribution is coming around.
---
Backstage: Seth Rollins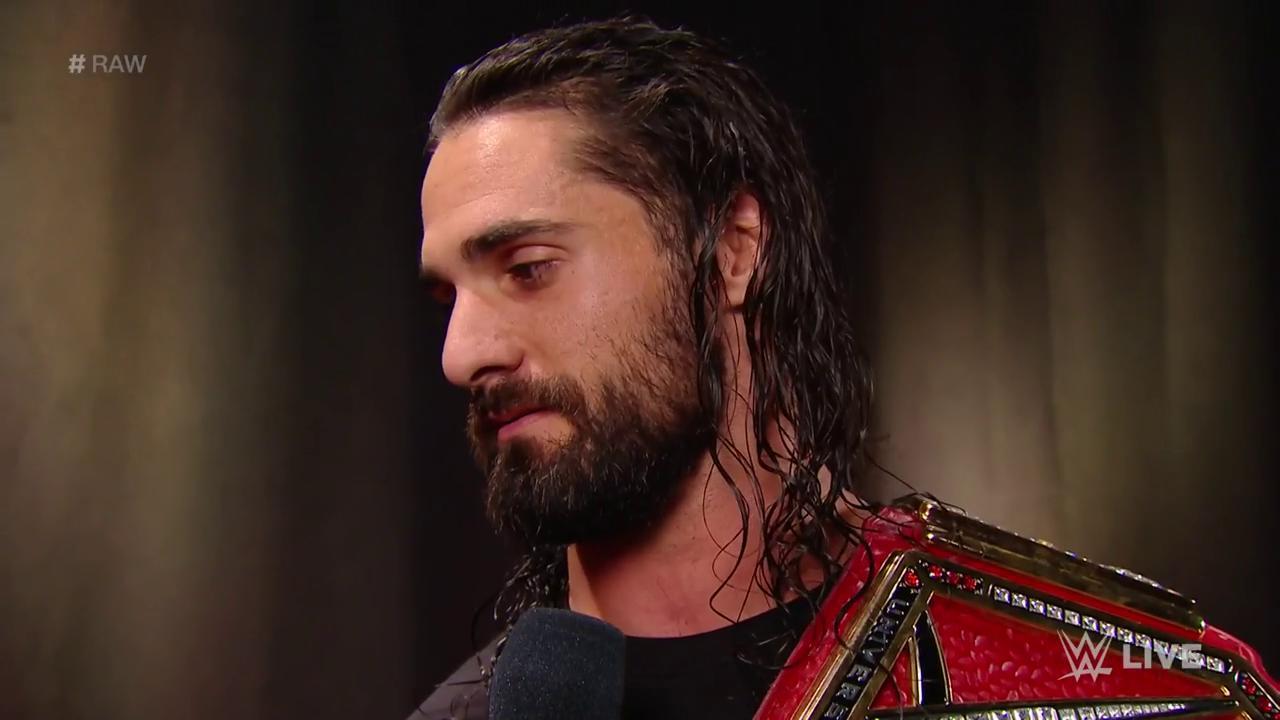 Charly Caruso is backstage. She leads us into a video highlighting what happened last week with Seth Rollins and "The Fiend" Bray Wyatt. The Fiend took out Braun Strowman and stared at Rollins. Rollins comes up to Charly and says he has to survive and prevail against something like The Fiend. Tonight is the season premiere of Raw. We are live in Phoenix. Mysterio is in no condition to compete tonight, but when he's healthy they will have a match. That is a promise. However, he also made a promise to the WWE Universe. It doesn't matter who steps up — he'll defend the Universal Championship and burn it down.
---
Raw Tag Team Championship
Robert Roode & Dolph Ziggler (c) vs. Heavy Machinery
Dolph Ziggler will start against Tucker. They circle the ring, and Ziggler quickly gets behind Tucker before shoving him. They circle the ring again, and Ziggler hooks a front facelock before taking him down. Tucker whips Ziggler off and shoulder blocks him. Tucker hits a second shoulder block, rolls over him, and hits a dropkick for a two count. Tucker lifts Ziggler up in a delayed vertical suplex, tags Otis in, hands Ziggler off to him, and Otis connects with a dropkick for a near fall. Ziggler quickly punches and dropkicks Otis. Robert Roode is tagged in. They send Otis into the ropes, but Otis takes them down. Tucker tags in, and they hit stereo suplexes. Heavy Machinery hits the ropes and sandwiches the head of Roode and Ziggler.
We come back from the break to see Tucker slam Ziggler down before hitting the ropes, but Roode pulls the top rope down to get him out of the ring. Roode tags in and drives Tucker into the apron before sending him into the barricade. Roode gets Tucker in the ring and stomps him before choking him. Ziggler tags in and hits a neckbreaker for a two count. Ziggler jumps on the back and applies a sleeper hold. Ziggler brings Tucker down, but he eventually fights up. Ziggler quickly knees him and tags Roode back in. Roode whips Ziggler into Tucker. Roode follows up with a spinebuster on Tucker for a near fall. Ziggler tags in, but Tucker catapults him into the corner.
Otis and Roode are tagged in. Otis runs Roode and Ziggler over. Otis is getting fired up and gyrates a bit. The crowd lets out loud laughter. Otis hits an exploder suplex on Roode and sets up in the corner. Ziggler runs in, but Otis picks him up, spins him around a bit, and slams him. Otis does the caterpillar and drops an elbow on both men! Tucker tags in. Heavy Machinery sets up for the Compactor, but Ziggler hits Tucker with a Zig-Zag. Ziggler then superkicks Otis. Roode and Ziggler send Otis into the ring post shoulder-first, and Roode hits Tucker with the Glorious DDT for the win.
Winners by Pinfall and still Raw Tag Team Champions: Robert Roode and Dolph Ziggler
---
Miz TV with Hulk Hogan and Ric Flair
The Miz makes his entrance. Miz says he sends his thoughts and prayers to Rey Mysterio and Dominick. There's no telling what he would do to someone if they put their hands on his child. Miz hopes Mysterio and Dominick are ok. Now let's get this thing started. It is the season premiere of Miz TV. This is the most highly anticipated Miz TV ever. His first guest is a 16-time World Champion, a 2-time WWE Hall of Famer "The Nature Boy" Ric Flair!
"The Nature Boy" Ric Flair makes his way to the ring to a big reception. Flair's titantron says "17 Time Champion." Flair compliments Miz' attire. Miz says he dressed up for Flair. Miz says his next guest is being accompanied by "The Mouth of the South" Jimmy Hart, it is the immortal Hulk Hogan! Hogan makes his way to the ring to a big reception alongside Jimmy Hart. Flair jokingly says he is over it. Miz says they're not and are soaking it all in. How many times do you see three legends standing in a ring? Miz tells Hart he was talking about himself as the third legend.
Flair says he loves this, but he's had to listen to Hogan's music for 30 years. He's tired of it. Miz says they've heard the "WOO" for longer. Miz says he couldn't think of two better guests than these all time greats. Miz asks Hogan what it's like looking across the ring at Flair. Hogan says it's great to be back on Raw and in Phoenix, Arizona. Greatness isn't the right word, but it's great to be in the ring with the greatest of all time, "The Nature Boy" Ric Flair. Hogan lets out a horrible "WOO." Flair says Hogan may be recognized as the greatest draw in the company's history, but in the ring nobody touches him. Flair asks if Hogan has a problem with that. Flair says in the ring he has no equal, and that includes Hogan. Hogan says it sounds like Flair wants to take one more run at the 24-inch pythons. Flair takes his jacket off and gets in Hogan's face. Flair hits the ropes, but puts the brakes on when Hogan puts his finger out. Flair says he's just playing. Hogan says they aren't spring chickens anymore, but that doesn't mean… A loud "One more match" chant picks up. Hogan says that doesn't mean they can't add one more page to their legacy. Flair says he wants for once in his life to have a paycheck with as many zeros as Hogan's. Where Hogan is going, he's going.
Miz says on October 31 at WWE Crown Jewel, it'll be Team Hogan taking on Team Flair. The crowd boos the Crown Jewel announcement. It'll be 5 superstars for each team with Hogan and Flair as coaches. Hogan introduces his team captain Seth Rollins. Rollins makes his entrance and says he has a lot on his plate, but he's honored to be Hogan's Team Captain. Flair goes to introduce his captain, but Randy Orton's music simply cuts him off. Orton is Flair's team captain. Orton tells Rollins to take his head out of Hogan's ass and listen up. Orton wants a Captain's Match right now. This is not for the title.
Seth Rollins and Randy Orton prepare to have a match.
King Corbin makes his entrance, and Orton attacks Rollins from behind. Corbin and Orton double-team Rollins before Rusev makes the save. Rusev runs over Orton and Corbin. Rollins superkicks Corbin and hits Orton with a suicide dive. Rollins and Rusev stand tall in the ring before leaving and joining Hulk Hogan on the stage. Hogan, Rollins, and Rusev pose on the stage.
---
Backstage: Rusev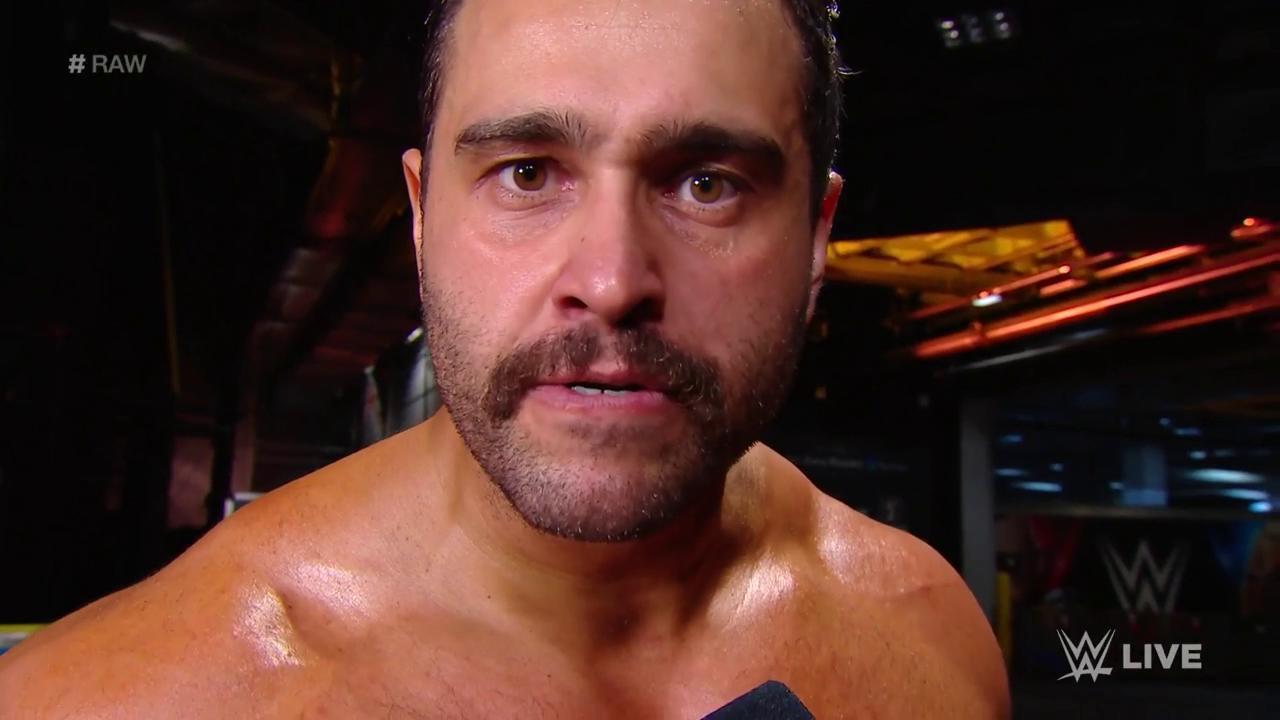 Rusev is walking backstage when Charly Caruso comes up to him. She congratulates him on stepping up for Team Hogan. She then asks where Lana is. Rusev doesn't say anything. She instead asks what he hopes to accomplish in WWE. Rusev says he isn't here to talk about his problems at home. He's here to talk about Seth Rollins' problems at work. Rollins was getting pummeled and he saved him. Rusev says Rollins owes him and challenges him for the Universal Championship tonight.
---
Backstage: AOP
AOP cut another promo in a video.
---
The Viking Raiders vs. Gallows & Anderson
Ivar will start against Luke Gallows. Ivar soon takes him down, and Erik tags in. Karl Anderson also comes in. Erick knees away at Anderson before Ivar tags in and delivers some knees. Ivar runs Anderson over for a two count. Ivar kicks Anderson, but he lowers his head and eats a kick. Gallows tags in, and Ivar lifts him. Gallows slides off and elbows Ivar. Gallows punches away at Ivar in the corner before head-butting him. Gallows elbows Ivar in the head and knees him. Gallows drops an elbow for a two count. Gallows then digs his elbow into Ivar's face. Anderson tags in, but Ivar gets away. Erik tags in and quickly takes Anderson down. Gallows gets in the ring, but quickly gets out. Erik flips Anderson over and knees him in the face.
We come back from the break to see Erick fight up and tag in Ivar. Ivar takes Anderson down and splashes him. Anderson avoids a splash, but Ivar hits a seated senton. Ivar does a cartwheel and takes Anderson down again. The Viking Raiders hits a double-team springboard clothesline/German Suplex combo. Erik takes Anderson out, and Gallows tags in. Gallows hits a two-handed choke bomb for a near fall. Gallows uppercuts Ivar, but Ivar quickly takes Anderson out with a suicide dive. Erik slams Gallows, and Ivar tags in to hit a top rope splash for the win.
Winners by Pinfall: The Viking Raiders
---
Backstage: Cesaro, Ricochet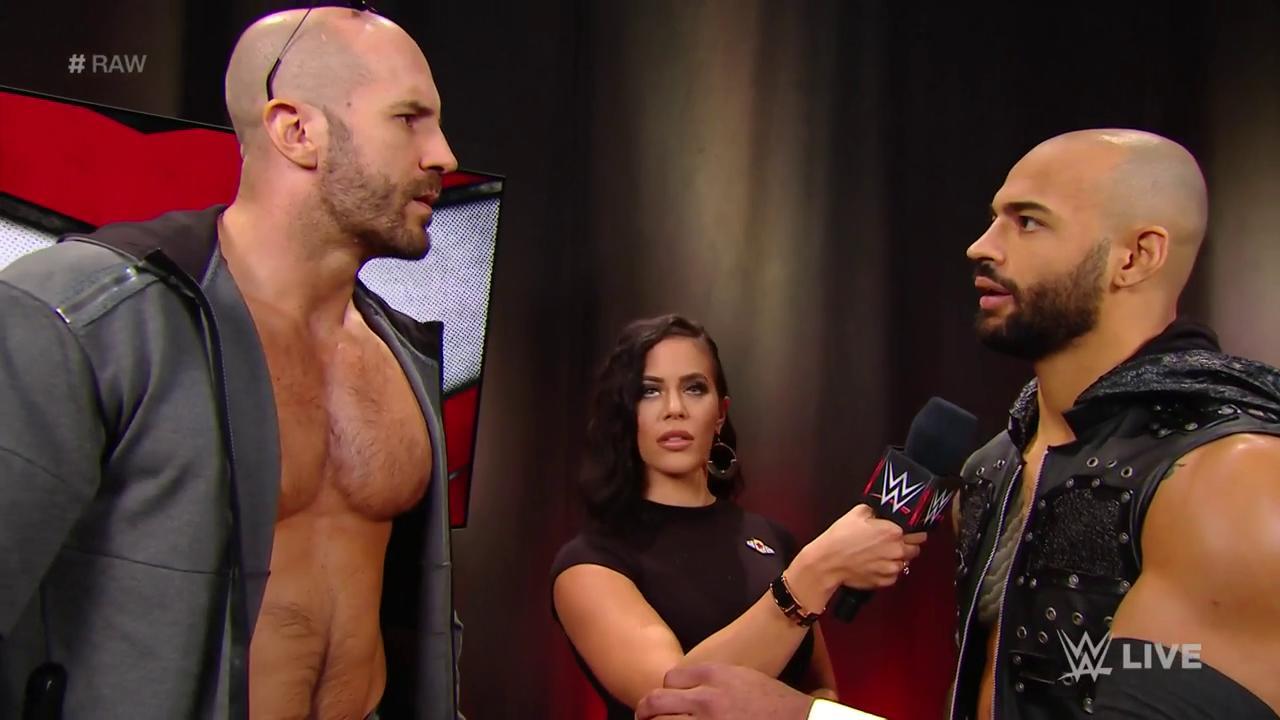 Charly Caruso says neither Rey or Dominick Mysterio will be back at Raw tonight. Brock Lesnar and Paul Heyman are still here. They want to address their actions.
Cesaro says it doesn't matter what people think. Cesaro enjoyed what Lesnar did. The only thing criminal about Lesnar's actions is the fact that he stole an opportunity for him to beat Dominick down. Ricochet walks up and says Cesaro isn't half the man Mysterio is. Ricochet says they can settle this in the ring.
---
Ricochet vs. Cesaro
Ricochet hits Cesaro with a pair of dropkicks at the start of the match. Cesaro mounts a brief comeback, but Ricochet monkey flips him out of the ring. Ricochet follows up with a running moonsault block to the floor. Ricochet gets him in the ring, and Cesaro hits a tilt-a-whirl backbreaker. Cesaro uppercuts Ricochet down for a one count. Cesaro slams him down for a two count. Ricochet soon fights up and avoids a shoulder in the corner. Ricochet kicks him in the face and hits a springboard hurricanrana a la Rey Mysterio for the win.
Winner by Pinfall: Ricochet
---
Firefly Fun House
Abby The Witch, Huskus The Pig, Mercy The Buzzard, and Ramblin' Rabbit are all shown cowering in fear. Rabbit chokes himself out apparently. Bray Wyatt runs up, checks on the rabbit, and says he's gone. Wyatt then says, "Oh well" and throws the rabbit aside. The characters say they are scared of what The Fiend will do to Seth Rollins. Wyatt says there's nothing like Hell in a Cell. Wyatt says to Huskus it's like a world without chocolate. It's a place where you enter, but you never truly leave… not without emotional and physical scars, of course. Their friend Seth Rollins will be trapped in there with him. He will always protect them, but he doesn't think Rollins will be so fortunate. In fact, Wyatt has a bad feeling that he cannot wait to hurt Rollins. Wyatt has an idea. He'll try to find him and tell him to be nice to Seth Rollins. Wyatt quickly comes back, laughs, and says, "Just kidding!" Wyatt goes stone faced and says, "Let me in!" Wyatt then gleefully waves goodbye as the show comes to an end.
---
WWE United States Championship
AJ Styles (c) vs. Cedric Alexander
The bell rings, and Styles throws his t-shirt at Alexander before powering him to the corner. Alexander quickly takes Styles down and rolls him up for a two count. Alexander dropkicks him, but Styles comes back with a jawbreaker. Alexander quickly dropkicks him out of the ring. Styles gets back in, but Alexander knees him. Alexander hits the ropes, but Styles forearms him down. Alexander quickly dropkicks him into the corner and goes for a springboard, but Styles grabs him and hits a TKO on the ropes! Styles then hits a slingshot flying forearm to the floor.
We come back from the break to see Alexander make a comeback with a slingshot flatliner. Styles charges him, but Alexander knees him in the face. Alexander connects with the Neuralyzer. Styles tries to mount a comeback, but Alexander hits a modified GTS for a near fall. Alexander cannot believe it. Styles fights out of the Lumbar Check and hits a tilt-a-whirl reverse DDT for a near fall. Styles goes for a Phenomenal Forearm, but Alexander avoids it and hits a Michinoku Driver for a near fall. Alexander goes for another Neuralyzer, but they botch a counter. Styles hits a German Suplex followed by a wheelbarrow facebuster for a near fall. Styles goes for the Styles Clash, but Alexander fights out. Styles counters a Lumbar Check and hits the Styles Clash for the win.
Winner by Pinfall and still WWE United States Champion: AJ Styles
---
Backstage: The Street Profits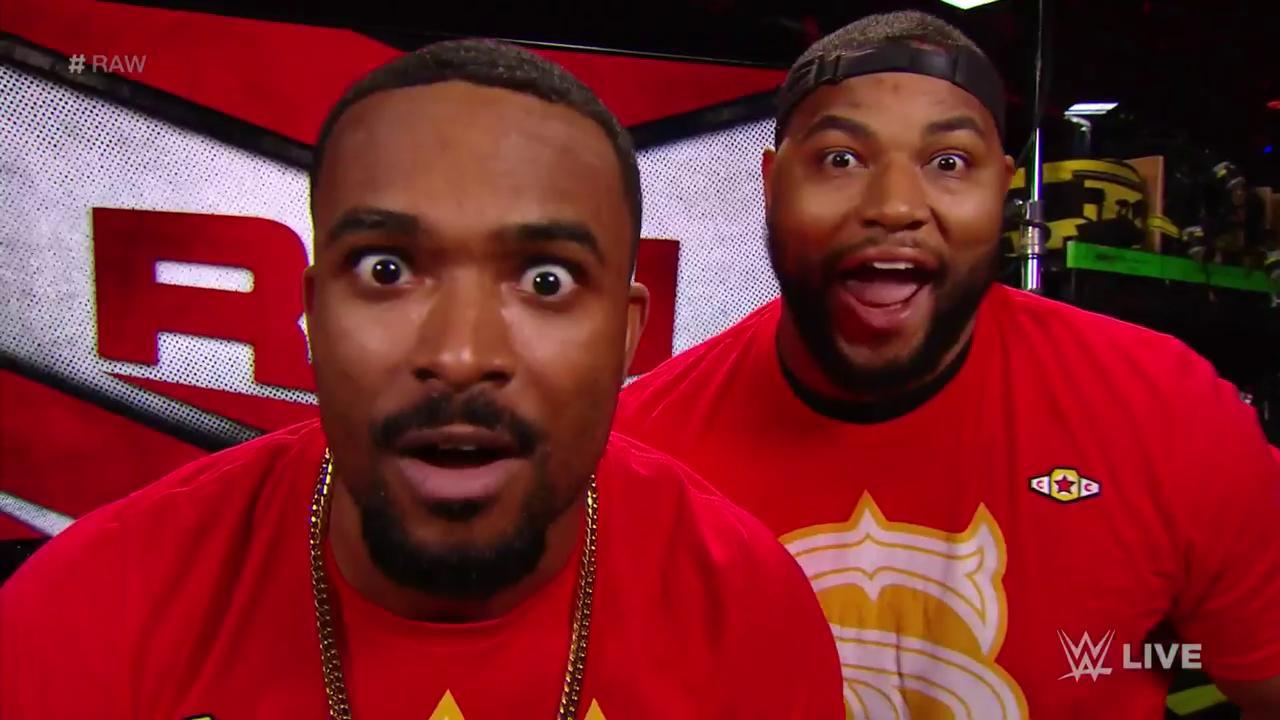 The Street Profits are backstage. They talk about their NXT Tag Team Championship match on NXT this Wednesday. They then talk about the season premiere. Montez Ford doesn't want Angelo Dawkins to say The Fiend's name.
---
Lacey Evans vs. Natalya
They lock up, and Evans hooks a side headlock before shoulder blocking her down. Evans takes out her handkerchief and wipes her face. Evans puts her in the corner, but Natalya soon spikes her on her tailbone before hitting a low dropkick to the face. Evans quickly takes her back down and whips the head into the ring steps. Evans poses on the steps while the referee checks on Natalya. Evans gets Natalya in the ring and picks up a two count. Evans slams Natalya's face off the mat and applies a modified chin lock. Evans sends Natalya to the corner and hits a slingshot seated senton for a near fall. Evans reapplies the chin lock. Natalya fights up, but Evans hits a swinging neckbreaker before stepping on her. Natalya pulls Evans off the top rope and wildly punches away at her. Natalya follows up with a Discus Clothesline for a near fall. Natalya calls her a "bitch" and goes for a Sharpshooter, but Evans escapes. Evans rakes the eyes and rolls her up for the win.
Winner by Pinfall: Lacey Evans
After the match, Lacey Evans lays Natalya out with a Woman's Right.
---
Backstage: Paul Heyman
Paul Heyman is backstage and says he will talk for Brock Lesnar. Heyman says his client's behavior was wanton and reckless before apologizing to the Mysterios. Heyman says you can blame Vince McMahon for allowing him to schedule Lesnar on the Raw Season Premiere when you know Lesnar is in fight mode. There are a lot of wannabe tough guys in WWE and outside WWE. Not one of them can do a damn thing about what Lesnar did tonight and will do this Friday on the SmackDown premiere on FOX to Kofi Kingston. Kingston can thank god every night for the power of positivity, but the devil thanks Heyman for lining up the victims for Lesnar. This is not a prediction… it's a spoiler. You will have a new WWE Heavyweight Champion of the World in Brock Lesnar.
---
Backstage: Maria Kanellis, Sasha Banks
#TheBoss @SashaBanksWWE gives #TheMan @BeckyLynchWWE an important history lesson just days away from #HIAC! #RAW pic.twitter.com/yHr3pfXOwF

— WWE (@WWE) October 1, 2019
Charly Caruso is backstage with Maria Kanellis. Charly asks about Rusev. Maria says Rusev is not the father.
Sasha Banks comes up and says Becky Lynch is not man enough for her. Banks will show Lynch carnage at Hell in a Cell when she makes her tap out. There's only been two women Hell in a Cell matches and she was in the first. No man will win her match.
---
Universal Championship
Seth Rollins (c) vs. Rusev
The bell rings, and Rusev goes for a handshake. Rollins accepts, and Rusev takes him down. Rollins quickly backs up and smiles. Rusev avoids a Stomp, goes for an Accolade, but Rollins avoids it. Rollins goes for a shoulder block, but Rusev doesn't budge. Rusev then takes Rollins down. Rollins rolls out of the ring to recover. As we go to commercial, Bray Wyatt is heard saying, "Let me in."
We come back from the break to see Rollins take Rusev down. They exchange punches before Rusev reverses a whip into the ropes. Rollins counters back with a Sling Blade before going for a suplex. Rusev blocks it, but Rollins gets away and pulls the top rope down to get him out of the ring. Rollins hits a pair of suicide dives and puts Rusev in the ring. Rollins hits a cross-body block, but Rusev rolls through. Rollins counters into a roll-up, but Rusev kicks out. Rusev kicks him and hits a swinging sidewalk slam for a two count. Rusev sets up for the end, but Rollins counters a kick into a roll-up. Rollins kicks him in the head and connects with a falcon arrow for a two count. Rusev avoids a Stomp and throws him to the apron. Rollins goes for a springboard, but Rusev (sort of) connects with a superkick out of mid-air. Rollins rolls out of the ring.
Bobby Lashley makes his return and walks out to the stage. Lashley motions to the back, and Lana comes out to the stage. Lashley embraces Lana, and they passionately kiss as Rusev looks on.
The lights go out. The Fiend attacks Rollins at ringside and applies the Mandible Claw as the show comes to an end.