October 7, 2019
Bakersfield, California
Commentary: Vic Joseph, Dio Maddin, and Jerry "The King" Lawler
Results by: Mike Tedesco of Wrestleview.com
---
Quick Match Results
Last Woman Standing: Natalya defeated Lacey Evans via powerbomb off the stage
The Viking Raiders defeated Dolph Ziggler & Robert Roode via the Viking Experience on Ziggler
Aleister Black defeated The Singh Brothers via dragon sleeper on Sunil
Six Man Tag: The OC defeated Lucha House Party via Styles Clash off the second rope by Styles on Dorado
The Kabuki Warriors defeated Becky Lynch & Charlotte Flair via roll up by Sane on Lynch after Asuka spit green mist at Lynch
Ricochet defeated Apollo Crews via the Recoil
---
In-Ring: Rusev, Baron Corbin, Randy Orton
A video showcases what happened last week between Rusev, Bobby Lashley, and Lana. Lashley and Lana are a couple now. Lana is Rusev's wife.
We go right into the arena to see Baron Corbin and Randy Orton attacking Rusev in the ring. The show was supposed to open with Rusev taking on Orton. Rusev fights them off. Bobby Lashley appears on the titantron and says Rusev doesn't look like he's having a good time at all. Lashley says he is wearing Rusev's robe. If he's wearing Rusev's robe, he's probably at his house in his room. Lashley climbs into Rusev's bed. Lashley wonders what he's missing. Lana walks into the frame in a rob. She smiles and takes off the robe to show her pink lingerie. She says everything is in her name and they no longer have joint checking accounts. Lashley says Rusev should have been spending his money on Lana rather than sending it to Bulgaria. Rusev looks like he's going to cry in the ring.
Rusev wipes the tears from his eyes and looks intense. Rusev turns and looks at Orton and Corbin, who were laughing at him. Rusev attacks them at ringside. Rusev sends Corbin head-first into the ring steps and gives Orton a fallaway slam into the barricade. Rusev hits Orton and Corbin with the steps. Rusev shouts at Orton and sends him head-first into the ring post. Rusev then superkicks Corbin into the crowd. Rusev then hits Orton with a running kick. Rusev flips out at ringside and leaves.
---
Last Woman Standing
Lacey Evans vs. Natalya
Lacey Evans is at ringside with a garbage can with Natalya's name spray painted on it. Evans says she'll take that nasty Natalya out in a Last Lady Standing match.
Natalya quickly wipes out Evans, sends her outside the ring, and whips her into the barricade. Natalya gets Evans in the ring, but Evans rolls out. Natalya greets her with a back body drop on the floor. Natalya then hits a snap suplex on the floor. Natalya kicks her in the ribs, but Evans quickly knocks her down. Natalya gets Evans in the ring and hits a discus clothesline. Natalya goes for a Sharpshooter and locks it in. Natalya eventually lets go since you can't win by submission. Natalya slams her face off the mat and talks trash. Evans knees her and pulls her down by the hair. Natalya gets to her feet at nine. Natalya hits a suplex, but misses a baseball slide. Evans pulls her outside and swings her into the barricade. Evans attacks Natalya before she gets up. Evans goes under the ring and grabs a table. Natalya gets to her feet, so Evans sends her into the ring steps.
We come back from the break to see Evans whip Natalya into a chair in the timekeeper's area. Evans sits and waits for the referee to count, but Natalya gets up at 9. Evans attacks her with a kendo stick, but Natalya gets up again. Evans gets her in the ring, but Natalya gets out. Evans then hits a swinging neckbreaker on the floor before dumping trash on her. Evans climbs the barricade and nearly whiffs on a moonsault block. Natalya still gets to her feet at 9.
Evans gives Natalya a suplex on the ramp before throwing her into the new LED wall. She then sends Natalya into the commentary table. Natalya once again gets up at 9. Evans gets on the table and gives Natalya a suplex on top of it. The table doesn't break. Natalya still gets up, so Evans whips her into the wall. Evans goes for a suplex off the ramp, but Natalya counters into a suplex of her own. Natalya then powerbombs her off the stage through a table. Evans is counted down.
Winner: Natalya
---
Backstage: Aleister Black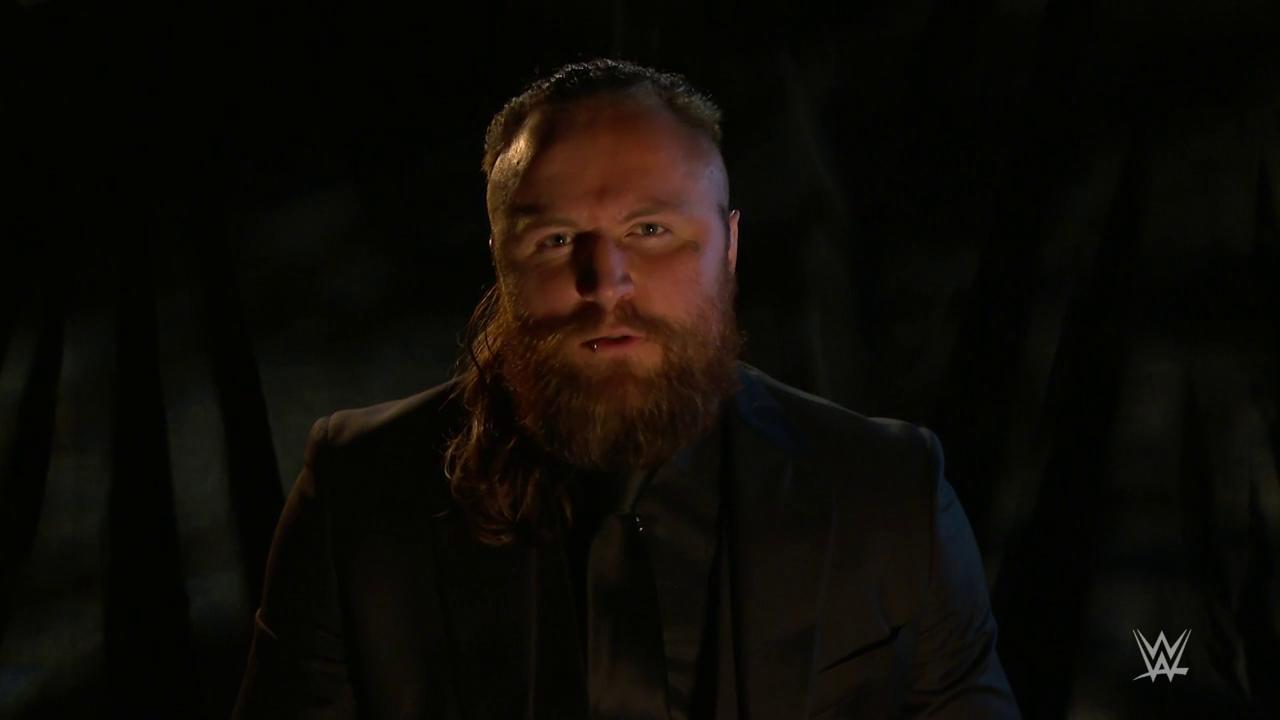 Aleister Black is shown backstage. This calm demeanor is not who he is. Black says he is as unforgiving as fire and as cold and permanent as death. All of this will tell you that he is forever restless. Black dares someone to knock on his door.
---
Backstage: The Street Profits
What do @AngeloDawkins & @MontezFordWWE think is in store for the likes of @WWEApollo @WWE_Murphy and @WWEMaverick this Friday when the #WWEDraft begins? #RAW pic.twitter.com/P3hFrQ0cCv

— WWE (@WWE) October 8, 2019
The Street Profits are shown elsewhere backstage. They talk about SmackDown saying goodbye to the USA Network and premiering on FOX. They're ready for the draft. They do some analysis on Apollo Crews, Buddy Murphy, and Drake Maverick. Angelo Dawkins says Maverick is a 40 year old virgin. They then get excited about Tyson Fury and have a video shown of him from SmackDown this past Friday.
---
Backstage: Tyson Fury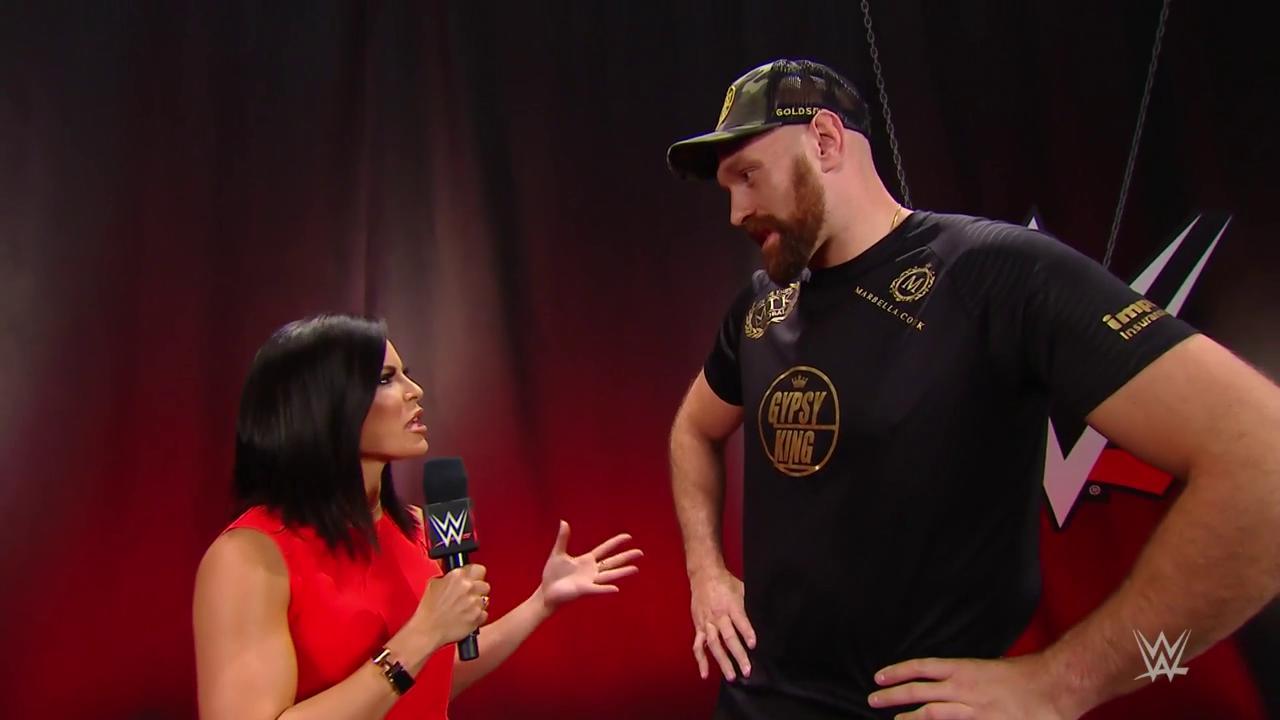 Charly Caruso is backstage with Tyson Fury. Fury says he got a little excited on SmackDown. Tonight, he wants an apology or Braun Strowman will get these hands.
---
The Viking Raiders vs. Dolph Ziggler & Robert Roode
This will be a non-title match. Erik starts against Dolph Ziggler. Erik runs over Ziggler and slams him a few times. Ivar tags in, and Erik body slams him onto Ziggler. Robert Roode tags in, and Ivar pulls him off a waistlock attempt. Roode quickly tries chopping him down. Roode works on Ivar's knee, but Ivar soon hits him with a pair of shoulder blocks. Erik tags back in and hits a running dropkick on Roode. Erik then slams Ivar into Roode's face. Erik applies an arm bar, but Roode fights out. Erik quickly flips Roode over and knees him in the face. Ziggler pulls Roode out of the ring to help him recover. Ziggler eventually helps Roode back into the ring. Erik attacks Roode and hits an exploder suplex before clotheslining him out of the ring.
We come back from the break to see Ziggler distract Erik, and Roode takes advantage. Ziggler tags in and applies a sleeper on Erik. Erik fights up and rakes the eyes. Ziggler connects with a neckbreaker for a two count. Roode tags in and hits a suplex for a two count. Roode cinches in a chin lock. Erik fights up and takes down Roode and Ziggler.
Ivar tags in and runs wild on Roode and Ziggler. Ivar hits a seated senton on Ziggler and clotheslines Roode down. Ziggler soon comes back with a famouser for a two count. Ivar blocks a superkick and kicks Ziggler down. Erik tags in, and they hit a double-team springboard clothesline/German Suplex combo. Roode breaks up the pin, but Ivar gets him out of the ring. Ziggler avoids a double knee from Erik and rolls him up for a two count. Roode and Ziggler hit a combo Zig-Zag/backbreaker for a near fall. Roode is stunned. Ziggler blind tags in, and The Viking Raiders hit him with a sloppy Viking Experience for the win.
Winners by Pinfall: The Viking Raiders
---
The Singh Brothers vs. Aleister Black
The Singh Brothers are in the ring. They should be top picks on Raw and will make a statement tonight. They want to pick a fight with Aleister Black.
Black immediately knocks Samir Singh out with a kick. Black concentrates on Sunil Singh, but Samir comes back in. Black floors Samir with Black Mass. Black then applies a dragon sleeper to Sunil for the submission.
Winner by Submission: Aleister Black
---
Backstage: Braun Strowman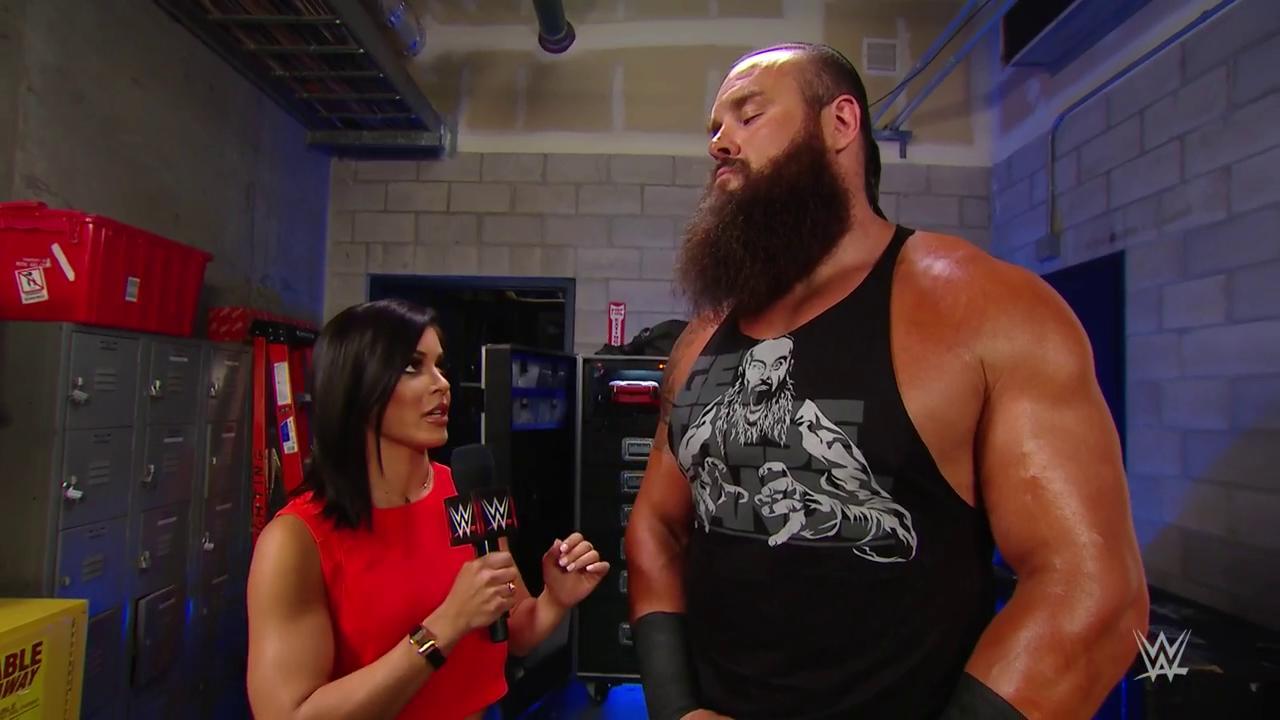 Charly Caruso is backstage with Braun Strowman. Strowman says if Tyson Fury wants an apology, he better ask nicely. If he doesn't, he'll get these hands.
---
Backstage: Rey Mysterio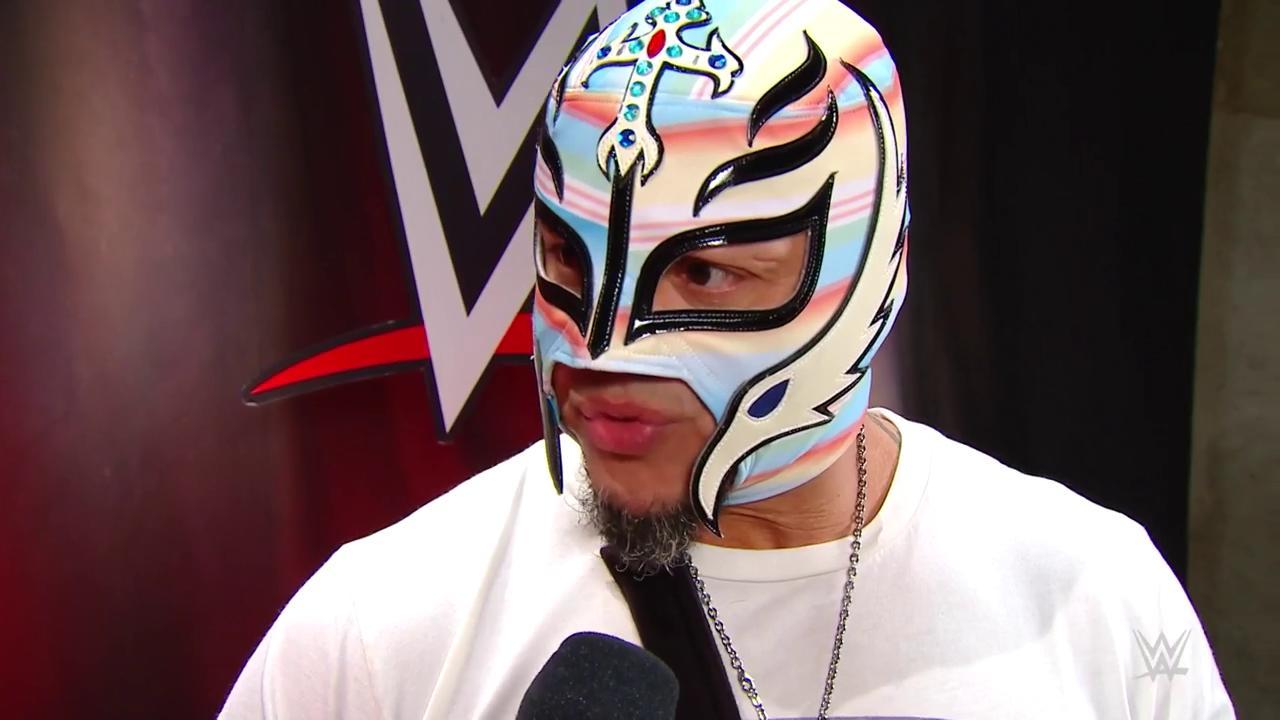 Rey Mysterio is backstage with Charly Caruso. Mysterio says his son Dominick got beaten by Brock Lesnar, but he took the beating like a man. Mysterio couldn't be prouder. Mysterio says he felt like he let his family down in the hospital. Dominick's godfather is Cain Velasquez and that is the only man Brock Lesnar fears.
---
Backstage: AOP
AOP did another promo.
---
Six Man Tag
The OC vs. Lucha House Party
The OC defeated The Lucha House Party in a match that went through the commercial break. The Lucha House Party hit The OC with a trio of moonsault blocks to the floor. After the match, The OC annihilated them, culminating with AJ Styles hitting a Styles Clash off the second rope on Lince Dorado.
Winners by Pinfall: The OC
---
Miz TV w/ Becky Lynch and Charlotte Flair
The Miz makes his way to the ring for another edition of Miz TV. Miz puts over Friday Night SmackDown and the celebrities that showed up like The Rock, Cain Velasquez, and Tyson Fury. Miz then introduces his first guest, the Raw Women's Champion Becky Lynch. A "Becky" chant picks up. SmackDown Women's Champion Charlotte Flair gets introduced next.
The Miz mentions that with the WWE Draft they could wind up apart or together on a roster. They're the two most dominant women in WWE. Flair says they're just dominant. Miz says we'll see how dominant they are when they face The Kabuki Warriors. Becky Lynch says she lost to Asuka and wants to right the wrong. Lynch says Flair looks comfortable with the belt she made famous. Flair says she made Lynch famous. Flair talks about her number of reigns, and Lynch says at least hers are meaningful.
The Kabuki Warriors come out to the stage and cut a promo in Japanese. They charge the ring and a brawl breaks out. Flair and Lynch hit an out of sync pair of baseball slides.
---
Becky Lynch & Charlotte Flair vs. The Kabuki Warriors
It's Becky Lynch taking on Asuka to start off. Lynch takes her down, but Asuka soon knocks her out of the ring. Kairi Sane tags in and takes Lynch down for a two count. Lynch soon sidesteps Sane and tags Flair in. Asuka also tags in. Flair shoulder blocks her down and hits a clothesline. Flair chops the chest a few times before whipping her to the corner and chopping her down again. Flair hits a really dangerous looking back suplex. Flair takes them out with a moonsault block off the top rope to the floor. Asuka soon comes back with a kick to cut off the momentum.
We come back from the break to see Lynch tag in and take Sane down. Sane soon punches her down and drags her to the corner. Sane climbs the ropes, but Lynch pulls her off and hits a diving leg drop. Asuka kicks Lynch in the head to break up the pin. Flair big boots Asuka off the top rope. Sane chop blocks Flair. Lynch soon catches Sane with a Dis-Arm-Her, but Asuka spits green mist in her face. Sane rolls Lynch up for the win.
Winners by Pinfall: The Kabuki Warriors
---
Next Week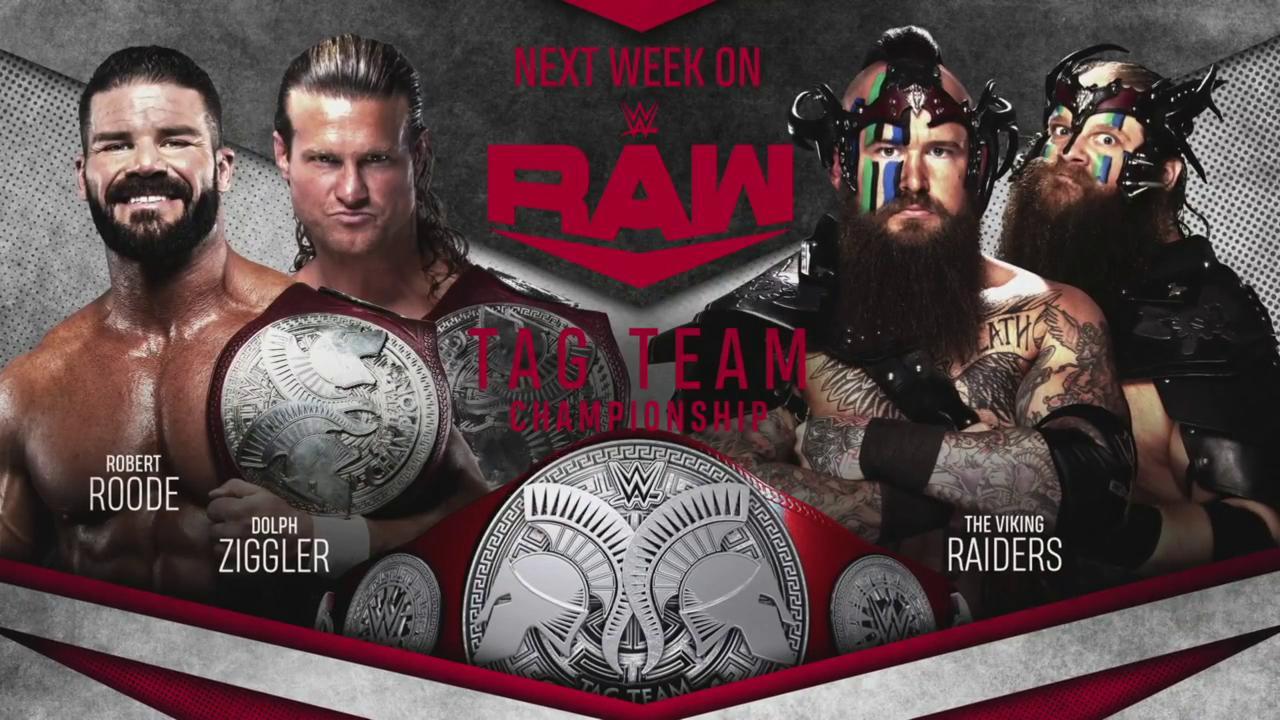 The Viking Raiders will take on Dolph Ziggler and Robert Roode for the Raw Tag Team Championships next week.
The second night of the WWE Draft will also take place.
---
Ricochet vs. Apollo Crews
Charly Caruso is backstage with Apollo Crews. Crews says he goes way back with Ricochet, but this is his showcase. Ricochet says this could be his last time performing on Raw, so he'll prove that superheroes can be real.
They do a little chain wrestling and get to a stalemate. Crews eventually dropkicks him down before hitting a delayed vertical suplex. Ricochet soon avoids a shot and knees him in the face. Ricochet hits a springboard clothesline followed by a standing shooting star press for a two count. Crews makes a mini-comeback, but Ricochet hits a Recoil for the win.
Winner by Pinfall: Ricochet
---
In-Ring: Tyson Fury, Braun Strowman
Jerry "The King" Lawler introduces Tyson Fury to the ring. Lawler asks what happened with him and Braun Strowman. Fury says he was here last week minding his own business when Strowman messed with him. Fury is here to demand an apology.
Braun Strowman makes his way to the ring. Strowman says he was trying to have some fun. Strowman wanted security to let Fury go so he count lay him out. Strowman says he'd eat him for lunch. Strowman makes fun of the slow 10 counts of boxing, and Fury asks how many titles Strowman has won. They go face-to-face, and Fury shoves Strowman. Strowman tackles Fury to the corner, and security floods the ring to separate them. Fury escapes and jumps at Strowman. He's separated again. Fury knocks out the security guards, and Strowman does the same. They brawl before WWE Superstars run down to help. They still manage to break free and punch each other before order is finally restored. Strowman walks off.
Charly Caruso interviews Strowman backstage. Strowman says Fury is a tough son of a bitch, but he'll get these hands. Charly asks if Fury will get an apology. Strowman charges back down to the ring and brawls again with Fury as the show ends.