WWE Elimination Chamber
Sunday, March 8, 2020
Philadelphia, PA – Wells Fargo Center
---
Quick Match Results
Kickoff Show: The Viking Raiders defeated Curt Hawkins & Zack Ryder via the Viking Experience on Ryder (4:50)
Daniel Bryan defeated Drew Gulak via Yes Lock (14:20)
WWE United States Championship: Andrade (c) defeated Humberto Carrillo via pinfall with handful of tights (12:20)
WWE SmackDown Tag Team Championship Elimination Chamber Match: The Miz & John Morrison (c) defeated The New Day, The Usos, Heavy Machinery, Lucha House Party (Gran Metalik & Lince Dorado), Dolph Ziggler & Robert Roode, last eliminating The Usos via double pin on Jey (32:55)
No Disqualification Match: Aleister Black defeated AJ Styles via Black Mass after Undertaker chokeslammed Styles (23:15)
Raw Tag Team Championship: The Street Profits (c) defeated Seth Rollins & Murphy via Frog Splash by Ford on Murphy (18:30)
WWE Intercontinental Championship – 1-on-3 Handicap Match: Sami Zayn, Shinsuke Nakamura & Cesaro defeated Braun Strowman (c) via Helluva Kick by Zayn (Zayn is the new Intercontinental Champion) (8:30)
Elimination Chamber Match (Winner Gets Raw Women's Title Match at WrestleMania): Shayna Baszler defeated Natalya, Liv Morgan, Asuka, Ruby Riott, Sarah Logan, last eliminating Asuka via Kirifuda Clutch (21:00)
---
Kickoff Show
The Viking Raiders vs. Curt Hawkins & Zack Ryder
This was what you'd expect it to be. Standard short Kickoff tag match, with the Viking Raiders controlling most of it. In the end, they hit Zack Ryder with the Viking Experience for the win.
Winners: The Viking Raiders (4:50)
---
Daniel Bryan vs. Drew Gulak
This match had a slow pace early on, with both men trading holds and basically being evenly matched.
Towards the end, Gulak hit a brutal release German suplex, with Bryan landing terribly on the back of his head and neck. Bryan rolled to the outside, but was able to get in at the count of 9.
Gulak hit a top rope inverted superplex, then locked on the Gu-Lock (Dragon Sleeper), but Bryan reversed into a Yes Lock and Gulak "passed out."
Winner: Daniel Bryan (14:20)
Bryan's back was very bruised and red. Bryan pointed at Gulak in a show of respect after the match, then led a "Yes" chant. Good match to start the show.
---
Backstage: Robert Roode, Dolph Ziggler
.@RealRobertRoode guarantees a GLORIOUS victory, and @HEELZiggler will be dedicating that victory to his "babe" @WWE_MandyRose. #WWEChamber pic.twitter.com/7VntlqYNA3

— WWE (@WWE) March 8, 2020
Backstage, Roode said that there's no doubt that he and Ziggler will be the tag champs after tonight and when that happens, it's going to be absolutely glorious. There was a "glitch" on the TV in the background. Dolph Ziggler gave a special shout out to Mandy Rose and said he's going to dedicate their victory to her.
---
WWE United States Championship
Andrade (c) vs. Humberto Carrillo
As soon as the bell rang, Andrade ran and nailed Carrillo with a spinning back elbow, but Carrillo kicked out.
A few minutes in, Carrillo hit a nice springboard hurricanrana off the top rope, but Andrade kicked out. Carrillo went to the top for a moonsault, but Andrade moved, but Carrillo was able to land on his feet. Andrade tossed him into the corner and hit him with the running double knees.
On the outside, Zelina Vega pulled off the protective padding, exposing the hard floor. Andrade looked like he was going for a Pedigree, but Carrillo back body dropped him, then flipped from the ring to the outside onto Andrade.
In the ring, they exchanged pins in a quick sequence, with Andrade eventually rolling through and grabbing a handful of tights for the pinfall.
Pretty good match. Would have been better if I didn't feel like I've seen it like 8 times in the past 2 months.
Winner: Andrade (12:20)
---
Backstage: AJ Styles
Is @AJStylesOrg bringing #TheOC with him to his #NoDisqualification battle with @WWEAleister?#WWEChamber pic.twitter.com/uctBYJHQes

— WWE (@WWE) March 8, 2020
AJ Styles said that he feels sorry for Aleister Black because he has no friends and sits around in a room listening to dark music. AJ said that Gallows and Anderson will be in his corner.
---
WWE SmackDown Tag Team Championship
Elimination Chamber Match
The Miz & John Morrison (c) vs. The New Day vs. The Usos vs. Heavy Machinery vs. Lucha House Party (Gran Metalik & Lince Dorado) vs. Dolph Ziggler & Robert Roode
The entrances for this match felt like they took like 15 minutes.
The New Day and The Usos started things off. Not much happened.
Lucha House Party entered and the pace picked up big time. LHP hit a flurry of offense, but the Usos eventually took control. LHP climbed to the top of a pod and Metalik dived off onto the Usos, and Dorado flipped off into the ring onto the Usos.
The Miz & John Morrison entered next and took control of the match. The crowd was almost silent. Pretty boring so far other than Lucha House Party. Metalik went to the top of the pod again, Morrison climbed to the top rope, and Metalik hit him with a sweet hurricanrana off of the top of the pod. Nice.
Heavy Machinery entered next and bulldozed over everyone. Everyone started fighting in the ring. Meanwhile, Lince Dorado climbed to the top of the inside of the cage, then started swinging with his arms and did a shooting star press onto everyone! Holy shit.
Soon after, Heavy Machinery hit the Compactor on Gran Metalik for the elimination. Lucha House Party was eliminated by Heavy Machinery.
Robert Roode & Dolph Ziggler entered next. Miz & Morrison teamed up with them to attack Heavy Machinery. Dolph climbed on top of a pod to escape Otis, but Tucker climbed up after him, then tossed him down to Otis, who caught him and slammed him down. Tucker then flipped off of the pod onto everyone else below.
Otis ran at Ziggler towards the pod, but Ziggler moved and Otis crashed through the pod wall to the outside of the chamber to the floor! Medical officials and refs checked on Otis as Tucker looked on concerned. Tucker angrily ran at both Ziggler and Roode, but they got the best of him and Roode hit him with a Glorious DDT, eliminating Heavy Machinery. Heavy Machinery was eliminated by Ziggler & Roode.
The New Day laid out Roode and Ziggler, then the Usos hit stereo Uso splashes off of the pods, eliminating both Roode and Ziggler. Roode & Ziggler were eliminated by The Usos.
Kofi dived off of the pod onto one of the Usos, but he moved and Kofi crashed down to the mat. Miz & Morrison both pinned him at the same time, eliminating the New Day. The New Day was eliminated by Miz & Morrison.
Miz & Morrison and The Usos were the last two teams. Skull Crushing Finale by The Miz on Jimmy Uso, but he kicked out. Miz locked on a figure four and Morrison hit the Starship Pain on Jimmy, but Jey broke up the pin. Miz suddenly rolled up Jey Uso near the ropes and Morrison flipped over to also pin him. Miz put his feet on the ropes and they picked up the win with the double pin.
Good match, with the highlights by far being Heavy Machinery and Lucha House Party.
Winners: The Miz & John Morrison (32:55)
---
Backstage: Natalya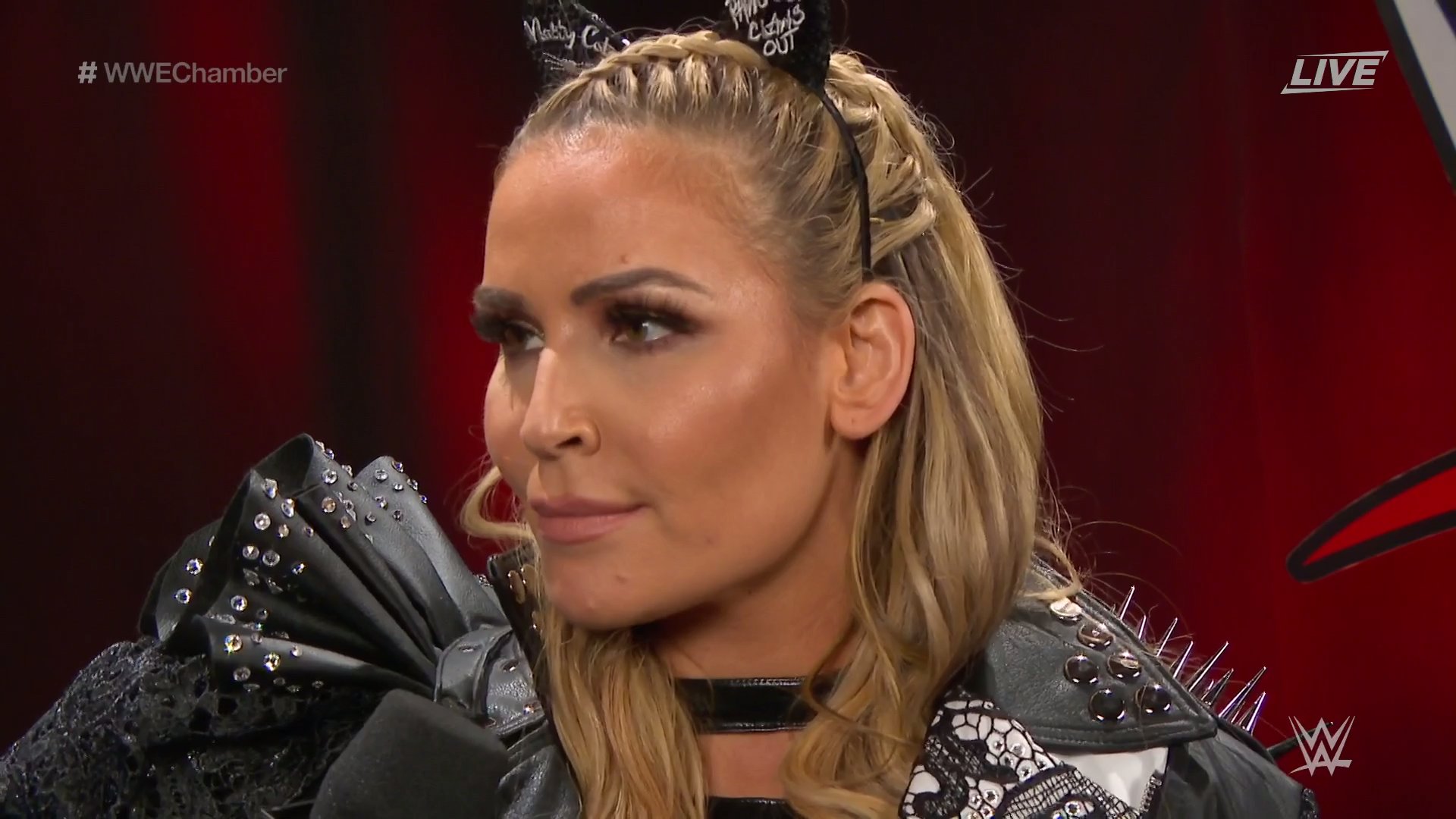 Natalya was asked how her friend Beth Phoenix was doing. She said that Beth is going to "pull through" and be OK, but she can't say the same for Randy Orton when Edge gets his hands on him.
---
No Disqualification Match
Aleister Black vs. AJ Styles
Styles worked on Black's leg for a few minutes, then grabbed a kendo stick and hit him with it a few times. Later, Black set up a table on the outside, but Styles hit him with a chair on the leg and back. Really slow and boring match so far and the crowd almost sounds silent.
Styles locked on a Calf Crusher, but Black grabbed a kendo stick and choked Styles with it, breaking the hold, then repeatedly hit Styles with it.
Later, Black hit a springboard moonsault, but Styles kicked out. Later, he tried another springboard moonsault, but Styles caught him and did the Undertaker's "throat slashing" taunt as if he was going to do the tombstone, but Black broke free.
They fought on the German announce table, and Black eventually jumped off of the table and drove Styles through a regular table at ringside with a meteora.
Gallows and Anderson suddenly swarmed on Black and hit him with a Magic Killer in the ring. They held Black up as Styles prepared for a Phenomenal Forearm, but the lights suddenly went out and the Undertaker's bell hit… The lights came back on and Taker took out Gallows and Anderson. Styles jumped at Taker, but he grabbed him by the throat and hit Styles with a chokeslam. The lights went out again and when they came back on, Undertaker was gone.
Aleister Black hit Styles with Black Mass… 1-2-3. Very boring match.
Winner: Aleister Black (23:15)
---
Raw Tag Team Championship
The Street Profits (c) vs. Seth Rollins & Murphy
Backstage, The Street Profits cut a promo and said that they won't be "one and done."
It is really insane how quiet the crowd has been tonight. Feels like the quietest PPV crowd I have ever heard. It feels like nothing has happened 10 minutes into the match.
A few minutes in, Rollins distracted the referee and AOP attacked Montez Ford on the outside. The Viking Raiders then ran out and fought with AOP down the ramp to the back. Whatever. No crowd reaction.
Chin locks by Rollins and Murphy. Brutal match. Crowd just dead. Hard to watch this.
Rollins went for the Stomp, but Ford got up… but Rollins hit him with a buckle bomb. Top rope double knees by Murphy, but Dawkins broke up the pin. Suicide dive by Rollins on Dawkins, but Dawkins caught him and tossed him to the floor.
Kevin Owens suddenly showed up in the crowd and walked to ringside holding a bag of popcorn, then sat on the Spanish announce table. He threw popcorn at Rollins' face, then Dawkins nailed Rollins from behind.
Murphy tried a somersault to the outside, but the Profits caught him and powerbombed him into the crowd barricade. In the ring, Ford hit a frog splash for the win. Finally over…
Winners: The Street Profits (18:30)
After the match, the Street Profits celebrated. Rollins yelled at Murphy as Owens snuck up from behind him and nailed him with a Stunner, then walked down the ramp and poured some popcorn on Murphy.
---
WWE Intercontinental Championship
1-on-3 Handicap Match
Braun Strowman (c) vs. Shinsuke Nakamura, Cesaro and Sami Zayn
Backstage, Sami Zayn said that he felt very confident tonight and that Braun has not laid a finger on him during their entire feud. But tonight, he's going to go face to face with Braun. He asked Cesaro and Nakamura to hold their posts on the apron, because he's going to make sure that the IC title comes back to where it belongs.
Zayn faced off with Strowman to start the match, but immediately tagged in Nakamura. Nakamura and Cesaro eventually beat down Strowman and Zayn was tagged in and stomped on and punched Strowman a few times before tagging Nakamura back in. The heels continued to beat down on Strowman for a while until he finally took control, taking out Nakamura and Cesaro. He then ran after Sami Zayn, but Zayn escaped under the ring. Strowman tried to get him, but Nakamura and Cesaro attacked.
In the ring, Nakamura hit Strowman with the Kinshasa. Cesaro went for a Neutralizer, but Strowman broke out of it. Strowman ran at Cesaro but he moved and Strowman went shoulder-first into the ring post. Another Kinshasa by Nakamura. Double suplex by Cesaro and Nakamura as Sami Zayn simultaneously nailed Strowman with a Helluva Kick. 1-2-3! Zayn is the new Intercontinental champ.
Winner: Sami Zayn (New Intercontinental Champion) (8:30)
The heels celebrated after the match as Strowman screamed that he was going to get Zayn.
---
Elimination Chamber Match
Winner Gets Raw Women's Title Match at WrestleMania
Natalya vs. Liv Morgan vs. Shayna Baszler vs. Asuka vs. Ruby Riott vs. Sarah Logan
Natalya and Ruby Riott started off and Natalya smashed her into the cage, then locked on the Sharpshooter, but Ruby escaped and tossed her off into Liv Morgan's pod.
Sarah Logan entered. She went after Ruby, but Ruby climbed onto Liv Morgan's pod and Sarah followed. Logan knocked Ruby down and Natalya powerbombed her. Logan then dived off of the pod with a crossbody onto Natalya and Ruby.
Shayna Baszler entered and quickly locked on the Kirifuda Clutch on Logan and she tapped. Sarah Logan was eliminated by Shayna Baszler.
Baszler locked on the Kirifuda Clutch on Riott and she tapped. Ruby Riott was eliminated by Shayna Baszler.
Baszler tossed Natalya into a pod and stomped on her then repeatedly slammed the pod door onto her. Kirifuda Clutch… and Natalya tapped. Natalya was eliminated by Shayna Baszler.
Baszler walked around the ring alone for a couple of minutes and taunted Asuka and Liv Morgan as they yelled back at her.
Liv Morgan entered next. She went after Shayna and tried a hurricanrana, but Shayna caught her and slammed her into the cage, then hard into the pod. Becky Lynch was shown watching backstage. Kirifuda Clutch on Morgan in front of Asuka's pod and she was out. Liv Morgan was eliminated by Shayna Baszler.
Asuka screamed in Japanese as Baszler cockily walked around the ring for a couple of minutes. Asuka entered last. Asuka knocked Baszler down and hit her with a flurry of kicks, but Baszler knocked her down and hit her with her own kicks. Asuka hit her with a kickthen locked on the Asuka Lock… but Baszler rolled to the outside and drove Asuka into the cage. Baszler attacked Asuka's injured wrist, then hit her with a brutal kick… Kirifuda Clutch… and it's over.
Winner: Shayna Baszler (21:00)
Baszler is going to WrestleMania to face Becky Lynch for the Raw Women's Championship. Becky was shown watching on a TV backstage.