WWE Raw Results
May 11, 2020
Orlando, Florida (WWE Performance Center)
Commentary: Tom Phillips, Byron Saxton, and Samoa Joe
Results by: Mike Tedesco of Wrestleview.com
---
Quick Match Results
No Disqualification Match: Bobby Lashley defeated Humberto Carrillo via full nelson
Angel Garza defeated Akira Tozawa via the Wing Clipper
Drew McIntyre defeated Andrade via Claymore
The IIconics defeated Alexa Bliss & Nikki Cross via double team slam on Bliss
Ricochet, Cedric Alexander & R-Truth defeated Shane Thorne, Brendan Vink & MVP via Lie Detector by Truth on MVP
Rey Mysterio & Aleister Black defeated Seth Rollins & Murphy via disqualification when Rollins pulled Mysterio out of the ring
Basketball Game: The Street Profits defeated The Viking Raiders 74-2
Shayna Baszler defeated Natalya via knee to the face
---
In-Ring: Becky Lynch, Asuka
Raw Women's Champion Becky Lynch's music hits, and she comes out without the title and holding the Money in the Bank briefcase won by Asuka last night. Lynch says tonight is a tough night for her. She's torn between joy and sadness. She's at a point in her life where things are going to change. Lynch asked the decision makers to change the stipulations to the Money in the Bank match and they did.
Before she gets to all that, she walked through these doors in the Performance Center not knowing anyone in a new country and didn't know if anyone would care about a loudmouthed Irish woman. She learned that people did care, put her on their shoulders, and carried her to history. Through injury and triumph, the fans stood up for her and had her back. She grabbed onto the fans when she didn't have anyone else. It is the people at home that deserve to hear this from her first. She has to go away for a while. Lynch is openly crying.
Asuka's music hits, and she wildly comes down to the ring shouting. She's mad Lynch has the briefcase. Lynch says Asuka beat her when no one else could. Asuka is the best wrestler around. Lynch is happy this is happening to Asuka. The match last night wasn't for an opportunity to win the title. It was for much more. Asuka wasn't able to unlock the briefcase… Lynch unlocks the briefcase and inside is the Raw Women's Championship. Lynch says she can't fight anymore so Asuka is the champion. Asuka happily celebrates in the ring and grabs the title before running off hooting and hollering. Asuka dances around.
Lynch looks genuinely happy. Lynch says as happy as Asuka is, Lynch is a little happier. Lynch says, "You go and be a warrior because I'm going to go be a mother!" Asuka looks so happy, hugs Lynch, and chants her name. Lynch is crying and hugs Asuka. Lynch tearfully walks away from the ring and looks around before walking to the back. Lynch looks into the camera and says, "I'll miss you guys."
Asuka's music hits, and the new Raw Women's Champion celebrates in the ring with some wild dancing.
---
Backstage: Becky Lynch
The celebration is ON backstage!#WWERaw @BeckyLynchWWE pic.twitter.com/7pVyJl1Iqi

— WWE (@WWE) May 12, 2020
Becky Lynch is backstage with Charly Caruso. Rey Mysterio, Natalya, The Street Profits, Bianca Belair, Ricochet, Cedric Alexander, Liv Morgan, Kairi Sane, and R-Truth come up and embrace her.
---
No Disqualification Match
Bobby Lashley vs. Humberto Carrillo
Lashley quickly takes him down and slaps him. Lashley powers him to the corner and punches him. Carrillo soon lands on his feet and slaps Lashley in the face. Lashley is furious. Lashley hits a one-armed slam and scowls. Lashley sizes him up and goes for a spear, but he flies out of the ring when Carrillo moves. Carrillo goes for a suicide dive, but Lashley forearms him in the face. Lashley grabs a steel chair, but Carrillo dropkicks it in his face.
We come back from the break to see Carrillo getting the better of Lashley. Carrillo snaps him off the top rope and hits a springboard kick. Lashley rolls out of the ring and avoids a baseball slide. Lashley goes for a big boot, but he lands on the barricade when Carrillo moves. Carrillo goes for a dive, but Lashley catches him and wildly drives him into the ring post.
Lashley digs his face into the ring post and grabs the chair. Lashley grabs the chair, but Carrillo moves. Carrillo grabs the chair and hits Lashley a few time in the back with it. Carrillo gets him in the ring and goes for a springboard, but Lashley counters and locks him in the full nelson for the submission.
Winner by Submission: Bobby Lashley
---
Backstage: Asuka, Kairi Sane
New Raw Women's Champion Asuka is backstage with Charly Caruso. Kairi Sane comes up and celebrates wildly with Asuka. They dance around and leave.
---
Backstage: Zelina Vega, Andrade, Angel Garza, Austin Theory
UP NEXT: @AngelGarzaWwe is in action … but what's going on, @Zelina_VegaWWE?! #WWERaw pic.twitter.com/gDMndcx1x6

— WWE (@WWE) May 12, 2020
We see Andrade, Angel Garza, and Austin Theory all arguing with Zelina Vega trying to stop them.
---
Akira Tozawa vs. Angel Garza
We join this match in progress. Garza is being Tozawa down and rips his pants off. Tozawa fights back with a hurricanrana and some kicks, but Garza soon gets the better of him. Garza puts him in the tree of woe and hits a PK to the ribs for a near fall. Garza applies a submission, but Tozawa gets a foot on the bottom rope. Garza then lifts Tozawa up, holds him, looks at Austin Theory and taunts him before hitting the Wing Clipper for the win.
Winner by Pinfall: Angel Garza
Garza and Theory argue with Andrade and Zelina Vega trying to mediate peace. WWE Champion Drew McIntyre all of a sudden comes out and jokingly says he's concerned since they're all arguing. McIntyre hits Austin Theory with a Claymore Kick. Garza laughs heartily at Theory's misfortune, but he's not laughing for long as McIntyre Claymore Kicks him out of the ring. Andrade and McIntyre go face-to-face.
---
Drew McIntyre vs. Andrade
They lock up, and McIntyre soon takes him down and works on the arm. McIntyre chops the chest and puts him in the corner. Andrade turns him around and punches away at him. McIntyre reverses a whip and kicks Andrade in the midsection as he tries for a slingshot. Andrade rolls out of the ring to recover. McIntyre attack and chops the chest. Andrade kicks him back and charges, but McIntyre hits a tilt-a-whirl slam on the apron.
Andrade crawls under the ring to escape him. McIntyre grabs him, so Andrade pulls him into the steel beams holding the ring up. Andrade attacks the arm and slams it into the ring post before stretching him out. Andrade applies an arm bar over the top rope before releasing and hitting a double knee arm breaker. McIntyre soon makes a comeback and hits a pair of belly-to-belly overhead suplexes. Andrade ducks a clothesline, but McIntyre simply big boots him down. McIntyre goes to the top rope and hits a diving clothesline. McIntyre kips up and goes for a Future Shock DDT, but Andrade gets out. Andrade charges, but McIntyre hits a sit-out spinebuster for a near fall. McIntyre sets up for a Claymore Kick, but Andrade rolls out of the ring. McIntyre grabs the hair and pulls him to the apron, but Andrade snaps him off the top rope. Andrade then sidesteps him and sends him shoulder-first into the ring post. Andrade then hits double knees in the corner for a one count! Zelina Vega is not happy he kicked out at one.
Andrade goes for a Hammerlock DDT, but McIntyre gets out. Andrade hits a back elbow, and McIntyre hits a Glasgow Kiss. Andrade fights a reverse Alabama Slam… but McIntyre still hits him with it. McIntyre follows up with the Claymore Kick for the win.
Winner by Pinfall: Drew McIntyre
McIntyre says he didn't come out here to have a match initially, but he's always dressed for work. He's always ready for a Claymore Party. He does want to talk about a few things. McIntyre says Seth Rollins freakin' brought it and gave him a hell of a fight. McIntyre says Raw put out an invite to a SmackDown superstar. That person accepted and chose him as an opponent. McIntyre says the only things guaranteed are death, taxes, and the fact that everyone hates his opponent.
Next week live on Raw, it'll be Drew McIntyre, the Master of the Claymore, the Captain of Claymore Country… versus King Corbin! McIntyre is proud that Corbin stepped up and will give him a Claymore fit for a king.
---
Backstage: Bobby Lashley, MVP, Lana
Bobby Lashley is talking with MVP backstage. MVP says fools are fighting for the WWE Universal Championship on SmackDown. How is Lashley not going for the WWE Championship? He last went for it in 2007 when MVP was just starting off. MVP says how is Lashley facing Humberto Carrillo and not going for the title. MVP walked off and ran into Lana. He said that he wasn't trying to manage anybody but if Lashley's looking for a way out, tell him to come find him. Lana screams, "Who do you think you are?!"
---
A Moment of Bliss with The IIconics
WWE Women's Tag Team Champions Alexa Bliss and Nikki Cross come out. They congratulate Becky Lynch on her pregnancy and wish a happy belated Mother's Day to the mothers out there. The IIconics interrupt them and make their return. They're upset that Becky's pregnancy is upstaging them. Bliss pokes fun, upsetting them. They say they want the titles. Bliss says like Lynch, these titles are their babies. We're going to have an impromptu tag team match.
Alexa Bliss & Nikki Cross vs. The IIconics
It'll be Peyton Royce starting against Alexa Bliss. They lock up, and Royce powers her to the corner. Billy Kay tags in and stomps her. Royce tags in and kicks Bliss down for a two count. Bliss quickly knocks her out of the ring and tags Nikki Cross in. Cross gets Royce tied up in the apron and clubs away at her. Bliss then hits Royce with a baseball slide. Cross gets her in the ring for a two count. Cross sends her to the corner and avalanches her. Bliss tags back in and slaps Royce. Cross tags back in, but Royce reverses a whip. Kay blind tags in and snaps Cross off the top rope for a two count. Royce tags in, and The IIconics double-team Cross with kicks. Cross gets an inside cradle for a near fall. Royce soon clotheslines her down for a two count. The IIconics double-team Cross again for a near fall. Royce takes her down by the hair, but Cross kicks her away and hits a jawbreaker. They then grab the hair and slam each other.
Bliss and Kay are tagged in. Bliss hits a pair of clotheslines followed by some punches and an Insult To Injury. Royce breaks up the pin. Cross runs in and knocks Royce out of the ring. Royce then gets Cross out of the ring. The IIconics double-team Bliss with a slam for the win.
Winners by Pinfall: The IIconics
---
Backstage: Rey Mysterio, Seth Rollins
Maybe the news hasn't quite sunk in yet for @WWERollins?

You tried, @reymysterio. #WWERaw pic.twitter.com/j88JV5mjYC

— WWE (@WWE) May 12, 2020
Charly Caruso is backstage with Rey Mysterio. She asks Mysterio how he's feeling. Mysterio says he feels great. Mysterio tried to hype himself up last night by saying, "The risk is worth the reward." Mysterio saw his life flash before his eyes when King Corbin threw him off the roof. A miracle happened when he landed on a second roof. Aleister Black met the same fate. It was too late for him to get back up there and win.
Seth Rollins comes up looking all disheveled. Mysterio congratulates him and Becky on the pregnancy. Rollins won't shake his hand and walks off.
---
Shane Thorne, Brendan Vink & MVP vs. Ricochet, Cedric Alexander & R-Truth
R-Truth starts against Shane Thorne. R-Truth dances and does a jumping split. Thorne tries to do that as well, but he gets hurt. Cedric Alexander tags in and dropkicks Thorne. Ricochet tags in and hits a springboard rolling senton for a two count. Pretty Ricky appears on the apron, but R-Truth quickly takes out the fake teeth and resumes that personality. Thorne elbows Alexander. Vink blind tagged in and takes Alexander down. Vink stomps Alexander and hits a snapmare before going to a chin lock.
R-Truth and MVP soon tag in. Vink attacks Alexander outside. Thorne joins in, so Ricochet hits them with a moonsault to the floor. Pretty Ricky emerges again, so MVP punches the fake teeth out. R-Truth hits MVP with the Lie Detector for the win.
Winners by Pinfall: Ricochet, Cedric Alexander, and R-Truth
After the match, Bobby Lashley comes out and angrily attacks R-Truth with a Spear. Lashley holds R-Truth up with a full nelson for MVP to kick. MVP then hits a running kick to R-Truth's head. They walk off together.
---
Backstage: Jinder Mahal
Jinder Mahal is backstage with Charly Caruso. Mahal says he will redeem himself after making so many mistakes. His journey back to the top will be a hero's journey.
---
Backstage: Shayna Baszler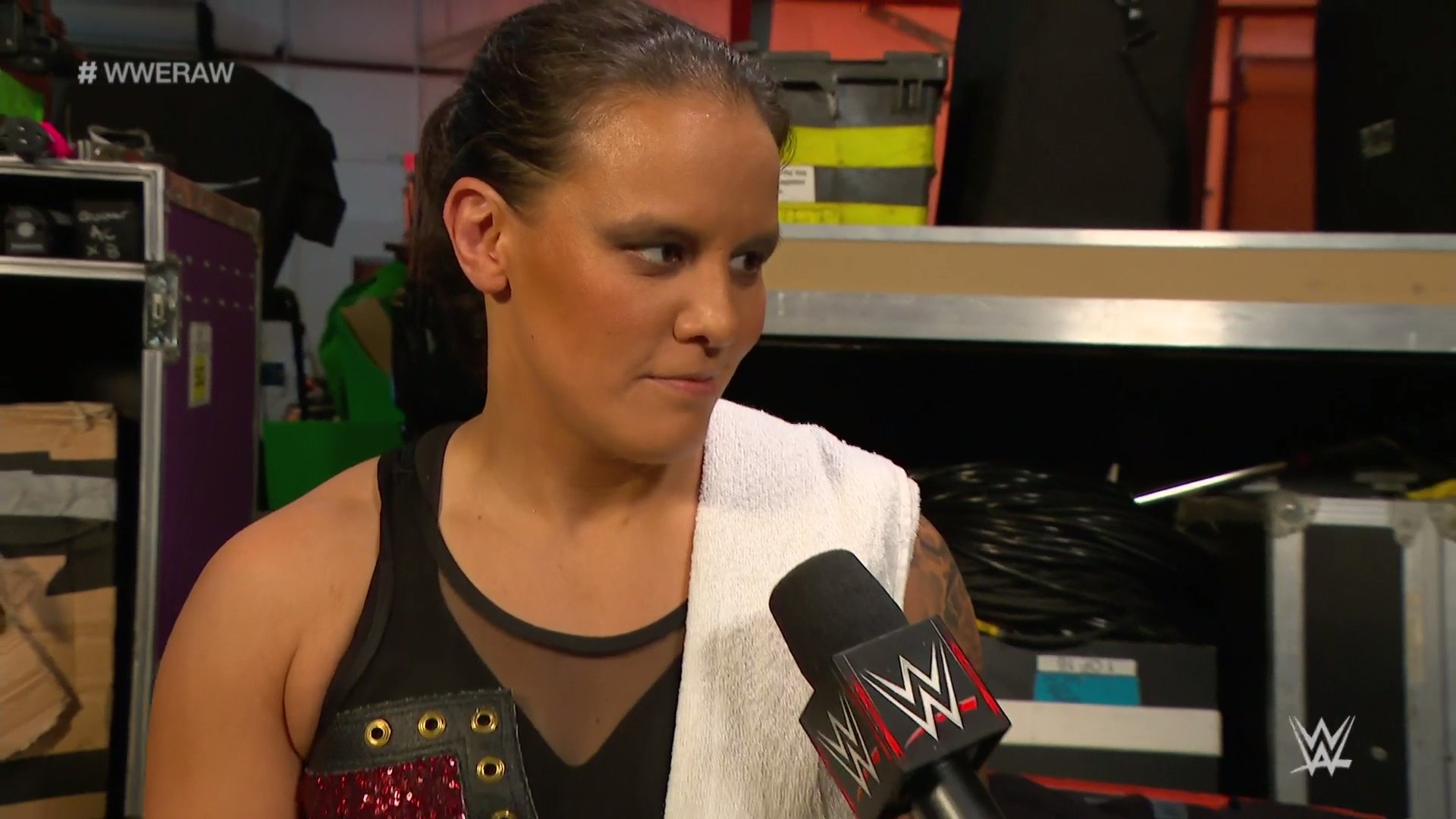 Shayna Baszler is interviewed about Becky Lynch's pregnancy. Baszler wonders how dumb you have to be to get knocked up while being the champion. Imagine The Man barefoot and fat on the couch. Baszler said that kid is going to suck. Just look at who the father is.
---
Backstage: AJ Styles
Come on, @AJStylesOrg.

Don't be the ONE person who doesn't like #TheLastRide. #WWERaw pic.twitter.com/IlzBj5ehKf

— WWE (@WWE) May 12, 2020
Video Package: Undertaker: The Last Ride
AJ Styles flips out and knocks his chair over as clips of The Boneyard Match were shown in the video.
---
Rey Mysterio & Aleister Black vs. Seth Rollins & Murphy
Seth Rollins comes out with Murphy looking disheveled, lost, and in a daze.
Aleister Black starts against Murphy. Black quickly takes him down. Murphy goes for a tag, but Rollins is completely unresponsive. Black sweeps the feet and tags Rey Mysterio in. Mysterio takes him down and kicks him into the ropes. Black kicks Murphy in the chest for a two count. Murphy pushes Black away and pulls him into the corner. Murphy knees and kicks Black down before sending him into the ropes, but Black puts the brakes on. Black sends Murphy out of the ring and teases a dive before doing a backflip in the ring. Black calmly sits down as Murphy gets in the ring. Black avoids a kick, but Murphy soon elbows him. Black fights back and turns him inside out with a knee to the midsection. Black goes to the arm and applies an arm bar. Murphy fights out, but Black knees him in the face to knock him out of the ring. Rollins isn't even paying attention. Black gets Murphy on the apron and stares at Rollins. Murphy lifts Black, but Black gets out and strikes. Murphy quickly dropkicks Black's head into the ring post.
We come back from the break to see Black kick Murphy in the head. Rey Mysterio tags in and attacks Murphy, knocking him out of the ring. Mysterio hits a vicious hurricanrana into the barricade. Mysterio gets him in the ring. Murphy tries to fight back with Murphy's Law, but Mysterio counters and picks up a two count. Mysterio is thrown to Murphy's corner, but Mysterio knocks him back. Mysterio knocks into Rollins. Mysterio puts Murphy into the ropes and goes for a 619, but Rollins pulls Mysterio out of the ring and viciously slams him on the floor. For whatever reason, the referee disqualifies Rollins' team.
Winners by Disqualification: Rey Mysterio and Aleister Black
Rollins continues to attack Mysterio outside the ring. Murphy throws Black out of the ring at Rollins' feet. Rollins attacks Black and sends him over the barricade. Rollins tells Murphy to stay back. Rollins then grabs Mysterio's head and digs Mysterio's eye into the point of the steel steps! Referees and trainers run down to help. Mysterio is bleeding from the eye and screaming in pain. Rollins walks off in a trance.
---
Backstage: Rey Mysterio, Seth Rollins, Murphy, Aleister Black
A maskless Rey Mysterio is being tended to in the trainer's room. He's still bleeding from the eye. Seth Rollins and Murphy walk up. Rollins says he doesn't know what happened out there. Aleister Black attacks them until they're pulled apart.
---
Basketball Game
The Street Profits vs. The Viking Raiders
Footage is shown from earlier in the day of The Street Profits warming up for their Basketball Game against The Viking Raiders. The Street Profits do a bunch of dunks. The Viking Raiders finally understand what basketball is and says anything the Profits can do, they can do better. They go for an alley-oop, but fail.
The Street Profits dominate the Viking Raiders 74-2 in a basketball game. The Viking Raiders thought they won because they were the last to score before the buzzer.
Winners: The Street Profits (74-2)
Post game, The Viking Raiders said they let The Street Profits win. Ivar then starts sinking three-pointers from center court. Erik then laughs as he says anything the Profits can do, they can do better. Ivar then hits a dunk. The Street Profits look confused.
---
Backstage: Natalya, Shayna Baszler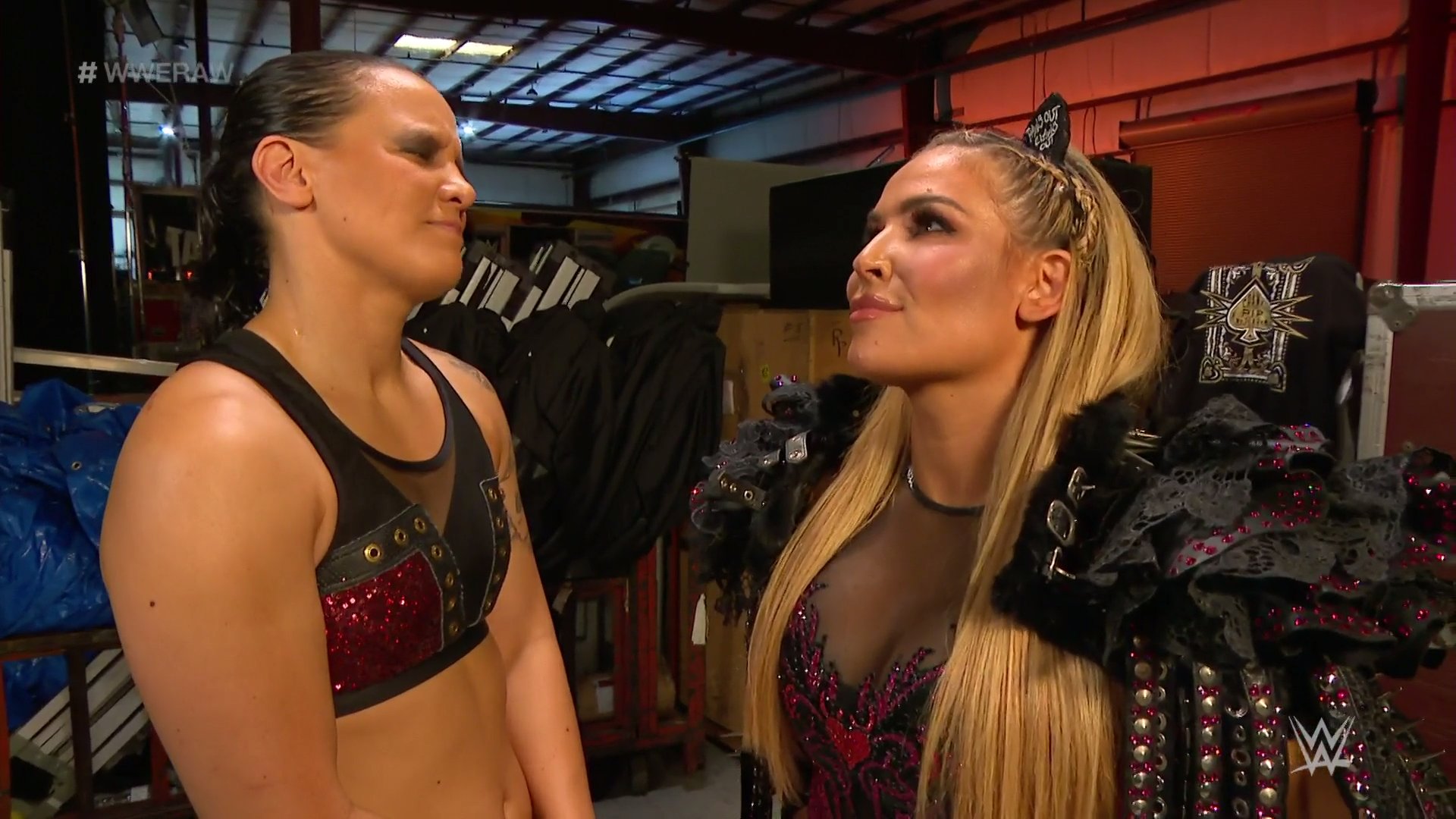 Natalya walks up to Shayna Baszler and is upset about her comments about Becky Lynch. Baszler says Natalya will never have a child. The Hart Dynasty dies with her.
---
Shayna Baszler vs. Natalya
They lock up, and Natalya quickly takes her down. Baszler soon escapes and wrenches Natalya's arm. Natalya punches out, but Baszler won't let go. Baszler soon takes over, punching and kicking away at Natalya. Baszler hits a suplex and soon hits a knee to the face for the win.
Winner by Pinfall: Shayna Baszler
Natalya throws a tantrum in the ring and kicks the ropes angrily.
---
In-Ring: Edge, Randy Orton
WWE Champion Drew McIntyre will face King Corbin of SmackDown next week. We'll also see Alexa Bliss and Nikki Cross face The IIconics with the WWE Women's Tag Team Championships on the line.
WWE Hall of Famer Edge makes his way to the ring. Edge talks about his WrestleMania match and a miraculous comeback. Edge lives in a world without "What ifs." Edge talks about wanting to retire on his own terms. So what's next? WrestleMania isn't the end for him. Edge says this segment was promoted by WWE as him and Orton on a collision course. Edge got his pound of flesh at WrestleMania and closure. He and his family are ready to move on.
Randy Orton's music hits, and he comes to the ring. Orton thinks about it and congratulates Edge. At WrestleMania, the better man won. Orton then walks off. Edge looks stunned.
Orton leaves the ring, but then he turns around gets back in the ring. Orton says he tried to lie to himself. It is true that the better man won at WrestleMania, but the better wrestler didn't. At the Royal Rumble, Edge made his miraculous return. Edge entered the Royal Rumble with the ability to hide behind 29 other WWE Superstars. At WrestleMania, Edge fought him in a match Edge chose for the Last Man Standing. Maybe Orton didn't get to his feet at the count of 10, but it didn't take him 9 years to get up. The Royal Rumble and Last Man Standing… those aren't traditional matches. It's been 9 years since Edge laced up the boots and actually wrestled. Orton doesn't think Edge has it in him anymore. Edge is just staring at him. Orton says he sees the doubt in his eyes, but Edge has grit and passion. All of Edge's grit doesn't come close to Orton's natural ability. No chance in hell that Edge's grit and passion will help him now. Orton challenges Edge to a straight-up wrestling match at Backlash.
Charly Caruso asks Edge for a response, but he stays silent. Caruso says if this happens, it'll be the best wrestling match ever…