July 15, 2020
Winter Park, Florida (Full Sail University)
Commentary: Mauro Ranallo, Tom Phillips, and Beth Phoenix
Results by: Mike Tedesco of Wrestleview.com
---
Quick Match Results
Damian Priest defeated Cameron Grimes via the Reckoning
Indi Hartwell defeated Shotzi Blackheart via big boot after interference from Aliyah and Robert Stone
Winner Takes: All NXT Championship and NXT North American Championship: Keith Lee (c) defeated Dominik Dijakovic via Big Bang Catastrophe
Timothy Thatcher defeated Denzel DeJournette via single crab
NXT Women's Championship: Io Shirai (c) defeated Tegan Nox via moonsault
---
In-Ring: Keith Lee, Dominik Dijakovic
NXT Champion and NXT North American Champion Keith Lee makes his way to the ring. He has the ring announcer do his announcement again. The last few months have been difficult and trying. We've all had struggles, difficult times, sadness, and suffering. Lee understands losses, hurt, and pain. Lee wants to point out that there's something so incredible special that can occur when we are in this ring. Lee feels it not just through the people here and the ring announcer. He feels it when he's standing here with these championships and now he stands before us as not just the North American Champion, but also the NXT Champion.
Lee wants to highlight that he is not in disbelief and has not fooled himself. It's back to reality. There's an entire locker room of some supporters, friends, and enemies. They want the same opportunity that he has managed to earn. In the celebration, he has to celebrate the fact that there is an understanding. This wasn't done on his own. Opportunity and chances created this. Lee knows he is not a self-made man. Tim Brooks was more than just a trainer for him. Tim Brooks was like a father and he believed in him when no one else did. The buck doesn't stop there. He didn't do this alone. When he says NXT Universe, they made sure and welcomed him with the most open arms. They told the people that Keith Lee is limitless and sing to the world with all the passion, love, and energy telling the entire world to bask in his glory. Now the world does, but that's not the end. There's one more person that has been playing a pivotal part in this. Lee saw him backstage and knows this person is at a point where they're trying to figure out their career in WWE. Lee isn't just celebrating for himself, Tim Brooks, and the NXT and WWE Universe. Lee wants to have a talk with his #1 frienemy… Dominik Dijakovic… let's talk.
Dominik Dijakovic makes his way to the ring. Dijakovic says he is so proud of Lee and says this is about him. Lee says this is about Dijakovic as well. It's about the two of them. Dijakovic may not realize it, but the competition between him and Dijakovic propelled him to many opportunities. Dijakovic tested his limits like no one else has. The best way to represent the championships is competition. Lee had a talk with Mr. Regal and had a suggestion he agreed with. Perhaps the first challenger for these championships should be Domink Dijakovic. Dijakovic looks pleased. Dijakovic asks if it'll be for both titles. Lee says, "Absolutely." Dijakovic asks when he wants to do this. Lee says his idea was to do it… he's already in his gear, so tonight! Dijakovic looks surprised. Lee silences him and tells him to say, "Yes." Dijakovic says, "Yes!" They pose together.
---
Damian Priest vs. Cameron Grimes
Grimes tries to blindside him during his entrance, but Priest big boots him back. The referee backs Priest up.
The bell rings, and Priest throws Grimes to the corner before punching and stomping away at him. Priest throws him into the corner again and hits a back elbow. Priest backs up and hits another running elbow to the face. Priest then poses and hits a spinning back kick in the corner. Priest kicks him out of the ring and follows. Grimes elbows him back and gets in the ring. Grimes forearms him trying to get in the ring and hits a baseball slide. Grimes puts him in the ring and sends him to the corner before hitting a swinging side slam for a two count. Grimes attacks him in the corner for another two count.
We come back from the break to see Priest fight back at Grimes before kicking away at him and hitting a spinning forearm. Priest wipes him out with a clothesline. Grimes quickly fights back and clotheslines Priest out of the ring. Priest avoids a baseball slide and goes for a chokeslam, but Grimes gets out. Grimes charges, but Priest forearms him in the face. Priest hits a crucifix powerbomb on the apron!
Priest rolls him into the ring and goes for a spin kick, but Grimes avoids it. Grimes goes for a German Suplex, but Priest fights it. Grimes catches him with an O'Connor roll for a two count. Priest quickly floors him with a big flatliner for a near fall. Grimes sets up for a move, but Grimes counters into an inside cradle for a two count. Grimes quickly follows up with Collision Course for a near fall. Grimes talks some trash and slaps him in the face. Priest is furious and punches him. Priest rips at the face and forearms him. Grimes kicks him in the head before trying for a Cave In, but Priest moves. Grimes is tied in the ropes. Priest hits a kick and the Reckoning off the ropes for the win!
Winner by Pinfall: Damian Priest
Priest looks into the camera and says he's real interested to see who comes out as the double champ with Keith Lee and Dominik Dijakovic.
---
Video: Timothy Thatcher
Timothy Thatcher is shown doing another training session. Thatcher applies a Fujiwara arm bar and makes the trainee tap out. Thatcher says that made Oney Lorcan cry like a child. A tap is educational, but making your opponent cry in pain is pure satisfaction… just ask Oney Lorcan. Thatcher then kicks them out.
---
Shotzi Blackheart vs. Indi Hartwell
Blackheart quickly takes Hartwell down and rolls her up for a one count. Hartwell blocks a kick, but Blackheart twists through and takes her down. Hartwell kicks her away, but Blackheart comes back with a head-scissor into the corner. Hartwell avoids a corner attack and knocks her out of the ring. Hartwell pulls her back into the ring and clubs away at her. Hartwell punches her down for a two count. Hartwell delivers a back elbow for a two count. Hartwell hits a sidewalk slam for yet another two count. Hartwell applies a surfboard stretch and uses her boot to pull back on the submission. Hartwell fights out and forearms her in the face. Hartwell quickly throws her to the corner, but Blackheart slingshots over her and hits a splash before hitting a facebuster. Blackheart kicks her in the face and hits a few strikes before hitting a senton against the ropes.
Robert Stone hobbles down to ringside in a walking boot. Blackheart hits a DDT and goes to the top rope. Stone is distracting the referee, and Aliyah knocks Blackheart off the top rope. Hartwell big boots Blackheart and picks up her first win on NXT television.
Winner by Pinfall: Indi Hartwell
---
Segment: Legado del Fantasma
Legado del Fantasma is sitting together in a big house drinking and toasting to their first win. Santos Escobar says Drake Maverick is at an end and they will wipe out Breezango. They made fun of the lucha libre culture, but they'll fight back and rebuild this in the image of Santos Escobar.
---
Winner Takes All
NXT Championship and NXT North American Championship
Keith Lee (c) vs. Dominik Dijakovic
The bell rings, and they stare at each other before slowly approaching. They go for a test of strength, and Lee quickly gets Dijakovic down to a knee before powering him into the ropes. Lee lets go, and Dijakovic backs up. Dijakovic circles around him, and they lock up. Lee again powers him down to his knees before backing him to the corner. Dijakovic twists out, and they tussle against the ropes. Dijakovic gives a clean break, and Lee nods at him. They lock up again, and Dijakovic drops down to take him down, but Lee doesn't budge. Lee steps on his arm and throws him off. Lee goes for an elbow drop and a splash, but Dijakovic avoids both. Dijakovic covers, but Lee gets out before the referee can even count.
Dijakovic goes for a handshake and smiles. Lee reluctantly does so before pulling him into a side headlock. Dijakovic powers out and applies a side headlock of his own. Lee whips him off and goes for a shoulder block, but Dijakovic doesn't go down. Dijakovic hits Lee with some shoulder blocks, but Lee doesn't budge. Dijakovic holds his shoulder in pain for a moment before going for a handshake again. Dijakovic then viciously slaps him in the chest. Lee smiles and hits Grizzly Magnum to take him down. Lee sets him up and goes to the second rope, but Dijakovic pulls him off in position for his finish, but Lee gets out and looks happy.
We come back from the break to see Dijkaovic applying a chin lock. During the break, Dijakovic rocked Lee with a club. Lee fights up from the chin lock, but Dijakovic clubs away at him. Dijakovic goes for a suplex, but Lee won't go up. Dijakovic punches away at him and tries again, but Lee won't budge. Lee powers out and punches away at Dijakovic. Lee sends him into the ropes and follows him in before hitting a shoulder block. Lee hits a Pounce that sends Dijakovic out of the ring. Lee charges, but Dijakovic moves. Lee almost goes through the plexiglass like he did last week.
Dijakovic gets in the ring, as does Lee. Lee punches him and hits the ropes, but Dijakovic hits a sidewalk slam for a two count. Dijakovic goes for a move, but Lee counters and puts him on the ropes before hitting a twisting flatliner for a near fall. Lee puts Dijakovic on the top rope and punches him. Dijakovic fights him off with some head-butts, and Lee falls to the mat. Dijakovic hits a blockbuster for a near fall. Dijakovic kicks him in the face and hits the ropes for a cyclone boot for another near fall.
Dijakovic goes to the second rope and removes his elbow pad. Lee hits a Grizzly Magnum to knock him out of midair. Lee hits a one-armed slam before hitting the Big Bang Catastrophe for the win.
Winner by Pinfall and still NXT Champion and NXT North American Champion: Keith Lee
Lee helps Dijakovic up, and they embrace in the ring. All of a sudden, the lights go out. A spotlight shows Scarlett on the stage. She is holding a black bag. She walks down to the ring and empties the bag. It is the broken hourglass and the sand from inside it. Scarlett then walks off, turns around, and smiles. Lee just stares at her.
---
Backstage: Dominik Dijakovic, Karrion Kross
Dominik Dijakovic is interviewed in the back. Dijakovic says Keith Lee is on a roll. Karrion Kross is good, but Lee is at another level. Karrion Kross walks up to him and challenges him. They start to brawl, and Kross gives him a suplex over the barricade onto the concrete. Dijakovic is unconscious. Kross says, "Tick. Tock."
---
Timothy Thatcher vs. Denzel DeJournette
They lock up, and Thatcher powers him against the ropes before forearming away at him. Thatcher hits a throw, but DeJournette takes him down and covers Thatcher for a one count. DeJournette rides him a bit, but Thatcher twists him and takes him down to the mat. DeJournette takes him down and applies a chin lock. DeJournette kicks Thatcher back and applies a vicious single leg crab for the submission.
Winner by Submission: Timothy Thatcher
Thatcher celebrates for a moment, but reapplies the single leg crab. Oney Lorcan runs down and knocks Thatcher off DeJournette. Thatcher angrily retreats up the ramp.
---
Segment: Robert Stone, Killian Dain
Footage is shown from earlier in the day with Robert Stone having a camera record what's about to happen. Stone tries to confront Killian Dain, but Dain still grabs him. Dain says if Stone wants to make it up to him for spilling coffee on him, he can get him a match against Dexter Lumis.
---
Next Week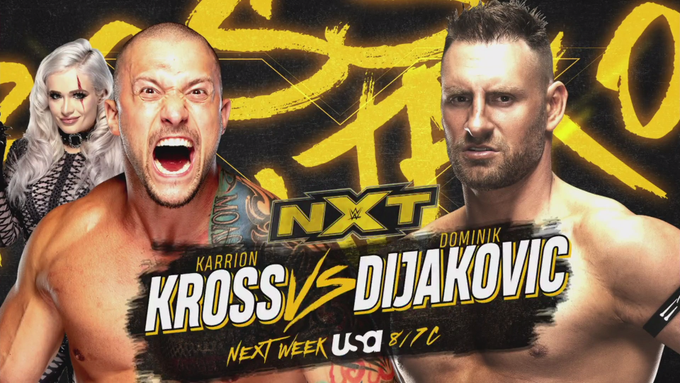 Next week, Killian Dain will battle Dexter Lumis. We'll also see Karrion Kross face Dominik Dijakovic.
---
NXT Women's Championship
Io Shirai (c) vs. Tegan Nox
They lock up, and Shirai pushes her off. They lock up again, and Shirai powers her into the ropes. They tussle around for position before Nox takes her down. Shirai twists the arm, but Nox twists back. Shirai hits a headlock takeover and cinches in a headlock. Nox tries to push her over for a pin, but Shirai doesn't stay down. Nox fights up, takes her down, and applies a side headlock. Shirai tries to twist out, but Nox holds on. Shirai fights up and clips the knee before applying a side headlock. Nox hits a pair of arm drags before tripping her and covering her for a two count. Nox rolls her up for another two count. Nox puts her in the corner and stomps her. Shirai turns her around and stomps her down in the corner. Shirai puts her in the other corner and kicks away at her. Shirai forearms her, but Nox turns her around and punches and kicks away at her. Shirai sidesteps her and sends her out of the ring. Shirai goes for a baseball slide, but Nox moves. Nox goes for a running kick from the apron, but Shirai blocks it and sweeps her down face-first on the apron.
We come back from the break to see Nox fight up from a chin lock and punch away at Shirai. Nox whips her to the corner, but Shirai springboards out. Nox catches her and hits a fallaway slam for a two count. Shirai knocks Nox to the corner and chokes her with her knees. Shirai hits a wrecking ball double knee for a near fall. Nox tries to pull herself up, but Shirai steps on the hands. Shirai steps on the arm and applies a chin lock. Nox rolls her up for a two count. Shirai hits a thrust kick and chokes her against the ropes. Shirai hits a scoop slam and goes for an elbow drop, but Nox moves. Nox catches her with an Oklahoma roll for a two count. Shirai quickly knocks her back before chopping the chest. Shirai pulls the hair, but Nox punches her back. Shirai whips her down by the hair and hits a handspring double knee to the midsection for a near fall. Nox head-butts her and charges, but Shirai hits a flapjack for a two count.
We come back from the final break of the evening to see Shirai attacking Nox. Nox gets out of the ring to avoid a double stomp. Shirai attacks her at ringside. Nox reverses a whip, but Shirai stops her momentum. Shirai knocks Nox back and sends her into the ring steps. Shirai goes for running double knees, but she hits the steps when Nox moves.
They get in the ring, and Shirai fights back at her. Shirai hits a double underhook backbreaker, and Shirai's knee gives out. They're both down. Nox rolls her up for a two count. Shirai comes back with a German Suplex, but Nox kicks out. Nox ties her up in the tree of woe. Nox charges, but Shiari sits up, so Nox uppercuts her. Nox follows up with a cannon-boar, but Shirai grabs the bottom rope to break the pin.
Nox comes back with some clotheslines before slingshotting over her and hitting an uppercut. Nox with another cannon-boar before going to the top rope. Nox hits a diving cross-body block for a near fall. Nox grabs the throat and hits a chokeslam for a near fall. Nox hits a running uppercut in the corner and charges for another one, but Shirai sidesteps her and hits a German Suplex into the turnbuckles! Shirai hits the Bullet Train Attack (double knees) before hitting a tiger feint kick. Shirai follows up with a springboard missile dropkick for a near fall. Nox attacks a knee and hits a front sitout suplex. Nox goes to the top rope and hits a Molly-Go-Round for a near fall. Nox cannot believe it.
Nox sets up for a Shiniest Wizard, but Shirai wipes her out with a palm strike. Shirai goes to the top rope and nearly overshoots a moonsault, but she gets just enough to pick up the win.
Winner by Pinfall and still NXT Women's Champion: Io Shirai
Io Shirai celebrates with the NXT Women's Championship while going up the ramp. All of a sudden, Dakota Kai wipes her out with a vicious big boot to the face as the show ends.