December 2, 2020
Orlando, Florida (Capitol Wrestling Center)
Commentary: Wade Barrett, Vic Joseph, and Beth Phoenix
Results by: Mike Tedesco of Wrestleview.com
---
Quick Match Results
Damian Priest & Leon Ruff defeated Santos Escobar & Raul Mendoza via top rope splash by Ruff on Mendoza
Cameron Grimes defeated August Grey via Cave In
Jake Atlas defeated Tony Nese via cartwheel DDT
Grizzled Young Veterans vs. Imperium (Aichner & Barthel) was no contest when Ever-Rise attacked both teams
Ladder Match for WarGames Advantage: Shotzi Blackheart defeated Raquel Gonzalez
---
Pat Patterson Tribute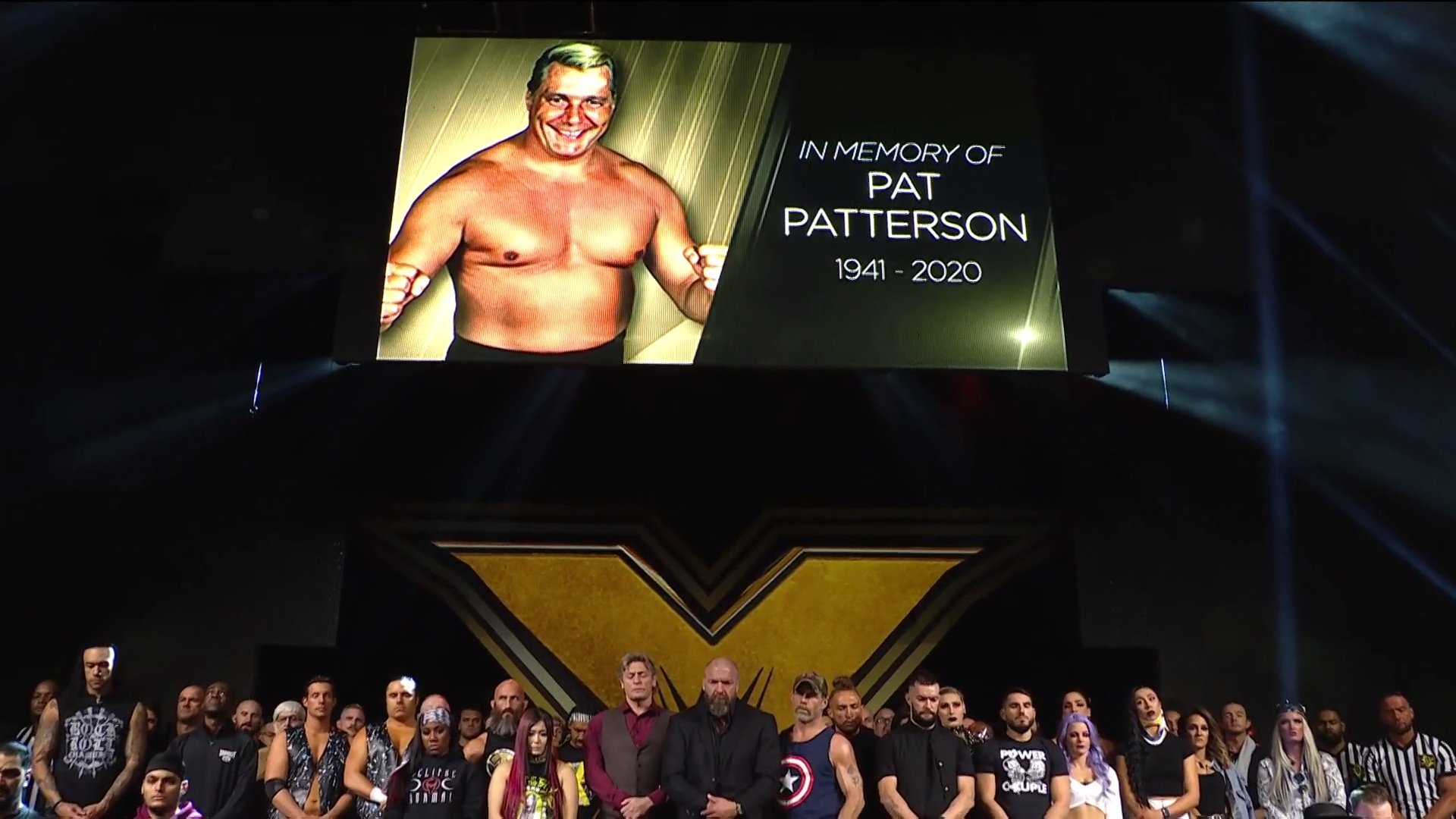 The entire NXT roster is assembled on the stage looking solemn. Paul "Triple H" Levesque looks very emotional. A graphic saying, "In memory of Pat Patterson: 1941-2020" appears on the big screen.
Video Package: The life and career of Pat Patterson appropriately put to the music of Frank Sinatra's "My Way," which Patterson was famous for singing at many a karaoke bar
The NXT roster is still on the stage. A "Thank you, Pat" chant picks up. Images of Patterson are shown all over the Capitol Wrestling Centre.
---
Damian Priest & Leon Ruff vs. Santos Escobar & Raul Mendoza
Johnny Gargano will be on commentary for this match.
Footage is shown from before the match of Damian Priest taking the place of Curt Stallion after he was attacked by Legado del Fantasma.
Leon Ruff begs Damian Priest to let him start the match, and he allows it. Ruff will start against Santos Escobar. They circle the ring and lock up, and Escobar easily throws him down. Ruff gets to his feet and locks up with Escobar. Escobar quickly rolls him up for a one count. Escobar backs up and allows Ruff to get to his feet. Raul Mendoza tags in. They lock up, and Mendoza wrenches the arm. Mendoza sends him to the corner, but Ruff avoids Mendoza and takes him down with a dropkick for a two count. Mendoza quickly cuts him off and tags Escobar in. Escobar connects with a big knee to the face.
Priest blind tags himself in. Escobar backs up and tags Mendoza in. Priest wrenches the arm of Mendoza and sends him to the corner. Mendoza rolls through the ropes to avoid an avalanche. Mendoza flips through a slam and clubs Priest's back. Priest then wipes him out with a leaping back elbow. Priest grabs Mendoza at ringside and drops him face-first on the apron. Priest stuns him with a right hand before driving him into the barricade. Priest gets in the ring to break the count-out up. Mendoza fights back at ringside, but Priest hits an ear ringer before taking him down. Priest looks over and sees Ghostface at ringside. Escobar tags in and absolutely wipes out Priest with a suicide dive.
We come back from the break to see Mendoza beating on Priest. Escobar tags in and avalanches Priest. Mendoza tags back in and avalanches Priest. Escobar tags in again, and Priest grabs Mendoza by the throat. Escobar hits Priest with a dropkick and connects with a suplex. Mendoza kicks away at Priest before kneeing him. Escobar attacks Priest's leg and stretches it. Mendoza tags in and applies a leg lock. Priest kicks Mendoza to get out, but Mendoza stays on the attack. Mendoza drops a leg on the leg and forearms away at Priest's face. Mendoza hits the ropes, but Priest drops him with a flatliner.
Priest thinks about it and tags Ruff in. Escobar also tags in. Ruff dropkicks Mendoza and boots Escobar. Ruff hits a flying hurricanrana on Escobar for a two count. Mendoza blind tags in. Ruff kicks away at Escobar and hits an enzuigiri. Ruff follows up with a neckbreaker and covers, but Escobar isn't the legal man. Mendoza then dropkicks Ruff. Ruff flips through a suplex and tags Priest back in. Priest hits Mendoza with a shoulder block and punches Escobar. Priest hits Mendoza with a flapjack before hitting Escobar with a kick and forearm strike combo. Priest holds his leg in pain and stomps his bad leg on the mat a few times. Priest avalanches Mendoza in the corner and punches Escobar off the apron. Mendoza kicks Priest in the face and jumps off the top rope, but Priest forearms him out of mid-air. Priest goes for the Reckoning, but Ruff blind tags himself in. Priest hits the Reckoning on Mendoza before Ruff connects with a big splash off the top rope for the win.
Winners by Pinfall: Damian Priest and NXT North American Champion Leon Ruff
---
Video: Shotzi Blackheart
A video plays showing Shotzi Blackheart welding something when Rhea Ripley and Ember Moon present something to her. Blackheart looks at it and says she's in love. She's ready to go to war.
---
Video: Undisputed Era
Video Package: The Undisputed ERA's preparation for WarGames
---
Backstage: Candice LeRae, Toni Storm, Indi Hartwell, Raquel Gonzalez, Dakota Kai
Candice LeRae, Toni Storm, Indi Hartwell, Raquel Gonzalez, and Dakota Kai are backstage with McKenzie Mitchell. LeRae laughs that Shotzi Blackheart still doesn't have a team. Indi took a bullet for her and she still has a stacked team. Gonzalez says after tonight, Shotzi will feel like she got hit by a tank.
---
August Grey vs. Cameron Grimes
The bell rings, and Grimes viciously clubs him in the kidneys twice to take him down. Grimes kicks away at Grey's chest before whipping him hard into the corner. Grimes sends him into the ropes and turns him inside out with a knee to the midsection. Grimes shouts hoping Dexter Lumis is watching. Grimes rips at the face. Grey fights back, but Grimes cuts him off. Grey kicks him in the face and slides out of a slam. Grey dropkicks Grimes and hits a jawbreaker followed by a neckbreaker. Grey sidesteps Grimes, but Grimes soon drops him on the apron. Grey punches him back and goes to the top rope. Grey connects with a springboard cross-body, but Grimes kicks out. Grey rolls Grimes up again, but Grimes quickly kicks out and hits a swinging slam. Grimes connects with a Cave In for the win.
Winner by Pinfall: Cameron Grimes
Grimes shouts about Dexter Lumis and puts a leather strap around Grey's wrist. Grimes clotheslines him down and starts to whip him with the belt. Grimes talks trash. All of a sudden, Dexter Lumis appears and takes Grimes down. Lumis whips Grimes with the belt, but Grimes quickly escapes.
---
Jake Atlas vs. Tony Nese
Jake Atlas has dedicated this match to Pat Patterson.
They lock up, and Nese takes him down. Atlas quickly fights back with an arm drag. Atlas applies an arm bar, but Nese fights up and swats out. Nese puts himself through the ropes to keep Atlas back. Atlas rolls him up for a two count. Nese avoids a kick and a standing moonsault. Atlas finally connects with a dropkick that sends Nese out of the ring before hitting a suicide dive. Atlas puts Nese in the ring and goes to the top rope. Nese quickly uppercuts him to knock him back down to the mat.
A yellow Hummer is shown pulling up outside the CWC with Pat McAfee, Danny Burch, Oney Lorcan, and Pete Dunne coming out. They enter the CWC.
Back to live action, Nese hits a suplex for a two count. Nese takes him down before lifting him up in a torture rack. Atlas elbows out of it and forearms him back. Nese quickly spin kicks him in the midsection, but Atlas fights back with a big clothesline. Atlas strikes away at him and hits a German Suplex. Atlas hits another forearm for a near fall. Nese fights back with an elbow to the face. Nese leaps over the top rope to snap Atlas off. Nese leaps into the ring and may have tweaked his knee. Nese hits a big spin kick to the face for a near fall. Atlas hits a jawbreaker followed by a cartwheel DDT off the top rope for the win.
Winner by Pinfall: Jake Atlas
McKenzie Mitchell interviews Atlas after the match. Atlas says he's building himself back up to get to Santos Escobar.
---
In-Ring: Pat McAfee, Pete Dunne, Oney Lorcan, Danny Burch
Pat McAfee, NXT Tag Team Champions Danny Burch and Oney Lorcan, and Pete Dunne make their way to the ring. McAfee tells Vic Joseph to shut up and tells him he sucks. McAfee calls attention to Pat Patterson's passing and mentions he has the utmost respect for him. McAfee has no respect for wrestling fans and the Undisputed ERA. McAfee talks about how lame the Undisputed ERA's video was earlier tonight. McAfee thinks it was pathetic.
This team in the ring was put together by money, but you have to invest to have a great team. More money than the fans will ever see made this team. They have run this place since they got here. This Sunday at WarGames, it's about Pete Dunne, the longest-reigning United Kingdom Champion of all time. Dunne has ended careers. Just a week ago, with the help of a masked man (not McAfee) beat Kyle O'Reilly in a Ladder Match to win them the advantage in WarGames. This Sunday at WarGames isn't another main event for the Undisputed ERA. It's about two main eventers in Danny Burch and Oney Lorcan finally getting a chance. They won't squander a single second. They have no fear of the Undisputed ERA.
To the fans at home, while they're sitting in their mom's homes, McAfee wants them to feel every kick, punch, and slam into the steel cage they give to the Undisputed ERA. When you tune into the WWE Network, they'll want to see Pat McAfee get it, but they're going to be disappointed. They broke the Undisputed ERA's spirit last week. Pete Dunne says this Sunday, they will end the Undisputed ERA. McAfee says that isn't undisputed. It's a promise. They're the greatest. The fans all suck.
---
Video: Xia Li, Boa
A video showcases Boa and Xia Li taking orders from a man, who gets them to continually dunk their heads underwater. Li is in tears. They're then hit in the back with kendo sticks.
---
Grizzled Young Veterans vs. Imperium (Aichner & Barthel)
The Grizzled Young Veterans are set to face Ever-Rise. Before the match begins, Imperium's Fabian Aichner and Marcel Barthel attack Ever-Rise. They say they are here to put The Grizzled Young Veterans in their place.
Fabian Aichner starts against Zack Gibson. They lock up, but Aichner wrenches the arm. Marcel Barthel tags in and hits an arm drag. Barthel attacks the arm and whips him to the corner, but James Drake stops the impact. Gibson takes Aichner down and tags Drake in. Drake kicks Barthel in the ribs. Drake chops the chest, but Barthel soon takes him down. Barthel punches him in the back of the head a few times and tags Aichner in. Barthel kicks Drake in the face, and Aichner floors Drake with a back suplex. Barthel chops the chest, but Drake fights back. Aichner immediately stomps him down. Drake gets out of a suplex, but he falls over. Aichner stops a tag and goes for a suplex, but Drake gets out. Gibson tags in and takes Aichner down before hitting Barthel. Aichner boots Gibson in the face and applies a wristlock. Aichner avoids a back elbow and slams Gibson. Gibson kicks Aichner away and hits an arm drag. Aichner chops him, but Gibson sends him into the ropes. They knock each other over the top rope. The referee separates the two teams at ringside.
We come back from the break to see Drake take Aichner down for a two count. Drake punches away at him, but Aichner fights back with a front suplex on the top rope. Gibson tags in, but Aichner catapults him into his corner. Barthel tags in and leans Gibson over the middle rope. Imperium hits stereo dropkicks. Barthel hits a belly-to-back piledriver for a near fall. Barthel stuns Gibson with an enzuigiri before hitting a double underhook suplex. Barthel goes to the second rope and poses. Barthel comes off the ropes, but Gibson hits a throat thrust. Barthel responds with a throat thrust. Aichner tags in, but Gibson fights back with a back elbow. Aichner quickly hits a spinebuster, and Barthel follows up with a kick and an inverted gutwrench suplex. Aichner picks up a near fall. Aichner hits a rolling senton followed by a moonsault attempt, but Gibson gets the knees up.
Drake tags in and hits a step-up enzuigiri. Drake bounces him in the corner and chops the chest. Drake puts Aichner on the top rope, but Aichner gets out. Barthel knocks Drake off the top rope into an impressive suplex from Aichner for a near fall. Gibson sends Barthel out of the ring. Gibson puts Aichner in the corner, and Drake dropkicks him. Drake then dropkicks Barthel off the apron. Barthel quickly pulls Gibson off the apron. Aichner rolls Drake up for a two count. Aichner throws Drake out of the ring and hits a cross-body block to the floor on the Grizzled Young Veterans. Ever-Rise comes out and attacks Imperium and the Grizzled Young Veterans.
No Contest
During commercials, Ever-Rise quickly got out of the building shouting how they rule.
---
In-Ring: Timothy Thatcher, Tommaso Ciampa
Timothy Thatcher talks about the strategy of distraction. Tonight, he and his student will show how to deal with distraction. Tommaso Ciampa gets in the ring and stands in front of the student. Thatcher isn't happy. Ciampa says he's here to teach. Thatcher says he has no problem with Ciampa and goes to leave. Ciampa calls him a disappointment. Thatcher knocks Ciampa is trying to goad him. Thatcher then takes him down, but Ciampa soon lays him out with a big elbow. The student attacks Ciampa from behind, and Thatcher joins in. They double-team Ciampa. Thatcher knees away at Ciampa's ribs. They brawl out of the ring, and Thatcher drives him into the barricade twice. Thatcher gets him in the ring and applies a front facelock. Thatcher puts his forearm under Ciampa's chin and puts him to sleep. Thatcher stands tall over Ciampa before leaving the ring.
After commercials, Timothy Thatcher says he didn't know Tommaso Ciampa was going to do that. Tonight, he learned about distraction. This Sunday, he'll learn respect.
---
Ladder Match for WarGames Advantage
Raquel Gonzalez vs. Shotzi Blackheart
Blackheart immediately hits a dropkick and kicks away at her. Gonzalez blocks a kick and boots her back. Gonzalez lifts Blackheart up and stretches her. Gonzalez puts her on the apron and sends her to the floor. Gonzalez leaves the ring and grabs a ladder. Blackheart attacks her before she can collapse the ladder and put it in the ring. Gonzalez lifts Blackheart, but Blackheart slides off and sends her into the ladder. Blackheart gets in the ring and baseball slides the ladder into Gonzalez' face! Blackheart puts the ladder in the ring and kicks Gonzalez back. Blackheart goes for a cross-body block off the apron, but Gonzalez catches her and slams her ribs-first on the ladder hanging over the apron. Gonzalez gets in the ring and tries to set the ladder up, but Blackheart jumps on her back and starts choking her out. Gonzalez rolls out of the ring with Blackheart on her back and tries to fight her off, but Blackheart won't let go. Gonzalez powers up to the apron and drives Blackheart's spine into the ring post. Gonzalez lifts Blackheart up and drives her into the barricade. Blackheart gets out and sidesteps a boot. Blackheart whips the leg into the steps and dropkicks Gonzalez down. Gonzalez quickly fights back and tries to send her into the barricade, but Blackheart jumps to the top and hits a leaping senton to take her down.
Team Shotzi and Team Candice are shown watching on. Gonzalez soon sends Blackheart into the steps and kicks her. Blackheart lets out a primal scream, so Gonzalez kicks her back again.
We come back from the break to see Blackheart and Gonzalez having a tug of war over the ladder. Blackheart kicks Gonzalez in the face and puts the ladder on the apron. Blackheart then slings over the top rope and DDTs Gonzalez on the ladder. Blackheart goes for sliced bread, but Gonzalez counters into a slam on the apron.
The ladder is set up, and they both climb up. They grab for the briefcase before punching away at each other and falling to the canvas. Blackheart holds her ankle in pain. Both teams are cheering for their competitor. Blackheart starts to climb the ladder, but Gonzalez pulls her off. Gonzalez climbs, but Blackheart pulls her down. Gonzalez knocks her back and climbs, so Blackheart tips over the ladder. Blackheart grabs a second ladder, but Gonzalez boots it into her. Gonzalez charges, but Blackheart avoids it. Blackheart hits a head-scissor into the ladder, but Gonzalez misses. Blackheart then hits a cannonball to send Gonzalez face-first into the ladder. Gonzalez' back bent at a rough angle too. Yikes. Gonzalez is outside the ring. Blackheart goes to the top rope and hits a meteora to the floor. Blackheart falls back and hits a flat back bump on the floor!
Indi Hartwell brings a ladder to the platform Team Candice is on, and they climb down. Team Shotzi then runs over to stop them. Hartwell gets in the ring and sets the ladder up. Blackheart pulls Hartwell off the ladder and kicks her in the head. Gonzalez runs in and viciously clotheslines Blackheart down. A brawl breaks out with Team Candice and Team Shotzi. NXT Women's Champion Io Shirai jumps on Gonzalez' back as she climbs. Gonzalez goes down to the mat and fights Shirai off. Shirai pulls the top rope down to get Gonzalez out of the ring. Shirai goes to the top rope and hits an Over The Moonsault to the floor on Team Shotzi and Team Candice. An "NXT" chant picks up.
Shotzi Blackheart crawls back into the ring. Blackheart climbs the ladder and grabs the briefcase to win the WarGames Advantage for her team!
Winner: Shotzi Blackheart
NXT Women's Champion Io Shirai is the final member of Team Shotzi.