This show, featuring several of WWE's Indian wrestlers, will air on WWE Network on Tuesday at 9:30 AM ET. It was taped today at the ThunderDome in Tampa, FL.
Results via ITN WWE
---
Quick Match Results
Finn Balor defeated Guru Raaj via Coup de Grace
Dilsher Shanky, Giant Zanjeer, Rey Mysterio & Ricochet defeated Dolph Ziggler, King Corbin, Shinsuke Nakamura & Cesaro via splash by Mysterio on Cesaro
AJ Styles defeated Jeet Rama via Phenomenal Forearm
Sareena Sandhu & Charlotte Flair defeated Bayley & Natalya via Natural Selection by Flair on Natalya
Drew McIntyre & Indus Sher defeated Jinder Mahal & The Bollywood Boyz via Indus Sher hitting their finisher
---
In-Ring: Jinder Mahal
Former WWE champion Jinder Mahal appears to hype the audience. He congratulations Indians for the Republic day(that is coming on 26 January). He asks the audience to blow the roof of with their reaction so that WWE will give India a special weekly show. He also asks them to tweet out to WWE for a weekly show in India.
---
In-Ring: The New Day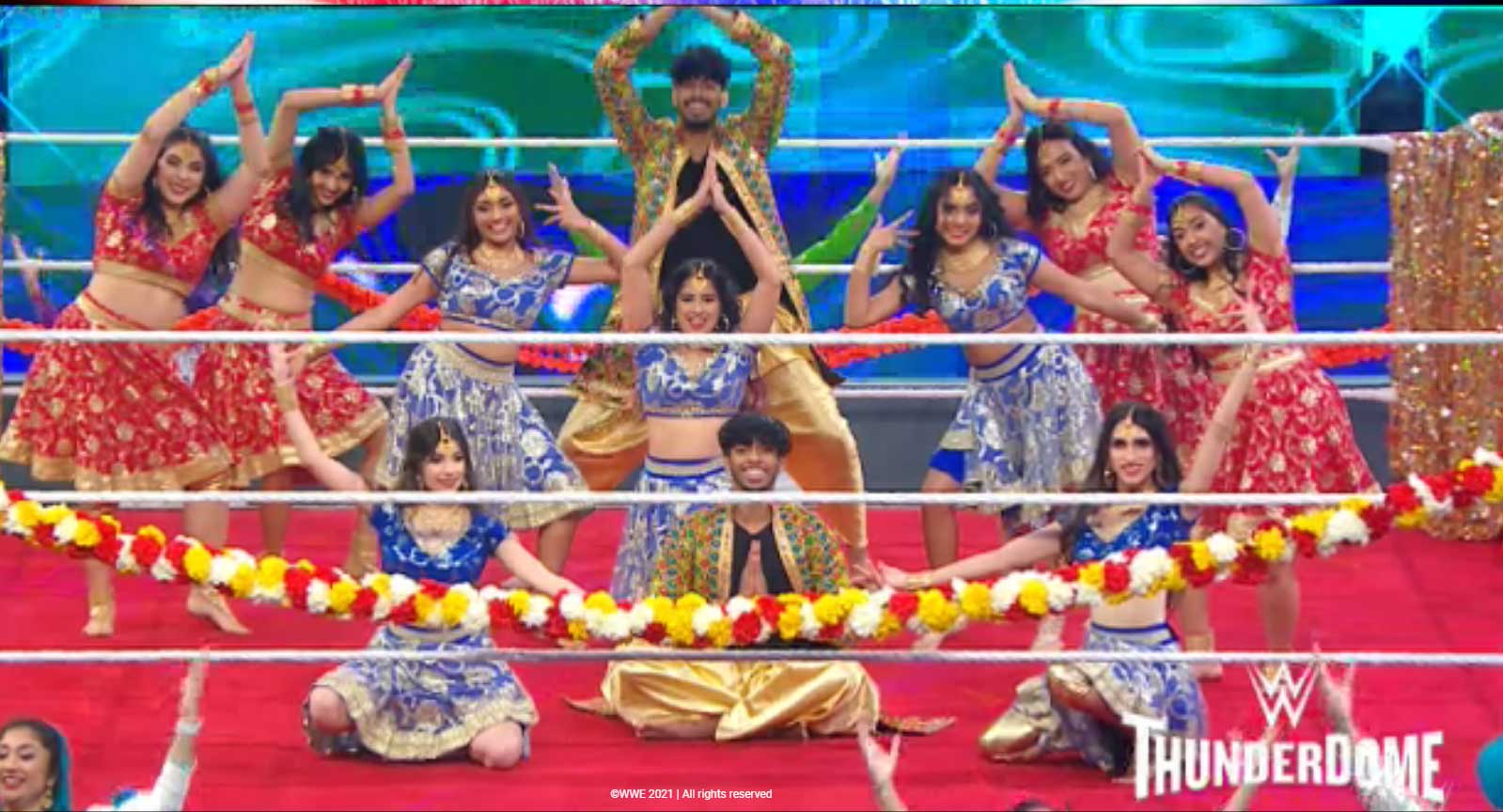 Big E & Xavier Woods make their entrance. Micheal Cole is on the commentary. He says New Day is here for a special Bhangra performance. Big E & Woods wish Happy Republic Day to Indians and do their usual skit. They say they have special plans but they are interrupted by the Street Profits. Montez Ford fumbles a bit in his promo. All 4 of them now announce the special performance from "Spining Canvas."
A Dhol Player comes out followed by several dancers for a Bhangra performance. After Bhangra, there is a dance party waiting in the ring for some Bollywood style dancing.
---
They tape the starting of the show now. WWE: Then, Now and Forever promo. They played India's National Anthem with pictures from India in the background.
Michael Cole, Corey Graves and Shoraz Ali are on commentary.
---
Video: Triple H
Triple H is now narrating a special promo focused on how India has been an important part of the WWE universe. Videos from the visits from WWE Superstars like John Cena, Bret Hart, Daniel Bryan, Triple H himself in front of Taj Mahal, and others. He narrates India's history related to wrestling. Some clips of traditional Indian wrestling followed by the videos of the Great Khali, Bollywood Boyz, Jinder Mahal and other Indian stars. Triple H now introduces the new crop of the stars that are in WWE Developmental. Jeet Rama, Indus Sher- Rinku and Sourav, Guru Raaj, Giant Zanjeer, Dilsjer Shanky and Kavita Devi Singh. Triple H ends the promo by saying, "Then, now and forever, we are honored to bring you WWE superstars spectacle."
---
Finn Balor vs. Guru Raaj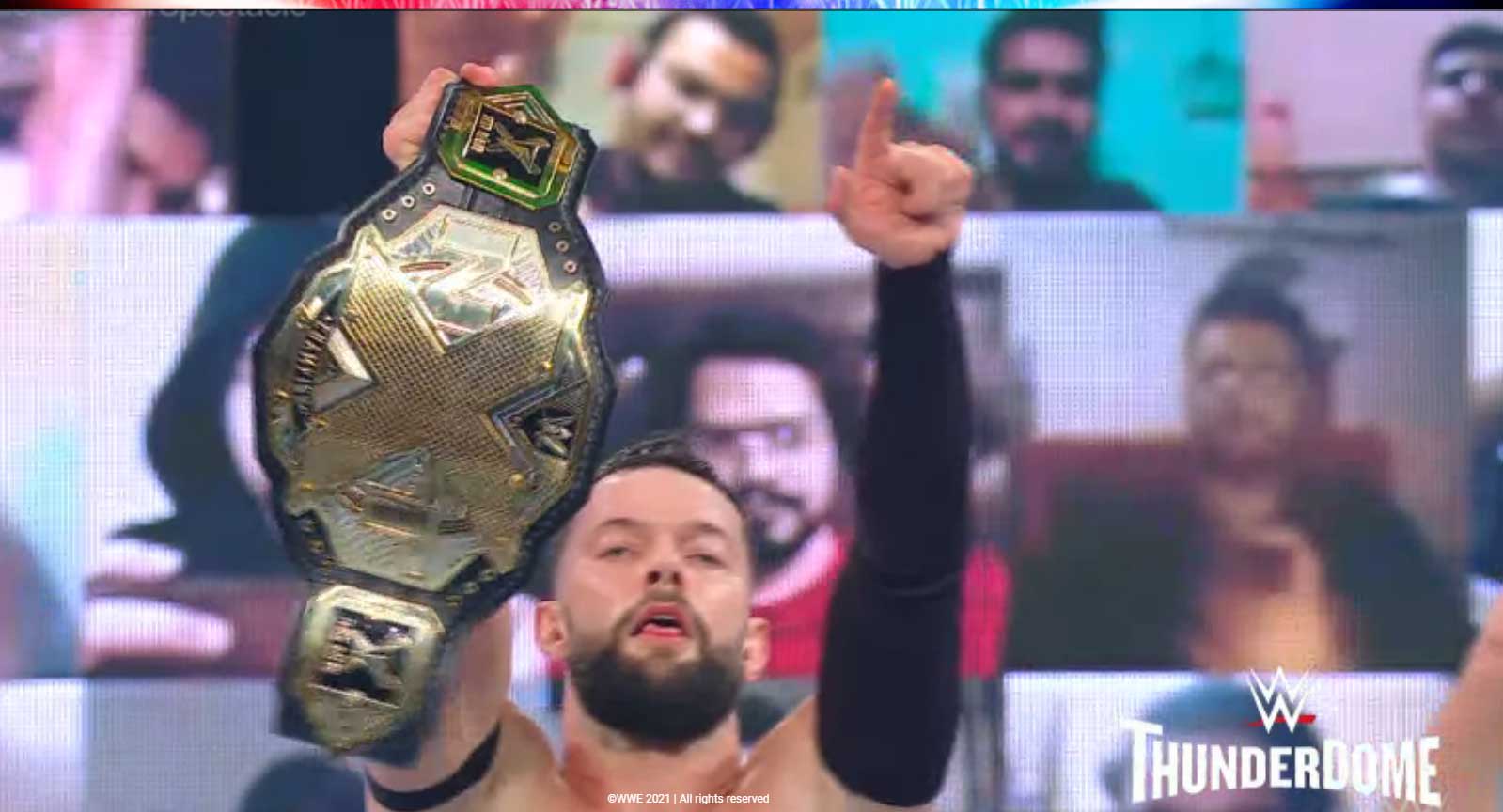 Raj reverses an arm bar to start with. More technical wrestling continues until they come to a stalemate. Balor takes him down after shoulder tackle. Guru with a dropkick before grounding Balor. A sunset flip reversal and a basement dropkick from Balor takes us to a break.
Balor is in control after the break. Raj comes back with some chops and take some down with an elbow. Standing senton, kips up and hits a basement drop. Balor counters in corner and hits some kicks on his chest. Balor controls the match again for a while. Raj counters with an enzuigiri and a series of kicks. Raj hits a splash from the top but but Balor kicks out. Balor hits Shotgun Dropkick, Coupe de Grace from the top and the 1916 DDT for the finish.
After the match, Balor offers his hand as a token of respect.
Winner: Finn Balor
---
Dilsher Shanky, Giant Zanjeer, Rey Mysterio & Ricochet vs. Dolph Ziggler, King Corbin, Shinsuke Nakamura & Cesaro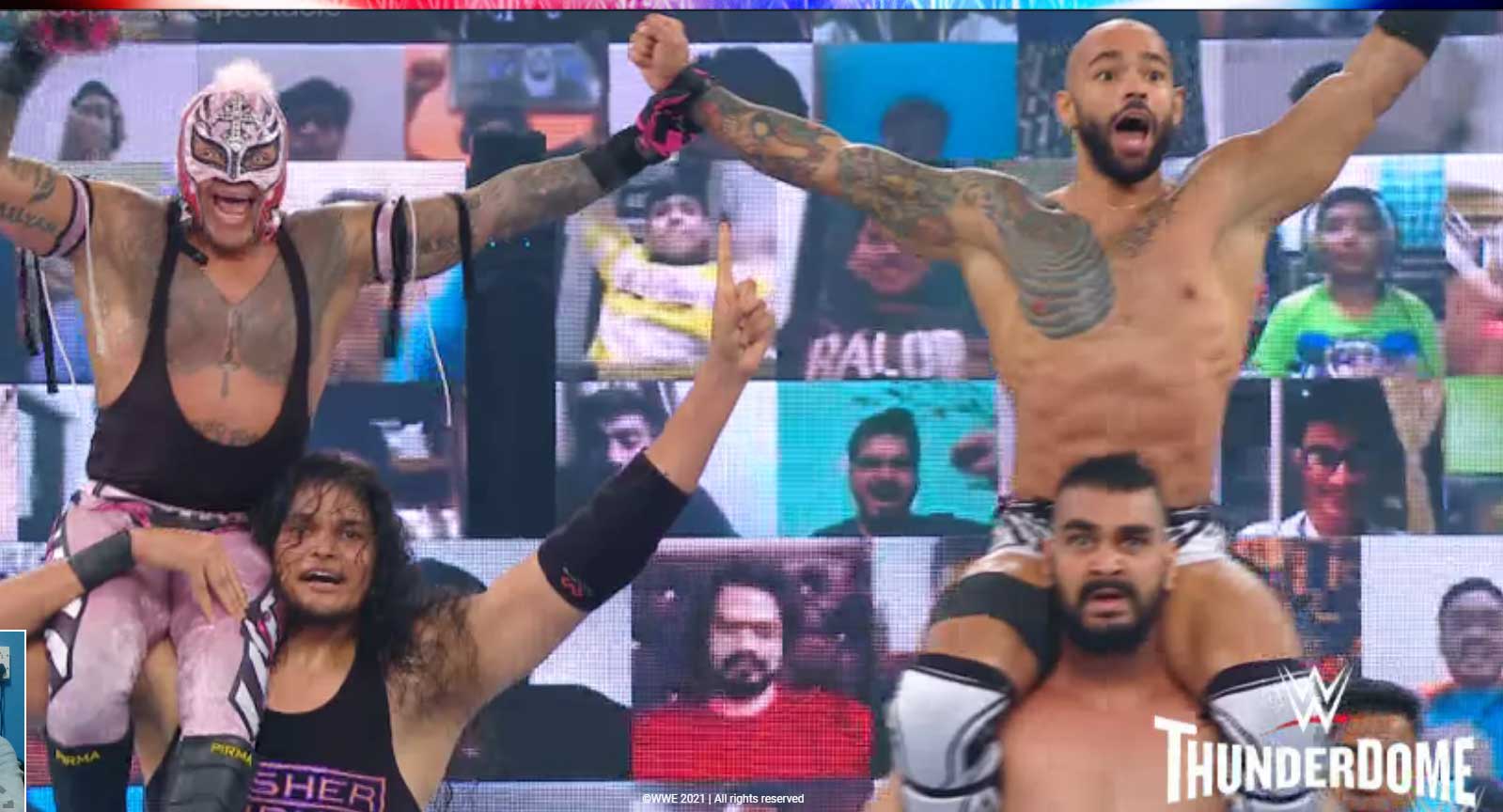 Typical tag team match where Shanky and Zanjeer dominated to start. Rey Mysterio was dominated by heels for a while. Ricochet got the hot tag to work against Dolph Ziggler. Shanky and Zanjeer ran riot. Zanjeer cleared the ring. Ricochet asked Zanjeer to throw him into the opponents at the ringside. Shanky booted Cesaro to set up for 619. Mysterio hits the Splash from Heaven from the top of Shanky's shoulders to get the win.
Winners: Mysterio, Ricochet, Shanky, Zanjeer
---
AJ Styles vs. Jeet Rama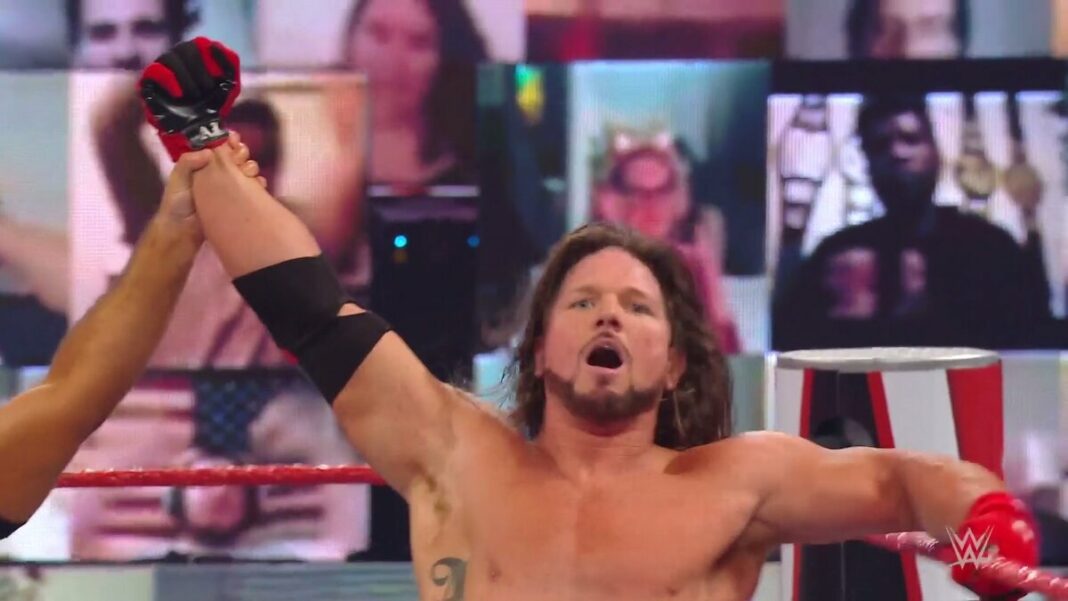 Styles dominated the match barring a few rallies by Jeet Rama. One of the important moments from the match was Rama breaking the Calf Crusher submission by driving AJ into the mat. Near the finish, Rama was trying to hit Belly to Belly Suplex from the second rope. Omus helps AJ to avoid the move. AJ finishes off the match with the Phenomenal Forearm.
Winner: AJ Styles
---
Sareena Sandhu & Charlotte Flair vs. Bayley & Natalya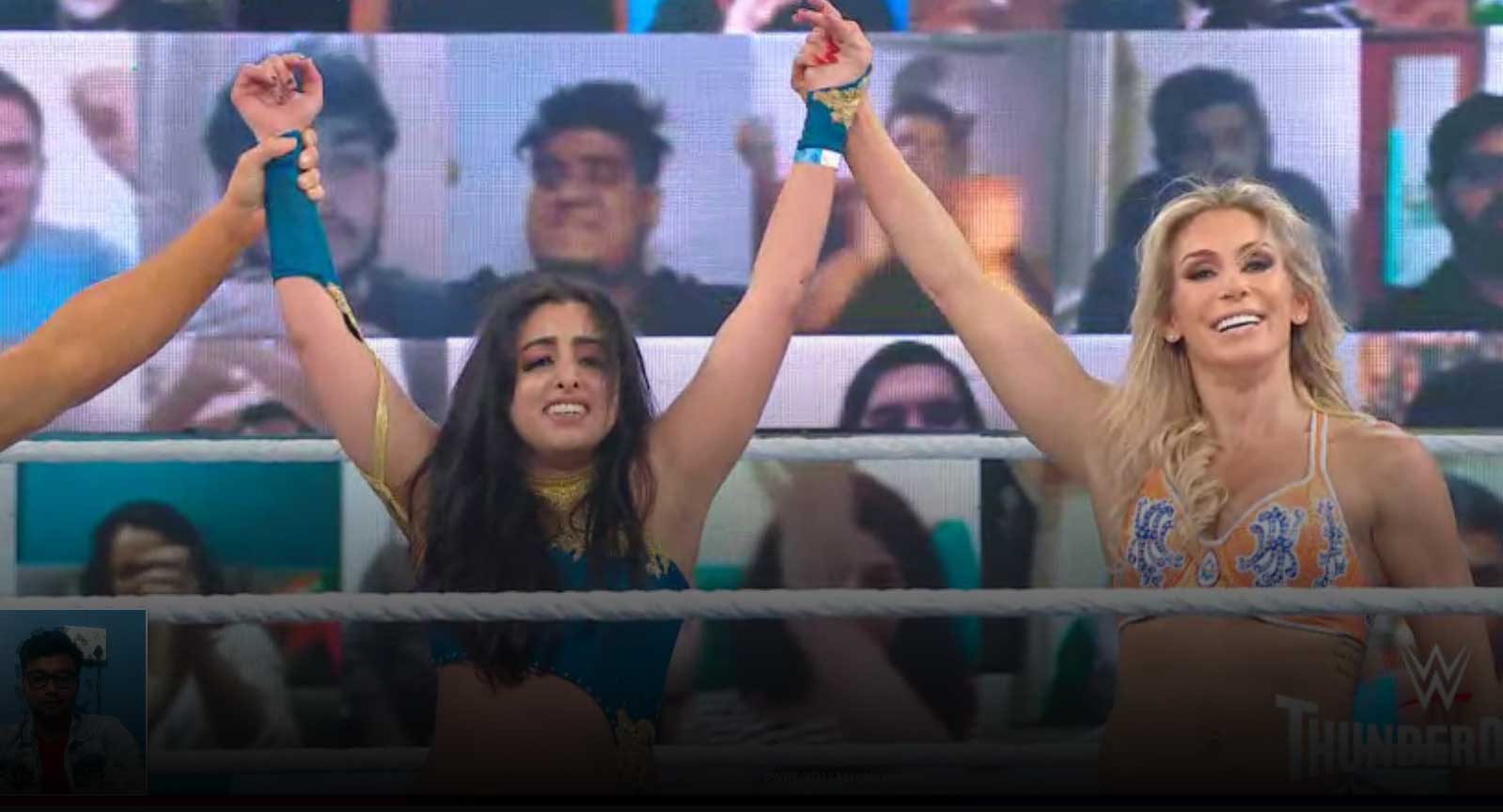 Normal tag team match. Natalya had Sareena in the Sharpshooter. Charlotte hit a big boot on Bayley at the ringside and then saved Sareena by hitting Natural Selection on Natalya. Sareena is the one who gets the pin.
Winners: Flair & Sandhu
---
Drew McIntyre & Indus Sher vs. Jinder Mahal & The Bollywood Boyz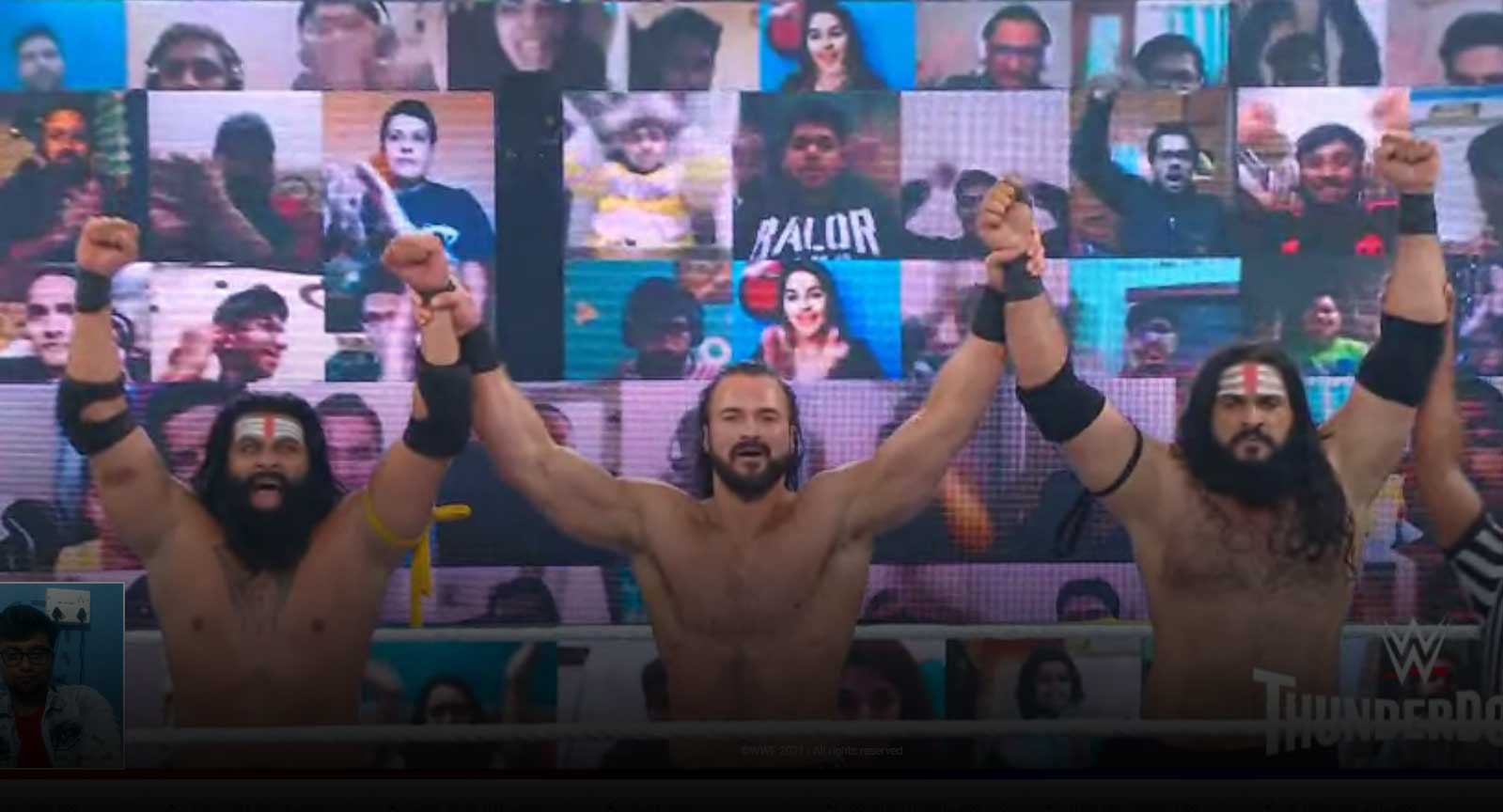 WWE Hall of Famer Ric Flair comes out for a promo. He was about to introduce the main event but gets interrupted by Jinder Mahal & Bollywood Boyz. Mahal cuts a brief heel promo but gets cut off by WWE Champion Drew McIntyre. McIntyre introduces Indus Sher – Rinku and Saurav for the main event match.
McIntyre & Mahal start but Mahal tags out. McIntyre takes control early and brings in Rinku & Saurav who dominate until the break.
After the break, heels get control over Rinku and dominate him for a while. Rinku counters Mahal and tags in McIntyre who comes in hot. Indus Sher beat up Bollywood Boyz. McIntyre hits Claymore on Mahal. Indus Sher hits their finisher for the win.
Winners: McIntyre & Indus Sher
Before the show goes off the air, all the Indian Stars and Drew McIntyre are in the ring with Triple H. All have garlands bestowed on them.