Weather
There was a "severe thunderstorm warning" earlier today in Tampa, but weather reports say that the rain should be clear by 8 PM tonight in time for the start of WrestleMania.
Scattered thunderstorms are still expected at 7 PM, but from 8PM – 12AM, the weather report is just cloudy with no thunderstorms.
---
Sellout
WWE said that there was a "sell-out crowd of 25,675 fans" at night one of WrestleMania last night.
Around the same amount is expected tonight.
A sell-out crowd of 25,675 fans attended an unforgettable Night One of #WrestleMania at @RJStadium! https://t.co/605yJwUxrW

— WWE (@WWE) April 11, 2021
---
Sasha Banks
Sasha Banks had a pretty bad looking welt on her side after taking a hair whip from Bianca Belair last night.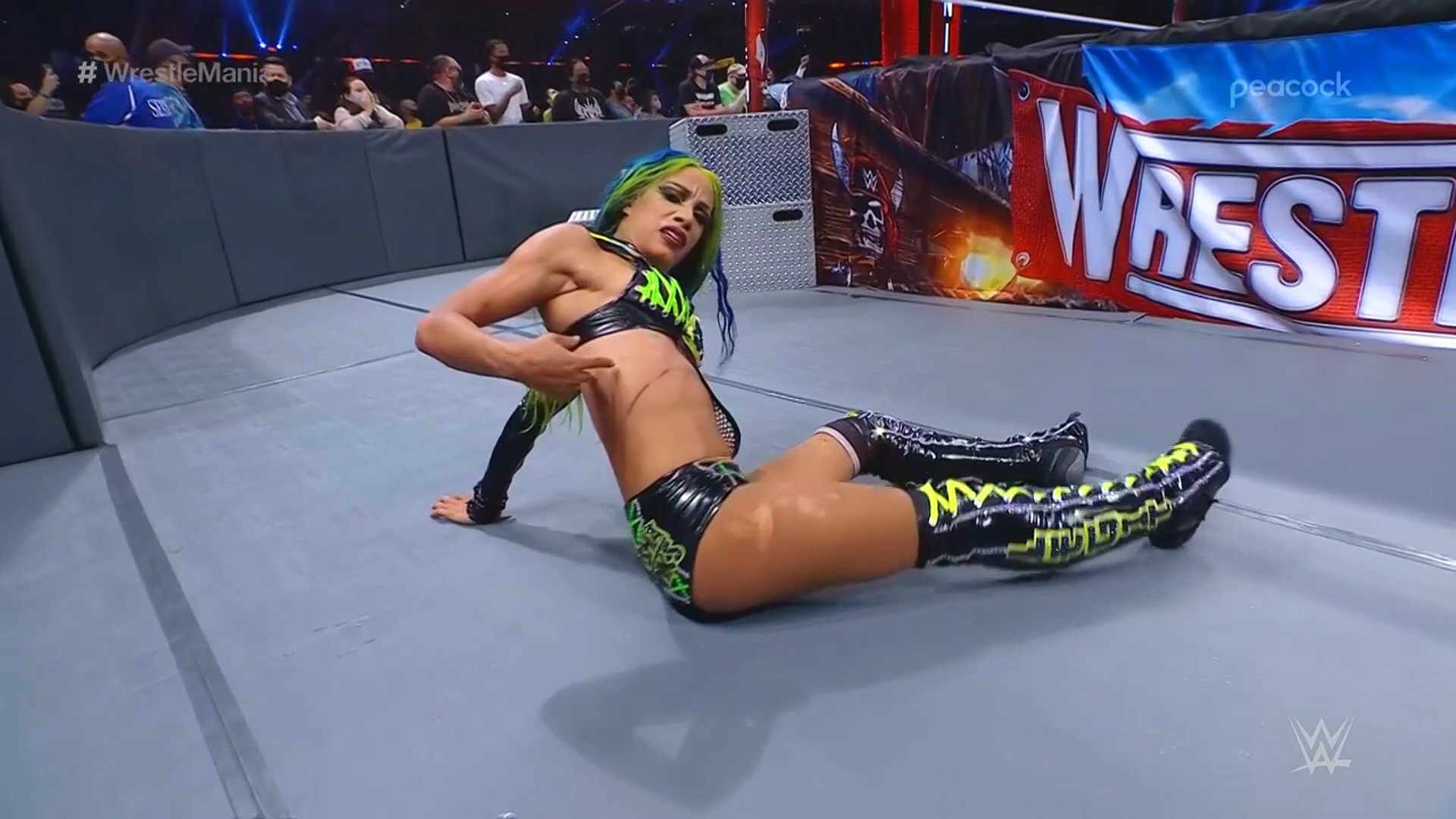 OH MY GOD #WrestleMania pic.twitter.com/YxQqkCnvGL

— Italo Santana (@BulletClubIta) April 11, 2021
But according to PWInsider, both Banks and Belair were "ecstatic" after the match.
Banks was seen smiling as Belair was celebrating to close the show.
This. 🥺 pic.twitter.com/ZTb2Xyq0Hq

— Those Wrestling Girls (@TWrestlingGirls) April 11, 2021
---
Hulk Hogan
Hulk Hogan was booed by a decent chunk of the crowd during his and Titus's segment at the beginning of the show. On the broadcast, WWE appeared to be pumping in some fake cheers.
Hulk Hogan was loudly booed at #WrestleMania. They tried pipe in crowd noise on TV to hide it. pic.twitter.com/ZjKOLKeNQV

— WrestlingNews.co – WWE/AEW News (@WrestlingNewsCo) April 11, 2021
---
Unscripted Promos
During the weather delay at the start of the show, WWE had wrestler do backstage promos to fill time, and they were all pretty much unscripted and off-the-cuff.
PWInsider says that stage managers were scrambling to grab anyone they could to do a backstage interview, and wrestlers were "basically told to say whatever they wanted."
It was an interesting part of the show, seeing wrestlers improvise rather than doing typical heavily-scripted WWE promos.