April 6, 2021
St. Petersburg, Florida (WWE ThunderDome)
Results by: Mike Tedesco of Wrestleview.com
---
Inductees
2020: John "Bradshaw" Layfield
2020: "The British Bulldog" Davey Boy Smith
2020: Jushin "Thunder" Liger
2020 Celebrity Inductee: William Shatner
2020: The Bella Twins (Nikki and Brie Bella)
2020 Warrior Award Recipient: Titus O'Neil
2020: nWo (Hollywood Hogan, Scott Hall, Kevin Nash, and Sean Waltman)
2021: Rob Van Dam
2021: Molly Holly
2021: The Great Khali
2021 Celebrity Inductee: Ozzy Osbourne
2021: Eric Bischoff
2021 Warrior Award Recipient: Rich Hering
2021: Kane
---
2020 Host: Jerry "The King" Lawler
Jerry "The King" Lawler is introduced as the host for tonight's ceremony. Lawler says some of the people didn't get to bask in their glory last year, but in WWE they like to roll with the punches. They will double up on the memories, laughs, and even some tears. Just know that Lawler isn't crying, you are. The next inductee will most likely shed some Texas sized tears when you get him going.
---
2020: John "Bradshaw" Layfield
Video Package: The career of John "Bradshaw" Layfield
Lawler says the question going around is who would win a bar fight between King Kong and Godzilla. The answer is JBL. Lawler introduces him to the stage.
JBL comes out in a tuxedo and shakes hands with Lawler. JBL says you'll be waiting a long time for a Texan and a Wrestling God to shed any tears. JBL recalls telling his grandfather in Sweetwater, Texas that he wanted to be a wrestler as a child. He then recalls James Beard taking him to Skandor Akbar with no experience. Layfield talks about working with the Von Erich's and Dick Murdoch, who taught him how to get heat. JBL thought one night early in his career that he wouldn't get back to the locker room alive. A man pulled a butterfly knife on him and was going to stick him, but Fit Finlay made the save. JBL also recalls giving Eddie Guerrero's mother a heart attack on Mother's Day in her hometown while honoring her late husband. The police escorted him out of town and told him not to return as they couldn't guarantee his safety. JBL says his character wouldn't exist without Eddie Guerrero.
JBL says he got hooked up with Ron Simmons in the Attitude Era as the Acolyte Protection Agency. People thought that was him and Simmons turned up, but it was really them toned down. JBL says a great man ended his title run, but he's glad it was to a human being as good as John Cena. In closing, he says to anyone that he ever had a cross word with in the dressing room or insulted them, from the bottom of his heart… cry him a river, snowflake. JBL is going into the WWE Hall of Fame because he is who he says he is: a Wrestling God! JBL poses to end his speech.
---
Backstage: Peyton Royce, Rhea Ripley
Kevin Patrick is backstage on the red carpet with Peyton Royce and Rhea Ripley. Royce says she's happy the Class of 2020 gets their moment to shine. Ripley says these people paved the way. She loved meeting The Bella Twins. They're humble and wonderful. They accepted her. When she was a kid, she went to a meet and greet with the Bellas. She had to buy a DVD to get in to meet the Bellas and Hornswoggle. It was a great memory.
Backstage: Randy Orton
Sarah Schreiber is backstage with Randy Orton. Orton says the Hall of Fame means a lot to him. Orton says he inducted his father in 2005. It's a big production and keeps getting bigger and bigger. The list of inductees going in is great. Orton has a little bit of a relationship with nearly all of them. He's excited to hear what they have to say.
Backstage: The New Day
Kevin Patrick is now backstage with Raw Tag Team Champions The New Day. Kofi Kingston talks about the Bella Twins and how they didn't know anything about wrestling when they started. Now they're going into the Hall of Fame. He's never known a pair of harder working people than the Bellas. They started the Women's Revolution, along with many others. It's nice to see them get their due. That'll be the last nice thing he has to say about them. Xavier Woods is asked about potentially going into the Hall of Fame one day. Woods hopes so. It'll happen, it's just a matter of time.
---
2020: "The British Bulldog" Davey Boy Smith
Video Package: The career of the "British Bulldog" Davey Boy Smith
Lawler introduces the late Davey Boy Smith's family Harry Smith, Georgia Smith, and Diana Hart-Smith.
They come out carrying a bulldog called Buffy, the granddaughter of Matilda. Harry Smith says it's an honor to be out here to induct his father into the Hall of Fame finally. Smith thanks WWE for the opportunity and the years of support from the WWE Universe. Without them, none of this would be possible. Smith talks about what an incredible performer his father was. He was a powerhouse, but could be agile and athletic. For a guy Davey's size, he could pull off incredible moves. He had an incredible physique, but his heart was bigger. Davey had a great sense of humor. Harry remembers being bent over with laughter and sometimes you could be on the receiving end of one of his great ribs. SummerSlam 1992 was a great moment. In front of 80,000 fans for the Intercontinental Championship versus Bret Hart… no one will ever forget. It was a special moment for Davey and his family. It is Harry's favorite memory of his father. It's a match he can watch over and over again and never be tired of. Another great match his father had was against his uncle Owen Hart when he became the first-ever European Champion. Davey and Owen were so proud of it. Going back to all the great matches the British Bulldogs had against the Hart Foundation, they revolutionized tag team wrestling.
Davey had great matches against the Dynamite Kid and influenced Harry. Harry is happy to carry on Davey's legacy. He knows his father is there with him in spirit, along with the Dynamite Kid. Harry feels that same spirit is with them all tonight. Davey was a great father and friend. He would give you the shirt off his back. He was a great athlete and a great performer. Davey will never be forgotten by his friends, family, or the WWE Universe. A famous quote says what we do in life echoes an eternity. That can be said for Davey and the ribs he pulled off. Harry thanks his family and the WWE Universe, as well as the great superstars that shared the ring with him. His father, Davey Boy Smith, is in the WWE Hall of Fame. The Smith family embraces on the stage.
---
Backstage: Nikki Cross
Kevin Patrick is backstage with Nikki Cross. She's asked about the British Bulldog. Cross says it was wonderful to watch Harry Smith induct his father. It was a beautiful speech and great to see. She says Davey Boy Smith had such a great Hall of Fame career.
Backstage: Braun Strowman
Sarah Schreiber has Braun Strowman backstage. Strowman says it's an honor to work for this company and do what they do, but to be enshrined in the Hall of Fame gives him goosebumps. Everyone works for that honor.
Backstage: Drew McIntyre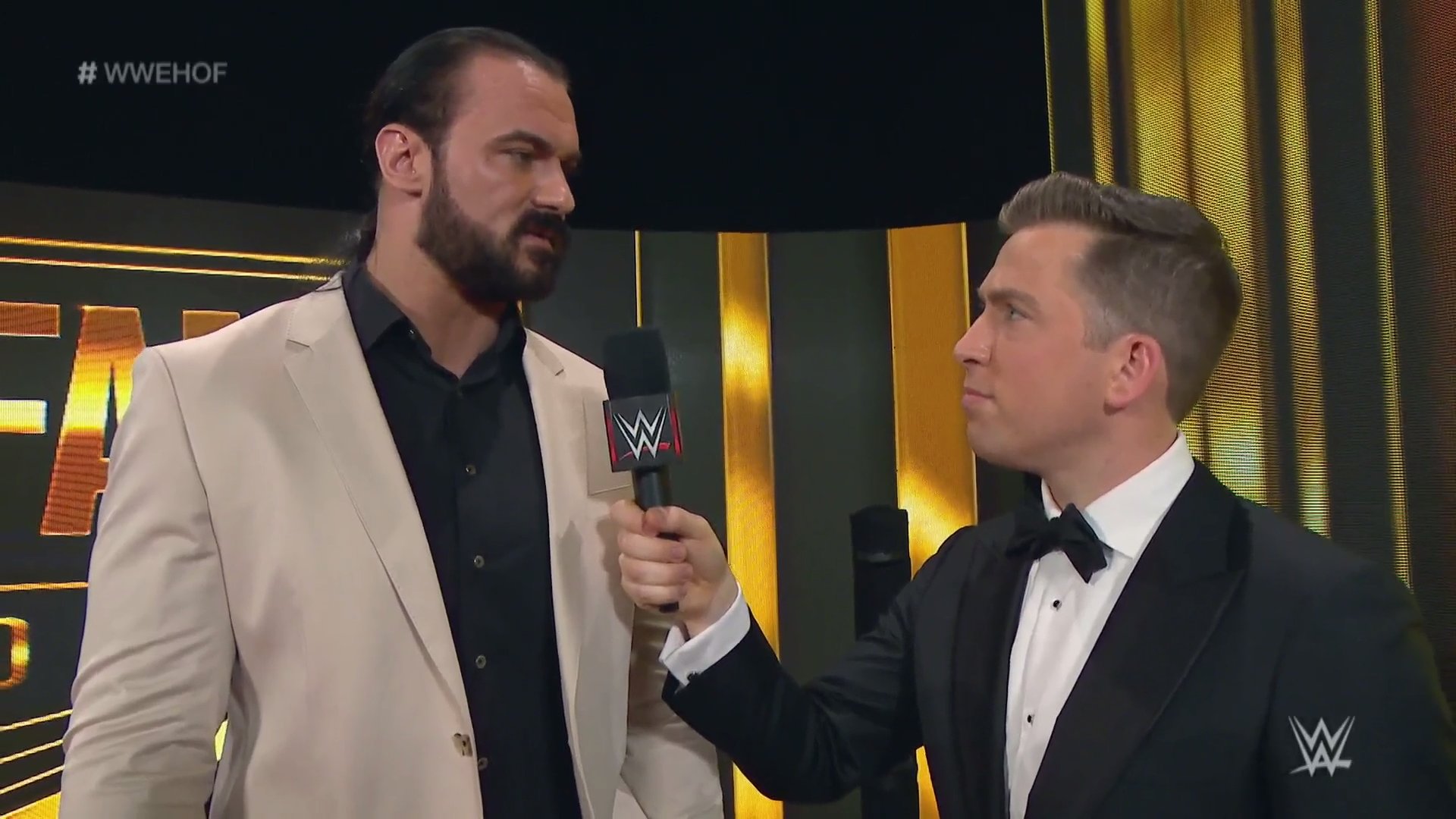 Kevin Patrick now has Drew McIntyre with him. McIntyre talks about how the British Bulldog inspired him and gave him hope. Watching him fly the British flag so far from home showed him that he can do it, too.
---
2020: Jushin "Thunder" Liger
Video Package: The career of Jushin "Thunder" Liger
Jushin "Thunder" Liger is introduced via satellite from Tokyo, Japan. Liger introduces himself as from New Japan Pro Wrestling. Liger says it's a great honor to be inducted into the WWE Hall of Fame. Liger says he loves being a professional wrestler. This is one of the first times he's been nervous to speak. Liger thanks his fans in WWE.
---
2020 Celebrity Inductee: William Shatner
Jerry Lawler talks about the next inductee in William Shatner. Shatner inducted Lawler into the WWE Hall of Fame, so Lawler is happy to do it as well.
Video Package: The numerous appearances of William Shatner on WWE television
William Shatner joins us via satellite from Los Angeles, California. Shatner thanks them for the induction. Shatner was born in Montreal where so many great wrestlers came from. Shatner talks about his moments in WWE and meeting a lot of wrestlers through Lawler. Shatner accepts this with honor as someone following his greatest heroes.
---
Backstage: The Miz and John Morrison
The Miz and John Morrison are backstage with Kevin Patrick. They talk about their musical careers compared to William Shatner's. Lawler and Shatner must drink from the fountain of youth.
Backstage: Mustafa Ali
Sarah Schreiber is backstage with Mustafa Ali. Ali says he comes in peace tonight after all he's said about old timers. Ali is excited to see the nWo be honored. RETRIBUTION didn't quite get to where the nWo went, but that's ok.
Backstage: Bobby Lashley and MVP
Kevin Patrick has WWE Champion Bobby Lashley and MVP. They don't want to talk about the nWo, but they do want to mention JBL. JBL influenced their careers early on and did a lot for them.
---
2020 Legacy Wing Inductees
It's time to showcase the members of the 2020 Legacy Wing of the Hall of Fame.
— Ray "The Crippler" Stevens
— Brickhouse Brown
— "Dr. Death" Steve Williams
— Baron Michele Leone
— Gary Hart
---
2020: The Bella Twins (Nikki and Brie Bella)
Video Package: The careers of Nikki and Brie Bella
The Bella Twins make their entrance and run over each other trying to start the speech. Brie Bella says it's wonderful to be inducted with her sister and be part of the first two women to go into the Hall of Fame together. They've shared so much from their mother's womb to the Hall of Fame. Nikki talks about having the Bella Brains, but stops when Brie threatens to ask a geography question. Nikki says they didn't win the Diva Search, but someone saw something in them. Brie says women were on the margins when they got to WWE. Nikki talks about starting a reality show and making the women a strong, united front. They knew they could make women the forefront of the programming. Brie says they brought many new fans to the business. All the women that decided to put their lives on television helped usher in this era. Nikki says wrestling has always been a world of unusual people, where you sometimes win and lose, sometimes are good or bad… or both, and a place you can fight your boss. They thank everyone who helped them, including John Laurinaitis, who they never thought would become their father. Nikki thanks John Cena for helping her find the business and her fearless side. They thank everyone who helped train them. Brie thanks the Bella Army. Brie then thanks Daniel Bryan aka "Sweetface." He's an incredible teacher and father. Nikki thanks Artem for being amazing father. It's no accident they had Buddy and Matteo 22 hours apart. If you think the Bellas are retired, just wait 18 years. They'll be back. Haters gonna hate, Bellas gonna ball. The Bella Twins embrace on the stage.
---
Backstage: Nia Jax, Shayna Baszler, Reginald
Nia Jax, Shayna Baszler, and Reginald are backstage with Kevin Patrick. Nia Jax puts over how great the Bella Twins were to her and she's so happy for them. Shayna Baszler says she was on Total Divas showing Nikki some submissions, so it's nice to see her go in thinking she had a part in her career.
Backstage: Mandy Rose and Dana Brooke
Sarah Schreiber has Mandy Rose and Dana Brooke backstage. They loved seeing the Bella Twins inducted. The Bellas were very important to their careers.
Backstage: Naomi and Lana
Kevin Patrick now has Naomi and Lana. Lana says it's incredible to be here supporting the Bella Twins. Naomi says it's been great to share a locker room with them. She loves them so much and it's great to see how much they've accomplished.
Backstage: Sheamus
Sarah Schreiber is with Sheamus backstage. Sheamus says it's great to see Titus O'Neil receive the Warrior Award. O'Neil does so much for everyone and he works so hard.
---
2020 Warrior Award Recipient: Titus O'Neil
Video Package: Titus O'Neil receives the 2020 Warrior Award
Titus O'Neil shakes hands with Jerry Lawler before receiving the Warrior Award. O'Neil says he is the product of sexual assault and mentions he got in a lot of trouble as a kid. He was labeled as a kid that would be in jail or dead when he was 16. O'Neil went to a camp that turned his life around. There he heard the words that would change his life forever: I love you and I believe in you. Many people before said they loved him, but showed him the opposite. His attitude and work ethic changed. This change led him from going to be a trouble underserved and underachieving student to being an All American, the first in his family to graduate from high school and the first to graduate from college with honors from the University of Florida.
O'Neil started working with so many causes inside and outside of WWE. O'Neil talks about his amazing sons, TJ and Titus Bullard. Kids that have difficult issues are labeled as "bad." Very few will ask, "What happened to you?" Being able to provide experiences, resources, and moments to families can help change what happened to these kids and families. O'Neil has experienced great things in his life. The WWE platform has expanded his ability to put smiles on faces. O'Neil is grateful for that, but he always wanted to build a life that was successful and significant. Receiving the Warrior Award shows that he's lived a life of significance. O'Neil wants to continue to build on the work they've started and give opportunities and education to children. It's time for affordable housing, food, and clothing for those that need it. It's truly humbling and impactful. O'Neil wanted to set an example as to what it means to be a great human being. You may not agree or even like some people, but you love and respect them. That's what real champions of humanity and warriors of change do. To his sons, his family, friends, WWE Universe, co-workers, partners and supporters, O'Neil thanks them for helping him grow and prosper as a husband, father, and man. O'Neil says he loves everyone and believes in them.
---
2020: nWo (Hollywood Hogan, Scott Hall, Kevin Nash, and Sean Waltman)
Jerry Lawler talks about the final inductees into the WWE Hall of Fame: Class of 2020. They stoked the fires of the Monday Night Wars and were controversial.
Video Package: The incredible run of the nWo
The New World Order comes out to the stage. Hogan is wearing a black and white bandana while playing guitar on a spray painted WCW Championship with the nWo logo.
Sean Waltman says it's the honor of his life to receive his second induction into the WWE Hall of Fame. Waltman gives a shoutout to his wife and family, as well as Eric Bischoff. Being part of the nWo was a great opportunity for him. Being Syxx made a big impact when he came to DX. Waltman thanks Hall and Nash for having his back for 30 years. Waltman also thanks Hogan for letting him hit him over the head with a chair when the nWo turned on him.
Scott Hall says he thought he his pinnacle came being inducted as Razor Ramon, but being here with his friends means so much. Hall says Hogan made him want to be a pro wrestler and thanks him.
Kevin Nash says one of the things that made this whole thing work was him leaving WWE with Hall and appearing on Turner television. It wouldn't have worked with Vinnie Vegas or Diamond Stud. It was also great that their contracts expired six days apart, rather than a year and a half. Nash says it's been a great 25 year run. 80% of the fans at meet and greets still wear nWo merchandise and throw up the Too Sweet sign. nWo is for life, as is WWE. Nash has said in different shoot interviews that they might not have been the Beatles, but they're damn sure Led Zeppelin.
Hollywood Hogan says his training and saying prayers thing ended with this. Hogan says he was lost while filming Santa with Muscles and didn't know where he was going. Hogan remembers seeing Scott Hall come on TV. This guy was working with WWE and now he's on WCW. Eric Bischoff was in his ear about the nWo. Then he saw Kevin Nash jump on the bandwagon. Hogan saw the heat and how real it looked. It looked like WWE was invading WCW. Hogan says he really thought about making that move. Bischoff thought about having Sting do it if Hogan didn't want to do it. Hogan then jumped in fully. They were the bad guys, lying, cheating, and stealing. They were going off. The weirdest thing was the nastier they got, the more the WWE fans cheered for them. nWo was the poison that Vince McMahon brought in. nWo is still alive. Hogan sells all WWE merch at a beach shop, but the nWo merch flies off the shelves. Hogan says he never got beat for the belt… maybe they need another run. Since Hogan is hosting with Titus O'Neil, maybe they should teach everyone a lesson. nWo is for life, but now that they're in the Hall of Fame it's true. These guys are just TOO SWEET! The nWo poses to end the speech.
---
2021 Hosts: Corey Graves & Kayla Braxton
"Then. Now. Forever." The WWE video leads us into the show.
The Hall of Fame intro video plays again.
Corey Graves and Kayla Braxton will host the Class of 2021 portion of the ceremony.
---
2021: Rob Van Dam
Video Package: The career of Rob Van Dam
RVD makes his way out to the stage. RVD says he finished up with Memphis 30 years ago and came to Tampa because it was a hotbed of wrestling. He drove down here in a Ford pickup that was held together with wire hangers, no insurance, and a stolen registration tag. The reason he's in the Hall of Fame is because of the fans and their response to him. The fans made him want to get into wrestling because he was a fan. RVD remembers the night his father passed away. The next day, maybe 20 hours later, he had an autograph signing in Chicago. RVD thought about not going through with it and going home to be with his family, but he decided to go through with it. RVD didn't tell anyone the situation and tapped into the positivity of the fans. It got him through a difficult time. It bailed him out of the hole he was in. Looking back at that, the energy exchange is a two-way street. RVD is tickled to death to think he could somehow improve people's lives. Somehow they could feel better by seeing him do his thing. RVD understands that we have things in life that we go to that changes our energy and picks our spiritual vibration up. It's a tremendous honor to be inducted into the WWE Hall of Fame, being put in with this prestigious group of legends that influenced him. RVD hopes that when people think about him and his story, his journey… he hopes they think about individuality. This is a particularly great accomplishment because he feels like every step of the way was about choices. So many people tried to change him because he was different, but he didn't let them. RVD stuck to his guns. Many didn't understand him, but he just kept going.
There's so many people that he has to thank. RVD will go through a list in his mind. RVD thanks his mom and dad for helping him follow his dreams. RVD graduated high school and turned down a scholarship to Michigan State to follow this path and fight the odds to become a superstar. RVD thanks The Sheik for breaking him into the business and teaching him when to listen to someone and when to let it just go in one ear and out the other. The Sheik told him to not listen to anyone because they don't know what they're talking about. RVD thanks the wrestling promoters that booked him regularly in his early years, putting him against guys like Greg Valentine, Manny Fernandez, and Bobby Fulton. RVD thanks those guys for teaching him. RVD thanks Sabu for training him in the ring to be original. Sabu always encouraged him and told him they were better than the local indy guys. Every victory and championship he's won has been with the support of the fans. When he gets on the top rope and looks for the support for the 5 Star Frog Splash, RVD doesn't know a better high… and he would know! This moment and Hall of Fame award… this induction into the classification of legends… this is definitely a victory for all of us. If he could, he'd name all the fans individually, but he can't do that. RVD thanks the WWE Universe. It's because of them he can call himself "The Whole Damn Show" RVD.
---
Backstage: Sasha Banks
Alyse Ashton is backstage with SmackDown Women's Champion Sasha Banks. Banks says she's excited to see Molly Holly inducted. She remembers going to an independent show and meeting Molly Holly. She gave her a lot of confidence.
Backstage: Big E
Greg Hamilton is backstage with WWE Intercontinental Champion Big E. Big E says he loves Molly Holly and can't wait to see her go into the Hall of Fame. They shake hands, and Big E drags Hamilton away.
Backstage: Carmella
Alyse Ashton now has Carmella backstage. Carmella says Molly Holly was a babe, but wasn't just a babe. You don't need to fit into just one box. You can't talk about the Women's Evolution without Molly Holly.
---
2021: Molly Holly
Video Package: The career of Molly Holly
Molly Holly says there are only two people to have their head shaved at WrestleMania. The first was one of the most influential people to step into the WWE ring. The other was Vince McMahon. WWE brings great talent, but the backstage crew is just as great. The crew were her people. If they were in high school, she'd sit with them at lunch. When she was having a bad day, the crew helped her through. She would help wrap cable after the show so she could be part of what they do. She lists their names in a great moment. The fans overlooked her shortcomings and forgave her moments of selfishness. They uplifted her and believed in her. She's eternally grateful and thanks them.
---
Backstage: The Street Profits
Greg Hamilton is backstage with The Street Profits. Montez Ford says it's that time of the year in which we showcase the immortals before the Showcase of the Immortals. The Hall of Fame is the name of the game specifically Rob Van Dam. Angelo Dawkins says RVD is great and congratulates him. At the after party, they'll get the eye drops popping again.
Backstage: Rey & Dominik Mysterio
Alyse Ashton is backstage with Rey Mysterio and Dominik Mysterio. Rey says he's excited to see Kane go in and enjoyed their battles. Rey is also excited to see his former tag partner RVD go in as well. Dominik says he had action figures of RVD and Kane. Kane's pyro scared him as a kid. Rey says pyro still freaks Dom out.
---
2021: The Great Khali
Video Package: The career of The Great Khali
The Great Khali joins the broadcast virtually. Khali says he's the first Indian World Champion and Hall of Famer. When Ranjin Singh told him the good news, everyone in his family was so happy that he was going into the WWE Hall of Fame. Khali says he can't express his happiness. For some reason he can't be with everyone today, but the fans are in his heart. Khali thanks everyone for the support and tells them to take care of themselves.
---
Backstage: Ranjin Singh
Greg Hamilton is backstage with Ranjin Singh, the former manager of The Great Khali. Singh says it was great to see the Great Khali go into the WWE Hall of Fame. Khali is an inspiration to not just Indians, but everyone everywhere.
Backstage: Bianca Belair
Alyse Ashton is backstage with Bianca Belair. Belair says she's happy to be here. Belair says Molly Holly broke barriers from the beginning. Being in the ring with her in 2020 at the Royal Rumble was great. Now she's getting everything she deserves.
---
2021 Celebrity Inductee: Ozzy Osbourne
Video Package: Ozzy Osbourne's WWE appearances
Ozzy Osbourne appears virtually. Osbourne says he doesn't deserve it, but appreciates it. Osbourne says the fans keep them alive and thanks Vince McMahon and Triple H.
---
2021 Legacy Wing Inductees
The following people are the 2021 Legacy Inductees:
— Dick the Bruiser
— Pez Whatley
— Buzz Sawyer
— Ethel Johnson
— Paul Boesch
---
2021: Eric Bischoff
Video Package: The career of Eric Bischoff
Eric Bischoff comes out and says this is amazing. Bischoff isn't going to waste time because he only has three minutes… "Did I just say three minutes?!" Bischoff points to the sky for Rosey and Jamal. Little did he know when he jumped in his car three decades ago it would be a lifelong journey. Bischoff had fun in Minneapolis to work with AWA, but when it was over he jumped in the car and went to Atlanta. His time in Atlanta was great, but like any great road trip, it came to an end… or so he thought. Then one day the phone rang and he was invited on another journey that he thought was wildly improbable. This opportunity provided him with more opportunities and experience. Bischoff learned a lot standing on the shoulders of giants. Bischoff stands here because of the giants that came before him. This is one of the most successful platforms in entertainment. Bischoff thanks the giants that gave him the opportunity. The giants are the people that turned this industry that was a sideshow in a traveling circus into one of the most popular forms of entertainment in the world. Bischoff thanks the fans from the bottom of his heart. No matter where they are in the universe, Bischoff thanks them for being part of the road trip. It's been one hell of a ride and the best is still to come.
---
Backstage: Seth Rollins
#WWEHOF DRIP.@WWERollins 🔥 pic.twitter.com/6nQwWGrL16

— WWE (@WWE) April 7, 2021
Alyse Ashton is backstage with Seth Rollins, who is dressed in another ridiculous suit. Rollins says he is a huge fan of Eric Bischoff because he made change. Bischoff changed the game forever. You have to make changes and waves. No one can take that away from him. Rollin then puts over his Hall of Fame drip.Alyse Ashton is backstage with Seth Rollins, who is dressed in another ridiculous suit. Rollins says he is a huge fan of Eric Bischoff because he made change. Bischoff changed the game forever. You have to make changes and waves. No one can take that away from him. Rollin then puts over his Hall of Fame drip.
Backstage: Kevin Owens
Greg Hamilton is backstage with Kevin Owens. Owens talks about not being a fan of WCW as a kid, but lost his mind when he debuted in WWE in 2002. As much as he disliked him back in the day, after working with him for a little while he knows he's a great person.
Backstage: King Corbin
Alyse Ashton asks King Corbin about Eric Bischoff. Corbin says he influenced an entire era of wrestling. Bischoff wasn't afraid to hurt feelings, which is what Corbin tries to do. Corbin likes hurting the feelings of kids or people on their couches.
---
2021 Warrior Award Recipient: Rich Hering
Rich Hering walks out to the stage. Hering wishes Dana Warrior and the Warrior girls were here. It means a lot to him personally because of who and what it represents. Hering will always be grateful for this honor. To the WWE Superstars past and present he's worked with for 51 years, he thanks them for helping take this from a regional industry to a worldwide phenomenon. He also thanks all the employees that make this event what it is, they are the unsung warriors. Hering thanks everyone for yesterday, today, and tomorrow.
---
Backstage: Edge
Edge is backstage with Greg Hamilton. Edge says seeing so many great people go in is a great honor. Seeing one of his best friends in Glenn Jacobs (Kane) go in makes him so happy.
Backstage: Bayley
Alyse Ashton is with Bayley. Bayley loves that Kane is going into the Hall of Fame. Kane was her brother's favorite wrestler. Daniel Bryan and Kane was something that stuck out to her. They were fun to watch.
---
2021: Kane
Video Package: The career of Kane
Kane, the Mayor of Knox County, Tennessee, comes out without the mask. The mask is in a glass box on the podium. Being inducted into the WWE Hall of Fame is the greatest honor of his career. What the heck is he doing here? There's nothing special about him except for his stature and pretty good athletic prowess. He's a farm boy from Missouri. Kane has been surrounded by great people. George and Joan Jacobs were his parents and biggest fans. His mother loved Isaac Yankem, DDS. His mother also had the greatest sign he's ever seen at a live event: I raised Kane. Pure genius.
Then there is his own family. His daughters are the best kids any dad could hope for. Like any WWE Superstar, he missed a lot of dances, moments, and games. That's one regret he has. Kane regrets missing time with his wife Crystal, who has stuck with him for 26 years. Kane has had a lot of great partners in his career, but none hold a candle to her.
Brevity is a virtue at these things, but there are a few people that he needs to recognize. Mark Morton, as well as Dutch Mantell, Jim Cornette, and Jim Ross. They all played crucial roles in his career. Kane apologizes for setting JR on fire. WWE relies on many talents to operate smoothly. If not for the people behind the scenes, people like him don't stand here. Kane thanks the crew. WWE is so successful because they have the best television producers, period. Thanks to his brothers and sisters who put on tights and laced up boots. They are the best entertainers in the world. It sounds corny and cheesy, but they put smiles on faces. The world is better for it.
He would be remiss if he didn't think his WWE family on behalf of Kane. His "father" Paul Bearer and "brother" Undertaker. Kane remembers having his first match against Undertaker at Smoky Mountain Wrestling. His office as mayor overlooks the building it took place in. It was the first of many times the Undertaker dropped him on his head. When he heard about Kane, he knew his life would change. It was like joining the Chicago Bulls, but he never imagined where the road would lead. The Undertaker and Kane saga is the greatest story WWE has ever told. Two decades of drama, conflict, reunion, and betrayal again. They had a few WrestleMania matches and were a dominant tag team. They pushed the buttons of Paul Bearer. They scared opponents and he tells a funny story about assuring Undertaker they had enough gas to get from one town to another before running out. Kane thanks the fans because none of this is possible without them. Nowadays, what brings him the greatest satisfaction is when someone thanks him for years of entertainment. Kane thanks them for the privilege and for making Kane one of the most memorable characters ever.
In closing, he wants them to think about how a farm boy from Missouri that just had a good work ethic, determination, and hard headedness could become an international star, Mayor of the greatest county in the world, and finally in the WWE Hall of Fame… if someone like that could do that, think of where you could go. He'll leave us with that, but Kane will leave them with this: Glenn Jacobs holds up his arms and sets some pyro off.