Results by Roy Nemer of Wrestleview.com
April 8, 2022
Milwaukee, WI – Fiserv Forum
Commentary: Michael Cole and Pat McAfee
---
Quick Match Results
Xavier Woods defeated Butch via roll up
Gunther defeated Joe Alonzo via powerbomb
Drew McIntyre defeated Sami Zayn by count out when Zayn jumped the barricade and walked out of the match
Liv Morgan defeated Sasha Banks via roll up
---
In-Ring: Ronda Rousey, Charlotte Flair
In the arena, Kayla Braxton introduces the Baddest Woman on the Planet, Ronda Rousey. Kayla says she was involved in a very physical match at WrestleMania Saturday and she made Charlotte tap out. We see the clip of Charlotte taping out while the referee was down.
Ronda says she made her tap out and she will make her tap out again. But to be the best in the world, you have to be able to beat anyone twice on your worst day and the referee didn't see it the first time. She says she beat Charlotte once and not twice. That is on her.
Kayla says the Roman Reigns will reveal his next step later tonight. She asks Ronda what the next step is for her and Ronda says she wants a rematch but in an I Quit match at WrestleMania Backlash.
Charlotte is heard laughing as she is shown on the big screen. She tells Ronda she couldn't beat her in checkers, let alone an I Quit match. She is Charlotte Flair, she doens't quit. It's not in her DNA but winning is. She felt Ronda's arm bar and pressure but she didn't lose. She didn't tap out. She walked out as SmackDown Women's champion.
Flair says the Baddest Woman on the Planet isn't just a catchphrase but a myth. Because she can't win when it matters and the answer to her question is no. Flair tells her to get in the back of the line and she calls Ronda a bitch.
Ronda tells Charlotte this fight is going to happen. She is going to make her scream it when she turns her elbow backwards.
---
Butch vs. Xavier Woods
Kofi says since WrestleMania is their season finale, that would make tonight's SmackDown their season opener. And all records are reset. That means the score between them is 0-0 says Woods.
The bell rings and we are under way. Butch with forearms and a kick to the side of the face. The double knees by Butch. He pulls Xavier's arm back but Woods reaches the ropes. An elbow by Butch. He grabs Woods but Woods with a jawbreaker.
Woods with a Russian leg sweep. A drop kick by Woods. Butch rolls to the outside. Woods goes for a baseball slide but Butch moves out of the way. He lifts Woods up and slams him onto the ring apron.
Back from commercial, Butch with forearms to Xavier's face. He goes for the cover but Woods kicks out. An arm bar by Butch but right hands by Woods. Chops to the chest by Woods. Woods with a spinning forearm.
Woods with a kick to the face. A kick to the side of the head by Woods and he is on the ring apron. Right hands by Woods. He gets back in the ring but a right hand by Butch. A kick to the back of the neck. He goes for the cover but Woods kicks out. Butch in the corner, he goes for a kick to the face, Woods moves out of the way as he rolls Butch up and gets the pin.
Winner: Xavier Woods
---
Backstage: Sami Zayn, Drew McIntyre
They air highlights of Sami Zayn vs. Johnny Knoxville from WrestleMania.
Zayn is backstage with Adam Pearce. Zayn tells him it was an anything goes match, not an everyone is welcome match. Zayn says he is one of the best in the world and he has been reduced to a laughing stock. He shows him a paper plate with a piece of cheese on it. He says he wants a match against anyone who steps through the SmackDown locker room door.
Pearce says they have a match. The door opens and it's Drew McIntyre. Zayn looks at them, says lads and walks away. Zayn says the person after that and Pearce tells him this is the match.
Zayn says Drew is the toughest guy on the roster. If he beats him, he will get everyone's respect. Pearce is given a piece of paper by a WWE staff member.
---
Gunther vs. Joe Alonzo
Ludwig Kaiser, formerly known as Marcel Barthel, is on the stage. He cuts a promo and it's Gunther, known as Walter, of NXT that is coming down to the ring.
The bell rings and we are under way. Gunther with a hip toss. A chop to the chest by Gunther. He places Alonzo horizontally on the top rope and chops him. Alonzo on the ring apron and Gunther throws him in the ring. A big boot to the face by Gunther.
A chop to the chest by Gunther followed by a kick. Another chop to the chest. Gunther with a powerbomb. He goes for the cover and gets the pin.
Winner: Gunther
---
Backstage: Raquel Rodriguez, Los Lotharios
Kayla is backstage with Raquel Rodriguez, formerly Raquel Gonzalez in NXT. She tells Kayla that SmackDown has one of the most impressive female lockers in all of WWE. In come Los Lotharios. They welcome her to SmackDown. They tell her they would like to welcome her with a kiss. She tells them not a chance as they walk away.
---
In-Ring: Happy Corbin, Madcap Moss
Corbin starts off by saying that this was suppose to be the happiest Happy Talk ever. He's had to think things through and he is ready to admit, there is one person to blame for his loss to Drew. That man is Madcap Moss. Madcap tried to explain himself and Corbin didn't want to hear it. "I think you're getting too big for your suspenders". Madcap says a joke "What do you call me, when I am such a bone head?" Madcap loss. Corbin said that was a terrible joke. He said another bad joke and Corbin said that he should be ashamed of himself. Lately, all of his jokes have been terrible and Corbin will give him a last chance to tell him a good joke, like his job depends on it, because it does. What do you call a guy that treats his friends like garbage? He makes a joke about the way Corbin dresses with another joke "You call him Happy Corbin". Corbin attacks Moss, but Moss fights back and hammers away on Corbin. The fight escalates to the outside. Back in the ring, Madcap Moss clotheslines Corbin to the outside.
---
Backstage: Jinder Mahal, Adam Pearce, Ronda Rousey
Jinder Mahal is backstage talking to Adam Pearce. He demands for an Intercontinental championship match.
Ronda interrupts and asks Adam if she gets her I Quit match. Adam says he will let her know tomorrow.
---
Sami Zayn vs. Drew McIntyre
The bell rings and we are under way. Zayn rolls to the outside of the ring. He gets back in the ring. Drew walks towards Zayn and Zayn rolls to the outside of the ring. Drew goes to the outside and throws Zayn into the barricade. He lifts him up and throws him onto the barricade. He throws Zayn back in the ring. Drew with an overhead belly to belly suplex.
Drew with a chop to the chest. Drew sends him to the ropes but Zayn rolls to the outside. Drew lifts Zayn and throws him onto the announce table. Drew throws Zayn into the ring and Zayn rolls back out. Zayn starts to walk to the back but Drew hits him with a forearm to the back. He lifts Zayn up on his shoulder and throws him into the ring. Drew goes for the Claymore but Zayn rolls out of the ring. Zayn jumps the barricade and leaves. The referee counts to 10 and calls for the bell.
Winner: Drew McIntyre via count out
---
Backstage: Lacey Evans
Lacey Evans is backstage and she cuts a promo about her childhood. She says her father suffered from mental health and her mom got caught in the middle of it all and tried to be the best mom she can be.
But all of the abuse got to her mother and before she started elementary school, she had to move. Her mother picked her up from school and they all left without her father knowing. They went from women's shelters for the rest of her childhood. But moving around as much as she did made her realize she can adapt and she can either live with it or give up. She is different from all the rest.
She went through a lot her life and that is what has made her what she is today. A mother, daughter, sister, wife, US Marine and WWE Superstar. She says that doesn't make her better than any of the other superstars but that doesn't make them better than her.
---
Sasha Banks vs. Liv Morgan
The bell rings and we are under way. Liv with a roll up but Sasha kicks out. A chop to the chest by Sasha followed by an arm drag. Sasha goes for a clothesline but Liv moves out of the way and slams Sasha into the turnbuckle. A drop kick off the top rope by Liv.
She goes for a clothesline but Sasha moves out of the way and Liv to the outside of the ring.
Back from commercial, Sasha with a suplex. She climbs the top rope and the frog splash. She goes for the cover but Liv kicks out. Sasha with a kick to the face but Liv with a knee to the face and both women are down. A back elbow by Liv followed by a kick to the face.
Liv with a running knee to the face. Liv on the second rope but Sasha with a kick to the face. Sasha on the second rope and a suplex but Liv rolls Sasha up and gets the count.
Winner: Liv Morgan
---
Next Week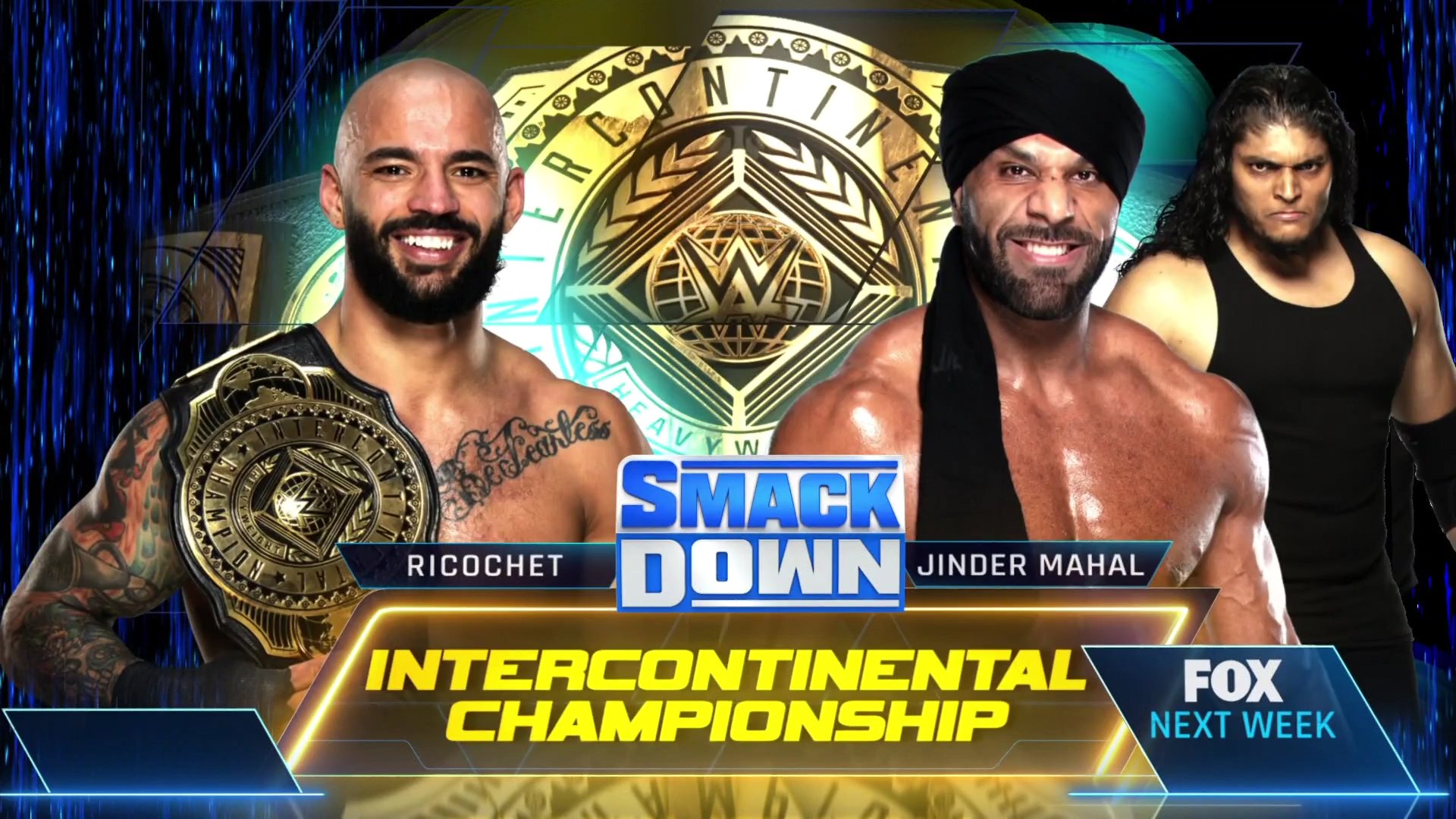 – Intercontinental Championship: Ricochet (c) vs. Jinder Mahal
– Sami Zayn vs. Drew McIntyre
---
In-Ring: Roman Reigns, The Usos, Shinsuke Nakamura
WWE Undisputed Universal champion Roman Reigns is introduced. He walks down to the ring with Paul Heyman and the Usos. Roman is in the ring. He tells Milwaukee to acknowledge him.
He says he wants to share something private that he and his wiseman discussed. He says it pains him to say it but SmackDown and the Universal championship wasn't enough. He says he went to Raw and took the WWE championship.
Roman says when they are talking about what the next step is for the tribal chief, he doesn't think he an do much more. He has done it all. But there is still plenty left for the bloodline to achieve. There were so many historical pictures taken of the bloodline but he saw his two titles but the only thing he really saw was that their cousins only had two titles.
Reigns says he is one man with two titles. They are two men with two titles and that is not enough. He tells Jey that they were going to elevate him for heights he never knew and there is only one way to do that. It's time that they unify the tag team championships too.
Roman tells them he wants them to go to Raw and bring him the Raw Tag Team Championships. Because when they get it for themselves, they get it for the bloodline. They all agree on it. Roman says the bloodline is going to have all of the gold soon.
Out comes Shinsuke Nakamura. He gets in the ring and goes face to face with Reigns. As he is about to speak, Roman lowers his microphone and tells him he doesn't have to say anything. The Tribal Chief understands how he feels. Shin lost his partner, Rick Boogs.
Roman says he understands that. Jey understands that. They lost Jimmy to a knee injury for over a year. HE is a loving and compassionate Tribal Chief. HE completely understands where he is coming from. They have all of the gold and the island of relevancy is an island of love. He says he wants to give him some bloodline love as he hugs Nakamura. The Usos hit him with a superkick.