WWE Raw Results – Aug. 7, 2017 – Reigns vs. Strowman
---
WWE RAW Results
August 7, 2017
Toronto, Ontario, Canada
Commentary: Michael Cole, Corey Graves and Booker T
Results by: Adam Martin of Wrestleview.com
---
In-Ring: MizTV with Brock Lesnar and Paul Heyman
Inside the ring, The Miz has a mic and is joined by Maryse, Bo Dallas and Curtis Axel. Miz is demanding "Kurt Angle's illegitimate son" come out here tonight.
Here comes RAW General Manager Kurt Angle instead. Big reaction for Angle in Toronto. He tells Miz that his son Jason Jordan won't be a guest on the show tonight and reveals Jordan will be facing Curtis Axel later tonight. Angle has instead booked another guest for Miz.
WWE Universal Champion Brock Lesnar and Paul Heyman head to the ring. Lesnar and Heyman circle the ring. When they enter, Axel and Dallas stand in front of Miz. The crowd in Toronto starts up a loud "SUPLEX CITY" chant.
Miz says when his hand goes up, Heyman's mout goes shut and Heyman throws down the mic. He tells Lesnar and Heyman this is his show. Miz says Lesnar is pretty much guaranteed to lose at SummerSlam. He revisits the claim by Lesnar and Heyman last week where they threatened to leave the company if Lesnar loses at SummerSlam. Miz asks Heyman if he has anything to add to his comments. Heyman smiles.
Heyman picks up his mic and introduces himself and his client. He asks if Miz and his lovely wife ever role play? Heyman said he's all about the role play. He says Miz can play Roman Reigns, Bo Dallas can play Samoa Joe and Curtis Axel can play Braun Strowman. Lesnar puts his championship on the shoulder of Heyman. Heyman says his client will now give you a preview of SummerSlam. He exits the ring. Lesnar with a double clothesline to Dallas and Axel. German suplex to Miz. German suplex to Axel. German suplex to Dallas. Lesnar with an F5 on Axel. F5 on Dallas. F5 to Miz. Big reaction for Lesnar in Toronto.
---
Seth Rollins vs. Sheamus w/ Cesaro
Rollins catches Sheamus with a dropkick in the corner right away on Sheamus. Sheamus catches Rollins on the outside off a springboard. Rollins with a kick to the head and then dives off the ring apron to take out Sheamus with Cesaro looking on. Rollins with a springboard clothesline that catches Sheamus back inside. Sheamus crotches Rollins on the top rope in the corner and then knocks him off sending him to the floor.
Sheamus with forearms to the chest of Rollins against the ropes. Sheamus with a rolling senton planting Rollins on the ring. Sheamus with a high knee to Rollins. Rollins immediately fires back with a big kick to the head. Both of those looked pretty stiff. Rollins with a top rope huricanrana and superkick combo for a two count. Rollins with a sling blade and tosses Cesaro off the ring apron. Cesaro with a distraction jumping back up, Rollins tries to knock him away and Sheamus with a roll up for the pinfall.
Winner: Sheamus
After the match, Seth Rollins with a suicide dive catching Cesaro. Sheamus jumps in. Sheamus and Cesaro send Rollins back first into the barricade. Sheamus and Cesaro again whip Rollins into the barricade. They glance back expecting Dean Ambrose. No Ambrose as the Toronto crowd chants for him. Sheamus and Cesaro toss Rollins back inside as they hit a double team side slam and elbow from the corner.
---
Backstage: Seth Rollins and Dean Ambrose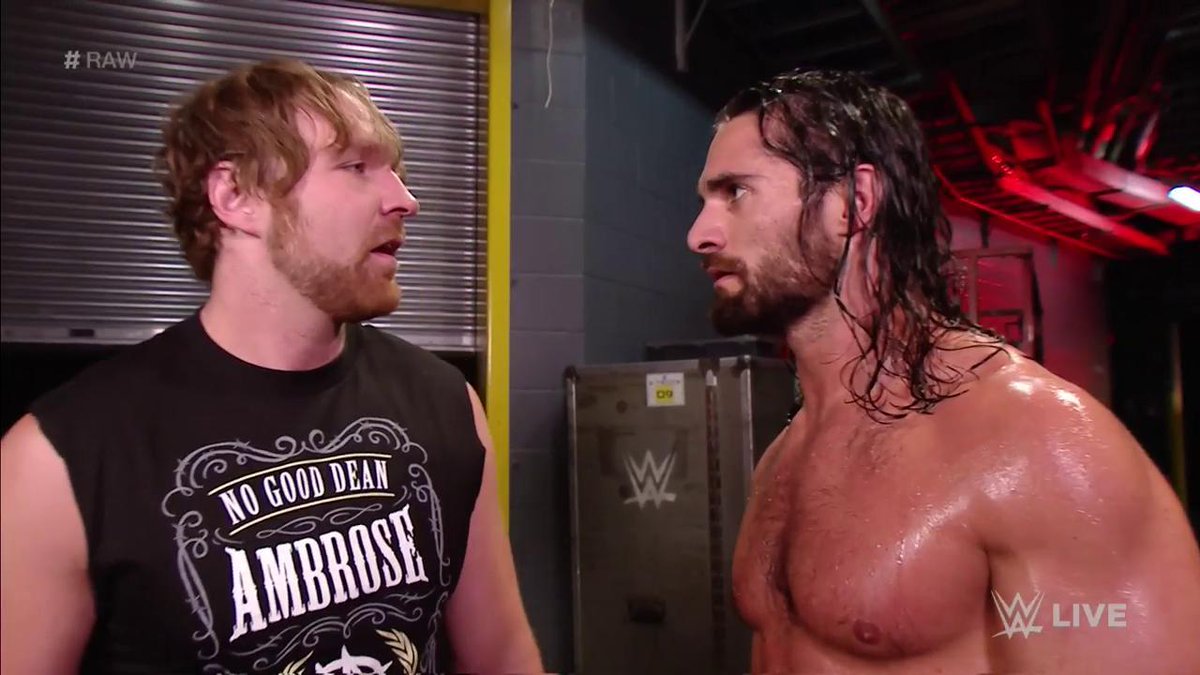 After commercials, backstage, Seth Rollins is recovering from the beatdown when he walks by Dean Ambrose. Ambrose told Rollins to not do that again and now he looks like a jerk. Rollins said Ambrose is a jerk and that it's been three years since he turned his back on him. Ambrose isn't sticking around to find out and plans to go it alone tonight against Cesaro.
---
Jason Jordan vs. Jean-Pierre Goulet
Jason Jordan heads to the ring. Backstage, a doctor is refusing to clear Curtis Axel for the match next. Angle walks up to an unknown local wrestler backstage and tells him tonight is his big chance. The wrestler is in action next against Jordan.
Jordan with a single leg trip quick on Goulet. Toronto starts a "LET'S GO JOBBER" chant. Jordan with another quick takedown. Jordan suplexes Goulet on his shoulder. Goulet throws a big shoulder to the nose of Jordan. Jordan launches Goulet to the corner and then connects with an overhead suplex. Jordan drops the straps and splashes Goulet in the corner. Jordan connects with his lifting neckbreaker for the win.
Winner: Jason Jordan
---
In-Ring: Bayley
Bayley heads to the ring in a sling and is joined by Charly Caruso. They play footage from RAW last week when Bayley hurt her shoulder in a match with Nia Jax.
Back live, Charly points out how she didn't even watch the footage and how Bayley has been pulled from SummerSlam as a result. Bayley said she knew something was wrong immediately with her shoulder when it happened. She knew she has to finish the match with Nia and went through a wide range of emotions this week.
Bayley thanks the fans for tweeting her. A good chunk of the Toronto crowd are booing her. Charly says two triple threat matches will take place tonight and asks her who she thinks will face Alexa Bliss for the RAW Women's Championship at SummerSlam. Bayley says she thinks "The Boss" Sasha Banks will get the job done.
---
Triple Threat Match
Sasha Banks vs. Alicia Fox vs. Emma
Before the match begins, RAW Women's Champion Alexa Bliss walks out and joins Michael Cole, Corey Graves and Booker T on commentary tonight.
Banks dumps Emma out quickly, but Fox runs up with a big kick to the face. Banks with a roll up on Fox from the corner. Emma trips up Banks and gives her a german suplex into the side of the ring. Emma kicks Fox in the face, tackles and throws right hands forcing Fox into a pinfall for a two count. Fox with a northern lights suplex into a bridge for another two count. Emma with a sliding kick to Fox, but Banks out of no where with a huge shot to the side of Emma's face. Banks with knees to Fox and Emma in different corners. Banks drops knees over Fox in the corner. Emma tosses Banks out and covers Fox for a close two count. Emma has a bloody mouth from the shot from Banks earlier. Emma tosses Fox to the corner and hits a drop down splash. Banks breaks up the pinfall and hits a right hand to Emma on the outside. Fox with a roll up for a two count. Banks with a backstabber and rolls through into the Bank Statement on Fox. Emma rolls up Banks. Banks counters and gets the Bank Statement locked in on Emma. Emma taps out.
Winner and advancing to next week: Sasha Banks
Sasha Banks will face the winner of tonight's other triple threat next week. After the match, Banks smiles at Alexa Bliss. Bliss stands up and Graves asks her if she's at all concerned at what Banks was able to do tonight. Bliss gives Corey a death stare.
---
Backstage Interview: Braun Strowman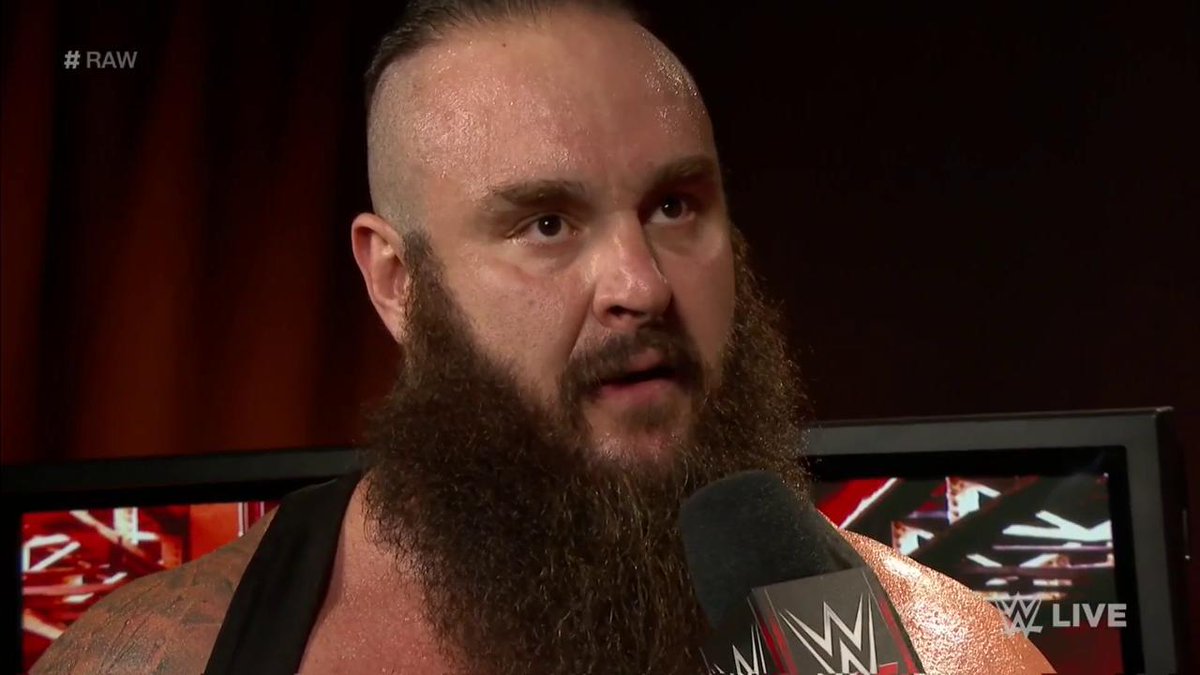 Backstage, Renee Young is with Braun Strowman. Strowman says he likes hurting Roman Reigns and hearing his bones crack. "When I'm around, the big dog is nothing more than a puppy." He says tonight he breaks the spirit of Reigns.
---
Big Show and Enzo Amore vs. Luke Gallows and Karl Anderson
Enzo Amore heads to the ring and introduces the Big Show. Big Show has a mic in hand. Enzo says Big Show looks great and when he lifts him up his head is in the clouds. He puts over Big Show's right fist and how it landed directly on the jaw of Big Cass. Big Show says Cass needs to learn some respect and last week was a hard lesson for him.
Karl Anderson and Luke Gallows walk out to interrupt. Anderson asks Gallows if they are good brothers. Gallows says nope. Anderson says if they are looking for a challenge then they are ready. Gallows says they can add them to a long list of nerds.
Enzo calls refers to them as Dr. Evil and Mini-Me. He wants a referee for a match.
Big Show immediately takes out Gallows and Anderson when the bell rings. Anderson and Gallows bail out of the ring. Corey Graves says Enzo gets confident with a giant around. Anderson is working over Enzo. Anderson cuts off a hot tag to Big Show, but misses a splash on Enzo in the corner. Tag to Gallows who kicks Enzo away when he goes for another hot tag to Big Show. Enzo with rights and then gets dropped with a superkick from Gallows. Big Cass walks out on stage and stares down Big Show. Gallows with a boot to Big Show in the corner. Big Show falls down. Tag to Anderson. Enzo rolls up Gallows, but Anderson with a kick to the face. Anderson hooks the leg and gets the pinfall.
Winners: Luke Gallows and Karl Anderson
After the match, Big Cass with a big boot to Big Show. Enzo Amore dives out and connects with Cass. Enzo with right hands and knees. Cass throws Enzo back first into the barricade. Cass begins to chase after Enzo. Big Show with a KO punch on Cass.
---
In-Ring: Finn Balor and Bray Wyatt
Finn Balor heads to the ring and has a mic in hand. "Toronto…this is Balor Club." He says Bray Wyatt loves to talk and that he gives him the creeps. Balor says one way to stand up to fear is to kick it right in the face. He says the next time Wyatt comes at him, "whatever you want to start, I will finish." The lights go out in the arena.
When the lights return, Balor is sitting up on the turnbuckle and Wyatt is inside the ring laughing. Wyatt charges and Balor flips off the top. Balor catches Wyatt with a kick to the face and the connects with a sling blade. The lights go out in the arena again. When they return, Wyatt is gone and a spotlight is filling the ring as Balor looks around.
Wyatt shows up on the screen laughing. He can tell why the fans like him so much. "Because when you fly, they fly." Wyatt tells Balor to run.
---
Dean Ambrose vs. Cesaro w/ Sheamus
Lock up and Cesaro pushes Ambrose to the corner. Ambrose with a takedown working over the left arm of Cesaro. Cesaro with rights to Ambrose and an uppercut in the corner. Cesaro with more uppercuts to Ambrose. Ambrose with a clothesline and rights. Cesaro with a quick leg drop over Ambrose and then fires back with another clothesline. Ambrose clotheslines Cesaro over the top rope and then launches himself over catching Cesaro. Ambrose gets in the face of Sheamus at ringside. This allows Cesaro to hit an uppercut.
Back live, Cesaro is standing on the top ring post and headbutts Ambrose who crotches himself on the top turnbuckle. Cesaro is looking for a superplex to Ambrose on the floor! Ambrose quickly counters and hits a superplex on Ambrose into the ring. Cesaro connects with a backbreaker on Ambrose for a two count. Cesaro with a right hand to the lower back of Ambrose two times. Ambrose with elbows. Cesaro with a gutwrench and keeps Ambrose dangling over his shoulder in a modified torture rack. Ambrose eats a nasty uppercut from Cesaro. Ambrose with a boot to Cesaro from the corner. Cesaro avoids Dirty Deeds. Cesaro goes for a Sharpshooter. Ambrose fights out of the attempt. Ambrose dumps Cesaro over the top rope, hits the ropes, goes for a suicide dive and Cesaro hits him with an uppercut. Ambrose gets a shoulder up during a pinfall attempt. Cesaro dumps Ambrose over the ropes. Cesaro is attempting a superplex on Ambrose. Ambrose with a cradle roll up for a two count. Cesaro with body shots, kicks Ambrose away and Ambrose fires back with his clothesline bouncing off the ropes. Sheamus with a distraction. Cesaro gets Ambrose locked in the Sharpshooter. Ambrose fights and gets to the bottom rope in the face of Sheamus. Ambrose launches Cesaro over the top rope. Ambrose rolls up Cesaro for the win.
Winner: Dean Ambrose
After the match, Sheamus jumps in and starts attacking Ambrose. Sheamus and Cesaro begin the beat down when Seth Rollins runs out. Rollins with a back body drop on Cesaro to the floor. Rollins tackles Sheamus and then clotheslines him over the top rope. The crowd is cheering for Rollins coming down to help Ambrose. A huge "YES" chant breaks out. Ambrose is just now recovering and getting to his feet. Ambrose extends his fist to Rollins. Big reaction in Toronto. Rollins shakes his head and walks to the back.
---
Backstage: Titus O'Neil, Akira Tozawa, Apollo Crews, Neville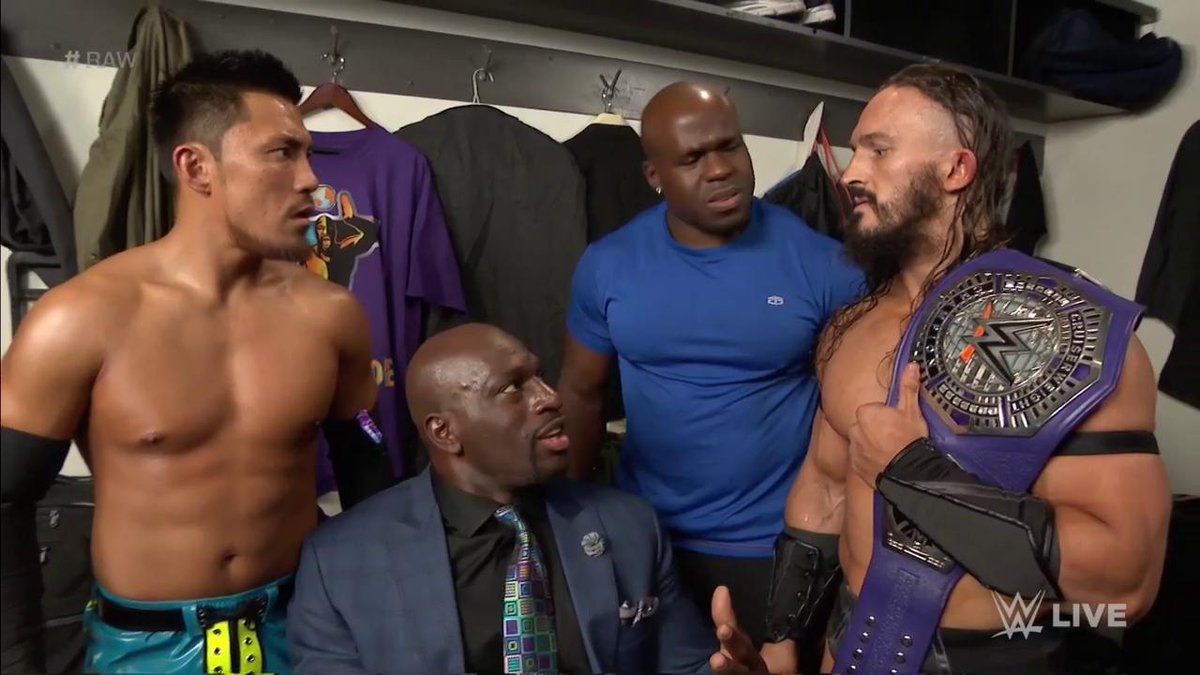 Footage of Akira Tozawa becoming the No. 1 Contender on 205 Live is shown. Backstage, Tozawa is celebrating his win with Titus O'Neil and Apollo Crews. WWE Cruiserweight Champion Neville walks up and says he's here to scout his competition for SummerSlam.
---
Cruiserweight Match
Ariya Daivari vs. Akira Tozawa
Titus O'Neil joins Cole, Graves and Booker on commentary tonight. Daivari with a clothesline early on Tozawa. Daivari with a backbreaker for a two count. Tozawa with body shots and the connects with a snap huricanrana. Tozawa catches Daivari with a jumping forearm that sends Daivari to the outside. Tozawa catches Daivari with a suicide dive, tosses Daivari back in and gets another two count. Tozawa connects with a side back suplex, goes up top and connects with a huge senton bomb to get the win. After the match, Titus O'Neil runs down and celebrates with Tozawa.
Winner: Akira Tozawa
---
Backstage Interview: Roman Reigns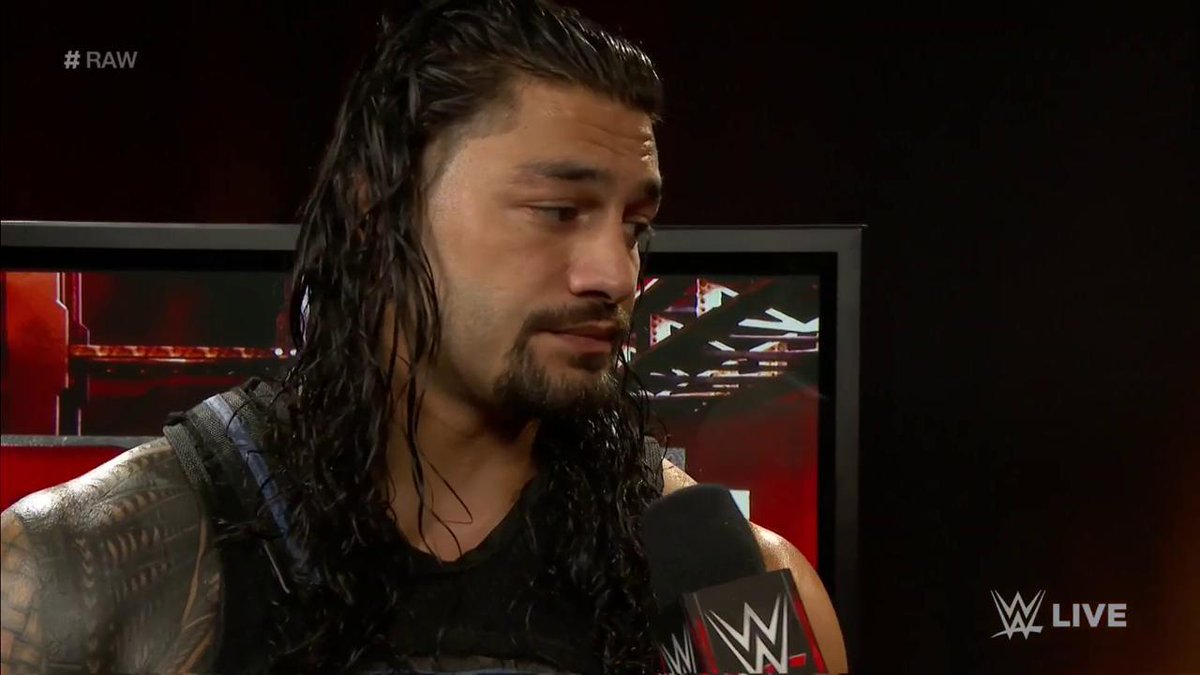 Backstage, Renee Young wants to know what Roman Reigns thinks about Brock Lesnar showing up on MizTV. Reigns says he wasn't afraid to retire The Undertaker at WrestleMania and he isn't afraid to do the same to Lesnar at SummerSlam.
---
Triple Threat Match
Mickie James vs. Dana Brooke vs. Nia Jax
Alexa Bliss is back on commentary. Jax tosses Dana and James aside quickly. Jax tosses James at Dana who hit the ropes. Jax misses a splash attempt in the corner on both James and Dana. James and Dana exchange rights and elbows. James with a kick. Dana with a kick. We see Sasha Banks watching backstage. Jax is back in and levels James. Dana dropkicks Jax to the corner. Jax then levels Dana with a huge clothesline jumping from the corner. Jax tosses Dana over her head. James with a takedown on Jax off the top rope and tries to cover Dana. Jax breaks it up, tosses James outside and backs Dana to the corner. Jax powers Dana down to the mat and then drops a big leg drop over Dana to get the pinfall.
Winner and advancing to next week: Nia Jax
Sasha Banks vs. Nia Jax is now officially set for next week. The winner will face Alexa Bliss for the RAW Women's Championship at SummerSlam. Jax, with a serious look, points up at Bliss. Bliss says Jax looks a little serious, but must be caught up in the moment.
---
Segment: Goldust
Goldust teases the possibility of becoming a manager for a talent in WWE.
---
Backstage: Kurt Angle and Big Cass
Backstage, Big Cass walks in Kurt Angle's room and says he wants a match with Big Show at SummerSlam. He doesn't want Enzo Amore anywhere near Brooklyn. Angle suggests a shark cage. Cass agrees and wants Enzo suspended above the ring in a shark cage. Angle agrees and thinks the match has a lot of potential.
---
Last Man Standing Match
Roman Reigns vs. Braun Strowman
Back live, Roman Reigns walks out to a chorus of booing in Toronto. Strowman immediately goes after Reigns and tosses him easily back inside the ring. Strowman catches Reigns with an elbow after he tosses him into the ropes. The referee begins the count. Reigns is up at 4. Strowman bounces the head of Reigns off his knee. Reigns with right hands. Strowman with a shoulder block that sends Reigns flying to the outside through the ropes. The referee begins the count. Reigns is back to his feet at the 4 count.
Back live, Reigns with clotheslines to Strowman in the corner. Reigns has part of the steel ring steps and hits Strowman with it. Strowman is down. Strowman is back up at 2. Reigns knocks Strowman down again using the steel steps. Reigns bounces the steel steps off the chest of Strowman! Reigns drops the steps again over Strowman. The referee begins the count. Strowman avoids a Superman attempt. Strowman dumps Reigns to the corner and drops Reigns with a twisting powerbomb off his shoulders! The referee begins the count. Reigns is back to his feet at the 8 count. Reigns catches Strowman with a Superman. Both men are down as the referee begins the count. Strowman with a dropkick launching Reigns back to the corner. Strowman is up at the 4 count as Reigns remains down. Reigns is up at 7. Strowman misses a charge in the corner and falls to the outside. Reigns catches Strowman with his drive by dropkick. Strowman is on one knee as the referee begins the count. Reigns pulls out a table from under the ring and slides it inside the ring. Reigns attempts another drive by and Strowman cuts him off on the ring apron. The referee counts. Strowman is up and inside the ring at 5. Reigns is up at 8 leaning against the ropes. Strowman is setting up the table. Reigns with right hands. Reigns gets Strowman on his shoulders, has some trouble and then drops Strowman back in a samoan drop crashing through the table! Both men are down as the referee begins the count. Reigns is up at 8 just as Strowman rolls out and gets to his feet. Reigns is running at Strowman on the floor. Strowman literally throws one of the fancy chairs at Reigns! Reigns fights to his feet at 9. They brawl near the announce table area on the stage. Reigns with a drive by to Strowman. Strowman throws Reigns into the LED walls. Strowman does this a second time as the referee begins the count. Reigns is back up before the 10. Reigns with a Superman to Strowman. Strowman is still up. Reigns with another Superman. Strowman won't go down. Strowman gets a boot up when Reigns goes for a spear. Reigns catches Strowman with a spear near the end of the stage. Both men are down. The referee counts. Reigns is up at 8. Samoa Joe grabs Reigns from the crowd and applies the rear naked choke. Joe has Reigns down locked in. Reigns is out as Joe lets it go. Both men are down. Samoa Joe is standing nearby. The referee begins the count. Strowman is up at 9. That's it.
Winner: Braun Strowman
---
Quick Match Results
* Sheamus def. Seth Rollins
* Jason Jordan def. Jean-Pierre Goulet (local wrestler)
* Sasha Banks def. Alicia Fox and Emma in a triple threat match
* Luke Gallows and Karl Anderson def. Big Show and Enzo Amore
* Dean Ambrose def. Cesaro
* Akira Tozawa def. Ariya Daivari
* Nia Jax def. Mickie James and Dana Brooke
* Braun Strowman def. Roman Reigns in a Last Man Standing match
AUTHOR'S LINK: