WWE Raw Results – Feb. 12, 2018 – Second Chance Fatal 5-Way
---
WWE RAW Results
February 12, 2018
San Jose, California
Commentary: Michael Cole, Corey Graves and Jonathan Coachman
Results by: Mike Tedesco of Wrestleview.com
---
In-Ring: John Cena, The Miz, Kurt Angle
John Cena's music hits, and the 16-time World Champion makes his way to the ring as the crowd sings, "John Cena sucks," to the tune of his music. Footage is shown of Elias pinning John Cena following a Running Powerslam from Braun Strowman. Elias will be the last entrant into the Elimination Chamber. Strowman destroyed Elias and Cena after the match. Cena says the past is the past. It's all about the here and now. We're on the road to WrestleMania. People know the importance of WrestleMania. If you're watching at home, there with them tonight or a WWE Superstar in the ring, you all know what WrestleMania means. WrestleMania can bring a legend back from the dead and can be the most important moment in the life of a WWE Superstar. Who will get to make a moment at WrestleMania. Cena is here to face the truth. The truth is in two weeks, he has to win the Elimination Chamber match. The crowd boos that. Cena says if he doesn't win that match then for the first time in 15 years, he's not sure he has a road to WrestleMania. Cena has to win the most un-winnable match in WWE history to face the most unbeatable champion in WWE history. Cena loves making impossible absolutely possible. Cena says he will win the Elimination Chamber and will go on to make history against Brock Lesnar in the main event of WrestleMania.
The Miz makes his way to the ring with The Miztourage. Miz says this isn't 2013. This is 2018, the year of The Miz. Maybe Cena has spent too much time in Hollywood where he can't differentiate fantasy from reality. Cena is the founding father of Suplex City. Miz says he'll be main eventing WrestleMania because that's where the Intercontinental Championship belongs. Miz will be the first-ever WWE Universal Champion and Intercontinental Champion at the same time. Cena says no one believes that. Miz would not have a shot against Brock Lesnar. If that match happened, it'd be Miz' last match. Miz says he matches up well against Brock Lesnar and has defeated Roman Reigns multiple times. Cena says he still has to make it through Elimination Chamber. Cena says he sounds awful confident. Miz says he's outsmarted people in the main event of WrestleMania… like he did to Cena.
Cena says we could be in the middle of Miz Country, so let's make it Miz vs. John Cena. To make it interesting, the loser of the match enters the Elimination Chamber first! Miz asks if Cena thinks he's stupid. The first person in has the worst odds. Why would he take that chance? The Miztourage then attacks Cena and lays him out with a double-team slam. Miz takes off his jacket. Miz says he's smarter than Cena, so that's why he'd take that chance.
Kurt Angle's music hits, and the RAW General Manager makes his way to the stage. Angle says that's not how we'll start RAW. Angle likes Cena's challenge. He also likes the idea of the loser entering Elimination Chamber first. Angle books the match, and a referee comes out. Speaking of eliminations, Bo Dallas and Curtis Axel are eliminated from ringside.
---
John Cena vs. The Miz
Loser enters Elimination Chamber first
The Miz frantically tells The Miztourage to leave and begs the referee to ring the bell. The bell rings, and Miz quickly covers Cena for a two count. Miz punches away at Cena for another near fall. We come back from a break to see Miz knock Cena off the apron. Miz exits the ring and sends Cena into the barricade. Miz gets him back in the ring and goes to the top rope. Miz comes off the top rope and hits a double axe handle for a two count. Miz attacks Cena's lower back before Cena gets the knees up. Cena then dropkicks Miz down for a two count. Cena hits a fisherman's suplex for a two count. Miz quickly knees him a few times and boots him in the head twice. Miz hits a running boot to the face for another two count. Miz punches away at Cena's midsection in the corner. Miz backs up and runs into a back elbow. Cena comes off the second rope with a tornado DDT for a near fall. Miz reverses a whip and applies a sleeper hold. Cena goes down to a knee, but eventually fights up. Miz jumps on the back to try to wear him down quicker. Cena collapses to the mat. Miz really cinches it in.
We come back from the break to see Miz go for a Skull Crushing Finale, but Cena gets out. Cena goes for an Attitude Adjustment, but Miz gets out and takes him down for a Figure Four Leglock. Cena fights out of it and applies an STF. Miz claws his way to the bottom rope and gets a hand on it. Miz holds his back on the apron. Cena tries to bring him back into the ring, but Miz counters him by snapping him off the top rope. Miz pulls his way up to the top rope and goes for a cross-body block, but Cena rolls through and picks him up. Cena goes for an AA, but Miz gets out and hits a kneeling DDT for a near fall. Miz charges and connects with his patented corner clothesline. Miz tries for a second one, but Cena counters with an AA! Cena covers, but Miz kicks out. Cena goes to the top rope, but Miz shakes the ropes to knock him off. Miz then applies the Figure Four Leglock in the middle of the ring. Cena fights out of it and counters a punch into a crossface, which Michael Cole inexplicably calls an STF. Miz gets his way to the bottom rope to break the hold. Miz sidesteps Cena and hits a Skull Crushing Finale for a near fall.
Miz and Cena take a few moments before moving. Miz gets Cena up and puts him on the top rope. Miz goes for a top rope Skull Crushing Finale, but Cena counters into a super AA for the win.
Winner by Pinfall: John Cena
John Cena immediately leaves the ring and goes into the front row to talk to a handicapped person. That was a really sweet moment. The Miz will be the first to enter the Elimination Chamber match.
---
Backstage: Matt Hardy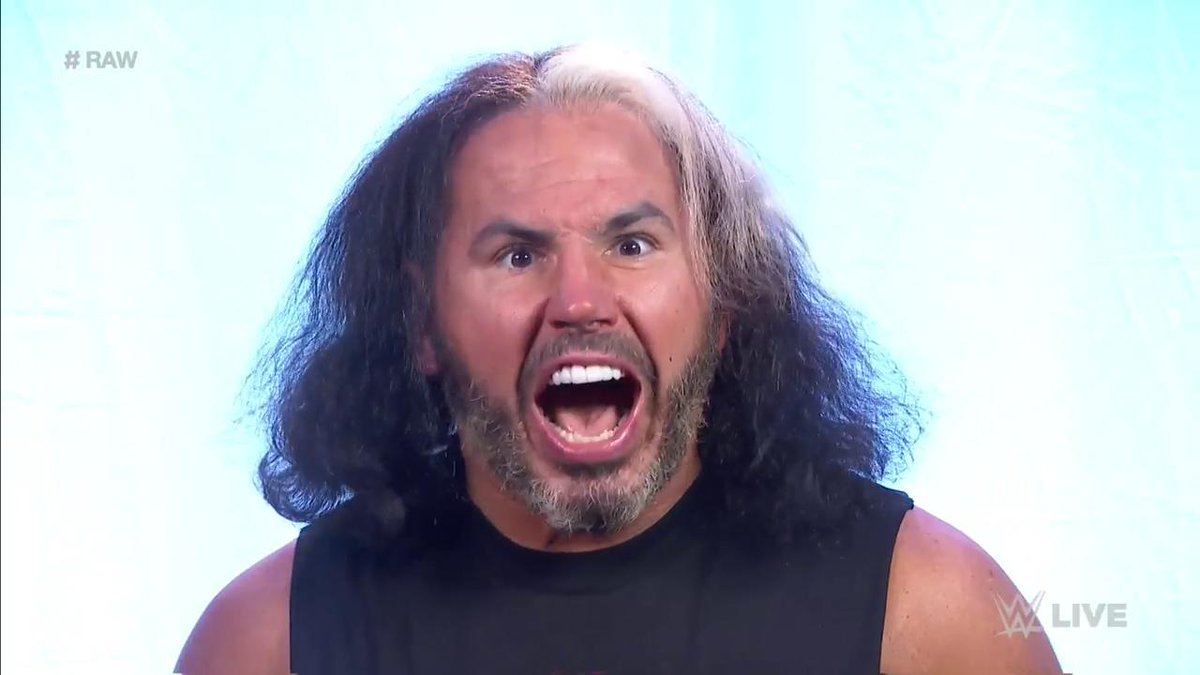 Matt Hardy's graphic appears on the screen and we see him backstage. Hardy says he has a second chance to fulfill his destiny. Standing in his way are three other vessels that don't know their second chance is over. The seven deities have blessed him with the power to make them obsolete. Hardy will achieve success and turn the Elimination Chamber into the DELETION CHAMBER! A "DELETE" chant fires up.
---
Backstage: Anderson and Gallows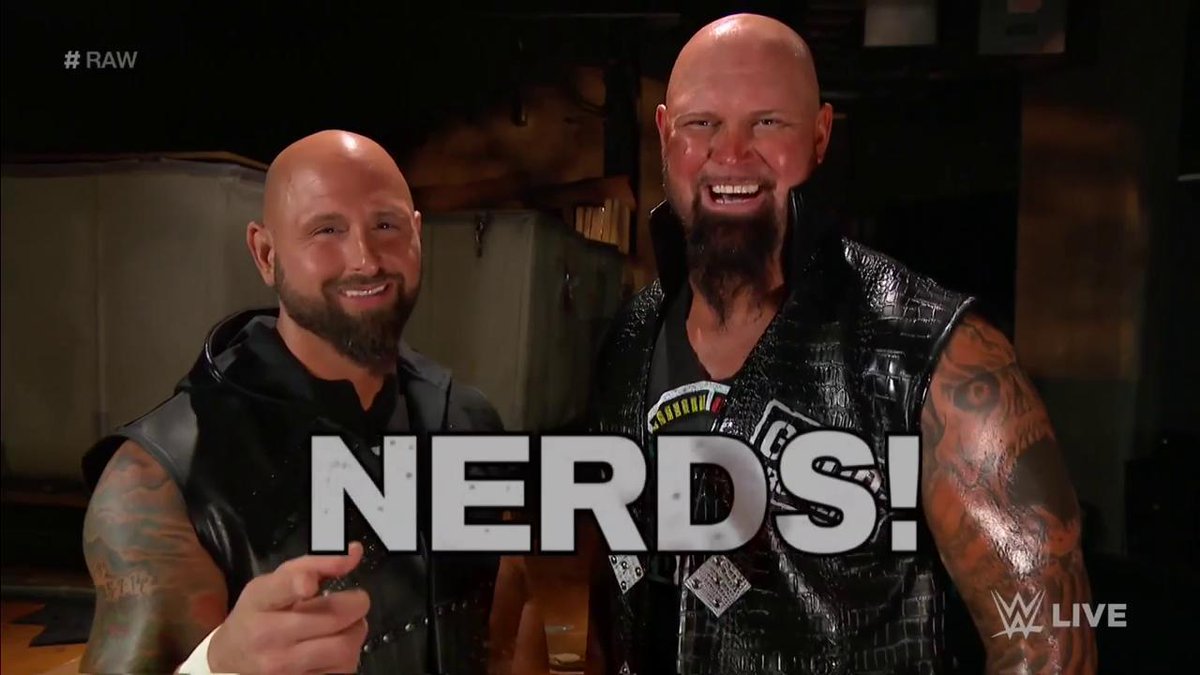 Anderson and Gallows are backstage talking about The Revival making their Nerd-O-Meter go off the charts. Knowing every tag team since 1902 makes them NERDS!
---
Gallows and Anderson vs. The Revival
The Revival attacks them from behind while they're making their entrance. They chop block Gallows and give Anderson a double-team clothesline on the floor. The Revival gets in the ring and waits to see if Gallows and Anderson can get up and compete. Gallows and Anderson get to their feet and get in the ring, but The Revival runs off. The referee holds them back and tries to get order before he can ring the bell to start the match.
Scott Dawson will start the match against Luke Gallows. Gallows punches away at Dawson and shoves him to the corner to punch away at him. Gallows then avalanches Dash Wilder off the apron. Gallows then floors Dawson with an uppercut. Gallows throws Dawson across the ring and continues punching him in the corner. Gallows sends him into the ropes and big boots him down. Wilder then charges in, but Gallows gives him a back body drop. Anderson then gets him out of the ring and attacks. The referee tries to get Anderson to go to the apron. Gallows throws Wilder over the top rope, but Dawson quickly takes him down with another chop block.
We come back from the break to see Dawson pulling off Gallows' kneepad and punching away at the exposed limb. Wilder tags in and continues the attack on the knee. Wilder then applies a leg lock. Gallows gets out with some stiff kicks to the back with his good leg. Gallows fights him off, but Dawson tags in. Gallows superkicks him out of mid-air.
Anderson and Wilder tag in. Anderson hits a pair of clotheslines followed by a running kick. Anderson knocks Dawson off the apron and kicks Wilder in the face while yelling, "HEE-YAH!" Anderson takes Wilder down and Gallows pulls Dawson out of the ring. Wilder nearly gets the win on a roll-up, but Anderson kicks out. Anderson hits a big spinebuster for a near fall. Anderson charges, but Dawson blind tags in. The Revival hits Shatter Machine for the win.
Winners by Pinfall: The Revival
---
In-Ring: Kurt Angle and Seth Rollins
Kurt Angle says he's here with mixed emotions. In two weeks at Elimination Chamber, Ronda Rousey will be signing her RAW contract. That gets some boos. As for his son Jason Jordan, last week he had an MRI and was told he would have to get surgery. Jordan had neck surgery the next day and will unfortunately miss WrestleMania. That gets a loud pop and a "YES" chant. Angle says he's tried to keep a cool head, but as a father, if you're happy about a WWE Superstar being injured and missing WrestleMania, then they should be ashamed of themselves. Jordan may not be their favorite superstar, but they should wish him well.
Seth Rollins, Jason Jordan's tag team partner, makes his way to the ring with slightly modified music. Rollins says he's sorry about Jordan. The truth is he's a good kid in a tough spot. Rollins has been there. A few years ago, he was the WWE Champion. As a matter of fact, he won the title a few miles up the street at Levi Stadium where he cashed in his Money in the Bank contract, beat Roman Reigns and Brock Lesnar, and shocked the world. Rollins was on top of the world until it all came tumbling down. Rollins tore up his knee, had to forfeit the title, and miss WrestleMania. WrestleMania moments are not guaranteed. It's right around the corner. Rollins doesn't have a partner, a match at Elimination Chamber, a title opportunity, or a match at WrestleMania. Angle says last week was supposed to be his last shot at the Tag Team Titles, but he can find another partner. Rollins says, "Thanks, but no thanks." Angle wanted Rollins to be a big piece of Monday Night RAW. Rollins doesn't want to be a PART of Monday Night RAW. Rollins wants to BE Monday Night RAW. Rollins wants to turn this place back into Monday Night Rollins. Rollins wants to be the man one more time. Rollins wants Brock Lesnar, the Universal Championship, and he wants it at WrestleMania.
The only way he can do that is if he wins the Elimination Chamber match. Angle says he loves the enthusiasm, but he can't cancel the match tonight. Rollins wants to earn his shot. Let's take the Second Chance Fatal 4-Way and turn it into a Fatal 5-Way with him in the match. A loud "YES" chant breaks out. Angle tells him to not put him in a bad spot because that is unfair to the other wrestlers. Rollins says he comes out here every week and puts his body on the line. Jason Jordan missing his WrestleMania moment sucks, but that doesn't mean he has to miss his. Angle says it's ultimately not up to him. It's up to the fans. Do they want him to give Rollins an opportunity at the Elimination Chamber? A loud "YES" chant breaks out. Angle says he's in the match. Rollins is elated and shakes hands with Angle.
---
Backstage: Bray Wyatt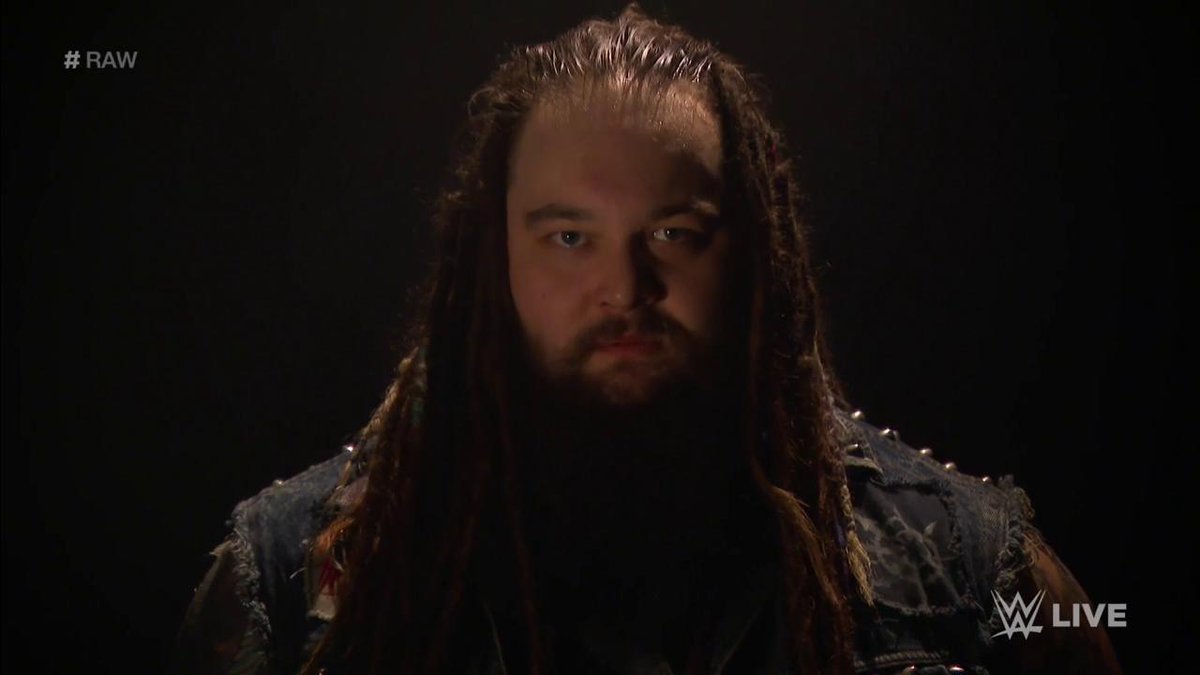 Bray Wyatt's video flashes and he's seen backstage. Wyatt says Rollins has been added to their game, but he doesn't deserve a chance, just like the other three in the match don't. Matt Hardy is in desperate need of help. Wyatt knows how to fix him. Wyatt knows how to fix them all. Wyatt says when he wins Elimination Chamber and goes to WrestleMania to slay the beast, he'll once again have the whole world in his hands.
---
Sasha Banks vs. Bayley
The bell rings, and they circle the ring. A loud "Bayley" chant fires up. This is Bayley's hometown. Bayley rolls Banks up for a one count. Bayley catches her with a backslide pin for a one count. Bayley wrenches the arm and catches her with la magistral for a one count. Banks kicks her in the midsection before sending her to the corner. Bayley hits a back elbow and comes off the second rope with an arm drag. Bayley then dropkicks her down. Banks powers her to the corner and punches away at her. Banks tries to take her down by the arm, but Bayley hooks a side headlock. Bayley is whipped off, but she shoulder blocks her down. Banks tries for a surprise Bank Statement, but Bayley gets out. Banks takes her down and hits a flying knee to the face for a two count. Banks wrenches the arm, but Bayley fights up. Banks forearms her in the face and throws her out of the ring. Bayley smiles and gets on the apron. Banks then dropkicks her off. Bayley gets in the ring and powers Banks to the corner before shouldering her. Banks sidesteps her and snaps Bayley's bad shoulder off the ropes.
We come back from the break to see Bayley fight out of a straightjacket submission, but Banks immediately snaps the shoulder for a near fall. Banks talks a little trash while attacking the shoulder. Bayley counters a double knee, but her shoulder is too hurt to follow up. Banks powers her to the corner and hits a double knee. Banks then mocks Bayley, and Bayley floors her with a desperation clothesline. They trade punches before Bayley takes her down with a Thesz Press. Bayley forearms her before powering her to the corner. Bayley strikes away at her before hitting a back suplex. Bayley snaps her off the ropes for a near fall. Bayley kicks her in the face and makes her way to the top rope. Banks avoids the diving elbow, and Banks quickly follows up with the Bank Statement! Banks tries to kick the ropes away, but Bayley eventually makes it there. Bayley then rolls her face-first into the middle turnbuckle. Bayley knocks her back and goes for a superplex, but Banks fights her off. Bayley then charges up and hits a super Bayley-To-Belly for the win.
Winner by Pinfall: Bayley
Bayley celebrates the win in her hometown and poses on the turnbuckles. Bayley then turns to Sasha Banks and stares at her. Bayley then moves her to the side, and Nia Jax comes from out of nowhere to avalanche them. Jax hits Bayley with a Samoan Drop before scooping up Banks for a Samoan Drop. Jax then leaves the ring.
Charley Caruso stops Nia Jax on the stage and asks why she interrupted a moment that had nothing to do with her. Jax says this has everything to do with her. Those two took Asuka to the limit over the past two weeks, and she just destroyed them in seconds. Only one woman can beat the streak of Asuka, and you're looking at her.
---
Backstage: Seth Rollins, Roman Reigns, The Bar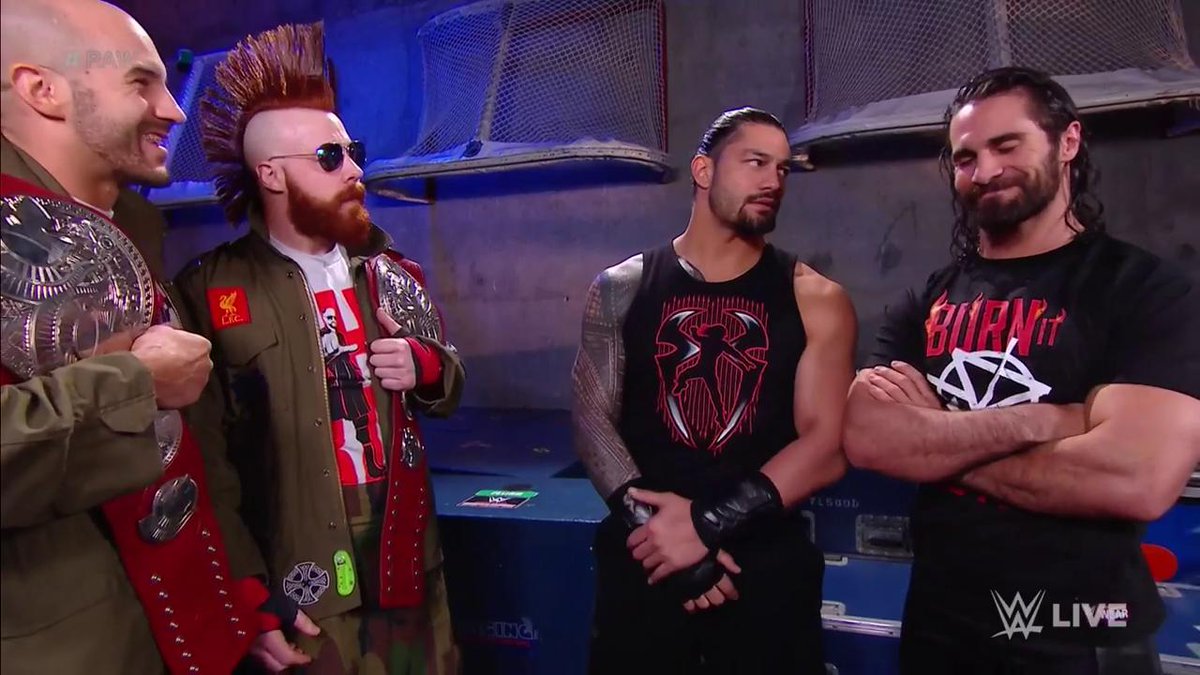 Seth Rollins is standing backstage when Roman Reigns comes up to him. Reigns says Rollins worked his magic and made it a Fatal 5-Way. Rollins says he couldn't let Reigns have all the fun inside Elimination Chamber. Reigns says he'll eliminate him like he did at the Royal Rumble. The Bar comes up to them. Sheamus says with Rollins' track record, he will fail once again. Reigns looks at Cesaro's braces and asks what happened to his mouth. Oh yeah… he ran into The Shield. As for Sheamus, he'll find out tonight.
---
Video: Asuka's Undefeated Streak
They play a video package of Asuka's incredible undefeated streak. Asuka will face Nia Jax at Elimination Chamber. If Nia Jax beats Asuka, she'll be entered into the title match at WrestleMania.
---
Backstage: Titus Worldwide
"Tonight, I'm going to take one small step for @ApolloCrews, and one giant leap for #TitusWorldwide!" #CrewsCantLose #RAW @TitusONeilWWE @DanaBrookeWWE pic.twitter.com/Q7Gh0mBrog

— WWE (@WWE) February 13, 2018
Renee Young is backstage with Titus Worldwide. Titus O'Neil takes the microphone and asks Apollo Crews if he's worried about being deleted by Matt Hardy. Crews says he's here to create history. O'Neil asks if he's afraid of the Eater of Worlds. Crews says Wyatt cannot digest him. Can he beat Rollins and his "burn it down" attitude? Crews says he'll extinguish that fire and isn't waiting on line at the Balor Club. Dana Brooke says, "Crews can't lose." O'Neil loves it, and they dance while chanting that.
---
Backstage: Alexa Bliss and Mickie James
Alexa Bliss is walking backstage when she bumps into Mickie James. Mickie asks why Bliss saved her and is now teaming with her. Bliss says she's tired of the newbies running RAW and figured she'd want payback. Most importantly, she wants to clear the air with them. A few months ago, she said some things she didn't mean. Mickie says, "What about it, biscuit butt?" Bliss says she's jealous of her because she's a 6-time champion and a mother. She can't believe she can balance that. Bliss says if Absolution works together at Elimination Chamber, they're screwed. Mickie says she appreciates what Bliss did. They can be teammates tonight, but at Elimination Chamber she's coming hard for the title.
---
Absolution w/ Paige vs. Mickie James and Alexa Bliss
Mickie James will start against Mandy Rose. They lock up, and James takes her down with a headlock. Rose grapevines the head, but James gets out. James dropkicks her down for a one count. Rose reverses a whip and elbows her. Sonya Deville tags in and hits a waistlock takeover. James kicks away at her and hits a running forearm. Alexa Bliss tags in, and they hits a double-team back elbow on Deville. Bliss hits Insult to Injury for a near fall. James tags in and knees Deville in the face for a two count. Deville powers her to the corner and shoulders away at her. James comes back with a hurricanrana followed by a Thesz Press. Rose distracts her, and Deville attacks from behind for a two count. Rose tags in and applies an abdominal stretch incorrectly. James gets out of it and avoids a kick. James then hits a neckbreaker. Paige distracts Bliss, and Deville pulls her off the apron. Rose attacks from behind and hits the Bed of Roses for the win.
Winners by Pinfall: Absolution
Absolution double-teams Mickie James until Alexa Bliss makes the save.
---
In-Ring: Elias and Braun Strowman
Elias is in the ring. Photos are shown of him getting the win over John Cena and Braun Strowman last week. Elias greets the crowd and strums the guitar a bit. Who wants to walk with Elias? Elias says that was pathetic. The best part about this city is it's not too far away from a real city like San Francisco. Who is he kidding? Every city in California is a toxic dump. He's the man that defeated John Cena and Braun Strowman in the same place at the same time, so he's the odds on favorite to win the Elimination Chamber. Then he'll go on to WrestleMania. The entire world will know that WWE stands for Walk With Elias.
Elias likes the sound of that, just like he likes the sound of his voice. He wrote a song called, "The Elimination Chamber Blues." He'll play it right now as long as they silence their phones and shut their mouths. Elias sings about six men entering, but the loud booing causes him to stop. Elias says if that's how they're going to be, then he's not going to sing. A loud "YES" chant fires up. His vocal cords are already warmed up and he sounds great, so he must continue. Elias sings that the Big Dog won't win because nobody believes. The Miz should stick to Miz TV. The songs he wrote for Miz weren't for him. They were for Maryse. As for John Cena, the future is right here. Elias starts singing about Braun Strowman until JoJo cuts him off to announce Braun Strowman.
A spotlight shows Braun Strowman sitting on a stool with a microphone in front of him. Strowman leaves the spotlight and brings back a bass cello. Strowman strums it until the string breaks. Strowman sings that he's not finished with Elias. Elias will, "Get these hands." The crowd loves this. Strowman says he doesn't know his own strength and broke the strings, so there's only one thing left to do with it. Strowman puts it on his shoulder and marches down to ringside. Elias waits with the guitar before calling a truce.
Strowman gets on the apron, and Elias attacks him while entering the ring. Elias tries to hit him with the guitar, but Strowman grabs him. Strowman says he got him twice with that and won't get him again. Strowman clubs him down before hitting a Running Powerslam. Elias is crawling away from the ring. Strowman goes outside and grabs the bass cello. Strowman follows him up the stage and SMASHES the bass cello off Elias! Referees run out to help Elias!
---
Backstage: Finn Balor
Finn Balor talks about winning Elimination Chamber and getting a shot at the title he never lost.
---
Sheamus w/ Cesaro vs. Roman Reigns
They lock up before giving a clean break. Sheamus wrenches the arm, but Reigns turns it on him and applies a hammerlock. Sheamus gets to the ropes and pushes Reigns. Reigns ducks a clothesline, but Sheamus punches him to the corner. Reigns has a whip to the corner reversed on him, but he quickly pops out with a clothesline. Sheamus rolls out of the ring, and Cesaro gives him a pep talk. Sheamus gets back in the ring, and Reigns quickly clotheslines him out of the ring. Cesaro gives Sheamus another pep talk. Sheamus pulls Reigns out of the ring, but Reigns blocks a toss into the ring post. Reigns sends him into the barricade and slams him off the apron. Reigns then sends him into the barricade a second time and rolls in the ring to break the count-out up. Reigns then scares Cesaro back. Sheamus then hits a rolling senton on the floor!
We come back from the break to see Reigns trapped in an overhead wristlock. Reigns fights out and hits two clotheslines before hitting a leaping clothesline. Sheamus boots him back and sends him shoulder-first into the ring post. Sheamus then hits the Irish Curse Backbreaker for a near fall. Sheamus stomps away at the midsection before applying an Irish Cloverleaf. Reigns nearly gets to the bottom rope, but Sheamus drags him away. Reigns twists out and knocks him back before hitting a Samoan Drop for a near fall. Reigns goes for a Superman Punch, but Sheamus counters into White Noise for a near fall. Sheamus sets up for a Brogue Kick, but Reigns counters with a Superman Punch for a near fall. Sheamus counters a Spear with a kick and charges, but Reigns counters that with a sit-out powerbomb for a near fall. Reigns sets up in the corner, but Cesaro distracts him. Sheamus rolls him up for a near fall. Sheamus quickly knees him in the face for another near fall. Sheamus cannot believe he didn't put him away with that and argues with the referee.
Reigns rolls out of the ring and back body drops Cesaro into the crowd before hitting him with a Superman Punch. Sheamus attacks him from behind, but Reigns soon sends him face-first into the ring post. Reigns goes for a Drive-By Dropkick, but Sheamus clotheslines him down. Sheamus gets him in the ring and goes to the top rope. Sheamus leaps, but Reigns connects with a STIFF Spear out of mid-air for the win!
Winner by Pinfall: Roman Reigns
---
Video: Ivory in the Hall of Fame
Ivory is the latest inductee into the WWE Hall of Fame: Class of 2018
---
Ronda Rousey will sign a contract for Monday Night RAW at Elimination Chamber.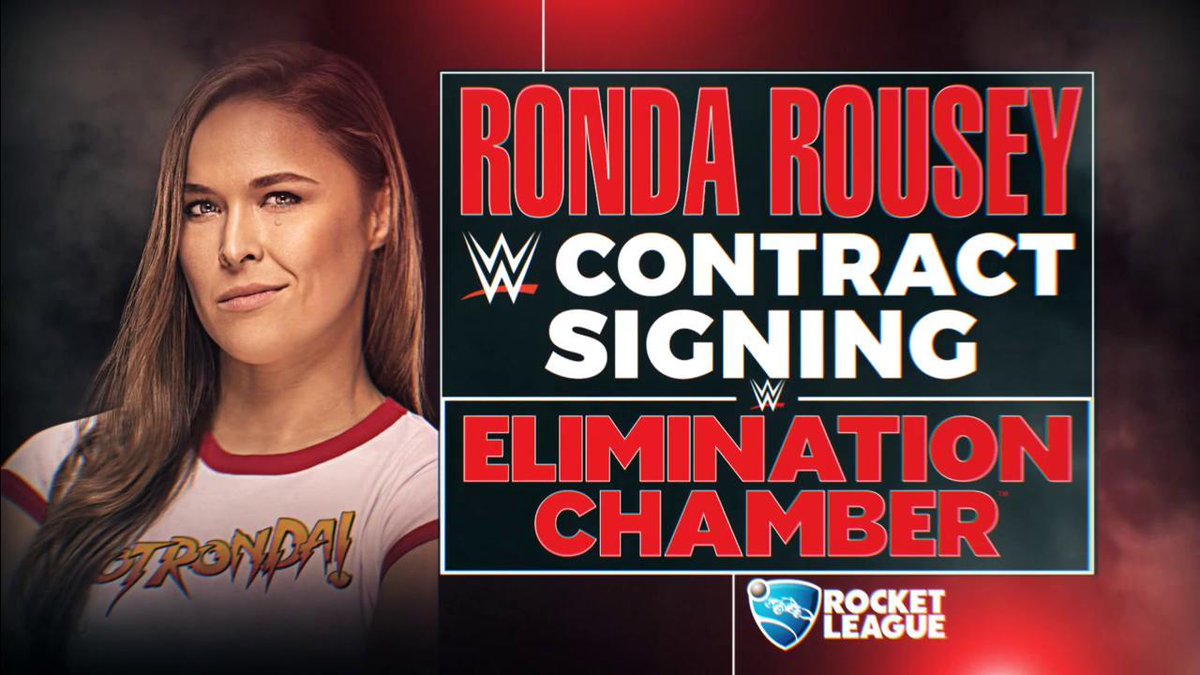 ---
Second Chance Fatal 5-Way Match
Bray Wyatt vs. Matt Hardy vs. Apollo Crews vs. Seth Rollins vs. Finn Balor
We join the match in progress. Wyatt gives Hardy a DDT on the apron. Apollo Crews knocks Wyatt off the apron and hits a moonsault block to the floor. Crews kicks Balor down before clotheslining Rollins. Balor drops Crews on the apron and kicks him to the floor. Balor hits a pair of clotheslines on Rollins before taking him down and giving him a double stomp. Balor catches Wyatt coming in and slams him, but Hardy breaks up the pin. Balor goes to the top rope, but Hardy cuts him off and goes for Splash Mountain. Rollins superkicks Hardy before superkicking Balor. Wyatt then wipes Rollins out with a flying body block. Wyatt goes for Sister Abigail, but Rollins rolls him up for a two count. Rollins then superkicks him in the head, but Balor breaks up the pin. Rollins sends Balor out of the ring and knocks Hardy to the floor. Rollins goes to the top rope, but Crews cuts him off. Crews goes for a superplex, but Hardy stops it. Hardy and Balor then try for a Tower of Doom, but Wyatt breaks it up. Wyatt throws Balor out of the ring before clotheslining Hardy. Wyatt tosses Crews away and hits a slam on Rollins. Wyatt then takes Crews down and hits a senton splash for a near fall.
We come back from the break to see Wyatt avalanche Balor in the corner and arc his back, but Hardy is just clapping for him. Wyatt is stunned by him. Hardy is applauding Wyatt. Hardy ducks a clothesline and punches away at him while loud "DELETE" chants break out. Hardy goes for a bulldog, but Wyatt pushes him off. Hardy then hits Wyatt with a Side Effect before hitting a second one on Balor. Hardy elbows Waytt in the back of the head before going for a Twist of Fate, but Rollins wipes him out with a springboard clothesline. Rollins chops Wyatt to the corner. Rollins boots him back and hits a double blockbuster on Wyatt and Crews. Rollins looks at the WrestleMania sign before hitting Balor with a suicide dive. Rollins gets in the ring and hits Hardy with a suicide dive. Rollins gets back in the ring and hits a third suicide dive on Wyatt! Rollins gets in the ring and knees Crews before hitting suplex and rolling through for a falcon's arrow for a near fall. Crews elbows him back, but Rollins knees him in the back and sends him out of the ring. Wyatt runs in, and Rollins stuns him with a step-up enzuigiri. Rollins hits the ropes, and Wyatt turns him inside out with a clothesline.
Balor gets in the ring and hits Wyatt with a Sling Blade. Balor then dropkicks Wyatt into the corner. Balor goes to the top rope, but Rollins cuts him off. Rollins goes for a superplex, but Balor fights it. Rollins clubs away at him and goes for a Phoenix Splash on Wyatt, but he moves. Hardy hits Wyatt with a Twist of Fate and covers, but Balor breaks it up with Coup de Grace. Rollins hits Balor with the Curb Stomp, but Crews breaks that up. All five men are down. Rollins and Crews are first to their feet and punch away at each other. Rollins gets the better of him and charges, but Crews military presses him. Crews then hits a Samoan Drop followed by a standing moonsault for a near fall. Crews goes for a back suplex powerbomb, but Rollins fights out. Crews hits a step-up enzuigiri and follows up with a standing shooting star press, but Rollins kicks out again! Titus O'Neil cannot believe it at ringside. Crews goes to the top rope, but Hardy cuts him off. Hardy clubs away at him and goes for a Side Effect off the ropes, but Wyatt pulls him to the floor and hits Sister Abigail! Wyatt gets in the ring and goes over to Crews, who is still on the top rope. Wyatt goes for a superplex, but Rollins and Balor powerbomb him for a Tower of Doom spot. Rollins and Balor cover, and the referee counts to three. The referee says they both won… and the show is over.
Winners by Pinfall: Seth Rollins and Finn Balor
---
Quick Match Results
* John Cena def. The Miz (Loser is first in the Elimination Chamber)
* The Revival def. Gallows and Anderson
* Bayley def. Sasha Banks
* Absolution def. Mickie James and Alexa Bliss
* Roman Reigns def. Sheamus
* Seth Rollins and Finn Balor def. Bray Wyatt, Matt Hardy, and Apollo Crews
---
E-Mail – MikeyT817@gmail.com
Twitter – @MikeTedescoWV
AUTHOR'S LINK: