March 11, 2018
Columbus, Ohio – Nationwide Arena
Commentary: Tom Phillips, Corey Graves, Byron Saxton
---
Kickoff Show
Tye Dillinger & Breezango vs. Mojo Rawley, Chad Gable & Shelton Benjamin
The crowd chanted "you can't wrestle" at Mojo. Mean… At the end, the match turned into a melee, with Dillinger and Mojo left alone in the ring. Dillinger hit Mojo with the Tye Breaker for the win.
Winners: Tye Dillinger & Breezango (~7 minutes)
---
Shinsuke Nakamura vs. Rusev
Aiden English came out to a "Rusev Day" chant and did a half rap / half song about how today is Rusev Day, then attacked this "crummy town," which turned the crowd against him.
Really slow, boring start to this match. Rusev pretty much controlled it and Nakamura hit him with a few kicks every now and then. A basic Nakamura WWE match. After a few minutes, Rusev tried to lock on the Accolade, but Nakamura escaped and hit him with a few kicks. He went for the Kinshasa, but Rusev caught him with a big kick that flipped him over. Rusev tried for the Accolade again, but Nakamura escaped again and this time connected with the Kinshasa for the win.
Winner: Shinsuke Nakamura (~15 minutes)
---
United States Championship
Bobby Roode (c) vs. Randy Orton
Struggling to watch this PPV… Arm bar by Roode. Head lock by Roode. Struggling… Chin lock.
After what felt like 30 minutes, Orton hit a DDT and went for the RKO, but Roode escaped and clotheslined Orton out of the ring. Roode followed him but Orton picked him up and tossed him on his back on the crowd barricade. After like another 5 minutes, Orton hit a top rope superplex on Roode for a near fall. Later, a DDT attempt by Roode was broken up, an RKO attempt by Orton was broken up, then Roode hit a spinebuster for a near fall.
Roode went up to the middle rope, then jumped off and was caught with an RKO by Orton for the win. Turned out to be a decent match after the almost unbearable first like… 20 minutes. (The match was only 19 minutes, apparently).
Winner and new United States Champion: Randy Orton (~19 minutes)
Jinder Mahal's music hit and he ran out to the ring and kicked Orton in the stomach then started stomping on him until Roode made the save and hit Jinder with a Glorious DDT. Roode then grabbed Orton and hit him with a Glorious DDT also, then left the ring as his music hit.
---
Backstage: Kevin Owens and Sami Zayn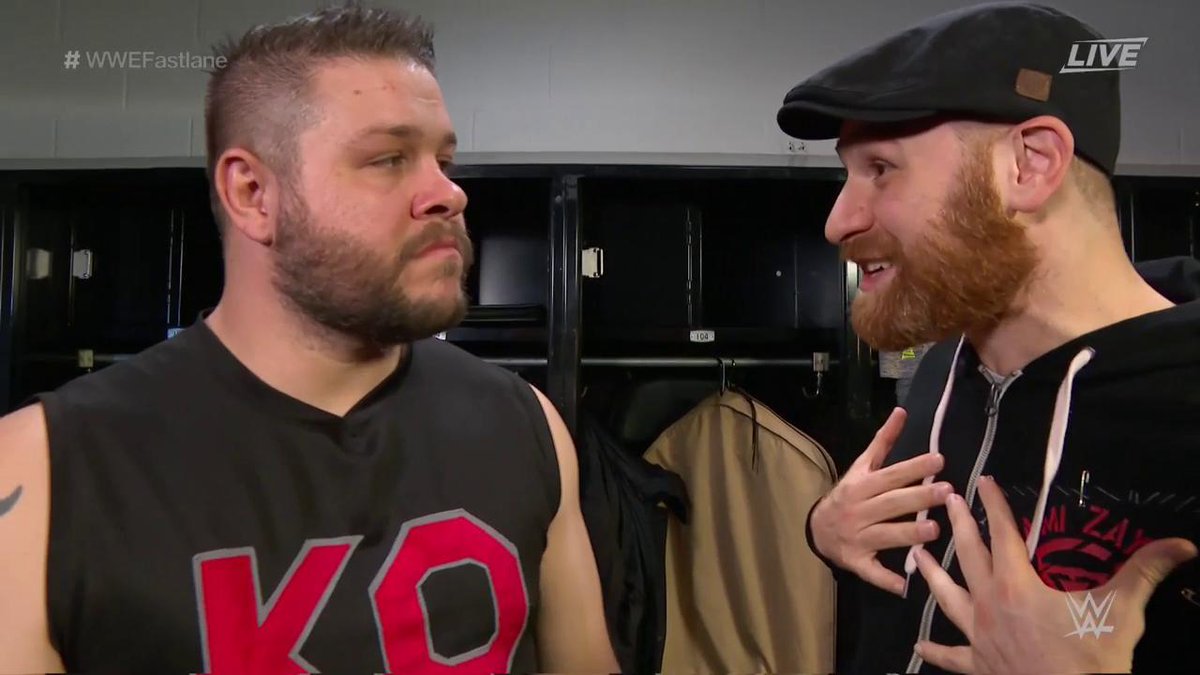 In the locker room, Kevin Owens angrily confronted Sami Zayn about how Zayn kicked him in the face and turned his back on him last week. Zayn said that he can still trust him and he's his guardian angel, but Owens walked out before Zayn could finish and Zayn slyly smiled.
---
Becky Lynch and Naomi vs. Carmella and Natalya
Wish James Ellsworth was still there…
After a few minutes, as the ref was distracted, Carmella shouted at Natalya to grab her Money in the Bank briefcase. Becky Lynch knocked Natalya and the briefcase off the apron, but when she turned around, was hit with a superkick to the face by Carmella for the win.
Winners: Carmella and Natalya (~9 minutes)
---
SmackDown Tag Team Championship
The Usos (c) vs. The New Day
Kofi Kingston and Xavier Woods wrestled in this match. After a few minutes of back and forth, the Usos both dived over the top rope onto the New Day on the outside, taking out all three members.
Suddenly, the Bludgeon Brothers' music hit and they walked out, then totally destroyed everyone in the match, suplexing and slamming them down onto the mat on the outside. The bells rang and the match was a no contest.
No Contest (~9 minutes)
Rowan grabbed their hammers and handed one to Harper. Rowan tried to hit one of the Usos, but he escaped and Harper knocked him into the crowd. The finally started to walk out, then saw Xavier Woods lying helpless on the floor. They set up the steel steps on the outside, then powerbombed Woods really hard onto the steps. Damn. Their music hit and they finally walked back as a medical team with a stretcher passed them on the ramp. The medical team checked on Xavier and put him on the stretcher.
---
Backstage: AJ Styles and Shinsuke Nakamura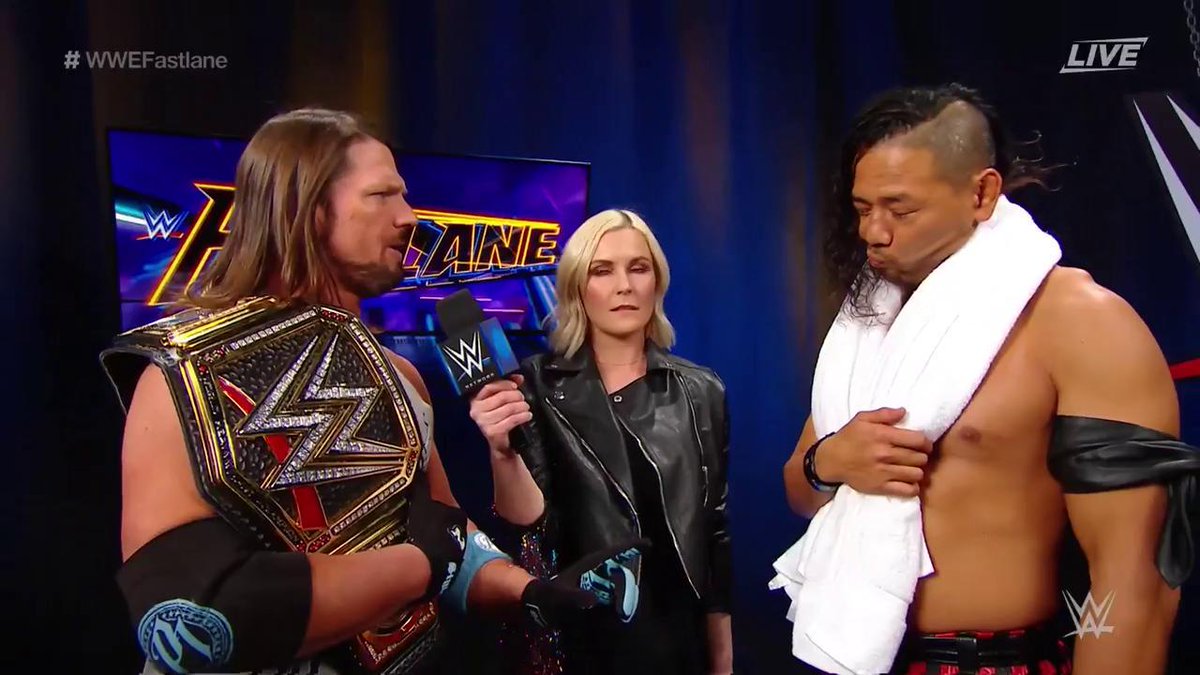 Renee Young interviewed AJ Styles and he cut a generic promo about how he's going to beat everyone tonight and go to WrestleMania. Shinsuke Nakamura then walked up and said that he hopes he wins so he can beat him at WrestleMania. Styles said that Nakamura is the one who's going to get beaten at WrestleMania before angrily walking off.
---
SmackDown Women's Championship
Charlotte Flair (c) vs. Ruby Riott
Ruby Riott came out without the rest of the Riott Squad, but they walked out like 5 minutes into the match. Becky Lynch and Naomi then walked out to even things up and scare them away from attacking Charlotte.
Ruby Riott took control of the match for like 5 minutes until Charlotte finally fought back. She went to the top for a moonsault, but Ruby shoved her off onto the outside. Ruby later hit a top rope hurricanrana on Charlotte for a near fall.
Liv Morgan and Sarah Logan tried to get into the ring, but Becky Lynch and Naomi ran in first. The ref stopped the faces, then kicked them out of the match. Meanwhile, as the ref was distracted, Morgan and Logan punched away at Charlotte. The referee turned around and didn't see them, but he also kicked them out of the match and they walked down the ramp shrieking loudly.
Spear by Charlotte, then she locked on the Figure Eight and Ruby Riott tapped out.
Winner: Charlotte Flair (~14 minutes)
Asuak's theme hit and she walked out to a big pop. She got in Charlotte's face in the ring, then pointed at the WrestleMania sign and smiled. Her theme hit again and she walked out of the ring. Sounds like they added extra vocals to Asuka's theme, kinda making it worse…
---
WWE Championship – Six-Pack Challenge
AJ Styles (c) vs. Baron Corbin vs. Dolph Ziggler vs. John Cena vs. Kevin Owens vs. Sami Zayn
Shane McMahon's theme hit first and he made an entrance before everyone else and sat on a chair at ringside. Dolph Ziggler got the biggest pop from the crowd other than AJ Styles.
The bell rang and John Cena immediately hit Owens, Zayn, Ziggler and Corbin with Attitude Adjustments. He and AJ Styles then faced off alone in the ring. After a couple of minutes of back and forth, Cena went for the AA, but Styles escaped and went for the Styles Clash, but Cena escaped. Everyone else finally recovered and got up on the apron and Cena was surrounded by the other five men, who all jumped him and stomped at him, then tossed him out of the ring before all turning their attention to each other.
There were lots of finishers and near falls over and over from everyone, almost nonstop for like 10 minutes. Really fast paced and pretty entertaining match.
Corbin and Ziggler started wrestling into the crowd and Corbin slammed Ziggler's head through an ice hockey pane. It didn't shatter.
Owens and Styles wrestled near the announce table until Cena joined in. Cena tried to hit an AA on Owens through a table, but Styles ran at him. Cena grabbed Styles and, while standing on top of one announce table, tossed him through the other announce table with an AA. Cool…
In the ring, Zayn and Owens faced off. Zayn said he's a "man of his word" and he lay down on the mat and waited for Owens to pin him. Owens looked confused and apprehensively went for the pin, but instead aggressively grabbed Zayn's head and tried to lift him up. Zayn then tried to roll him up and got a near fall, then the two of them started punching each other angrily in the ring. Owens tossed Zayn outside then tried to powerbomb him on the apron, but Zayn escaped and flipped him over.
Zayn then got in Shane McMahon's face and shouted "this is what you wanted?" Owens then tried to superkick Sami, but he moved and Owens superkicked Shane instead. Zayn then hit a tornado DDT onto Owens on the outside. Nice… Crowd chanted "this is awesome."
In the ring, Zayn went for the Helluva Kick on Owens, but Owens nailed him with a superkick. Ziggler ran in but Owens hit him with a popup powerbomb. He went for the pin but Shane McMahon pulled the referee out of the ring! Zayn then hit a Helluva Kick on Owens and went for the pin, but Shane pulled Zayn out of the ring.
Baron Corbin grabbed the steel steps and hit John Cena with them, but Cena fought back and hit Corbin with the steps, then hit him with the AA onto the steps. Ziggler broke up the pin. Superkick to Cena, but he no sold it and hit him with an AA, then went for a second, but Owens ran in and hit Cena with a popup powerbomb. Phenomenal Forearm by AJ Styles onto Owens… 1-2-3. Great match.
Winner: AJ Styles (~22 minutes)
John Cena sat dejected in the corner as the commentators talked about how his WrestleMania opportunity is "gone." AJ Styles looked up at the WrestleMania sign and celebrated with his title as the show went off the air.