April 8, 2018
New Orleans, LA – Superdome
---
Quick Match Results
1. Matt Hardy won the Andre the Giant Memorial Battle Royal, last eliminating Baron Corbin
2. Cruiserweight Championship: Cedric Alexander defeated Mustafa Ali via Lumbar Check
3. Naomi won the WrestleMania Women's Battle Royal, last eliminating Bayley
4. WWE Intercontinental Championship Triple Threat: Seth Rollins defeated The Miz (c) and Finn Balor via Curb Stomp on Miz
5. WWE SmackDown Women's Championship: Charlotte Flair (c) defeated Asuka via Figure Eight
6. WWE United States Championship Fatal Four-Way: Jinder Mahal defeated Randy Orton (c) and Bobby Roode and Rusev via The Khallas on Rusev
7. Kurt Angle & Ronda Rousey defeated Triple H & Stephanie McMahon via Rousey armbar on Stephanie
8. WWE SmackDown Tag Team Championship Triple Threat: The Bludgeon Brothers defeated The Usos (c) and The New Day via Harper powerbomb on Kofi
9. The Undertaker defeated John Cena via Tombstone Piledriver
10. Daniel Bryan & Shane McMahon defeated Kevin Owens & Sami Zayn via Bryan Yes Lock on Zayn
11. WWE Raw Women's Championship: Nia Jax defeated Alexa Bliss (c) via middle rope Samoan Drop
12. WWE Championship: AJ Styles (c) defeated Shinsuke Nakamura via Styles Clash, then Nakamura turned heel on Styles
13. WWE Raw Tag Team Championship: Braun Strowman & Nicholas defeated Cesaro and Sheamus (c) via Strowman running powerslam on Cesaro
14. WWE Universal Championship: Brock Lesnar (c) defeated Roman Reigns via F5
---
Kickoff Show
Andre the Giant Memorial Battle Royal
Jim Ross, Jerry Lawler and Byron Saxton were on commentary. Everyone was already in the ring with no entrances. This is going to be hard to keep track of…
Aiden English was eliminated first. Curt Hawkins was out next. R-Truth was back, and was eliminated by Goldust, who then "dabbed." Primo was out. Mike Kanellis was out. Tyler Breeze was gone. Dolph Ziggler kept doing the thing where he hangs from the ropes like 80 times. Viktor was gone. Konnor was previously eliminated (unannounced) at some point. This sucks so far. Zack Ryder started fist pumping then was knocked out by Mojo Rawley. Karl Anderson was eliminated, then Gallows was eliminated by Titus. Apollo was eliminated. Shelton Benjamin was eliminated… and Rhyno was eliminated. Both members of the Revival were eliminated by Bo Dallas and Curtis Axel, then Dallas and Axel were both eliminated by Kane.
John Cena was shown sitting at ringside and got a big pop. Meanwhile, off camera, Baron Corbin eliminated Sin Cara. Fandango was eliminated. Heath Slater was out. Baron Corbin and Kane faced off but everyone attacked them. Superkick by Ziggler on Titus, and Titus was out. Goldust set Tye Dillinger up in one corner and Dolph Ziggler in another, then kicked Dillinger in the balls. He tried to kick Ziggler, but Ziggler eliminated him. Tye Dillinger faced off with Matt Hardy. Dueling "delete" and "ten" chants. Hardy tossed Dillinger out.
Dolph Ziggler, Matt Hardy, Kane, Mojo Rawley and Baron Corbin were the final five. Kane eliminated Ziggler, then Corbin came up from behind and tossed Kane out. Matt Hardy, Mojo Rawley and Baron Corbin were the final three. Mojo and Corbin double teamed Matt Hardy and went to toss him out when suddenly…
The lights went out, and when they came back on, Bray Wyatt was standing in the ring. He tossed Mojo Rawley to Matt, and Matt tossed Mojo out. Baron Corbin with the End of Days onto Bray Wyatt… then he was tossed out by Matt Hardy. The bell rang and Matt Hardy was the winner.
Winner: Matt Hardy (~16 minutes)
Matt Hardy looked at Bray Wyatt in a confused manner in the ring, then said "thank you." They then shook hands and hugged, then posed together in the ring as the crowd made "delete" motions.
---
Kickoff Show
WWE Cruiserweight Championship – Tournament Finals
Cedric Alexander vs. Mustafa Ali
Alexander and Ali gave each other a friendly pound before the match, appreciating that they were wrestling at WrestleMania. The crowd was mostly not into this match early on but got into it after a few sick moves by Ali (Spanish Fly, Tornado DDT). Ali hit the 054 off the top, but Alexander got his foot on the rope to break up the pin. Ali went for it again, but Alexander moved out of the way.
Three elbows by Cedric Alexander as he shouted at Mustafa Ali to stay down. Lumbar Check… 1-2-3. Pretty average match that only got good for like the last minute. Pretty disappointing that they didn't try to "pull out a few more stops" since it's WrestleMania…
Winner and New Cruiserweight Champion: Cedric Alexander (~12 minutes)
---
John Cena was interviewed at ringside about what it's like to watch as a fan. He started loudly talking about a bunch of shit and how it was great to be a fan… Seemed like he was "hammered."
---
Kickoff Show
WrestleMania Women's Battle Royal
Beth Phoenix and Paige were on commentary along with Michael Cole and Corey Graves. Lilian Garcia was the ring announcer. Becky Lynch got her own entrance, then like 15 other women just walked out together at the same time… Really stupid. Bayley and Sasha also got their own entrance.
Peyton Royce, Kairi Sane, Bianca Belair, Dakota Kai, Kavita Devi and Taynara Conti were in the match from NXT. Carmella was ganged up on, then kicked out by Sonya Deville first. Everyone then jumped Dana Brooke and Mandy Rose tossed her out. All the NXT women attacked everyone else, then started an "NXT" chant.
Mandy Rose was eliminated. Top rope 450 splash by Bianca Belair on Dakota Kai. Bianca Belair rules… Sonya Deville was eliminated. Top rope elbow by Kairi Sane. Kavita Devi was eliminated. Conti was eliminated. Bianca Belair whipped Becky Lynch with her ponytail, then tried again, but Becky Lynch kicked her out of the ring. Sasha eliminated Dakota Kai. Becky Lynch was then eliminated off camera… Mickie James was eliminated by Ruby Riott. Peyton Royce was eliminated. Sasha and Bayley teamed up to eliminate Natalya, then Liv Morgan, then Ruby Riott. Bayley, Sasha and Sarah Logan were the last three. Bayley knocked Logan out of the ring.
Sasha Banks and Bayley were the last two in the ring. Bayley then grabbed Sasha and tossed her out and thought that she won… but apparently Naomi was never eliminated and was just hanging out outside of the ring. Naomi ran in and tossed Bayley out and she won the match. Whatever.
Winner: Naomi (~10 minutes)
---
WWE Intercontinental Championship
The Miz (c) vs. Finn Balor vs. Seth Rollins
Seth Rollins had bright blue contact lenses, making him look like a white walker from Game of Thrones. The Miz came out with Bo Dallas and Curtis Axel, but then told them to go backstage, saying he wanted to go on his own. Regular Non-Demon Finn Balor was out last. A group of fans "from the LGBT community" were at the entrance ramp. Balor had a rainbow flag Balor Club logo on his jacket and rainbow pattern on his boots and tights.
The crowd was really hot for this match. After a few minutes, Rollins hit a top rope suplex on Balor, then was hit with a Skull Crushing Finale by Miz for a near fall. Miz went for a Skull Crushing Finale on Balor, but Balor escaped. Later, Miz tried to pin Seth Rollins, but Balor hit a Coup de Grace off the top to break it up. Balor went up to the top again and hit another Coup de Grace on Miz and went for a pin but Seth Rollins hit Balor with a Curb Stomp. Then a Curb Stomp on Miz. 1-2-3. Good match and the crowd loved it.
Winner and New Intercontinental Champion: Seth Rollins (~15 minutes)
---
WWE SmackDown Women's Championship
Charlotte Flair (c) vs. Asuka
Charlotte entered first with some jacked gladiator dudes. Asuka had her normal entrance. A few minutes into the match, Asuka vertical suplexed Charlotte off the apron onto the floor outside. Later, Charlotte hit a top rope spanish fly on Asuka. Charlotte went for a figure four, but Asuka escaped and went for an Asuka Lock, but Charlotte escaped. Spear by Charlotte, then she locked on the Figure Eight… and Asuka tapped! Whoa. Asuka's streak is over.
Winner: Charlotte Flair (~13 minutes)
After the match, Asuka got on the mic and said "Charlotte was ready for Asuka… congratulations." They then hugged. OK.
---
A referee ran to John Cena in the crowd and said "The Undertaker is here…" John Cena got up and ran down the ramp, backstage…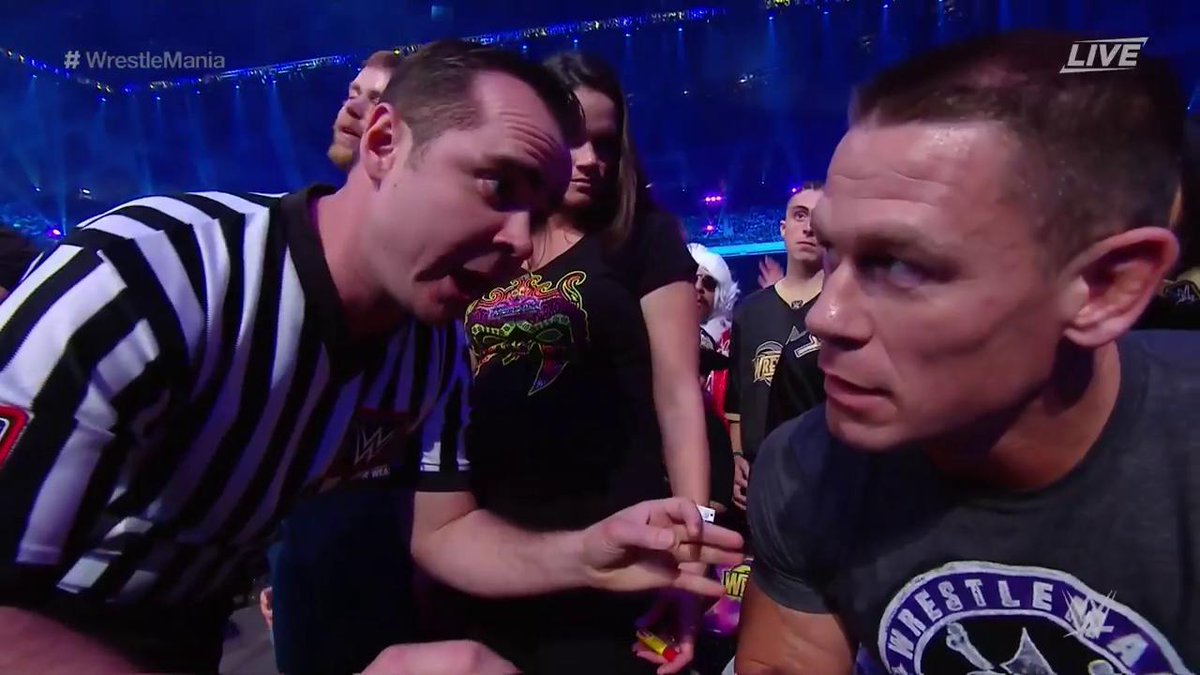 ---
WWE United States Championship
Randy Orton (c) vs. Bobby Roode vs. Jinder Mahal vs. Rusev
Roode entered first but was interrupted by Aiden English halfway down the ramp. English did a little rap and introduced Rusev. English shaved his head between the battle royal and this match…
Really basic match for like 5 minutes. Orton prepared for an RKO on Rusev. Aiden English tried to run in but Orton hit him with an RKO. RKO on Rusev. RKO on Jinder… but Roode broke up the pin. Orton went for an RKO on Roode, but Roode hit him with a Glorious DDT, but Jinder broke up the pin. Rusev hit a Machka Kick on Roode. Machka Kick on Jinder. The crowd chanted "Rusev Day." Sunil Singh tried to get involved and Rusev ran at him, which allowed Mahal to hit the Khallas on Rusev for the win…
Winner and New United States Champion: Jinder Mahal (~8 minutes)
---
Kurt Angle & Ronda Rousey vs. Triple H & Stephanie McMahon
Weird match order. Triple H and Stephanie came down on giant motorcycles and leather jackets. Angle entered alone next and Rousey entered alone last to a good reaction. The crowd started chanting "Ronda Rousey" after her theme ended. Everyone got in each other's face before the bell rang and Stephanie shoved Ronda's face, then pulled her down by her hair from behind. The bell rang and Angle started things off with Triple H. On the outside, Stephanie smashed Kurt's head into the steel steps and Ronda chased her, but was stopped by the ref. Triple H beat down Kurt Angle for a while. He finally almost tagged Rousey, but Stephanie pulled Ronda off the apron and knocked her down.
Finally, Kurt knocked Triple H out of the ring and tagged in Rousey and she stormed in and threw Stephanie into the ring by her hair, then suplexed her, then started punching her in the corner. Big pop from the crowd. "Yes" chant. Stephanie pleaded in the corner but Ronda had no mercy. Ronda went to lock on an armbar, but Stephanie managed to block it and she gouged Ronda's eyes. DDT by Stephanie. Stephanie then toyed with Ronda and kicked her in the head, but Ronda grabbed her by the throat and hit a spinning Samoan Drop on her. She went for the pin but Triple H pulled the ref out of the ring. Triple H then grabbed Rousey's leg and pulled her out of the ring.
Angle made the save and he brought Triple H on top of the announce table, but Triple H fought him off and tossed Angle onto the top of the Spanish announce table. Triple H went to check on Stephanie in the ring and Ronda Rousey came up from behind and challenged HHH to a face off. Big pop. The ref tried to stop it but Triple H pulled him aside. Rousey hit a flurry of punches on Triple H… Triple H tried to kick her but she blocked it and lifted HHH on her back for a Samoan Drop, but Stephanie made the save. Rousey then chased Stephanie around the ring and tossed her into the barricade, but Stephanie got up and tossed Rousey into the ring post.
In the ring, Angle hit two belly to belly suplexes on HHH, then three German suplexes. Nice… He went for the Angle Slam, but HHH countered into a Pedigree attempt, but Angle countered into an Ankle Lock attempt, into an Ankle Lock attempt… then finally an Angle Slam for a near fall. Angle went for the Ankle Lock but Stephanie broke it up and tried to kick Angle but he caught her leg… Crowd chanted "yes"… Ankle Lock on Stephanie but Triple H broke it up and hit the Pedigree… but Rousey broke it up. Hot crowd. Great match so far.
Triple H grabbed Rousey and went for the Pedigree… but she turned it into a Hurricanrana… and an armbar onto Triple H… but Stephanie broke it up with a chokehold on Rousey. Rousey flipped Stephanie over and locked on an armbar… Triple H tried to break it up but Angle locked on an ankle lock… Triple H rolled over and sent Angle crashing into Rousey to break up both holds. Jeez.
HHH sent Angle into the steel post and Steph sent Rousey into another post. They went for a double pedigree, but Angle escaped and knocked HHH out of the ring. Ronda escaped and locked on an armbar on Stephanie… Stephanie tried to fight it off, but she tapped.
Winners: Ronda Rousey & Kurt Angle (~21 minutes)
Really really excellent match. UFC president Dana White was shown at ringside clapping for Ronda. Ronda and Angle celebrated in the ring. Medical personnel checked on Stephanie McMahon's arm at ringside after Rousey's armbar.
---
WWE SmackDown Tag Team Championship
The Usos (c) vs. The New Day vs. The Bludgeon Brothers
There was a giant 20 foot stack of pancakes for the New Day's entrance. Then a bunch of "little people" dressed as pancakes. Dumb. Big E and Kofi Kingston wrestled for New Day. The crowd was pretty dead for this match after the last really great match. The Bludgeon Brothers mostly controlled the match. Harper hit a middle rope sit out powerbomb on Kofi for the win… Not a good match and the crowd didn't seem to care.
Winners and New SmackDown Tag Team Champions: The Bludgeon Brothers (~6 minutes)
---
In-Ring: John Cena, Elias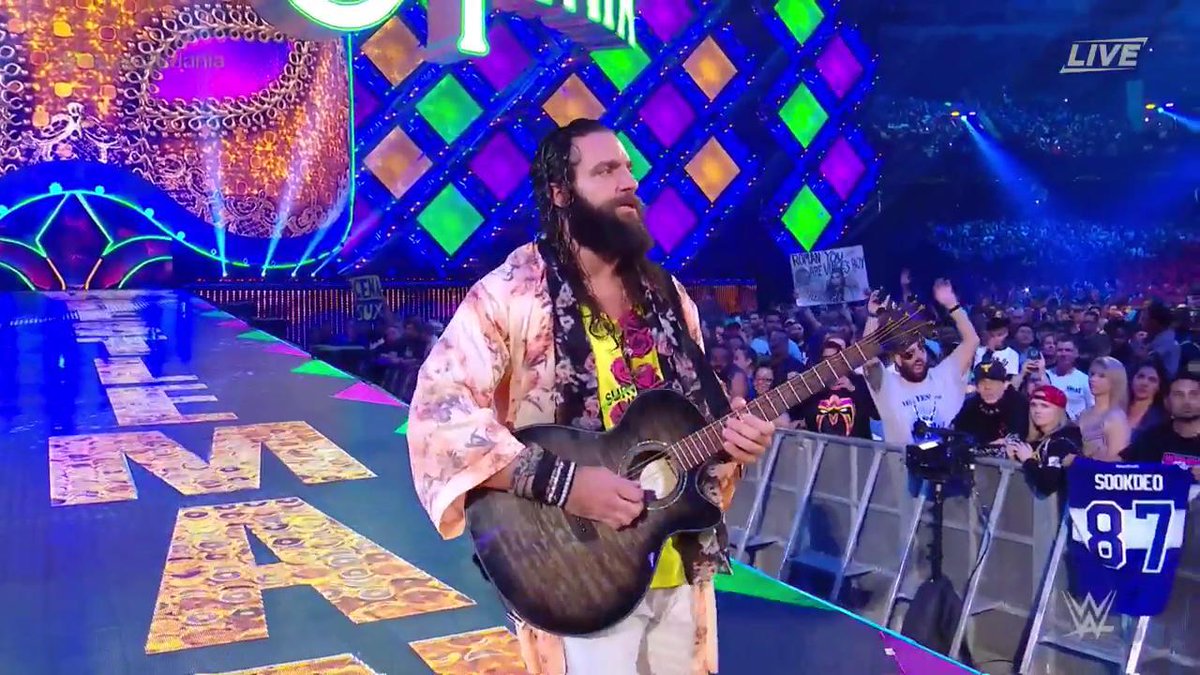 John Cena came out to the ring and stood there until a referee came down and said something to him. Cena looked annoyed and started walking out of the ring until the lights went out…
And Elias came out! Elias said, "were you expecting somebody else?" Then said that that somebody else doesn't have the charisma and talent that he has. Elias told Cena to step aside and Cena went and sat back down in his seat in the crowd. Elias sang a song about how John Cena sucks just like everyone in the crowd. Cena heard enough and ran into the ring and shoulder blocked Elias, then hit him with an AA and kicked all his stuff out of the ring. The crowd chanted "Undertaker" but Cena's music hit instead and Cena looked disappointed again. He started walking down the ramp and his theme stopped playing and the lights went out…
---
John Cena vs. The Undertaker
The Undertaker's hat and jacket were shown the ring… and were hit by "lightning bolt" graphics and disappeared… The Undertaker's bell theme hit… and out he came.
30 seconds into the match, Undertaker hit his rope walk move on Cena. Snake Eyes, then a big boot, then a leg drop. Looked sloppy. Undertaker went for a chokeslam, but Cena escaped and hit a back bodydrop. He went for a five knuckle shuffle, but Undertaker did his vintage sit up.
Chokeslam by Undertaker, then he hit a Tombstone Piledriver… 1-2-3.
Winner: The Undertaker (~3 minutes)
---
Hall of Fame Class of 2018
They recapped the Hall of Fame ceremony then introduced all of the inductees on the stage. Jeff Jarrett, Mark Henry, The Dudley Boyz, Ivory, Jarrius "JJ" Robertson, Hillbilly Jim and Goldberg.
---
Daniel Bryan & Shane McMahon vs. Kevin Owens & Sami Zayn
If Owens & Zayn win, they'll be reinstated. Daniel Bryan got a huge pop from the crowd. Big "yes" chants. Shane McMahon's family was sitting at ringside again. Owens' theme hit and Owens and Zayn snuck up from behind Bryan and Shane in the ring and attacked them. Helluva Kick on Bryan, then Owens powerbombed him on the corner of the apron. Bryan was out and they brought a stretcher down for him… wtf… Medics checked on Bryan outside as Shane McMahon entered the match on his own.
Owens and Zayn beat down on Shane McMahon for like 5 minutes as the crowd sat there pretty much silently. Zayn went for the Helluva Kick but missed and Shane hung him up in the tree of woe. Shane then tossed Owens out of the ring and hit a Van Terminator on Zayn.
Owens returned and hit a frog splash onto Shane and went for the pin, but Daniel Bryan finally ran into the ring and broke up the pin. Shane finally tagged in Bryan and he entered the match to a big pop. Bryan hit a flurry of offense on Owens and Zayn. In a weird moment, he hit a top rope dropkick on Zayn, then lay on the mat for a few seconds holding his head… then did a kip up and hit a lot more offense on Zayn. Owens was tagged in and hit a big popup powerbomb on Bryan. I feel nervous every time Bryan's head smashes on the apron…
Later, Bryan nailed Zayn with a bunch of Yes kicks. Knee to Zayn… Yes Lock… and Zayn tapped… Hmm… Zayn and Owens are now technically "gone from SmackDown forever."
Winners: Daniel Bryan & Shane McMahon (~15 minutes)
Daniel Bryan kissed Brie Bella at ringside after the match.
---
WWE Raw Women's Championship
Alexa Bliss (c) vs. Nia Jax
Alexa was accompanied by Mickie James. Nia quickly attacked Mickie and destroyed her on the outside, giving her a Samoan Drop on the floor. Nia picked up Alexa over her head with a military press then tossed her awkwardly and Alexa landed on her legs/knees. Alexa returned to the ring and gouged Nia's eyes, then attacked her knee, neutralizing her. Twisted Bliss off the top rope to the outside onto Nia.
Alexa shouted at Nia, saying "you're nothing without me," which got Nia angry and lead to a flurry of offense by her. Crowd was pretty dead… Bliss gouged her eyes again. Nia finally slammed Alexa down hard like a rag doll, then brought Alexa up to the middle rope and hit her with a big Samoan drop from there… 1-2-3. Felt like Alexa was going to get seriously injured like 50 times in this match, every time Nia sloppily picked her up…
Winner and New Raw Women's Champion: Nia Jax (~10 minutes)
---
WWE Championship
AJ Styles (c) vs. Shinsuke Nakamura
Nakamura's theme was played live on guitar. Kind of a slow start and the crowd was kind of dead for a few minutes once the match started. Nakamura played up an injured knee in the match while Styles played up an injured back.
Phenomenal forearm for a near fall. Styles tried a springboard 450 but Nakamura got his knees up. Knee to the back of the head by Nakamura for a near fall. Nakamura set up for the Kinshasa but Styles rolled through and nailed the Styles Clash. 1-2-3.
Winner: AJ Styles (~20 minutes)
After the match, they hugged and Nakamura handed the title to Styles in a show of respect… Then Nakamura gave Styles a low blow! Sweet… Heel turn… Nakamura kicked Styles out of the ring, then gave him a Kinshasa… Nice…
---
WWE Raw Tag Team Championship
Cesaro and Sheamus (c) vs. Braun Strowman & Partner
The Bar entered with a bunch of Mardi Gras characters. Braun Strowman then entered and all the characters ran off, frightened. Strowman then shoved the Mardi Gras float that the Bar entered on off of the stage.
Braun then got on the mic and said that his partner is… one of the people in the crowd. He then asked, "who wants to be my tag team partner?" The crowd cheered and Braun looked around the crowd. He then started walking through the crowd looking for someone. He then pointed to some like, 10 year old kid and brought him into the ring. He introduced the crowd to his partner, whose name was Nicholas. He told him to just stand on the apron and he'll do the rest.
Braun dominated for a minute but Sheamus and Cesaro double teamed him and took control. Crowd chanted "we want Nicholas." Strowman finally fought back and tagged in Nicholas… He faced off with Cesaro, then tagged Strowman back in. Running powerslam on Cesaro… 1-2-3. Braun Strowman and Nicholas are the champs.
Winners and New Raw Tag Team Champions: Braun Strowman & Nicholas (~4 minutes)
Strowman and Nicholas celebrated with the tag titles and high fived. Nice…
---
WWE Universal Championship
Brock Lesnar (c) vs. Roman Reigns
Roman Reigns got some pretty loud boos for his entrance. Mild reaction for Lesnar's entrance, but it seems like WWE turned down the crowd mics after they loudly booed Reigns. Paul Heyman grabbed the mic to introduce Lesnar as usual.
Lesnar ran at Reigns and attacked him right after the bell. Three German suplexes… Superman Punch by Reigns… and another, and a third. "CM Punk" chant.
Lesnar hit Reigns with like 5 belly to belly suplexes. Reigns fought back and hit a spear on Lesnar onto the announce table. Reigns hit a superman punch, then two spears in the ring for a near fall. The crowd seems angry at this match.
F5 by Lesnar and Reigns kicked out. No reaction from the crowd despite WWE trying to build up that no one can kick out of the F5 for like the past year.
A second F5 and Reigns kicked out again and the crowd didn't care again. A third F5 and Reigns kicked out again. Some "boring" chants. An F5 through the announce table. Disastrous crowd reactions… "This is awful" chant.
German suplex and a fifth F5 and Reigns kicked out again. Roman Reigns was busted open really badly, with blood pouring off the top of his head all over his arm and the ring.
Spear by Reigns, with blood pouring down his face. And another. Jesus, blood everywhere. Reigns went for another spear but Lesnar picked him up and hit another F5! 1-2-3… Holy shit.
Winner: Brock Lesnar (~16 minutes)
Lesnar celebrated with his title as medical staff cleaned up Reigns' bloody head.
They showed a video highlight package for the show and when it ended, showed Roman Reigns walking down the ramp, disappointed as his theme hit. The crowd audio was silenced the entire time, and the show came to an end.