August 19, 2018
Brooklyn, NY – Barclays Center
---
Quick Match Results
– Kickoff: Andrade "Cien" Almas & Zelina Vega defeated Rusev & Lana via rollup by Vega on Lana (~7 minutes)
– Kickoff: Cruiserweight Championship: Cedric Alexander (c) defeated Drew Gulak via rollup (~10 minutes)
– Kickoff: Raw Tag Team Championship: The B-Team (c) defeated The Revival via rollup by Axel on Dawson (~6 minutes)
– Intercontinental Championship: Seth Rollins defeated Dolph Ziggler (c) via curb stomp to become the new Intercontinental Champion (~22 minutes)
– SmackDown Tag Team Championship: The New Day defeated The Bludgeon Brothers (c) by DQ after Rowan hit Woods with a mallet (~10 minutes)
– Winner Gets Braun's MITB Contract: Braun Strowman defeated Kevin Owens via powerslam in a total squash (~2 minutes)
– SmackDown Women's Championship – Triple Threat: Charlotte Flair defeated Carmella (c) and Becky Lynch via Natural Selection on Lynch to become the new SmackDown Women's Champion (~15 minutes)
– WWE Championship: Samoa Joe defeated AJ Styles (c) by DQ after Styles hit Joe with a chair (~23 minutes)
– The Miz defeated Daniel Bryan via punch with brass knuckles (~23 minutes)
– The Demon Finn Bálor defeated Constable Baron Corbin via Coup de Grace in a total squash (~1-2 minutes)
– United States Championship: Shinsuke Nakamura (c) defeated Jeff Hardy via Kinshasa (~11 minutes)
– Raw Women's Championship: Ronda Rousey defeated Alexa Bliss (c) via armbar submission to become the new Raw Women's Champion (~4 minutes)
– Universal Championship: Roman Reigns defeated Brock Lesnar (c) via spear to become the new Universal Champion (~6 minutes)
---
Kickoff Show
Rusev & Lana vs. Andrade "Cien" Almas & Zelina Vega
Backstage before the match, Aiden English came up to Rusev and Lana and said that he had the perfect song for them, but Rusev stopped him and said that "tonight is Rusev and Lana Day, so stay behind."
Almas controlled the match against Rusev for a few minutes until Rusev made the tag to Lana. Lana then totally dominated Zelina Vega until Almas got up on the apron to distract her. Lana tried to slap Almas, but Zelina Vega came up from behind and rolled Lana up and put her feet on the middle rope for the win. A standard WWE kickoff show match, where they weren't really given enough time for anything interesting to happen.
Winners: Andrade "Cien" Almas & Zelina Vega (~7 minutes)
---
Kickoff Panel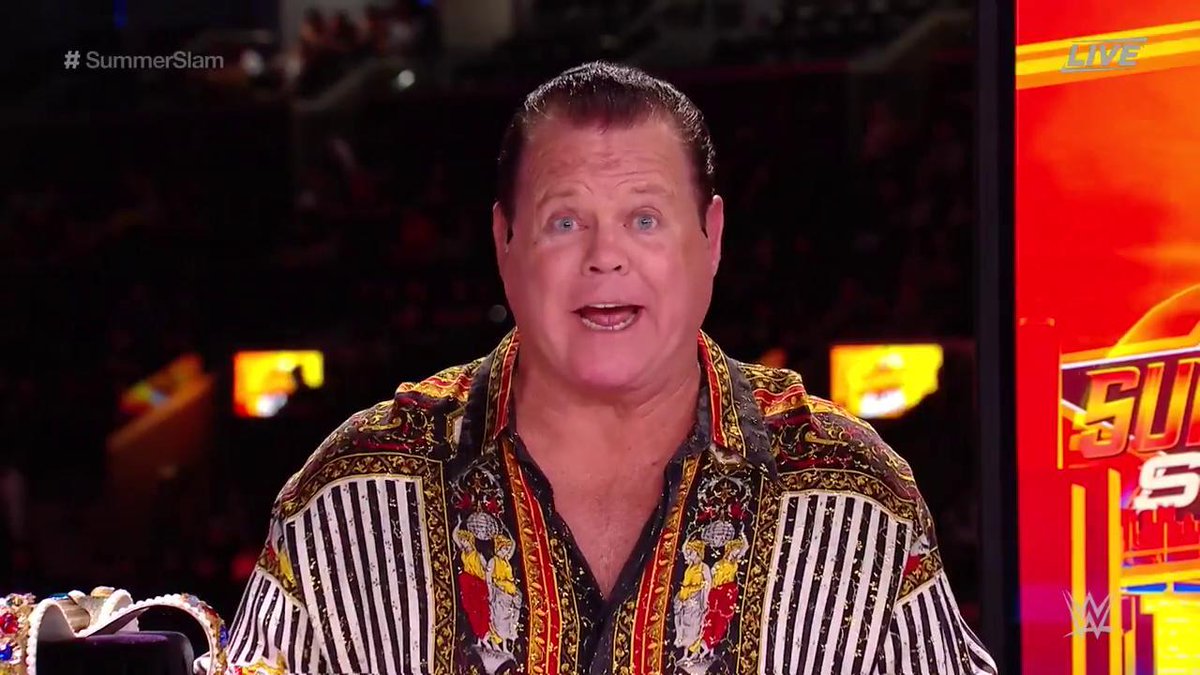 Jerry The King Lawler was back on WWE TV, on the Kickoff show panel along with Renee Young, Booker T and David Otunga.
---
Cruiserweight Championship – Kickoff Show
Cedric Alexander (c) vs. Drew Gulak
Gulak dominated most of this match, which had a really, really slow pace for a "cruiserweight" match. Crowd was mostly dead. It suddenly picked up at the end and they exchanged rapid fire moves and quick pinfall reversals until Alexander was able to roll up Gulak for the win. Good final minute, but otherwise extremely slow and forgettable.
Winner: Cedric Alexander (~10 minutes)
---
Raw Tag Team Championship – Kickoff Show
The B-Team (c) vs. The Revival
The Revival hit the Shatter Machine on Axel very early on, taking him out for a few minutes, then they beat down on Bo Dallas for a while until he was finally able to make the hot tag to Axel.
Axel went for the Perfectplex on Dawson, but Wilder got up on the apron. Bo Dallas then attacked Wilder and the referee tried to get him out of the ring since he wasn't the legal man. Meanwhile, while the ref was distracted, Dawson rolled up Axel and had him pinned for like five seconds. Wilder then attacked Bo Dallas, knocking him backwards into Dawson and Axel, which somehow reversed Dawson's pin and Axel ended up on top of Dawson. 1-2-3. Hopefully I explained that right… Another "nothing" match.
Winners: The B-Team (~6 minutes)
---
Intercontinental Championship
Dolph Ziggler (c) vs. Seth Rollins
Dean Ambrose had his own entrance. He was in Rollins' corner in this match, while Drew McIntyre was in Ziggler's corner. Every time McIntyre would get near Rollins, Dean Ambrose got in McIntyre's face to stop him.
Ziggler controlled the match for like 10 minutes and did long rest holds and stuff. In a cool spot, Rollins hit a top rope inverted superplex, followed by a sidewalk slam.
He then prepared for the curb stomp, but on the outside, McIntyre threw Ambrose into the steel steps, distracting Rollins. He missed the stomp and Ziggler hit the Zig Zag for a near fall. Rollins was suddenly busted open somewhere on his face. Ziggler missed a superkick and Rollins nailed a buckle bomb, then prepared for the stomp again…
McIntyre got up on the apron, but Ambrose took him out with Dirty Deeds on the outside. Superkick by Rollins on Ziggler, followed by a curb stomp. 1-2-3.
Winner and New Intercontinental Champion: Seth Rollins (~22 minutes)
---
Backstage: The Bella Twins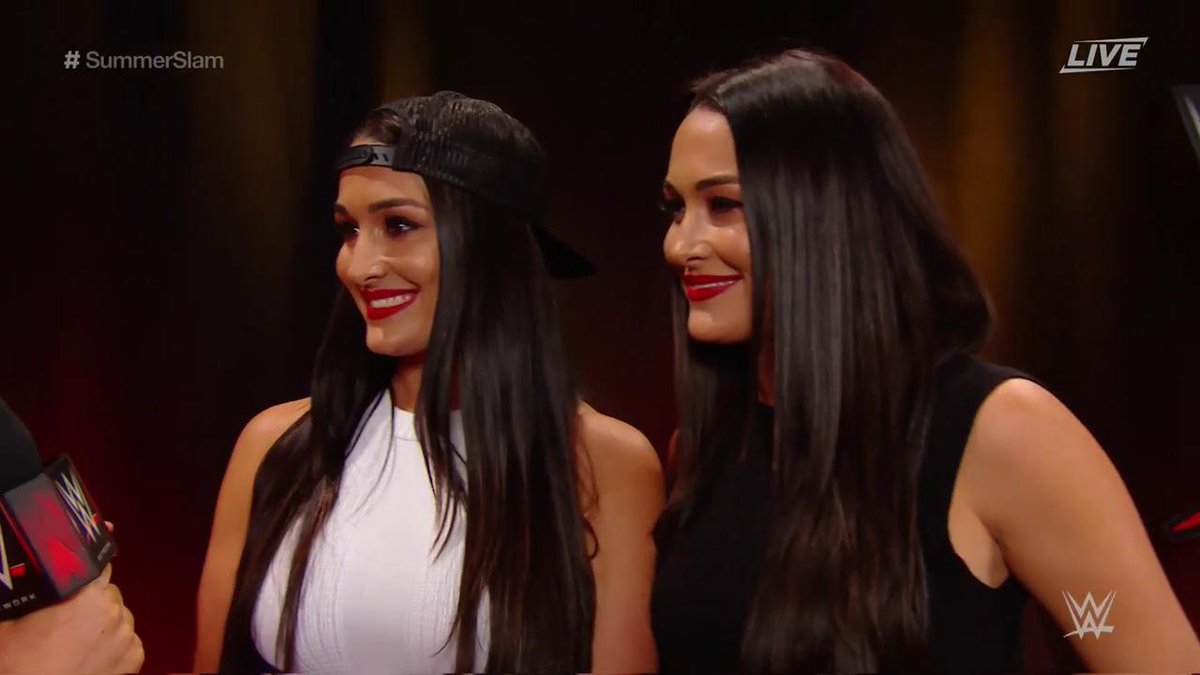 Renee Young introduced the Bella Twins backstage. Renee asked if there was a chance we'd see them at the Evolution PPV, but Nikki said that they're busy with their YouTube channel, Total Bellas, etc. She said that of course they've talked about returning to the ring, but tonight, they were just there to have fun and watch Ronda Rousey make history. The rumor is that Rousey could be facing Nikki Bella at Evolution.
---
SmackDown Tag Team Championship
The Bludgeon Brothers (c) vs. The New Day
The Bludgeon Brothers dominated Xavier Woods for a while until Big E was tagged and hit them with overhead belly to belly suplexes on the outside. Later, Big E hit the Big Ending on Rowan on the outside. Big E then tossed Harper off the apron to the outside, into a Xavier Woods backbreaker. Xavier then hit a top rope elbow drop onto the outside on Harper.
They went for their finisher, but Rowan ran in and jabbed Woods with his mallet, causing the DQ. Harper and Rowan then attacked Big E with the wooden part of the mallet and walked off with their tag titles. Pretty bad match.
Winners by DQ: The New Day (~10 minutes)
---
Winner Gets Braun's MITB Contract
Braun Strowman vs. Kevin Owens
From the start, Owens tried to run away from Strowman, but Strowman ran after him and shoulder blocked him hard into the barricade. He then chokeslammed him onto the ramp on the outside. In the ring, Strowman nailed Owens with a powerslam… 1-2-3… wtf. Complete destruction and burial of Owens in just a couple of minutes. Weird.
Winner: Braun Strowman (~2 minutes)
---
SmackDown Women's Championship – Triple Threat
Carmella (c) vs. Becky Lynch vs. Charlotte Flair
Early in the match, Carmella slapped Becky in the back of the head, then pretended to be laid out on the mat. Becky got up and saw Charlotte and thought that she was the one who slapped her in the head. She got in Charlotte's face and the two argued, so Carmella successfully put a wedge between the two friends. Later, Charlotte tried to kick Carmella, but she moved out of the way and Charlotte hit Becky.
Later, Charlotte locked on the figure four on Carmella, but Becky hit a top rope leg drop on Charlotte to break it up. Later, Charlotte hit a top rope corkscrew moonsault on both Becky and Carmella on the outside. She rolled Becky into the ring, but Becky suddenly locked on the Disarm-her… but Carmella broke it up. Becky then locked on the Disarm-her on Carmella, but she grabbed the bottom rope.
Becksploder, then another Disarm-her on Carmella, but Charlotte broke it up and hit Natural Selection on Becky. 1-2-3. This ended up being a pretty good match (probably the best of the night so far) after a slow start.
Winner and New SmackDown Women's Champion: Charlotte Flair (~15 minutes)
After the match, Carmella was sad and pouting at ringside. Becky and Charlotte stood in the ring and hugged each other, but the crowd heavily booed… and Becky punched Charlotte! Huge pop and "yes" chant as Becky stomped away on Charlotte. Becky picked up the title and screamed, "this is mine!" Crowd chanted "Becky." Nice… Becky has snapped. She tossed Charlotte into the barricade, then onto the announce table and the crowd chanted Becky as she walked to the back. Crowd chanted "you deserve it" at Charlotte. Charlotte sold being injured and seemed to be legit crying, with her eyes bloodshot red.
---
WWE Championship
AJ Styles (c) vs. Samoa Joe
WWE title match before Corbin/Balor and before the US title match for some reason… Whatever. AJ Styles' wife Wendy and his little daughter were at ringside. Samoa Joe grabbed the ring announcer microphone and said, "Hey Wendy. How you doin'? Oh, and I see she brought your lovely daughter Annie too. Don't worry Wendy, daddy's coming home tonight." Styles grabbed the mic and said his family was here for one reason only, to see him kick Joe's ass.
Lots of Samoa Joe rest holds… After a while, Styles hit a big Styles Clash on Joe but only got a near fall. Joe landed right on his face. Pele kick by Styles. He locked on the calf crusher, but Joe grabbed his head and slammed it into the mat. Coquina clutch… but Joe got his foot on the rope. Joe then hit a big kick to Styles' head, and he fell to the outside.
Joe got on the announce table and said that, "I made you a promise that daddy was coming home. It looks like he's not, but I'll be your new daddy." Styles then got up and wiped out Joe off the table and through the ringside barricade, then took out a bunch of the ring crew, then picked up a steel chair and smashed Joe over the back, causing the ref to call for a DQ.
Winner by DQ: Samoa Joe (~23 minutes)
Styles continued to nail Joe with a steel chair as officials tried to stop him. The crowd chanted "Who's your daddy." Styles' wife told him to stop and Styles stopped. Styles was busted open on his head. He picked up his daughter, but she seemed scared of the bloody and sweaty Styles and wanted to go back to her mom.
---
Elias Performance
Elias was sitting on a stool near the entrance ramp and said he was going to kick off his concert tonight by debuting his greatest song yet. He said he dedicated this song to all the New Yorkers there tonight because the harsh reality of being a disgusting New Yorker was about to be washed away. He began to play, but his guitar neck suddenly snapped in half. He then angrily kicked his stool and smashed the guitar and his performance was over.
---
Backstage: The Miz and The B-Team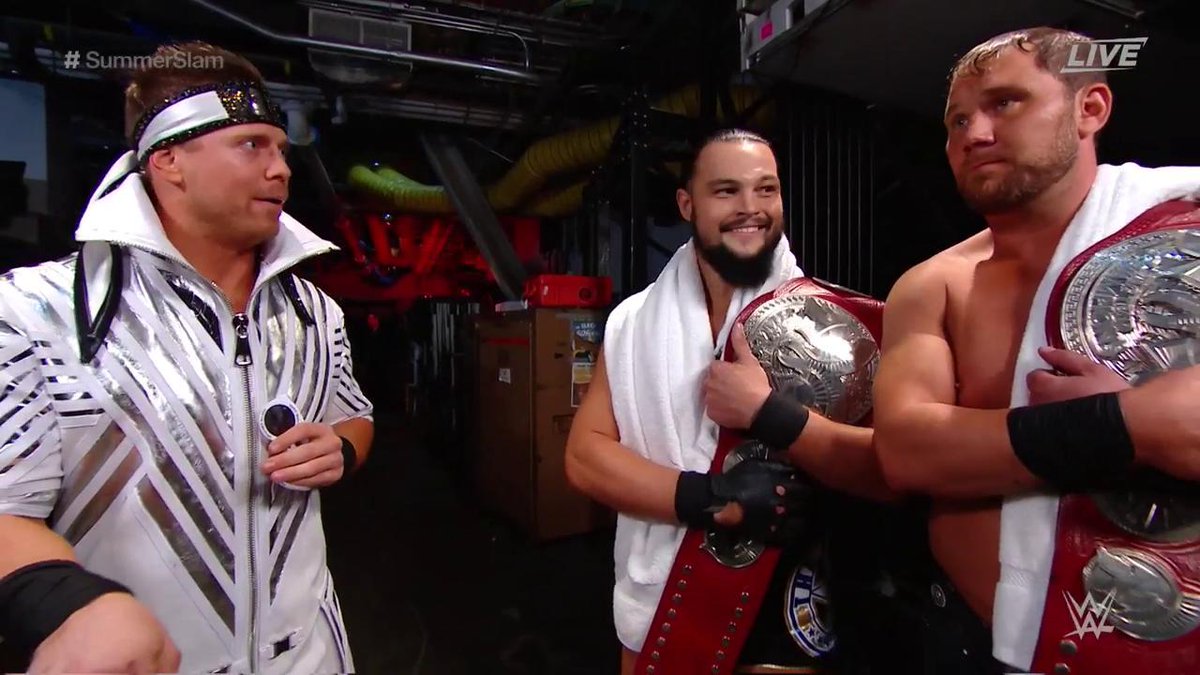 Backstage, The Miz ran into the B-Team and said that if Daniel Bryan had listened to him like they did, he'd be as successful as them today. He said that he imagines they came to wish him luck, but he didn't need it, but if they wanted to fetch his limo, he'd celebrate with them later. They said they weren't there to wish him luck, and they weren't the Miztourage anymore, they were the B-Team and the B stands for Daniel Bryan.
---
Daniel Bryan vs. The Miz
Maryse and their baby (not shown, just a baby carriage) were at ringside in the crowd. The first like ten minutes of this match were incredibly boring, mostly consisting of Miz going through the motions and doing really basic moves to Bryan.
Later, following a lot of chops and yes kicks by Bryan, there were welts on Miz's chest. Miz retook control and hit his own "It Kicks," but Bryan caught his leg and repeatedly slapped him in the face, hard. Bryan went for the Yes Lock but Miz broke away and slingshotted him into the ringpost. Skull Crushing Finale, but Daniel Bryan kicked out.
Later, Miz locked on a figure four, but Bryan was able to escape, then Bryan was able to lock on the Yes Lock, but Miz grabbed the rope. Bryan hit a flying knee off the apron onto Miz, knocking him into Maryse. Maryse seemed to hand him something that looked like brass knuckles. Bryan ran at Miz, but Miz nailed him with the foreign object that Maryse gave him, then quickly handed it back with Maryse without the ref seeing… He went for the pin… 1-2-3. Really sluggish match that was honestly putting me to sleep, but I guess it picked up at the end. Good old school finish with the brass knucks.
Winner: The Miz (~23 minutes)
---
Finn Bálor vs. Constable Baron Corbin
Balor was dressed as "The Demon" for the first time in about a year. Balor totally dominated this match. Very early in, he flipped over the top rope to the outside and took out Corbin on the outside. After about a minute, Balor nailed Corbin with the Coup de Grace for the win in a total squash. Really good quick buffer match that helped make Balor look really strong.
Winner: Finn Balor (~1 minute and 30 seconds)
---
Backstage: Daniel Bryan and Brie Bella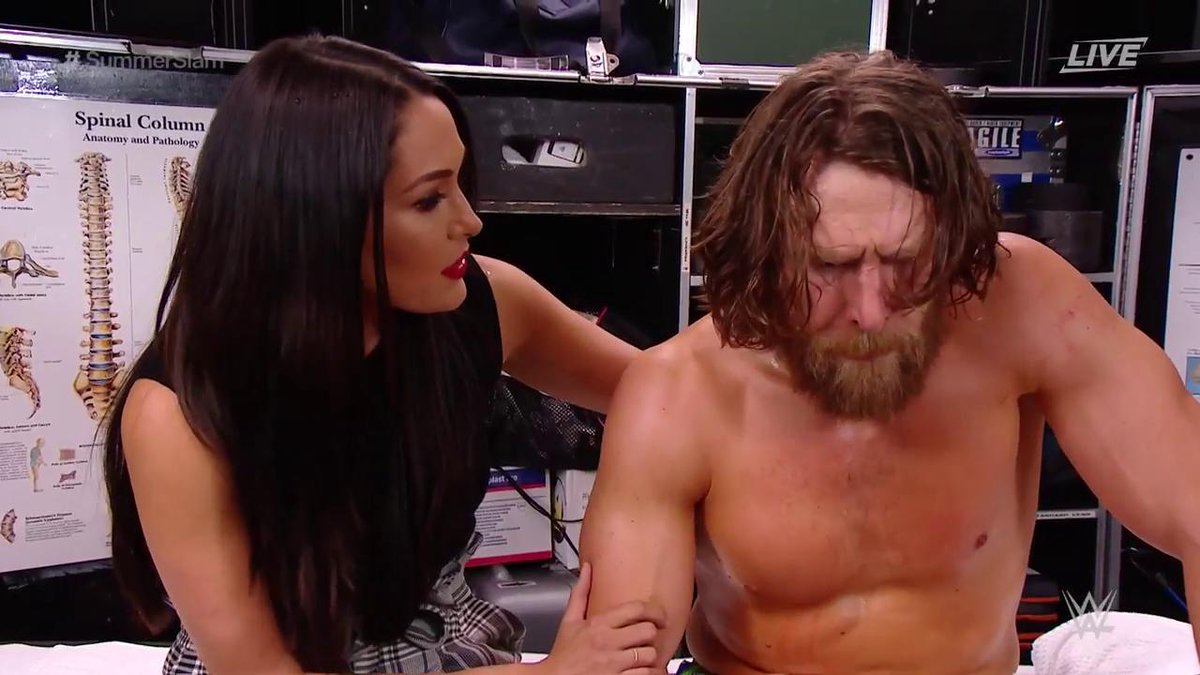 Backstage, Daniel Bryan had an ice pack on his head. Brie Bella was there checking on him and she was angry at Maryse. Bryan said he should have known Miz would do something like that. He said that this whole comeback has been a bust, but Brie gave him some motivation, saying that his fight isn't over and his dream was to return to the ring and he's done that. Bryan said he was going to stay backstage, but Brie should go out there and enjoy the show.
---
United States Championship
Shinsuke Nakamura (c) vs. Jeff Hardy
After like five minutes of nothing happening, Hardy hit a Whisper in the Wind off the top for a near fall. Crowd was dead. Nakamura went for the Kinshasa, but Hardy blocked him and went for the Twist of Fate, but Nakamura escaped and went for a low blow, but Hardy moved out of the way. Twist of Fate by Hardy… Swanton Bomb. After a delayed pin, Nakamura was able to grab the bottom rope at 2.
Nakamura was down on the apron. Hardy climbed on top of the ring post and tried a swanton bomb on Nakamura, but he moved and Hardy landed right on the apron. Damn. Kinshasa by Nakamura. 1-2-3. This was a really bad match that picked up for the past couple of minutes, which has been the story of the night.
Winner: Shinsuke Nakamura (~11 minutes)
After the match, Nakamura left and Randy Orton's theme music hit. He slowly walked down the ramp as Jeff Hardy lay helpless in the ring. He got near the ring, but suddenly decided to turn back and went backstage for some reason. OK…
---
Raw Women's Championship
Alexa Bliss (c) vs. Ronda Rousey
Natalya came out and Cole said that she was wearing the jacket that her father Jim Neidhart wore in 1990 at SummerSlam when the Hart Foundation won the tag team titles. Nikki and Brie Bella were in the crowd at ringside.
Alexa ran outside and contemplated running away. Rousey turned her back on her and sat down in the ring and told Alexa to come in… Alexa did and she put Ronda in a choke hold, but Ronda got up and lifted her on her back, then gave her a rolling death valley driver. Alexa kicked Ronda, but Ronda just got angry and nailed her with a flurry of punches and throws, tossing her around like a rag doll.
Ronda then grabbed Alexa's arm and asked the crowd if she should break her arm. She then bent her arm back really far, then locked on her armbar submission and Alexa immediately tapped. Total squash.
Winner and New Raw Women's Champion: Ronda Rousey (~4 minutes)
After the match, Natalya and both Bella Twins came in to celebrate with Rousey, who held her new title triumphantly.
---
Universal Championship
Brock Lesnar (c) vs. Roman Reigns
Either the crowd wasn't booing Reigns at all during his entrance or WWE had the crowd noise turned way down. Paul Heyman introduced Brock Lesnar…
And Braun Strowman's theme hit… Strowman marched down to the ring holding his Money in the Bank briefcase. "Yes" chant by the crowd. Strowman got on the mic: "Everybody knows the history of this Money in the Bank contract and I refuse to be a coward and cash it in when my opponent's back is turned. I am the monster among men and I do things face to face. So good luck to you, Roman and good luck to you, beastie boy, because I'm gonna be standing right here this entire match and I don't give a damn who wins because at the end of the night, one of you two is gonna get these hands." Strowman then stepped outside the ring and stood at ringside.
The bell rang and Reigns hit an immediate superman punch! And two more… and a spear! And another spear, and a third but Lesnar caught him and locked on a guillotine submission. But Reigns was able to get up and hit him with a spinebuster. Reigns went for a superman punch again, but Lesnar moved and hit him with a German suplex. And another one. And a third. Crowd chanted "you both suck."
Lesnar went for an F5, but Reigns broke free. Reigns dived at Lesnar, but Lesnar moved and Reigns hit Strowman with a suicide dive on the outside. Lesnar then went outside and hit Strowman with an F5! Lesnar picked up the briefcase and slammed it onto Strowman's back repeatedly, then he tossed it all the way down the entrance ramp, then he nailed Strowman with a chair.
Lesnar grabbed the chair and went into the ring but was immediately caught with a spear by Reigns… 1-2-3. Wow.
Winner and New Universal Champion: Roman Reigns (~6 minutes)
Reigns grabbed the Universal Championship and celebrated in the ring and the show went off the air… The crowd mics seemed to be turned way down again, so you couldn't really hear any reaction. I thought that was actually booked well and it was a very short, entertaining match. Strowman being at ringside and the super fast pace probably kept the crowd from hijacking the match again.