October 29, 2018
Charlotte, North Carolina
Commentary: Michael Cole, Corey Graves and Renee Young
Results by: Mike Tedesco of Wrestleview.com
---
Quick Match Results
Finn Balor def. Bobby Lashley via DQ
Lita, Trish Stratus, Natalya, Sasha Banks, and Bayley def. Alicia Fox, Mickie James, and The Riott Squad via Submission
Elias def. Jinder Mahal
Bobby Roode and Chad Gable def. The Ascension and AOP
Nia Jax def. Ember Moon
The Lucha House Party def. The Revival
Dolph Ziggler def. Apollo Crews
---
In-Ring: Baron Corbin, Brock Lesnar, Paul Heyman, Braun Strowman
A video kicks off the show recapping Roman Reigns' stunning announcement from last Monday that he has leukemia and will have to relinquish the WWE Universal Championship. Acting General Manager Baron Corbin is in the ring with the WWE Universal Championship on his shoulder. Corbin says last week was one of the most emotional nights not only of his role as Acting General Manager and his career. That was last week, but life goes on. Corbin wishes Reigns the best and smirks when he says he hopes Reigns doesn't come back to RAW. Corbin likes the title on his shoulder. Reigns made his job very difficult.
Brock Lesnar's music hits, and he makes his way to the ring with Paul Heyman to a big reaction from the crowd. Corbin tries to get the crowd to give it up for Lesnar, but Paul Heyman tells him to stop. Heyman says Corbin can do his shtick while he does his. "Ladies and gentlemen, my name is Paul Heyman, and I am the advocate for the beast, the conqueror Brock Lesnar." Lesnar is just staring at Corbin. Heyman says we live in historic times. Four days from now, history will be made once again when his client, Brock Lesnar, takes that championship back home and places it over his massive shoulders. In order to do that, Brock Lesnar has to beat Braun Strowman. Here's a heads up: this Friday at WWE Crown Jewel, Brock Lesnar will beat Braun Strowman. That's not a prediction: it's a spoiler. It's a guarantee. It's almost like the victory is predetermined. Heyman says this Friday, a career of milestone achievements will come to a head when Lesnar gives Strowman an F5 and once again becomes the Universal Champion.
Braun Strowman's music hits, and he comes out to a good reception. Strowman gets in the ring and stares at Lesnar. Strowman says at Crown Jewel, he will become the new Universal Champion because Lesnar is going to get these hands. Corbin stands between them and puts his hand on Strowman. Strowman shoves him, so Corbin attacks. Strowman shrugs it off and hits Corbin with a Powerslam. Strowman stares at Lesnar, who is smiling. Strowman picks Corbin up and gives him another Powerslam while Lesnar picks up the Universal Championship and holds it. The crowd chants, "One more time," and Strowman obliges while Lesnar smiles. Strowman hits Corbin with a third Powerslam. Lesnar then comes up from behind and hits Strowman with an F5. Lesnar holds up the Universal Championship before throwing it down on Strowman. Lesnar and Heyman walk off while Strowman angrily gets to his feet.
---
Finn Balor vs. Bobby Lashley
Lio Rush makes his entrance, and he says that his man Bobby Lashley thinks Finn Balor is just a not so extraordinary man. Lashley is going to dominate this match.
The bell rings, and Lashley powers Balor into the corner before driving some shoulders into the midsection. Lashley connects with a sidewalk slam, and Rush chants "Lashley" at ringside. Lashley applies a shoulder claw while Rush talks him up at ringside. Lashley scoops him up, but Balor knocks him out of the ring. Balor then hits a somersault senton. We come back from the break to see Lashley beating on Balor before reapplying a shoulder claw. Balor fights up, but Lashley slams him with a waistlock takedown. Rush is pleased with what he's seeing. Rush shouts that Lashley smells like money. Lashley then goes back to the shoulder claw again. Balor fights up, but Lashley knees him in the midsection. Lashley whips him to the corner and charges, but Balor boots him back. Balor hits a running forearm, but Lashley just stumbles. Balor hits a second forearm and takes him down. Lashley quickly comes back with a powerbomb attempt, but Balor hits a back body drop before catching him with a double stomp to the midsection. Balor chops him before having a whip to the corner reversed. Balor tries to slingshot over him, but Lashley catches him and hits a spinning slam for a near fall. Balor manages to catch him with a Sling Blade and dropkicks him into the corner. Lio Rush tries to distract him, but is unsuccessful. Balor jumps over Lashley as he gets up. Balor manages to take him down and goes to the top rope, but Rush shoves him to the floor for the disqualification.
Winner by Disqualification: Finn Balor
Corey Graves talks about how Bobby Lashley won't be happy he's getting the loser's end of the purse. Lashley slams Balor into the barricade and apron a few times before getting him in the ring. Lashley then applies a full nelson. Lio Rush gets in the ring and talks some trash while slapping Balor in the face. Balor is out from the pressure of the full nelson. The crowd loudly boos. Rush orders Lashley to pick Balor up. Rush then viciously slaps Balor in the face. Rush starts chanting "Lashley" while he poses.
---
Backstage: Bobby Lashley, Baron Corbin
Bobby Lashley and Lio Rush walk into the trainer's room to see a hurting Baron Corbin. Corbin commends Lashley for what he just did to Finn Balor. Balor has been a pain in his butt. Corbin is going to reward Lashley by putting him in the WWE World Cup Tournament. Lashley asks who he is replacing. Corbin says he's replacing a guy who didn't qualify, John Cena. Lashley and Rush bump fists.
---
Segment: Ronda Rousey, Becky Lynch
RAW Women's Champion "Rowdy" Ronda Rousey will take on Smackdown Women's Champion Becky Lynch at Survivor Series.
Ronda Rousey was being interviewed by Charly Caruso last night after WWE Evolution when Becky Lynch interrupted. There is a lot of tension. Lynch says she'll be seeing Rousey soon.
---
Lita, Trish Stratus, Natalya, Sasha Banks, and Bayley vs. Alicia Fox, Mickie James, and The Riott Squad
Lita and Trish Stratus make their entrances. This is Lita's first RAW match since 2012. Stratus last wrestled on RAW in 2011. Alexa Bliss accompanied the heel team to the ring.
It'll be Trish Stratus starting the match against Sarah Logan. They lock up, and Stratus hits a snapmare before taunting her. Stratus hits a headlock takeover and catches Ruby Riott with a head-scissor takeover simultaneously. Liv Morgan tags in, and Stratus hits a Lou Thesz Press before punching away at her. Lita tags in, and they hit Poetry in Motion on Morgan. Lita chops the chest before having a whip reversed. Lita hits a head-scissor takeover before connecting with a sweeping DDT. Lita goes to the top rope, but The Riott Squad pulls Morgan out of the ring. Bayley and Banks then hit them with baseball slides before taking Fox and James out with cross-body blocks off the apron.
We come back from the break to see Bayley working on Alicia Fox's arm. Sasha Banks tags in, and they continue to attack Fox. Stratus tags in, and she hits a double-team back elbow with Banks before dropping elbows on Fox. Banks tags in and rolls up Fox for a two count. Banks hits the ropes, but James grabs her foot. Fox then kicks Banks in the face for a near fall. Mickie James tags in, and she applies a chin lock to Banks. Banks fights up, but James knees her in the midsection. Banks quickly slingshots over her, but James stops her from making a tag. James slams Banks into her corner and tags Logan in. Logan tries for a suplex, but Banks counters into an inside cradle for a two count. Logan quickly dropkicks her for a near fall. Logan then applies an arm bar. Banks fights up, but Logan powers her down. Banks fights out and tries for a tag, but Logan cuts her off. Riott tags in, and she stomps away at Banks. James and Fox get some cheap shots in while Riott distracts the referee. Riott applies a front facelock. Riott quickly powers Banks down and knocks Lita off the apron. Riott mocks Banks and charges, but Banks sidesteps her. Riott knocks The Riott Squad off the apron. Fox quickly tags herself in and attacks Banks.
Natalya tags in, and she takes Fox down before taking her down for a low dropkick. Natalya hits a spinning lariat, but Logan breaks up the pin. Stratus takes Logan out before hitting a handspring head-scissor on James. Banks hits a meteora on James. Bayley and Lita hit Morgan and Riott with dual Twists of Fate. Bayley goes to the top rope and hits Riott with a diving elbow. Lita then hits Morgan with a Lita-sault. Lita and Natalya hit Fox with a Hart Attack for a near fall. Natalya immediately follows up with a Sharpshooter for the submission victory.
Winners by Submission: Lita, Trish Stratus, Natalya, Sasha Banks, and Bayley
---
Backstage: Nia Jax, Ember Moon
Still photos are shown of Nia Jax winning the Battle Royal where the winner gets a title shot at a future date. Nia Jax is interviewed by Kayla Braxton backstage. She asks when Jax plans on cashing in her title opportunity. Jax says she'll be waiting after Ronda Rousey takes on Becky Lynch. Ember Moon then joins them, as she eliminated five people in the battle royal. Moon says she caught lightning in the bottle. Jax says she won, so she should be interviewed. Moon says she respects Jax, but maybe Jax will respect her more if she challenges her. Jax says she respects her, but she needs guidance. Last night, Moon caught lightning in the bottle, but she still lost. Tonight, the same thing will happen.
---
Segment: Elias, Dana Brooke, Baron Corbin, Jinder Mahal
"Ladies and gentlemen… Elias." Elias strums an E minor chord and gets a good reception. Elias greets the crowd and plays a riff. Elias says everything will be put on his shoulder because a universal truth is WWE stands for Walk With Elias. Elias lets out a "WOO." Elias says he came into Charlotte early because Ric Flair has been wanting to hang out with Elias. Flair told him that Elias was his favorite. Flair said that Elias is the man and was happy about what he did to Baron Corbin last week. Replays are shown of Elias hitting Baron Corbin in the back with a guitar. A "YES" chant fires up in the arena.
Elias says he was going to play a song for Baron Corbin, but after what Braun Strowman did to him, he figures Corbin won't be coming out. Elias says the song is too good not to play. Since he's a giver, he'll bring the song to Corbin's face. Elias walks to the back.
Elias is walking backstage when Dana Brooke stops him. She asks if he can play her a song, but he says, "For you? No."
Elias walks and tells a stagehand to put a chocolate cake in his locker room. Elias knocks on Corbin's door, and Corbin tells him to go away. Elias says he'll play the song for him as long as he silences his cell phone, holds the applause, and shuts his mouth. Elias sings about Corbin having potential, but now he's a stupider version of Kurt. Corbin storms out, and Elias sings about how he's Stephanie's little bitch. Corbin slams the door.
Jinder Mahal then attacks Elias out of nowhere and sends him ribs-first into a crate. Corbin comes out and says it looks like Mahal tuned him up. Corbin tells him to get ready for an encore because his match is next.
---
Elias vs. Jinder Mahal
The bell rings, and Elias is holding his ribs. Elias gets away from Mahal in the corner. Mahal tries to attack the ribs, but Elias punches him back and hits a clothesline. Mahal quickly comes back with a back suplex before stomping him. Samir Singh stretches Elias on the ring post while Sunil Singh distracts the referee. Mahal stomps Elias and applies a chin lock. Mahal transitions to an overhead wristlock before applying a bear hug to the injured ribs. Mahal quickly knees him in the ribs and sloppily applies an abdominal stretch. Elias eventually gets out and kicks Mahal back. Mahal quickly scoops Elias up, but Elias slides off, avoids a knee, and hits Drift Away for the win.
Winner by Pinfall: Elias
---
World Cup Bracket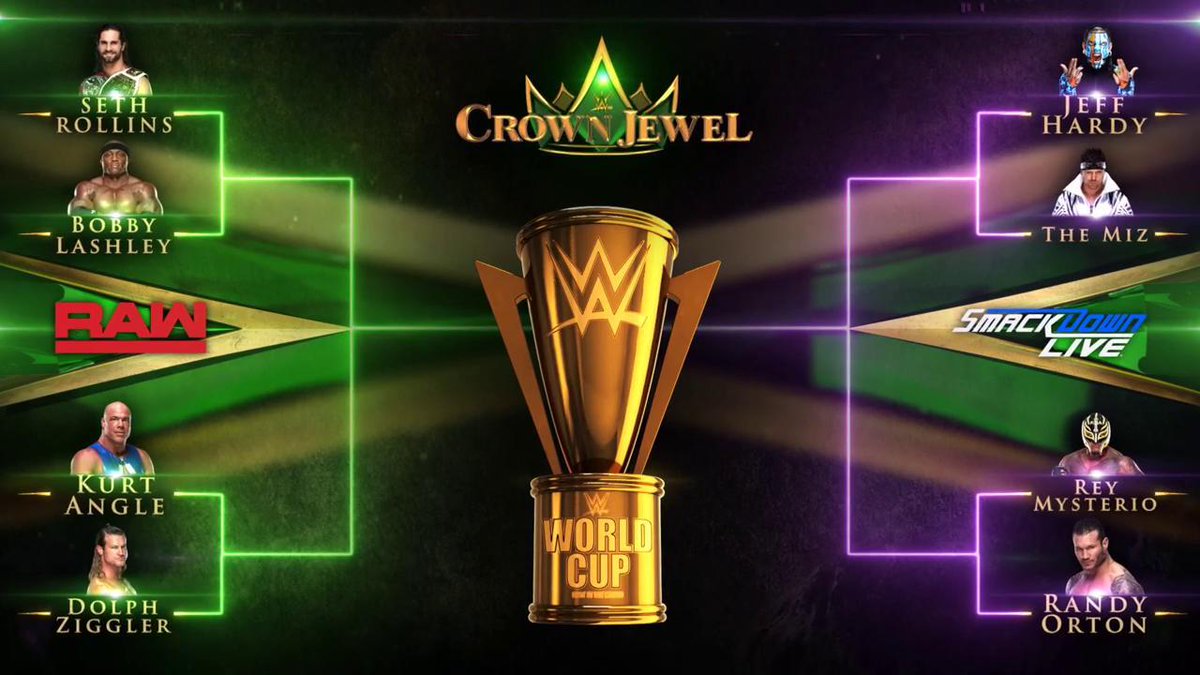 They showcase the WWE World Cup tournament bracket.
---
Backstage: Kurt Angle
A video package highlighting the career of WWE Hall of Famer Kurt Angle plays. A pretaped promo from Kurt Angle is then shown. Angle says he's heard the naysayers talking about him winning the WWE World Cup. Was he out of his mind when he won the King of the Ring in 2000 or the WWE Title in his rookie year? Was he out of his mind when he won the Olympic Gold Medal with a broken freakin' neck? Maybe. No matter what, if he wins on Friday that'll be one of the greatest accomplishments of his life. Angle warns Bobby Lashley, Seth Rollins, and Dolph Ziggler that he's coming.
---
Triple Threat Tag Team Match
The Ascension vs. Bobby Roode and Chad Gable vs. AOP
While AOP are making their entrance, The Ascension, Bobby Roode, and Chad Gable attack them. The referee tries to get order while we go to commercial. We come back from the break to see Gable hit Rezar with a jawbreaker. Konnor blind tags in and hits Gable with a spinebuster. Akam pulls Konnor off the pin. Gable knocks Akam into Konnor. Viktor tags in, but Gable flips through a back suplex. Roode tags in, and they hit a rolling German Suplex/neckbreaker combo for the win.
Winners by Pinfall: Bobby Roode and Chad Gable
AOP immediately attacks them from behind, crushing Viktor with a powerbomb/neckbreaker combo. They then hit Roode and Gable with the Super Collider. Drake Maverick stands tall with AOP.
---
Segment: Seth Rollins, Dean Ambrose
WWE Intercontinental Champion and one-half of the RAW Tag Team Champions Seth Rollins makes his way to the ring to a good reaction. Rollins takes a deep breath and grabs a microphone. Rollins says it's been a rollercoaster of emotions all week for him. There's a lot of feelings he's been going through. Rollins thanks the fans for all the love and support they've sent to Roman Reigns. Rollins thanks the crowd on behalf of Reigns. A "Thank you, Roman" chant fires up. Rollins says the positivity makes him happy and feel good. The other thing that makes him feel good is becoming RAW Tag Team Champion for the third time, but he's also feeling sad. He should be out here celebrating with his friend, partner, and brother Dean Ambrose. The crowd boos the mention of his name. That's impossible because Ambrose turned his back on him, The Shield, and everyone else. Rollins looks down and says that makes him feel guilty because he's been wondering all week if it wasn't his fault. Maybe what he did four years ago was unforgivable. Maybe Ambrose let it fester and he lashed out. Rollins says he feels frustrated and confused. The only person that has the answers is Dean Ambrose. The problem with that is that Ambrose is the kind of guy that won't be found if he doesn't want to be. Rollins is asking Ambrose as a friend and brother to come out and tell them why. If Ambrose wants the spotlight, he can come out and have it.
Dean Ambrose's music hits, but he doesn't come out. Rollins is left looking around. All of a sudden the crowd turns around and sees Ambrose pacing at the top of the steps. Rollins says Ambrose is mocking The Shield. Rollins tells him to get in the ring, face him like a man, and give him the answer that he deserves. Ambrose coldly looks at him and doesn't move. Rollins says at least when he put the knife in his back, he had the decency to look him in the eye while he did it. Rollins commands him to get into the ring and face him like a man. Ambrose starts to slowly walk down the stairs, but then he stops and pulls out a microphone. Ambrose holds it up, but then puts it down and scowls. Ambrose thinks for a bit and sneers again. A "You sold out" chant picks up.
Rollins smiles and says Ambrose is a cold hearted bastard. On the most emotional night in the history of The Shield, Ambrose spat on everything they ever did. On the night Reigns left to battle leukemia, Ambrose made it all about himself. Rollins says he's fixed on Ambrose for as long as he lives. Rollins will make Ambrose's life a living hell. Ambrose just stares at him. Maybe Ambrose is just a soulless lunatic. Ambrose doesn't like that. Rollins says he's going to come up there and beat an answer out of Ambrose. Ambrose just shrugs and walks away. Rollins stands at ringside looking furious.
---
Backstage: Bobby Lashley & Lio Rush
Bobby Lashley and Lio Rush are backstage with Charly Caruso. She asks what it would mean for Lashley to win and be considered the best in the world. Rush answers for him. The World Cup is about dominating the field of competition and adding another trophy to the big man's record. Lashley has done it all. Does Seth Rollins stand a chance? Seeing the state of mind Rollins is in, he has no chance. It's a foregone conclusion that Lashley will prove at Crown Jewel that he's the best in the world. They walk off.
---
Nia Jax vs. Ember Moon
Moon quickly starts with a dropkick, but Jax doesn't go down. Moon splashes Jax in the corner and goes to the top rope. Jax cuts her off and lifts her on her shoulders. Moon slides off and hits the ropes, but Jax clotheslines her down. Jax steps on her and drops an elbow for a two count. Jax takes her down with a short-arm clothesline before applying a bear hug. Moon elbows out, so Jax grabs her and throws her across the ring. Moon avoids a charge, and Jax hits the ring post shoulder-first. Jax falls out of the ring. Moon then comes off the second rope with a cannonball to take her down. Jax soon head-butts Moon and throws her in the ring.
All of a sudden, Tamina's music hits. Tamina makes her way to the foot of the ramp. Jax blindsides Moon and drops a leg for the win.
Winner by Pinfall: Nia Jax
Tamina gets in the ring and stares at Jax. Tamina then smirks and leaves the ring before backing up the ramp.
---
The Revival vs. The Lucha House Party
Kalisto and Lince Dorado will be in the match while Gran Metalik is at ringside. Kalisto will start against Dash Wilder. Wilder powers Kalisto to the corner and taunts him. Kalisto slaps him, so Wilder clubs him down. Kalisto ducks a clothesline and hits a springboard moonsault off the second rope before dropkicking him down. Lince Dorado comes in and nearly kills himself with a suicide dive on Wilder. Kalisto gets Wilder in the ring. Wilder quickly drops him on the top rope and hits a back suplex. Scott Dawson tags in and drops a leg. Dawson hits a snap suplex before dropping an elbow for a two count. Dawson covers two more times for the same result. Dawson applies the Gory Special to Kalisto. Kalisto gets out, but Dawson uppercuts him. Kalisto kicks Wilder and Dawson away. Dawson quickly punches Dorado off the apron. Dawson hits a short-arm clothesline. Kalisto then hits the Salida del Sol out of nowhere. Dorado hits Wilder with a springboard cross-body block to keep him from breaking up the pin.
Winners by Pinfall: The Lucha House Party
---
Dolph Ziggler vs. Apollo Crews
Dolph Ziggler and Drew McIntyre come out to the ring. Ziggler says this Friday is WWE Crown Jewel. Ziggler has his eyes on the prize. McIntyre says now that they have finally broken The Shield, their full undivided attention will be squarely on one match. That is Brock Lesnar versus Braun Strowman for the WWE Universal Championship. Ziggler says whoever wins will have a target on their back and a Claymore Kick in their future. What doesn't make sense is Kurt Angle saying he'll win the WWE World Cup. Ziggler will tell the truth. Kurt Angle has been an idol of his for a long time. What Angle did for collegiate and amateur wrestling is incredible. Without guys like Kurt Angle, guys like Dolph Ziggler wouldn't exist in WWE. Ziggler will cement his legacy by winning the World Cup. Angle will get an example tonight. Ziggler tells Angle to not forget that he's the best to ever walk down the aisle and the best thing to ever happen to this business.
We join this match in progress. Crews is getting the better of Ziggler. Crews takes him down with a leaping clothesline and a step-up enzuigiri. Crews covers for a near fall. Crews goes to the top rope, but Ziggler knocks him off the top rope for a two count. Ziggler boots Crews in the head and goes for a superkick. Crews blocks it, but Ziggler ducks the enzuigiri. Crews quickly takes him down and press slams him. Crews follows up with a standing moonsault for a near fall. Crews goes to the top rope, but Ziggler meets him up there. Crews shoves him off and hits a frog splash, but Ziggler gets the knees up. Ziggler superkicks him for the win.
Winner by Pinfall: Dolph Ziggler
Drew McIntyre joins Ziggler in the ring and kicks Crews.
---
In-Ring: Kane, Undertaker, Triple H, Shawn Michaels
Kane makes his entrance before being followed by his brother, the legendary Undertaker. The Brothers of Destruction stand in the ring while an "Undertaker" chant fires up. Undertaker says, "It's not easy to heed his call… to say goodbye… to reach the end, but when The Reaper calls, no matter how hard you fight, it's your time to go." Kane says, "In the distance, they can hear their names being whispered. As time went by, it got louder and the whisper has now become a deafening cry." Undertaker says, "This Friday, at WWE Crown Jewel (boos), The Brothers of Destruction will take the beaten, battered souls of D-Generation X for the first time and the last time to the fiery gates of hell. It won't be swift. It will be slow, agonizing pain. It will not just be the end of an era. It will be the end of your error." Kane follows up by saying, "But that is this Friday. Tonight, Triple H and Shawn Michaels, you're being summoned to this ring right now." The crowd pops big for that. Undertaker say, "So we can take your souls for eternity so that you can never Rest… in… Peace."
D-Generation X's music hits, and Triple H makes the entrance. Triple H looks around and then points to the back. Kane gets out of the ring and charges Triple H. Shawn Michaels comes from behind Undertaker and gives him Sweet Chin Music. Kane runs into the ring, but Michaels escapes. DX celebrates at the foot of the ramp. Undertaker then angrily sits up. DX looks stunned and backs up terrified. The Brother of Destruction get to their feet and stare at DX as the show comes to an end.
---
E-Mail – MikeyT817@gmail.com
Twitter – @MikeTedescoWV