December 3, 2018
Houston, Texas
Commentary: Michael Cole, Corey Graves and Renee Young
Results by: Mike Tedesco of Wrestleview.com
---
Quick Match Results
Ronda Rousey & Natalya vs. Nia Jax & Tamina never started due to interference by The Riott Squad
Sasha Banks & Bayley defeated Mickie James & Alicia Fox via Backstabber and Bayley to Belly on James
Lucha House Rules Match: Lucha House Party defeated Scott Dawson via all three of their finishers
Dolph Ziggler defeated Finn Balor via superkick after interference by Finn Balor
Handicap Match: AOP & Drake Maverick defeated Bobby Roode & Chad Gable via Super Collider
Loser Is Fired From Raw: Heath Slater defeated Rhyno via neckbreaker
Finn Balor defeated Jinder Mahal via Coup de Grace
Ronda Rousey & Ember Moon defeated Nia Jax & Tamina via arm bar submission on Tamina
---
RAW opens up with a 10 bell salute to President George Herbert Walker Bush, the 41st President of the United States, who passed away over the weekend.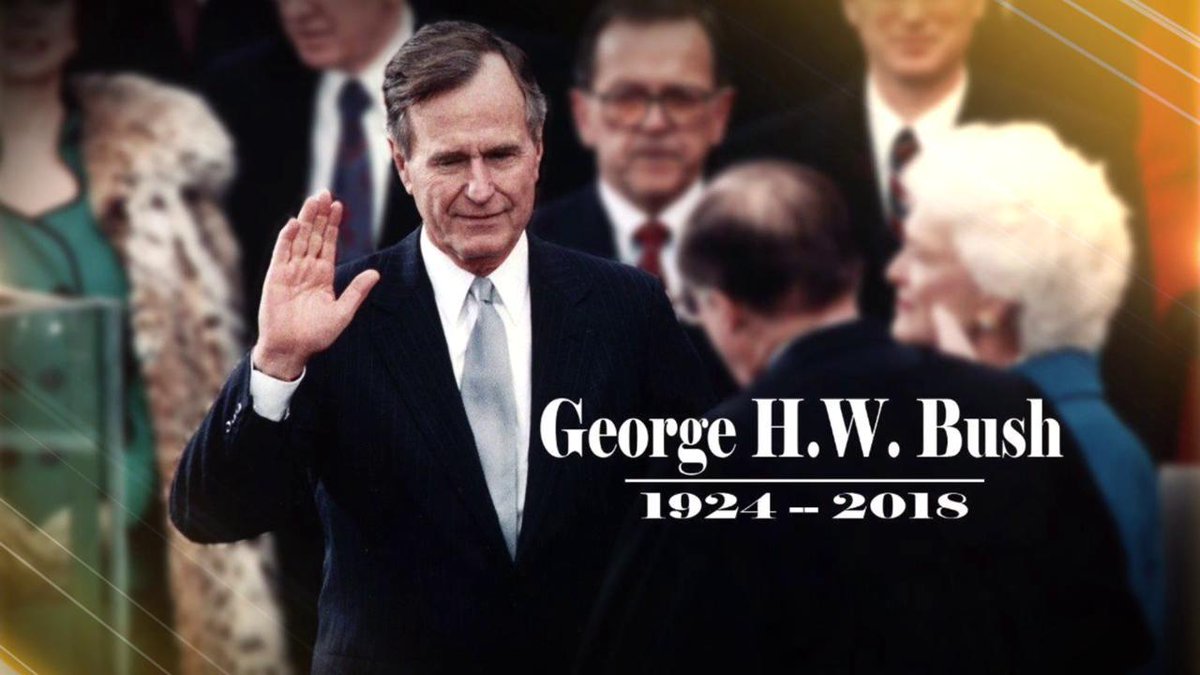 ---
Ronda Rousey & Natalya vs. Nia Jax & Tamina
While we wait for the match to start, The Riott Squad make their entrance. They come down to the ring holding a table. Jax and Tamina blindside Rousey and Natalya. Jax and Tamina send Rousey into the ring steps. Natalya tries to fight off The Riott Squad, but she's soon overwhelmed. The table is set up at ringside. The Riott Squad puts it in front of the ring. Rousey gets in the ring, but Tamina cuts her off. Jax then avalanches Rousey before dropping a leg. The Riott Squad then powerbomb Natalya off the apron through the table. Jax, Tamina, and The Riott Squad then walk off while the crowd boos. Referees run down to help Natalya. This match never started.
After commercials, Ronda Rousey is helping Natalya walk backstage. Natalya is having a hard time catching her breath. Medical personnel come up to Natalya while Rousey angrily looks ahead.
---
In-Ring: Alexa Bliss, Sasha Banks, Bayley
Alexa Bliss makes her way to the ring. She is the new head of the Women's Division on RAW. Bliss says she was appointed by General Manager-Elect Baron Corbin to oversee the RAW Women's Division. With great power comes great responsibility. She will showcase what the RAW Women's Division has to offer. Her forum didn't go as planned last week, so she'll try again. We're going to get to know Sasha Banks and Bayley and what makes them tick.
Sasha Banks and Bayley make their way to the ring to a light reaction. Bliss thanks them for joining her. Bayley asks how many questions they have to answer before Alexa — no, wait, Mickie James and Alicia Fox come out. Bliss apologizes about that and didn't know they were there. Bliss reprimanded them. A fan at ringside asks how they respond to the comments that Banks is using Bayley. Banks says Bayley wasn't supposed to find out like this. Banks says Bayley is her best friend, and they will be tag team partners for life. The crowd does not like that. Another fan asks who they would love to face from any era. They say Trish and Lita together and high five while the audience groans. Another fan asks how they would change things. Bayley says she'd make Alexa Bliss disappear, and Banks and Bayley celebrate. Charly Caruso is looking around at ringside while everyone awkwardly waits in the ring. Another fan asks what changes they will bring in 2019. Bayley says WWE Evolution was a huge success, but they want to be the first-ever WWE Women's Tag Team Champions. Dana Brooke, Mickie James, and Alicia Fox run down, but Bliss stops them. Bliss then makes a tag match. Brooke is just to stay at ringside.
---
Sasha Banks & Bayley vs. Mickie James & Alicia Fox
We join the match in progress. Bayley is being worked over by Fox and James. Fox and James try for a double-team, but Bayley moves. Fox boots James out of the ring by accident. Banks tags in and clotheslines Fox twice before hitting a dropkick. Banks kicks Fox to the corner and applies a Bank Statement. James breaks it up and tags in. James stomps Banks, but Banks fights back. James trips her on the ropes and kicks her down, but Bayley breaks up the pin. Bayley hits Fox with a back suplex and knocks Brooke off the apron. James knocks Bayley out of the ring. Banks rolls James up for a near fall. Bayley quickly tags in. Banks hits a backstabber on James before Bayley hits Bayley-To-Belly for the win.
Winners by Pinfall: Sasha Banks and Bayley
---
Backstage: Ronda Rousey, Alexa Bliss
Ronda Rousey finds Alexa Bliss and says The Riott Squad crossed the line. Bliss didn't know that was going to happen. She sent The Riott Squad home and will address it last week. Rousey wants Nia Jax and Tamina tonight. Bliss says she can't do it, but she'll find her a new tag team partner. Rousey says she'll find one herself.
---
Video: Baron Corbin
They air a video about Baron Corbin's "rise to power."
---
Backstage: Baron Corbin, Bobby Roode, Chad Gable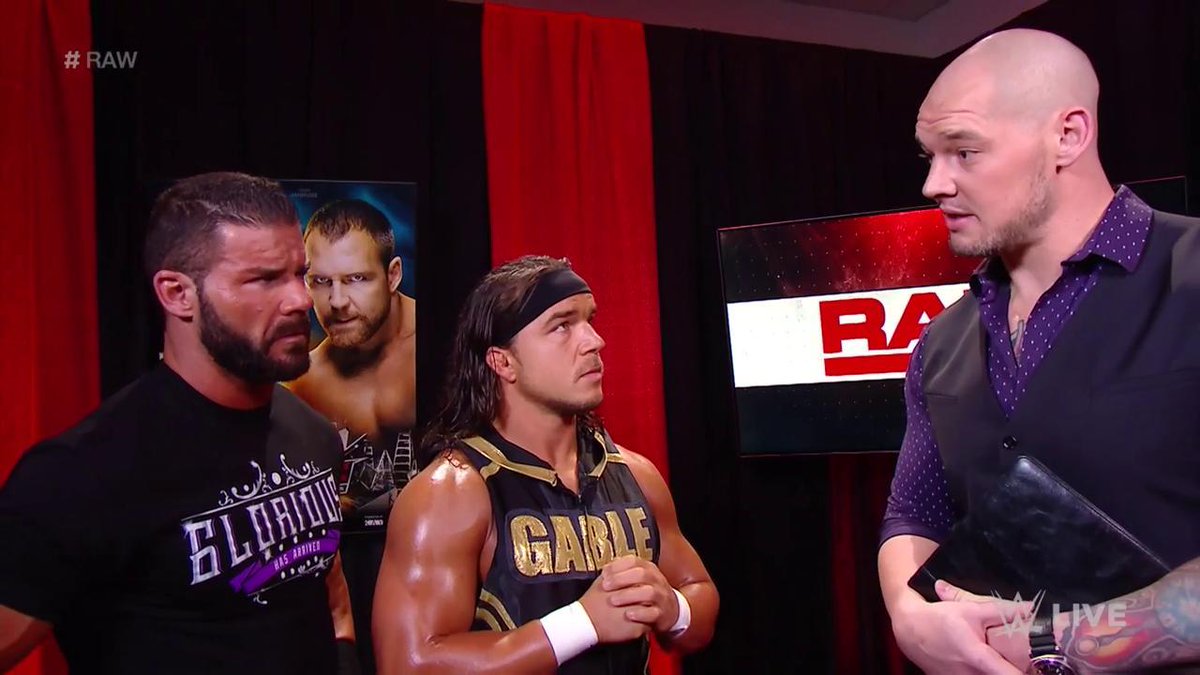 Baron Corbin is backstage when Bobby Roode and Chad Gable walk up. They want a rematch with AOP for the RAW Tag Team Championships. Roode says he'll do anything to get his hands on Drake Maverick. Corbin says they lost to AOP, but they can have another match if Roode can win against Drake Maverick. Roode asks what the catch is. Corbin tells them not to believe everyone that he's a bad guy. The only condition is Chad Gable and AOP cannot be at ringside.
---
Lucha House Party vs. Scott Dawson
The Revival makes their entrance. Scott Dawson says we have a failure to communicate. They're trying to teach them how to have a proper tag team match. They don't respect tag team wrestling. None of that happens. If they can't respect their lessons in tag team wrestling, he'll teach them a lesson in a traditional one-on-one match.
JoJo says this will be contested under Lucha House Rules, which means all the members of the Lucha House Party can be in the match.
Gran Metalik takes Dawson down before tagging in Lince Dorado. Dorado and Kalisto do a double-team move for a two count. Dorado tags in, and Dawson clotheslines him down. Dawson tries to keep Dorado down before applying the Gory Special. Dorado fights out and superkicks him. They then knock Dash Wilder off the apron. Kalisto hits Wilder with a springboard somersault senton. Kalisto hits Dawson with a Salida del Sol. Metalik then hits a springboard senton for the win.
Winners by Pinfall: Lucha House Party
---
In-Ring: Drew McIntyre Appreciation Night
Baron Corbin says he'll be RAW's permanent General Manager in two weeks when he beats Braun Strowman in a TLC match. From a wrestling superstar to a constable to General Manager-Elect. Corbin says if you're born better than anyone else, you can achieve anything. During his journey, he's had a few thorns in his side like The Shield, Kurt Angle, and Braun Strowman. Due to one man, his journey has been pain free. Corbin says tonight is Drew McIntyre Appreciation Night. Video Package: The domination of Drew McIntyre over the RAW roster
Drew McIntyre makes his entrance. Corbin says since he took out Kurt Angle, they need a gold medalist. Corbin then gives McIntyre a gold medal for all the work he's accomplished. McIntyre says he's here to end complacency. Seven months ago when he came here, he was going to eradicate the roster of these people. McIntyre wants to reform RAW in his image. It would be the home of the strong and mighty. These people would give 150% every day, not just Monday on RAW. McIntyre says he's doing a good job. Finn Balor likes to think he's the voice of these people. McIntyre says Balor is a boy in a man's world. At TLC, he'll hurt him and break his spirit.
Dolph Ziggler's music hits, and he cuts off McIntyre. Ziggler says McIntyre is having memory problems. They had a deal. Ziggler brought McIntyre to RAW, but he wasn't in the video package. They dominated RAW. Ziggler was the brains and McIntyre was the muscle. His invitation got lost in the mail. McIntyre says the truth is Ziggler was never invited. Ziggler doesn't meet the height requirement for one. McIntyre says he was always the brains, muscle, and talent. McIntyre says he's the whole damn package. This business relationship worked for a while, but it's not working anymore. Ziggler's role was to get him in a prominent position. Ziggler succeeded for once in his life. McIntyre sarcastically thanks Ziggler before dismissing him.
McIntyre says Ziggler should be kissing his feet. McIntyre is the reason Ziggler has been relevant for the first time in 10 years. Ziggler attacks McIntyre before hitting a Zig-Zag. Corbin says Ziggler is not going to come down here and ruin Drew McIntyre Appreciation Night. Corbin says Ziggler will face McIntyre now.
---
Drew McIntyre vs. Dolph Ziggler
We join this match in progress. McIntyre catapults Ziggler head-first into the post. Ziggler falls to ringside. McIntyre goes outside and scoops him up. McIntyre walks with ease up the steps and drops Ziggler into the ring. McIntyre stomps the limbs of Ziggler before applying an arm bar. Ziggler tries to fight up, but McIntyre powers him down while keeping the hold applied. Ziggler fights up and punches out. Ziggler chops the chest and hits the ropes. McIntyre counters a spike DDT into a slam.
McIntyre grabs a microphone and says he still has a soft spot for Ziggler, so he'll treat him like someone he doesn't like. McIntyre will treat him like Finn Balor. McIntyre slams Ziggler off the ring apron, the barricade, and then on the floor. McIntyre gets Ziggler in the ring, easily blocks a right hand, and takes Ziggler down.
Finn Balor then walks out onto the stage. Balor slowly walks down to ringside.
We come back from the break to see McIntyre fight Ziggler off. Ziggler quickly elbows and boots him, but McIntyre comes back with an inverted Alabama Slam for a near fall. McIntyre angrily looks at Balor. McIntyre gets Ziggler on the top rope, but Ziggler knocks him off. Ziggler then hits a spike DDT for a near fall.
Ziggler elbows McIntyre back and sends him over the top rope. Ziggler leaps off the apron and punches away at McIntyre. Ziggler chops the chest, but McIntyre immediately responds with a Glasgow Kiss. McIntyre crotches Ziggler onto the barricade before rolling him into the ring. Ziggler rolls into the referee, who falls down. Balor then dropkicks McIntyre into the barricade. The referee starts to count, and McIntyre gets in at nine. Ziggler immediately superkicks him to pin him. That's the first time Drew McIntyre has been pinned since he's been back in WWE.
Winner by Pinfall: Dolph Ziggler
---
Backstage: Drew McIntyre
Drew McIntyre is angrily walking backstage when Charly Caruso stops him. McIntyre says they don't know what he's capable of, but Dolph Ziggler does. Ziggler attached himself to him like a parasite to reach the top of the mountain, but McIntyre is the mountain. It'll come crashing down on Ziggler. As for Finn Balor, he's a marked man.
---
In-Ring: Elias, Lio Rush, Bobby Lashley
"Ladies and gentlemen… Elias." Elias greets the crowd and plays a riff. Elias wishes Bobby Lashley was here so he could wrap his guitar around his head. Lashley is hard to find. At TLC, there will be nowhere to hide. At TLC, "The Almighty" Bobby Lashley will find out a universal truth: WWE stands for Walk With Elias. Despite all of that, he has a song to sing.
Lio Rush immediately cuts him off. Rush and Bobby Lashley are on stage. Rush says as much as they'd love to hear Elias play a song, the spotlight belongs to "The Almighty" Bobby Lashley. Elias felt the power and strength of Lashley. At TLC, he'll feel it again… and again… and again. Lashley has the most magnificent body in the world. Michelangelo couldn't envision such a physique. Rush has Lashley do some poses before doing his signature pose of bending down and pointing at his rear end.
Elias leaves the ring and charges up the ramp. Lashley quickly cuts him off and beats him down. Elias reverses a whip into the LED stage wall and grabs his guitar, but Lashley barely escapes. Rush all of a sudden comes up on the stage, and Elias cracks him in the back with the guitar. The cameras missed Balor coming out and throwing Rush onto the stage. Elias and Balor smile at each other.
---
Backstage: Baron Corbin, Jinder Mahal, Heath Slater, Rhyno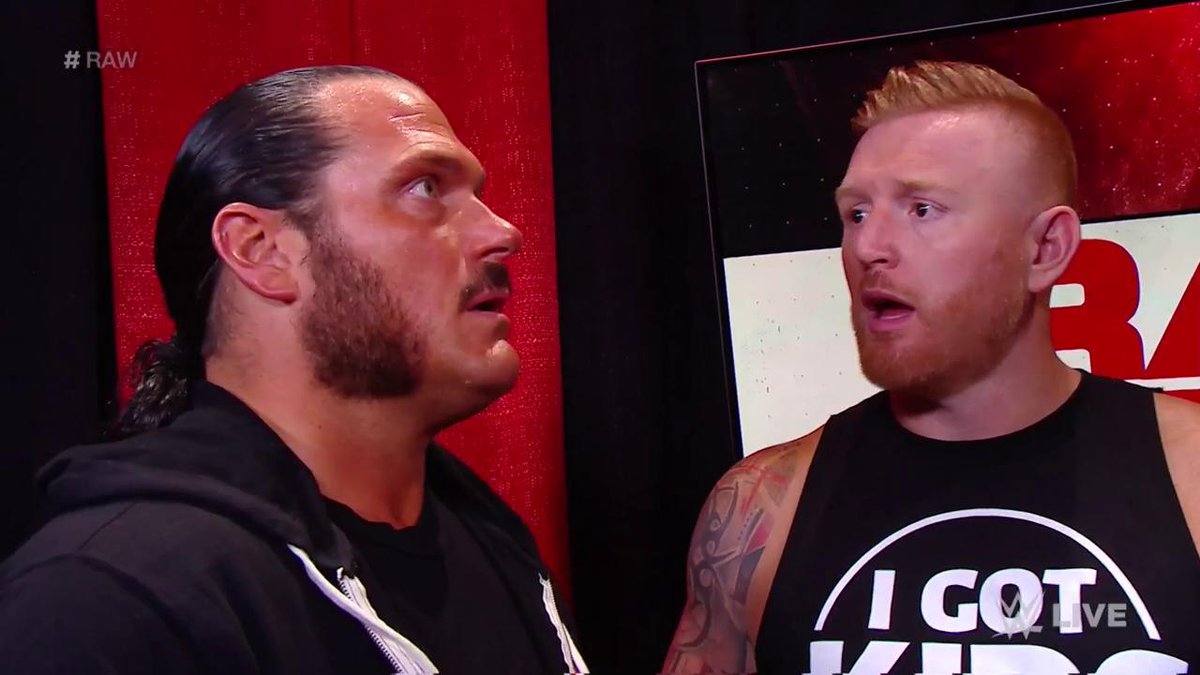 Baron Corbin is watching in disgust backstage. Jinder Mahal is in his office with The Singh Brothers. Mahal tells him not to stress about this. At TLC in the main event, Corbin will put an end to Braun Strowman. As for tonight, Mahal wants to take care of Finn Balor. Corbin likes the sound of that. Corbin agrees. As for Strowman, he's a one-armed man. They laugh before leaving.
Heath Slater and Rhyno then come in the office. Corbin says there is only room on RAW for one of them. One guy can quit and save the other's job. Slater says he has a family and kids. Rhyno says he can't just quit. Corbin says they'll handle it in the ring, so they'll fight. The winner stays on RAW and the loser is fired.
---
AOP & Drake Maverick vs. Bobby Roode & Chad Gable
This match was originally booked as Drake Maverick vs. Bobby Roode. If Bobby Roode wins, he'll get a shot with Chad Gable at the RAW Tag Team Championships against AOP. Gable and AOP are banned from ringside.
Maverick looks terrified. Maverick throws his vest in Roode's face. Roode quickly takes him down and punches away at him in the corner.
Footage is shown on the video wall of AOP viciously attacking Chad Gable. Baron Corbin runs up to them and says he forgot to tell them that it's a 3-on-2 handicap match. Corbin tells the debilitated Gable to get to ringside.
AOP comes to ringside while Roode hits Maverick with a Glorious DDT. AOP breaks it up and sends Roode shoulder-first into the ring post. Rezar clubs away at Roode before Akam tags in. They hit a double-team sidewalk slam/stomp. Gable slowly walks down to the ring holding his head. Gable fights off AOP, but they take him down. Rezar avalanches Roode in the corner. AOP then hit the Super Collider. Maverick tags in and pins Roode.
Winners by Pinfall: Drake Maverick and AOP
---
In-Ring: Dean Ambrose, Seth Rollins
A siren wails, and a bunch of guys dressed in black and wearing gas masks make their way to the ring. Dean Ambrose then makes his way to the ring wearing a gas mask to avoid smelling the crowd. There is a microphone in the mask, and Ambrose is breathing like Darth Vader. Ambrose paces around the ring and tells the crowd to be seated. Ambrose says you cannot be too safe in a dangerous slum like Houston, Texas. Ambrose needs these men to protect him from whatever diseases the crowd is carrying, as well as the madman, Seth Rollins. Ambrose removes the mask. Last time he was in the ring, he was attacked by Rollins unprovoked. In the last few weeks, he's said some things to trigger Rollins. Rollins is needy just like the crowd. Ambrose says the crowd has weak character. Rollins is the biggest scumbag and lowlife on the planet. The people like Rollins because he gives them high fives.
The Shield used to be something he could be proud of, but after a while Roman Reigns and Rollins only cared about sucking up to the crowd. A "We want Rollins" chant picks up. Ambrose says life sucks and you don't get what you want. Ambrose says he's the last man in the industry with integrity. Ambrose is proud to stand in the ring as the moral compass of WWE. Ambrose wants Rollins to understand what will happen at TLC. Rollins will drop the ball and slip up. Rollins will lose control of himself, his emotions, the situation, and the Intercontinental Championship. That prestigious championship will fall safely into his hands.
Seth Rollins' music hits, and the security force comes up to the foot of the ramp. Rollins comes through the crowd and knocks Ambrose out of the ring. The security gets in the ring, so Rollins wipes them out easily before powerbombing one over the top rope onto the other. Rollins hits a security guard with a suicide dive meant for Ambrose. Rollins then chases Ambrose through the crowd. Rollins jumps off the barricade and takes Ambrose down on the concrete.
Ambrose takes him out with a gas mask. Ambrose hits him with the mask again and starts peppering him with strikes while talking trash. Ambrose then hits him with Dirty Deeds on the floor. Ambrose instructs the security force to put Rollins in the ring. Ambrose talks trash to the crowd before hitting Rollins with another Dirty Deeds.
After commercials, Corey Graves asks Renee Young about what's going on with her husband, and she angrily shuts him down.
---
Backstage: Nia Jax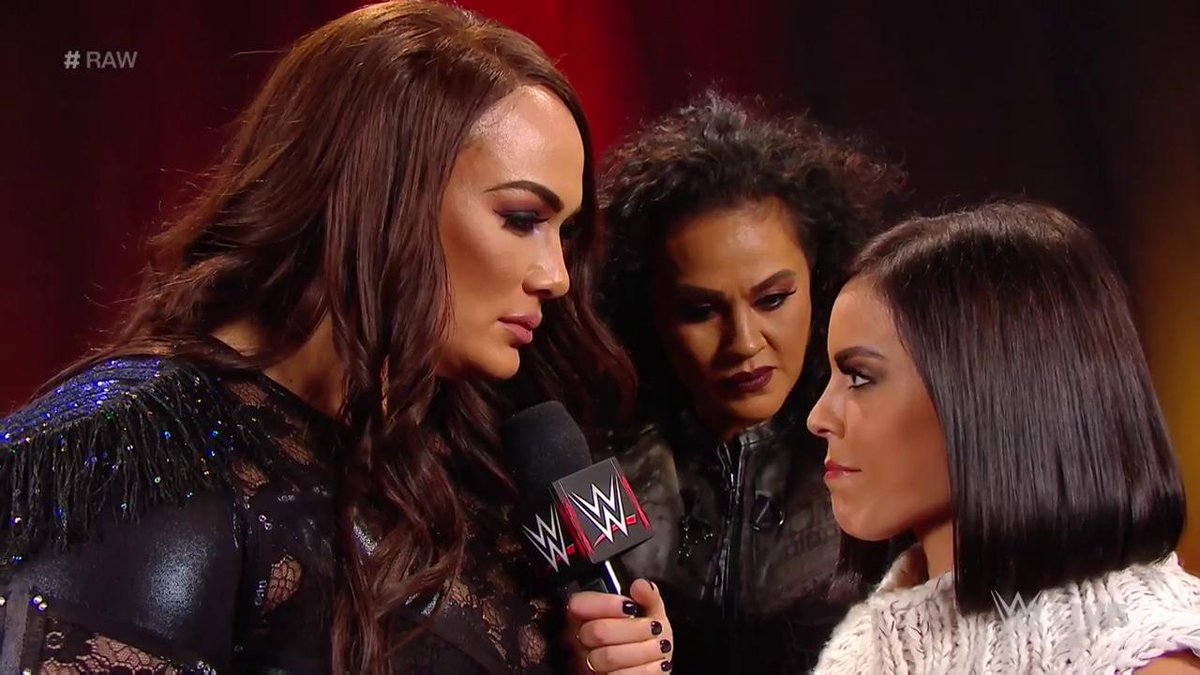 Charly Caruso is backstage with Nia Jax and Tamina. Caruso announces Ronda Rousey will be teaming with Ember Moon. Jax says she was hoping it would be Caruso. Jax slowly talks about how they'll take out Ember Moon and then isolate Ronda Rousey on her historic path to reclaiming her RAW Women's Championship.
---
Loser Is Fired From Raw
Heath Slater vs. Rhyno
Rhyno punches Slater down and bounces him in the corner. Rhyno hits a short-arm clothesline and puts him in the corner again. Rhyno whips him to the opposite corner and hits a running shoulder. Rhyno again whips him to the corner and goes for a shoulder, but Slater moves. Slater hits a neckbreaker and pins him for the win.
Winner by Pinfall: Heath Slater
Rhyno looks stunned, and Slater looks very sad. Slater leaves the ring while Rhyno looks on with his head down.
---
Backstage: Baron Corbin, Heath Slater
Heath Slater is walking backstage when Baron Corbin stops him. Corbin congratulates him on winning. Slater asks if there's anything he can do for Rhyno. Corbin says he can do his job, which leads him to Slater's new uniform. Corbin hands him a referee shirt and says he wasn't keeping him on RAW as a competitor. Slater looks upset.
---
Jinder Mahal vs. Finn Balor
They lock up, and Mahal immediately powers Balor to the corner. Mahal shoulders him before doing his "Shanti" thing. Balor kicks him back and applies a side headlock. Mahal whips him off and elbows him down. Mahal hooks a side headlock and grounds him. Balor fights up, but Mahal drops him on the top rope.
We come back from the break to see Balor make a comeback against Mahal, culminating with a double stomp to the midsection. Mahal quickly boots him back and goes to the top rope, but Balor kicks him in the head. Balor hits a Sling Blade before dropkicking him into the corner. Balor goes to the top rope, but The Singh Brothers interfere. One distracts the referee while the other knocks Balor off the top rope. The Singh Brothers dance at ringside before Apollo Crews runs down and wipes them out. Mahal kicks Crews down before turning into a summersault senton from Balor. Balor gets him in the ring and hits the Coup de Grace for the win.
Winner by Pinfall: Finn Balor
---
Backstage: Finn Balor, Drew McIntyre
Finn Balor is walking backstage when Charly Caruso comes up to him. She asks about the night he's had. Drew McIntyre attacks him from behind and sends him into some kegs just randomly stacked backstage. Referees run up to pull him back, but they're unsuccessful. Finally agents run up to help, and McIntyre is pulled away.
---
Video: Lars Sullivan
A video package for the free agent Lars Sullivan is shown. Sullivan says it doesn't matter what brand he chooses. They've never seen a freak like him.
---
Nia Jax & Tamina vs. Ronda Rousey & Ember Moon
While Ember Moon makes her entrance, Jax and Tamina attack Rousey. Moon quickly gets in the ring and hits a springboard cross-body on Tamina. She then hits a codebreaker on Jax before Rousey kicks Jax out of the ring. Jax and Tamina regroup at ringside. The match has yet to begin.
We join this match in progress. Jax throws Moon across the ring before tagging in Tamina. Moon fights off Tamina before Rousey tags in. Rousey takes her down and tags in Moon. Moon hits a DDT for a two count. Moon hits a handspring forearm before Jax distracts the referee. Tamina superkicks Moon and punches her before Jax tags in. Jax punches Moon in the midsection before head-butting her down. Moon tries to fight her off, but Jax knocks Rousey off the apron. Tamina gets some cheap shots in while the referee keeps Rousey back. Tamina tags in and head-butts Moon. They completely and embarrassingly botch a head-butt. Tamina then grazes Jax to accidentally knock her off the apron.
Rousey tags in and clotheslines Tamina a few times before kicking and punching away at her. Rousey demands Tamina tag Jax in. Tamina forcibly tags her in, and Jax isn't pleased. Jax gets in the ring and tags Tamina before leaving the ring. The crowd boos her. Rousey brings Jax into the ring the hard way. Tamina grabs Rousey from behind, but Rousey punches away at her in the corner. Rousey hits a running forearm before whiffing on a kick. Jax breaks up the pin. Moon runs in and attacks Jax before Rousey connects with a superkick. Tamina rolls Rousey up for a two count. Moon hits Tamina with an Eclipse. Rousey then applies the arm bar for the win.
Winners by Submission: "Rowdy" Ronda Rousey and Ember Moon
---
E-Mail – MikeyT817@gmail.com
Twitter – @MikeTedescoWV