Report via Jason Powell – prowrestling.net
December 25, 2018
Fresno, California – Save Mart Center
Commentary: Tom Phillips, Corey Graves, Byron Saxton
---
Quick Match Results
Mustafa Ali defeated Andrade Almas via 054
The Usos, Gallows and Anderson defeated Sheamus, Cesaro, Killian Dain and Alexander Wolfe via Magic Killer on Cesaro
Samoa Joe defeated Jeff Hardy by disqualification
United States Championship: Rusev defeated Shinsuke Nakamura (c) via Machka Kick to become the new champion
---
In-Ring: R-Truth, Carmella, Daniel Bryan
R-Truth made his entrance while dressed as Santa Claus, and he was accompanied by Carmella, who was dressed in Christmas attire. There were Christmas trees at ringside. Truth said he'd been delivering presents to the good little girls and boys with the help of "Carmelfa". Carmella called for a carol break, which led to the duo singing a Christmas song while dancing.
Daniel Bryan made his entrance and interrupted the carol break. Bryan said he accepts that as WWE Champion he had to spend time "in this cesspool" rather than with his family. He said he would not accept "Truthy Claus." Bryan entered the ring and said Truth was not the real Santa Claus. He pointed at Truth and Carmella and said "fickle" repeatedly. Bryan said Santa is the epitome of the cheap, material desires of the fans. He said that's cost us half the coral reef on the planet and led to islands of misfit garbage in the oceans. Bryan said that with the temperatures rising there will no longer be a North Pole or Santa Claus in 20 years.
"Oh, he's an angry little elf," Truth said. Bryan said he should expect jokes from Truth since his entire career was a joke. Truth reminded Bryan that he will be 30th entrant in the Royal Rumble and he could be the last one laughing if he wins the Rumble and takes the WWE Championship from Bryan at WrestleMania.
Bryan asked how Truth expects to win the Rumble when he can't even count to 30. Truth set up to prove him wrong, but made it to seven and called for a dance break. As Truth and Carmella were dancing, Bryan attacked Truth and ended up wrapping his knee around the ring post multiple times. Bryan put Truth in a leg lock. Bryan released the hold and played to the booing crowd, then stomped Truth's head repeatedly before leaving the ring.
---
Mustafa Ali vs. Andrade Almas
Almas caught Ali going for a springboard move and shoved him to the floor heading into a split screen commercial break. [C] Almas had Ali in a tree of woe and performed a double stomp from the top rope. Ali came back with a nice DDT and then followed up with the 054 (inverted 450 splash) for the win.
Winner: Mustafa Ali
---
Backstage: Samoa Joe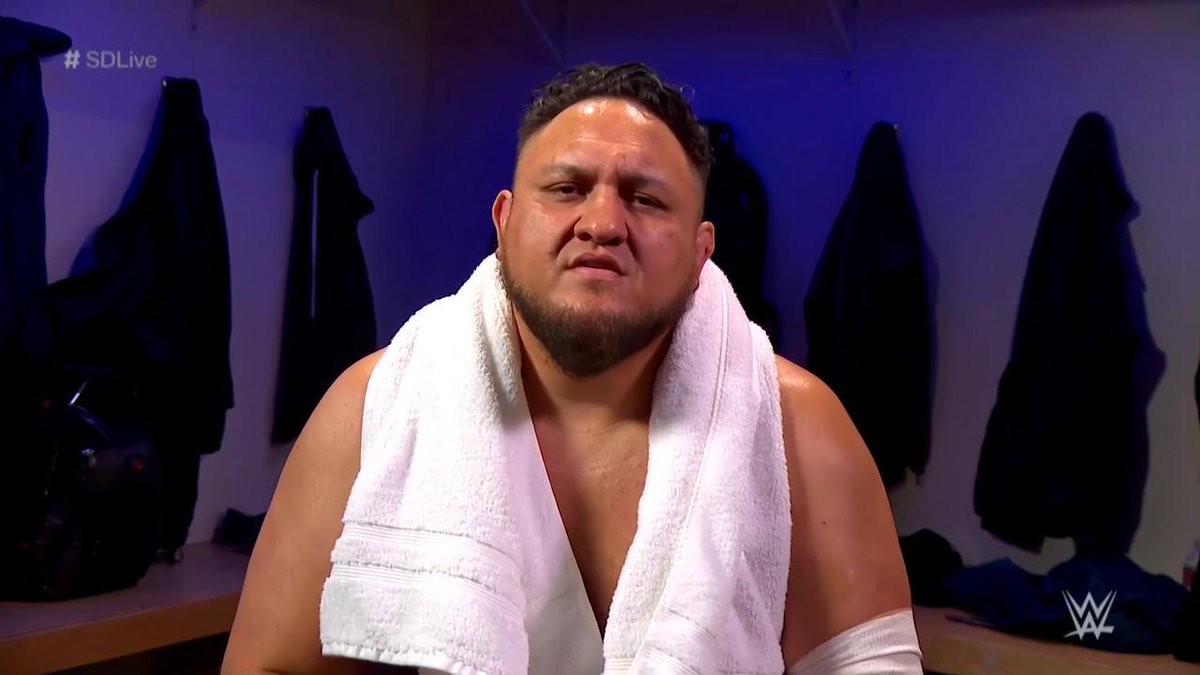 Samoa Joe delivered a promo from the locker room. Joe directed Jeff Hardy and said he trusted that he and his family enjoyed the holidays. He said it's nice to create some new memories, perhaps to make up for some of the ones that Jeff destroyed. Joe said he's concerned about Hardy because he saw a look in his eye. Joe said he's become Jeff's new addiction.
---
The Usos, Gallows and Anderson vs. Sheamus, Cesaro, Killian Dain and Alexander Wolfe
Big E was shirtless and rubbing himself with oil while wearing a Santa hat on his head. Graves, who was wearing an ugly Christmas sweater, barked at E that his antics were not okay because there were children watching. New Day took a seat at their special broadcast table.
Dain performed a running cross body block on Jimmy Uso heading into a break. [C] Late in the match, the Usos threw superkicks at their opponents and even Young. Gallows and Anderson performed the Magic Killer on Cesaro, and then Anderson pinned him.
Winners: The Usos, Gallows & Anderson
---
Backstage: Mustafa Ali, Shelton Benjamin, Daniel Bryan
Backstage, cruiserweights Brian Kendrick, Akira Tozawa, and Cedric Alexander congratulated Mustafa Ali on his win. Shelton Benjamin showed up and made a mean face, but then welcomed Ali to the main roster and offered him a handshake. Ali said it meant a lot and accepted. Suddenly, Daniel Bryan attacked Ali from behind. Bryan backed off quickly, then went back for seconds.
---
In-Ring: Miz TV with Shane McMahon
The Miz came to the ring to host the Miz TV segment. The World Cup trophy was sitting on a table with a Santa hat in the bowl. Miz introduced his guest Shane McMahon, who slapped hands with the fans on his way to the ring. Shane spoke about the McMahons being in charge of Raw and Smackdown. He said they're not the real story. He said they are listening to the fans.
Shane said fans said they want new superstars, new matchups, and new opportunities and they will be getting those things. Miz said there are four McMahons running the show, and that means Shane should have a little free time to join him in becoming the best tag team in the world.
Miz said the reason he wants to team with Shane is because of his own father. He said that despite every accomplishment he's made in the ring or in life, it's never been enough for his dad. He said his father things Shane is something else because he fights for what he believes in. Miz said his father told him that if he teamed with Shane then they could be the best team in the world. Miz said they would be a damn good tag team if Shane would just give it a chance. Miz said he knows Shane has more important things to do and apologized for bringing him into it. Miz recalled Shane talking about putting things in the hands of the WWE Universe. Miz said it wasn't their decision to make. Miz asked the fans if they want to see Miz and Shane form the best team in the world. Fans chanted yes.
Shane said everything Miz said was heavy and really resonated with him. "You better not screw me or there's going to be major consequences," Shane said. Shane and Miz shook hands and hugged, then held up the World Cup trophy. Miz led the crowd in a round of yes chants after acknowledging that Bryan doesn't do them anymore.
---
Backstage: Rusev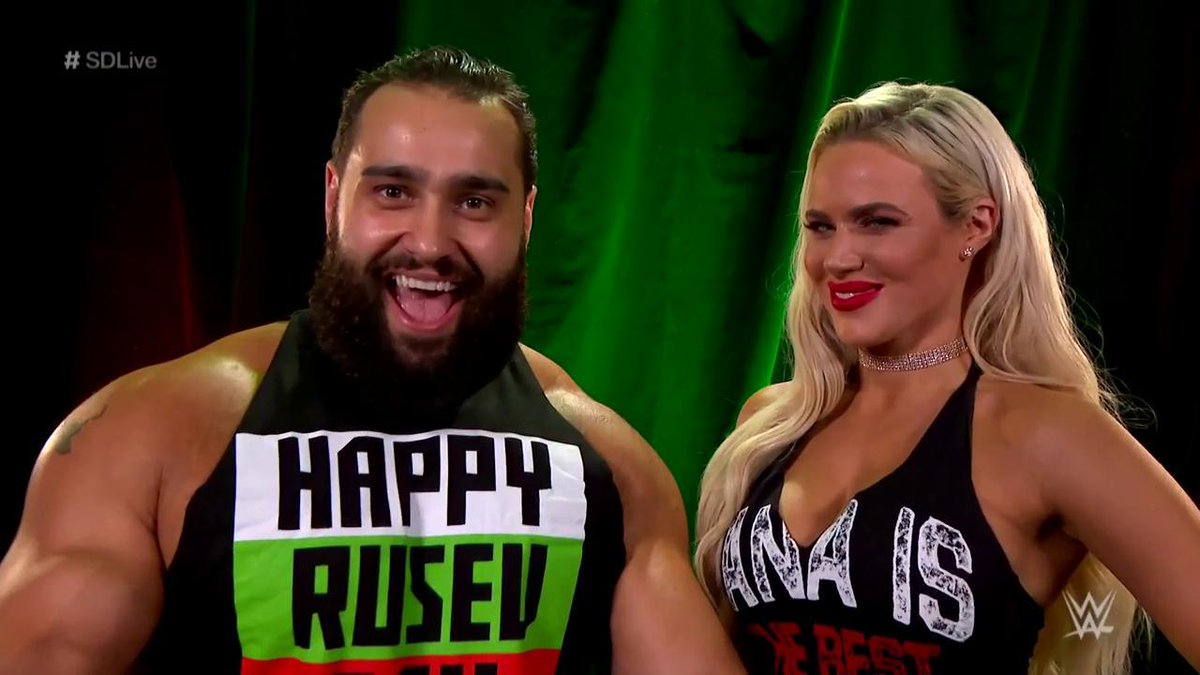 Backstage, Rusev delivered a promo while Lana stood by. Rusev noted that it wasn't just Christmas, it's also his birthday. Rusev said he would bring the fans a brand new, handsome U.S. Champion by defeating Shinsuke Nakamura later in the show.
---
Samoa Joe vs. Jeff Hardy
Hardy performed a Whisper in the Wind and covered Joe, who grabbed the bottom rope to break the hold. Hardy performed a Twist of Fate and went up top for his finisher, but Joe rolled to ringside.
Jeff clotheslined Joe from the apron and then worked him over with knees to the body while Joe covered up against the barricade. The referee called for the bell to end the match. Jeff continued to work over Joe, who then caught him in the Coquina Clutch behind a broadcast table. Joe left Hardy lying.
Winner: Samoa Joe by an apparent disqualification
---
Backstage: Shinsuke Nakamura
Shinsuke Nakamura delivered a backstage promo saying that the Total Diva wants gold for Christmas, but she won't get it because she's been naughty this year
---
Backstage: The Usos, Mandy Rose, Sonya Deville, Naomi
The Usos were talking backstage. They wished each other Merry Christmas and went separate ways. Jimmy Uso was confronted by Mandy Rose and Sonya Deville under the mistletoe. Rose told Jimmy that he doesn't know what he's missing. Naomi showed up and threw a shoe at them. The heels retreated, then Jimmy and Naomi kissed under the mistletoe.
---
United States Championship
Shinsuke Nakamura (c) vs. Rusev
There were loud chants of "Rusev Day" and "Nakamura" that may have been piped in given that the live crowd looked pretty mellow. Nakamura went for a triangle, but Rusev avoided it and rolled to ringside heading into an early commercial break.
Rusev attempted to suplex Nakamura from the apron to the floor, but Nakamura blocked it. Nakamura kicked Rusev off the apron to the floor heading into another break. [C] The wrestlers fought to ringside where Nakamura ran Rusev into the ring steps, slammed his head into the broadcast table, and then rolled him back inside the ring.
Nakamura performed a legdrop on the apron, then threw a kick from the ropes. Nakamura set up for the Kinshasa, but Rusev caught him with a Machka Kick for a good near fall. Rusev stomped the back of Nakamura and went or the Accolade, but Nakamura countered into a triangle.
A short time later, Nakamura avoided a charging Rusev in the corner, then dropped a knee on the back of his neck and covered him for a two count. A "this is awesome" chant started. Nakamura set up for his finisher again. Rusev went for another Machka Kick, but Nakamura voided it and caught Rusev with a kick. Rusev came right back with a clothesline. Rusev performed a Machka Kick and pinned Nakamura to win the match and the championship.
Winner and new US Champion: Rusev
Rusev and Lana celebrated the win as the broadcast team recapped the match while highlights were shown. A Rusev Day broke out as the celebration continued. Rusev stood on the middle rope and held up the title belt.
---
Backstage: AJ Styles, Vince McMahon
Backstage, AJ Styles walked into Vince McMahon's office and noted that Vince wanted to see him. They shook hands. Vince asked Styles what his name was and who he was. Styles said his name and referred to himself as the Phenomenal One. He said he's a two-time champion and Smackdown is the house that he built. Vince asked why Styles wasn't competing in his own house, yet Daniel Bryan was and raised hell. Vince said it's the new Daniel Bryan and he wants to know who the real AJ Styles is.
Vince said superstars come and go, they become complacent and they go home. Vince said he knows that's not Styles. He said AJ has a black hole in his heart and a tormented soul. Vince said AJ is afraid of what's going to happen. "That's what you have and I want to see it," Vince said. McMahon said that if Styles has everything he thinks he does, then he will brutalize everyone who steps foot in the squared circle with him. Vince said there's an animal inside of him and he wants to see it.
Vince slapped Styles and said, "I'm gonna see it." Styles hit Vince with a forearm and knocked him down. Jamie Noble and other officials rushed in to talk Styles down. Styles stormed out of the room. A referee went to help up Vince and asked if he was okay. Vince smiled and said he thinks he's good. "Yeah, I think I'm good," Vince said while smiling as he laid on the ground to end the show.