Results by Richard Trionfo of pwinsider.com
---
Winter Park, FL – Full Sail Live
Commentary: Mauro Ranallo, Nigel McGuinness, Percy Watson
---
Quick Match Results
Street Profits defeated Metro Brothers via frog splash by Ford on Chris
Dominik Dijakovic defeated Adrian Jauode via Feast Your Eyes
Johnny Gargano defeated Humberto Carrillo via Slingshot DDT
Kassius Ohno defeated Keith Lee via low blow and rolling elbow
---
Street Profits vs. Metro Brothers (JC & Chris Metro)
Ford and Chris start things off. Chris pushes Montez and Montez pushes him back. Chris kicks Montez away and connects with a forearm. Ford with a drop kick. Dawkins tags in and he hits a shoulder tackle. Dawkins sends Ford onto Chris with a back drop. JC tags in while Dawkins and Ford get a little exuberant in their celebration. Dawkins punches JC. Chris thinks about getting involved and he backs off, but then he tries to get involved and Dawkins punches him. Ford tags in and hits a frog splash for the three count.
Winners: Street Profits
After the match, The Street Profits celebrate in the crowd and at ringside. Steve Cutler and Wesley Blake attack and then Jaxson Ryker joins in the attack. They hit a sit out spinebuster on Ford. They tell Montez they are forgotten no more. Dawkins comes into the ring to check on Ford and he is attacked and given a boot from the turnbuckles.
---
Backstage: Keith Lee, Matt Riddle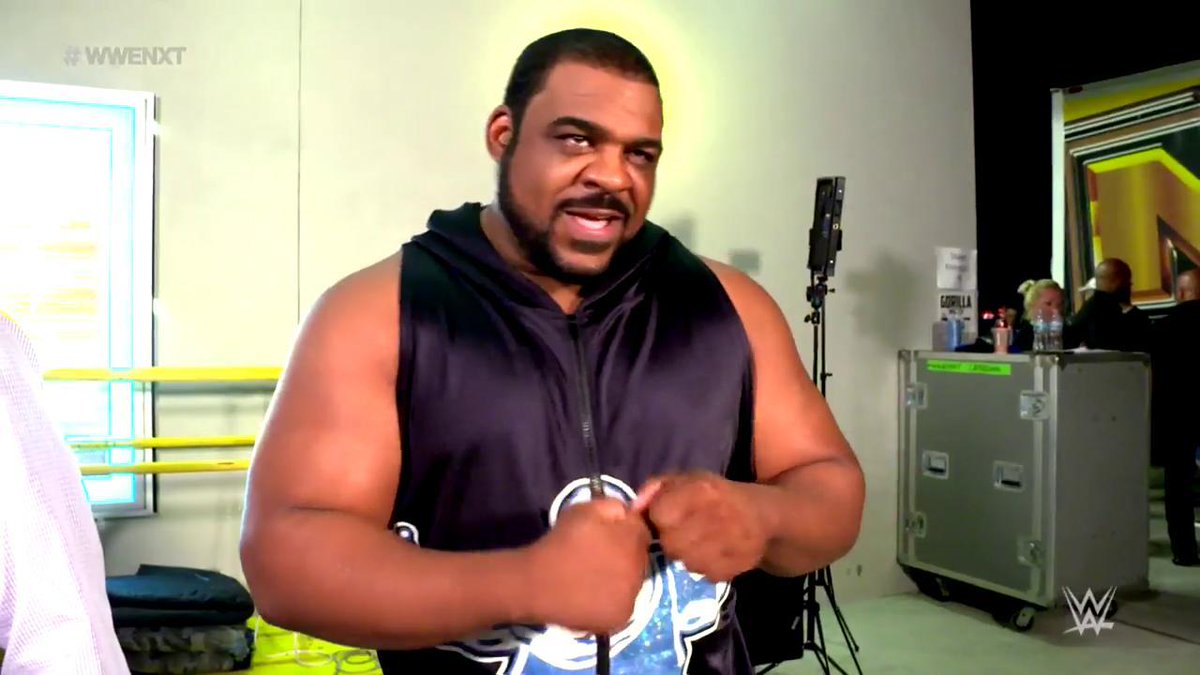 We go to Keith Lee and Matt Riddle in the back. Matt is asked whether he will be ringside for Keith's match against Ohno. Matt says he has not been medically cleared so he cannot be in the corner of his bro. He wants to be in the front row to see Keith show Ohno that he is limitless. Matt says he wants Keith to leave something for him.
---
Backstage: Aleister Black
We are back and Aleister Black asks Tommaso Ciampa if he feels that. The days of Takeover Phoenix are at hand. He feels it, Ciampa feels it, and the fans feel it. You thought you were safe because you were clear of him. Black says he will absolve Ciampa of his sins as he gets his title back. Black suggests they start the fight a little early next week at Full Sail.
---
In-Ring: Bianca Belair, Shayna Baszler
When you call @BiancaBelairWWE oh👏ver👏rate👏ed, you better believe she'll try to make you👏 re👏gret👏 it! #WWENXT@QoSBaszler @JessamynDuke @MarinaShafir pic.twitter.com/udtjytsa8O

— WWE (@WWE) January 17, 2019
Bianca Belair makes her way to the ring and she has something to say. Bianca says chaos tried to stop her rise but last week she send Nikki Cross packing as she continues her climb. Bianca says this is her year. She says she has 20/20 vision when it comes to that championship. Bianca says she sees Shayna and you have your title and horsewomen galloping behind you. You think you are the baddest, but the EST of NXT is walking out of Phoenix with the title because she is unde-
She is interrupted by NXT Women's Champion Shayna Baszler and she is joined by Marina Shafir and Jessamyn Duke. Shayna comments on the EST of NXT and says she doesn't see it. Everybody knows about her records at the Performance Center. She is the fastest and the strongest, but she is not the smartest. If you had half a brain, you would understand that it doesn't matter how big and strong your arms are, she is going to tear them off at Takeover.
Bianca tells Shayna uh uh. The only things these arms will be doing is hold the title over her head at Takeover.
Shayna says you are just like everybody else. You won't put your money where your mouth is and fight her. You are afraid. You're afraid I am going to break your arms. You're afraid I am going to silence the hype. You are afraid I am going to change your vocabulary from Un-De-Fea-Ted to Over-Rated. Shayna says something to Bianca that cannot be heard by the mics. She asks Bianca if she is afraid of her friends. They are the least of your worries.
Belair slaps Shayna and then she avoids Marina and Jessamyn as she gets to the floor.
---
Dominik Dijakovic vs. Adrian Jauode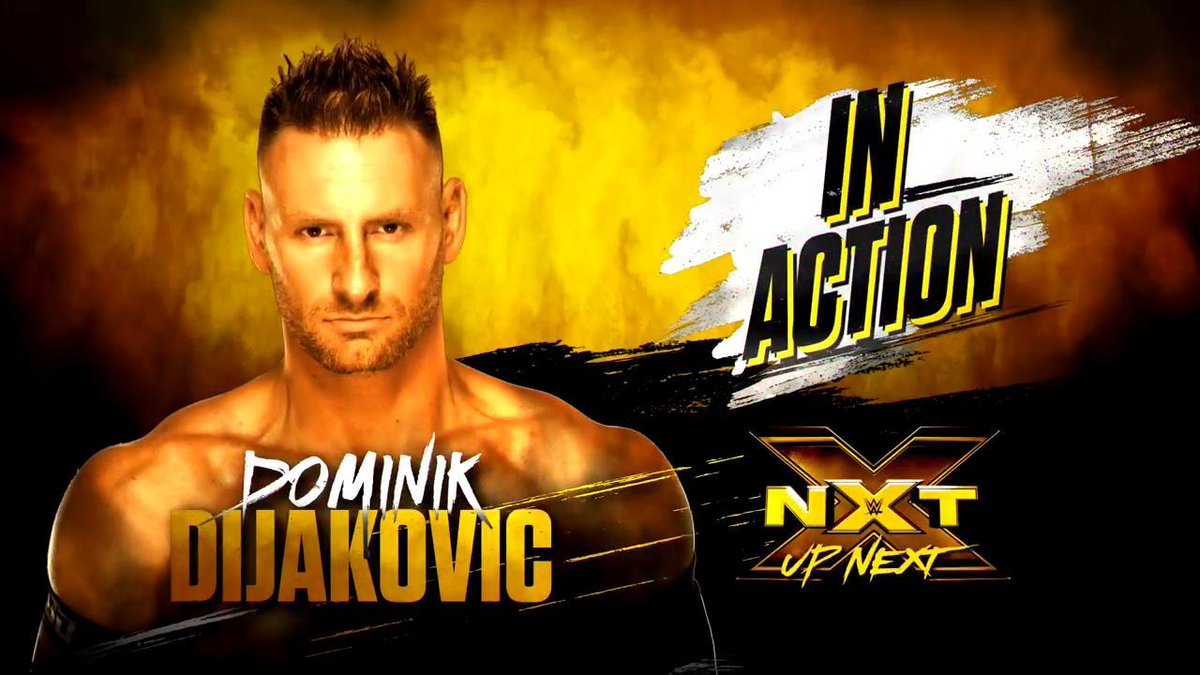 Adrian goes for the leg but Dijakovic avoids him. Adrian goes for a rollup but Dijakovic stays on his feet. Jauode with a waist lock and he sends Dominik into the corner and takes Dominik to the mat. Dijakovic with a front face lock but Adrian escapes. Adrian with a front face lock. Jauode with a fireman's carry and Dominik escapes into a waist lock. Adrian backs Dominik into the corner. Dominik with a forearm to the back. Dominik with a series of kicks and a spinning back elbow. Dijakovic with a splash into the corner followed by a release suplex.
Adrian with punches to the midsection and he kicks Dominik. Dominik with forearms to the head and he hits a clothesline. Dominik kicks Jauode in the corner. Adrian blocks a kick and applies a knee bar but Dominik gets to the ropes. Adrian with a round kick and he runs into a cyclone kick. Dominik calls for Feast Your Eyes and he hits it and gets the three count.
Winner: Dominik Dijakovic
---
Backstage: War Raiders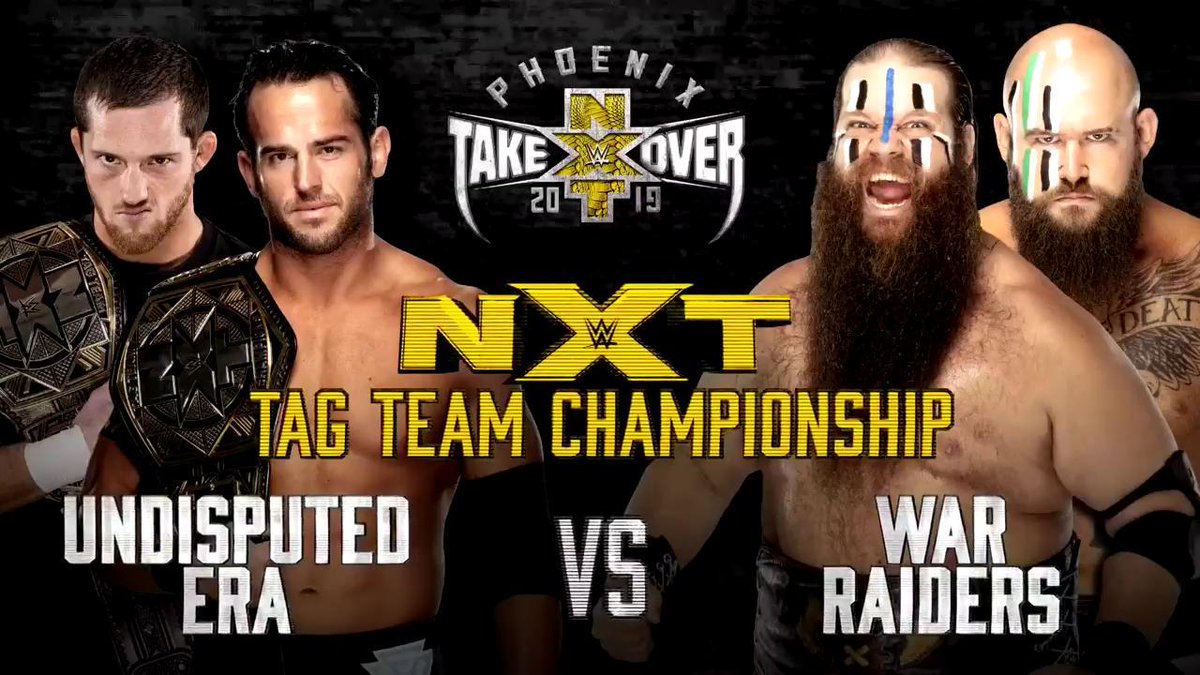 We go to comments from the War Raiders. They are outside and they have torches. They tell the Undisputed Era they come to celebrate their victories and the scars they have earned. They respect the Undisputed Era, but in Phoenix they take everything. Dynasties crumble. Tonight they gather to celebrate their victories. Your tactics have been bold. Your era ends in Phoenix and that is undisputed. They set chairs with the Undisputed Era logos on fire.
---
Johnny Gargano vs. Humberto Carrillo
They lock up and Gargano backs Carrillo to the corner and gives a clean break. Gargano with an ankle take down into an ankle lock. Carrillo with a wrist lock and Gargano with a reversal. Carrillo with a reversal of his own. Gargano with forearms followed by an Irish whip. Carrillo floats over and then he avoids a kick from Gargano and hits a jumping round kick of his own. Carrillo with a springboard arm drag that sends Gargano to the floor. Carrillo slides over Gargano but Carrillo with a back heel kick. Gargano with a slingshot spear to Carrillo. Gargano with a snap mare and drop kick to the back of the head and Gargano gets a near fall.
Gargano with an abdominal stretch. Carrillo with punches and Gargano runs into a boot in the corner. Carrillo with punches in the corner. Carrillo with a handspring back elbow and then he hits a corkscrew plancha onto Gargano. Carrillo goes up top and hits a missile drop kick. Carrillo with a back somersault into a moonsault for a near fall. Gargano grabs the leg to stop Carrillo from going to the turnbuckles. Carrillo goes for a moonsault but he lands on Gargano's feet. Gargano with a super kick and lawn dart. Gargano with a slingshot DDT for the three count.
Winner: Johnny Gargano
Johnny Gargano tells Ricochet if he wants his respect, show up next week and he will give Ricochet all the respect he wants.
---
Backstage: Tommaso Ciampa
Dear Goldie,

I 🖤 U

– The Champ

— BLACKHEART (@ProjectCiampa) January 17, 2019
Tommaso Ciampa and Goldie are in the back and he tells Aleister Black that you like to refer to him as the Puppet Master. If he is the Puppet Master than you are the ultimate puppet. You are so gullible that you are not going to wait for Takeover and you are going to bring the fight. The champ only fights on the grandest stage. That is why they are going to wait until Phoenix. He does not expect Black to understand that. He tells his number one puppet to listen carefully to the champ. Be careful what you ask for.
---
Keith Lee vs. Kassius Ohno
Ohno backpedals to avoid Lee and the referee gets between them. Ohno with a side head lock and Lee with a shoulder tackle. Lee with a gutwrench but Ohno gets to his feet and Ohno with boots. Lee with a cross body and he gets a near fall. Ohno goes to the floor and Lee looks around and sets for a dive to the floor but Ohno moves out of the flight path and Lee stays in the ring. Ohno breaks the referee's count and returns to the floor. Lee decides to go to the floor but Ohno returns to the ring.
Lee blocks a kick and connects with punches to Ohno. Lee with a back body drop. Lee charges into the corner but Ohno drops down and trips Lee, sending him into the turnbuckles. Ohno with a boot to the head. Ohno with more kicks and a chop. Ohno with a side head lock and punch tot he head. Ohno with a boot to the head. Ohno with another kick to the head. Ohno with more kicks to Lee and Ohno with a back senton for a near fall.
Ohno kicks Lee in the back and applies a rear chin lock and then traps the arms to stretch Lee. Lee gets to his feet and Ohno with a forearm to the head. Lee refuses to be Irish whipped by Ohno and Ohno with a forearm and chop followed by a kick. Ohno with an arm wringer that sends Lee into the ropes and Ohno gets a near fall. Ohno stretches Lee with a surfboard but Lee gets to his feet and Ohno with a kick and knee to the head. Ohno goes for a back senton but Lee gets his knees up. Both men are down.
Lee with punches to Ohno followed by a forearm. Lee with a splash and biel. Lee is sent to the apron by Ohno and Ohno is sent into the turnbuckles. Lee with a slingshot cross body for a near fall. Ohno begs for mercy and Lee blocks a punch and Lee with knees and a forearm to the back. Ohno with a shoulder to the midsection and Lee chops Ohno across the chest. Lee avoids a rolling elbow and hits a POUNCE.
Ohno holds on to the ropes and Ohno pushes Lee into the referee. Lee accidentally punches the referee. Lee checks on the referee and Ohno with a low blow and a rolling elbow for the three count.
Winner: Kassius Ohno
After the match, Matt Riddle breaks free of some referees to come to the ring to go after Ohno but Ohno gets out of the ring before Riddle can arrive.