January 29, 2019
Phoenix, Arizona
Commentary: Tom Phillips, Byron Saxton and Corey Graves
Results by: Roy Nemer of Wrestleview.com
---
Quick Results
United States Championship: R-Truth defeated Shinsuke Nakamura (c) via rollup to win the title
United States Championship: R-Truth (c) defeated Rusev via rollup
Four-Way Elimination Match: The Usos defeated The Bar, Heavy Machinery and The New Day, eliminating The Bar last
---
In-Ring: Becky Lynch, Charlotte Flair
In the arena, the winner of the 2019 women's Royal Rumble, Becky Lynch comes out. Lynch gets in the ring and says what a couple of days and a lot has happened in Phoenix the past few days. Lynch mentions her appearance on Raw, saying she couldn't resist looking at Ronda and she realized how different they are. Lynch says the beginning of the Rumble event didn't go her way but unlike Ronda, she doesn't crumble when she loses. She came out and won the Royal Rumble match on one leg. Lynch says she is proud of coming from nothing. She is proud of all of the heads she has slapped along the way to get where she is and she is most proud of working her way from the pre-show of last year's WrestleMania to being in this year's main event. And nobody handed her anything.
Charlotte Flair's music hits. Charlotte gets in the ring and starts applauding and congratulates Becky. She congratulates Becky on making it off the kick off show. A loud "Becky" chant and Charlotte says she is proud of her too and starts to clap again. She said that at the Rumble, Becky wasn't even in the match yet won it. It's possible that Becky learned from Charlotte and it was her who brought her to the main event. Charlotte says she is proud and happy, she can do it all for her. Becky punches Charlotte taking her down as she leaves the ring. Charlotte runs after Becky and starts to attack her on the ramp. The two fight around ringside as WWE officials come out and break them up.
---
United States Championship
Shinsuke Nakamura (c) vs. R-Truth
R-Truth and Carmella come down to the ring. R-Truth says that this past Sunday at the Royal Rumble match, he got jacked up. Thanks to Nia Jax, he never got into the Royal Rumble match. Carmella says they fought hard to win the mixed-match challenge to be at number 30 and Truth deserved to be in that match. R-Truth says one minute he was rapping and the next he was napping. Had Nia not attacked him, he would have won the Royal Rumble match. The fans know it, he knows it and the McMahon family know it and that's why they handed him a United States title match right now against Shinsuke Nakamura.
The bell rings and Nakamura goes after R-Truth and takes him down with a running kick. A reverse exploder by Nakamura and he goes for the Kinshasa but R-Truth reverses it into the Lie Detector as Nakamura rolls out of the ring.
Back from commercial, Nakamura is in control of the match inside the ring. Nakamura with knees to the midsection. Nakamura goes for the cover but a two count only. Nakamura lifts R-Truth on his shoulders but R-Truth reverses it into a cover and gets the 3 count. The referee calls for the bell as Nakamura is angry and R-Truth is shocked.
Winner: NEW United States champion, R-Truth
Rusev and Lana come out and Rusev says that the United States title deserves better than Nakamura. And if that title deserves better than Shinsuke, for sure it deserves better than R-Truth. Rusev challenges R-Truth to a match. The fans chant "No" as Carmella pushes Lana down. R-Truth steps up to Rusev as both men shove each other.
United States Championship
R-Truth (c) vs. Rusev
Back from commercial, Rusev has R-Truth in a headlock. Rusev sends R-Truth to the corner, Rusev runs towards R-Truth but R-Truth flips over Rusev and goes for the cover and gets the 3 count.
Winner: R-Truth
After the match, Nakamura comes out and hits R-Truth. With Nakamura outside the ring, R-Truth gets in the ring and Rusev starts beating on R-Truth. He and Nakamura double team R-Truth.
---
Backstage: Becky Lynch
Becky Lynch is seen getting into a car and when asked why she refused to let the medical team examine her, she said she is fine and she doesn't need more time on the shelf.
---
Backstage: R-Truth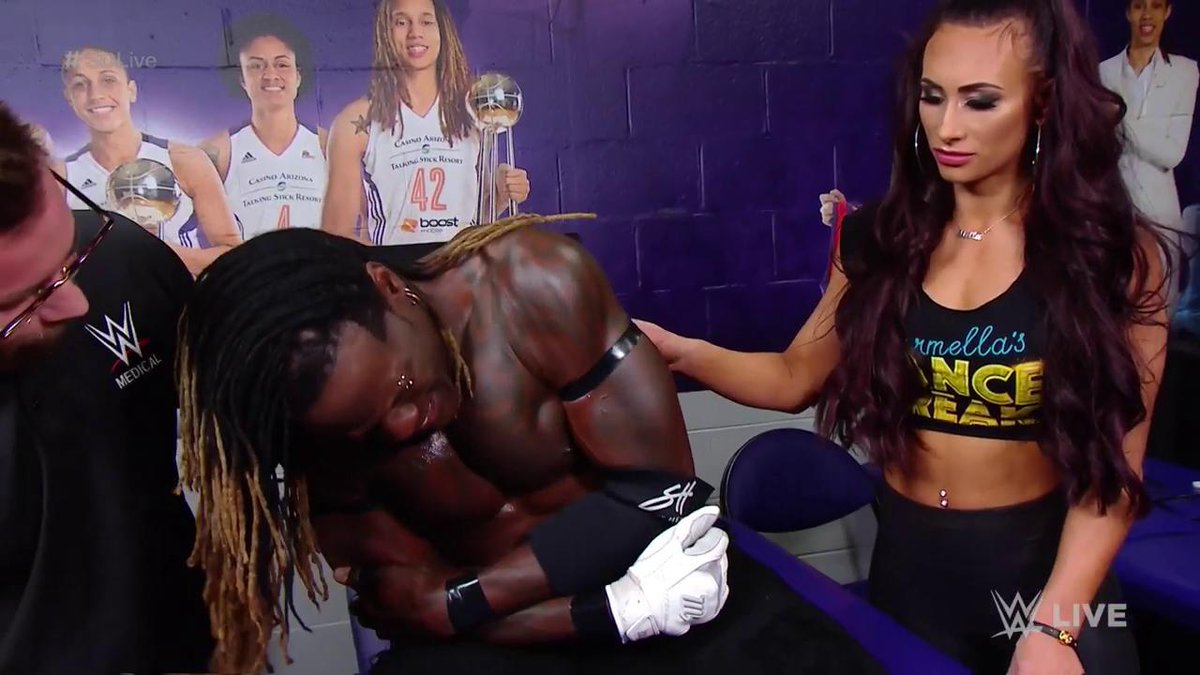 R-Truth is backstage with Carmella and a WWE official. R-Truth, who is in physical pain, says he is the WWE United States champion, he's good.
---
In-Ring: Rey Mysterio, Zelina Vega, Andrade
A match between Rey Mysterio and Samoa Joe was scheduled. Rey made his entrance.
Zelina Vega comes out before the match and says that she knows Mysterio was responsible in getting her banned from ringside last week during his match against Andrade. She asks if he is that distracted by her that he can't focus on his opponent. She says Andrade is head and shoulders above everyone else, especially him.
In comes Andrade from behind who attacks Rey Mysterio. Andrade goes for the three amigos made famous by the late great Eddie Guerrero. He lands two suplexes, goes for the third but Mysterio reverses it. Mysterio goes for the 619 but Andrade reverses it and lands the hammerlock DDT.
---
Backstage: Gallows, Anderson, Rusev, Shinsuke Nakamura
Gallows and Anderson approach Rusev backstage and Anderson asks why he attacked R-Truth like that. Rusev tells him to go back to catering and to bring his girlfriend with him. They challenge Rusev to a match with Nakamura. Nakamura comes in and accepts.
---
In-Ring: Shane McMahon, The Miz, The Miz's Dad
A loud "Shane" and "Miz" chant from the crowd. The Miz tells Shane that Phoenix is ready to party with the Smackdown Live tag team champions. Shane says on Sunday, a child hood dream did come true as they became tag team champions. Shane says he started thinking about how he can repay The Miz. Shane says the one thing he can do for him is to make sure he will never forget this moment for the rest of his life. Shane tells him he put together a video package for him.
They air a video package of the two of them together and how they became a tag team. Shane tells The Miz that at first, he didn't know what his motivation was to being his partner until they found out. And here's another thing that The Miz will remember for the rest of his life. The one motivational force which has been constant in his life. Shane McMahon introduces The Miz's dad, George.
The Miz's dad makes his way to the ring. Shane says his dad has something to say to him. George tells The Miz that he loves him and he's very proud of him. The Miz hugs his dad as Shane McMahon celebrates in the ring. Shane says they have to focus on a little bit of business. It's one thing to be a champion and it's another to defend. They will find out as a four way elimination match will happen and right now.
---
Backstage: Mandy Rose, Sonya Deville
Backstage, Mandy Rose is with Sonya Deville. Mandy says that they are actually declaring themselves in the Elimination Chamber match to win the women's tag team titles.
Mandy says this may come as a surprise but it's not easy being her. When you look like her and you're one half of the fiercest, hottest women's tag team on the planet, people are always trying to knock you down. People like Naomi and Mandy knows why. They air a clip of when Mandy Rose was on Tough Enough and Naomi was instructing her and she called her weak. Sonya says Mandy hasn't been the same since that day and we didn't hear what Naomi said off air and she made Mandy cry. And Mandy doesn't cry.
Mandy says that she cried until her boyfriend couldn't take it anymore and dumped her. She says Naomi ruined her relationship and she went after hers. Mandy says this will never end and her mind right now is on the Elimination Chamber.
---
Four-Way Elimination Match
The Bar vs. The Usos vs. Heavy Machinery vs. The New Day
The bell rings and we are under way. Otis starts the match with Jey and he takes Jey down. Jey tags Kofi into the match. Kofi runs to the ropes and goes to slide under Otis but Otis sits on Kofi. Big E is tagged into the match. Both men run to the ropes and a double clothesline but both men stay up. Both men run to the ropes and collide with each other but again both men stay up. Big E runs towards Otis but Otis catches him and lands a body slam. Tucker is tagged in as he and Otis double team Big E.
Back from commercial, Sheamus is in the ring with Jimmy Uso. Sheamus with a head lock on Jimmy. Shane McMahon and The Miz are backstage watching the match. Sheamus tags Cesaro in and Cesaro with a head lock. Cesaro sends Jimmy to the ropes but Jimmy ducks under Cesaro and lands a back drop. Cesaro tags Sheamus in, Jimmy tags Jey in. Jey takes down Heavy Machinery off the ring apron and hits the Samoan drop on Sheamus. He goes for the cover but Sheamus kicks out. With Sheamus in the corner, Jey runs towards Sheamus but Sheamus throws Jey over the top rope. As he does that, Big E tags himself in. Sheamus beats on Big E as Kofi tags himself into the match. In comes Cesaro, Big E clotheslines Cesaro to the outside. Otis is tagged in for Sheamus. Kofi runs towards Otis but Otis catches him, Tucker is tagged in and they land the Compactor on Kofi. Tucker goes for the cover and get the 3 count.
The New Day are eliminated.
Jey Uso is in the ring with Tucker as he runs towards Jey but Jey lowers the top rope and Tucker goes to the outside. In comes Jimmy, both men run to the ropes but Cesaro tags himself in. Jey flies over the top rope and lands on Heavy Machinery. Cesaro grabs Jimmy to the outside. He and Sheamus throw Jimmy into the guard rail.
Back from commercial, Cesaro and Tucker are down in the ring. Sheamus is tagged in as Tucker hits Sheamus with a right hand but Sheamus with knees to the midsection taking Tucker down. Sheamus runs to the ropes but Tucker with a clothesline. Otis and Cesaro are tagged in. Otis clears house and delivers an overhead belly to belly on Cesaro. Otis with the caterpillar as he goes for the cover but Cesaro kicks out. Tucker is tagged in. Sheamus gets in as he throws Otis to the outside. Tucker clotheslines Sheamus to the outside. He runs towards Cesaro but a big boot by Cesaro. Jimmy Uso tags himself in. He flies off the top rope and a cross body on Tucker. He goes for the cover but Tucker kicks out. A super kick by Jimmy onto Tucker. Sheamus tags himself in, Cesaro hits Tucker with an upper cut followed by the Bro Kick. Sheamus goes for the cover and gets the 3 count.
Heavy Machinery are eliminated.
Jimmy with a super kick on Sheamus and Cesaro. Jey flies off the top rope and a big splash on Sheamus. He goes for the cover and gets the 3 count.
Winners: The Usos
---
In-Ring: Daniel Bryan, Rowan, AJ Styles, Randy Orton, Mustafa Ali, Samoa Joe, Triple H
WWE champion Daniel Bryan comes down to the ring. Daniel Bryan asks the fans if they know who won at the Royal Rumble. The fans chant Becky and Bryan tells them no, each and every one of them. They all won. And their children won and their children's children all won. Because he won. And because a victory for him is a victory for every being on planet earth because Daniel Bryan is the planet's champion. He says he doesn't expect all of them to understand what he's saying because they don't know what winning feels like. But that's fine because he found someone who understands the truth in everything he says. And that person came out on Sunday not for him but for the greater good. Daniel Bryan introduces Rowan to the ring.
Rowan, holding a sac comes down to the ring. Bryan asks what they see when they see Rowan. Bryan says Rowan is an enlightened man of the earth. Rowan is his intellectual peer. And that's how he is able to see through the facade. The facade of all of them, of AJ Styles. But even someone as ignorant as AJ is right sometimes. Because last week AJ Styles implied that Bryan was a hypocrite. Bryan says he is a hypocrite. Because he carries around the WWE title. Rowan grabs a trash can and places it in the ring.
Daniel Bryan asks if they see the title. This is a symbol of excellence but also a symbol of excess. It's made from cheap labor and worst of all, it is bound to the skin of a cow. Bryan says he likes to give that cow a name, the cow is called Daisy. And he says Daisy had the ability to feel immense joy. Daisy also felt insufferable pain. And Daisy was forced to give her life for this symbol. And this symbol is the very thing that he and Rowan stand against. Daniel Bryan drops the title in the garbage can.
Bryan said when he became WWE champion that he was going to change the world. But to change the world, they need new symbols. Bryan asks Rowan to bring it out. Rowan and Daniel Bryan take out a beige, brown colored WWE title. Bryan says this is your new WWE championship.
AJ's music hits and he stands on the ramp. He asks Bryan if he thought he would just sit in the back and watch him throw the title in the trash. Styles asks Daniel Bryan if he smoked the prototype of that title. AJ Styles says for someone who doesn't like big corporations, he went out to find the biggest insurance policy AJ Styles has ever seen.
Randy Orton's music hits and he comes down to the ring.
Back from commercial, Mustafa Ali comes down. Orton cuts him off and asks Ali if he didn't get tossed over the top rope at the Royal Rumble by a girl.
Samoa Joe's music hits and he comes down. Joe says he is out here to put a champion to sleep. Randy Orton, Jeff Hardy, AJ Styles, Mustafa Ali, Rowan and Daniel Bryan are all in the ring. Samoa Joe calls them all out individually. Joe asks AJ Styles about Wendy and AJ hits Samoa Joe.
All five men in the ring fight while Daniel Bryan is on the outside. Bryan says not a single one of them will get an opportunity at this.
Triple H shows up on the tron. Triple H says he won't be taking on any one of those WWE superstars but he will be defending the title against all of those WWE super stars and it will be inside the Elimination Chamber.