March 10, 2019
Cleveland, Ohio – Quicken Loans Arena
---
Quick Match Results
Kickoff Match: Big E & Xavier Woods defeated Rusev & Shinsuke Nakamura via Up Up Down Down on Rusev (13:20)
SmackDown Tag Team Championship: The Usos (c) defeated The Miz & Shane McMahon via small package by Jimmy Uso on The Miz after frog splash counter (14:10)
SmackDown Women's Championship: Asuka (c) defeated Mandy Rose via kick to the face (6:40)
Handicap Match: The Bar defeated Kofi Kingston via double White Noise (5:15)
Raw Tag Team Championship – Triple Threat Match: The Revival (c) defeated Aleister Black & Ricochet and Bobby Roode & Chad Gable via Shatter Machine on Gable (10:50)
United States Championship – Fatal 4-Way: Samoa Joe (c) defeated Andrade, R-Truth and Rey Mysterio via Coquina Clutch on Mysterio (10:51)
WWE Women's Tag Team Championship: Bayley & Sasha Banks (c) defeated Nia Jax & Tamina via rollup by Bayley on Nia Jax (7:05)
WWE Championship – Triple Threat: Daniel Bryan (c) defeated Kevin Owens and Mustafa Ali via running knee on Ali (18:45)
Becky Lynch defeated Charlotte Flair by disqualification when Ronda Rousey attacked Becky Lynch to purposefully cause the DQ, sending Becky Lynch to WrestleMania (8:45)
The Shield defeated Baron Corbin, Bobby Lashley & Drew McIntyre via triple powerbomb on Corbin (24:50)
---
Kickoff Match
Big E & Xavier Woods vs. Rusev & Shinsuke Nakamura
The New Day won with an assisted double team Big Ending on Rusev, which Tom Phillips called "Up Up Down Down." This was a surprisingly good match for a Kickoff show, with lots of false finishes and near falls. The crowd was into it.
Winners: The New Day (13:20)
---
SmackDown Tag Team Championship
The Usos (c) vs. The Miz & Shane McMahon
The Miz's dad was at ringside. The Cleveland crowd was really behind their hometown boy The Miz, who wrestled in a "Cleveland is Awesome" shirt. Shane McMahon was really red and sweaty within a couple of minutes again. A few minutes in, in a pretty good spot, Shane went for the coast to coast, but Jey Uso jumped off of the opposite turnbuckle at the same time and they collided in mid air, with Shane mostly dropkicking Uso. The Miz went for a frog splash on Jimmy Uso but he got his knees up, then rolled Miz up in a small package for the win.
Winners: The Usos
Shane raised Miz's arm after the match and Miz hugged his dad at ringside… when suddenly Shane attacked The Miz from behind! Shane yelled at Miz's dad and grabbed him by the face, then attacked The Miz some more and screamed at his dad to watch. Thank God there was a point to the shitty "Miz's dad" segments.
---
In-Ring: Elias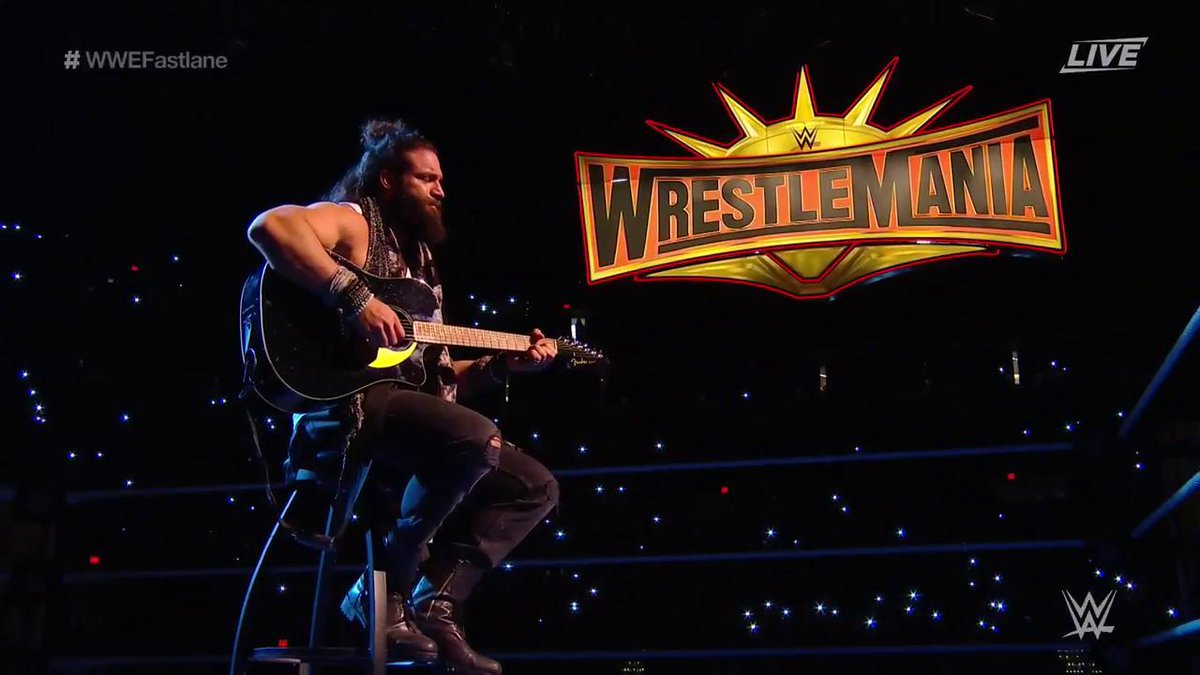 Elias was in the ring and sang a song… "On the road to WrestleMania, we're in the Fastlane. We just saw Cleveland's own Miz get his ass kicked by Shane. I can see the future and as far as I can tell… Miz if that's actually your dad, you're not going to age well. But I'm in Cleveland, yeah… and I can't wait to be gone. I'm gonna head out to LA and hang with my brother LeBron."
---
SmackDown Women's Championship
Asuka (c) vs. Mandy Rose
This was a weird match. Sonya Deville was at ringside and had been randomly lifting up the ring skirt and looking under the ring. Asuka tossed Mandy into the ropes and Mandy tripped on the ring skirt and fell, then Asuka nailed her with a kick to the face and picked up the win.
Winner: Asuka (6:40)
After the match, Sonya tried to apologize to Mandy, but Mandy was pissed and was having none of it, then walked to the back as Sonya followed her.
---
Backstage: The New Day, Vince McMahon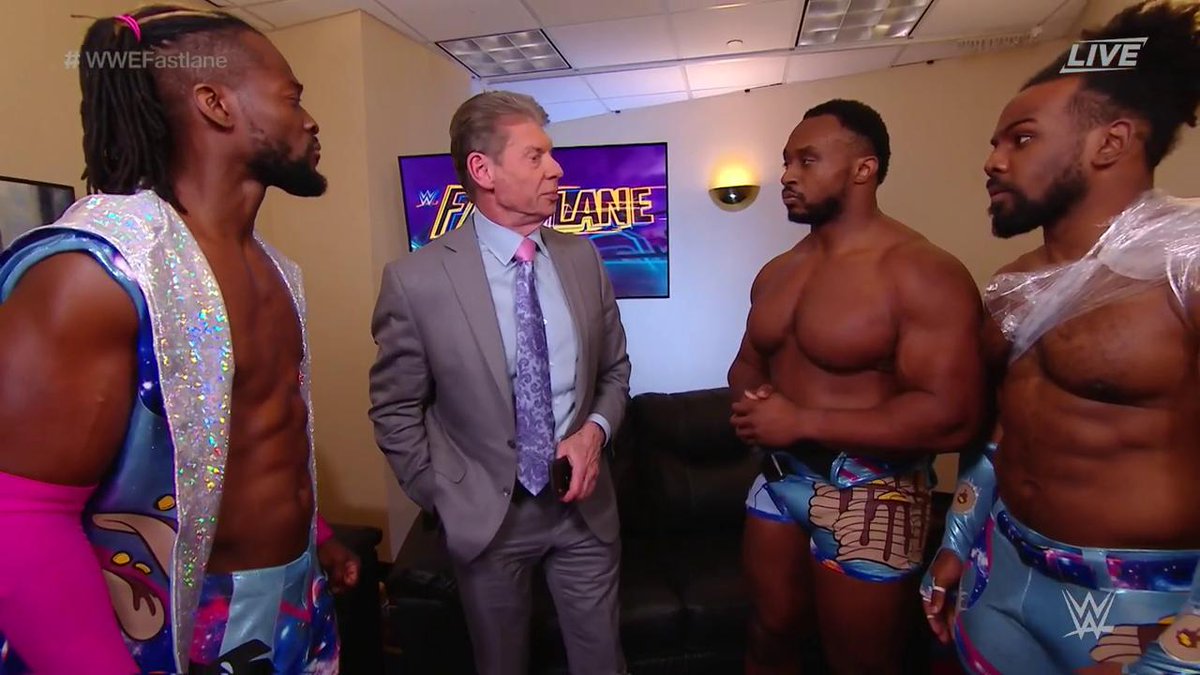 During the Kickoff show, Kofi was told that Vince McMahon wanted to see him. The New Day were shown outside of Vince's office. Big E said that they've been waiting for over an hour, so they walked into the office. Vince said he's been waiting for Kofi for over an hour. Big E and Xavier said that Kofi's been waiting for over 11 years and Vince should do the right thing and add Kofi to the match tonight.
Vince agreed and said that the match tonight is a triple threat and it's happening right now…
---
Handicap Match
Kofi Kingston vs. The Bar
Kofi Kingston came out for his WWE title match, but an official at ringside said something to the ring announcer, who announced that he's just been told that the WWE Championship match will actually be taking place tonight. Right now, there will be a handicap match, with Kofi Kingston taking on The Bar…
Kofi tried to fight back, but The Bar, who were in the ring at the same time, mostly dominated the match. Sheamus hit the Brogue kick and Cesaro went to pin him, but lifted him up, toying with him. Crowd chanted "this is boring."
The New Day ran out, but Rusev and Nakamura attacked them on the ramp. Kinshasa by Nakamura and a Machka Kick by Rusev.
Double white noise by The Bar on Kofi and the match was finally over.
Winners: The Bar (5:15)
---
In-Ring: Elias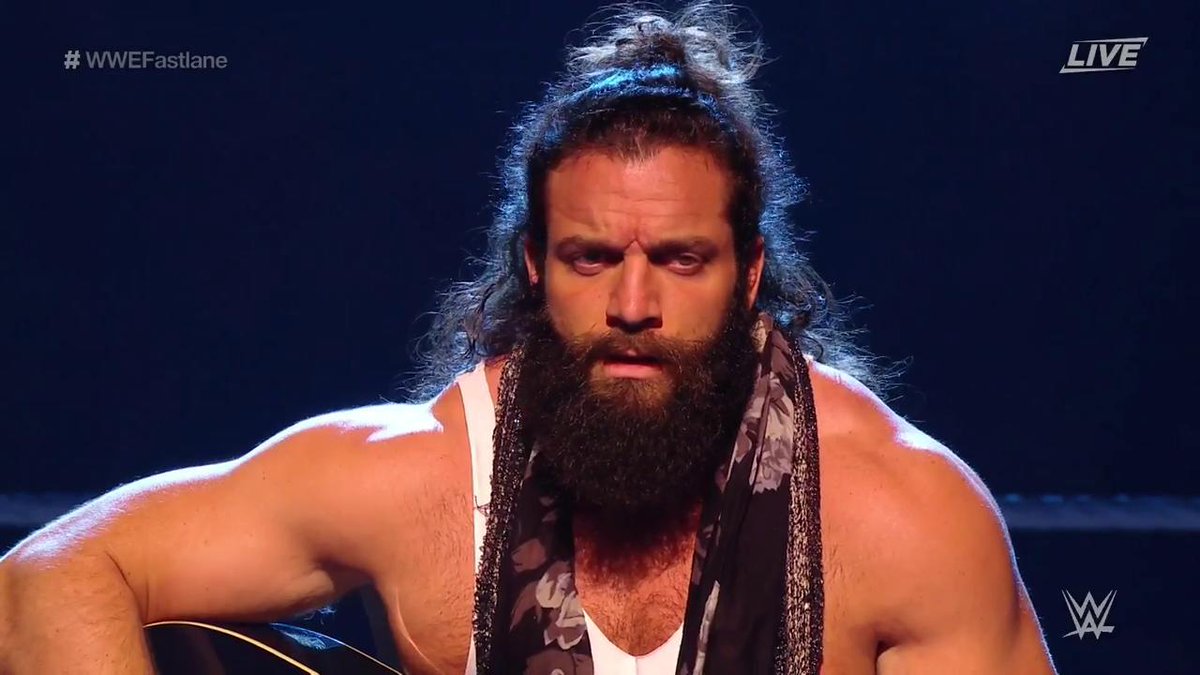 Elias was back in the ring for another song. "It's a new day, oh yes it is. Kofi just suffered the same fate as that moron The Miz. Yeah I gotta say they look like a couple of Cleveland Cavaliers… bunch of beat up losers, just like everyone here. So can we finally put all this Kofi talk to rest… and admit to yourself that my hometown Pittsburgh Steelers are the best."
---
Backstage: Shane McMahon
No explaining to do for @shanemcmahon tonight… #WWEFastlane pic.twitter.com/YWquJNAAjE

— WWE (@WWE) March 11, 2019
Backstage, Kayla Braxton asked Shane if he has an explanation for his attack on The Miz, but Shane just scoffed and walked back into his office.
---
Raw Tag Team Championship – Triple Threat Match
The Revival (c) vs. Aleister Black & Ricochet vs. Bobby Roode & Chad Gable
A few minutes in, Ricochet hit a hurricanrana on Dawson off the top to the outside, sending him onto everyone else who had been at ringside. After that, Ricochet dived over the ring post onto the outside onto Bobby Roode. As he dived, Gable tagged himself in.
Meanwhile in the ring, Shatter Machine by The Revival on Chad Gable for the win.
This was a pretty good match that had the crowd really hot, but the finish seemed to come out of nowhere and fell pretty flat.
Winners: The Revival (10:50)
Glorious DDT by Roode onto Wilder after the match. Black and Ricochet then came in and took out everyone in the ring. Crazy 630 by Ricochet on Wilder.
---
United States Championship – Fatal 4-Way
Samoa Joe (c) vs. Andrade vs. R-Truth vs. Rey Mysterio
This was a good match with a few cool spots. The matches they had on SmackDown seemed better, though. A few minutes in, Zelina Vega got involved, superkicking R-Truth, then Carmella attacked her. In the ring, R-Truth paid homage to his childhood hero John Cena, hitting the five knuckle shuffle on Samoa Joe. Joe got up and tossed Truth into the ring post, though. 619 by Rey Mysterio on Samoa Joe, then he tried a springboard frog splash, but Joe moved then locked on the Coquina Clutch… and Mysterio was out.
Winner: Samoa Joe (10:51)
---
WWE Women's Tag Team Championship
Bayley & Sasha Banks (c) vs. Nia Jax & Tamina
Beth Phoenix was on commentary for this match. This was the type of match you would expect it to be. After a few minutes, Nia went for a powerbomb on Bayley, but Bayley turned it into a hurricanrana into a quick pinfall for the win.
Winners: Bayley & Sasha Banks (7:05)
After the match, Nia and Tamina attacked Bayley & Sasha. Beth Phoenix got up from the commentary table and got in Tamina's face… then punched her. Nia attacked Beth and she and Tamina stomped down on her. They tossed her into the ring, then Jax hit a leg drop on her. Tamina went to the top rope, but Natalya ran down for the save… but she was overpowered and the heels beat them down until referees broke it up.
---
WWE Championship – Triple Threat
Daniel Bryan (c) vs. Kevin Owens vs. Mustafa Ali
This match was a triple threat as Vince McMahon promised… but the third person was Mustafa Ali, not Kofi Kingston… Mustafa Ali got booed by the crowd, which then chanted "we want Kofi."
Early in the match, Bryan dropkicked Ali off the top and he fell all the way into the crowd barrier, taking him out of the match for a few minutes. They seemed to win the hostile crowd back after about 10 minutes.
Ali hit a Spanish fly off the top rope on Bryan, then went for an 054 on Owens, but Owens moved. Stunner by Owens, but Bryan broke up the pinfall.
Later, Ali hit a 450 onto Daniel Bryan onto the apron… sweet. Rowan got onto the apron, but Ali and Owens gave him a double superkick, then Ali hit a hurricanrana onto him into the ring post, then Owens dived over the top onto Rowan. Ali then hit a great tornado DDT off the middle rope onto Bryan on the outside. Popup powerbomb into the apron by Owens on Ali…
Rowan nailed Kevin Owens and tossed him into the crowd, then rolled Ali into the ring. Bryan went for the pin, but Ali kicked out. Dumb ass mark crowd still chanted "Kofi."
Bryan picked up Ali, said "you don't deserve to be here" and slapped him. Bryan tossed him into the corner, Ali tried to jump off the turnbuckle into Bryan, but Bryan caught him with a running knee… 1-2-3.
Really great match that sort of won the crowd back against the odds. Easily the best match of the night so far. Great performance by Ali.
Winner: Daniel Bryan (18:45)
After the match, Rowan palmed Ali's face and slammed him down.
---
Charlotte Flair vs. Becky Lynch
If Becky wins, she'll be added to the Raw Women's Championship match at WrestleMania.
Becky came out on a crutch… Charlotte toyed with her and mocked her early in the match, shoving her around and mocking her limp. Charlotte toyed with Becky for most of the match until Becky knocked Charlotte to the outside, causing her to land on her arm. Charlotte rolled back into the ring and Becky locked on the Disarm-Her… but Charlotte rolled out and locked on the Figure Four…
Ronda Rousey suddenly ran out and stomped on Becky Lynch… The referee had no choice but to call for the bell, awarding Becky Lynch the win by disqualification. Becky Lynch is headed to WrestleMania.
Winner by disqualification: Becky Lynch (8:45)
---
In-Ring: Elias, Lacey Evans, Randy Orton, AJ Styles
One more song… "Becky Lynch won, so I guess that makes her the Man. Everyone seems to love her but honestly I'm not a fan. Her 15 minutes are almost up and I'll be glad to see them go. She's so destined for failure I'm surprised she wasn't born in Ohio. Now it's time for the main event, the reuniting of The Shield. But honestly I've got no faith in them, kinda like every time the Browns take the field."
Elias said that this is how things should be, with no interruptions. That's because everyone agrees that Cleveland is the worst city to host the last PPV before WrestleMania.
Lacey Evans suddenly walked out, waved to the crowd, then walked back.
Suddenly, Randy Orton hit an RKO out of nowhere on Elias…
AJ Styles then appeared out of nowhere and hit Randy Orton with a Phenomenal Forearm.
---
The Shield (Roman Reigns, Seth Rollins & Dean Ambrose) vs. Baron Corbin, Bobby Lashley & Drew McIntyre
Lio Rush didn't accompany Lashley. They explained that it was because Braun Strowman took him out on Raw. The first 15 minutes of this really just felt like a Raw match that I've had on in the background 150 times. Baron Corbin rest hold… Unbearable…
The heels beat down on Dean Ambrose for what felt like 15 minutes. Just shitty and boring.
Roman Reigns finally got tagged in and got a decent pop from the probably exhausted crowd. Rollins, Ambrose, McIntyre and Lashley fought on the outside then through the crowd and deep into the arena while Reigns wrestled Corbin in the ring.
Superman Punch by Reigns, but Corbin kicked out. The other four made their way back into the ringside area. Reigns hit a Superman Punch on Lashley and McIntyre, but Corbin hit him with the End of Days, but Rollins and Ambrose broke up the pin.
Lashley tried to chokeslam Rollins through an announce table, but Reigns hit Lashley with a Superman Punch, then Rollins hit a Stomp on the table (it didn't break).
The Shield triple powerbombed Drew McIntyre through the announce table.
They surrounded Baron Corbin in the ring. Superkick by Rollins, Superman Punch by Reigns, Dirty Deeds by Ambrose. Rollins shouted "one last mother f*cking time" (but it was bleeped out)… Triple powerbomb on Corbin… 1-2-3. The first 15 minutes of this match were awful, but it got good at the end.
Winners: The Shield (24:50)
The Shield hugged each other in the ring. They did their Shield fist bump as Michael Cole talked about saluting The Shield one last time, and the show went off the air.