Results by Richard Trionfo of PWInsider.com
---
Winter Park, FL – Full Sail Live
Commentary: Mauro Ranallo, Nigel McGuinness, Percy Watson
---
Quick Match Results
The Forgotten Sons defeated Oney Lorcan, Danny Burch, & Humberto Carrillo via double stomp by Burch on Carrillo
Dominic Dijakovic defeated Mansoor via Feast Your Eyes
KUSHIDA defeated Kassius Ohno via Hoverboard lock
---
Oney Lorcan, Danny Burch, & Humberto Carrillo vs. The Forgotten Sons
Lorcan and Cutler start things off and Cutler with kicks in the corner. Lorcan with chops but Cutler with kicks and punches. Cutler with an Irish whip but Lorcan with a European uppercut. Lorcan with a running blockbuster and then he hits a running European uppercut on Blake to send him to the floor. Burch knocks Ryker off the apron and Lorcan with a suicide dive onto all three men. Lorcan sends Cutler back into the ring and Burch tags in. They kick Cutler and hit double sledges. Carrillo tags in and hits a backward roll into a moonsault. Cutler goes to the floor and the referee tries to regain control.
Blake tags in and Carrillo with kicks and punches. Ryder tags in and Carrillo with a springboard arm drag to Blake, but Ryder with a spinebuster followed by punches. Ryker with a knee drop for a near fall. Ryker chokes Carrillo in the ropes and Cutler with a splash to the back and Blake with a cannonball into the back for a near fall. Blake with a reverse chin lock. Cutler then Ryker tags in and Ryker with a diving head butt to Carrillo for a near fall. Ryker with a Cobra Clutch. Carrillo uses the ropes to get a bridge for a naer fall. Ryker with a double sledge and he misses a head butt. Cutler tags in and he knocks Lrocan off the apron.
Burch and Blake tag in and Burch with clotheslines and a drop kick to Ryker on the apron. Blake with an elbow and Cutler tags in. Burch with a German suplex and clothesline into the corner. Burch goes to the turnbuckles and hits a missile drop kick. Burch with a Crossface and Ryker breaks it up. Ryker with punches and Carrillo with a missile drop kick and jumping round kick. Carrillo with a suicide dive and Carrillo accidentally hits Lorcan when Ryker pushes Cutler out of the way. Burch is surrounded by all three men. Burch with punches and hed butts to all three men but it is too much for Burch to defend himself. Carrillo is stopped from a springboard move by a Ryker Polish Hammer. Burch is sent into Cutler's knees and Carrillo suffers the same fate. Ryker with an assisted Reverse DDT on Carrillo and Burch after double stomps for the three count.
Winners: The Forgotten Sons
---
Backstage: Shayna Baszler
We see Shayna Baszler arrive with Jessamyn Duke and Marina Shafir. Shayna is asked if she has any remorse for attacking Kairi Sane and Io Shirai. Shayna says she has no remorse. Shayna is asked if she was getting back at Io for pinning her but Shayna not being able to pin her. Shayna knocks the mic out of Cathy's hand and walks away.
---
Earlier: Mia Yim, Bianca Belair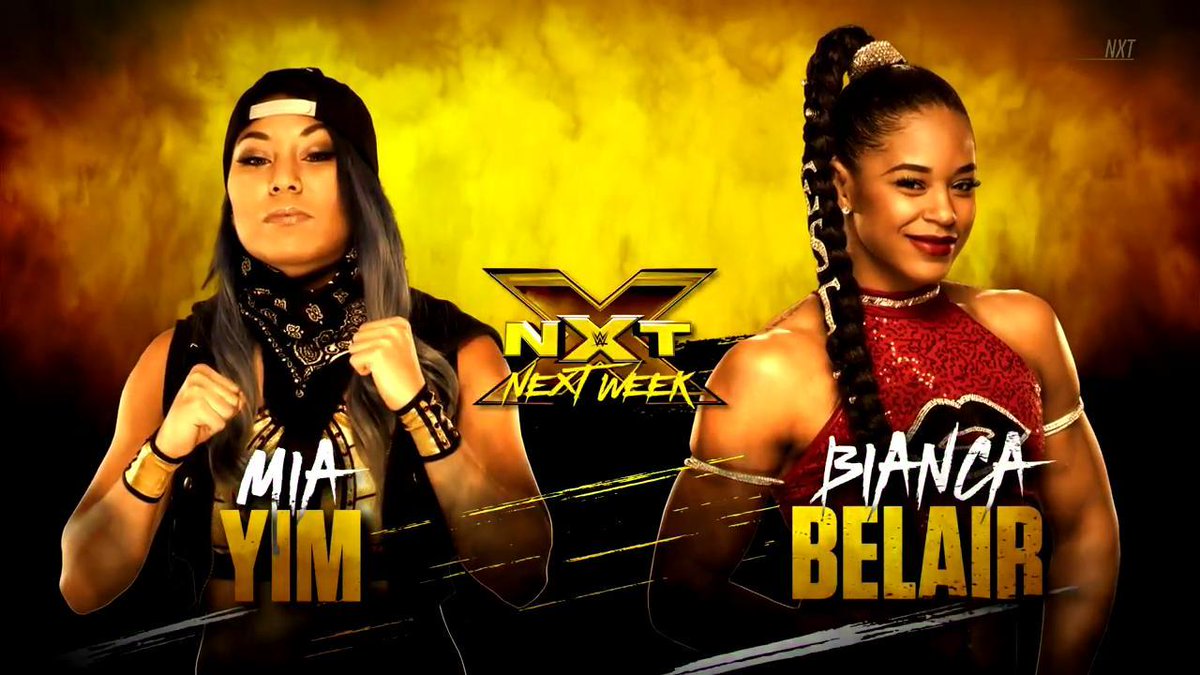 We take a look at a confrontation between Mia Yim and Bianca Belair at the Performance Center. We see them trying to be separated but neither woman is going to stop. Mia challenges Bianca to a match and Bianca cannot believe it was being recorded. They will meet next week on NXT.
---
Dominic Dijakovic vs. Mansoor
Dijakovic misses a cyclone kick and then he avoids a clothesline. Mansoor with a side head lock and Dijakovic escapes. Mansoor returns to the side head lock. Dijakovic with punches but Mansoor with punches and a rana that sends Dijakovic into the turnbuckles. Mansoor with a splash into the corner and he comes off the turnbuckles. Dijakovic catches Mansoor and connects with a back breaker but holds on and tosses Mansoor to the floor. Dijakovic with a knee and then sends Mansoor back into the ring. Dijakovic with a suplex throw and he gets a near fall.
Dijakovic with elbows and a back breaker followed by a splash off the ropes for a near fall. Djiakovic with a rear chin lock. Dijakovic with elbows and then he goes for another suplex but Mansoor counters with a sleeper. Dijakovic backs Mansoor into the turnbuckles. Mansoor gets back onto Dijakovic for another sleeper. Mansoor with elbows and a kick in the corner. Dijakovic blocks a snap mare and Dijakovic goes for a facebuster but Mansoor blocks it. Mansoor with a jumping round kick for a near fall. Mansoor comes off the turnbuckles and is met with a kick from Dijakovic. Dijakovic with a forearm and kick followed by a clothesline. Dijakovic calls for Feast Your Eyes and he hits it for the three count.
Winner: Dominik Dijakovic
After the match, Dijakovic tosses Mansoor to the floor.
Velveteen Dream's music plays and he is brought out on the Velveteen Couch. Velveteen says he has some words for Dominik. He says they are red, white, and blue. If we are going to this right, we need some music. The Dream has his own version of the Star Spangled Banner. He says this is his NXT. Dream tells Dominik 'Dream Over'.
---
Next Week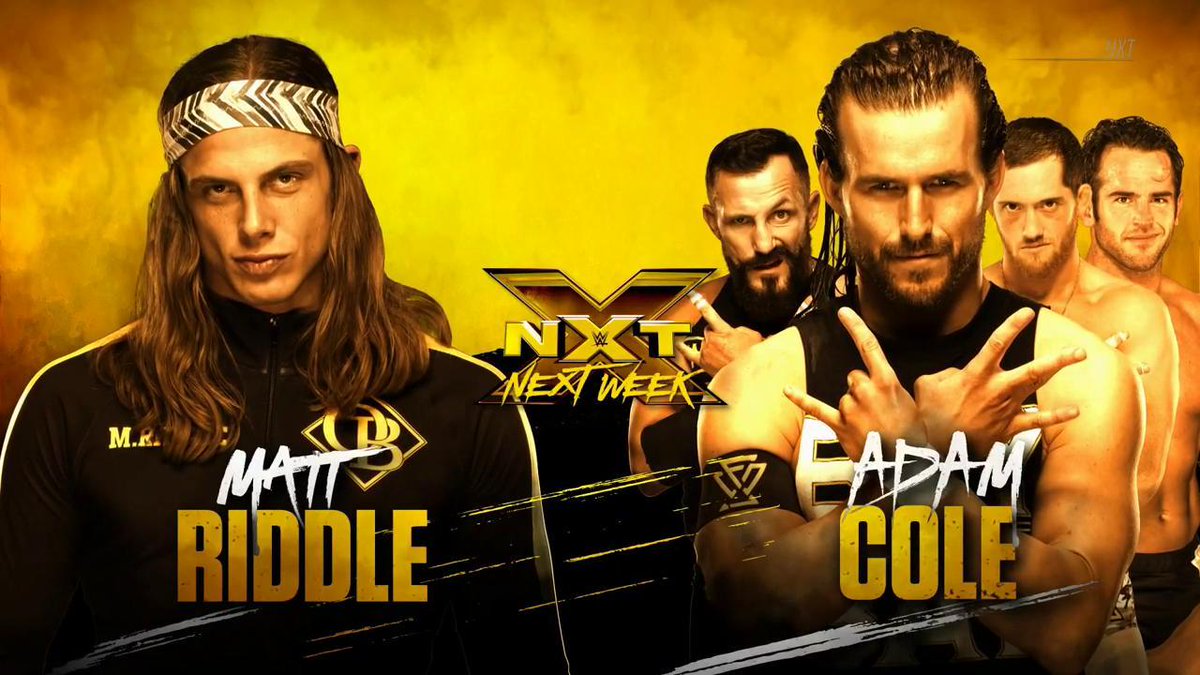 Matt Riddle faces Adam Cole next week. Bianca Belair will also face Mia Yim.
---
Backstage: The Undisputed Era
We take a look at what happened last week in the match between Johnny Gargano and Roderick Strong and the miscommunication between members of the Undisputed Era.
We see the Undisputed Era and Kyle says that Johnny Gargano is the luckiest man and his luck will run out. Fish says this is not about last week, but about next week. Next week, Cole will show Matt Riddle. Cole says they are stronger than they have ever been. They focus on the future, not the past. They won't focus on Roddy dropping the ball last week. Strong walks out. Cole asks if Roddy can take a joke like a man or a loss. Fish says Cole's timing is off.
---
KUSHIDA vs. Kassius Ohno
Ohno kicks KUSHIDA's hand away when he offers it. Ohno with a waist lock and he sends KUSHIDA to the mat. Ohno with a wrist lock into a side head lock. KUSHIDA with a wrist lock. Ohno with a head lock and take down into a rear chin lock. Ohno stretches KUSHIDA and KUSHIDA tries for a reversal and succeeds. KUSHIDA with a side head lock and wrist lock and drop toe hold. KUSHIDA with a front face lock. KUSHIDA rides the back and pats Ohno on the back.
Ohno blocks a hip toss and Ohno misses a leg drop. KUSHIDA with a cartwheel and drop kick. KUSHIDA with a moonsault but Ohno with a cravate. KUSHIDA with a rollup for a near fal. Ohno with a leg sweep and a cover but KUSHIDA escapes. Ohno drops to a knee and offers his hand. KUSHIDA thinks about it and he does it. Ohno with a kick and boot to the head. Ohno with a knee drop and he gets a near fall. Ohno with a forearm and KUSHIDA is down. KUSHIDA with a boot and he goes to the apron and hits an enzuigiri. KUSHDIA with a springboard chop to the head. KUSHIDA with a drop kick to the arm and then he misses a round kick.
Ohno gets KUSHIDA on his shoulders and drives KUSHIDA to the mat with an Electric Chair gourdbuster for a near fall. Ohno tells KUSHIDA he does not belong here. KUSHIDA with a flatliner into the turnbuckles and KUSHIDA goes to the apron. KUSHIDA with a springboard rana for a near fall. KUSHIDA with forearms and a kick followed by a punch when a kick is blocked. KUSHIDA shakes Ohno's hand and he slaps Ohno in the head. KUSHIDA goes for a handspring move but Ohno with a forearm and he gets a near fall. Ohno with a bicycle kick and Ohno runs into a punch from KUSHIDA.
KUSHIDA with a kick to the arm and he applies the Hoverboard Lock and Ohno taps out.
Winner: KUSHIDA