May 20, 2019
Albany, New York
Commentary: Michael Cole, Corey Graves and Renee Young
Results by: Mike Tedesco of Wrestleview.com
---
Quick Match Results
Braun Strowman defeated Sami Zayn via running powerslam
Cesaro defeated Ricochet via Gotch Neutralizer
The Revival defeated The Usos via roll up w/ handful of tights by Dawson on Jimmy
Becky Lynch, Nikki Cross & Alexa Bliss defeated The IIconics & Lacey Evans via diving leg drop by Becky on Billie
24/7 Championship: Titus O'Neil became the first champion via grabbing the title first
24/7 Championship: Robert Roode defeated Titus O'Neil (c) via roll up to win the title
Drew McIntyre defeated The Miz via Claymore kick
24/7 Championship: R-Truth defeated Robert Roode (c) via roll up to win the title
Kofi Kingston & Seth Rollins vs. Baron Corbin & Bobby Lashley via Trouble in Paradise by Kofi on Corbin
---
In-Ring: Brock Lesnar, Paul Heyman, Seth Rollins, Kofi Kingston
Brock Lesnar's music hits, and the holder of the Men's Money in the Bank briefcase makes his way to the ring alongside Paul Heyman to loud boos. Lesnar poses in the ring with the briefcase.
Video Package: Brock Lesnar wins the Men's Money in the Bank Ladder Match
Lesnar is seen smiling at the footage. Lesnar is using the briefcase like an old school boombox next to his head. Heyman says, "Ladies and gentlemen… my name is Paul Heyman and I am the advocate for the Beast in the Bank because my money is in the Beast, the 2019 Mr. Money in the Bank, the purveyor of paranoia Brock Lesnar!" The crowd loudly boos. Heyman says he can hear the paranoia. His client has heard the conspiracy theory that they hatched their plan when Sami Zayn beat Braun Strowman last week. The theory states that Lesnar snuck in, hung Zayn upside down, spoke to someone with the right political contacts, and entered the Money in the Bank match as the 8th man. The crowd is giving them too much credit. They should blame Lesnar for the John F. Kennedy assassination.
Heyman says if he were holding a championship right now, he'd be paranoid. If he were Seth Rollins or Kofi Kingston, he'd never feel safe knowing that Lesnar has a contract to cash in at any time. If he were Seth Rollins, he'd be paranoid. The world is not against Rollins, but Lesnar is against Rollins.
WWE Universal Champion Seth Rollins makes his way to the ring to a big ovation. Rollins quickly gets in Lesnar's face, who holds up the briefcase. Rollins says he should be in a great mood after winning the fight of his life against AJ Styles, but he is not in a good mood because he has to come out here and see Brock Lesnar with the Money in the Bank contract. Rollins says he's out here trying to be a champion that inspires people. The kind of champion Lesnar never had the guts to be. Rollins says he can't do that with Lesnar holding the contract over his head. Rollins says he beat Lesnar at WrestleMania and is sure he can do it again. Rollins challenges him to cash in tonight. The crowd erupts. Heyman tells the crowd not to encourage him.
Heyman says this is Lesnar's game of anticipation, which means Rollins has to wait until Lesnar feels like cashing in. Rollins should be used to waiting. It's like waiting around for 7 hours at WrestleMania while his girlfriend main evented the show he always dreamed of main eventing. Rollins immediately gets in Lesnar's face and demands he cash in. Heyman scrambles to stop Lesnar from doing anything. Heyman asks Rollins how he believes that he's even worthy of cashing in on. Maybe Lesnar wants a new challenge. Maybe it's a New Day for Lesnar. Maybe it'll be Brock Lesnar vs. Kofi Kingston.
WWE Champion Kofi Kingston's music hits, and he comes out to a loud pop. Kingston gets in the ring and shouts, "Wild Card!" Kingston says he doesn't meant to steal Rollins' thunder, but he's trying to establish his legacy as WWE Champion. When all is said and done, he wants to be considered one of the best WWE Champions of all time. Kingston can't do that if he doesn't face the best night in and night out. Kingston congratulates Lesnar on winning the Money in the Bank briefcase, but if he's cashing in tonight it'll have to be on him.
Heyman says it's interesting that both these champions are auditioning to face Lesnar. The Money in the Bank holder didn't have to go to the champions. They came to him for a main event match. Heyman understands that Rollins and Kingston aren't done for the evening. As long as they're around, the Money in the Bank briefcase isn't going anywhere.
---
Backstage: Mick Foley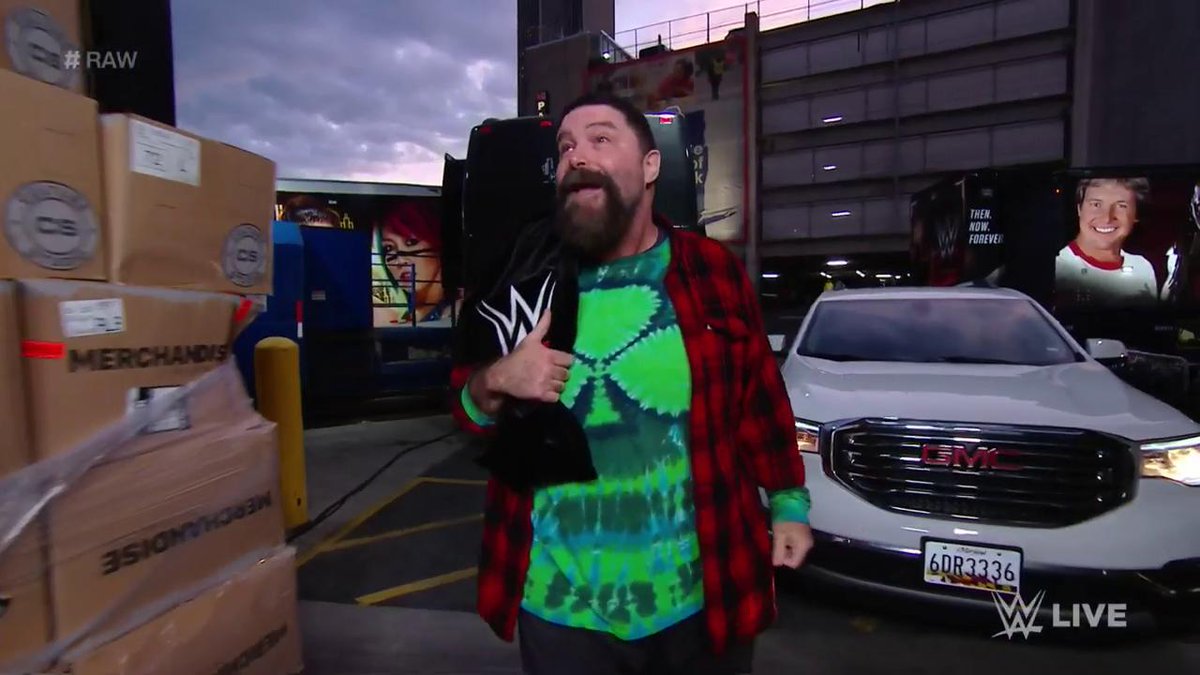 We go into the garage to see a limousine pull up. Mick Foley gets out of the front seat holding the covered up new championship. Foley greets some WWE Superstars upon entering the arena.
---
Backstage: Sami Zayn, Bobby Lashley
Sami Zayn is in the Gorilla Position begging Bobby Lashley to help him against Braun Strowman. Zayn says he's too hurt to defend himself. Lashley declines and tells Zayn to soften Strowman up for him.
---
Backstage: Kofi Kingston, Seth Rollins, Triple H
Triple H tells Seth Rollins and Kofi Kingston that they'll be teaming up to take on Baron Corbin and Bobby Lashley in the main event.
---
Sami Zayn vs. Braun Strowman
Before the bell rings, Zayn gets out of the ring. Strowman chases after him through the crowd. They run to the back. Strowman can't find Zayn backstage. Strowman then finds Bobby Lashley, his opponent at WWE Super ShowDown and stares at him. Zayn attacks him from behind, but Strowman quickly takes him down. Strowman stares at Lashley again and says he'll deal with him later. Strowman grabs Zayn and sends him to the Gorilla Position.
Strowman walks out onto the stage holding Zayn on his shoulder. Zayn eventually slides off and sends Strowman into the ring post a few times. Strowman quickly swats him down and gets him in the ring. Zayn then sidesteps him, which sends Strowman shoulder-first into the ring post.
Zayn demands the bell ring to start the match. Zayn sets up for a Helluva Kick, but Strowman clotheslines him down. Strowman runs over Zayn with a shoulder block outside. Strowman gets Zayn in the ring and hits a Running Powerslam for the win.
Winner by Pinfall: Braun Strowman
---
In-Ring: Lars Sullivan, Lucha House Party
Charly Caruso introduces Lars Sullivan to the ring. She has a video package shown of the destruction he's caused in WWE. She asks Sullivan what his goals are in WWE. Before Sullivan can answer, Lucha House Party cuts him off.
Lucha House Party surrounds the ring and hits him with individual dropkicks. Sullivan shakes them off, but he's knocked from the ring after a triple dropkick. Kalisto goes for a plancha, but Sullivan catches him and slams him face-first off the apron. Lince Dorado and Gran Metalik hit him with a double suicide dive, but he fights them off. Sullivan goes for a Running Powerbomb on Dorado, but Kalisto and Metalik pull him away. They retreat up the ramp, leaving Sullivan in the ring furious.
---
Ricochet vs. Cesaro
Footage is shown of Cesaro mocking Ricochet for being in the trainer's room after his war in the Money in the Bank Ladder Match last night. That led to this match.
Cesaro comes out to a brand new entrance theme and lighting.
The bell rings, and Cesaro immediately throws Ricochet into the corner. Ricochet fights back, but Cesaro takes him down with a big back body drop. Ricochet writhes in pain and rolls out of the ring. Ricochet's back is all taped up. Cesaro goes for a slam on the floor, but Ricochet slides off and sends him headfirst into the ring post. Ricochet then takes him down with a moonsault block off the second rope to the floor. Ricochet goes for a plancha, but Cesaro catches him and slams him on the apron.
We come back from the break to see Cesaro stretching Ricochet's back. Ricochet fights up and hits a jawbreaker. Cesaro shoves him before sending him into the ropes. Ricochet stands on Cesaro's shoulders, backflips off, and hits him with a wild head-scissor takeover to get him out of the ring. While they're showing a trailer for The Secret Life of Pets, Ricochet hits Cesaro with a Foxbury Flop. Ricochet gets Cesaro in the ring and goes to the top rope. Ricochet leaps, but he eats an uppercut. Cesaro hits a torture rack backbreaker followed by the Gotch Neutralizer for the win.
Winner by Pinfall: Cesaro
---
Backstage: AJ Styles, Baron Corbin
Charly Caruso is backstage with AJ Styles. She asks where the loss to Seth Rollins leaves him on RAW. Styles says he's back at square one. Styles likes hard work. Styles can beat Rollins, but not last night. There's no shame in losing. There's a reason why Rollins is the Universal Champion.
Baron Corbin walks up and mocks Styles. Styles says Corbin is the guy that squandered his Money in the Bank opportunity and got fired as the RAW General Manager. Corbin says it's a slap in the face that Styles got a title shot over him. Styles says he'll give him a slap in the face and literally slaps Corbin in the face. Corbin stares at him and says, "You'll pay for that one."
---
In-Ring: Roman Reigns, Shane McMahon
Roman Reigns is in the ring, but before he can speak Shane McMahon's music hits. McMahon says Reigns is using the Wild Card Rule. McMahon tells him to remember the yard is small compared to the Best in the World. McMahon says he proved his point last night in a brutal Steel Cage Match, but he walked out with his hand held high in victory. Just for everyone's edification, he's officially done with The Miz. McMahon's focus is going somewhere else. That focal point is Reigns. McMahon can't get out of his head when Reigns did to his father Vince McMahon. The fact Reigns cowardly struck his father to the ground makes him wonder what kind of man Reigns is. Reigns disgusts him.
Reigns says he hates spoiled rich kids. McMahon said a whole bunch of crap and all he said is he's done with The Miz. Reigns says he's done with Elias, so his schedule is wide open. McMahon says Elias isn't done with Reigns. Reigns challenges McMahon to a fight tonight. McMahon sarcastically calls Reigns brave for challenging a person who went through a brutal Steel Cage Match. McMahon asks the crowd if the people want to see him fight Roman Reigns. They cheer in the affirmative. McMahon takes off his jacket, but then says it's not happening. McMahon says he controls his destiny and does what he wants when he wants. McMahon says he's Reigns' boss and will demonstrate control. Drew McIntyre's music hits, and The Scottish Psychopath comes out to the stage.
McMahon says he'll accept Reigns challenge at Super ShowDown. When Reigns regains consciousness, he'll hear McMahon being announced as the winner. Reigns says after Super ShowDown, McMahon will say what everyone else does: "I just got my ass kicked by Roman Reigns."
---
Backstage: Brock Lesnar, Paul Heyman
Brock Lesnar is backstage with Paul Heyman. Heyman is polishing the Money in the Bank briefcase.
---
Backstage: Shane McMahon, Drew McIntyre, The Miz
Shane McMahon and Drew McIntyre are walking backstage when one of the backstage interviewers stops them. The Miz walks up to them and says he's not done with McMahon. McIntyre says McMahon is done with Miz, but if he wants to fight he'll oblige. Miz says once he's done with McIntyre, he's coming for McMahon.
---
The Usos vs. The Revival
They show replays of the shameful attempts at comedy segments over the past three weeks.
The Revival attacks The Usos before the sound of the bell. They hit Jey with a backbreaker/diving leg drop combo for a two count, so apparently the bell has rung. The Revival sends Jey into the barricade. Wilder gets Jey in the ring and punches him. Scott Dawson tags in, and they hit a double-team suplex for a two count. Dawson talks trash to Jey and rips at the face. Dawson chops the chest, but Jey fights back. Jimmy tags in, and they get The Revival out of the ring.
We come back from the break to see Wilder applying a chin lock to Jimmy. Jimmy fights up and flips through a back suplex before kicking Wilder in the face. Dawson quickly tags in, but Jimmy hits him with an enzuigiri. Jey and Wilder are tagged in. Jey runs wild on Wilder before kicking him in the midsection and giving him an uppercut. Jey hits Wilder with a Samoan Drop before hitting Dawson with one. Jey hits a running hip bump on Dawson, but Wilder manages to avoid it. Jey kicks him back and hits a cross-body block for a two count. Wilder fights him off and goes to the top rope. Jey cuts him off, but Dawson blind tags in. Wilder powerbombs Jey, and Dawson follows up with an elbow drop for a two count. Dawson is frustrated with the referee's count.
Dawson talks some trash to Jey before hitting an uppercut. They trade punches before Dawson tries for a backslide. Jimmy tags in, and The Usos hit stereo superkicks, but Wilder breaks up the pin. Wilder gets Jey outside and hits a tornado DDT on the floor! Jimmy hits Wilder with a suicide dive before getting in the ring. Jimmy manages to catch Dawson with a superkick for a near fall. The crowd is chanting, "This is awesome." Jimmy catches Wilder with a back body drop. Dawson then rolls Jimmy up with a handful of tights for the win.
Winners by Pinfall: The Revival
---
Backstage: Alexa Bliss, Nikki Cross, The Revival
Alexa Bliss is having her makeup done backstage. Nikki Cross walks up to her. Bliss says that Cross has done a good job standing in for her. The only problem is she didn't win. Bliss knows how to cheer her up. The Revival come up celebrating and say they should be the guests on her show.
---
Segment: Firefly Fun House
The Firefly Fun House theme song plays before being cut off by the images of Bray Wyatt in the scary clown mask. There are images of children with the words, "Let him in" written on them.
---
A Moment of Bliss
Alexa Bliss comes out to the stage with Nikki Cross by her side. Bliss asks where her coffee is, so a stagehand brings out two cups. Bliss pours more coffee from the second cup into hers. Bliss then gives the second cup to Cross. Bliss then introduces RAW Women's Champion Becky Lynch.
The IIconics cut off Lynch before she can speak and make fun of her for losing the Smackdown Women's Championship last night. Lynch says she'll take them to the ring and become Becky Three Belts. Lacey Evans comes out and says Lynch lost her title because of her. Lynch says she beat Evans with only half her attention last night. Lynch challenges Evans and The IIconics. Cross says she'll fight with Lynch. Lynch then pulls Bliss onto her team.
---
Becky Lynch, Nikki Cross & Alexa Bliss vs. The IIconics & Lacey Evans
Becky Lynch will start against Billie Kay. Lynch shoulder blocks Kay down, so Peyton Royce tags in. They lock up, and Royce slides out of a body slam. Lynch quickly gets up and kicks Royce down. Nikki Cross tags in. Alexa Bliss is standing at ringside drinking her coffee. Cross hits Royce with a dropkick before avalanching her in the corner. Cross follows up with a running bulldog for a two count. Cross fights off The IIconics before going to the top rope. Cross hits Royce with a cross-body block for a two count. Royce quickly knocks Cross down and tags in Kay. The IIconics take Cross down and pose. Lacey Evans tags in and hits a slingshot bronco buster for a two count. Royce tags back in and applies a chin lock. Cross fights up, but Royce pulls her down by the hair. Evans tags in and taunts Lynch. Cross eventually gets away.
Lynch and Kay are tagged in. Lynch takes Kay down a few times. Evans walks off on her team. Lynch hits Kay with the Bexploder. Lynch goes to the top rope for a missile dropkick. Lynch knocks Royce off the apron before booting Kay down. Lynch hits a diving leg drop for the win.
Winners by Pinfall: Becky Lynch, Nikki Cross, and Alexa Bliss
---
In-Ring: Mick Foley Announces the 24/7 Championship
WWE Hall of Famer Mick Foley makes his entrance. Foley gets right to the point and wants to talk about the title on his shoulder. There's been something missing from Monday Night RAW. It's time to revisit the letters R-A-W. It's time to make Monday night RAW again. For those superstars looking to step up, it takes a lot to be a champion in WWE. It's not something you just defend. Championship titles are something you breathe, think about, covet, love, and sacrifice a few teeth and an ear. That's how a legend is born. It consumes your life 24 hours a day, 7 days a week. With that being said, he introduces the 24/7 Championship.
It's an ugly looking championship belt that has a big 24/7 logo on it and a green belt. The crowd boos. Foley says the falls can take place anywhere, even out of the ring. The third hour of RAW every week will have a title match open to anyone from any roster. Now they'll have a championship scramble. Whoever grabs the championship is the inaugural champion.
A bunch of RAW jobbers run down the ramp tackling each other. No one can get in the ring. Eventually Titus O'Neil grabs it to become the inaugural champion.
O'Neil celebrates on the ramp before being rolled up by Robert Roode. Roode is now the 24/7 Champion. Roode runs off without the title.
Later, Robert Roode is running backstage and hides behind a crate while a bunch of guys run by looking for him.
---
The Miz vs. Drew McIntyre
The match begins. McIntyre quickly gains the advantage. Shane McMahon is directing traffic from ringside. McIntyre suplexes Miz on the floor.
We come back from the break to see The Miz hit McIntyre with a sunset flip powerbomb off the ropes. Miz punches McIntyre back to the corner and kicks away at him. Miz hits a pair of running knees before sending him shoulder-first into the ring post. Miz hits his patented corner clothesline before hitting a springboard axe handle for a two count. Miz kicks away at him. McIntyre counters into a powerbomb attempt, but Miz counters with a hurricanrana. McIntyre soon comes back with an inverted Alabama Slam for a near fall. Miz fights back and hits a leg breaker. Miz goes for a Figure Four Leglock, but McIntyre kicks him off. McMahon gets a cheap shot in from ringside. McIntyre follows up with a spinebuster for a near fall.
Miz avoids the Claymore Kick and applies the Figure Four Leglock. McIntyre chops his way out of the hold. Miz sidesteps McIntyre and gets him out of the ring. Miz then hits him with a baseball slide. Miz chases after McMahon, but he goes into the crowd. Miz sends McIntyre into the barricade and puts him in the ring. McMahon attacks Miz from behind and puts him in the ring. McIntyre follows up with a Claymore Kick for the win.
Winner by Pinfall: Drew McIntyre
McMahon says he has a parting gift for Miz and tells McIntyre to put him in the corner. Roman Reigns makes the save and Superman Punches McIntyre out of the ring. McMahon runs away.
---
Backstage: Robert Roode
Baron Corbin and Bobby Lashley are talking backstage when Robert Roode runs by. He's trailed by a bunch of RAW Superstars.
---
Backstage: Seth Rollins, Kofi Kingston
.@TrueKofi intends to remain your W.W.E. World. Heavy. Weight. CHAMPION!! #Raw @WWERollins pic.twitter.com/Az43RuS830

— WWE Universe (@WWEUniverse) May 21, 2019
Seth Rollins and Kofi Kingston are interviewed backstage. They're going to take care of business before dealing with Brock Lesnar.
---
Backstage: Samoa Joe
Footage is shown of Rey Mysterio beating Samoa Joe last night at Money in the Bank. Joe's shoulder was clearly off the mat. Michael Cole says Rey Mysterio suffered a separated shoulder.
Samoa Joe does an interview. Joe says he'll give Mysterio a chance to lead by example and give his championship back. Joe tells him to be an example to Dominick.
We'll find out the state of the United States Championship next week.
---
Backstage: Robert Roode, R-Truth
24/7 Champion Robert Roode is running backstage when he bumps into R-Truth. R-Truth helps Roode hide in a car trunk. R-Truth sends the pack of wrestlers in the wrong direction.
R-Truth lets Roode out of the trunk and then rolls him up with a referee there to count the pin. R-Truth is the new 24/7 Champion and drives off.
---
Kofi Kingston & Seth Rollins vs. Baron Corbin & Bobby Lashley
While Seth Rollins is making his entrance, Baron Corbin and Bobby Lashley attack him from behind. They also attack Kofi Kingston.
Rollins wants the match to start. This match is No Disqualifications. Corbin hits Rollins with a Deep Six for a two count. Lashley sends Kingston into the barricade. Corbin punches Rollins down, but Rollins comes back with an enzuigiri. It's interesting to note that for the third hour they have changed the look of the show with a different style of lighting for the stage. Kingston tags in and takes Lashley down before giving him the Boom Drop. Kingston knocks Corbin off the apron. Lashley attacks, but Kingston flips through a suplex. Kingston hits a double jump cross-body block. Corbin breaks up the pin before punching Rollins off the apron. Corbin and Lashley send Kingston and Corbin into the barricade.
We come back from the break to see Corbin and Lashley dominating Rollins and Kingston. Rollins goes for a suicide dive, but Corbin counters with a chokeslam on the apron. Corbin then buries Rollins under chairs in the timekeeper's area. Corbin gets in the ring and hits a chokeslam backbreaker for a two count. Corbin and Lashley go for a double-team superplex on Kingston, but Rollins hits them with chairs. Rollins takes Corbin down and sets up for a Stomp, but Lashley pulls him out of the ring. Kingston and Lashley try for a tackle over the top rope, but it doesn't work out. Rollins hits Corbin and Lashley with a suicide dive. Kingston then wipes them out with a trust fall. Kingston gets in the ring and pins Corbin after Trouble in Paradise.
Winners by Pinfall: Kofi Kingston and Seth Rollins
Lashley spears both Kingston and Rollins. Rollins and Kingston fight them off, and Brock Lesnar makes his way to the ring. Lesnar teases getting in the ring, but Rollins and Kingston are holding chairs. Heyman says they'll come back next week and tell the world who he'll cash in on.
---
E-Mail – MikeyT817@gmail.com
Twitter – @MikeTedescoWV