May 7, 2019
Louisville, Kentucky
Commentary: Tom Phillips, Byron Saxton and Corey Graves
Results by: Roy Nemer of Wrestleview.com
---
Quick Match Results
Ali defeated Andrade by DQ when Randy Orton interfered
SmackDown Tag Team Championship: Daniel Bryan & Rowan defeated The Usos via the Iron Claw by Rowan on Jey to win the vacant titles
Sonya Deville & Mandy Rose defeated Ember Moon & Carmella via Bed of Roses by Mandy on Ember
WWE Championship – Triple Threat: Kofi Kingston (c) defeated AJ Styles and Sami Zayn via Trouble in Paradise on Zayn
---
In-Ring: AJ Styles, Sami Zayn, Kofi Kingston
WWE Smackdown Live kicks off with Raw superstar AJ Styles coming down to the ring. AJ says how he missed Smackdown Live but on Raw last night, Mr. McMahon instituted a wild card rule for Raw and Smackdown. If you're brave enough and fast enough, you can cross over to a rival brand. AJ says you can be one of the four superstars to crash a rival brand. If that's the case, he sure as hell was going to be the first to do it. Because Smackdown Live is still the house that AJ Styles built.
Sami Zayn's music hits and he comes out. He says he would rather be anywhere but here on his day off. Sami insults the crowd and addresses AJ. He tells him he knew he was going to do that and that's why he had to take advantage of the wild card rule because if he didn't, no one would come out and call him out on his toxic ego. AJ says his nose is burning. He's glad he made it out of the dumpster that Braun Strowman threw him out of but he could have at least showered. Sami says he showered but the smell doesn't come out that easily. The fans chant "take a shower" and The New Day's music hits.
WWE champion Kofi Kingston and Xavier Woods come out. Kofi says that they will come out and have this party without inviting New Day? They joke about how AJ says Smackdown is the house that he built but the fact is he doesn't live here anymore. Kofi says what he wants to know is what is he doing here tonight? Styles asks if he saws him on Raw last night and he figured he would come out and return the favor.Woods tells Styles to check himself before he wrecks himself. Kofi says he is the champ now and AJ came all the way over to Smackdown and he stands in a Smackdown ring and here Kofi is in that same ring. And his question to AJ is what he wants to do about it.
Zayn interrupts and tells them to stop, he can see where this is going. Sami tells Kofi that he's not about to offer AJ a WWE championship match tonight. Sami tells Kofi he loves him and he will tell him the truth since no one else will. He tells Kofi that these people are not happy for him. He got a taste of their affection and he's in the trap of trying to please them. And if anyone deserves a WWE title shot, it's him. Zayn says that the people deserve a champion who will tell them the truth. Kofi cuts him off and asks Sami what is that smell?
Kofi tells Sami he got it all wrong. He defended his title against Bryan to show everyone that what happened at WrestleMania was not a fluke. He considers himself to be a fighting champion and being the fighting champion that he is, he wants to put the title on the line tonight against either of them. Kofi says he will remain the WWE world heavyweight champion.
---
Earlier: Kevin Owens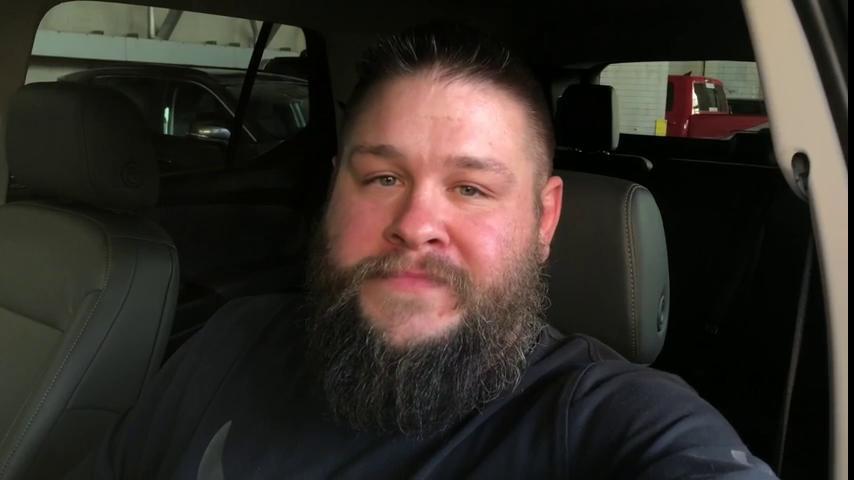 Footage from earlier today shows Kevin Owens talking. He says that he is going home tonight because it's his birthday.
---
Ali vs. Andrade
Zelina says in two weeks, much like the Kentucky derby, thousands of spectators will gather to watch the Money in the Bank PPV. But unlike the Kentucky derby, there is only one thoroughbred, Andrade. He gets on the microphone and says that in two weeks, he will win the Money in the Bank ladder match and he will become señor dinero en el banco (Mr. Money in the Bank) and Ali, amigo, will become envious of the success of Andrade.
The bell rings and Andrade with a slap to the chest but Ali with a big kick and Andrade rolls to the outside. Ali with a right hand on Andrade. He goes to jump off the security rail but Zelina gets in the way as Andrade trips up Ali.
Back from commercial break and Andrade is on the top rope but Ali climbs up top. The Spanish fly by Ali and both men are out.
Randy Orton attacks Ali from behind. He grabs Andrade and goes for a DDT but Vega holds Andrade's leg and a kick to the face by Andrade onto Orton. Ali attacks Orton with a kick to the face. Ali goes for another kick, Orton blocks it and goes for the RKO but Ali pushes him and Orton attacks Andrade. Ali attacks Orton. He runs towards Orton as Orton throws him in the air and lands an RKO. Andrade jumps off the top rope and Orton catches him with an RKO.
Winner: Ali by Disqualification
---
Video: Roman Reigns
A video package showing the recent history of Roman Reigns in WWE airs.
---
In-Ring: Shane McMahon, Daniel Bryan, Rowan, The Usos
McMahon is in the ring and says he's here to talk about the Smackdown tag team division. But last night on Raw, he was brutally attacked by The Miz with a steel chair. He asks what kind of person hits another human being with a steel chair. He says he finds The Miz's actions disgusting but The Miz didn't get the job done nor will he at Money in the Bank. Because just like at WrestleMania, he will emerge as champion.
As for the Smackdown tag team division, the titles had to be vacated by the Hardy Boyz last week because Jeff is injured. And that was because of Lars Sullivan. Shane says he kept telling himself who would be worthy? He says it was very simple.
Shane introduces that worthy tag team as Daniel Bryan's music hits and he comes out with Rowan.
The Usos come out and interrupt. Shane asks what they are doing here because they are on Raw. The Usos say that the big dog Roman Reigns said it's his hard and he told them they can come anytime they feel like it. And because of Vince, they have the wild card rule. They get in the ring and say that they worked too hard to put the tag team division on the map. Last time they should, they had to earn the titles. Just like The New Day, The Bar, The New Day. They earned it. Even Shane earned it. And knowing the value and prestige and legacy of the titles, they will just hand it over to Spongebob and Patrick, Ren and Stimpy, Beavis and Butt-head? They ask Shane to put the titles on the line.
Shane says sometimes you have to earn a couple of things and he will enjoy watching the match and it will happen right now. He will enjoy watching Daniel Bryan and Rowan send them back to Raw.
SmackDown Tag Team Championship
Daniel Bryan & Rowan vs. The Usos
Daniel Bryan is in the ring with Jimmy as the two exchange reversals. Jey is tagged in. He goes for the cover but Bryan kicks out. He sends Bryan into the turnbuckle and Jimmy is tagged back in. The Usos double team Daniel Bryan as he gets away and tags Rowan into the match.
A big boot by Rowan onto Jimmy. Bodyslam by Rowan followed by a splash. He goes for the cover but Jimmy kicks out. Rowan throws Jimmy into the corner and tags Bryan in. The two double team Jimmy. Bryan goes for the cover but a kick out. Daniel Bryan tags Rowan and a kick to the stomach by Rowan onto Jimmy. Rowan with a knee to the back. Rowan hits Jey off the ring apron and Jimmy fights back. Jimmy runs to the ropes but Rowan with a cross body.
Back from commercial, Bryan with a kick to the chest onto Jey. He goes for a kick to the head but Jey gets out of it. Jimmy is tagged in and a super kick onto Bryan. He goes for the cover but Daniel Bryan kicks out. Jimmy climbs the top rope, he goes for the splash but Bryan gets his knees up and turns it into La Belle lock. Jimmy gets out of it. Both men are up and a super kick by Jimmy onto Bryan.
Jimmy tags Jey and Rowan is also tagged in. Jey with a kick onto the head. He jumps off the top rope but Rowan catches him. Jey lands on his feet and kicks Rowan. Tag is made and Jimmy is in, he super kicks Rowan and both men super kick Rowan. A suicide dive by Jey onto the outside. Jimmy flies off the top rope and a splash onto Rowan. He goes for the cover but Rowan kicks out.
Jey is tagged into the match. Both Usos go on opposite sides of the ring. Bryan pushes Jimmy off. Jey climbs down and super kicks Bryan. Rowan is sent over the top rope onto the outside. The Usos with a double suicide dive but Rowan catches them. Bryan with a running knee onto Jimmy and Rowan sends Jey into the ring. A super kick by Jey but Rowan catches him and lands The Iron Claw. Rowan goes for the cover and gets the pin.
Winners: New Smackdown Live Tag Team champions, Daniel Bryan and Rowan
---
Firefly Fun House
The same Firefly Fun House from last night's Raw airs. Bray Wyatt steps into the frame while children clap. Mercy the Buzzard is making a lot of noise. Wyatt asks what he's doing. Mercy has some white stuffing in his mouth. Abby the Witch tells him to show what he's doing. Wyatt wants to see what all the fuss is about. Wyatt pulls the Rabbling Rabbit out of the box. Mercy says he despises the Rabbit. Wyatt says it's perfectly ok to express yourself however you want either by painting or ripping something to shreds. You can be forgiven. Wyatt thinks Mercy should be rewarded. It's time for a picnic. Miserable looking children are shown sitting on the floor. Wyatt says he will always light the way as long as they let him in. Wyatt then cheerfully waves.
---
In-Ring: Shane McMahon, The Miz, The B-Team
Shane says he would like to leave the state as soon as possible and he has something to say. It's about Money in the Bank and the ladder match itself. Shane says Money in the Bank Ladder match is one of the most brutal, physical and as he's talking, The Miz attacks him from behind. The Miz throws Shane onto the outside of the ring and into the security rail.
The two fight up the stage as The B-Team come out and attack The Miz. They double team on The Miz but The Miz fights back. Shane McMahon hits The Miz from behind with a steel chair.
---
Backstage: Daniel Bryan, Rowan, Heavy Machinery
Backstage we see Daniel Bryan and Rowan. They are stopped by Heavy Machinery who congratulate and stare at them.
---
Ember Moon & Carmella vs. Sonya Deville & Mandy Rose
Mandy is in the ring with Carmella and a right hand by Mandy. A jaw breaker by Carmella as Moon is tagged in. A drop kick by Moon onto Mandy followed by a series of kicks and a right hand. Ember with a throw away slam. She goes for the cover but Sonya breaks it up. In comes Carmella and a super kick takes Sonya out but Mandy hits Carmella down. Mandy on the outside as Moon goes for a suicide dive. Sonya moves Mandy of the way as Moon lands on Sonya. Mandy strikes Ember with a knee to the face. Mandy sends Ember to the inside of the ring. She lifts her up by the arms and drops her onto her face. She goes for the cover and gets the pin.
Winners: Sonya Deville and Mandy Rose
After the match, Paige comes out with Sane and Asuka. Paige congratulates them and says she used to manage them back when they used to mean something but she traded up. She got Asuka and Sane who will rip through the tag team division when they beat them next week.
---
Backstage: Matt Hardy, R-Truth, Lars Sullivan
Kayla is backstage with Matt Hardy. She asks Matt about last week when they had to vacate the titles. Matt says that was a heartbreaking moment but Jeff had a successful surgery and he will be back. In comes R-Truth into the picture. He tells Matt he wants to tell him something but he forgot what it is. Matt asks if it's about Sullivan. Truth says that's why he forgot, he didn't want to remember. He tells Matt Lars is vicious, his hands are like bear traps. You get caught, you get got. Kayla leaves the scene as Lars appears behind them. He headbutts R-Truth as Matt hits him but Lars throws Matt Hardy into a door. R-Truth tries to spear Lars but Lars picks R-Truth and power bombs him through a table.
---
Backstage: Aleister Black
Aleister Black is sitting in a dark room. He talks about the marks left by the parents and the marks we left upon ourselves. He arrogantly sits as both the wrath and the salvation. And into his opponents, he must apologize for his over compensatory need to prevail. To prevail at their expense, for they are the embodiment of their sins of which he speaks. And now that he has revealed this part of himself, he must ask for forgiveness for his own sins. Black talks about victory which he will take from his opponents.
---
WWE Championship – Triple Threat
Kofi Kingston (c) vs. AJ Styles vs. Sami Zayn
The bell rings and we are under way. Sami talks trash to both men as AJ attacks them both. Sami to the outside and Kofi with right hands on Styles. Kofi with a drop kick onto AJ. He goes for the cover but AJ Styles kicks out. A kick to the face by Kofi who runs to the ropes and a big splash onto AJ. He goes for the cover but AJ kicks out again.
In comes Sami who attacks Kofi but Kofi with a drop kick and Sami to the outside again. Kofi turns around and AJ slams Kofi into the corner. A chop to the chest followed by a back breaker. In comes Sami but AJ with right hands and a chop to the chest. Sami rolls to the outside and Kofi goes for the cover on AJ but AJ kicks out.
Kofi climbs the top rope and a splash onto the back of AJ. He goes for the cover but again AJ Styles kicks out. Sami Zayn gets in the ring and attacks Kofi from behind. Sami sends Kofi into the corner but Kofi with a clothesline. Sami gets up and a clothesline by AJ as Sami goes to the outside. A right hand by Kofi followed by a big punch in the face. Kofi with the boom drop onto AJ Styles. Sami trips Kofi Kingston down. AJ on the ring apron and Sami Zayn trips him.
AJ Styles is in the ring with Kofi and AJ goes for the Phenomenal Forearm but Kofi trips him up and hits him with Trouble in Paradise as AJ falls to the outside. Kevin Owens comes and attacks Xavier Woods as the two fight. Owens throws Xavier into the ring steps. Sami hits Kofi with Blue Thunder Bomb. He goes for the cover but Kofi kicks out.
Sami lifts Kofi up and again Blue Thunder Bomb but again Kofi kicks out. Sami with a third Blue Thunder Bomb but once more Kofi kicks out and Sami is in disbelief. Sami runs towards Kofi and Kofi hits him with Trouble in Paradise for the win.
Winner: Kofi Kingston