June 3, 2019
Austin, Texas
Commentary: Michael Cole, Corey Graves and Renee Young
Results by: Mike Tedesco of Wrestleview.com
---
Quick Match Results
Drew McIntyre & The Revival defeated Roman Reigns & The Usos via Claymore by McIntyre on Jey Uso
Charlotte Flair defeated Lacey Evans by DQ when Becky Lynch interfered
Arm Wrestling Match: Braun Strowman defeated Bobby Lashley
Nikki Cross defeated Peyton Royce via neckbreaker
Ricochet defeated Cesaro via rollup
---
In-Ring: Roman Reigns, Shane McMahon, Drew McIntyre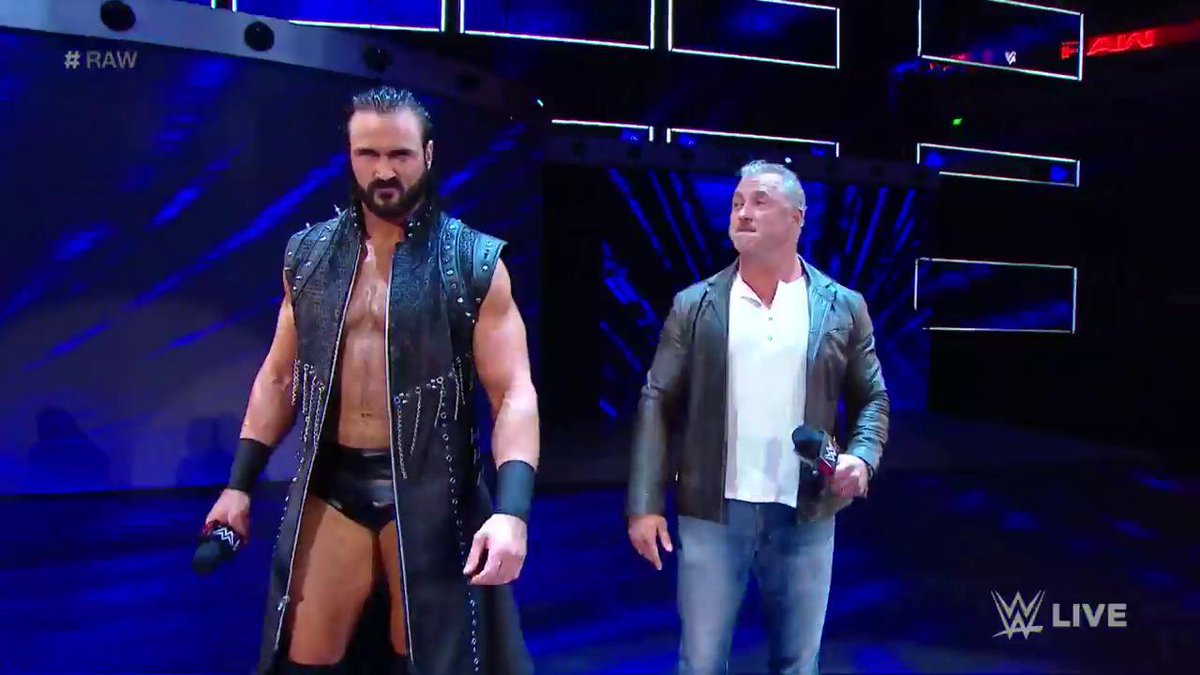 Roman Reigns makes his way to the ring. Tonight Brock Lesnar will be cashing in Money in the Bank on Seth Rollins for the WWE Universal Championship.
Shane McMahon comes out to the stage and has the announcer say his "Best in the World" tagline. McMahon says he's going to go coast to coast at WWE Super ShowDown to destroy Reigns' jaw and make him tap out for the first time to the triangle choke. Once he makes Reigns tap out, he won't release the hold when the referee tells him to. McMahon makes his own rules and will make Reigns' eyes pop out.
Reigns tells him to shut up and says he'd love to see McMahon try to tap him out. The only thing that will happen when he tries to put the hold on is he'll pick his spoiled ass up and slam him on the mat. McMahon doesn't belong in the ring with him. The only reason McMahon is still out here is he relies on people like Drew McIntyre. Once he's done with McMahon in two weeks at Stomping Grounds he'll whoop McIntyre's ass too.
Drew McIntyre makes his way out to the stage. McMahon yells, "Now you've done it!" McIntyre doesn't like Texas' attitude. They need to show respect to him and McMahon. McIntyre says he'll destroy Reigns at Stomping Grounds. McIntyre says they don't need their partners and will destroy him now. All of a sudden, The Revival attack Reigns from behind. The Usos run down to help and clear the ring. It'll be a six-man tag team match, next.
Roman Reigns & The Usos vs. Drew McIntyre & The Revival
Jimmy Uso will start against Dash Wilder. Jimmy superkicks him down and goes to the top rope. Wilder gets out of the ring, and Scott Dawson checks on him. Jey Uso tags in, and The Usos take them out with stereo planchas.
We come back from the break to see Jey avoid a splash from Dawson. Wilder tags in and stops Jey from tagging. Jimmy eventually gets the tag and hits Wilder with two clotheslines, a kick to the midsection, and an uppercut. Jimmy hits him with an enzuigiri. Jimmy punches McIntyre and knocks Dawson off the apron. Wilder then dropkicks Jimmy down. McIntyre tags in, and he stomps Jimmy before hitting a nice suplex for a two count. McIntyre stomps the hand before applying an arm bar. Jimmy fights up and head-butts out. McIntyre reverses a whip to the corner and hits a wild belly-to-belly overhead suplex, but Reigns breaks up the pin. The Revival gets in some cheap shots on Jimmy as the referee deals with Reigns and Jey. Dawson tags in and stomps the head. Dawson pulls at the long hair of Jimmy before letting go. Jimmy punches back. The crowd is chanting, "We want Roman." Dawson quickly hits a neckbreaker for a near fall. Dawson applies a chin lock to Jimmy, but he eventually fights up. Jimmy fights him off and punches Wilder. Jimmy then hits Dawson with a back suplex. Jimmy goes for a tag, but Dawson hits him with a spinebuster for a two count.
We come back from the break to see Reigns already tagged in and clubbing away at McIntyre. Reigns big boots him down and gets the crowd fired up. Reigns sets up for a Superman Punch, but McIntyre avoids it and hits a Glasgow Kiss. Jey tags in, and Reigns hits McIntyre with a Superman Punch. Jey hits superkicks on The Revival and goes to the top rope, but Shane McMahon crotches him. Reigns grabs McMahon at ringside, but McIntyre hits him with a Claymore Kick. Outside the ring, The Revival hit Jimmy with Shatter Machine. In the ring, McIntyre hits Jey with a Claymore Kick for the win.
Winners by Pinfall: Drew McIntyre and The Revival
After the match, The Revival hit Reigns with the Shatter Machine. They then hold Reigns up for McIntyre to hit another Claymore Kick. McMahon talks a little trash to Reigns before telling The Revival and McIntyre to pick Reigns up. A "Shane's adopted" chant picks up. McMahon then spears Reigns before talking more trash.
---
Lance Armstrong and Matthew McConaughey are together at ringside for tonight's show.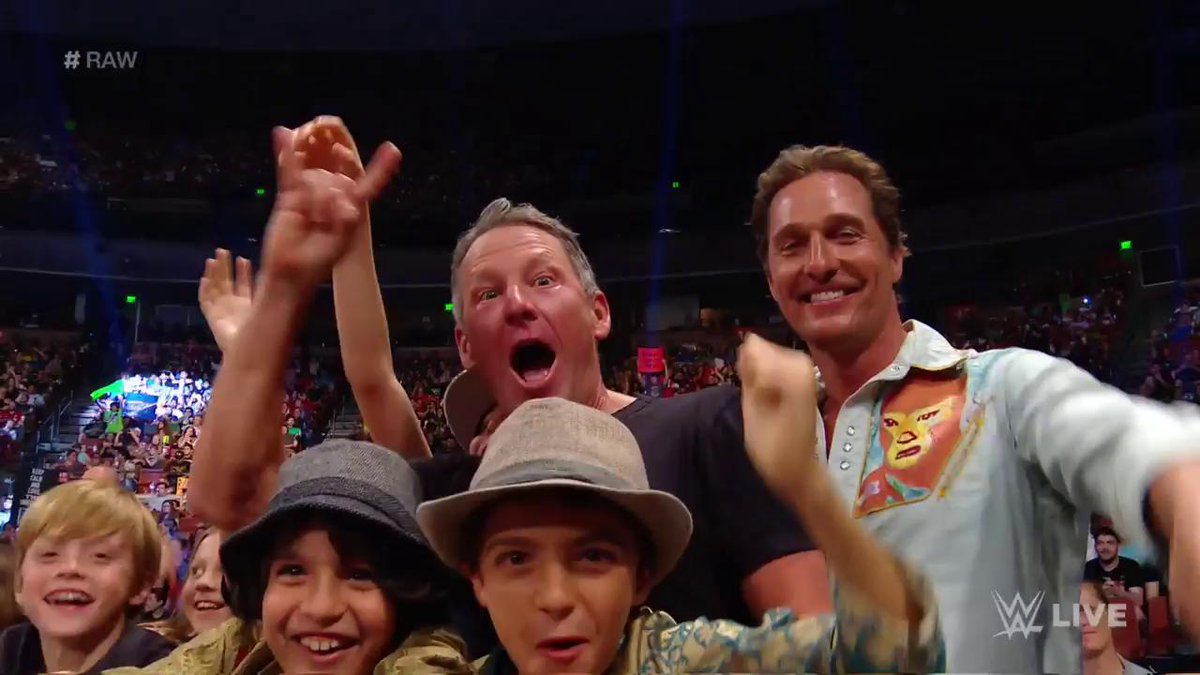 ---
In-Ring: Miz TV w/ Seth Rollins
The Miz makes his entrance and welcomes everyone to Miz TV. Miz puts over his accomplishments, but says tonight is not about him. Tonight is about the looming threat of Brock Lesnar's Money in the Bank cash in. Seth Rollins makes his entrance. Miz says he has a Universal Championship match against Baron Corbin at Super ShowDown, however that could all change. Paul Heyman said his client would cash in Money in the Bank tonight.
Rollins says Miz is making a lot of assumptions. Miz is assuming Brock Lesnar will show up and Paul Heyman is telling the truth. By his records, Heyman has never told the truth. Rollins says he'll believe it when he sees it. Miz says they've both won the Money in the Bank contract and picked opportune times to cash it in. It's not in the hands of the typical WWE Superstar. It is now in the hands of "The Beast" Brock Lesnar. Rollins says Miz doesn't have to oversell it to him. If Lesnar showed up and cashed in, he'd be relieved because he can't keep focusing on what might be. Rollins has to focus on what will be. This Friday, he will be defending his title against the #1 contender Baron Corbin. No one likes Baron Corbin, but he did win the Fatal 4-Way last week. If he's going to be the fighting champion he promised to be, then he's got to focus on Corbin and focus stomping his head into this mat. A light "Burn it down" chant picks up.
We go backstage to see a black vehicle pull up in the garage. Paul Heyman comes out of the front seat. Brock Lesnar comes out of the back seat. Heyman says, "Let's cash it in." Lesnar shoves the briefcase into Heyman's chest. They start walking, and Heyman shouts, "Here comes the pain!" Lesnar then stops before he gets to the entrance of the arena and walks off. In the ring, Rollins puts his head down in frustration. Another "Burn it down" chant picks up.
---
In-Ring: Lucha House Party, Lars Sullivan
The Lucha House Party make their way to the ring. They'll face Lars Sullivan in a handicap match this Friday at WWE Super ShowDown.
Lars Sullivan makes his way to the ring instead of The Lucha House Party's scheduled opponents. They triple-team Sullivan, but he fights them off. Kalisto kicks him in the face and goes for a springboard, but Sullivan clotheslines him out of mid-air. Lince Dorado is clotheslined down. All three come back and dropkick Sullivan out of the ring. Sullivan lands on his feet and looks furious. Sullivan screams in frustration and backs away.
---
Backstage: Nikki Cross, The IIconics, Alexa Bliss
Just The #IIconics. Being, well…IIconic. @BillieKayWWE @PeytonRoyceWWE pic.twitter.com/6xYkn9dtHM

— WWE Universe (@WWEUniverse) June 4, 2019
We go backstage to see Nikki Cross standing with WWE Women's Tag Team Champions The IIconics. Billie Kay says she looks like a sad puppy, but WWE is no dog park.
Alexa Bliss comes up and asks if they have a blooming onion to eat. What? They walk off after doing their IIconic pose.
Bliss invites Cross to have a coffee. Bliss says she knows Cross has been getting close with Becky Lynch and no one can stand her. Cross says her and Bliss are friends. Bliss says she appreciates it. Since they're friends, she'll be in Cross' corner for her match against Peyton Royce.
---
In-Ring: Becky Lynch, Lacey Evans, Charlotte Flair
Becky Lynch says she's been doing some thinking. She got home this weekend after 63 jam packed days. She's done a ton of appearances, switched brands, and main evented WrestleMania. Lynch stops to let an extremely light "You deserve it" chant kick up. Lynch says contentment is the worst thing that can happen to a fighter like her. A content fighter gets hurt, passed over, or beaten. That won't be her. When Lacey Evans helped Charlotte Flair beat her at Money in the Bank, it helped wake something in her. When she's pissed off there's not a woman in this business that can keep her down. Lynch will break her back trying and fight until she can't fight anymore to get to Evans.
Lacey Evans' music cuts her off, and she comes out to the stage. Evans says Lynch is like a dog chasing a car. Just like a dog, she wouldn't know what to do if she caught it. Evans says she did the WWE Universe a favor at Money in the Bank. Becky Two Belts shouldn't be representing the Women's Division. Lynch says she declares to rip her arm out. Evans says she isn't Charlotte Flair. She may have been beat at Money in the Bank, but she's the reason Lynch doesn't have the Smackdown Women's Championship.
Charlotte Flair's music hits, and she makes her way to the stage. Flair tells Lynch to stop making excuses. Flair still beat her. Lynch lost, and Flair became a 9-time Women's Champion. Lynch asks where the title is. Flair says she may not be champion now. Evans tells Flair to stop embarrassing herself. She's a daddy's girl that needs attention. Flair says she's more than halfway to beating her Daddy's 16-time World Heavyweight Championship record. Evans has only been here a few moments. Last week, she didn't have to take her street clothes off to leave her laying. Evans says Flair has 9 championships, but today she has zero. Flair is yesterday's news. Evans says she's the face of WWE. Flair should run along to Smackdown unless she wants to be educated with a Woman's Right. Evans then takes Flair down to her knees with a right hand. Flair then gets to her feet, and a referee comes down.
Lacey Evans vs. Charlotte Flair
The bell rings, and they start brawling. Flair rag dolls Evans with some kicks before sending her out of the ring. Becky Lynch walks over to Evans and talks a little trash. Flair holds the ropes open so Evans can get in. Flair takes her down and punches away at her. Flair hits a takedown that Evans takes sloppily. Flair then releases and taunts her. Flair takes her down with a front facelock. A "We want Becky" chant picks up. Flair knees Evans and bounces her off the top turnbuckle. Evans rolls out of the ring to recover.
We come back from the break to see Flair still applying a front facelock to Evans. Evans gets out and hits a fireman's carry takedown for a two count. Flair blocks a shot into the corner and stomps her down. Flair digs her foot into Evans' face and poses. Flair chops her in the corner a few times before strutting. Evans takes her down and hits a slingshot bronco buster for a two count. Evans applies a chin lock, but Flair counters into a roll-up for a two count. Flair then kicks her down. Flair hits an exploder before kipping up. Evans soon takes her down and tries for a slingshot elbow drop, but Flair moves.
They fumble a spot, and Flair clotheslines her down. Flair goes for a Figure Four Leglock and literally pauses waiting for Evans to kick her off, but Evans doesn't. Flair turns around, and Evans finally remembers to kick her after Flair reminds her. Bad. They then wipe each other out with dual cross-body blocks. Lynch then pulls Flair out of the ring to cause a disqualification.
Winner by Disqualification: Charlotte Flair
Lynch then gets in the ring and attacks Evans. Lynch then drops her with the Manhandle Slam. Lynch then poses with the RAW Women's Championship.
---
In-Ring: Rey Mysterio, Samoa Joe
United States Champion Rey Mysterio makes his way to the ring with his arm in a sling. Footage is shown of Samoa Joe attacking him following a loss at Money in the Bank. Mysterio says WWE has been in his blood. It's something he gets to share with his son Dominic. Dominic is training to do what he does, and Mysterio is sure he will carve a path of his own. Tonight, Mysterio is going to show him how to do the right thing as a man and a champion. Due to his previous shoulder injury…
Samoa Joe's music hits to cut him off. Joe asks if he came out too early and ruined the moment. Joe says he realizes what this means to Mysterio. Joe heard the word "champion" and thought it was his cue. Joe gets in the ring and wants to add an addendum to the speech. Let's not ruin this pure and honorable moment by telling lies. Mysterio isn't relinquishing because he's injured. Mysterio is relinquishing because he never beat Joe. Mysterio tells Joe not to get it twisted. Mysterio isn't trying to have a moment or fool everyone. Mysterio says this isn't the moment he wanted it to be. Mysterio has won championships his entire career through pain and through injuries. If he was man enough to do that, he's man enough to do what he came to do here tonight.
Mysterio says due to his current shoulder injury at Money in the Bank, he's here to relinquish his United States Championship… to Samoa Joe. Mysterio lays the title down on the mat and tells Joe to pick it up. Mysterio says he'll be back before leaving the ring. Joe then grabs Mysterio and applies the Coquina Clutch. Joe then holds up his United States Championship while the crowd boos him. Referees run down to check on Mysterio.
---
Arm Wrestling Match
Braun Strowman vs. Bobby Lashley
They go to lock hands, but Lashley quickly slaps him. Strowman flips the table, but the referees keep him back. They reset and lock hands, but Lashley slips away and asks for chalk. They chalk up and lock hands on the table again. Lashley nearly pins Strowman's arm, but Strowman gets a burst of strength to pin Lashley's arm down.
Winner: Braun Strowman
Strowman celebrates his win before Lashley throws chalk in his eyes. Lashley then scoops Strowman up and hits Strowman with his own Running Powerslam.
---
Backstage: Carmella, Drake Maverick, EC3
Still on the lookout for @RonKillings, @WWEMaverick? #Raw pic.twitter.com/n7teTOZffT

— WWE Universe (@WWEUniverse) June 4, 2019
We go backstage to see Carmella looking for R-Truth. Drake Maverick and EC3 are creeping closely behind.
---
Nikki Cross vs. Peyton Royce
Alexa Bliss makes her way to the ring along with Nikki Cross. Royce quickly takes Cross down with a spin kick after posing. Royce stomps away at Cross in the corner. Royce then whips her hard to the corner. Cross hits a jawbreaker and rolls her up for a two count. Royce hits a clothesline for a two count. Royce continues to attack before Cross jumps on her back. Royce gets her down and applies a chin lock. Cross is bleeding from the mouth. Royce takes her down by the hair for a two count. Royce goes back to the chin lock, but Cross fights out. Cross fights back and hits a clothesline. Cross splashes her in the corner and hits a running bulldog for a two count. Cross goes to the top rope, but Royce avoids a cross-body block.
At ringside, Alexa Bliss has a stagehand deliver her coffee. Royce kicks the cup out of her hand. Bliss is furious. Bliss then slips on the coffee. Cross then hits Royce with a rope-aided neckbreaker for the win.
Winner by Pinfall: Nikki Cross
Bliss gets in the ring and dropkicks Billie Kay before hitting a DDT. Cross runs in and lifts Bliss' arm. They celebrate together.
---
In-Ring: Seth Rollins, Baron Corbin, Brock Lesnar
WWE Universal Champion Seth Rollins is in the ring. Rollins says he knew people would be gunning for him when he won the championship, but that's not what's happening with Brock Lesnar.
Brock Lesnar's music hits, and Rollins gears up to fight. Lesnar doesn't come out, and the crowd boos. Rollins smiles and paces around the ring. Rollins says he's sick of Lesnar playing games. Rollins says he'll speak directly to Lesnar. Lesnar used to be one of the most feared men on planet earth. Now he's a shell of that. If there's any shred of The Beast left, Rollins dares him to keep his promise and cash in Money in the Bank right here and now.
Baron Corbin's music hits. Corbin tells him to stop thinking of Lesnar and start thinking about him. Corbin says he'll crush Rollins' dreams and take the title. Rollins says he'll have to pry the title from his cold, dead hands. Corbin says he's ok with that. Corbin says he's the guy that retired Kurt Angle. Corbin has no problems retiring Rollins' ass too. Corbin shoves him and goes to walk off. Rollins punches away at him, but Corbin quickly takes him down. Rollins fights back and hits an enzuigiri. Rollins connects with a suicide dive.
Brock Lesnar's music hits, and Rollins turns around to wait for Lesnar. Corbin gets in the ring and hits Rollins with the End of Days. Still no Lesnar. Lesnar's music hits again, and he finally comes out with a steel chair, Paul Heyman holding the Money in the Bank contract, and a referee. Lesnar gets in the ring and hits Rollins with a low blow! Lesnar then smashes the chair off Rollins' back with the steel chair three times. Lesnar then turns him inside out with a German Suplex. Heyman asks if he wants to cash in, but Lesnar shouts, "Not now!"
Lesnar smashes the chair on Rollins again and throws him out of the ring. Lesnar then drops him with an F5 outside the ring. Lesnar gets him in the ring and kills him with more chair shots. Heyman begs Lesnar to cash in, but Lesnar smiles. Lesnar then hits a limp Rollins with another German Suplex. Lesnar then says, "Friday." Heyman says he promised them now, but Lesnar again says, "Friday." Lesnar picks up the WWE Universal Championship and drops it on Rollins before walking off. Rollins' back is bleeding.
Lesnar then takes the briefcase and walks back to the ring. Lesnar smashes the briefcase on Rollins and laughs. Lesnar smashes the chair off Rollins three more times, throws it away, and screams. Lesnar walks off with the Money in the Bank briefcase laughing. Rollins is left laying in a bloody heap.
EMTs come down to check on Seth Rollins. Fit Finlay, sporting a beard, also comes out to help. The crowd is silent. Replays are shown of what just happened. Rollins is loaded on a stretcher and wearing a neck brace.
After commercials, Seth Rollins is loaded into an ambulance. His girlfriend, Becky Lynch, is by his side.
---
Firefly Fun House
This is a very special edition of the Firefly Fun House. Wyatt says he has something very important to talk about: exercise. Wyatt comes up to Huskus the Pig. Wyatt throws away his chocolate. Wyatt says one day all the excessive gluttony will bite him in the tail. One day people will tell him he's a genius and have the whole world in his hands.
All of a sudden, a demonic Vince McMahon puppet walks in. McMahon tells them to get their act together. Wyatt says Huskus will get his act together. They then do an 80s style exercise video with funky backgrounds. Wyatt says, "Now pull up your pants and do the muscle man dance!" They do the dance. Wyatt says, "I will always light the way, and all you have to do is let me in."
---
In-Ring: Triple H, Randy Orton
Triple H's music hits, and he makes his way to the ring in a suit. An "NXT" chant fires up. Triple H says he's here to talk about Randy Orton. Randy Orton's music hits, and he makes his way to the ring. An "RKO" chant picks up. Triple H says it's been a while since he's stared Orton in the eye. They both know what the face-to-face segments are about. It's supposed to drum up interest in a fight and maybe break down into the physical fight. However after 20 years, there's nothing either of them can say or do that hasn't been said or done before. Triple H says it's been a while. Don't let the suit fool him. Triple H says he's coming to Jeddah to kick Orton's ass.
Orton says that sounds good to him. Orton says he is not Batista. He is the Legend Killer. Triple H knows that better than most, but he would gladly beat him this Friday at Super ShowDown and gladly put another notch on his belt. Triple H says that's fair enough. It's been interesting to him as he watches the video recaps. They've done unspeakable things, but something rang true when he said Orton was like coal being turned into a diamond. Triple H says Orton is one of the best ever to step foot into the ring. Triple H means it. The thing is a lot of people have tried to put him down. They're all gone and he's still here. Triple H says Orton is not the one.
Triple H walks off, but Orton tells him to stop. Orton asks Triple H to promise him something. Orton asks if Triple H can promise that he retrieves his balls from Stephanie's purse before Friday's match. Triple H laughs and gets back in the ring. Triple H says that is a hell of an idea. Triple H will do just that. They're just so big. It's such a burden to carry them around. Orton wouldn't know because he's never had any. Triple H says he'll see Orton in Jeddah and throws the microphone at him. Orton chuckles and walks around the ring.
---
Backstage: Baron Corbin
We go backstage to see Baron Corbin walking around. Charly Caruso asks for a reaction to his opponent. Corbin says Rollins left in an ambulance and it shook him up. Corbin has to get out of here… to celebrate. Lesnar did him a favor. Rollins doesn't stand a chance. Corbin says he'll be the next Universal Champion.
---
Ricochet vs. Cesaro
They start off by doing a few choreographed spots where Ricochet fails to hit a hurricanrana. Cesaro takes him down with a tilt-a-whirl backbreaker. Cesaro gets a chin lock on, but Ricochet fights out. Ricochet jumps off the barricade with a hurricanrana. Cesaro elbows him, but Ricochet takes him back down with a moonsault off the second turnbuckle to the floor.
We come back from the break to see Ricochet fight Cesaro off. Cesaro soon comes back with a deadlift superplex for a near fall. Ricochet fights back and snaps him off the top rope. Ricochet does a handspring from the floor and goes for the same finish as last week, but Ricochet impressively gets out. Cesaro still takes him down and does the Cesaro Swing with multiple revolutions. Cesaro catches him with a running European Uppercut for a near fall. Ricochet knees him in the face and kicks him back. Ricochet goes for a springboard cross-body block, but Cesaro rolls through for a two count. Ricochet spins around on him, but he gets caught up so he rolls him up for the win.
Winner by Pinfall: Ricochet
Cesaro attacks him from behind and stomps him. Cesaro goes outside and grabs a ladder from under the ring, but he throws it to the side.
Cesaro then grabs a table and pulls it out with WWE 24/7 Champion R-Truth on top of it. Ricochet then dropkicks Cesaro into the crowd.
R-Truth is cornered by a bunch of RAW jobbers until Cedric Alexander takes them all out with a somersault senton. Drake Maverick tries to sneak up on him, so Carmella superkicks him. R-Truth then runs to the back.
---
In-Ring: Undertaker
The bell tolls, and The Undertaker makes his legendary entrance. The Undertaker stands in the ring and listens to the crowd chant, "Undertaker." Undertaker says, "Do you ever wonder what happens when you come face-to-face with death for the very first time?" Does the stench of the dead get to you? Goldberg will get the answer to those questions on Friday. When he stands across the ring from Goldberg for the first time, he doesn't want Goldberg the family man with his wife and son beaming with joy. Undertaker wants the mythical icon Goldberg. Undertaker promises if Goldberg brings anything less, their first match will be Goldberg's last. Undertaker will open the gates of hell and unleash brutality he's never felt. When the reaper beckons, he will claim his soul for all eternity. Undertaker says, "Goldberg, you're next!" The feed immediately cuts as they were out of time.
---
E-Mail – mike@wrestleview.com
Twitter – @MikeTedescoWV