July 1, 2019
Dallas, Texas
Commentary: Michael Cole, Corey Graves and Renee Young
Results by: Mike Tedesco of Wrestleview.com
---
Quick Match Results
Falls Count Anywhere: Braun Strowman vs. Bobby Lashley was no contest after Strowman drove Lashley through the LED wall
The New Day defeated The Viking Raiders by DQ when Samoa Joe attacked Xavier Woods
The Viking Raiders & Samoa Joe defeated The New Day via Coquina Clutch by Joe on Kingston
Lacey Evans defeated Natalya via Woman's Right after a distraction by Baron Corbin
2-out-of-3 Falls Match: The Miz defeated Elias 2 falls to 1, winning the last fall via Figure Four Leg Lock
Carmella defeated Alexa Bliss via roll up
Nikki Cross defeated Carmella via swinging neck breaker
24/7 Championship: Drake Maverick defeated R-Truth (c) via hitting him with a suitcase to win the title
WWE United States Championship: Ricochet (c) defeated AJ Styles via pinfall
---
Falls Count Anywhere
Braun Strowman vs. Bobby Lashley
They cross the ropes doing rolls and leapfrogs before Lashley spears Strowman. Strowman rolls out of the ring. Lashley follows him, but Strowman shoulder blocks him down before hitting a senton splash for a near fall! Lashley slides off Strowman's shoulder, pushes him, and spears him into the timekeeper's area. Lashley picks up a near fall. Lashley clotheslines Strowman into the crowd. They brawl through the crowd. Lashley grabs a chair and hits Strowman with it twice for a two count. Strowman makes a comeback and throws him before clubbing him down. Strowman backs up far and charges to shoulder block Lashley for another near fall. Strowman throws him up onto the stage.
Lashley clubs Strowman coming up and gives him a suplex on the stage floor for a near fall. Lashley backs up, but Strowman charges and tackles him through the LED wall! Explosions set off and all the lights go out. The crowd is stunned. Corey Graves lets out an uncensored, "Holy shit!" That was not bleeped. The crowd is chanting, "This is awesome!" Explosions let up after a few moments. People run over with fire extinguishers.
The referee calls for EMTs to come and help. EMTs come out with stretchers and are sorting through the mess. The commentators say nothing and it cuts to commercial.
We come back from the break to see EMTs loading Braun Strowman and Bobby Lashley into separate ambulances. They are both unconscious.
The commentators use their quiet voices to talk about what they just saw. Corey Graves said he went over there and Strowman's legs weren't moving. Michael Cole explains that the explosions were because the crash happened where the show and stage are powered from. That explains the power outages.
---
The Viking Raiders vs. The New Day
The Viking Raiders make their entrance. The house lights show red, but the stage is completely black. They use spotlights to aid them in coming down to the ring.
The New Day will be represented by Big E and Xavier Woods. Erik and Big E start. Erik kicks him and hits the ropes, but Big E takes him down before choking him with his foot. Big E gets on the apron, and Woods plays trombone while Big E hits a splash on Erik. Big E covers for a two count. Erik punches Big E back and tags in Ivar. Erik sends Big E into Ivar, who connects with a seated senton. Ivar clubs and punches Big E. Ivar continues to club away at him. Erik tags in. Ivar avalanches Big E in the corner before Erik takes him down. Erik then slams Ivar into Big E for a near fall. Erik applies a modified arm bar. Big E fights up while the crowd chants, "New Day rocks." Big E drops Erik with a belly-to-belly side suplex.
Big E crawls over, but Samoa Joe pulls Xavier Woods off the apron and applies the Coquina Clutch. The referee calls for the bell.
Winners by Disqualification: The New Day
WWE Champion Kofi Kingston runs down and jumps off the steps to hit Joe with a clothesline. The Viking Raiders quickly get involved in the brawl. The referee tries to regain order.
The Viking Raiders & Samoa Joe vs. The New Day
Kofi Kingston starts against Ivar. Kingston punches and kicks him back. Kingston ducks a clothesline and hits a springboard dropkick for a two count. Xavier Woods tags in. Kingston splashes Ivar before Woods drops an elbow from the top rope for a two count. Woods punches Ivar back before Samoa Joe distracts him. Ivar spin kicks Woods down before Joe tags in. Woods fights back, but Joe drops him with a back elbow. Joe taunts Kingston and head-butts Woods a few times. Ivar tags back in, but Erik quickly tags in. The Viking Raiders take turns kneeing Woods down. Woods soon gets away from Erik and chops away at him, but Erik catches him and hits a t-bone suplex. Ivar tags in, and Erik scoop slams him onto Woods. Joe tags in and connects with a senton splash for a near fall. Joe quickly knocks Big E off the apron. Woods fights back at Joe, but Joe viciously chops him down. Erik tags in and punches Woods. Joe tags back in, and he head-butts Woods before whipping him to the opposite corner. Woods quickly boots him and hits a missile dropkick.
Kingston and Ivar are tagged in. Kingston hits him with a springboard axe handle. Kingston knocks Erik off the apron before hitting Ivar with some clubs. Kingston snaps him off the ropes and goes for a cross-body block, but Ivar catches him. Kingston gets out and punches him. Ivar quickly connects with an uppercut. Erik tags in, but Kingston clotheslines him down before hitting a Boom Drop. Kingston knocks Joe off the apron. Erik uses the distraction to attack him. Joe tags in. Big E takes Erik down and throws Ivar out of the ring. Big E gets pumped up, but Ivar knees him. Woods quickly hits Erik with a baseball slide. Ivar then hits Woods with a wild suicide dive! Kingston quickly hits Ivar with Trouble in Paradise. Joe then grabs Kingston from behind with the Coquina Clutch! The referee checks on Kingston before calling for the bell!
Winners by Submission: The Viking Raiders and Samoa Joe
---
Backstage: Drake Maverick, Renee Michelle, R-Truth
Footage is shown of R-Truth beating Drake Maverick at Maverick's wedding to win back the WWE 24/7 Championship.
We go backstage to see Maverick leading his wife, who is blindfolded. She removes the blindfold and is flabbergasted he brought her to RAW. Maverick says it's not that bad and introduces her to Dana Brooke. Brooke asks how married life is going, and Maverick keeps her moving along. She accuses him of being obsessed with the WWE 24/7 Championship. She gives him an ultimatum: her or the championship. Maverick assures her that he loves her and hugs her. WWE 24/7 Champion R-Truth comes up from behind and says he's a sucker for love. R-Truth walks off, and Maverick looks on psychotically.
---
Backstage: AJ Styles, Gallows and Anderson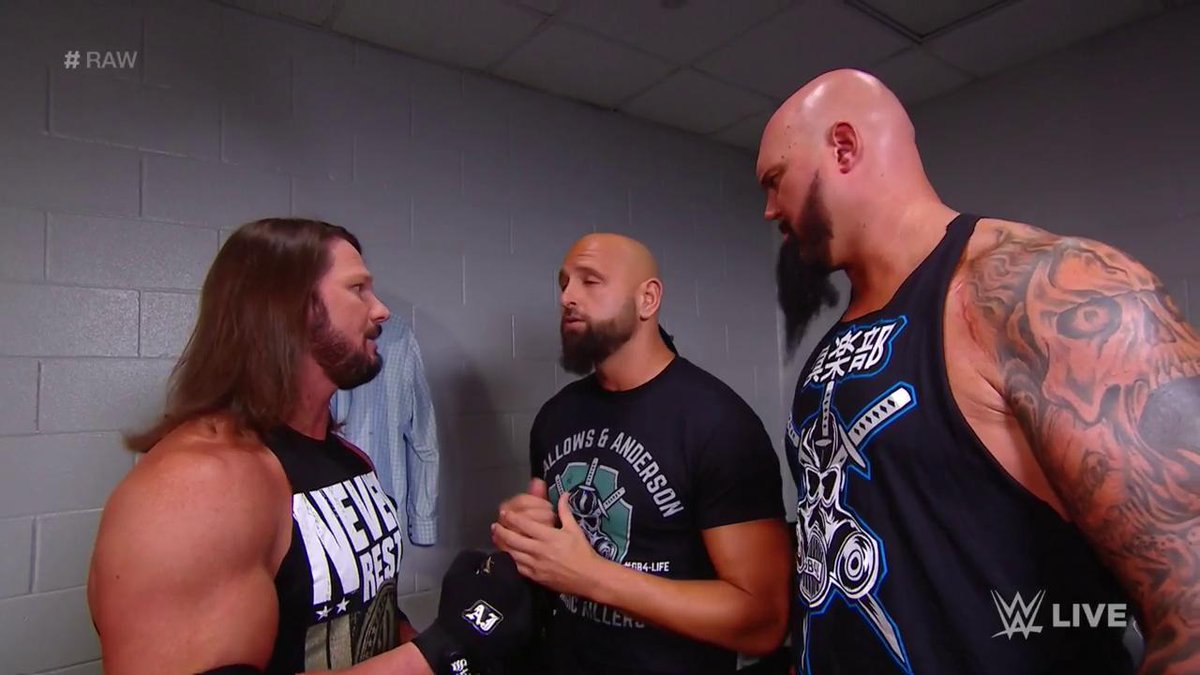 Karl Anderson and Luke Gallows are talking backstage when AJ Styles comes up. Styles says they didn't do well in their match again. They mention that Styles nearly lost his match to Ricochet last week. They mention that he is in line for a United States Championship match, but they're not sure he can beat Ricochet again. Styles says he sees what they're trying to do and walks off.
---
In-Ring: No Way Jose, Cesaro, Drake Maverick, R-Truth
An all-out chase for the #247Title breaks out just before the matchup between @WWENoWayJose & @WWECesaro on #Raw! #RunTruthRun pic.twitter.com/7j6jZS92AR

— WWE (@WWE) July 2, 2019
No Way Jose is making his entrance with his conga line to face Cesaro.
Drake Maverick and his wife, Renee Michelle, are seated at ringside. R-Truth is in the conga line and dances with Renee. R-Truth is daring Maverick to pin him for the WWE 24/7 Championship. Renee gives Maverick the evil eye. A bunch of RAW superstars then run down and chase R-Truth off.
Cesaro quickly attacks Jose and gives him a gutwrench suplex on the floor. Cesaro then kills him with a Neutralizer and walks off.
---
Backstage: Street Profits
Charly Caruso is backstage with NXT Tag Team Champions The Street Profits. They say they are on Monday Night RAW.
---
Backstage: The Miz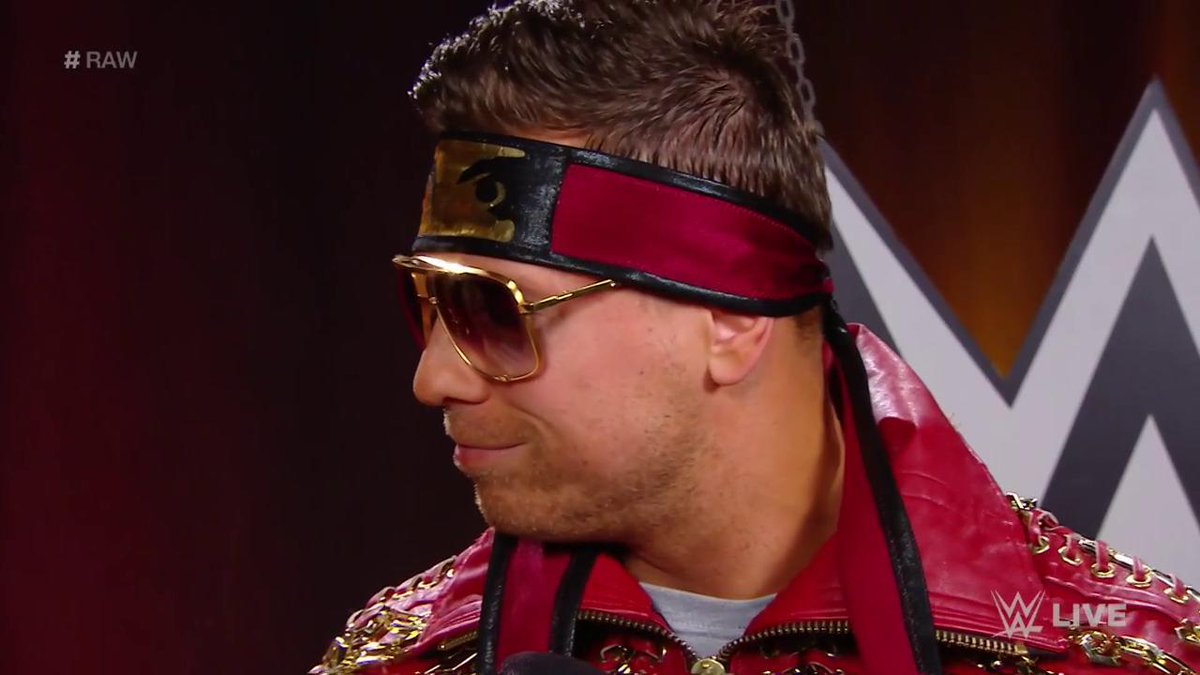 Sarah Shriber is backstage with The Miz. Replays are shown of Shane McMahon viciously attacking The Miz on Smackdown Live. Miz says he'll send Elias back to the subway playing for change. Miz says as for Shane McMahon, he heard The Undertaker is here tonight.
---
In-Ring: Shane McMahon, Drew McIntyre, The Undertaker
Shane McMahon makes his entrance, followed by Drew McIntyre. McMahon forces Mike Rome to do the "Best in the World" ring announcement. McMahon is pleased. McMahon says since he's been inundated with worrying about the condition of Braun Strowman and Bobby Lashley, he has other things to do than be out here and grace the crowd with his presence. However, since he is out here, he wants to go back to last Monday's RAW and talk about Roman Reigns. They had the perfect setup. It was going to be the demise of Reigns. Reigns must have been shaking in his boots last Monday. Reigns knew he had no chance of beating them and was scared to death.
Footage is shown of McMahon and McIntyre viciously assaulting Reigns last week on RAW. McIntyre says more of that waits Reigns at Extreme Rules. McMahon wants to talk about the person Reigns begged to save him, The Undertaker. McMahon has fought Undertaker before and is ready for him. Last Monday, Undertaker surprised them. At Extreme Rules, there will be no surprises. They'll put Reigns and The Undertaker in the ground.
McIntyre says Undertaker is the greatest legend in WWE. McIntyre says he is a hybrid of every generation and is not afraid of The Undertaker. To be honest, he doesn't give a damn about The Undertaker. McIntyre heard a rumor and is here to fight. An "Undertaker" chant fires up. McIntyre says if Undertaker is in the building, he can either march down the ramp or magically appear in the ring so they can tell him they're not afraid. At Extreme Rules, they'll exterminate the legacy of The Undertaker.
Thunder claps sound in the arena and the lights flicker. The lights then go out. Thunder bolts all of a sudden hit the ring posts. The lights come back on, and McMahon and McIntyre look worried. The bell tolls, and the lights go out. The Undertaker then makes his legendary entrance to a huge ovation. Undertaker makes the slow walk down to the ring. McMahon and McIntyre leave the ring and exit through the crowd. Undertaker gets in the ring and looks over at McMahon and McIntyre standing in the crowd.
An "Undertaker" chant fires up. Undertaker says, "Roman Reigns never asked me for my help. That's not who he is, but if you need answers to the 'why', let me explain to you who I am. I am and have been the reaper of wayward souls for a long time and I'm here to collect your souls. Now Shane, you had my respect — a little — for a while. I mean, you gave me everything you had at Hell in a Cell at WrestleMania… and you actually lived to tell about it. But just like most mortal men, you fell victim to your own greed and ego. You see, you may be the best in this world… but where I'm sending you to, you'll be nothing more than another couple of lost souls suffering the torment and torture of the acrid stench… of death. That will be for all of eternity. You two will never Rest… In… Peace."
Undertaker does the throat slash taunt while his music plays. McMahon and McIntyre look unimpressed, but they still walk off.
---
Backstage: Baron Corbin, Lacey Evans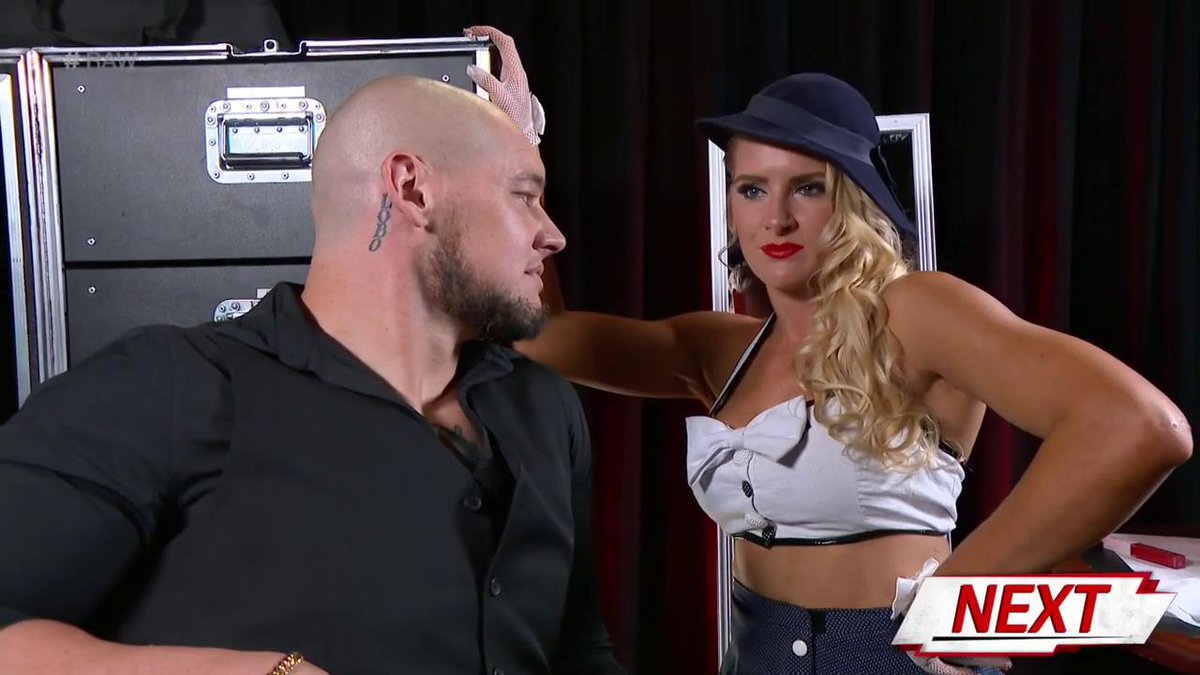 We go backstage to see Baron Corbin and Lacey Evans. Corbin says an Extreme Rules match is right up their alley. Corbin asks why Seth Rollins would risk it all for his latest fling. Is she worth it? Evans turns around and says Becky Lynch has fought her entire life to make her dreams a reality. She defeated Ronda Rousey in the main event of WrestleMania. Now Lynch has put all her faith in Rollins. Evans says Rollins has wandering eyes. The Man's Man will not be able to keep his eyes off her when she beats Natalya.
---
Natalya vs. Lacey Evans
Natalya quickly knocks Lacey Evans out of the ring, but Evans clotheslines her as soon as she leaves the ring. Evans attacks Natalya in the corner and stomps away at her. Evans hits a snap bronco buster for a two count. Evans drops an elbow for a two count. Evans then applies a chin lock. Natalya fights up and pulls her off. Evans quickly knees her and hits a neckbreaker. Evans rolls over and covers her for a two count. Evans climbs the ropes, but Natalya pulls her down. Natalya punches away at her. Corbin tries to distract, but Natalya rolls Evans up for a near fall. Natalya hits a discus clothesline before spiking her on her tailbone. Corbin quickly sweeps Natalya's feet. Natalya is furious. Evans quickly hits Natalya with the Woman's Right for the win.
Winner by Pinfall: Lacey Evans
---
Backstage: Ricochet, Gallows & Anderson, AJ Styles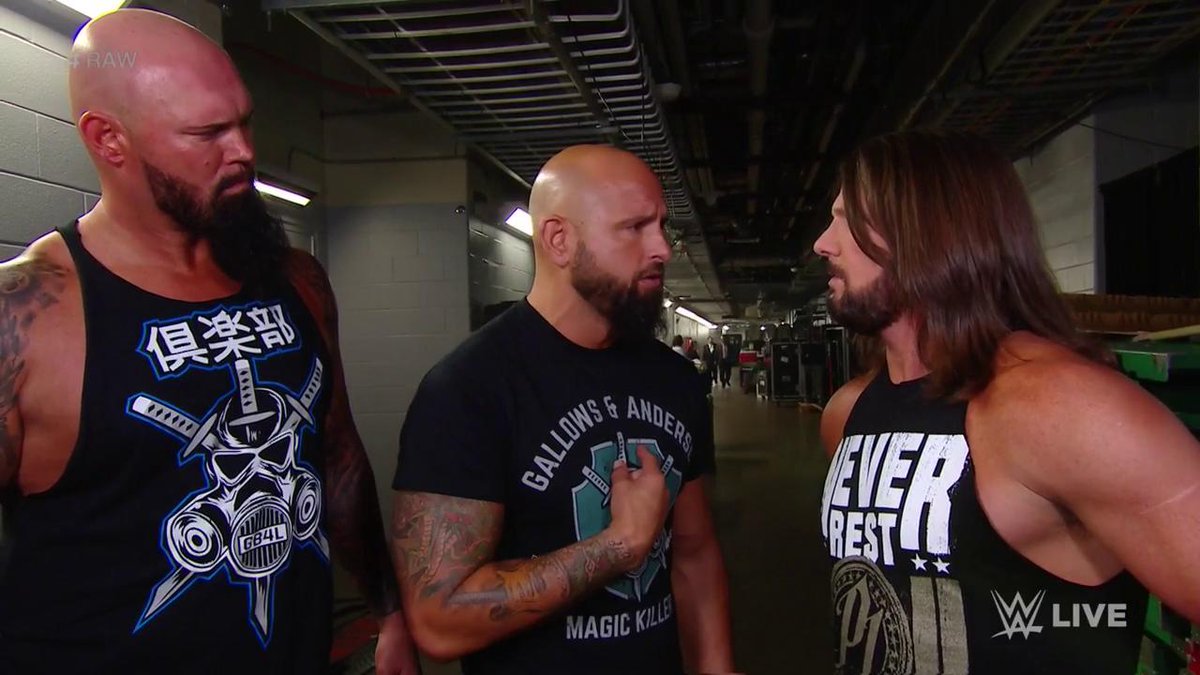 Charly Caruso is backstage with Ricochet. She mentions that AJ Styles doesn't think Ricochet is up to his level. Ricochet says it was an honor to face Styles. If he had the honor to face him again, it'd be a different result. Caruso asks if he would make a mistake… Anderson and Gallows come up and say that Styles had him beat from the get-go. Ricochet says if they did it again, he'd beat Styles. They say it's time for Ricochet to get put in his place. Ricochet says he's not looking for trouble. They say it's not them. It's someone else and walk off.
After commercials, AJ Styles comes up to Anderson and Gallows. They tell Styles that Ricochet said he'd beat him next time. Styles says maybe he'll have a talk with Ricochet. They don't think he should have a talk. They say Styles told them they lost their edge, but what happened to Styles? Anderson says the Styles they know from Japan would accept the challenge and slap Ricochet in the face.
Styles walks off and walks up to Ricochet. Styles says he heard Ricochet was running his mouth. Styles says he's taking the title… tonight. Ricochet says he doesn't know why Styles is fired up, but he accepts. Styles gives him a vicious slap across the face. Ricochet responds with a slap. Styles holds himself back and says this is going to be good before walking off.
---
2-out-of-3 Falls Match
Elias vs. The Miz
Miz quickly attacks Elias and throws him out of the ring. Miz sends him into the ring steps before taking him down. Miz gets him in the ring, and the referee breaks them up. The referee calls for the bell. Miz quickly boots him and hits a Skull Crushing Finale for the pin.
The Miz pins Elias to go up 1-0.
Elias gets out of the ring, so Miz gives him a baseball slide. They mention that they'll go to commercial after the second fall. Miz gets him in the ring and goes for a Figure Four Leglock, but Elias counters into a roll-up for a two count. Elias then catches Miz with Drift Away to win the second fall.
Elias pins The Miz to tie the series at 1-1.
The bell rings, and the third fall starts up. Elias hits an electric chair powerbomb for a near fall. Elias punches away at him and elbows him down. Elias grounds and pounds him for a one count. Elias applies a chin lock. Miz fights up, but Elias takes him down and keeps it applied. Miz fights out and counters an uppercut into a backslide pin for a near fall. Miz chops him back, but Elias counters into a swinging neckbreaker for a near fall. Elias sizes him up on the apron and charges, but he hits the ring post knee-first when Miz moves. Miz gets him in the ring and applies the Figure Four Leglock for the submission!
Winner by Submission: The Miz (2-1)
---
Backstage: Becky Lynch, Seth Rollins, Maria and Mike Kanellis
Charly Caruso is backstage with RAW Women's Champion Becky Lynch and WWE Universal Champion Seth Rollins. Rollins says they're thinking of Braun Strowman and Bobby Lashley. Caruso says Strowman has had "quite the night." She asks if it was impulsive to put their titles on the line. They fake outrage and try to be funny.
Maria Kanellis walks up and says she doesn't like that they're calling themselves the WWE's #1 couple. Lynch may have defeated Ronda Rousey, but she pushed an 8-pound baby out of her uterus. Mike Kanellis walks up. Maria says the only reason Rollins is still champion is because her husband hasn't challenged for it. Maria says how about her and "her bitch" face Rollins and his bitch. Lynch says she'll smack the heads off them. Rollins says, "You've done messed up." They walk off.
---
Seth Rollins & Becky Lynch vs. Mike & Maria Kanellis
Seth Rollins starts against Mike Kanellis. Rollins takes him down with a snapmare and kicks him in the back. Rollins quickly clotheslines Mike down and gives him a back elbow. Mike tries to fire him up. Mike punches Rollins and kicks him. Rollins comes back with a chop before hitting a buckle bomb. Rollins kicks him in the face and forces Mike to tag Maria Kanellis in.
Lynch looks pleased, while Maria looks terrified. Maria gets off the apron and grabs a microphone. Maria is furious with Mike. Mike told her he'd mop the floor with Rollins, but he can't even mop the floor at home. Lynch goes up to her, and Maria shouts that she is pregnant. Mike is shocked. No one reacts. Mike asks how she can be pregnant. Maria says she's not sure if he's man enough. Lynch hip tosses Mike into the ring and applies the Dis-Arm-Her for the submission.
Winners by Submission: Seth Rollins and Becky Lynch
Maria Kanellis gets in the ring and says she can't believe Mike is the father of her children. Next time she wants to get impregnated, she should ask "a real man," Becky Lynch.
---
Backstage: Paul Heyman, Street Profits
Paul Heyman walks up to Charly Caruso backstage. Heyman says he is the advocate for Mr. Money in the Bank 2019 Brock Lesnar. It has been a weird night for Seth Rollins and a bad night for Kofi Kingston. That means it's a perfect night for his client Brock Lesnar to cash in on them. Maybe Lesnar is here tonight… maybe he's not. The Street Profits walk up to him. They intimidate him with their shtick, and Heyman looks weirded out. Heyman says he doesn't have time for this and walks off.
---
Segment: A Moment of Bliss w/ Nikki Cross
Alexa Bliss comes out and says her thoughts are with Braun Strowman and Bobby Lashley. She then brings Nikki Cross out and shows a replay of her beating Bayley on Smackdown Live to win Bliss another Smackdown Women's Championship match at Extreme Rules. Cross thanks Bliss for believing in her. Carmella interrupts. Carmella says Bliss is using Cross. Bliss gets a title shot. What does Cross get? Bliss says she knows Carmella is trying to break them up. Bliss says Carmella is nothing more than a sidekick. Carmella challenges her to get in the ring and she'll show her a sidekick.
Alexa Bliss vs. Carmella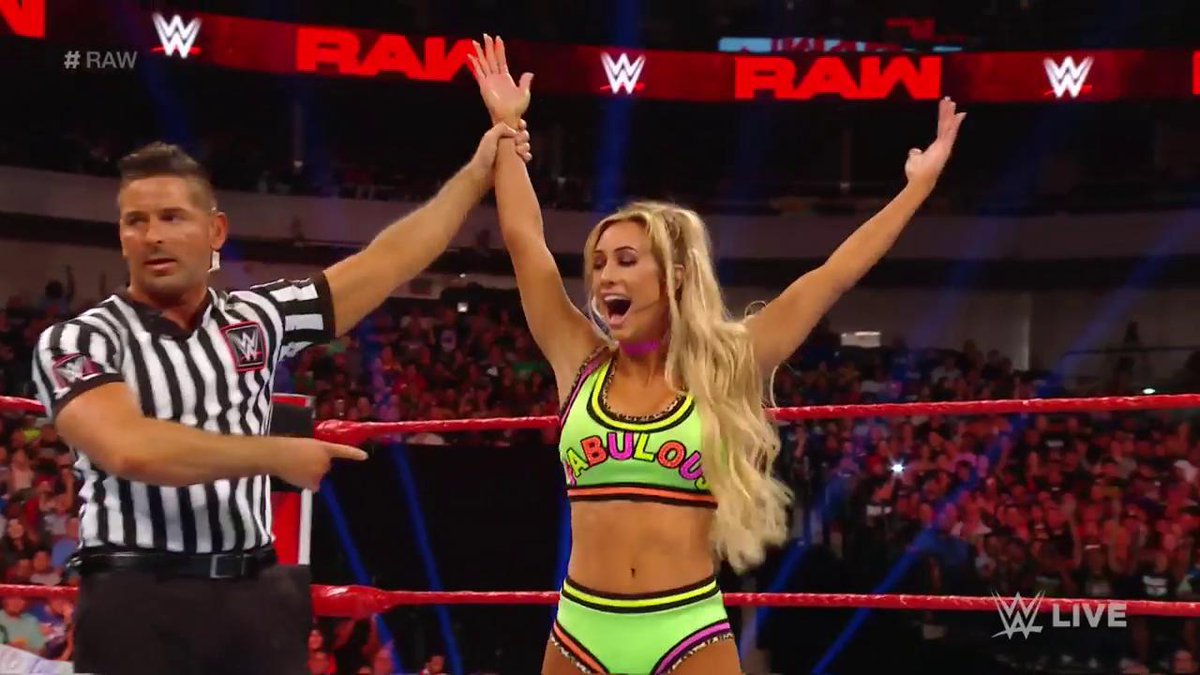 The bell rings, and Carmella immediately rolls her up for the win.
Winner by Pinfall: Carmella
Nikki Cross vs. Carmella
Cross takes her down with a cross-body, but Carmella soon comes back and stomps her down. Cross soon fights back and hits a swinging neckbreaker for the win.
Winner by Pinfall: Nikki Cross
Alexa Bliss celebrates like she just won herself.
After commercials, Alexa Bliss and Nikki Cross are walking backstage. Sarah Shriber asks how Cross feels about the WWE Universe wanting her to take on Bayley for the Smackdown Women's Championship at Extreme Rules. Bliss says, "No comment," and pulls Cross along.
---
Backstage: Drake Maverick, Renee Michelle, R-Truth
We go elsewhere backstage to see Drake Maverick and Renee Michelle walking. Maverick says they're going to have a great honeymoon. She says she'll go freshen up. A bunch of RAW superstars run by. R-Truth comes out of hiding, so Maverick attacks him with his suitcase, calls a referee over, and pins him to win the WWE 24/7 Championship. Renee comes up, and he says their honeymoon will be great because they can do it 24/7 now. They run off.
New 24/7 Champion: Drake Maverick
---
WWE United States Championship
Ricochet (c) vs. AJ Styles
They fight, and Styles takes him down. Ricochet sends him to the corner and shoulders him. Styles gets the knees up on a standing shooting star press and picks up a two count. Styles bounces him off the turnbuckles and kicks him. Ricochet quickly boots him back and dropkicks him out of the ring. Ricochet hits a Fosbury Flop and gets him in the ring. Styles avoids a springboard and knocks him back. Styles connects with a Phenomenal Forearm and covers. Ricochet gets his foot under the bottom rope, but the referee doesn't see.
Winner and new WWE United States Champion: AJ Styles
Another referee comes down and explains the error in the original referee's call. The match is restarted since the referee overturned his decision. Styles is not WWE United States Champion. Styles is yelling at Gallows and Anderson to go to the back.
The bell rings. Ricochet takes Styles down and knocks him out of the ring. Styles avoids a Fosbury Flop, but Ricochet lands on his feet. Styles then hits a Phenomenal Forearms to the floor. Styles gets him in the ring and hits a brainbuster for a near fall. Ricochet tries to fight back, but Styles hits a torture rack slam for a near fall. Ricochet fights back and comes off the top rope before cradling Styles for the win.
Winner and still WWE United States Champion: Ricochet
Styles and Ricochet shake hands. Anderson and Gallows get on the apron. Ricochet prepares to fight. Styles then blindsides him with a right hand. Styles punches and kicks away at Ricochet. Styles then calls Anderson and Gallows in the ring to hit Ricochet with the Magic Killer. Styles stands tall with The Club. Styles punches Ricochet and talks some trash. Styles goes to the second rope, and The Club picks Ricochet up. Styles then gives him a Styles Clash off the second rope! The Club stands tall and does the "Too Sweet" gesture. Styles then picks Ricochet up and punches away at him some more. Anderson and Gallows join in. They pose to end the show.