Results by Richard Trionfo of PWInsider.com
---
Winter Park, FL – Full Sail Live
Commentary: Mauro Ranallo, Nigel McGuinness, Beth Phoenix
---
Quick Match Results
Damian Priest defeated Boa via The Reckoning
Pete Dunne defeated Angel Garza via finger submission
Cameron Grimes defeated Raul Mendoza via running double stomp
Shayna Baszler defeated Rhea Ripley via disqualification after hitting Shayna with a chair
---
We see a vehicle arrive at Full Sail and Rhea Ripley emerges. She enters the building.
She's heeeeeere!@RheaRipley_WWE #WWENXT pic.twitter.com/ARjmJyRPQl

— WWE NXT (@WWENXT) September 12, 2019
---
Damian Priest vs. Boa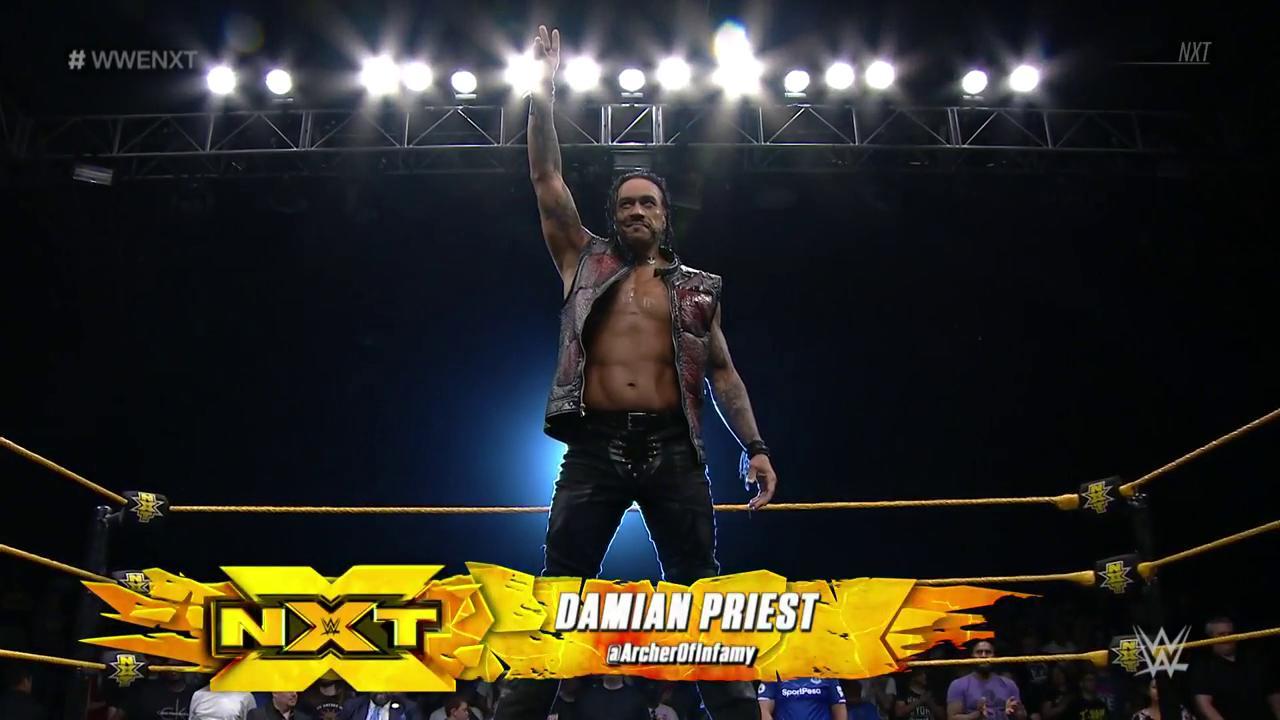 They lock up and Priest backs Boa into the corner and Priest misses a punch on the break. They lock up and Priest pushes Boa away. Boa with a kick to the leg but Priest with a shoulder tackle. Boa tells Priest to try for a shoulder tackle but Priest with a forearm and kicks in the corner. Boa with a kick but Priest with a jumping kick and jumping elbow into the corner. Priest with a Falcon Arrow and he kicks Boa in the back of the head. Priest picks up Boa by the ear but Boa with a chop. Boa with a kick and he avoids strikes from Priest. Boa with a series of kicks to Priest followed by a running drop kick into the corner.
Priest with a discus clothesline and then he sets for the cyclone kick and hits it. Priest with The Reckoning for the three count.
Winner: Damian Priest
---
Video: Velveteen Dream, Roderick Strong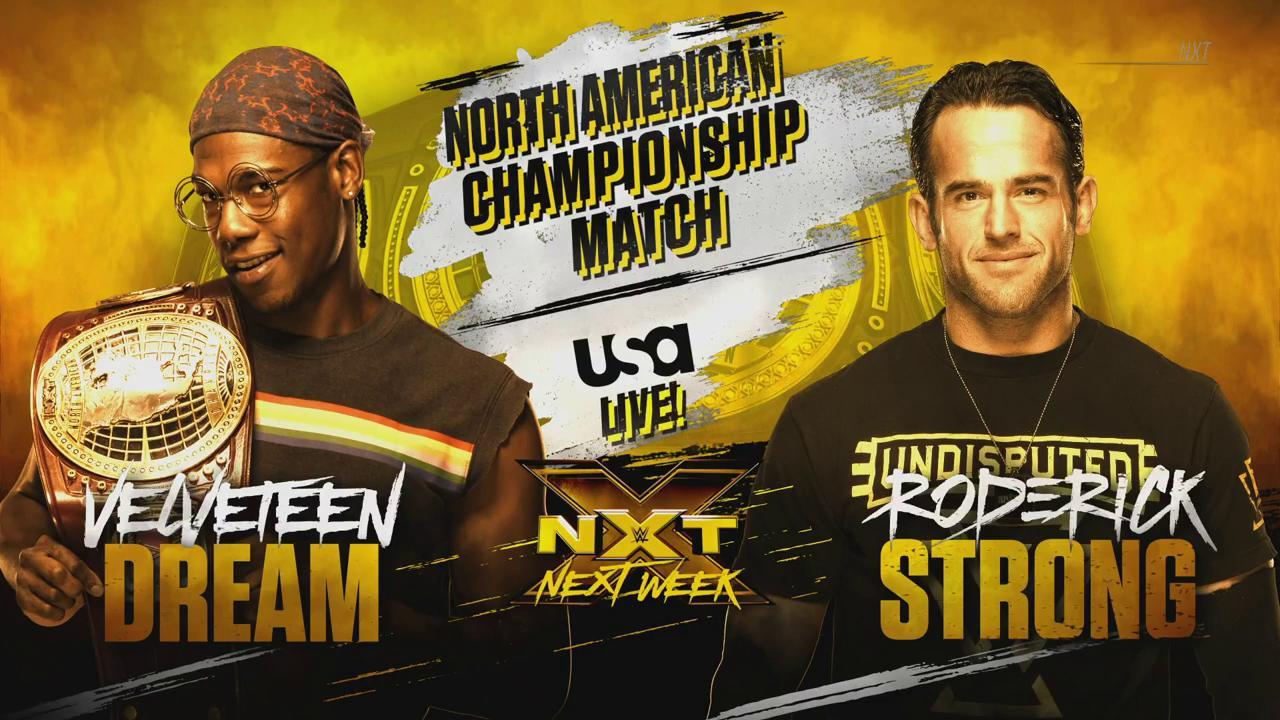 We have a recap of what happened last week when Roderick Strong set the Velveteen Dream's couch on fire. Dream asks if you think for one second that his championship is going up in flames, you are lying to yourself. Strong asks Dream if he thinks he can beat him. Dream says he has a message for Roderick Strong. Dream says if he burns, you will burn with him.
Next week, we will see Roderick Strong face Velveteen Dream for the North American Championship on USA Network during the first hour of NXT.
---
In-Ring: Johnny Gargano, Shane Thorne
Johnny Gargano makes his way to the ring. Johnny lets the crowd chant for him for a few minutes before starting to speak. Johnny says he wasn't going to be very long when he came out here tonight. He says he asked if he could come out to talk because he heard the rumors and read the reports. Everyone has asked him what the future holds for Johnny Gargano. Last time he was in the ring, he fell 20 feet in a steel cage. He woke up to an arena of people chanting 'Thank You Johnny'. Johnny says he appreciates that. Johnny says he wanted to come out and say thank you. There would be no Johnny Wrestling if it wasn't for you guys. Johnny says this with all bit of his heart. He absolutely loves everything about NXT.
Johnny says he loves this place. It is about people like him and the people in the locker room putting on the best wrestling show this world has to offer. Johnny says he has been here for a very long time. He has seen a lot of people come and a lot of people go. They have a say in their future and they have a choice. Johnny says he has made his choice. Johnny says you have had his back since day one and he wanted to tell everyone that he is officially . . .
Shane Thorne interrupts Johnny and makes his way to the stage. Shane asks if all of this is necessary? More time for Johnny, just what we all needed. Shane says we have wasted more time on you. You could have taken a selfie and put out a tweet, but Johnny had to be here. Shane gets into the ring. He tells Johnny that he gets it. You are a pillar of NXT. You are Johnny Takeover. Shane tells Johnny this place is going to be just fine without you. In fact, with the right person finally in the spotlight, it is going to be even better. Shane tells Johnny to take his bell and take a walk.
Johnny starts to walk out of the ring but Johnny stops at the ropes and tells Shane he is right. He says he is NXT and he isn't going anywhere. Gargano with a super kick to Thorne.
---
Video: The Forgotten Sons
We have a video feature on the Forgotten Sons. They say they have been cast out and cast aside. The world gets to see their vulgar display of savagery. They will be forgotten no more.
---
Pete Dunne vs. Angel Garza
Garza tells Dunne to wait a second but Dunne sees the outstretched hand and goes for it but Garza pulls it away. Garza goes for the pants but Dunne with a single leg take down into an ankle pick. Garza with a waist lock and Dunne with a wrist lock. Dunne picks up Garza by the wrist and takes him to the mat. Dunne goes for the other hand and he pulls back the fingers. Dunne gets a near fall. Garza with a single leg take down and Garza works on the arm. Dunne with a head scissors and Garza escapes. Garza with a side head lock and he lands on his feet on a back body drop. Dunne with a clothesline. Dunne kicks the arm and then puts the hand on the mat and tries to stomp the elbow but Garza avoids it.
Dunne is sent to the floor and Garza is able to remove the pants. Dunne with a forearm to send Garza to the floor after his pants. Dunne is put against the ropes and Garza with a super kick. Garza returns to the ring and lets the referee start his count. Garza kicks Dunne in the head when Dunne gets back into the ring. Garza with a chop and then he puts Dunne in the ropes. Garza with a knee to the midsection. Garza is sent into the turnbuckles and Dunne with chops. Garza with an Irish whip and Dunne flips over Garza and hits an enzugiri. Dunne with a German suplex.
Dunne stomps on the hands and connects with a kick to the temple for a near fall. Dunne sets for the Bitter End but Garza escapes. Garza with a drop kick. Dunne with a sit out power bomb for a near fall. Garza with a rollup for a near fall. Garza runs into a kick from Dunne. Garza crotches Dunne and hits a drop kick to the legs. Garza with a near fall. Garza with a chop but Dunne kicks Garza. Garza with a thrust kick and he gets a near fall. Garza punches Dunne. Dunne with a roll through and he stomps Garza's chest. Dunne with a round kick to the temple. Dunne picks up Garza and he kicks Garza in the midsection. Dunne with a chop but Garza with a kick to the midsection.
Garza goes to the ropes and tries for a quebrada but Dunne moves and applies the Triangle and he hyperextends the fingers and gets Garza to tap out.
Winner: Pete Dunne
---
Segment: The Street Profits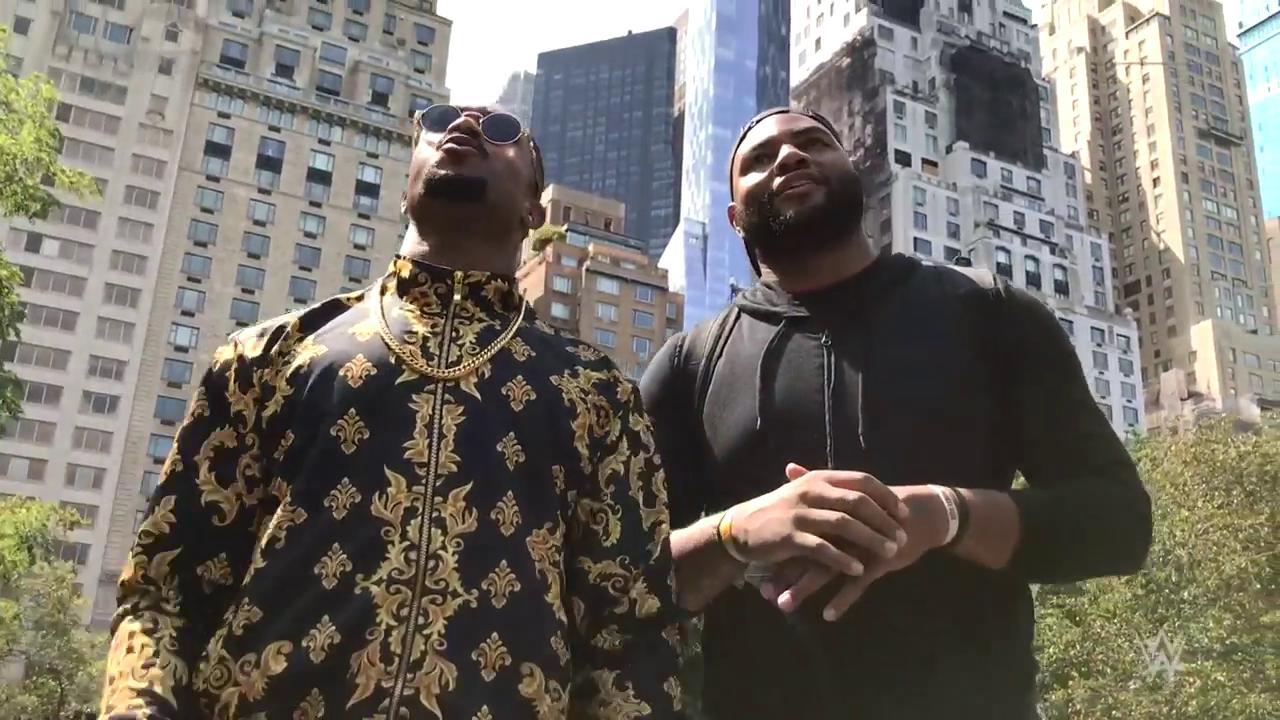 We see the Street Profits talking about smelling fresh air in Central Park. This is what happiness and success means. They talk about going to Madison Square Garden to be on Raw. Montez says it is historic and precious. Angelo says there is one thing they are missing. He says it isn't the same without the tag team championships. Angelo says it would have been outrageous to be in New York with the titles. It is something the smoke couldn't handle.
Montez talks about making a statement on the live NXT on USA Network to try to take back their tag titles. Angelo likes that plan.
---
Raul Mendoza vs. Cameron Grimes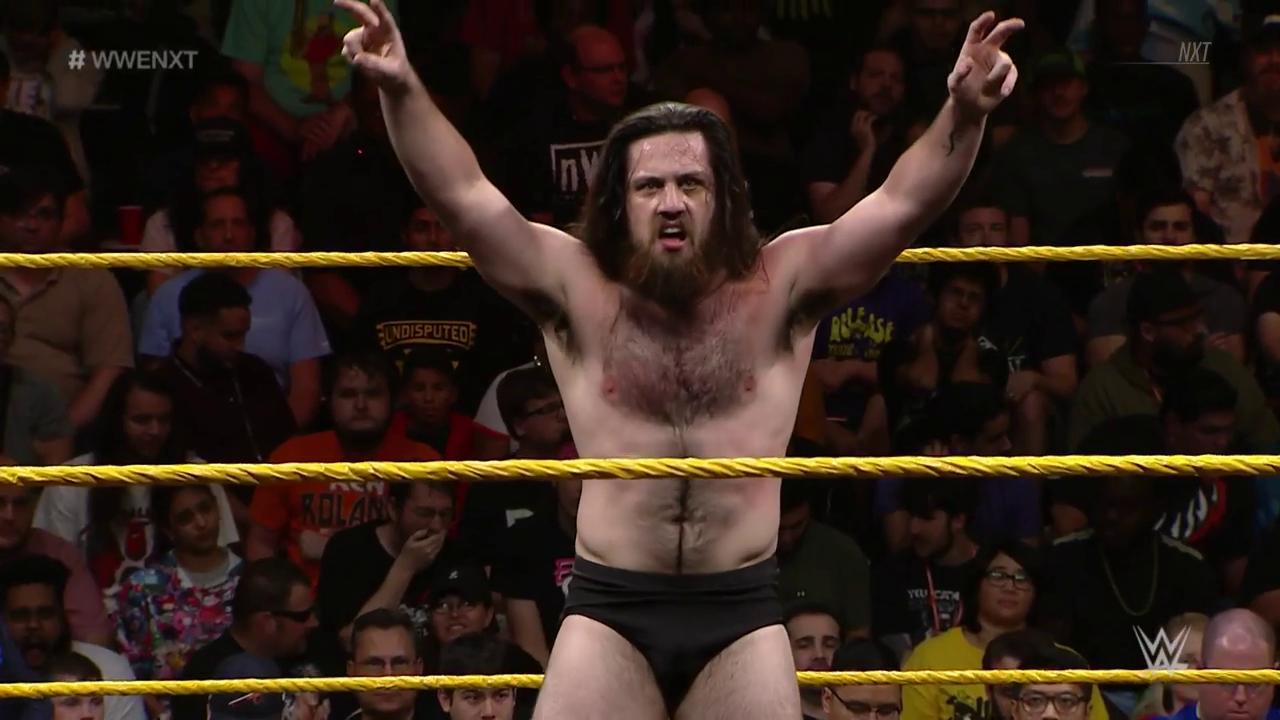 Mendoza with a wrist lock and Grimes with a near fall. Mendoza with a drop toe hold and La Magistral and he rolls Grimes through to get a near fall. Mendoza with an arm bar. Mendoza with a head scissors and chops. Grimes with an Irish whip and Mendoza goes to the apron but Grimes with a drop kick to knock Mendoza off the apron. They return to the ring and Grimes with a clothesline and he gets a near fall. Mendoza backs Grimes into the corner but Grimes holds on to the arm bar. Mendoza with punches and he backs Grimes into the corner. Mendoza with a jab and drop kick. Mendoza with a running kick into the corner. Mendoza walks the ropes and hits a springboard drop kick. Mendoza with a running shooting star press for a near fall.
Grimes pulls the rope into Mendoza's face. Grimes has a kick blocked and Mendoza with forearms and an enzuigiri. Grimes sends Mendoza to the apron. Mendoza with a kick and he goes up top for a Phoenix Splash but he misses. Grimes with a running double stomp for the three count.
Winner: Cameron Grimes
---
Backstage: Candice LeRae, William Regal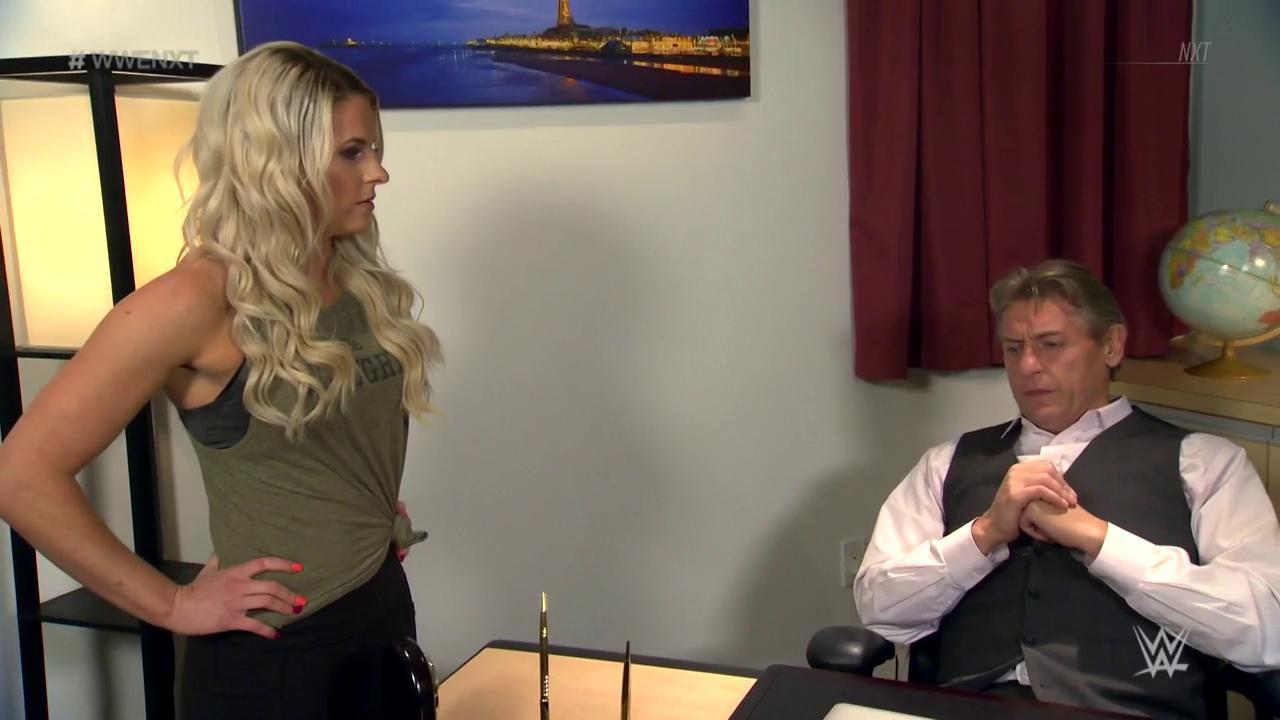 Candice LeRae enters William Regal's office and she wants to know why Io is being rewarded by being put in the triple threat match next week. Candice says that Io may not make it into the match. William says it will not be a triple threat match, it will be a four way. The winner will face Shayna Baszler. He says if Rhea Ripley wins tonight, it might be a five way. Candice says if she can get her hands on Io, you can put anyone in that match.
---
Video: Dakota Kai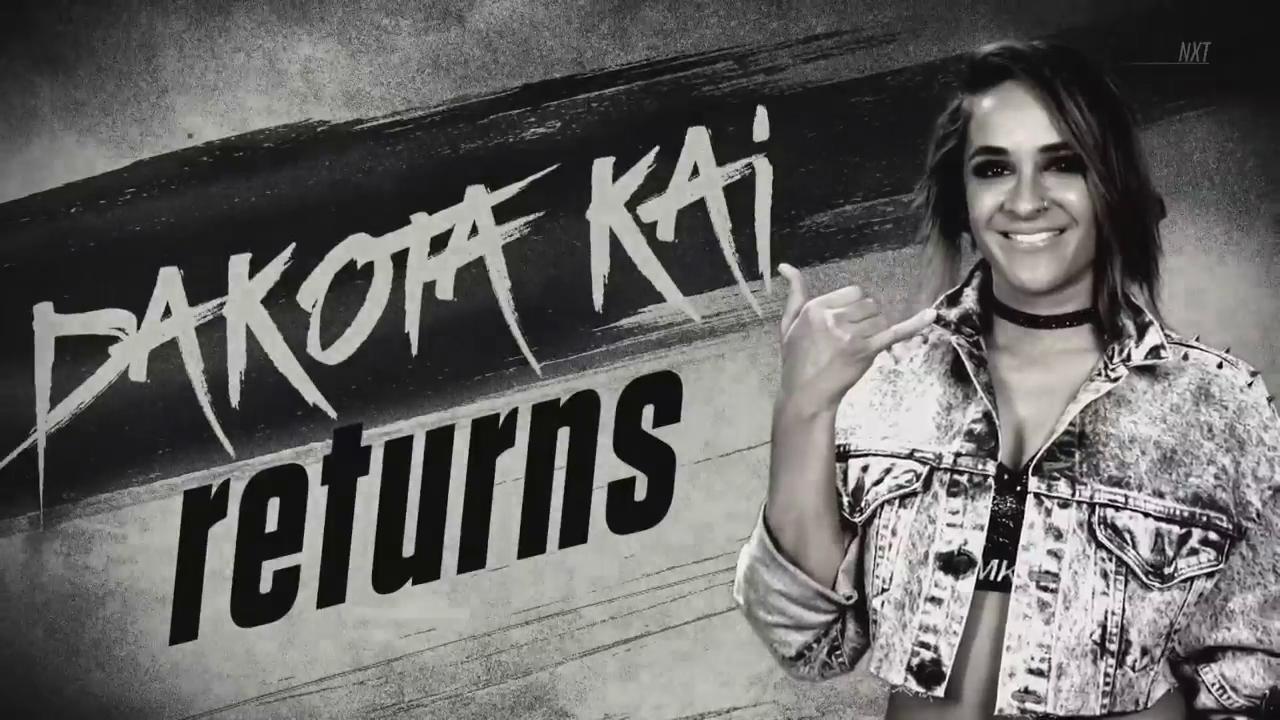 We see a video package for Dakota Kai, who is returning to NXT soon.
---
Next Week
We are told that we will see a Street Fight between Matt Riddle and Killian Dain on the second hour of NXT, on the WWE Network.
---
Shayna Baszler vs. Rhea Ripley
They lock up and Shayna with a wrist lock but Rhea gets to the ropes. Shayna tries to trip Rhea but Rhea blocks it and Rhea trips Shayna and tries to stomp on Shayna. Shayna with a waist lock and Rhea with a wrist lock and arm bar. Rhea goes for a slam but Shayna escapes and Shayna goes for the Kirifuta Clutch. Rhea escapes and she slams Baszler. Rhea kicks Shayna and connects with forearms. Ripley kicks Shayna and connects with shoulders in the corner. Rhea with a forearm to teh back and Shayna with an inside cradle for a near fall.
Ripley with a drop kick. Rhea misses a kick and her leg gets caught in the leg and Shayna kicks Rhea's leg while caught in the ropes. Shayna gets a near fall. Shayna with a front face lock. Rhea with a back body drop but she misses a drop kick. Rhea backs Shayna into the turnbuckles. Shayna with a Kirfuta Clutch while on the turnbuckles. Rhea drop kicks Shayna off the turnbuckles to the floor. Rhea goes to the floor and Shayna with a forearm. Rhea gets Shayna on her shoulders and she drops Shayna face first onto the ring steps. Rhea sends Shayna back into the ring.
Marina Shafir and Jessamyn Duke distract Rhea and Shayna with a knee to the back. Duke gives Shayna a chair and Shayna tries to hit Rhea but Rhea blocks it and hits Shayna with it.
Winner: Shayna Baszler (by disqualification)
Duke and Shafir help Baszler to the stage.
Rhea sits down in the chair and she wants more of Baszler.
---
Backstage: Undisputed Era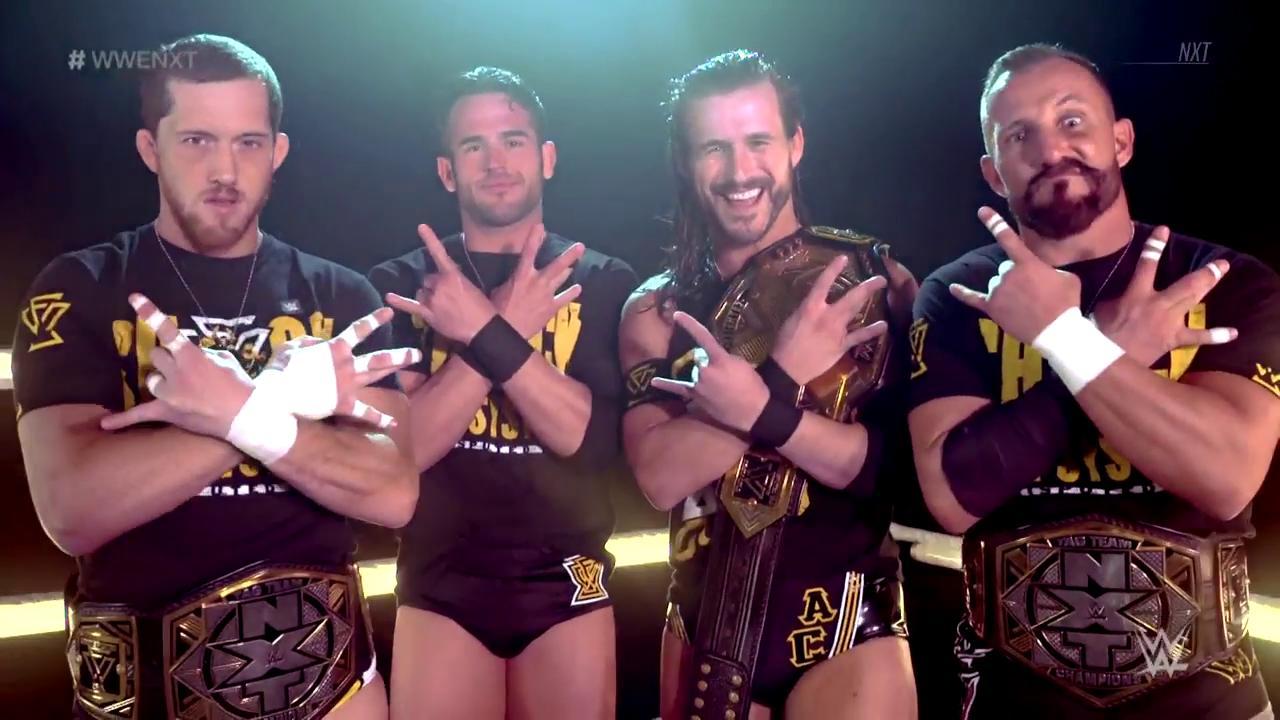 Adam Cole says the prophecy will be fulfilled. Not just the fact that NXT is going live next week, thanks to them. Roderick Strong finally beats the Velveteen Dream. Roderick says he got Dream's attention. Roderick says he hates that couch and he hates Dream. Roderick will get what is his and he will get the North American Championship. Cole says NXT has been getting bigger and badder thanks to the Undisputed Era. When they have all the gold, no one on the planet will be able to stop them.