September 15, 2019
Charlotte, NC – Spectrum Center
---
Quick Match Results
Kickoff: Cruiserweight Championship Triple Threat: Drew Gulak (c) defeated Humberto Carrillo and Lince Dorado via pinning Dorado after Carrillo hit him with an Aztec Press (10:05)
Kickoff: United States Championship: AJ Styles (c) defeated Cedric Alexander via Styles Clash (4:55)
Raw Tag Team Championship: Dolph Ziggler & Robert Roode defeated Seth Rollins & Braun Strowman (c) via Glorious DDT by Roode on Rollins to win the titles (9:40)
SmackDown Women's Championship: Bayley (c) defeated Charlotte Flair via hitting her face into an exposed turnbuckle (3:45)
SmackDown Tag Team Championship: The Revival defeated The New Day (c) via submission by Dawson on Woods to win the titles (10:15)
Women's Tag Team Championship: Alexa Bliss & Nikki Cross (c) defeated Mandy Rose & Sonya Deville via neckbreaker by Cross on Rose (9:05)
Intercontinental Championship: Shinsuke Nakamura (c) defeated The Miz via Kinshasa (9:35)
Raw Women's Championship: Sasha Banks defeated Becky Lynch (c) by disqualification when Becky accidentally hit the referee with a chair (20:00)
WWE Championship: Kofi Kingston (c) defeated Randy Orton via Trouble in Paradise (20:50)
No Disqualification Match: Rowan defeated Roman Reigns via Iron Claw after help from Luke Harper (17:25)
Universal Championship: Seth Rollins (c) defeated Braun Strowman via the Stomp (10:54)
---
Kickoff: Cruiserweight Championship
Drew Gulak (c) vs. Humberto Carrillo vs. Lince Dorado
In the end, Dorado went for a Shooting Star Press on Carrillo but missed. Carrillo then hit an Aztec Press on Dorado, but Gulak ran in and tossed Carrillo into the ring post, then did a bridging pin on Dorado to steal the pinfall.
Winner: Drew Gulak (10:05)
---
Kickoff: United States Championship
AJ Styles (c) vs. Cedric Alexander
This match was pretty good and fast paced, with little "filler." Cedric Alexander started off really hot with a flurry of offense in front of his hometown crowd, but Styles quickly took control.
Styles hit Alexander with a Styles Clash on the outside, then a Phenomenal Forearm in the ring, followed by another Styles Clash for an emphatic win.
Winner: AJ Styles (4:55)
After the match, Gallows and Anderson ran down to the ring and The OC beat down on Alexander for a bit before giving a "too sweet" sign and leaving.
---
Raw Tag Team Championship
Seth Rollins & Braun Strowman (c) vs. Dolph Ziggler & Robert Roode
Ziggler and Roode beat down on Rollins for a while until he got the hot tag to Strowman, who cleaned house. Strowman went for a powerslam on Ziggler but he raked his eyes. Strowman ran at Ziggler but missed and hit the ring post with his shoulder, like he does in pretty much every match.
Rollins was tagged in and went for a Stomp on Roode, but Ziggler grabbed his leg. Roode went for the Glorious DDT, but Strowman ran in and shoved him, knocking him into Rollins. Strowman ran at Ziggler, but Ziggler pulled down the ropes and Strowman fell to the outside.
Roode hit the Glorious DDT on Rollins and got the pinfall to win the titles.
Winners: Dolph Ziggler & Robert Roode (New Raw Tag Team Champions) (9:40)
Strowman and Rollins both looked disappointed after the match and walked off separately.
---
Backstage: Braun Strowman
Strowman was interviewed after the match and said that he didn't lose the titles, Seth did, just like he's going to lose the Universal title tonight.
---
Backstage: Becky Lynch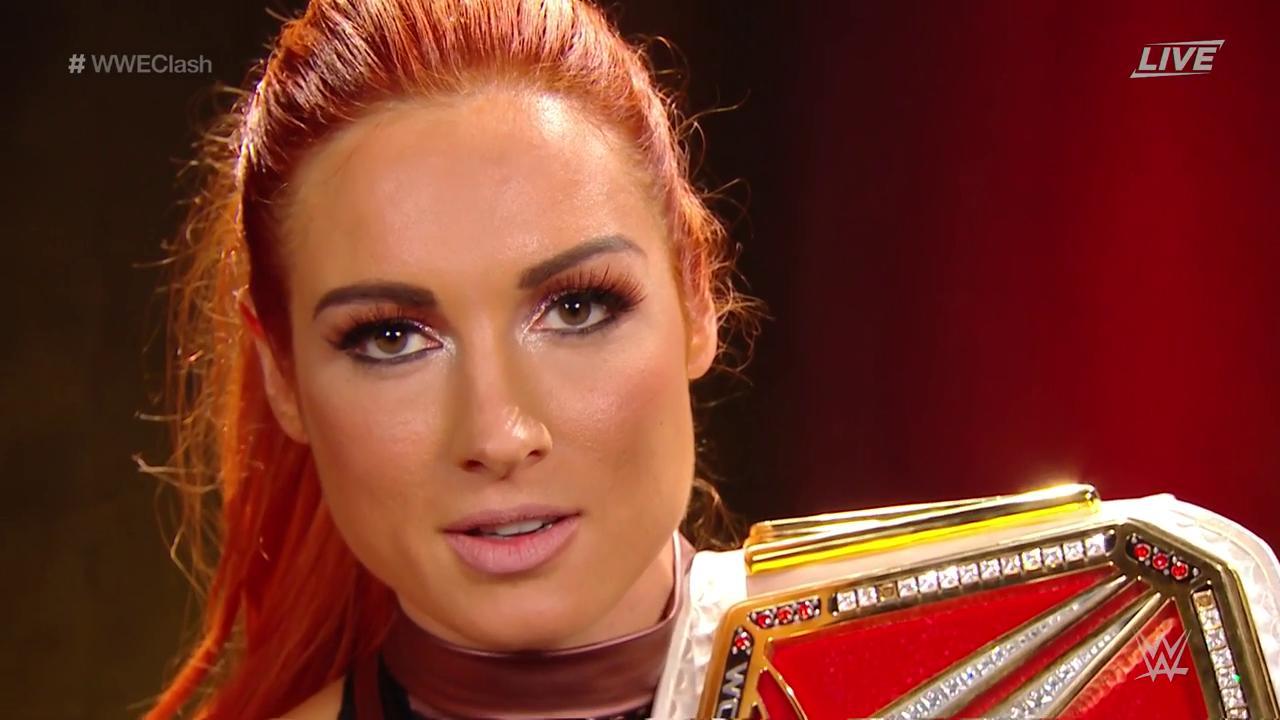 Becky Lynch was interviewed backstage and got a smattering of boos from the crowd. Becky talked about accomplishing a bunch of accolades while all Sasha did was "dye her hair."
---
SmackDown Women's Championship
Bayley (c) vs. Charlotte Flair
Charlotte controlled pretty much the entire match from the get-go. Charlotte started stomping on Bayley in the corner until the referee stopped her. Charlotte started arguing with the ref and meanwhile, Bayley removed the bottom turnbuckle pad. Charlotte charged at Bayley, but Bayley grabbed her head and slammed it into the exposed turnbuckle, then pinned her for the win.
Winner: Bayley (3:45)
Bayley grabbed her title and quickly ran backstage, escaping with the win.
---
SmackDown Tag Team Championship
The New Day (c) vs. The Revival
A few minutes in, The Revival hit Big E with the Shatter Machine on the outside. In the ring, The Revival overpowered Xavier Woods and hit him with a Shatter Machine too.
Dawson was going to go for the pin, but Wilder said to attack Xavier's knee first. They took off his knee brace and Dawson locked on a submission on his leg and Xavier tapped.
Winners: The Revival (New SmackDown Tag Team Champions) (10:15)
The Revival cut a promo after the match about how there's no more trombone or pancakes to sully the tag team titles, then said that the night's not done because Randy Orton will beat Kofi tonight too.
---
Backstage: Alexa Bliss & Nikki Cross
Consider your cover blown, @RonKillings! #WWEClash #247Title #247Champion @AlexaBliss_WWE pic.twitter.com/p2q9MacUQ7

— WWE Universe (@WWEUniverse) September 15, 2019
Alexa and Nikki were interviewed backstage but a boom mic was lowered into the shot, interrupting them. It was held by R-Truth, who said that he wanted to make sure people could hear "Other Carmella's" beautiful voice. Alexa grabbed the mic and said that "R-Truth is on the set," so if someone wants to win the 24/7 title, come find him. A bunch of guys then ran in and chased Truth.
---
Women's Tag Team Championship
Alexa Bliss & Nikki Cross (c) vs. Mandy Rose & Sonya Deville
A few minutes in, R-Truth ran into the ring, followed by a bunch of other wrestlers chasing him. Alexa rolled up Truth, but he kicked out and ran out of the ring, then ran through the crowd with Carmella.
Mandy and Sonya hit a high-low double team move on Alexa, but Nikki broke up the pin. Nikki knocked Sonya off the apron, then hit her neckbreaker finisher on Mandy for the win.
Winners: Alexa Bliss & Nikki Cross (9:05)
---
Intercontinental Championship
Shinsuke Nakamura (c) vs. The Miz
Sami Zayn came out wearing a neck brace (after being chokeslammed by The Undertaker on SmackDown). He said that he sustained a neck injury after the chokeslam, but he's still here to support Nakamura because he's a trooper.
The bell rang and Zayn grabbed a mic on the outside and did his own commentary for about a minute until his mic was cut.
A few minutes in, Nakamura went for the Kinshasa but Miz moved. Miz bounced off the ropes, but Zayn grabbed his leg. The distraction allowed Nakamura to hit him with a running knee to the back of the head, but he only got a near fall.
Nakamura went for the Kinshasa but Miz moved and hit him with the Skull Crushing Finale. He went for the pin, but Zayn ran onto the apron, distracting the ref. Miz ran after Zayn on the outside, but Nakamura came out of nowhere with a running kick to the face.
In the ring, Nakamura hit Miz with a Kinshasa for the win.
Winner: Shinsuke Nakamura (9:35)
---
Raw Women's Championship
Becky Lynch (c) vs. Sasha Banks
A few minutes in, Sasha locked on a Bank Statement out of nowhere, but Becky was able to get up and hit a Becksploder.
Sasha hit a meteora for a near fall, then tried for the Bank Statement again, but Becky countered into a Dis-Arm-Her, but Sasha got her foot on the rope.
Out of nowhere, Sasha hit Becky with two Backstabbers and locked on the Bank Statement, but Becky was able to escape.
A frustrated Sasha tossed a chair in the ring, then went to grab another from under the ring. Becky grabbed her, but Sasha nailed her with the chair from the outside and the ref didn't see it. Shining Wizard by Sasha, but Becky kicked out.
Sasha went to hit Becky with a chair, but the ref grabbed it. Sasha started to argue with the ref and Becky grabbed the chair and swung at Sasha, but she moved and Becky took out the ref.
Becky then nailed Sasha with the chair. Sasha tried to run through the crowd, but Becky chased her and they fought on the stairs in the crowd. Becky locked on a Dis-Arm-Her and Sasha tapped, but obviously that doesn't count. They brawled through the arena to the concession area and finally back to ringside. Sasha had mustard all over her back.
Commentary said that they were just told that Becky has been disqualified and the match is officially over. The ref was still down.
Winner by disqualification: Becky Lynch (20:00)
Back in the ring, Becky went to work on Sasha, nailing her in the back with a chair several times. Becky locked on a Dis-Arm-Her on Sasha, using the chair as leverage, and Sasha tapped, but Becky wouldn't break the hold until officials ran down to break it up. The crowd popped for Becky, then booed the official announcement that Becky has been disqualified.
This was a good match until the brawling, easily the best of the night so far in a show that has had a lot of mediocre matches.
---
WWE Championship
Kofi Kingston (c) vs. Randy Orton
After a few minutes of nothing really interesting happening, Kofi went for a Trouble in Paradise, but Orton blocked it. About five minutes later, Orton hit the draping DDT, then went for the RKO, but Kofi blocked it. A few seconds later, Orton suddenly nailed an RKO out of nowhere, but Kofi got his foot up on the rope.
Orton then set up for a punt kick to Kofi's head, waiting for Kofi to get up… but Kofi moved and nailed Orton with Trouble in Paradise for the win. This match was mostly incredibly boring until the last couple of minutes.
Winner: Kofi Kingston (20:50)
---
Backstage: The Street Profits, Booker T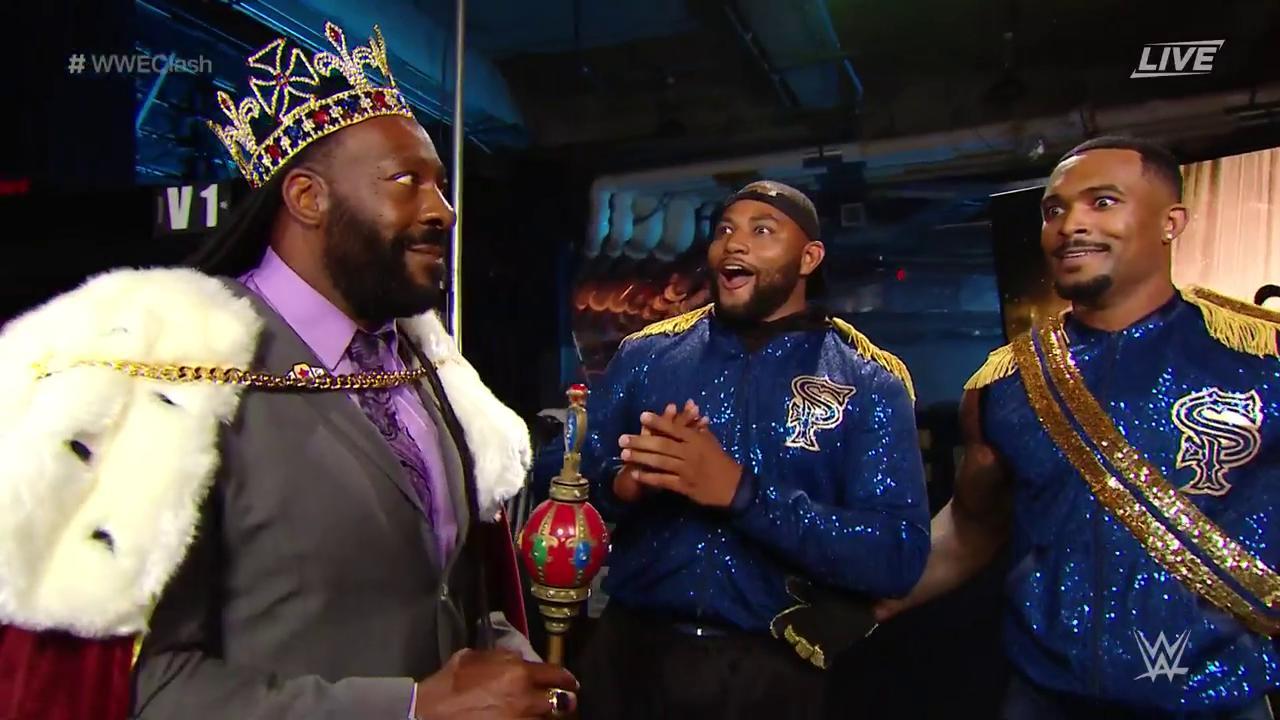 The Street Profits cut a promo about the King of the Ring tournament. Booker T showed up wearing a crown and robe. Dawkins asked King Booker to knight him, but Booker said "tell me you did not just say that," then said that the Street Profits need to "get their mind right," "now can you dig that, sucka."
---
No Disqualification Match
Roman Reigns vs. Rowan
Rowan controlled most of the match for like the first 10 minutes, pounding away at Reigns in a slow, boring manner. This PPV has been bad…
Rowan tried to hit Reigns with the ring steps, but missed and Reigns hit him with a Samoan drop, then hit Rowan with the steps, then hit him with a Superman punch.
Reigns went for another Superman punch on the outside, but Rowan blocked it and powerbombed Reigns viciously through the announce table. Rowan pounded on Reigns through the arena and slammed him through another table. He grabbed the camera jig, but Reigns blocked him and hit Rowan with it, then hit a Superman punch.
Reigns ran down the ramp at Rowan for a spear, but suddenly, Luke Harper came out of nowhere and hit Reigns with a big boot. Harper and Rowan double teamed Reigns and Rowan hit Reigns with an Iron Claw for the win.
Winner: Rowan (17:25)
After the match, Rowan and Harper embraced and hugged in the ring.
---
Backstage: Seth Rollins
Seth Rollins was interviewed and said that he respects Braun and even considers him a friend, but it's not his time, and tonight, Rollins is going to slay a monster.
---
Universal Championship
Seth Rollins (c) vs. Braun Strowman
The action started quickly, with Rollins hitting three quick superkicks and a top rope frog splash, but Strowman kicked out before a 1 count. The crowd was really quiet for some reason, seemingly drained from this show.
Later, Rollins hit two suicide dives then went for a third, but Strowman caught him… but Rollins was able to shove Strowman shoulder-first into the ring post. Strowman's nose was busted open.
Rollins went for a top rope superplex on Strowman, but Strowman blocked it. Strowman then stood on the top rope, almost lost his balance, and hit a big top rope splash on Rollins, then sold like he hurt his knee on the landing.
Rollins locked on a sleeper hold, then hit Strowman with a Stomp! But Strowman kicked out at 1… A second Stomp, but Strowman kicked out at 2. And a third Stomp… and Strowman kicked out again!
Rollins went for a fourth Stomp, but Strowman got up and picked him up for the running powerslam, but his knee gave out… Rollins hit the Pedigree, then another Stomp… 1-2-3.
Winner: Seth Rollins (10:54)
Rollins celebrated with his title near the entrance ramp after the match. Suddenly, the lights went out and The Fiend appeared, then hit Rollins with Sister Abigail! Then he locked on the Mandible Claw on Rollins, the lights went out again, Bray Wyatt's laugh played over the PA and the show was over…