September 3, 2019
Norfolk, Virginia
Commentary: Tom Phillips, Byron Saxton and Corey Graves
Results by: Mike Tedesco of Wrestleview.com and Richard Trionfo of PWInsider.com
---
Quick Match Results
King of the Ring Quarterfinal Match: Elias defeated Ali via Drift Away
Fire & Desire (Mandy Rose & Sonya Deville) defeated Nikki Cross & Alexa Bliss via high/low on Bliss
King of the Ring Quarterfinal Match: Chad Gable defeated Andrade via sunset flip pin
24/7 Championship: Bo Dallas defeated Drake Maverick (c) via roll up to win the title
Shinsuke Nakamura defeated Andrew Morton via Kinshasa
24/7 Championship: Drake Maverick defeated Bo Dallas (c) via roll up to win the title
24/7 Championship: R-Truth defeated Drake Maverick (c) via roll up to win the title
---
In-Ring: Bayley, Charlotte Flair, Sasha Banks
Footage kicks off the episode that showcases Bayley's shocking turn on RAW Women's Champion Becky Lynch last night on RAW. Bayley then seemingly aligned herself with her old tag team partner Sasha Banks.
Smackdown Women's Champion Bayley makes her way to the ring looking like her old self. Her entrance is complete with posing for the fans and the Bayley Buddies. Bayley stands in the ring, and the crowd loudly boos her. There is a smattering of a "Bayley" chant in there. Bayley says she doesn't get it. Now a "Becky" chant picks up. Bayley says everyone has something to say about what happened last night. What did they not see coming? Her friendship with Sasha? Her sense of responsibility to the one person that has had her back on the road to the title? Banks is her best friend. Nothing has changed. She's still trying to show the people the kind of champion she wants to be. Bayley is trying to give people opportunities and lift people up. Bayley says she does it with hugs. Think about the kids. Ever since she started doing all this, she's trying to make the people feel the way she felt when she was a kid and a fan. Bayley says she is the hero and the role model. Bayley is trying to show people what it means to be loyal. That's why she couldn't turn her back on Banks after things got rough.
Bayley is doing everything she can to put Smackdown Live and this Women's Division on the map. The people deserve a champion with the same recognition as Becky Lynch. Bayley says she'll be that champion for a long time. That starts at Clash of Champions when she beats the most selfish person on the planet, Charlotte Flair.
Charlotte Flair's music hits, and she makes her way to the ring. Flair says she is the Queen of selfishness. People say a lot about her, but what you see — WOO — is what you get. There's no confusion, blindsiding, and there's definitely no hugging. Flair says Bayley should hug the title real tight because at Clash of Champions…
Sasha Banks' music cuts her off. While Banks makes her way to the ring, Flair blindsides Bayley with a forearm. Banks charges the ring, and Flair tackles her. They punch away at each other before Bayley hits Flair from behind with a steel chair. Bayley hits her a few times before handing the chair to Banks. Banks hits Flair with it a few times before giving it back to Bayley. Bayley hits Flair with the chair once again. Banks and Bayley pose while the crowd chants, "Becky."
After commercials, Sasha Banks and Bayley are shown backstage looking very proud of themselves.
---
King of the Ring Quarterfinal Match
Ali vs. Elias
The bell rings, and they circle the ring before locking up. Elias quickly wrenches the arm, bringing Ali to his knees. An "Ali" chant picks up. Ali uses the ropes to twist out of the arm wrench and wrenches Elias' arm. Elias goes for a slam, but Ali slides off and chops him, but Ali hurts his own hand. Ali flips away from Elias before rolling him up for a two count. Ali then gets a jackknife pin for a two count. Ali quickly kicks him in the face, and Elias rolls out of the ring to recover. Ali goes for a suicide dive, but Elias catches him, drives him into the LED apron, and hits a release suplex on the ramp! Elias gets in the ring, but then gets out to send Ali face-first into the barricade. Elias throws him at ringside before press slamming him into the timekeeper's area!
We come back from the break to see Ali trapped in a chin lock. Ali fights up and dropkicks Elias away. Ali forearm shim back before Elias stops a whip. Ali avoids an avalanche and kicks him back. Ali hits a rolling sit-out facebuster for a near fall. Elias quickly rolls out of the ring to recover. Ali then hits him from behind with a suicide dive. Elias grabs his left shoulder in pain, while Ali grabs his knee. Ali gets Elias in the ring and goes to the top rope, but Elias stops him. Ali fights him off and knocks him to the canvas. Ali then hits a 450 to Elias' injured arm! Elias goes for a whip, but Ali counters into a crossface. Elias powers his way to the ropes to break the hold.
Elias manages to catch him with a sit-out powerbomb, but Ali kicks out. Elias then applies a stretch muffler to the injured knee, but Ali gets to the bottom rope. Elias drags Ali to the corner and slams the leg off the ring post. Elias has him on the apron, but Ali pulls him up to the middle rope. Elias shoves him off, but Ali backflips and lands on his feet on the floor. Ali hobbles on the bad knee. Elias comes off the top rope to the floor, but Ali superkicks him out of mid-air! Ali gets him in the ring and goes for a 450 splash, but Elias rolls out of the way. Ali quickly kicks Elias back, but Elias keeps hold of the bad leg. Elias ducks an enzuigiri and hits a knee drop to the knee. Elias connects with Drift Away for the win.
Winner by Pinfall: Elias
Elias will be advancing to the Semifinals of the King of the Ring tournament to face either Andrade or Chad Gable next week at Madison Square Garden. Elias sits on the King of the Ring throne and strums his guitar.
---
Backstage: Samoa Joe
Kayla Braxton is backstage with Samoa Joe. She talks about his triple threat match next week on RAW before asking what he's doing on Smackdown Live. Joe says he's here to scout his competition as he will face one of these people in the Finals of the King of the Ring tournament. They will all bow to the king.
---
Backstage: Aleister Black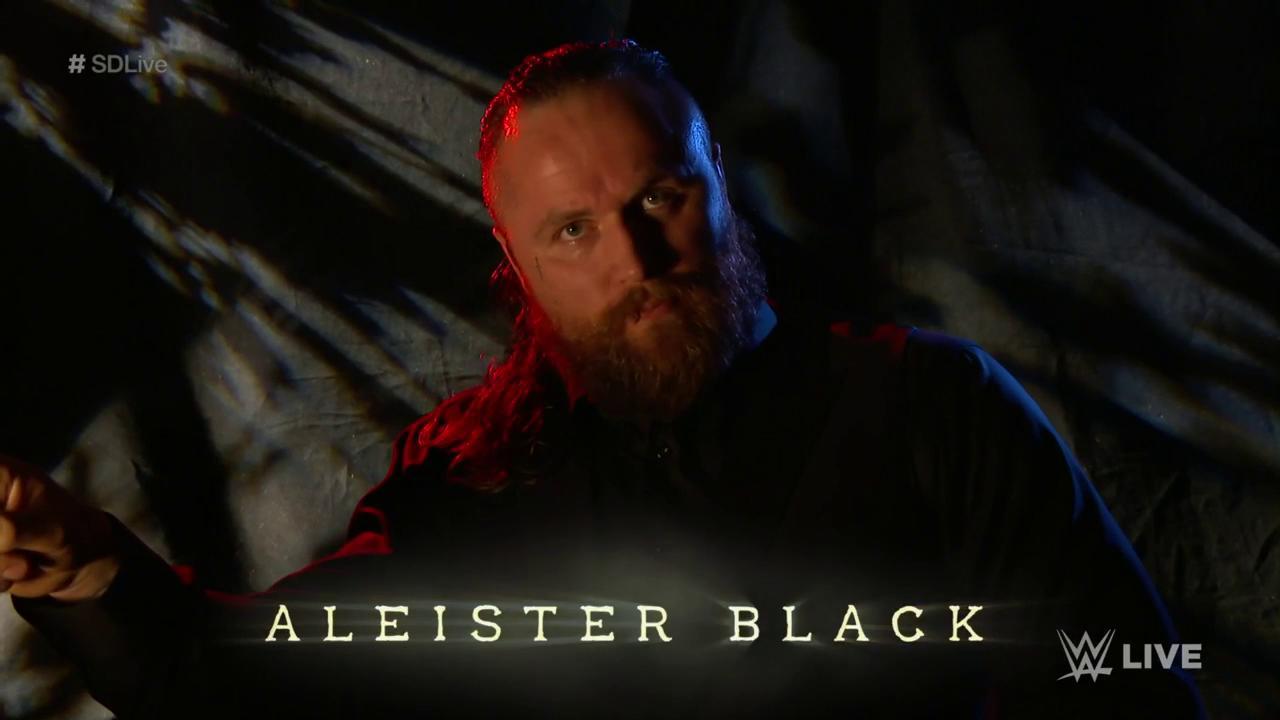 Aleister Black is shown backstage. Black says if the mountain isn't going to come to him, he'll go to the mountain. Black says he's heading down to the ring to see if there is anyone man enough to pick a fight with him. Black leaves the room.
---
Nikki Cross & Alexa Bliss vs. Fire & Desire (Mandy Rose & Sonya Deville)
Nikki Cross will start against Mandy Rose. Rose poses and shows off a bit. Cross looks confused. Rose then whips her hair in Cross' face. Cross hits her and takes her down with a head-scissor takeover. Cross splashes Rose in the corner and hits a bulldog for a two count. Rose quickly comes back with a big right hand before stomping her. Sonya Deville tags in, and she punches Cross down before digging a knee in her face. Rose tags in and sends Cross to the corner, but she knocks Deville off the apron. Cross gets Rose out of the ring and goes to the top rope. Cross then hits a cross-body block to the floor on Fire and Desire.
We come back from the break to see Rose attacking Cross and talking trash. Rose says Cross will never look like her. Alexa Bliss says no one wants to look like Rose. Bliss and Deville tag in. Bliss runs wild on her and goes for Insult To Injury, but Deville moves. Bliss slaps her in the face. Rose runs in and attacks Bliss. Cross runs in and takes Rose out of the ring. Deville kicks away at Bliss in the ring and lifts her, but Bliss slides off and hits a DDT. Bliss goes to the top rope. Bliss is distracted by Rose sending Cross into the LED apron. Bliss goes for Twisted Bliss, but Deville gets the knees up. Rose tags in, and Fire and Desire hits the Hi/Lo for the win.
Winners by Pinfall: Fire and Desire
---
The rest of the results via Richard Trionfo of PWInsider.com
---
Backstage: Chad Gable, Samoa Joe
Chad Gable is getting ready for his match against Andrade and Joe bumps into him and apologizes. Joe says Chad would look ridiculous if Chad wins. Joe says all of the jokes he is saying are what Chad has heard his entire life but they still get to you. Joe wishes Bilbo luck as he walks away.
---
In-Ring: Randy Orton, Kofi Kingston, The Revival
Randy Orton makes his way to the ring. Randy says Clash of Champions is two weeks away and that means in two weeks, we will have a new WWE Champion. He will show everyone that Kofi Kingston is a fraud. He was never on his level. Randy says that he laid a trap last week for Kofi and he fell for it hook, line, and sinker. Randy says the best thing about last week was that sweet sound of Kofi Kingston's skull bouncing off the floor. For weeks and weeks, he has decimated the New Day and destroyed this power of positivity crap. If you don't believe the words coming out of his mouth, then take a look at this. We see a video of what has happened to the New Day thanks to Randy Orton and the Revival. Randy tells Kofi what is on his mind right now. No more games and traps or waiting until Clash of Champions. Let's do this right now. Come face him like a real man.
The New Day's music plays and Kofi fights off Wilder and Dawson as he tries to get to the ring. Dawson and Wilder have the advantage and Wilder with a forearm while Dawson punches Kofi. Kofi with punches to Dawson and he sends Dawson into the ringside barrier. Randy Orton makes his way to the floor and he hits a short arm clothesline after Kofi punches Wilder. Randy puts Kofi in the ring.
Randy calls Kofi stupid as he does the Garvin Stomp. Orton tells Wilder and Dawson to pick Kofi up. Randy tells Kofi at Clash of Champions he will beat him once and for all in front of his fans, friends, and family. He will do it with the three most devasating letters in sports entertainment. Kofi kicks Orton and then Wilder and Dawson punch Kofi.
Dawson, Wilder, and Orton hit the ShatteRKO Machine. Orton, Wilder, and Dawson stand over Kofi while Orton continues to call Kofi 'stupid'.
---
We are told that Roman Reigns will face Erick Rowan at Clash of Champions in a battle for no title.
---
King of the Ring Quarterfinal Match
Andrade vs. Chad Gable
Before the match, Zelina tells Chad from one vertically challenged superstar to another, she appreciates how Chad has overcome the odds. Zelina says Chad would be the next King of the Ring, if Andrade wasn't in this tournament. Andrade is in this tournament and he will beat Chad. There is no shame losing to the Future King Andrade. You keep going, little guy.
They lock up and Gable with a waist lock take down. Andrade with a back elbow and wrist lock. Gable floats over and gets a near fall with a sunset flip. Andrade with a kick and forearms to teh back . Gable with an arm drag and monkey flip. Gable goes for another monkey flip but Andrade counters and sends Gable to the floor. Almas chops Gable on the floor and connects with a knee to the midsection before Irish whpping Gable into the ringside barrier. Andrade with a kick to the back of the head for a near fall. Andrade with a reverse chin lock.
Almas goes for a belly to back suplex but Gable lands on his feet and hits a German suplex into the turnbuckles. Almas and Gable exchange forearms. Andrade with a chop and Gable with forearms and knees. Gable with a back heel kick and rolling kick followed by a flying swinging neck breaker. Gable with a wrist clutch chicken wing suplex for a near fall. Gable sets for Chaos Theory but Andrade holds on to the turnbuckles. Andrade with a kick but Gable with a palm strike when Andrade goes to the turnbuckles.
We see Elias watching the match in the back.
Andrade puts Gable in the tree of woe and hits a double stomp but can only get a near fall. Andrade with a waist lock but Gable wit a rollup for a near fall. Almas with a suplex and he holds on for a second one. Almas with a second suplex and he holds on for a third one but Gable counters into a German suplex and Gable with a second German suplex. Andrade with a back elbow to Gable and Andrade hits a suplex. Andrade goes to the turnbuckles for a moonsault and Gable moves and when Andrade goes for his second moonsault, Gable gets his knees up.
Gable goes up top and hits a moonsault for a near fall. Gable goes for Chaos Theory again but Andrade holds on to the turnbuckles. Andrade with a biel into the turnbuckles. Gable avoids the running double knee strike and Gable hits Chaos Theory but Vega distracts the referee so he does not make the count. Andrade with a back elbow and he sets for the hammerlock DDT but Gable counters into a sunset flip for the three count.
Winner: Chad Gable (advances to Semifinals against Elias)
---
Aleister Black vs. Shelton Benjamin
Benjamin with a punch and Black with a springboard into a seated position. Black goes for Black Mass and Benjamin avoids it. Black with a knee and then he goes to the floor after Benjamin and punches Shelton and sends him back into the ring. Black with a punch and Benjamin with a jumping knee to knock Black off the apron. Black with a back elbow and round kicks. Benjamin with knees and Black blocks a punch. Black with kicks and a back elbow. Black misses a knee and Benjamin misses a kick. Benjamin misses a leg whip and Black with Black Mass for the three count.
Winner: Aleister Black
---
Backstage: Drake Maverick and Others
Ok, hold up. Did @TheBoDallas just PIN @WWEMaverick to become the NEW #247Champion!?! #SDLive #247Title pic.twitter.com/yK6l5Hmomp

— WWE (@WWE) September 4, 2019
Drake Maverick and Renee Michelle are in the back and they are ambushed by the Shinghs and Gran Metalik. Axel with a rollup for a near fall. Bo Dallas with a rollup for the three count and we have a new champion.
New 24/7 Champion: Bo Dallas
---
Shinsuke Nakamura vs. Andrew Morton
Sami Zayn says tonight is not about the fans. It is about Shinsuke Nakamura and he is your Intercontinental Champion. Nakamura's opponent is, it does not matter what your name is. As far as you are concerned, your name is the Miz and you are all in store for a taste of what is going to happen to the Miz when Nakamura gets his hands on Miz.
Nakamura with kicks to Morton followed by a forearm. Morton with a slap and Nakamura with knees. Nakamura kicks Morton in the head. Nakamura puts Morton on the turnbuckles and he hits a running knee to the midsection. Nakamura sets for Kinshasa and hits it and gets the three count.
Winner: Shinsuke Nakamura
In-Ring: 24/7 Championship
After the match, Curtis Axel and Bo Dallas enter the ring and Curtis runs interference for Bo but while Axel deals with Gran Metalik, Drake rolls up Bo to win the title back. Drake avoids Axel and Dallas.
New 24/7 Champion: Drake Maverick
R-Truth shows up from behind the robe on the King of the Ring stage and he rolls up Drake for the three count.
New 24/7 Champion: R-Truth
---
In-Ring: Daniel Bryan, Roman Reigns, Rowan
Daniel Bryan makes his way to the ring. Daniel says it finally looks like we have a group of people who believe him. Daniel says he knows how it looks to everyone else. They have video footage of Rowan attacking Roman Reigns and people think he is guilty by association. Daniel says he has said this entire time that he had nothing to do with it. Here is the thing. There are a lot of people who might not like Daniel Bryan and what he says. Nobody can say about him that he is a liar. Daniel says he has never lied to any of you. They are right, he hates liars. Daniel says he is demanding an apology from Roman Reigns, not just for accusing him of what he didn't do, or for spearing him. He wants an apology from Roman because Roman is calling him a liar.
Roman Reigns makes his way to the ring.
Erick Rowan attacks Roman on the stage and sends Roman into the ringside barrier. Rowan sends Roman into the ring steps. Rowan sends Roman face first into the apron.
Bryan confronts Rowan and Rowan sends Bryan to the floor. Rowan power bombs Roman into the ring post. Rowan sends Roman into the ring and Rowan gets for the claw slam and hits hit.
Rowan tells Roman if you think Daniel did this, the joke is on you. Rowan says hello to his buddy Daniel. Rowan says you are worse than everybody else. You think you can control him. Rowan says he is nobody's puppet. You slapped me over and over last week. Why don't you step in the ring and slap him again. Rowan says he is proud of what he has done to Roman. He is proud he caused that accident backstage. He is proud of crashing his car into yours. He is more proud of the pain you are going to feel at Clash of Champions. Rowan sends Roman to the floor and Rowan grabs the ring steps and he hits Roman with them.
Rowan rearranges the announce table and Daniel tries to stop Rowan. Bryan tells Rowan he is his friend. Bryan slaps Rowan. Rowan grabs Bryan and gives his a claw slam through the announce table. Rowan tells Bryan nobody tells him what to do.