November 22, 2019
Chicago, Illinois
Commentary: Michael Cole and Corey Graves
Results by: Mike Tedesco of Wrestleview.com
---
Quick Match Results
Triple Threat: Rhea Ripley defeated Sasha Banks and Charlotte Flair via pinning Flair while she had Banks in a Figure Eight
Eight-Man Tag: The Undisputed Era defeated The New Day & Heavy Machinery via running knee by Strong on Tucker
Daniel Bryan vs. The Miz was no contest when Bray Wyatt attacked
King Corbin, Robert Roode, & Dolph Ziggler defeated Roman Reigns, Mustafa Ali, & Shorty G via Deep Six by Ali
---
Segment: SmackDown Roster
#TheBoss @SashaBanksWWE has no time for your ego trip.

She has some BUSINESS to take care of. 💰💰💰#SmackDown pic.twitter.com/Mi24kIQSek

— WWE (@WWE) November 23, 2019
A bunch of the SmackDown roster is at the garage door of the Allstate Arena in their blue shirts. King Corbin, Dolph Ziggler, and Robert Roode try to get order, but they can't. Roman Reigns comes up and has the door opened. He said they're going to defend their yard from Raw and NXT. Reigns says they won't be cowards like Corbin. Reigns and Corbin argue until Sasha Banks comes up and silences everyone. She says the SmackDown Women's Division is here to represent.
---
The SmackDown video plays, and we go live into the arena to see a big pyrotechnics display. The SmackDown stage has been reconfigured.
Here we go!

It's time for Friday Night #SmackDown on @FOXTV! pic.twitter.com/c6Z6yw1LUH

— WWE (@WWE) November 23, 2019
---
In-Ring: Survivor Series Women's Teams
Sasha Banks comes out with Dana Brooke, Carmella, Nikki Cross, and Lacey Evans. Together they comprise Team SmackDown. Banks says this is their house. She says NXT doesn't have the guts to come out. She calls out Team Raw.
Charlotte Flair's music plays, and The Queen walks out with Sarah Logan, Natalya, and The Kabuki Warriors. This is the entire Team Raw. Flair says it's the welcome wagon in the ring. Flair says it's not like Raw wouldn't have kicked down the door to this place if Roman Reigns didn't open it. Team Raw gets on the apron. Flair challenges Banks to a one-on-one match for old time's sake. Team Raw gets in the ring and goes face-to-face with Team SmackDown.
NXT graphics play on the screen, and the Women's Division from NXT comes in through the crowd. It's Rhea Ripley, Mia Yim, Candice LeRae, Tegan Nox, and Toni Storm. Ripley says NXT does have guts and challenges them to a Captain vs. Captain vs. Captain match. This appears to be Team NXT for Survivor Series on Sunday. A brawl breaks out between all three teams.
---
Sasha Banks vs. Charlotte Flair vs. Rhea Ripley
A brawl breaks out, but Flair and Ripley team up to give Banks a double-team big boot. Banks rolls out of the ring. Ripley and Flair circle the ring before Flair takes her down. Ripley gets out, but Flair takes her down and applies a side headlock. Teams Raw, SmackDown, and NXT are at ringside. Flair boots Ripley down and goes for a scoop slam, but Ripley slides off. Ripley tackles her to the corner and shoulders her. Flair reverses a whip and avoids a kick, but Ripley catches her with a kick on the rebound. Flair quickly comes back with a big boot. Flair blocks a shot into the corner and forearms Ripley before shouldering her in the corner. Ripley soon moves, and Flair hits the turnbuckle. Banks hits a Backstabber on Ripley for a two count. Banks punches away at her before kicking her in the face. Ripley quickly comes back with a pair of short-arm clotheslines followed by a dropkick that sends Banks out of the ring. Ripley tries to put Banks in the ring, but Banks catches her with a tiger feint kick. Flair then shoves Banks into Nikki Cross, who hits the steps. Banks and Cross get into an argument. Ripley turns Banks around, and they get into a punching match. Flair then takes them out with a moonsault off the top rope to the floor!
We come back from the break to see Ripley take Flair down for a two count. Banks elbows Ripley back, but Ripley gets her in the electric chair and slams her in the corner. Ripley puts Banks on the top rope. Cole says the women at ringside aren't confirmed for Team Raw. Banks knocks Ripley back and hits a Meteora. Banks covers, but she eats a Natural Selection from Flair. Flair covers Banks, but Ripley breaks it up. Ripley shoves Flair back and kicks her in the head. Ripley avoids a big boot from Flair, and Flair avoids a dropkick. Flair hits Natural Selection, but Ripley gets out of the ring. Banks rolls Flair up for a two count. Banks jumps on Flair's back, but Flair knocks her off and applies the Figure Eight. Ripley slides under Flair's arched back and pins her shoulders to the mat!
Winner by Pinfall: Rhea Ripley
Flair, who is bleeding from the mouth, is furious. NXT walks off. Flair and Banks get into a brawl before Team Raw and SmackDown come to blows. SmackDown winds up standing tall in the ring, but Raw gets back in. An "NXT" chant fires up. SmackDown and Raw come to a stalemate in the ring, and Flair calls her troops off.
---
Backstage: King Corbin, Dolph Ziggler, Robert Roode, Sami Zayn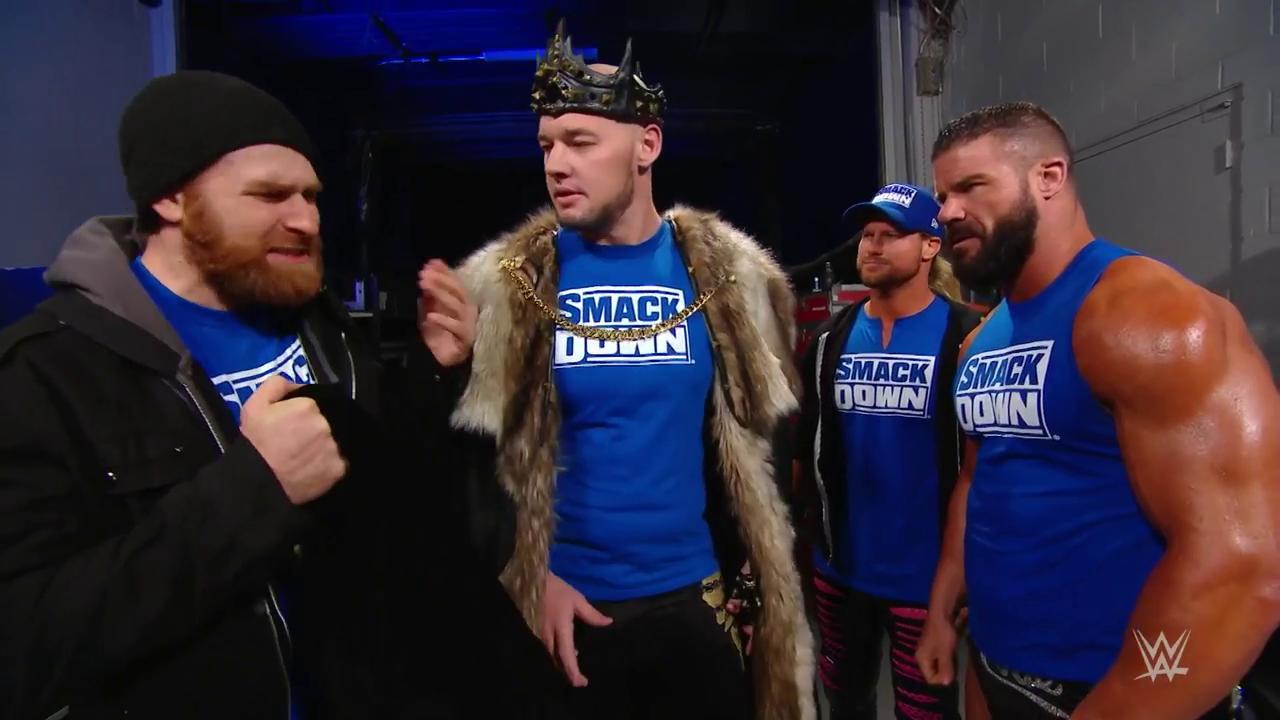 King Corbin is talking backstage with Dolph Ziggler and Robert Roode. Corbin runs down their opponents in the six-man tag. Corbin says they need to be prepared for Raw and NXT. They'll let them beat the hell out of Reigns and his partners. Then they'll get in the ring and beat on Reigns and his partners.
Sami Zayn comes up looking in a good mood. Corbin says Zayn is the most annoying person he's ever met. Zayn challenges Corbin to meet him in the ring and say that to his face. Zayn is holding a bag.
---
Backstage: Bayley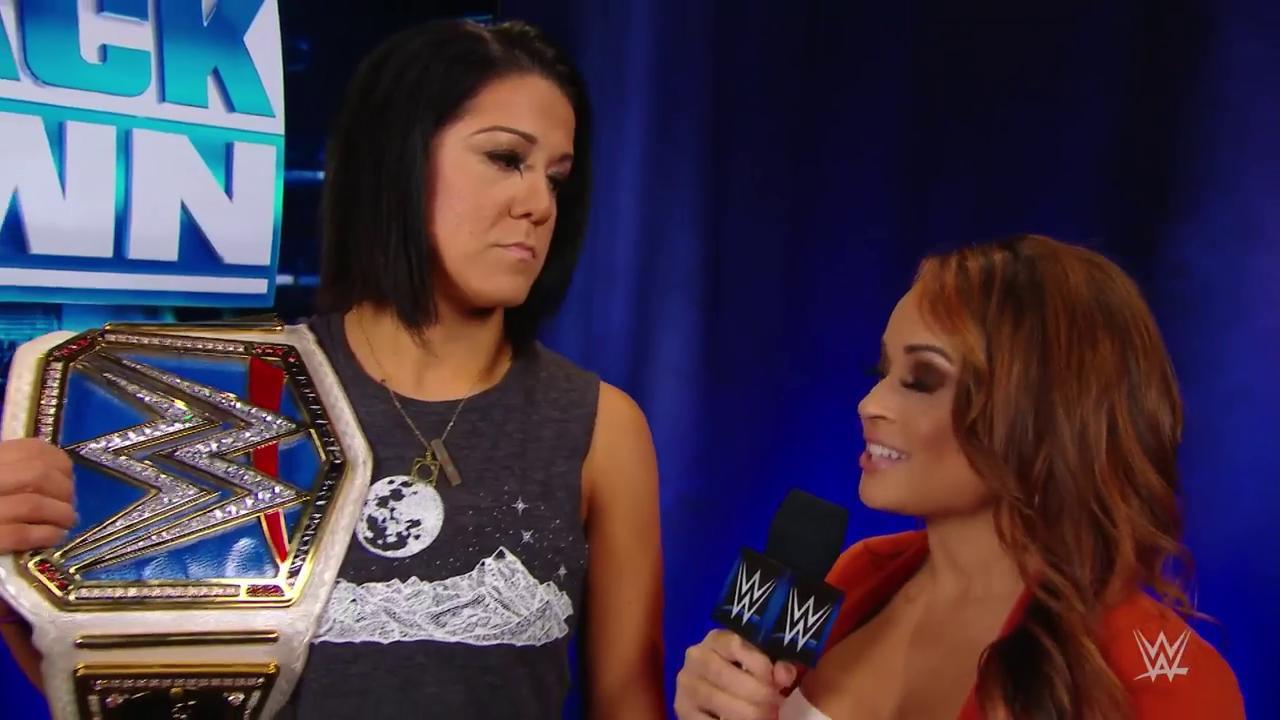 Kayla Braxton is backstage with SmackDown Women's Champion Bayley. Kayla asks if she's concerned Becky Lynch and Shayna Baszler are going to show up. Bayley says she's prepared. She's the only woman in the match that has held the Raw, SmackDown, NXT, and WWE Women's Tag Team Championships. Lynch is too smart to show up, but Baszler is too impulsive for her own good. Baszler likes to attack from behind, so her head is on a swivel. Bayley says if Baszler is done hiding in the shadows, she's here and is ready.
---
In-Ring: Sami Zayn, Shinsuke Nakamura, Undisputed Era, The New Day
Sami Zayn comes out to the stage holding the black bag. WWE Intercontinental Champion Shinsuke Nakamura soon follows. Zayn says King Corbin isn't coming out because he's afraid of him and Nakamura. Zayn says Corbin called him annoying, but he's really a stud. Nakamura is an even bigger stud.
Zayn says he got a gift for Nakamura and pulls out a redesigned WWE Intercontinental Championship. Zayn politely asks for the old one, and Nakamura gives it over. Zayn runs down AJ Styles, and they pretend not to know Roderick Strong's name.
The Undisputed ERA makes their way to the ring. NXT Champion Adam Cole, NXT Tag Team Champions Kyle O'Reilly and Bobby Fish, and NXT North American Champion Roderick Strong get in the ring and stare down Nakamura and Zayn. They don't fight. Nakamura and Zayn get out of the ring. Cole says he is Adam Cole (BAY-BAY) and their opponent is Roderick Strong. After they take care of business tomorrow at WarGames, they'll wipe the floor with Raw and SmackDown. That is undisputed.
The New Day comes out and challenges The Undisputed ERA. They want to settle what was started last week. Strong asks if it's the two of them versus the four of them. Strong agrees to it. Big E says they have partners. Heavy Machinery comes to the ring.
New Intercontinental title: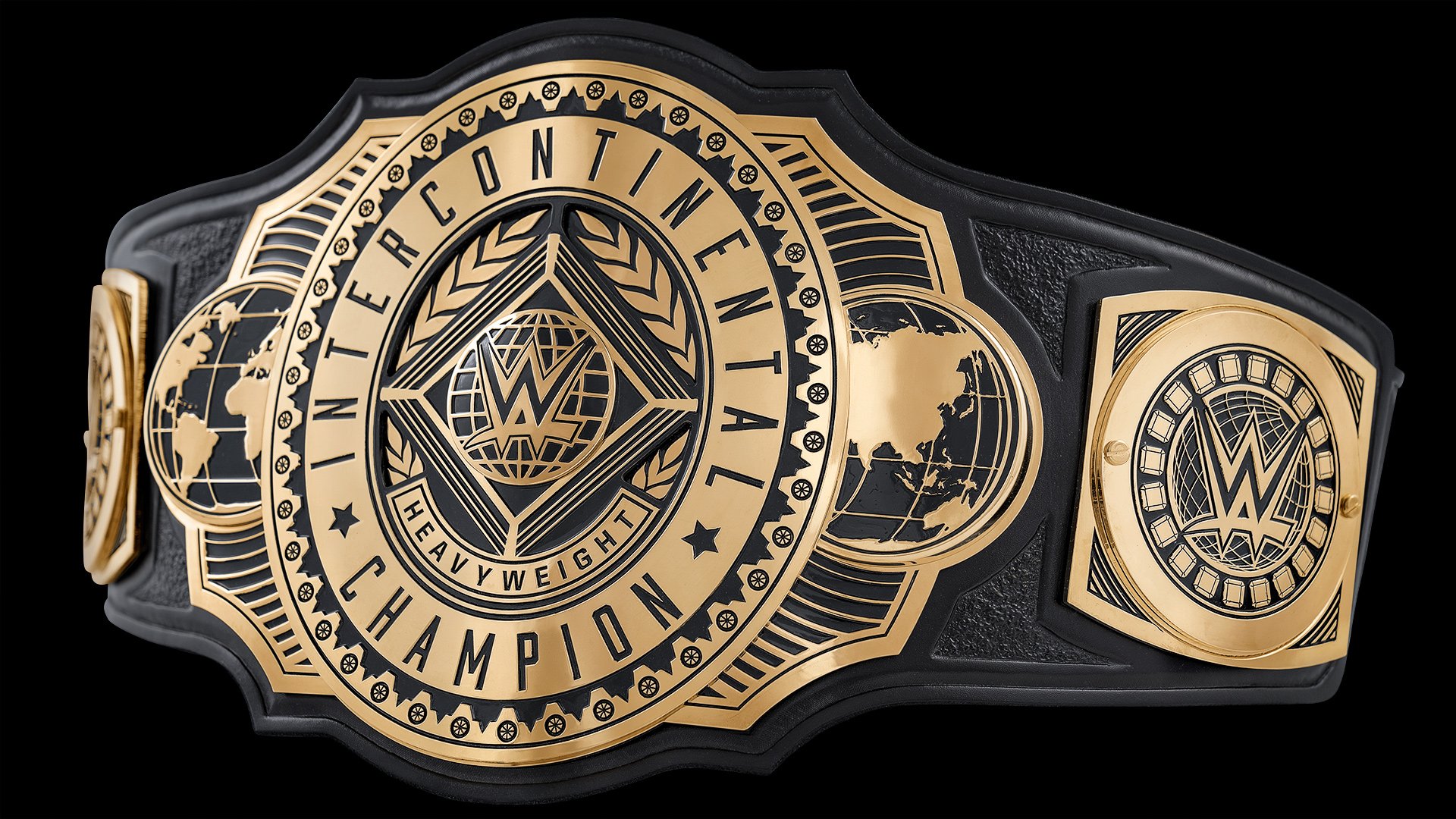 ---
The New Day & Heavy Machinery vs. The Undisputed ERA
It'll be Big E starting against Roderick Strong. UE distracts Big E, and Strong takes him down. Bobby Fish and Kyle O'Reilly come in, but Big E clotheslines them down. Big E hits Fish with a belly-to-belly overhead suplex before putting him on the apron. Big E hits a big splash on the apron before giving O'Reilly a belly-to-belly overhead suplex on the floor. Big E then kicks Strong down. Kofi Kingston tags in and hits a springboard axe handle to Adam Cole. Cole stops him with a knee and tags Strong in. Cole avoids a leapfrog, but he eats a superkick. Strong then comes in and gives Kingston a backbreaker. Strong stomps away at Kingston before tagging O'Reilly in. Strong and O'Reilly kick away at Kingston. Fish tags in and hits a double-team suplex on Kingston with O'Reilly. Fish picks up a two count. Fish hits a snapmare and follows up with a springboard senton for a two count. Cole tags in and kicks Kingston in the corner. Cole hits a swinging neckbreaker and tags Strong back in. Strong applies a Gory Special, but Kingston gets out. Strong takes Kingston down with a dropkick and tags O'Reilly back in. O'Reilly knees Kingston and takes him down. O'Reilly hits the ropes and hits a sliding knee to Kingston's ribs. Strong tags in and applies a front facelock. Kingston comes back and hits a pendulum kick. Strong cuts him off climbing the ropes. Kingston punches him down to the mat. Tucker approaches the UE, but Strong dropkicks Kingston off the top rope onto him. Big E and Otis get into an argument until Tucker breaks it up.
We come back from the break to see Fish applying a body scissor and chin lock to Kingston. Fish knocks Big E off the apron. Fish sends Kingston to the corner, but Kingston takes him down with a springboard dropkick. O'Reilly tags in, as does Otis. Otis runs over the UE with clotheslines and avalanches before flapjacking Strong. O'Reilly kicks Otis, but Otis just gyrates. Otis head-butts O'Reilly and connects with an exploder suplex. Otis avalanches O'Reilly and Cole in the corner. Otis signals for a Caterpillar, but Cole is pulled out of the ring. Tucker tags in, and Heavy Machinery hits a catapult/sambo suplex combo for a near fall.
Strong tags in, and Tucker kicks him down. Tucker hits a double underhook suplex on Strong before avalanching him in the corner. Tucker connects with a sidewalk slam for a near fall. Tucker goes to the top rope and hits a moonsault on Strong, but Cole breaks up the pin! Big E runs in, but Cole avoids him and kicks Otis. Big E suplexes Cole before Fish and O'Reilly attack. Big E back body drops them out of the ring. Kingston hits the ropes, but Cole pulls him out of the ring. Fish and O'Reilly pull Big E out of the ring and hit a Hi/Low on the floor. Kingston charges, and they hit him with a Hi/Low as well. O'Reilly gets in the ring, and Otis scoop slams him down before hitting a Caterpillar. Fish attacks Otis while Cole superkicks Tucker. Strong connects with a knee on Tucker for the win.
Winners by Pinfall: The Undisputed ERA
On-Stage: AJ Styles, Shinsuke Nakamura, Roderick Strong
Roderick Strong confronts Shinsuke Nakamura on the stage, and AJ Styles attacks them. Zayn hits Styles with a chair before viciously attacking Strong with the chair. Zayn and Nakamura are chased off by The Undisputed ERA.
AJ Styles is angrily standing on the stage. Styles says Chicago wouldn't know entertainment if it slapped them in the face. He's the best thing going in Chicago. A "CM Punk" chant fires up. Styles says he would mop the floor with him. Styles says they're messing with the only club that matters. Styles tells Shinsuke Nakamura to enjoy the moment with the cheap shots. As for Roderick Strong, his 15 seconds of fame are up. They may be great on NXT and SmackDown, but he'll remind them that he's "The Phenomenal" AJ Styles.
---
In-Ring: Daniel Bryan, The Miz
Daniel Bryan makes his way to the ring. A loud "Daniel Bryan" chant fires up. Bryan says people want to know why he wants to summon Bray Wyatt. Here's why:
Video Package: Daniel Bryan vs. Bray Wyatt
Bryan isn't out here to chant "YES" or lecture about climate change. Bryan is here to summon Bray Wyatt. Bryan says he won't pretend to know what happens in Wyatt's mind, but Wyatt doesn't know what's in his mind either. Before they have their title match on Sunday, they can talk face-to-face, man-to-man and clear the air. They can reminisce. If that doesn't sound like fun, they can fight.
The lights go out in the arena. They come back on, but it's only Bryan in the ring. The crowd boos. Bryan says clearly Wyatt doesn't want to fight. The Miz' music hits, and he comes out dressed to compete. Bryan says if there's one thing worse than The Fiend, it's The Miz. What is he doing out there? Miz says Bryan is not a professional. Bryan disrespected him on his own show. Bryan says he doesn't care and doesn't respect Miz. Miz says the feeling is mutual and can't wait for The Fiend to tear him apart at Survivor Series. Miz thought he could help Bryan with his flaws. Miz says he thought he could slap some sense into Bryan, but he couldn't so he'll just do part of that. Miz then slaps Bryan in the face.
Daniel Bryan vs. The Miz
We join this match in progress to see Miz kicking away at Bryan. Bryan blocks a kick and slaps him in the face. Bryan back body drops Miz out of the ring before hitting a flying knee off the apron. Bryan puts Miz in the ring and uppercuts him. Miz and Bryan exchange punches. Miz reverses a whip into the ropes and shoulder blocks him down. Miz connects with a big boot for a two count. Miz paces around the ring and hits a running boot to the face for a near fall. Miz applies a chin lock and cinches it in. Bryan gets out and kicks him down before hitting a pair of running dropkicks in the corner. Bryan goes for a third, but Miz counters with his patented corner clothesline. Miz comes off the top rope, but Bryan hooks the arm. Miz punches him to the corner, but Bryan soon backflips over him before hitting a running elbow strike. Bryan goes to the top rope, but Miz crotches him up there. Miz goes for a superplex, but Bryan fights him off. Bryan hits a missile dropkick and kips up. Bryan connects with some YES Kicks and the big one to the head. Bryan gets fired up and starts a "YES" chant, but the lights start going off. The lights come on, and "The Fiend" Bray Wyatt is sitting in the corner where The Miz was. A low pitch horn noise is heard throughout as Wyatt applies the Mandible Claw on Bryan. The lights go out.
No Contest
---
In-Ring: Shayna Baszler, Bayley
NXT Women's Champion Shayna Baszler makes her way to the ring. She calls out Bayley and says she doesn't need to hide in the shadows. Bayley attacks her from behind and beats her around ringside. Baszler applies a Kirifuda Clutch, but Bayley gets out and sends her into the steps. Bayley backs away, and Baszler looks psychotically toward her. Bayley runs away frightened.
---
Roman Reigns, Mustafa Ali, & Shorty G vs. King Corbin, Robert Roode, & Dolph Ziggler
Roman Reigns starts against Robert Roode, and Reigns punches Corbin and Ziggler off the apron. Reigns goes outside and hits a Drive-By Dropkick on Corbin. Ziggler attacks Reigns from behind, and Corbin throws Reigns into the barricade. Roode backs Reigns into the LED apron and puts him in the ring. Roode kicks Reigns in the back and tags Ziggler in. Reigns quickly fights Ziggler and Roode off. Reigns drops Roode with a Samoan Drop and tags Shorty G in. G dropkicks Corbin off the apron and kicks Ziggler down before hitting an exploder suplex on Roode. G hits a northern lights suplex on Ziggler for a near fall. G shoulders Ziggler, but Roode and Corbin flip G off the apron onto the commentary table!
We come back from the break to see Ziggler DDT Reigns down. Reigns soon gets away and tags Mustafa Ali in. Corbin tags in. Ali runs wild on Corbin and Ziggler. Ali hits Ziggler with a suicide dive before hitting a summersault plancha on Corbin. Ali gets Corbin in the ring, but Corbin attempts a Chokeslam. Ali gets out and catches Corbin with a tornado DDT. Ali goes to the top rope, but Roode gets involved. G attacks, but Roode gives him a spinebuster on the floor. Reigns hits a Superman Punch on Roode, but he's soon taken down. Ziggler knocks Ali off the ropes, and Corbin hits Ali with a Deep Six to pin him in his hometown.
Winners by Pinfall: Robert Roode, Dolph Ziggler, and King Corbin
In-Ring: NXT Invasion
Corbin goes to attack Ali with his scepter, but Reigns spears him. Team Raw makes their way to the ring through the crowd. Seth Rollins gets in the ring with Reigns. "CM Punk" chants pick up. Reigns and Rollins brawl before Team Raw gets involved. Braun Strowman runs down to save SmackDown. Strowman hits a bunch of running shoulders before getting in the ring. Raw and SmackDown are brawling. A loud "NXT" chant picks up.
We go backstage and see Triple H, Shawn Michaels, Tommaso Ciampa, Keith Lee, and Road Dogg driving a Jeep Wrangler into the ring a la DX 1998 along with the NXT roster. NXT runs down, and it's a massive brawl now! Lee is in the ring and he viciously hits Montez Ford with a Spirit Bomb. Strowman gets in the ring and faces off against Lee. They brawl to end the show.