December 9, 2019
Greenville, South Carolina
Commentary: Vic Joseph, Jerry "The King" Lawler, and Samoa Joe
Results by: Mike Tedesco of Wrestleview.com
---
Quick Match Results
Drew McIntyre defeated Matt Hardy via Claymore Kick
Raw Tag Team Championship: The Viking Raiders (c) defeated The Street Profits via the Viking Experience on Montez Ford
Aleister Black defeated Akira Tozawa via Black Mass
Humberto Carrillo defeated Andrade via victory roll
Buddy Murphy defeated Zack Ryder via Murphy's Law
2-on-1 Handicap Match: Becky Lynch defeated The Kabuki Warriors by DQ when Asuka hit Becky with a chair
Erick Rowan defeated a local talent via three Iron Claw Slams / ref stoppage
WWE United States Championship: Rey Mysterio (c) defeated AJ Styles via inside cradle after a distraction from Randy Orton
---
In-Ring: Rusev, Lana, Bobby Lashley
Jerry "The King" Lawler is in the ring and mentions we've watched the demise of Rusev's and Lana's marriage. Lawler is wearing a "King of Love" shirt. For the first time ever, he's here to preside over the signing of a divorce contract.
Lana makes her way to the ring with her lawyer. Lawler says the distance portion of the restraining order has been lifted for the proceedings, but everything else is still in effect to the fullest extent of the law. Rusev makes his way to the ring smiling. A "Rusev Day" chant picks up. Lana looks upset, but Rusev cheerfully greets the fans. She tells him not to interrupt her. Lana says she's wanted to say this for a very long time so he knows she used to love him. When the WWE Universe hated him and called him fat, she loved him over everyone. Rusev didn't say anything, yet she tells him to stop talking. Lana says Rusev turned out to be another statistic. Fame and fortune got to his head. When "Rusev Day" supporters chanted for him, it got to his head. Lana says Rusev isn't the reason the marriage failed. It's actually the entire WWE Universe.
Rusev says now they see how the marriage went. Lana needs to calm down. Rusev stands up, and she warns him to stay where he is otherwise he'll violate the restraining order and go to jail for a long time. Rusev says he needs to be protected these days.
Video Package: Footage is shown of Bobby Lashley and Lana being arrested in by Nashville detectives.
Rusev looks pleased with himself. Lana says he's the most selfish monster. She's the most ravishing Russian ever. No one compares to her. No one will ever love Rusev like she used to. Rusev will never find anyone like her again. Rusev says he hopes he never finds anyone like her again. Lana yells that it's his fault, as well as the WWE Universe's fault, that their marriage failed. Lana is just shouting nonsensically and falls to her knee.
Rusev happily says they should get to the point and sign the divorce papers. A "YES" chant picks up. Rusev says he'll sign first, but she says she'll do it. Rusev says it's always a competition. Lana tells the crowd to stop booing her. Lana and Rusev begin arguing over who is taking the dog… Lana finally signs. Rusev says he needs something from Lana before he signs. Lana asks if he wants to have sex again in the elevator, the ring, before a flight… Rusev is a sick man just like all the people. Rusev says he wants a match with her "hot, hot" boyfriend Bobby Lashley.
Bobby Lashley storms down to the ring and accuses Rusev of trying to make this a big joke on him and Lana. After this ridiculous divorce is over, he'll ask this woman to marry him. Rusev gladly gives Lana to Lashley. Lana is just bad. Rusev wants to live happily on "Rusev Day." Lana holds Lashley back while the crowd chants, "Rusev Day." Rusev says he'll sign as long as he can get Lashley anywhere. Rusev signs, and Lashley slams his head off the table. Lashley throws him out of the ring and throws Rusev into the barricade. Lashley throws him into the ring and gets inside. Rusev hits a kick to the face before slamming him through the table. Lana angrily gets in the ring and just screams at Rusev.
---
Backstage: Kevin Owens, Rey Mysterio
It appears @FightOwensFight just found himself an equalizer for when he finds @Akam_WWE & @Rezar_WWE…

Thanks, @reymysterio! #RAW pic.twitter.com/wMrO16sf2r

— WWE Universe (@WWEUniverse) December 10, 2019
Footage is shown of AOP attacking Kevin Owens last week.
Charly Caruso is backstage with Kevin Owens. She asks if he knows why AOP attacked him. Owens says AOP attacked him because Rollins told them to. Rollins talked down to everyone and Owens was the only one to step up. Owens was lucky to escape this week, but now it's unlucky for AOP. Owens is going to look for them.
Owens walks backstage before bumping into United States Champion Rey Mysterio. Mysterio says if Owens needs someone to watch his back, he'll help out. Owens says he can't ask Mysterio to get involved. Mysterio then says his "homie" is his lead pipe. Mysterio hands it to Owens and says it won't let him down.
---
Matt Hardy vs. Drew McIntyre
Before the match, Drew McIntyre says this show started a little depressing. WWE is all about putting smiles on faces. They need some good news. McIntyre announces Matt Hardy's wife gave birth to a third baby boy last week. McIntyre says he hears the kid is cross-eyed, but at least they know Hardy is the father. McIntyre has known Hardy for a long time. He's been successful in the ring, but outside the ring he hasn't always made the best decisions. Reproducing might not be the best decision in case any of the Hardys follow Daddy's footsteps. McIntyre will give Hardy and his family an opportunity. He'll allow Hardy to walk out the ring and live to fight another day so he can hold his child.
Hardy attacks McIntyre as he gets in the ring and connects with a Twist of Fate. The match has not started yet.
The bell rings, and Hardy punches McIntyre to the corner before hitting some clotheslines. McIntyre whips him into the ropes, but Hardy holds on and clotheslines McIntyre out of the ring. Hardy clubs McIntyre at ringside and goes for a Twist of Fate, but McIntyre shoves him into the ring steps. McIntyre gets him in the ring and punches away at him before stomping him. McIntyre viciously chops Hardy's chest before sending him to the corner. Hardy sidesteps him to put McIntyre into the ring post shoulder-first. Hardy connects with a Side Effect for a one count. Hardy signals for the end. McIntyre counters a kick, but Hardy counters into a backslide for a two count. McIntyre then annihilates him with a Future Shock DDT. McIntyre gets to his feet and sizes Hardy up. McIntyre connects with a Claymore Kick for the win.
Winner by Pinfall: Drew McIntyre
---
Backstage: Charlotte Flair, Becky Lynch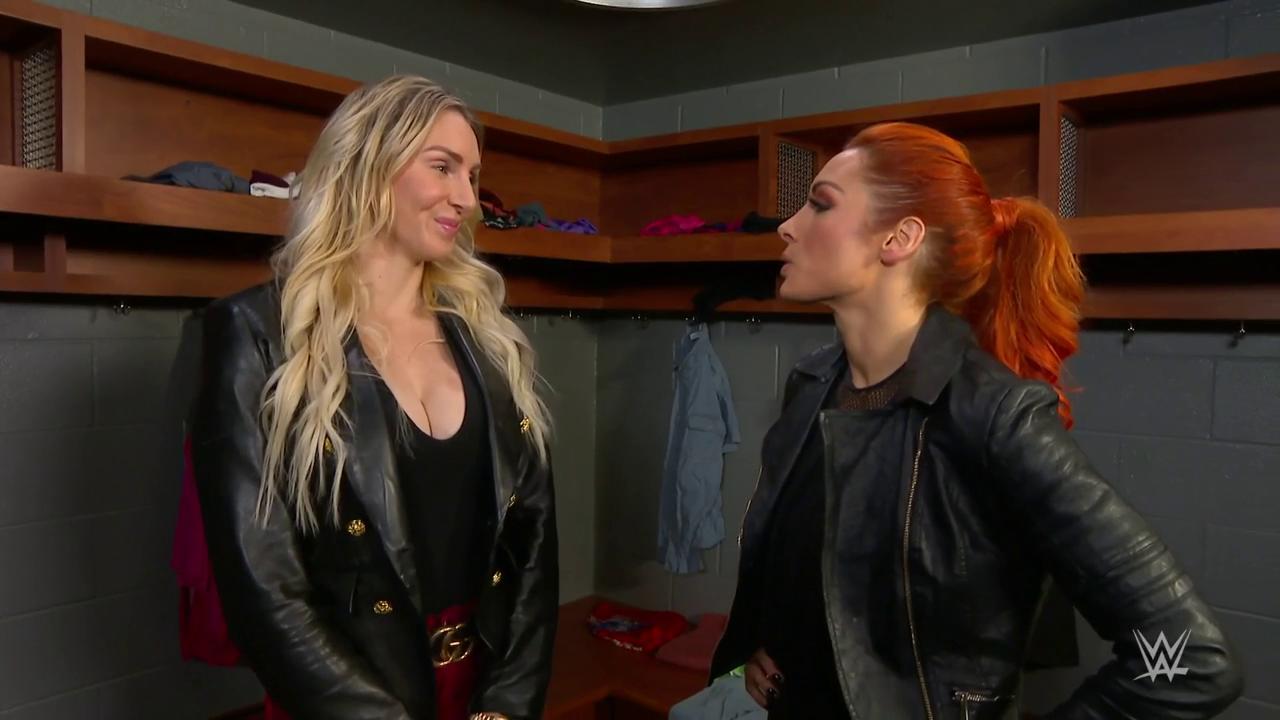 Footage is shown of Charlotte Flair nearly defeating The Kabuki Warriors in a 2-on-1 Handicap Match.
Earlier today, Charlotte Flair bumped into Becky Lynch in the locker room. Flair says she doesn't like Lynch. Lynch says the feeling is mutual. Flair says she doesn't like The Kabuki Warriors more. How would she like to be Becky 2 Belts again? Lynch says she'll take the opportunity to collect an old debt. Flair asks if that means she'll face them in a 2-on-1 Handicap Match. Lynch says she will.
---
Backstage: Kevin Owens, Mojo Rawley
Hilarious, @MojoRawleyWWE. #RAW @FightOwensFight pic.twitter.com/FgtEPufoTt

— WWE Universe (@WWEUniverse) December 10, 2019
Kevin Owens is calmly walking backstage asking where AOP is. Mojo Rawley points in a direction before stopping and saying they went in another direction. Rawley looks pleased with himself. Owens viciously slaps him in the face and lays him out. Owens says Rawley went that way and continues walking.
---
Raw Tag Team Championship
The Viking Raiders (c) vs. The Street Profits
Raw Tag Team Champions The Viking Raiders say they have looked for a challenge, but all they've encountered is victims. Now they're issuing an open challenge to any team that thinks they can take their gold. Let the raid begin.
The Street Profits make their way to the ring!
The bell rings, and Montez Ford immediately jumps over Erik going for flying knees. Angelo Dawkins tags in and spears Erik. Ford knocks Ivar off the apron and hits a summersault plancha. Dawkins hits Erik with a spinebuster and tags in Ford. Ford hits a frog splash and covers, but Ivar breaks it up. Ivar soon tags in and takes Dawkins down. Ford and Ivar do stereo cartwheels. Ford gets pumped up and eats a spin kick from Ivar for a near fall. Dawkins soon tags in and hits an exploder on Ivar. Ford and Dawkins go for a double-team, but Ivar runs through it and hits a handspring back elbow. Erik runs in and takes Ford down before viciously kneeing Dawkins in the face. They hit Ford with the Viking Experience for the win.
Winners by Pinfall and still Raw Tag Team Champions: The Viking Raiders
---
In-Ring: Seth Rollins, Kevin Owens, AOP, Sami Zayn, Mojo Rawley
The Street Profits get up and shake hands with The Viking Raiders. All of a sudden, Seth Rollins storms out to the ring to boos from the crowd. Rollins says he hates to interrupt, but he has to take care of something right now. They can stay out there while he does it. It's up to them. The Viking Raiders and The Street Profits walk off.
Rollins says he has unfinished business with the AOP. Rollins doesn't care if it's 2-on-1. He wants to fight the AOP right here and now. Kevin Owens comes to the ring with his lead pipe. Rollins says there is no need for the pipe. Owens says it isn't for Rollins — yet. It's for the AOP. They're not here. AOP aren't smart enough to hide from him. Owens asks when AOP will get here and they'll beat the hell out of him along with Rollins. Rollins says he has no association with them.
AOP all of a sudden drive up in a black SUV.
After commercials, Seth Rollins and Kevin Owens are still in the ring. Rollins warns Owens that the AOP is coming to kick his ass. Rollins wants to help, but Owens is too much. Rollins makes the unpopular decision to leave.
Owens calls out AOP. AOP appears on the screen. They talk in their native tongues before the screen goes black. Owens yells at them to come down to the ring. Owens is holding the pipe.
Sami Zayn comes out with Mojo Rawley. Zayn says he's a SmackDown star, but he applied for a managerial license to go back and forth to Raw and SmackDown. Owens knows Zayn isn't a manager or an agent. Zayn is a liberator. Zayn says he sets people free. Zayn says Owens has a lot on his plate with Rollins and the AOP. Zayn invites Rawley into the ring. Zayn says what he did to Rawley backstage was way out of line. Zayn slapped Rawley in the face and humiliated him. Rawley orders Owens to look at him. Zayn warns Rawley that Owens is holding a steel pipe. Rawley says everyone is tough with a steel pipe in their hand. Owens tosses the pipe to Rawley and gives him a Stunner. Owens then beats Rawley with the pipe and stands tall in the ring.
---
Backstage: Buddy Murphy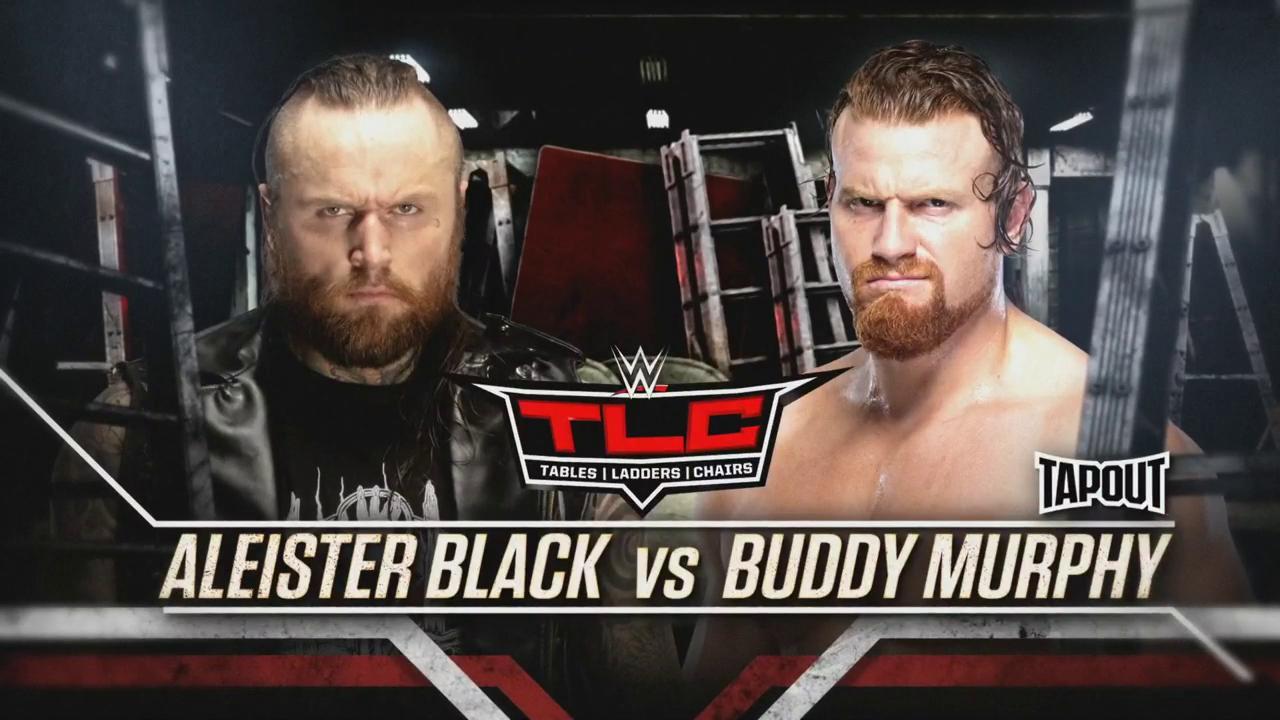 Buddy Murphy will face Aleister Black at WWE TLC this Sunday. Buddy Murphy says he wants everyone to understand that he's better than Aleister Black. He'll prove it this Sunday at WWE TLC.
---
Aleister Black vs. Akira Tozawa
The bell rings, and Black just coldly stares at Tozawa. They circle the ring and lock up. Black applies a side headlock, but Tozawa gets out with an arm wrench. Black twists out, but Tozawa takes him down and applies a chin lock. Black immediately pops up and wrenches the arm. Tozawa gets out, but Black quickly wrenches the arm and does a cartwheel. Black hits a spinning leg sweep to take him down. They circle the ring and lock up again. Black attacks the arm, but Tozawa pushes him off. Black hits a pair of arm drags followed by an arm wrench. Tozawa quickly gets away from a kick, and Black calmly sits in the center of the ring.
Black attacks Tozawa, but he runs into an elbow. Tozawa knocks Black out of the ring and tries for a suicide dive, but Black knees him in the face out of mid-air! Black gets Tozawa in the ring and viciously wipes him out with Black Mass for the win.
Winner by Pinfall: Aleister Black
Black calmly sits in the ring while the referee tends to the unconscious Tozawa behind him.
---
Backstage: Humberto Carrillo, Andrade
.@humberto_wwe REFUSES to be pushed around by @AndradeCienWWE & @Zelina_VegaWWE on #RAW! pic.twitter.com/6HI7RFfggg

— WWE (@WWE) December 10, 2019
Charly Caruso is backstage with Humberto Carrillo saying he will be a big piece of the future of this show. A highlight package is shown for Carrillo. She says Carrillo has accomplished a lot. Zelina Vega walks up and yells at Carrillo. Andrade then comes up and shoves Carrillo a few times. They shout at each other. Vega incredulously says, "Tonight?!"
---
Video: Liv Morgan
The makeover of Liv Morgan is happening soon.
---
Humberto Carrillo vs. Andrade
Andrade dropkicks Carrillo down before stomping away at him. Andrade chops the chest before kneeing him. Carrillo comes back with an arm bar, but Andrade quickly hits a back body drop. Andrade applies a chin lock. Carrillo fights up, but Andrade takes him back down for a two count. Andrade sends him to the corner, but eats a boot. Andrade fights back, but he lowers his head and eats a kick. Carrillo counters a leapfrog with a cross-body block. Carrillo hits a springboard arm drag to take him out of the ring. Carrillo then stands on the ring post and hits a moonsault block to the floor!
We come back from the break to see Carrillo hit a springboard cross-body block followed by a kick to the face for a two count. Carrillo clotheslines him in the corner and puts him on the top rope. Andrade sweeps the feet and hits a double stomp for a near fall. Andrade stomps him in the corner and goes for double knees, but Carrillo moves. Carrillo goes to the top rope for a missile dropkick. Carrillo grazes him with an Aztec Press for a two count. Carrillo elbows him off, but Andrade comes back with a wild back elbow for a near fall. Andrade smiles in disbelief.
Andrade goes for a moonsault, but he lands on his feet when Carrillo moves. Andrade immediately follows up with double knees to the face. Carrillo then wipes him up with a dropkick out of nowhere. Carrillo lifts him up, but Andrade elbows out. Carrillo then sidesteps Andrade, who accidentally knocks Vega off the apron. Carrillo then connects with a victory roll for the win!
Winner by Pinfall: Humberto Carrillo
This is the first loss for Andrade since coming over to Raw. The commentators are saying this is Carrillo's biggest win. Andrade and Vega argue in the ring.
---
Backstage: Rey Mysterio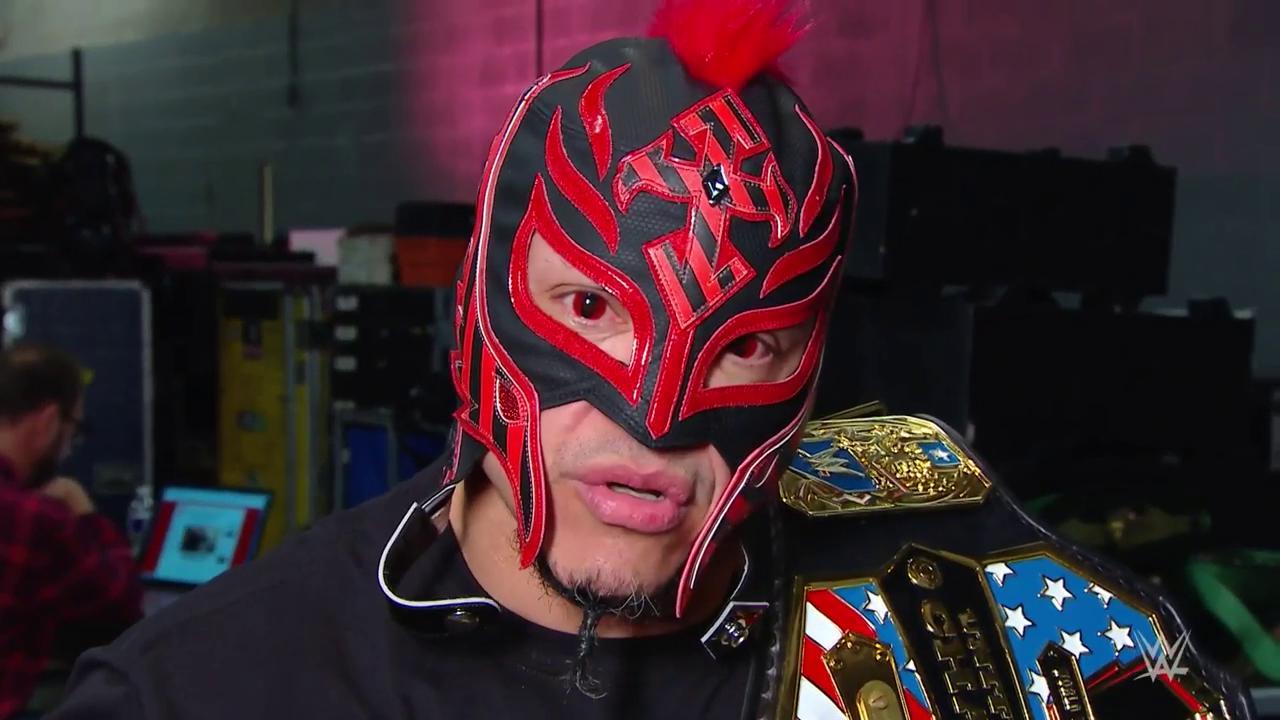 Rey Mysterio is backstage. Mysterio says this title is the culmination of his comeback when his son gave him his confidence back. If AJ Styles wins tonight, he'll shake his hand. Mysterio says he'll promise that he'll do everything to prove to his family and the WWE Universe that he's worth of being called Rey Mysterio and the United States Champion.
---
Backstage: Aleister Black
Aleister Black says Buddy Murphy will regret picking a fight with him.
---
Zack Ryder vs. Buddy Murphy
Murphy punches away at Ryder in the corner. Ryder boots him back, but Murphy knocks him off the second rope. Murphy kicks him in the back for a two count. Murphy attacks him with strikes for another two count. Ryder hits a face-buster and comes off the second rope with a missile dropkick. Ryder forearms him in the corner and knocks him out of the ring with a Broski Boot. Murphy wipes Hawkins out with a forearm. Ryder hits a baseball slide and puts Murphy in the ring. Murphy knees him in the face getting back in the ring and connects with Murphy's Law for the win.
Winner by Pinfall: Buddy Murphy
---
Backstage: Kevin Owens, AOP, Seth Rollins
Kevin Owens is still walking around backstage when he finds AOP's black SUV. Owens smashes the windows and mirrors with his lead pipe and breaks the lock to the back door. AOP then attacks him from behind and sends him into the garage door. AOP slams the door into Owens' face. Someone in a hood steps out of the SUV — it's revealed to be Seth Rollins! Rollins is sorry it came to this and gives Owens a Stomp on the concrete floor! Rollins walks off with AOP!
---
On-Stage: Seth Rollins, AOP
Seth Rollins comes out to the stage to boos. Rollins asks what they want from him. They used to see things eye-to-eye, but somewhere along the line it all went wrong. Why? Rollins did everything right. He doesn't take nights off, fights through injuries, and lays it all on the line for each and every one of them. Rollins sticks his neck out for the fans and gets spit on and disrespected in return. Rollins is sick of it. Rollins came out here last week and told Kevin Owens he had nothing to do with the AOP. That was the truth. The truth isn't good enough for them. They called him a liar. Why? Because some flavor of the month that couldn't lace his boots in Kevin Owens called him a liar. They jumped on the bandwagon. Rollins let it slide. Rollins again told the truth tonight that he had nothing to do with the AOP, but that's not good enough.
In 2019 what is good enough for the people? What does he have to do? Does he have to go into the ring and kill himself? He beat Brock Lesnar twice and brought the Universal Title back to Raw, but that was still not enough. The crowd boos him. If they want to push him, it's time for him to push back. Their negativity has become a self-fulfilling prophecy. That has turned the fiction into fact. It has turned him to stand-by-side with two men that understand. Rollins is standing side-by-side with AOP.
The Authors of Pain come out and stand with Rollins on the stage.
Footage is shown of Kevin Owens being loaded into an ambulance. Owens is bleeding from the mouth. They have trouble getting him into the ambulance.
---
2-on-1 Handicap Match
The Kabuki Warriors vs. Becky Lynch
Becky Lynch starts off against Asuka. Lynch stomps away at her in the corner before sending her across the ring. Lynch connects with a suplex. Asuka quickly rolls out of the ring to recover. A "Becky" chant picks up. Asuka quickly takes her down getting in the ring and chokes her in the corner. Asuka kicks her in the back for a two count.
We come back from the break to see Kairi Sane applying a chin lock to Becky Lynch. Lynch fights up and takes her down. Sane boots Lynch back and tags Asuka in. Lynch sidesteps Asuka and sends her out of the ring. Sane tags in, and Lynch takes them both down with punches and kicks. Lynch stomps Sane in the corner before kneeing Asuka back. Lynch hits Sane with a Bexploder. Asuka goes for a scoop slam, but Lynch counters. Lynch then hits The Kabuki Warriors with a DDT/Reverse DDT combo for a near fall.
Lynch goes to the top rope, but Asuka grabs the ankle. Sane pulls Lynch off the top rope and drops an elbow. Lynch soon takes out Sane and hits Asuka with a Bexploder. Asuka avoids a diving leg drop and applies an Asuka Lock. Lynch fights up and pulls Asuka to the corner. Lynch then applies the Asuka Lock on Asuka. Sane pulls Asuka out of the ring. Sane attacks Lynch and puts Asuka in the ring. Lynch sends Sane into the barricade before blocking a kick from Asuka. Lynch gets on the apron and jumps off, but Asuka knees her out of mid-air. All three women are down. Asuka and Lynch get in the ring. Asuka hits a sliding kick for a near fall.
They trade punches from their knees. Lynch counters a German Suplex and kicks Asuka in the midsection. Asuka reverses a whip and sends her into the corner. Sane gets a cheap shot in. Sane tags in. They connect with a Doomsday Device, but Lynch kicks out. Sane cannot believe it. Sane sets up for an InSane Elbow, but Lynch gets the knees up. Lynch goes for a Dis-Arm-Her, but stops to attack Asuka. They botch a slam. Lynch then applies a Dis-Arm-Her to Sane, but Asuka pulls Sane out of the ring. Asuka attacks Lynch at ringside before hitting her in the ribs with a steel chair.
Winner by Disqualification: Becky Lynch
Asuka slams the chair off Lynch's back. The Kabuki Warriors set up a table at ringside and lay Lynch on it. Sane then annihilates her with an InSane Elbow through the table at ringside! The Kabuki Warriors stand tall. The Kabuki Warriors walk off, but Lynch soon gets to her feet.
---
Backstage: The O.C.
Oh, #TheOC is pumped.@AJStylesOrg promises to END @RandyOrton's career if he tries to get involved with his #USTitle match against @reymysterio tonight! #RAW pic.twitter.com/ixKgEMs0TC

— WWE (@WWE) December 10, 2019
AJ Styles is backstage with The O.C. Styles says The O.C. will take the Raw Tag Team Titles soon. He will also get his US Title back.
---
Backstage: Becky Lynch, Charlotte Flair, Kabuki Warriors
Becky Lynch is getting iced up backstage when Charlotte Flair comes up to her. Lynch agrees to team with her.
Flair walks off, and The Kabuki Warriors attack her from behind with a steel chair. Flair appears to have a cut on her scalp from the attack.
---
Erick Rowan vs. Local talent
The jobber quickly leaves the ring at the sound of the bell and runs off with the cage. The jobber puts it down at the top of the stage and runs away. Rowan angrily chases him and checks on the cage. The jobber gets back in the ring and looks for a count-out. Rowan angrily runs down to the ring and hits a running cross-body block.
Rowan hits the jobber with three Iron Claw slams before the referee calls off the match.
Winner by Referee Stoppage: Erick Rowan
Rowan hits him with a fourth Iron Claw slam before asking what is wrong with this person. Rowan retrieves the cage on stage and talks to it.
---
Backstage: The Kabuki Warriors
Did @WWEAsuka & @KairiSaneWWE just challenge @BeckyLynchWWE & @MsCharlotteWWE to challenge THEM for their @WWE #WomensTagTitles at #WWETLC?! #RAW pic.twitter.com/1A82leRUMe

— WWE (@WWE) December 10, 2019
Charly Caruso stops The Kabuki Warriors backstage. She asks what is next for them. They shout in Japanese. Caruso asks them to translate. Asuka says they challenge Becky Lynch and Charlotte Flair this Sunday with the titles on the line.
---
Backstage: Becky Lynch, Charlotte Flair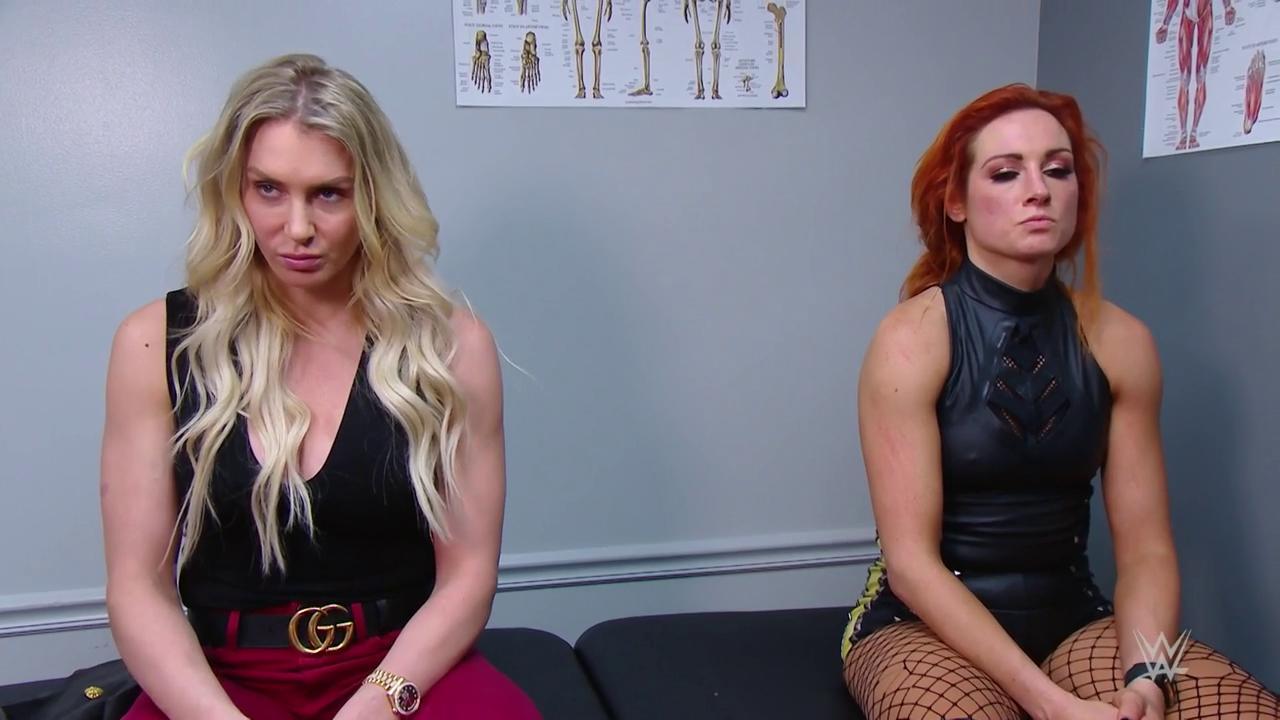 Becky Lynch and Charlotte Flair are sitting in the trainer's room. They agree to team in a TLC Match this Sunday.
---
Segment: The Street Profits
The Street Profits are doing a knockoff of Weekend Update from Saturday Night Live. It's called "The Monday after Weekend Update." They do some jokes with some canned laughter in the background. They recap the events of tonight and what's coming on Sunday at WWE TLC.
---
WWE United States Championship
Rey Mysterio (c) vs. AJ Styles
Styles starts out aggressively before Mysterio sidesteps him. Mysterio takes him down and they do some chain wrestling. Mysterio knocks Styles out of the ring and hits an Asai Moonsault. Mysterio gets him in the ring, but Karl Anderson and Luke Gallows of The O.C. walk out. Styles then sends Mysterio into the ring post.
We come back from the break to see Styles counter a springboard cross-body with a dropkick out of mid-air for a near fall. Gallows and Anderson are at ringside. Styles slides Mysterio out of the ring, landing him on his sternum. Mysterio pulls himself into the ring before being counted out. Styles chops the chest in the corner before whipping him to the opposite corner. Styles goes for an avalanche, but Mysterio moves. Styles boots him back, but Mysterio soon knocks him off the apron. Mysterio then hits a sunset flip powerbomb into the barricade! Both men pull themselves into the ring before being counted out.
Mysterio forearms him back and hits a head-scissor takeover. Styles drops Mysterio onto the apron. Mysterio knocks him back and hits a springboard seated senton. Mysterio drops a leg for a near fall. Mysterio gets the crowd going before going for a springboard moonsault. Styles catches him, but Mysterio counters into a tornado DDT for a near fall. Styles reverses a whip to the corner, but Mysterio hits a boot. Mysterio charges, but Styles lays him out with an alley-oop. Mysterio quickly crawls through the legs and hits an enzuigiri. Styles drops into position. Mysterio goes for a 619, but Gallows sacrifices himself. Mysterio kicks Anderson back. Styles catches Mysterio with a vicious ushigoroshi for a near fall.
Styles goes to the top rope, but Mysterio sweeps the feet. Mysterio goes for a super hurricanrana. They botch a second rope Styles Clash. Styles viciously powerbombs Mysterio before hitting a Styles Clash. Randy Orton gets in the ring and winks at Styles. The copyright logo comes on the screen. Mysterio catches Styles with an inside cradle. The referee counts to three and the show immediately ends.
Winner by Pinfall and still WWE United States Champion: Rey Mysterio