December 15, 2019
Minneapolis, Minnesota – Target Center
---
Quick Match Results
Kickoff Show: Humberto Carrillo defeated Andrade via moonsault (12:45)
WWE SmackDown Tag Team Championship Ladder Match: The New Day (c) defeated The Revival via Kofi grabbing the belts (19:20)
Aleister Black defeated Buddy Murphy via Black Mass (13:45)
WWE Raw Tag Team Championship: The Viking Raiders (c) vs. Anderson & Gallows was a double count out (8:30)
Tables, Ladders & Chairs Match: King Corbin defeated Roman Reigns via End of Days after interference by Dolph Ziggler and The Revival (22:20)
Bray Wyatt defeated The Miz via Sister Abigail (6:40)
Tables Match: Bobby Lashley defeated Rusev via belly to belly suplex through a table (13:30)
WWE Women's Tag Team Championship Tables, Ladders & Chairs Match: The Kabuki Warriors (c) defeated Becky Lynch & Charlotte Flair via Asuka grabbing the belts (26:00)
---
Kickoff Show
Humberto Carrillo vs. Andrade
Andrade got busted open and was bleeding pretty badly from near his left eye halfway through the match, and had marks on the left side of his body. The crowd was pretty into this match. Late in the match, Zelina got on the apron and Andrade shoved Carrillo at her, but he stopped short. Andrade then ran at Carrillo, but he ducked and Andrade almost hit Zelina, but also stopped short. Andrade went to the top rope, but Humberto followed him up and hit him with an inverted Frankensteiner. He then went to the top and hit a moonsault for the win.
After the match, Zelina Vega tried to help Andrade up, but he wanted nothing to do with her, and walked out on his own.
Winner: Humberto Carrillo (12:45)
---
WWE SmackDown Tag Team Championship
Ladder Match
The New Day (c) vs. The Revival
A few minutes in, Kofi tried to climb the ladder, but the Revival shoved him off… but he balanced on the top rope and jumped off and nailed Dawson with a tornado DDT, then hit Wilder with Trouble in Paradise. Kofi tried to climb up the ladder again, but The Revival got up and nailed him with a Shatter Machine from halfway up the ladder. The Revival tried to climb up, but Big E ran in and tossed Dawson into the ring post, then speared Wilder off of the apron to the floor.
Later, Big E set up a ladder horizontally on the middle rope and another ladder in the ring, but Dawson grabbed him and suplexed him on top of the horizontal ladder, then Wilder hit him with a top rope splash through the ladder.
The Revival both tried to climb up the ladder, but Kofi chased them up… but they smashed his face on the ladder repeatedly, leaving his body almost lifeless, hanging from the ladder. Big E ran up and hit Wilder with a cool Big Ending from the middle of the ladder. Kofi came back to life and punched Dawson, knocking him off of the ladder onto another horizontal ladder below. Kofi grabbed the belts and picked up the win for The New Day.
Winners: The New Day (19:20)
---
Backstage: King Corbin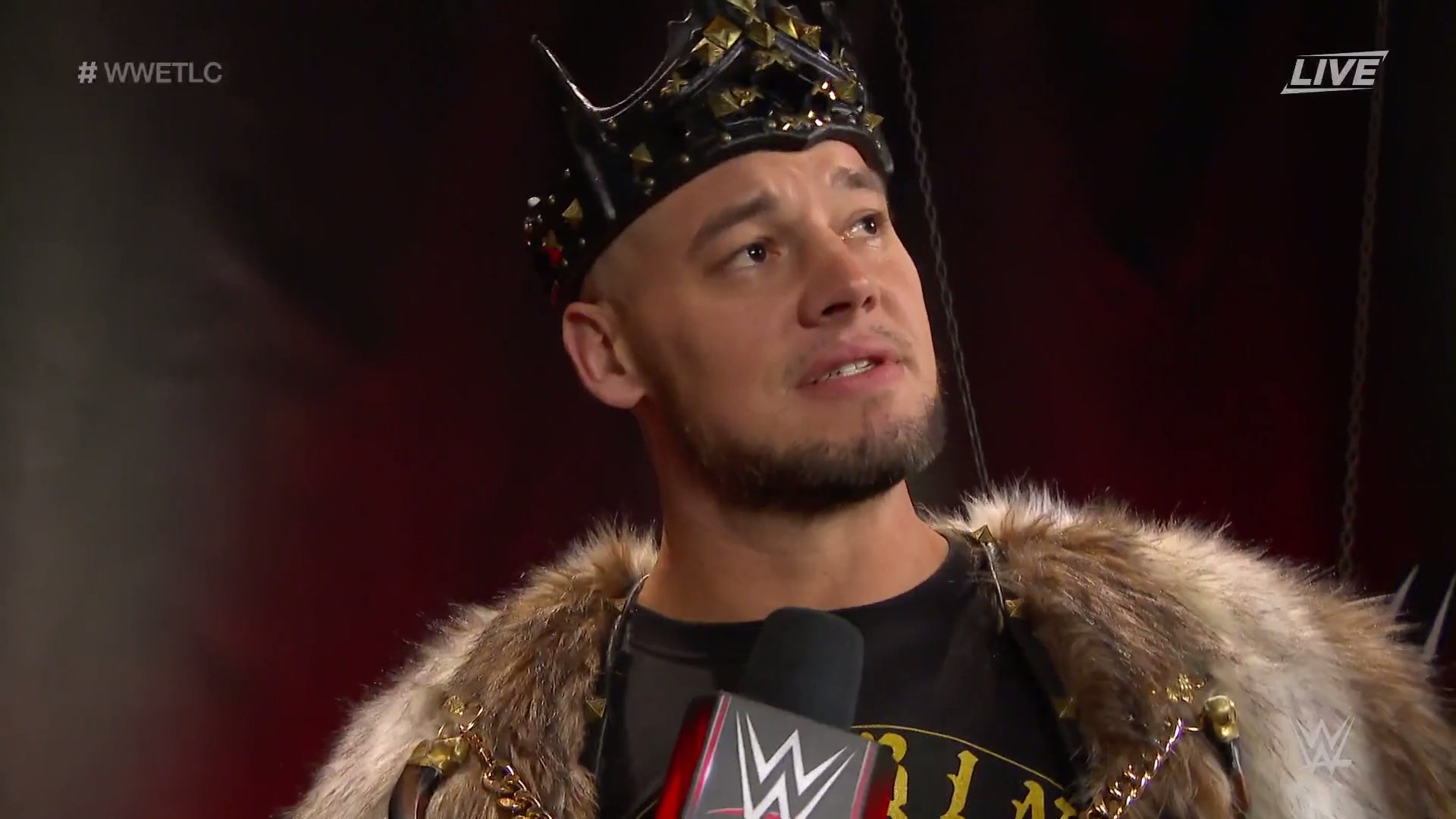 Corbin was interviewed backstage and said that he has Roman Reigns right where he wants him, and Reigns will bend the knee to his king tonight.
---
Aleister Black vs. Buddy Murphy
Murphy sat cross-legged in the ring after his entrance, mocking Black. Black made his entrance and also sat cross-legged, staring down Murphy.
Black's nose was dripping blood a couple of minutes into the match, and there were drops of blood all over the ring. Murphy grabbed Black's jacket from ringside and started to put it on in the ring, but Black ran in and went after him. Commentary kept talking about Black's jaw being hurt after Black was dropped face-first onto the ring steps.
A few minutes in, Murphy hit Black with several superkicks in the face, then hit him with a sit-out powerbomb for a near fall, which got the crowd into it.
They exchanged kicks and kick attempts at a rapid pace, then Black suddenly nailed him with a Black Mass… 1-2-3. Really good match.
Winner: Aleister Black (13:45)
---
Backstage: Rusev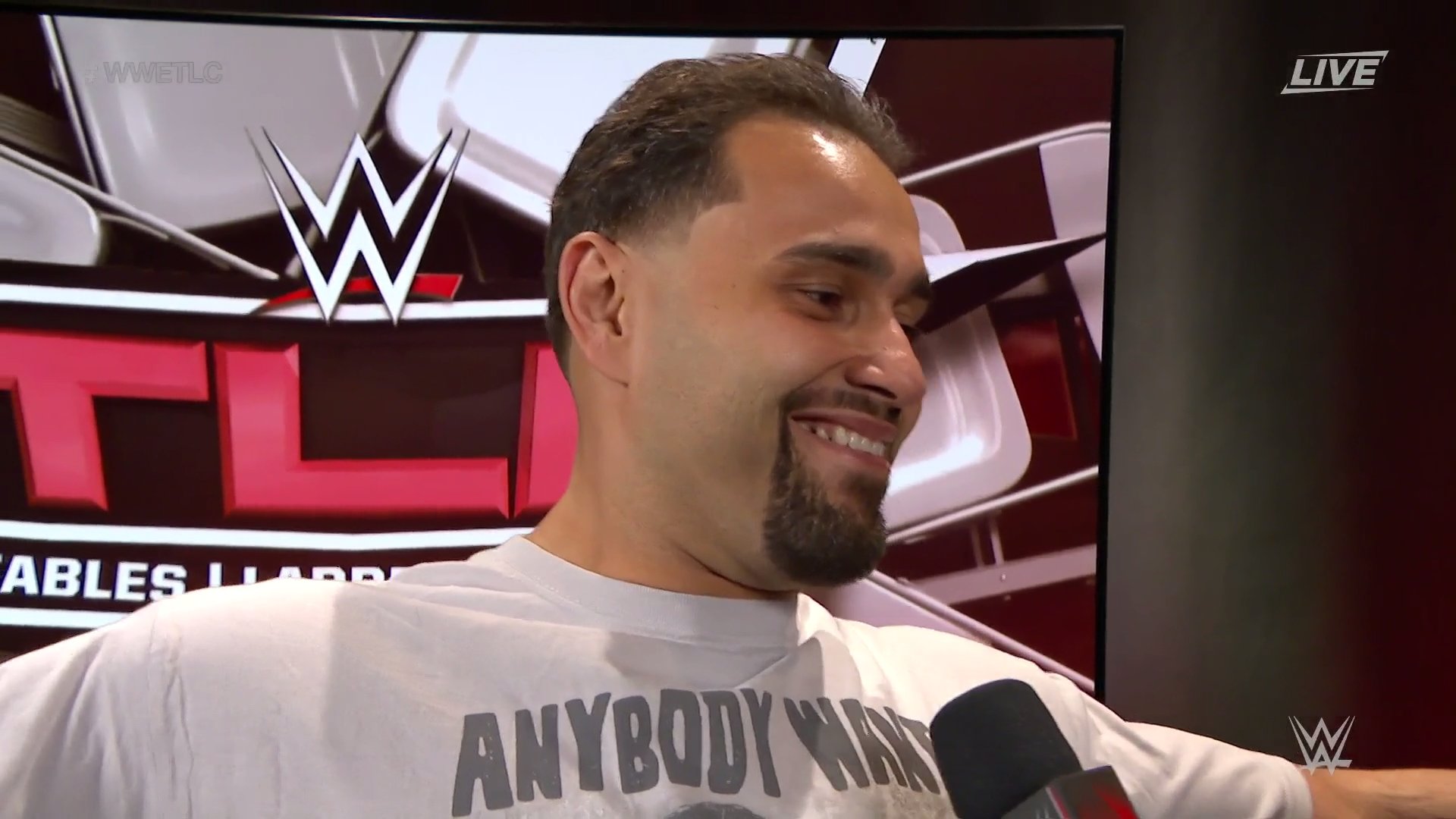 Rusev was asked about Lashley saying that he's going to propose to Lana. Rusev said that he's elated because by law, if his ex-wife gets married, he doesn't have to pay alimony. He said that he's back and he may be single, but he's not alone because every day is Rusev Day.
---
WWE Raw Tag Team Championship Open Challenge
The Viking Raiders (c) vs. Anderson & Gallows
The Viking Raiders issued an open challenge and The OC came out. Anderson said that they're the only team to beat the Viking Raiders, winning the tag team gauntlet match at Crown Jewel. They said that they're the best tag team in the world and they have a trophy to prove it.
Anderson and Gallows worked over Erik for a while until he tagged in Ivar. A few minutes in, the Viking Raiders hit the Viking Experience on Anderson, but Gallows broke up the pin.
They went to the outside and Ivar hit a suicide dive onto Gallows and Anderson… and the referee counted them both out. This match fucking sucked. A below average standard boring WWE tag match with a horrendous ending.
Double count out (8:30)
There was a KFC ad placement at ringside, with four fans eating KFC at a table. After the match, Anderson dragged the table over to put the Viking Raiders through it, but they ended up putting Anderson through it instead. Whatever.
---
Backstage: The Miz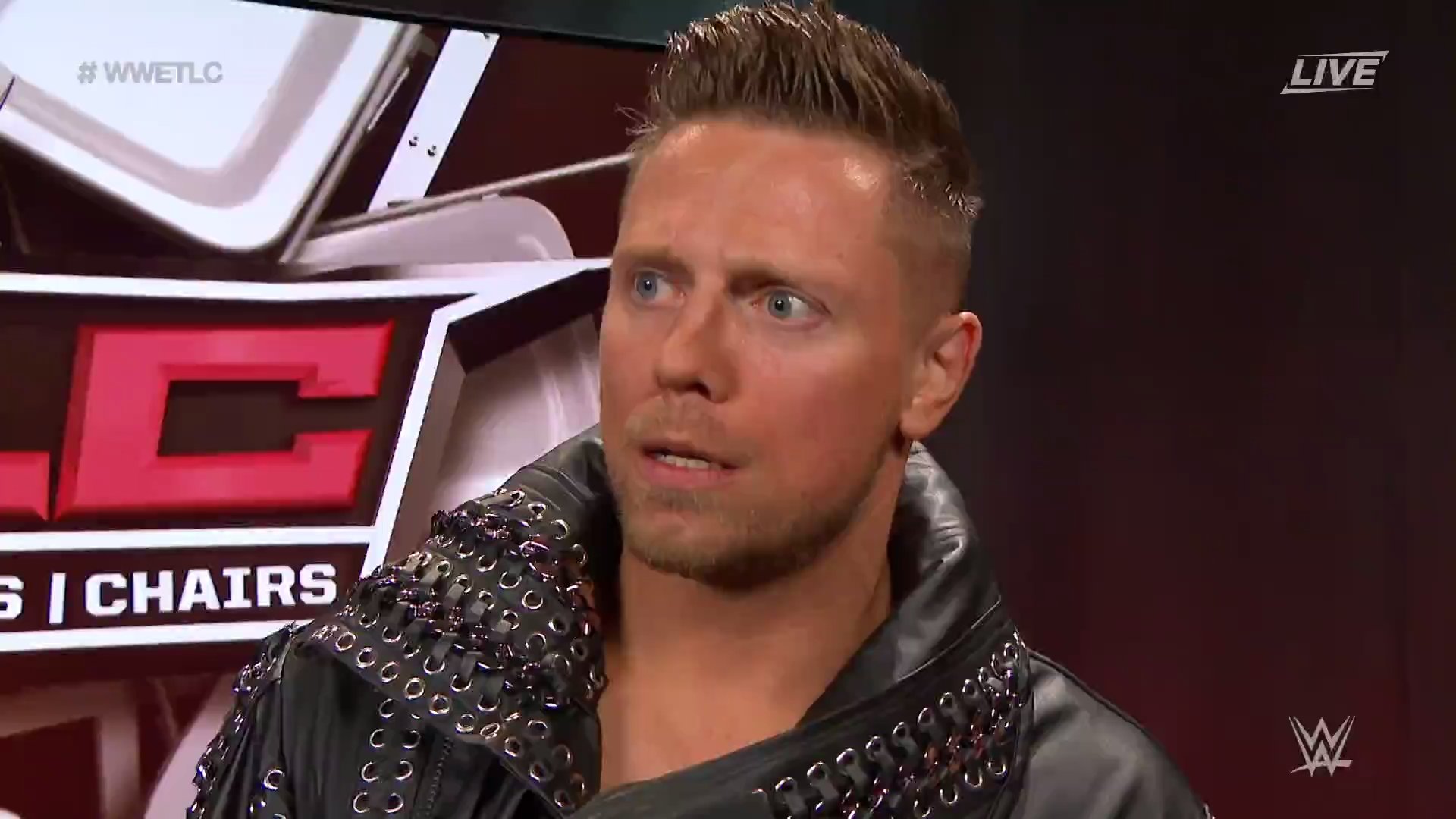 Backstage, The Miz said his match against Wyatt is the most important match of his life and he's fighting to protect his family.
---
Tables, Ladders & Chairs Match
Roman Reigns vs. King Corbin
Corbin's security and henchmen ran at Reigns as he made his entrance, but Reigns made quick work of them. Reigns was fired up early in the match, but Corbin gained control about a minute in, then slowly pounded on Reigns around the arena for what felt like 10 minutes.
Reigns finally suddenly hit Corbin with a Superman punch. But Corbin grabbed a can of dog food from under the ring and hit Reigns, then chokeslammed him through a table. Corbin picked him up on top of the announce table, but Reigns countered and hit Corbin with a Samoan drop through the table.
Dolph Ziggler suddenly came out from under the ring and superkicked Reigns. Reigns was able to get up and take out Corbin and Ziggler though. A bunch of Corbin's security ran down but Reigns took them all out with a kendo stick.
The Revival then ran down and attacked Reigns… but Reigns took them out also, and hit a dive over the top onto everyone. Reigns set up for a spear on Corbin, but Ziggler got up and hit him with a Zig Zag. Shatter Machine by The Revival on Reigns.
End of Days by Corbin. 1-2-3. This PPV feels like it has been on for like 4 hours but it's only 8:40.
Winner: King Corbin (22:20)
---
Bray Wyatt vs. The Miz
Regular Firefly Fun House Bray Wyatt entered to the Firefly Fun House theme music. He had a big smile on his face, got on top of the announce table and said that he's really excited. Wyatt played to the crowd and got a big pop. Really great entrance.
The bell rang and The Miz immediately attacked Bray as Bray pleaded with him to take it easy.
Wyatt suddenly went for Sister Abigail after basically trying no offense, but Miz countered and hit the Skull Crushing Finale. He then slammed Wyatt's face into the mat as Wyatt laughed. Miz grabbed Wyatt's arm… Wyatt screamed "do it!" And Miz "snapped" Wyatt's arm. Wyatt rolled out of the ring and slammed his own shoulder into the crowd barricade.
Miz ran at Wyatt on the outside, but Wyatt moved and tossed Miz over the barricade… then he hit Miz with Sister Abigail on the outside. At the count of 9, Miz rolled into the ring and Wyatt hit him with another Sister Abigail for the win.
Winner: Bray Wyatt (6:40)
Suddenly, The Fiend appeared on the Titantron. Wyatt looked up with a smile and said, "OK, I'll do it." He grabbed a giant cartoon mallet from under the ring and stared at The Miz…
Suddenly, the lights started to go out… Wyatt excitedly shouted "he's here!"
Suddenly, Daniel Bryan, wearing a hoodie, appeared in the ring and hit Wyatt with a running knee. He took off the hood and revealed a short haircut and trimmed beard. Bryan nailed Wyatt with Yes Kicks in the corner, then another running knee. The crowd chanted "Yes!" Bryan stomped on Wyatt's head repeatedly.
Bryan grabbed the giant mallet and went to hit Wyatt, but the lights went out again. When they came back on a few seconds later, Wyatt was gone. Bryan slammed the mallet on the ring mat and led a "Yes" chant in the corner.
---
Tables Match
Rusev vs. Bobby Lashley
They wrestled at a slow pace for the first 10 minutes, each trying to put the other through a table. Rusev brought over a metal barricade to ringside, but Lashley ended up putting him through it. Lashley repeatedly hit Rusev with a kendo stick, leaving a couple of pretty nasty welts on his back. Rusev blocked a kendo stick shot, then hit Lashley with a few shots, then hit him with a Machka kick.
Suddenly, Lana ran in and got up on Rusev's back. Lashley hit a spear on Rusev into a table in the corner, but it didn't break. He then hit Rusev with an overhead belly to belly through another table in the corner for the win. Not sure about this one. The crowd was mostly dead, which made this feel pretty boring, but it was OK.
Winner: Bobby Lashley (13:30)
---
Backstage: The Street Profits
An ALL-OUT BRAWL has broken out backstage after @WWERomanReigns and King @BaronCorbinWWE were seen continuing their fight! #WWETLC pic.twitter.com/g6cwV3uHGQ

— WWE (@WWE) December 16, 2019
Backstage, the Street Profits said that Lashley should get a vasectomy, but they were quickly interrupted by a backstage brawl between Roman Reigns, Baron Corbin, The Revival, The New Day, Dolph Ziggler and others.
---
WWE Women's Tag Team Championship
Tables, Ladders & Chairs Match
The Kabuki Warriors (c) vs. Becky Lynch & Charlotte Flair
A few minutes in, Kairi tried to run under the ring, but Becky and Charlotte grabbed her… but when they dragged Kairi out, she sprayed them with a fire extinguisher.
Later, the Kabuki Warriors tied Becky Lynch to a ladder with a rope on the outside. They attacked Charlotte 2 on 1 for a few minutes until Becky finally was able to break free. Becky hit Asuka with a middle rope leg drop through a table on the outside.
This match feels unbelievably long, like it is never going to end. The crowd is just standing around eerily silent.
At one point, Charlotte powerbombed Kairi through a table on the outside and it looked like Kairi may have been hurt (on either this move or at some other point). Charlotte went for a top rope moonsault, but Asuka climbed up and powerbombed her off of the middle rope through a table on the outside.
Later, Becky went to climb up the ladder, but there was a rope attached to it and Asuka pulled it down from the outside. Asuka climbed up the ladder and grabbed the belts for the win.
The dead crowd made this match feel brutal to watch. Just felt so insanely long. This was probably one of the worst PPVs of the year.
Winners: The Kabuki Warriors (26:00)
---
Segment: Brawl
😱😱😱😱

The locker room has emptied and a massive brawl is underway after tonight's #WWETLC main event!!!! pic.twitter.com/Vd8mivV2mV

— WWE (@WWE) December 16, 2019
Roman Reigns, Baron Corbin and a bunch of other guys from the locker room brawled to ringside after the last match. Reigns and Corbin fought on an elevated area in the crowd, then Reigns speared Corbin off onto the other wrestlers below as the PPV went off the air.