January 20, 2020
Wichita, Kansas
Commentary: Vic Joseph and Jerry "The King" Lawler
Results by: Mike Tedesco of Wrestleview.com
---
Quick Match Results
WWE United States Championship – Ladder Match: Andrade (c) defeated Rey Mysterio
Aleister Black defeated a local talent via Black Mass
Drew McIntyre defeated Randy Orton by DQ when The O.C. attacked McIntyre
Becky Lynch defeated Kairi Sane via Dis-Arm-Her
Raw Tag Team Championship: Seth Rollins & Buddy Murphy defeated The Viking Raiders (c) via The Stomp by Rollins on Erik to win the titles
Erick Rowan defeated Matt Hardy via Iron Claw Slam
Bobby Lashley & Lana defeated Rusev & Liv Morgan via spear by Lashley on Rusev
---
In-Ring: Seth Rollins, Buddy Murphy, AOP, Kevin Owens, Samoa Joe, The Viking Raiders
Seth Rollins, AOP, and Buddy Murphy make their way to the ring. Rollins says he wants the booing crowd to know something. Rollins says every single person out there has played a small part in making him the man he is today. Without them, there is no Monday Night Messiah. Rollins thanks the crowd for believing in him and for their support. The crowd boos more. For all the faith they placed in him to lead Monday Night Raw into the future as the premiere show of WWE, he's forever in their debt.
There's someone Rollins needs to specifically thank. Last week, this man opened his eyes and embraced his fate. Rollins puts his arm around Buddy Murphy. Murphy was courageous and brave. Murphy rose up and stands firmly etched on the right side of history.
Video Package: Buddy Murphy saves Rollins and AOP last week on Raw
Rollins introduces the newest disciple of the Monday Night Messiah, Buddy Murphy. Rollins and Murphy embrace in the ring. Kevin Owens and Samoa Joe were trying to stop progress and even brought Big Show out of hibernation, but the plan failed. The future is inevitable. This is fate. We've reached a crucial time. What kind of people do they want to be? The locker room needs to make a decision. The battle lines are drawn. You're either with them or you're against them. For those that stand in opposition…
Kevin Owens' music interrupts Rollins. Owens walks out to the stage. Samoa Joe's music hits, and he comes out to stand next to Owens. Owens says Rollins talks too much. Rollins wants to gloat about taking out The Big Show, which is a big task. Big Show will be back to deal with Rollins eventually. The bigger problem Rollins has is he didn't get rid of them. The good people of Kansas agree with him when he says he's tired of Rollins' voice. Owens says, "Less talking, more fighting!" Rollins says they can fight, but not right now. They need to decide on a proper time and a proper place. Samoa Joe asks if his eyes deceive him. Joe says he thinks he sees a self-proclaimed Monday Night Raw, but what he hears is a lawyered up ass-hat. Rollins says he is a forgiving man. It's in his nature as a human. The AOP… not so much. If the two of them are hellbent on coming down to fight the four of them, then there's not much left to say except "come on down and dance with destiny." Joe says one of the side effects of being an ass-hat is his listening skills aren't that good. They're ready to fight, but they're not the only ones. Raw Tag Team Champions The Viking Raiders join Owens and Joe before marching down to the ring.
A huge brawl breaks out, and Rollins immediately bails out of the ring. Owens hits Akam with a Stunner. Joe hits a vicious one-armed slam to Murphy. Joe, Owens, and The Viking Raiders stand tall in the ring as the crowd loudly cheers them.
Backstage: Seth Rollins, Buddy Murphy, AOP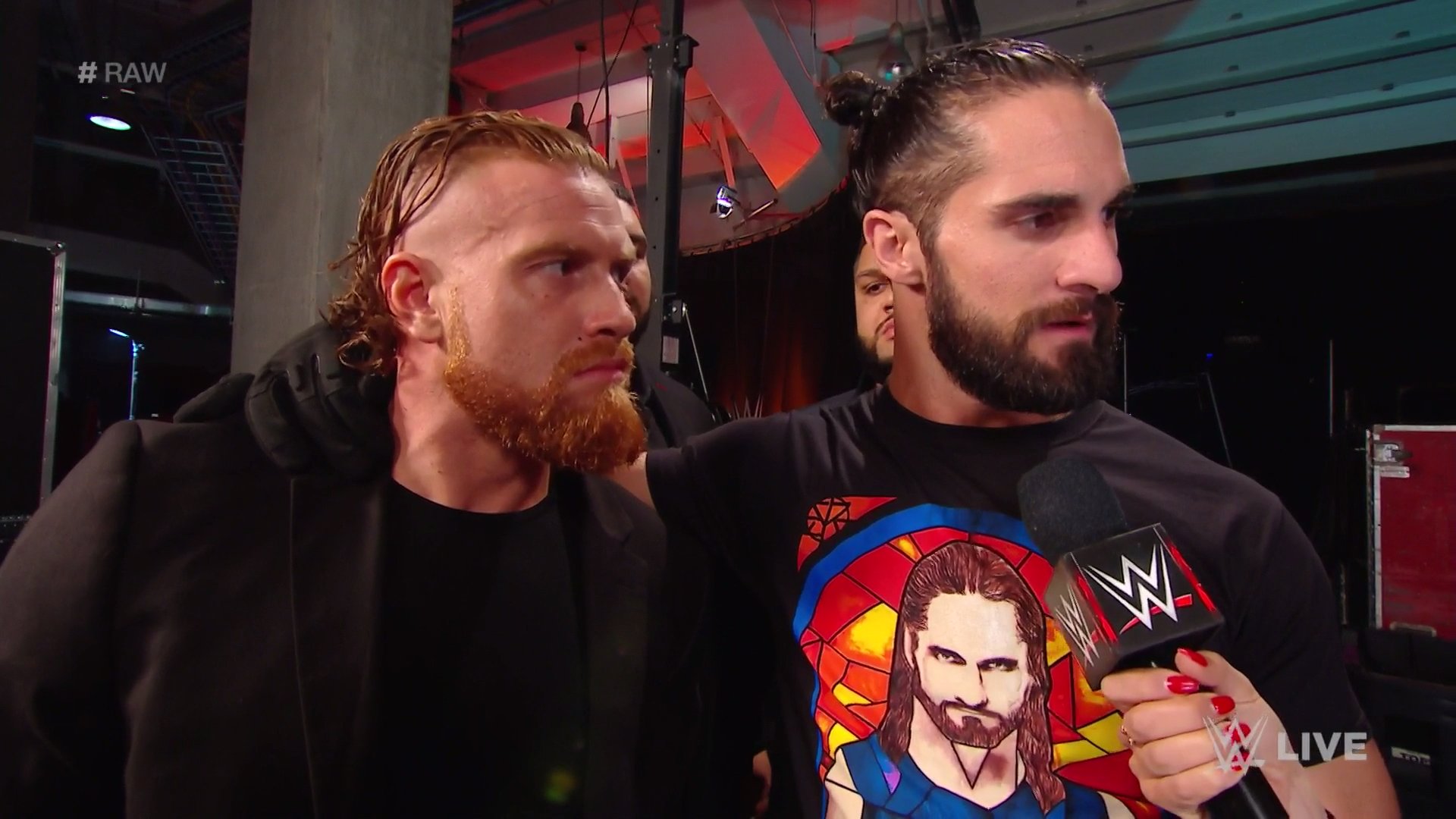 After commercials, Seth Rollins is with AOP and Buddy Murphy. Charly Caruso says it appears they were "caught off guard by the element of surprise." Rollins says they weren't caught off guard. They're taking the Raw Tag Team Titles from the Viking Raiders tonight. Rollins and Buddy Murphy will do it.
---
WWE United States Championship – Ladder Match
Andrade (c) vs. Rey Mysterio
Rey Mysterio leaves the ring to grab a ladder, as does Andrade. Andrade puts a ladder on the apron, so Mysterio dropkicks it into him. Mysterio goes for a hurricanrana off the apron, but Andrade catches him and swings him into the barricade. Andrade puts a ladder in the ring before putting Mysterio in. Andrade puts him on the top rope for a superplex onto the ladder, but Mysterio fights it and holds on. Mysterio counters into a super hurricanrana off the top rope onto the ladder! Andrade landed on the ladder at a bad angle! Wow!
We come back from the break to see Andrade trying to whip Mysterio into a ladder leaning in the corner. Mysterio punches him back before Andrade sends him to the corner. Andrade charges, but Mysterio ducks and Andrade crashes and burns over the top rope to the floor. Mysterio goes to the top rope for a flying seated senton to the floor! Zelina Vega looks horrified. Mysterio gets him in the ring and kicks him before hitting a springboard seated senton. Mysterio goes for a springboard moonsault, but Andrade catches him. Mysterio counters into a head-scissor takeover into the ladder in the corner. The ladder falls forward, and Mysterio scrambles to get out of the way.
Mysterio baseball slides Andrade out of the ring. Mysterio sets a ladder up and starts to climb. Andrade gets in the ring and pulls Mysterio down before going for the Three Amigos, with the final one on a ladder! Andrade sets up a ladder bridge from the ladder in the middle of the ring to the middle rope. Andrade grabs Mysterio, but Mysterio knocks him back. Mysterio puts him on the top rope and goes for a super hurricanrana, but Andrade puts the brakes on. Andrade then hits Mysterio with a powerbomb off the top rope onto the ladder bridge!
We come back from the break to see two ladder bridges set up in both corners to the ladder in the center of the ring! Mysterio counters a splash mountain bomb into a hurricanrana into the ring post. Mysterio starts to climb the ladder, but Andrade soon starts climbing to cut him off. Mysterio had his hands on the United States Championship. They punch it out on top of the ladder before Andrade sets up for a Gory Bomb. Mysterio counters into a Code Red through one of the ladder bridges!
Mysterio soon knocks him into the middle rope and hits the 619! The crowd is going wild. Mysterio starts climbing the ladder and grabs the title, but Andrade moves the ladder. Mysterio is swinging high above the ring. Andrade grabs the ankles. Mysterio drops down for a hurricanrana, but it's mistimed and Mysterio lands hard on his back. Mysterio quickly gets to his feet and gives Andrade a back body drop over the top rope. Zelina Vega climbs the ladder and slaps Mysterio a few times. Andrade gets back in the ring and hits a Hammerlock DDT through the ladder bridge! Vega is stunned in the ring.
Andrade struggles to get out of the wreckage of the ladder. Andrade struggles to get up and starts to climb the ladder. Andrade climbs the ladder and pulls the United States Championship down to retain.
Winner and still WWE United States Champion: Andrade
Andrade and Vega celebrate in the ring. Vega goes outside and pulls the ringside mat back to expose the concrete floor. Andrade throws Mysterio outside. Andrade goes for a Hammerlock DDT, but someone with a Rey Mysterio mask jumps the barricade. It's Humberto Carrillo. Carrillo and Andrade brawl before Andrade retreats.
---
Video: Dr. Martin Luther King, Jr. Tribute
Hero. #MLKDay pic.twitter.com/HNCnoqo0Nm

— WWE (@WWE) January 21, 2020
Video Package: WWE honors the great Dr. Martin Luther King, Jr.
---
Aleister Black vs. a local talent
The bell rings, and the jobber charges Black. Black immediately floors him with Black Mass for the win!
Winner by Pinfall: Aleister Black
---
In-Ring: Brock Lesnar, Paul Heyman, Ricochet
WWE Champion Brock Lesnar makes his way to the ring with Paul Heyman. Footage is shown of Lesnar wiping out R-Truth last week. Heyman is not only the soothsayer of the spoiler, he's the advocate of the reigning, defending, undisputed WWE Heavyweight Champion of the world, Brock Lesnar. Heyman thinks the entire WWE Universe takes what Brock Lesnar does for granted. Heyman delivers the spoiler. Lesnar does the impossible and everyone thinks it's just because he's Brock Lesnar. Heyman says he said Lesnar would come out and eliminate 29 other unworthy superstars… and everyone agrees.
Heyman hopes they understand how unprecedented this all is. This Sunday, it starts with a champion beast in Brock Lesnar. Entrant Number Two will engage in physicality with Brock Lesnar. Whether Lesnar dispatches of that soul or not, another person will come out at an intermittent interval. Everyone will go over the top rope and both feet will hit the floor. Lesnar has vowed that 29 other contracted competitors will go over the top rope with both feet hitting the floor. One man will stand victorious and his name is Brock Lesnar. The crowd boos. Why, though? The winner gets to pick which champion to face at WrestleMania. Lesnar has deemed that there is not one person in that locker room that is worthy of main eventing WrestleMania, let alone any PPV, against Brock Lesnar.
Heyman asks the crowd who they think they are booing Lesnar. Do they really believe in their heart of hearts that there is anyone… anyone in WWE or anywhere else that is worthy of stepping in the ring with Brock Lesnar.
Ricochet comes out to the stage. Ricochet says Heyman comes out week after week spewing words about Brock Lesnar being the first in the Royal Rumble match. Ricochet has heard the whispers. Some are afraid to get in the ring with Lesnar. Every time he jumps off the top rope, takes a dive or a risk could be his last. Ricochet isn't afraid. Heyman says he got his vocabulary in Wichita (loud boos), so he'll explain. Lesnar is a hungry man while Ricochet is lunchmeat. Ricochet says he'll stay where he is. Ricochet says he's not afraid to get in the ring with Lesnar. Ricochet gets in the ring and says he is not afraid to challenge Lesnar to a fight right now.
Lesnar laughs at Ricochet. Lesnar walks by Ricochet and leaves the ring. Ricochet asks if he's scared. Lesnar stops and gets in the ring. Lesnar walks up to Ricochet and kicks him in the groin. Lesnar grabs the microphone and simply says, "Not scared." Lesnar and Heyman walk off, leaving Ricochet gasping for breath.
---
Backstage: Randy Orton
Charly Caruso is backstage with Randy Orton. She asks him about Drew McIntyre. Orton says McIntyre is a hell of a guy and talent. He's got a hell of a future and has done a hell of a job, but he's not on par with him. It's hard to be on par with someone that can strike anytime and anywhere with the most dangerous letters in sports entertainment: R-K-O.
---
Randy Orton vs. Drew McIntyre
The bell rings, and they circle the ring before locking up. McIntyre powers him into the corner before backing off. McIntyre soon takes Orton down with a shoulder tackle, so Orton rolls out of the ring to recover. McIntyre happily poses in the ring. Orton gets back in the ring, and McIntyre applies a side headlock. Orton whips him off, follows him in, and hits a shoulder tackle of his own. They stand across the ring from one another. McIntyre says, "Ok, ok…" McIntyre powers him to the corner and punches him before viciously chopping him in the corner. Orton is frozen. McIntyre whips him to the opposite corner, but Orton pops out with a clothesline. Orton clotheslines him over the top rope before giving McIntyre two back suplexes on the barricade. McIntyre fights out of a third and sends him headfirst into the ring post. McIntyre sets up for a Claymore Kick, but Orton moves and he hits the timekeeper instead! Doctors run down to get the timekeeper.
We come back from the break to see McIntyre come off the top rope, but Orton dropkicks him out of mid-air. They get to their feet, and McIntyre punches him back. Orton responds with a kick and an uppercut. They slug it out in the center of the ring before McIntyre chops him three times. Absolutely brutal. Orton simply pokes him in the eyes. McIntyre big boots him back and charges, but Orton drops him on the apron. Orton gets absolutely pumped up as he hits a draping DDT. Orton stalks McIntyre and goes for an RKO, but McIntyre shoves him off and hits a Glasgow Kiss to take him down.
McIntyre shoves him to the corner and hits a belly-to-belly overhead suplex for a near fall. McIntyre hits a suplex and kips up. McIntyre has the crowd countdown for the Claymore Kick, but Orton counters with a powerslam for a near fall. Orton puts McIntyre on the top rope and punches him. Orton connects with a huge superplex and rolls out of the ring to recover. All of a sudden, The O.C. runs down to the ring and attacks McIntyre. The referee leaves the ring. McIntyre tries to fight them off, but AJ Styles chop blocks him. Orton runs in with a steel chair to make the save. McIntyre hits Anderson with a Claymore Kick while Orton hits Gallows with the chair. Styles escapes the ring.
Winner by Disqualification: Drew McIntyre
Orton and McIntyre are standing in the ring face-to-face. Orton is still holding the chair. There's a lot of tension, but Orton throws the chair aside. Orton talks to him before walking off. McIntyre looks pleased, but Orton drops him with an RKO out of nowhere. Orton walks off.
McIntyre grabs a microphone and calls him Randall Keith Orton. The microphone isn't working. McIntyre says he should have Claymore Kicked Orton. That one is on him. That's why they call it the RKO out of nowhere. It'll never happen again. Here's what will happen this Sunday. McIntyre prays they end up in the Royal Rumble together. The Claymore Kick won't come out of nowhere. Orton will have his head kicked off his shoulders. McIntyre will main event WrestleMania.
---
Backstage: Charlotte Flair, Becky Lynch
.@MsCharlotteWWE is feeling confident on #RAW about the Women's #RoyalRumble Match, but #TheMan @BeckyLynchWWE was listening closely… pic.twitter.com/1AJU0rcTgW

— WWE (@WWE) January 21, 2020
Charly Caruso interviews Charlotte Flair. Flair says she's prepared to fight anyone or anything. Raw Women's Champion Becky Lynch walks up and smiles before walking off. Flair says she was eliminated by someone that shouldn't have been in the match. This year, she's winning.
---
Becky Lynch vs. Kairi Sane
A replay showcases Asuka spraying mist in Becky Lynch's eyes last week. Lynch says Asuka should be doubting herself. Lynch may have lost to Asuka at the Royal Rumble last year, but she won in the end. Lynch made history while Asuka made soup on YouTube. She's not afraid of Asuka anymore.
Sane mocks Lynch, so Lynch takes her out with a straight right hand. Lynch takes her down at ringside and confronts Asuka. Sane attacks Lynch, but Lynch comes right back. Asuka then clips the knee.
We come back from the break to see Sane applying a chin lock. Asuka is sitting on the top turnbuckle watching, which is allowed for some reason. Lynch fights up and hits a jumping heel kick. Asuka shouts instructions from the top rope. They trade punches before Lynch hits an uppercut. Sane hits a running forearm, but Lynch hits a pair of clotheslines and a shoulder block. Sane avoids an avalanche, but Lynch puts her on the apron. Sane punches her back and comes off the top rope with a flying forearm for a two count. Lynch avoids a back fist and kicks her. Lynch takes her down and hits a flying leg drop for a near fall. Lynch goes for the Dis-Arm-Her, but Sane fights out. Sane covers for a near fall.
Lynch kicks Sane and goes for a suplex, but Sane counters into a DDT for a near fall. The referee tells them to hurry up. Lynch knocks Sane onto the apron and sends her into the ring post. Lynch jumps off the apron with a forearm. Lynch knocks Asuka off the top rope and hits Sane with a Bexploder. Lynch applies the Dis-Arm-Her for the win.
Winner by Submission: Becky Lynch
Asuka immediately hits a shining wizard and locks Lynch in the Asuka Lock. Asuka lets go and kicks her in the head. Asuka leaves the ring celebrating with Kairi Sane.
---
Video: Tribute to Rocky Johnson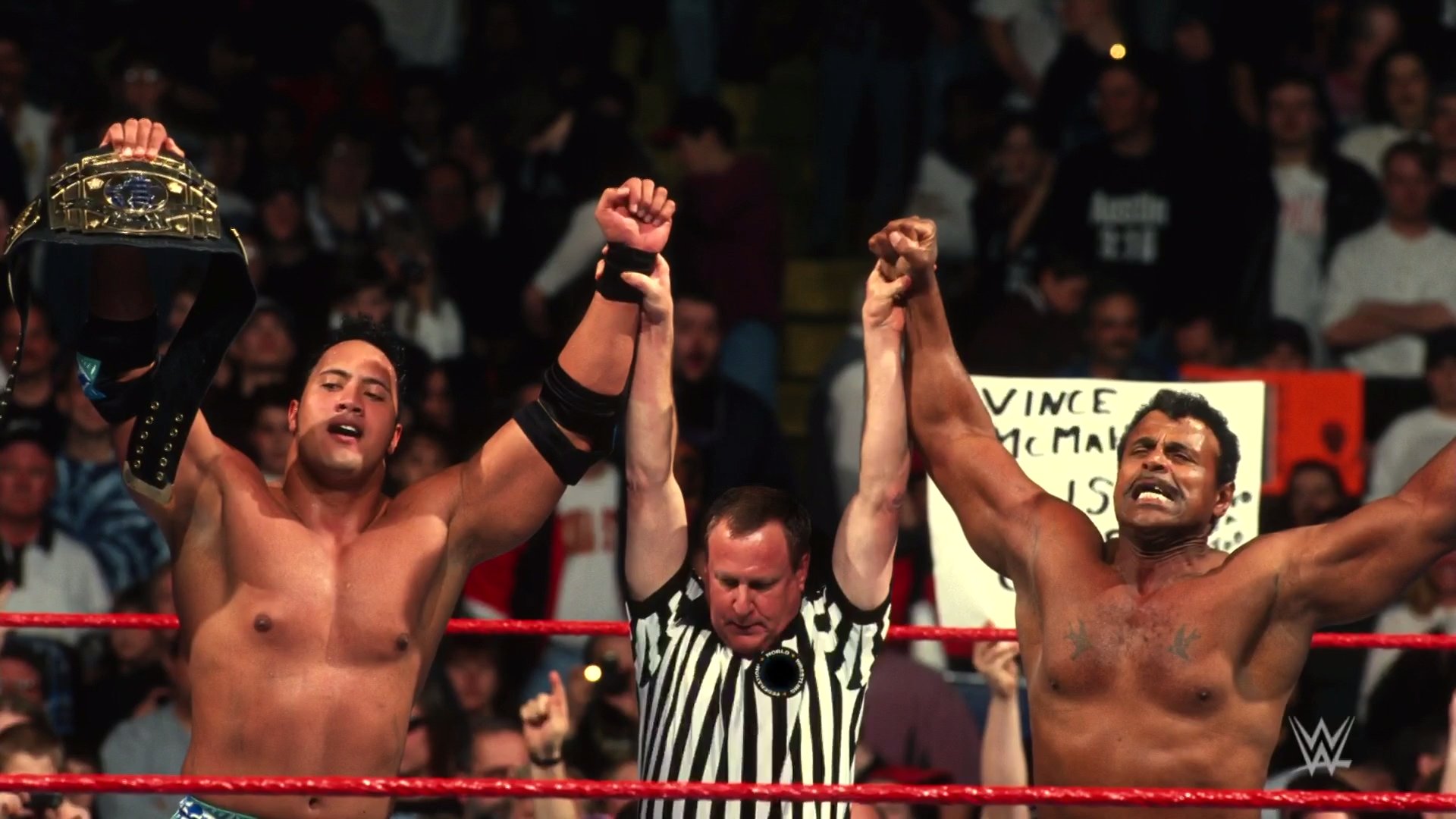 Jerry "The King" Lawler talks about facing Rocky Johnson years ago and will miss him.
Video Package: Rocky Johnson: 1944 – 2020
---
Backstage: Asuka, Kairi Sane
Read her lips.#RAW @WWEAsuka pic.twitter.com/sx51T2UYlQ

— WWE Universe (@WWEUniverse) January 21, 2020
Sarah Schreiber finds Asuka and Kairi Sane backstage. They shout in Japanese before Asuka says, "Becky Lynch is not ready for Asuka!"
---
Raw Tag Team Championship
The Viking Raiders (c) vs. Seth Rollins & Buddy Murphy
The Viking Raiders quickly take Buddy Murphy down. Erik scoop slams Ivar onto Murphy. AOP gets on the apron, so Samoa Joe and Kevin Owens pulls them off the apron. They brawl through the crowd.
We come back from the break to see Rollins and Murphy taking Erik down. Erik gives Murphy a wild back body drop over the top rope. Erik then sends Rollins out of the ring. AOP, Owens, and Joe have been ejected from ringside. Rollins and Murphy pull Ivar off the apron. Murphy attacks Erik and hits a brainbuster. Rollins connects with a frog splash for a near fall. Rollins cannot believe it. Murphy tags in and hits a strike combo before Erik flips him over and knees him in the face.
Ivar and Rollins tag in. Ivar turns Rollins inside out with a shoulder before hitting a sidewalk slam and splash on Murphy. Ivar takes Murphy out and tags Erik in. Murphy was tagged in. Rollins interrupts the Viking Experience. The Viking Raiders knock Rollins and Murphy out of the ring. They then connect with stereo suicide dives. They get Murphy in the ring and hit the Viking Experience, but Rollins breaks it up. Rollins gets Erik out of the ring. Murphy attacks Ivar, but Ivar puts him on the top rope. Murphy fights out and goes for a sunset flip powerbomb. Rollins tags in and kicks Ivar. Murphy superkicks Ivar before hitting a double-team powerbomb. Rollins covers Ivar for a near fall. Rollins tags Murphy in. They send Ivar into the ropes, but her runs through them and hits a handspring double back elbow.
Erik tags in, and he viciously powerbombs Murphy. Ivar goes to the top rope, but Rollins flips him off the top rope onto the apron and floor! Murphy kicks Erik into the ropes. Rollins hits Erik with a Stomp on the apron. Murphy covers Erik for the win!
Winners and new Raw Tag Team Champions: Seth Rollins and Buddy Murphy
Rollins and Murphy hug AOP on the stage. They pose triumphantly.
---
Backstage: Seth Rollins, Buddy Murphy
What's next on @WWERollins' list?

Winning the #RoyalRumble Match for the SECOND year in a row! #RAW pic.twitter.com/15veNRW519

— WWE (@WWE) January 21, 2020
New Raw Tag Team Champions Seth Rollins and Buddy Murphy are backstage with AOP. Rollins says this is just the beginning. This Sunday, he's winning the Royal Rumble two years in a row.
---
Segment: The Street Profits, R-Truth
The Street Profits do a Monday After the Weekend Update segment with a laugh track and R-Truth calling in from Houston.
---
Erick Rowan vs. Matt Hardy
Hardy starts attacking Rowan at the sound of the bell, but Rowan quickly takes him down. Rowan drops an elbow and hits a big splash. Rowan knocks Hardy out of the ring and brings him near the cage. Rowan puts his hand in the cage, but the thing bites him again. Rowan's hand is bleeding. Rowan angrily slams the cage onto the steps. Hardy attacks Rowan, but Rowan wipes him out with a running cross-body block on the floor. Rowan gets Hardy in the ring and gives him an Iron Claw Slam.
Winner by Pinfall: Erick Rowan
---
Backstage: Kevin Owens, Samoa Joe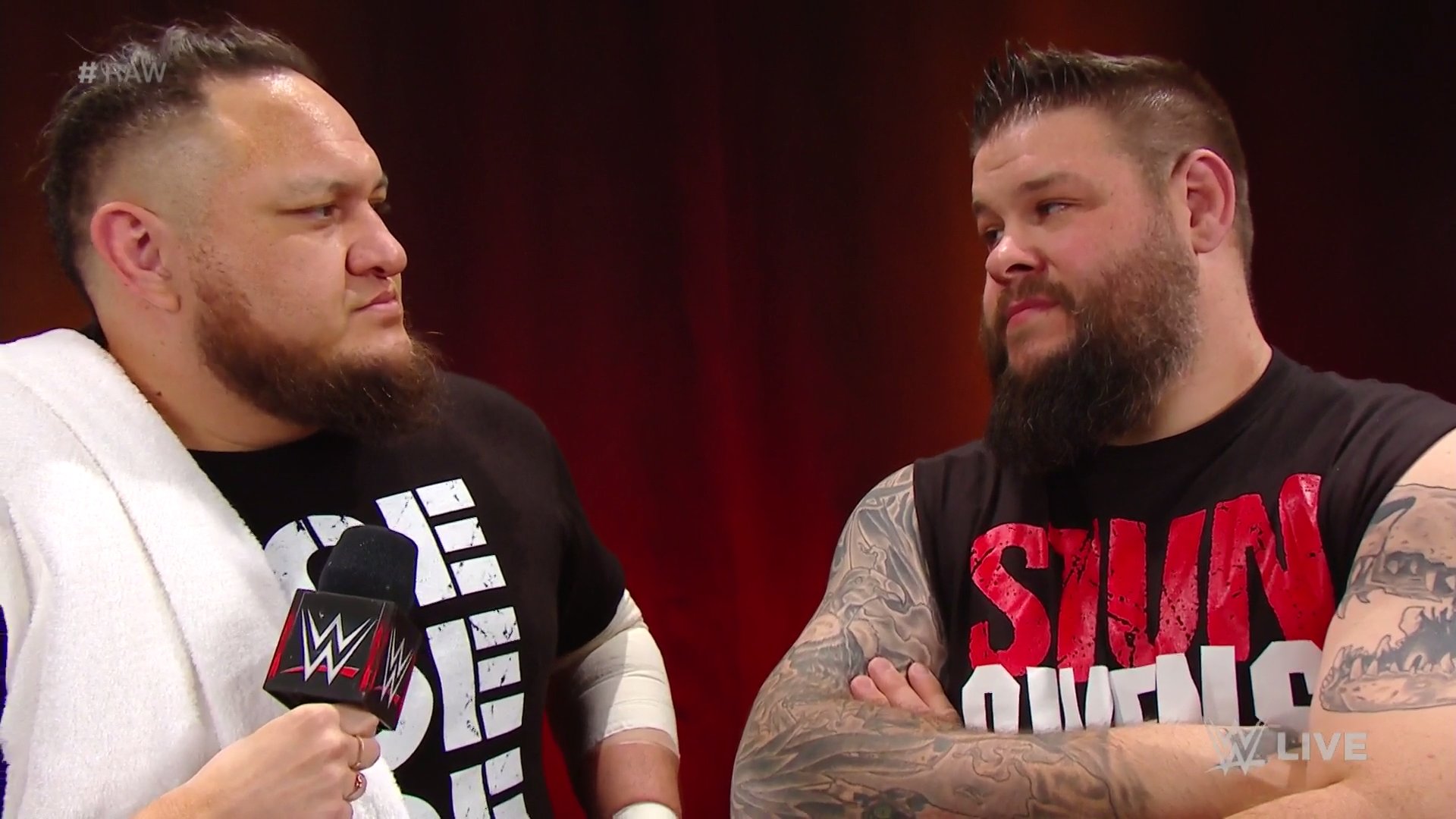 Sarah Schreiber is with Kevin Owens and Samoa Joe. Owens says Rollins and Murphy winning the Tag Titles is a problem they'll take care of eventually. Owens hasn't had anything in common with Rollins and Murphy except that he's in the Royal Rumble with them. Samoa Joe says he's for transparency so he's entering the Royal Rumble. It's a match that's the epitome of every man for himself. He'll be by Owens side against Rollins, but if Owens is in his way to WrestleMania, he'll run right through him.
---
Backstage: Mojo Rawley, The Singh Brothers
The @SinghBrosWWE just learned that the #247Champion @MojoRawleyWWE has no time for games or tricks on #RAW! pic.twitter.com/SlrD6N52zk

— WWE (@WWE) January 21, 2020
Charly Caruso is backstage with WWE 24/7 Champion Mojo Rawley. The Bollywood Boys try to take the title, but he thwarts the attack.
---
Bobby Lashley & Lana vs. Rusev & Liv Morgan
Bobby Lashley and Lana make their way to the ring. Lana says Rusev Day is canceled. Lana says everyone is jealous their love. They are a love story for the ages. Lana says the crowd should thank them. She can't wait for Bobby to embarrass he stupid ex-husband and she'll take care of the coattail riding Liv Morgan.
Liv Morgan chases Lana around the ring before getting in the ring. Lana attacks and shouts that she's the best wrestler in the world. Morgan takes her down and hits a dropkick. Lashley distracts Morgan, and Lana kicks her in the head for a two count. Lana connects with a suplex for another two count. Lana talks trash and slaps Morgan. Morgan slaps her back, so they hit each other with a double clothesline.
Rusev tags in and runs wild over Lashley before hitting a Samoan Drop. Rusev hits an overhead belly-to-belly suplex before getting fired up. Lana gets on the apron behind Rusev. Lashley goes for a blindside, but Rusev moves. Lana gets a cheap shot in, and Lashley viciously takes Rusev down. Morgan breaks up the pin. Morgan hits an enzuigiri on Lashley. Rusev sets up for the end, but Lana grabs the ankle. Lashley spears Rusev for the win.
Winners by Pinfall: Bobby Lashley and Lana