January 3, 2020
Memphis, Tennessee
Commentary: Michael Cole and Corey Graves
Results by: Roy Nemer of Wrestleview.com
---
Quick Match Results
Triple Threat: Lacey Evans & Dana Brooke defeated Sasha Banks & Bayley and Alexa Bliss & Nikki Cross via senton by Dana on Sasha
Chad Gable defeated Dash Wilder via ankle lock
Kofi Kingston defeated The Miz via rollup
Otis defeated Drew Gulak via second rope splash
Braun Strowman defeated Cesaro via powerslam
Roman Reigns & Daniel Bryan vs. King Corbin & Dolph Ziggler was no contest when Bray Wyatt and The Usos interfered
---
Backstage: Daniel Bryan, The Miz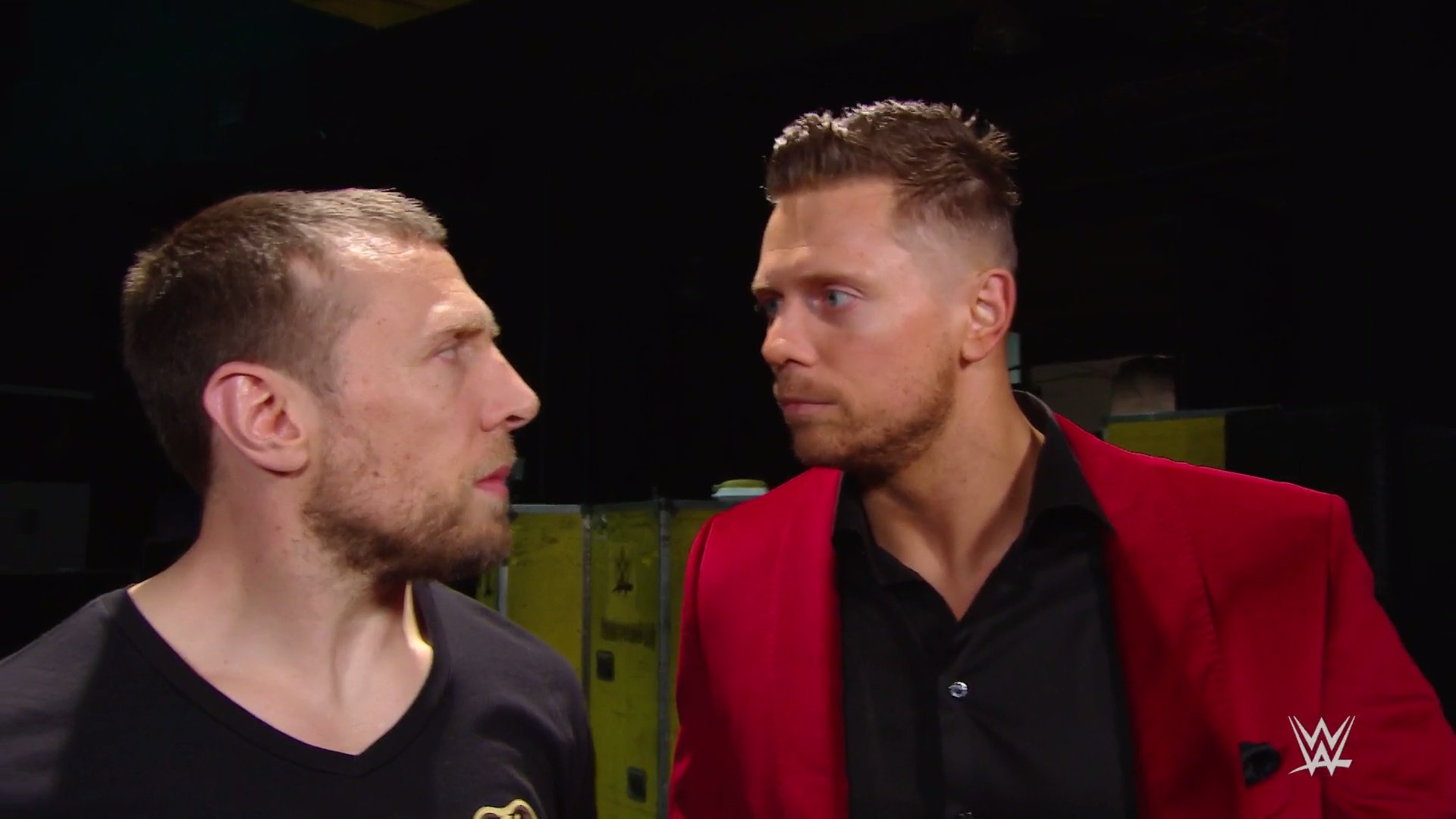 We see Daniel Bryan backstage and in comes The Miz. They stare at each other as Bryan asks what's up. Miz says the Fiend violated his home, there's nothing more he wants than to avenge what the Fiend did to him. But Bryan beat him last week and he earned the right but The Miz is trying to figure out what to do next. He tells Bryan to defeat the Fiend at the Royal Rumble and not just for him but for everyone.
---
In-Ring: Bayley, Sasha Banks, Lacey Evans, Dana Brooke, Alexa Bliss, Nikki Cross
The Smackdown women's champion Bayley and Sasha Banks are in the ring. Bayley says we all made it to 2020 and they've all been thinking about going to the gym, eating healthy and chasing their dreams. But they won't follow through with that. Change is tough and by the looks of the people, she can see that they don't have it in them to make positive changes. In 2019, her and Sasha made tough changes. They ended the year on a high, they are the leaders of the Smackdown locker room.
Bayley mentions Lacey Evans as Lacey's song hits and she comes down with Dana Brooke. Lacey says they can't keep her daughter's name out of their mouths. She says she wants to build a better life for her daughter and it makes her sick that they are using a 7 year old to get to her. But congratulations because they did get to her but it's her new year's resolution to show that the bad guys can be stopped even if the cards are stacked against you.
Out come Alexa Bliss and Nikki Cross. Bliss says it's the first Smackdown of 2020 and they already want to tear each other apart. They can see the personal and intense issues going on which makes her wonder if they belong in the match. Nikki says of course especially if they ever want to get back the tag team championships. Bliss says they will start 2020 with a win.
Sasha Banks & Bayley vs. Alexa Bliss & Nikki Cross vs. Lacey Evans & Dana Brooke
Lacey throws Sasha to the ground and Sasha quickly gets to the ropes. Sasha tags Nikki into the match. Lacey goes for a clothesline but Nikki with a roll cover but Lacey kicks out. A small package by Lacey but Nikki kicks out again. Dana is tagged into the match.
Dana with a bodyslam on Nikki. She goes for the cover but Nikki kicks out. A jawbreaker by Nikki and Alexa is tagged in. Alexa with a headlock takedown. Both women back up but Bliss with another takedown. She goes for the cover but Dana kicks out. Again both women up and a right hand by Dana who is sent to the ropes but Bayley trips her up and Sasha is tagged in. A dropkick by Alexa. Bayley is legal now as she;s tagged in. Bliss climbs the second rope as Bayley trips her from behind. She goes for the cover but Alexa kicks out.
Bayley throws Alexa into the corner and tags Sasha in. Sasha stomps on Alexa and a snap mare take down followed by a headlock by Sasha Banks. Down in the middle of the ring, Alexa gets to her feet and fights out of it. Sasha knocks Nikki off the ring apron and hits Alexa with a drop kick. She goes for the cover but Alexa kicks out. Both women up and a jaw breaker by Alexa followed by a right hand. In comes Bayley but Alexa throws her to onto Lacey and Dana who are on the ring apron. All three women fall to the outside. Sasha is thrown to the outside. Nikki jumps off the top rope onto everyone on the outside.
Back from commercial, Dana and Sasha are in the ring. In comes Bayley from behind but Dana sends her to the corner. Dana with an acrobatic elbow. Dana with a snap suplex on Bayley and Sasha. She goes for the cover but Alexa breaks it up. Lacey gets in and knocks Alexa out. Nikki takes Evans out. Bayley throws Nikki to the outside. Dana throws Bayley to the outside. A running knee by Sasha takes Dana down. Bayley is tagged in.
They double team Dana. Bayley goes for the cover but Dana kicks out. Bayley stomps on Dana and throws her in the corner. Forearms by Bayley and Sasha is tagged in. Sasha with the double knees. She goes for the cover but Dana kicks out. Sasha tags Bayley in. They double team Dana. Bayley with a cheap shot takes Evans off the ring apron. A boot to the face by Dana onto Bayley. Dana tries to make the tag but Bayley stops her. Sasha is tagged in. Sasha attacks Dana and goes for the cover but Dana kicks out. Bayley knocks both Alexa and Nikki off the ring apron.
Dana is sent to the corner but she knocks Bayley off the ring apron. Dana with a suplex takes Sasha down. Bayley is tagged in and stops Dana from making the tag but an enzuigiri by Dana. Evans is finally tagged in. Lacey knocks Bayley down and hits her with a standing moonsault. A snap mare by Evans onto Bayley. Evans runs to the ropes and a kick to the face takes Bayley down and into the corner. The bronco buster by Evans. She places Bayley and climbs the second rope. Evans goes for the moonsault but Sasha moves her out of the way. Bayley with a Bayley to belly. She goes for the cover but all three remaining women break up the count. Mayhem ensues in the ring.
Sasha is tagged in and it's her and Evans in the ring. Bayley and Sasha go to double team Evans but Evans gets out of it and Bayley goes to the outside. Dana is tagged in and The Women's Right by Evans onto Sasha. Dana with the senton on Sasha. She goes for the over and gets the pin.
Winners: Lacey Evans and Dana Brooke
---
Backstage: Otis, Mandy Rose
We see a clip of last week's Smackdown where Ziggler destroys the cake which was given to Mandy Rose by Otis. Back live, Otis is working out backstage lifting a keg as Mandy wishes him happy new year but Otis is not happy. She asks him if his mom made him something special for the holiday and he tells her to ask Dolph Ziggler.
Mandy asks if he saw that but Otis says he didn't but his mom did. In comes Tucker who tells him to focus, he has a match as the two walk away leaving Mandy alone.
---
Backstage: The New Day, The Miz
You got frustration, @mikethemiz? @TrueKofi is HAPPY to bring you a fight.

Also. What is UP with the blue brand and destroying food?!? #SmackDown @WWEBigE pic.twitter.com/hMfxL5w3RE

— WWE (@WWE) January 4, 2020
The New Day are backstage with a plate of pancakes spelling out 2020 as The Miz comes in. They try cheering him up as he says he';s not in the mood. Big E says he watched the balls drop and Kofi tells him there's only one ball, what did he watch? Kofi cheers Miz up and tells him he had a good decade. Kofi says Miz holds the record for most titles held in the 2010's as Big E says he's tied with his neighbor Kofi Kingston as Kofi says here's to winning more titles.
Miz says this isn't about titles. The Fiend violated his home, his family. He asks Kofi if he knows what that feels like. If he wants to kick off the new year right, start it off with a fight as he knocks down the pancake plate. Kofi accepts The Miz's challenge for tonight.
---
In-Ring: Elias
Will we all be walking with @IAmEliasWWE at #RoyalRumble 2020???#SmackDown pic.twitter.com/ZnnokL6DQ2

— WWE (@WWE) January 4, 2020
Elias is in the ring. He sings "New year, new me, I have so many hopes for 2020. I hope Sami Zayn gets punched in the jaw and if Shane McMahon returns, please send his ass to Raw. Revival needs to change, oh that's a fact, they're harder to watch right now than Dolph Ziggler's comedy act. And if Baron Corbin went missing, I wouldn't complain, that guy's like an STD, he just wont go away. But not all hope is lost and you will see at RR when everybody walks with me."
---
Backstage: The Revival, Chad Gable
We see a clip of two weeks ago on Smackdown involving Heavy Machinery and The Revival. We see a clip of earlier today where The Revival were backstage talking about the miracle on 34th street fight. They talk about how Smackdown should put respect on their name. In came Shorty G who said they shouldn't let what anyone says bother them. He embraced who he is, it was the best decision he ever made.
The Revival mention how they never thought about it before and mock him. They make short jokes and he says they don't bother him anymore. He says when you're comfortable in your own skin, you can do anything. They continue to mock him and say he can do anything except beat one of them in a match. Shorty G challenges Dash Wilder to a match and Wilder accepts.
---
Chad Gable vs. Dash Wilder
Scott Dawson is on commentary. A take down by Shorty G followed by a suplex. He goes for the cover but Wilder kicks out. Shorty G climbs the top rope as Wilder trips him. Wilder goes for the back drop off the top rope and lands it. He goes for the cover but Shorty G kicks out. Wilder in a modified head lock as Shorty G fights out of it. Gable with an uppercut followed by an overhead suplex. A crossbody takes them both to the outside. Shorty G sends Wilder back into the ring. Gable climbs the top rope and a cross body but Dash reverses it into a cover as Shorty kicks out.
Wilder sends Gable to the corner as Gable jumps over him and reverses it into a cover as Wilder kicks out. Shorty G with an ankle lock as Wilder taps out.
Winner: Shorty G
In comes Dawson after the match to attack shorty G and a double team on Shorty G. They hit Shorty G with the shatter machine.
Sheamus' music hits and Sheamus makes his return. He gets in the ring as The Revival leave the ring. Sheamus turns around and hits Shorty G with the Brogue Kick.
---
The Miz vs. Kofi Kingston
The bell rings and we are under way. An arm bar by Miz but Kofi acrobatically gets out of it. A headlock by Kofi but Miz sends him to the ropes. A shoulder block by Kofi takes Miz down. Both men back to their feet. Kofi extends his hand and Miz slaps him away. Miz with a head lock as Kofi sends him to the ropes. A shoulder block by Miz, he runs to the ropes and a spinning elbow by Kofi takes Miz out. Kofi runs but Miz throws him to the outside. Miz goes for a baseball slide, Kofi runs inside and goes for a suicide dive, Miz moves out of the way as Kofi hangs himself between the ropes.
Kofi taunts Miz, telling him to get back in the ring. Miz gets in and takes Kofi down. He stomps on him and an elbow to the chest by Miz. He goes for a clothesline, Kofi ducks, goes for Trouble in Paradise, Miz blocks it, Kofi runs towards him, Miz gets him in the corner. The yes kicks by Miz onto Kofi in the corner. Miz with the flying knee and another and Kofi moves out of the way for the third. Kofi with a kick to the face. He climbs the top rope and he takes Miz down.
Kingston runs to the ropes and the boom drop onto Miz. Kofi goes for Trouble in Paradise, Miz ducks and a number of counters by both men. Kofi gets Miz into a roll up and gets the pin.
Winner: Kofi Kingston
Miz attacks Kofi from behind and Big E gets in the ring as Miz leaves the ring and he's angry. He looks back as the fans chant "You suck" and Miz yells out "After everything I've been through? How dare you? I've given you everything!"
---
Backstage: Daniel Bryan, Roman Reigns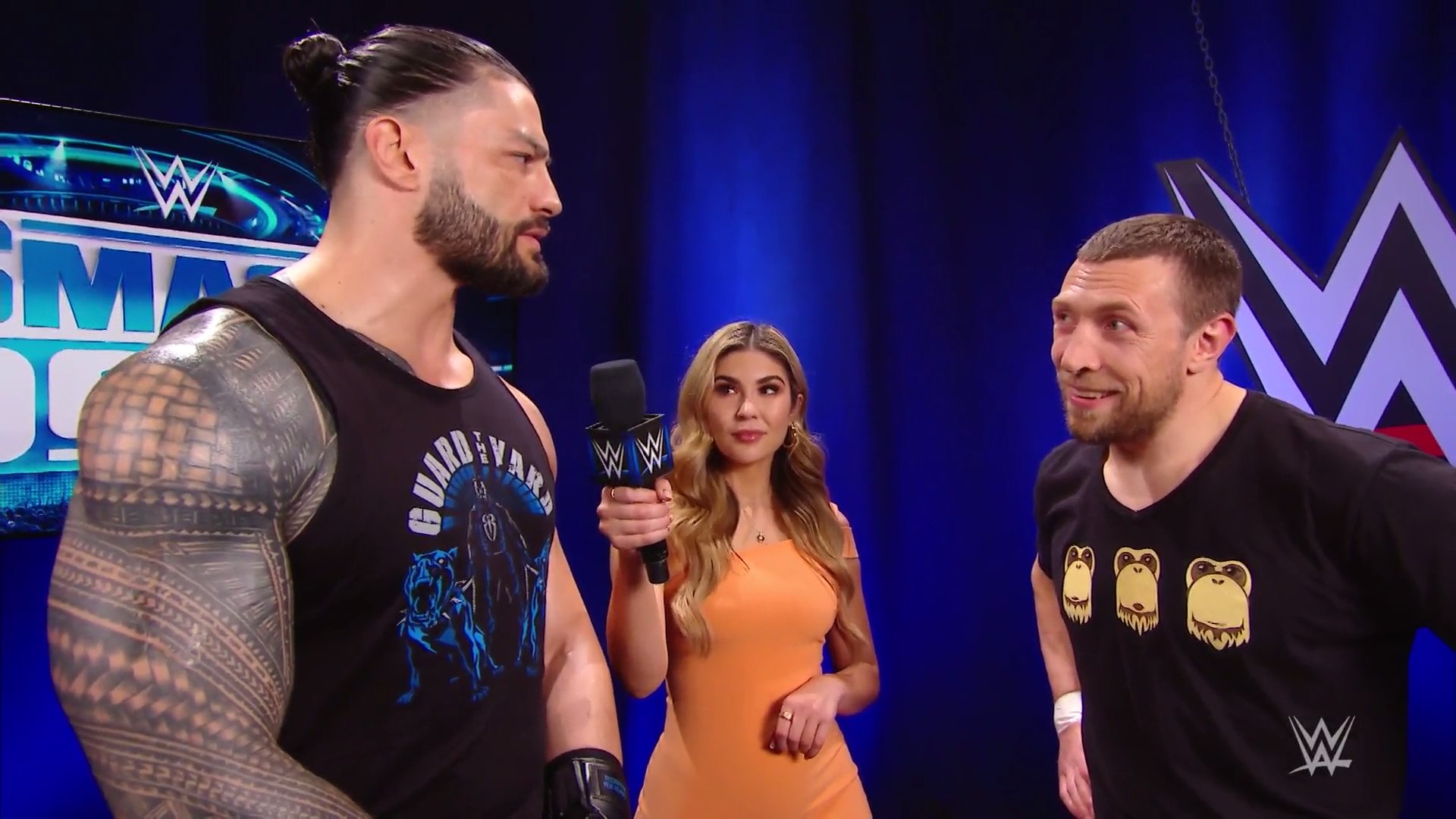 Cathy Kelley is backstage and she welcomes Daniel Bryan and Roman Reigns. She says Bryan won last week and asks what his biggest challenge ahead of the match is? Bryan said look at Miz, he's breaking down. The only person who isn't mentally broken after fighting The Fiend is him, he is unbreakable. And he will leave Royal Rumble as champion.
Roman says he is walking out as champion? That means he will walk int WrestleMania as Universal champion and that's perfect. he is entering the Royal Rumble which means he will win, which means at WrestleMania, the main event is Daniel Bryan vs. Roman Reigns. He says he has been waiting for this opportunity for a long time, no one took the title away from him. Bryan says he is ready, any place, any time and double ready at WrestleMania. But he wants Roman to be ready for their tag match tonight. Roman says he's ready.
---
Backstage: John Morrison
Cathy Kelley knocks on The Miz's door but John Morrison opens it. She says she was hoping to see the Miz and Morrison says The Miz has nothing more to say tonight.
---
Otis vs. Drew Gulak
Drew gets on the microphone and says he is an expert on the grappling arts and also matters of the heart. Unfortunately, Mandy Rose, there is no way Mandy is ever going to date him. Otis gets angry in the ring. Gulak says Mandy wants a man with a physique, a mind, someone like Dolph or himself. Otis looks like he's leaking butter and he's not too bright. He prepared a 372 slide Powerpoint presentation.
Gulak asks to look at the tron and 372 reasons why Mandy would never date Otis. Gulak is standing on the ring apron talking as Otis throws him into the ring. The bell rings and Otis goes after Gulak, he gets Gulak in the corner. An overhead throw by Otis. We see Mandy and Sonya backstage watching the match.
Otis goes for a suplex, Gulak blocks it and goes for a small cover but Otis blocks it and hits him with a suplex. Otis with a gorilla press slam. Dolph Ziggler is backstage with Mandy and Sonya.
Back in the ring, Gulak with a dropkick to the leg. Gulak is talking trash and Otis is getting mad. He lifts Gulak and drops him with two powerslams. Otis with a splash in the corner and Gulak is down. Otis with the caterpillar. Otis climbs the second rope and a big splash. He goes for the cover and gets the pin.
Winner: Otis
---
Braun Strowman vs. Cesaro
The bell rings and we are under way. Strowman gets Cesaro in the corner as the referee breaks it up. Cesaro gets Strowman in a headlock but Braun sends him to the ropes. A shoulder to shoulder but both men are still up. Right hands by Cesaro but a shoulder tackle by Strowman takes Cesaro down.
Strowman throws Cesaro from one side of the ring to the other. A right hand by Strowman and a headbutt in the corner. A big clothesline in the corner and Cesaro is on the ring apron. He hangs Strowman up on the ropes but Strowman with a right hand. Strowman knocks Cesaro off the ring apron on the barricade.
Back from commercial, Strowman has Cesaro in the corner. He runs towards Cesaro but a kick to the face and a dropkick to the knee by Cesaro. He gets Strowman on the second ropes and chokes him. With the referee distracted, Nakamura hits him with a cheap shot. A kick to the face by Cesaro. He goes for the cover but Strowman kicks out.
Cesaro climbs the top rope and jumps but Strowman catches him. Cesaro reverses it into a sleeper hold. Strowman reverses it into a side slam. A shoulder block by Strowman. Nakamura gets on the ring apron and Strowman knocks Nakamura down. Cesaro with an uppercut and he gets Strowman in the corner. He runs but Strowman with a clothesline takes Cesaro down and to the outside.
Braun Strowman leaves the ring, he runs around the ring and knocks Cesaro down. He keeps running hits Nakamura. He walks and Sami is hiding under the ring. Strowman with another hit on Cesaro. He grabs Cesaro and throws him into the ring. He lifts Cesaro but in comes Sami as Cesaro is dropped. Cesaro goes for the Neutralizer but Strowman reverses it into the powerslam. He goes for the cover and gets the pin.
Winner: Braun Strowman
After the match Nakamura hits him with the Kinshasa. Sami grabs Nakamura and they all leave.
---
Roman Reigns & Daniel Bryan vs. King Corbin & Dolph Ziggler
The bell rings and Corbin goes after Reigns. He goes after Reigns but Reigns with a right hand. A Samoan drop by Reigns as Corbin rolls to the outside. Roman goes to the outside and the drive by takes Corbin out. Ziggler distracts Reigns as Corbin gets in the ring. Roman gets in and a knee to the stomach by Corbin as Ziggler is tagged in.
A big boot by Reigns takes Ziggler down. Bryan is tagged in. Bryan with an uppercut. Ziggler runs towards Bryan but Bryan throws him to the outside.
We hear The Fiend Bray Wyatt's laugh as the lights dim on and off.
Back from commercial, a big boot by Roman onto Corbin. Roman with a riht hand knocks Ziggler off the ring paron. Corbin with the Deep Six on Roman. HE goes for the cover but Roman kicks out. Corbin knocks Roman to the outside and throws him shoulder first into the steel steps. Corbin slams Roman into the announce table and sends him back into the ring. Ziggler is tagged in.
Ziggler talking trash to Roman in the ring. Roman with a big right hand and another but Ziggler kicks Roman's knee. A neck breaker by Ziggler and Corbin is tagged in. Corbin stomps on Roman while Ziggler holds him down. Corbin throws Roman shoulder first into the ring post. Corbin throws Roman once more into the ring post. Corbin throws him for a third time. He goes for another but Roman slides out of the way and Corbin under the ropes and back in the ring. Roman with the Superman punch takes Corbin down.
Daniel Bryan is tagged in and as is Ziggler. Right hands by Bryan followed by a clothesline. With Ziggler in the corner, Bryan with a drop kick followed by the yes kicks. Bryan places Ziggler on the top rope and a hurricanrana by Bryan takes Ziggler down. The yes kicks by Bryan, Ziggler ducks the last one, he goes for the cover but Bryan reverses it into La Belle lock. In comes Corbin to break it up.
Corbin lifts Bryan up but Bryan lands on his feet and a spear by Roman Reigns. Superkick by Ziggler onto Roman. Ziggler goes for the Zig Zag, Bryan hangs onto the ropes and the running knee by Bryan.
The lights go out in the arena, they come back on and The Fiend Bray Wyatt is standing in front of the announce table. Bryan with a suicide dive through the ropes onto Wyatt. He throws Wyatt into the ring post. He jumps off the ring apron but Wyatt catches him and throws him through the barricade. The mandible claw by Wyatt as the lights go out.
The lights come back on and WWE officials come and check on Daniel Bryan. Roman Reigns goes to check on Bryan but Ziggler and Corbin attack him from behind. They throw Roman back into the ring as Ziggler grabs handcuffs from under the ring. Ziggler grabs cans of dog food and handcuff him to the bottom rope.
They lift the cans of dog food but The Usos are back! They superkick Ziggler and get in the ring and a superkick takes Corbin out.
Winners: No contest
Jimmy and Jey fly over the top rope onto Corbin and Ziggler. They grab the key and uncuff Roman Reigns as Smackdown goes off the air.