February 19, 2020
Winter Park, Florida
Commentary: Mauro Ranallo, Nigel McGuinness, and Beth Phoenix
Results by: Doug Lackey of Wrestleview.com
---
Quick Match Results
Cruiserweight Championship: Jordan Devlin (c) defeated Lio Rush via Devlin side suplex
The Grizzled Young Veterans defeated Raul Mendoza & Joaquin Wilde via Wheelbarrow Codebreaker on Mendoza
Pete Dunne & Matt Riddle defeated Danny Burch & Oney Lorcan via offensive flurry on Lorcan
Keith Lee defeated Kona Reeves via Big Bang Catastrophe
Chelsea Green defeated Kayden Carter via Unprettier
Velveteen Dream defeated Roderick Strong via Dream Valley Driver
---
In-Ring: Undisputed Era, Velveteen Dream
"Shock… the System." All of Undisputed Era makes their way to the ring and Adam Cole grabs the mic. "I told you! I told each and every one of you that obsession would never beat destiny. Undisputed Era is going to continue to set examples, just Roddy Strong is going to make one out of Velveteen Dream tonight!"
Velveteen Dream appears on the screen, telling Strong to keep his boys in the back and be a man, be the man Marina always wanted him to be. Strong tells Dream that he's going to wish he never came back.
Mauro, Nigel and Beth take us to the ending moments of Adam Cole's defense of the NXT Title against Tomasso Ciampa, with Johnny Gargano nailing Ciampa with the NXT Title belt. But until we get into Gargano potentially explaining his actions, Lio Rush makes his way to the ring for a Cruiserweight Championship match the current title-holder, Jordan Devlin… who does likewise.
---
Cruiserweight Championship:
Jordan Devlin (c) vs. Lio Rush
Devlin and Rush tie up and end up in the corner. Rush with a headlock on Devlin but Devlin sends him to ropes. Rush sidesteps and sends Devlin. Leapfrog is followed a wild roundhouse kick that misses, sending Devlin sprawling to the outside for a breather.
Devlin sends a couple knees to Rush's dome. Rush sitting up, Devlin nails him with a PK. Devlin looming over Rush, waiting for him to get up, sends him to the corner for some forearms. But Rush starts to fight back with forearms of his own until Devlin plants Rush with a Uranagi. Devlin moonsault gets knee from Rush. Rush with a flurry of strikes and sends him to the ropes. Rush tries for a wheelbarrow DDT but takes a half-and-half suplex from Devlin. Kick out at 2.
Rush off the ropes, Devlin with a stiff knee to the gut. Kick out at 2 again.
Devlin brings Rush up for a lovely Butterfly Suplex. Another kick out at 2. Devlin now cinches Rush into a Camel Clutch to wear him down. Nasty crossface from Devlin as he relinquishes the hold and now drapes Rush over the ropes to choke him. Rush valiantly fights back but ends up taking some chops in the corner. Devlin brings him dead center in the ring for a nasty European uppercut. With Devlin holding onto Rush'shand, he kicks his face relentlessly.
Devlin brings him up for a suplex… but Rush lands on his feet. He's off the bottom rope for the Come Up, Devlin catches him for a Hi-Jack Backbreaker. Cover… Kick out at 2.
Rush fights back, chopping Devlin into the corner but Devlin catches him with a Jawbreaker.
Back from the break, Rush and Devlin have collided with cross-body's from the ropes. Rush now kicks Devlin over the top rope to the outside…. look out! Rush with a suicide dive through the ropes. Rush sends Devlin back into the ring, he climbs to the top, flying crossbody. Cover… kick out at 2.
Devlin shrugs Rush off into the corner and rushes in. Rush back body drops him to the apron, Devlin lands on his feet, slingshots back in for a DDT. Rush rolls to the outside and Devlin PK's him from the apron. Devlin goes for a middle turnbuckle moonsault, lands on his feet because no one was home. Rush leaps to the apron, springboard corkscrew moonsault from the bottom rope! Rush sends Devlin back in and climbs to the top again. Leaps off onto his feet without an attack in mind… roundhouse kick from Rush connects… roundhouse kick from Devlin connects! Devlin has Rush in a wheelbarrow but Rush counters into a pin… 1… 2… Kick out!
Kick to the face by Rush. Rush off the ropes… standing Spanish Fly from Devlin! Devlin going for a pin but Rush has him in a Koji Clutch! Devlin rolls around to get his foot on the ropes to break the hold. Rush sets up the table and climbs to the top again but Devlin crotches him. Devlin goes up to meet him there but Rush fights him off and nails a Reverse-Rana from the middle rope! Rush off the bottom rope, Come up! Cover… 1… 2… Kick out!
Rush is desperate and climbs to the top again but misses The Final Hour. Devlin nails Rush with a headbutt to the chest. Pulls him in… Devlin Side Suplex! 1… 2… 3!
WINNER and STILL CHAMPION: Jordan Devlin via pinfall
---
Backstage: Dakota Kai, Raquel Gonzalez, William Regal
Backstage, Dakota Kai is being interviewed with Raquel Gonzalez by her side, asked what this relationship is about. Gonzalez believes it's now time for Kai to stop thinking about Tegan Nox and should be looking at bigger, better things. Commissioner William Regal appears to inform both of them that Dakota Kai will face Tegan Nox again in two weeks and this time there will be no interference… because it will be inside a steel cage!
---
In-Ring: Tommaso Ciampa, Austin Theory
Outside of the arena, Tommaso Ciampa is making his way to the entrance and he is NOT happy…
Austin Theory makes his way to the ring for his match, but Tommaso Ciampa is walking with a purpose. He grabs a mic from ringside, walks into the ring. Theory approaches him… "Not tonight, man. Not tonight!"… Theory backs away.
"I've been trying so hard to get my life back but I seemed to lose grasp of my surroundings. There were subtle signs too. The odd timing of a tag-team reunion. I stopped listening to that instinctual voice inside. But if one thing goes hand-in-hand with Tommaso Ciampa and the NXT Championship it is, and always has been, Johnny Gargano. I'm not asking myself 'Why, Johnny, Why'… I know why. Johnny knows why… and if one…"
Theory tries to grab the mic away but Ciampa fights him off.
"If I want to get my life back, then there can no longer be a Johnny Gargano in NXT."
Theory tries to blindside Ciampa again but Ciampa boots him away. Ciampa punts Theory in the head and begins to sling him back and forth into the guardrails.
---
Backstage: Chelsea Green, Robert Stone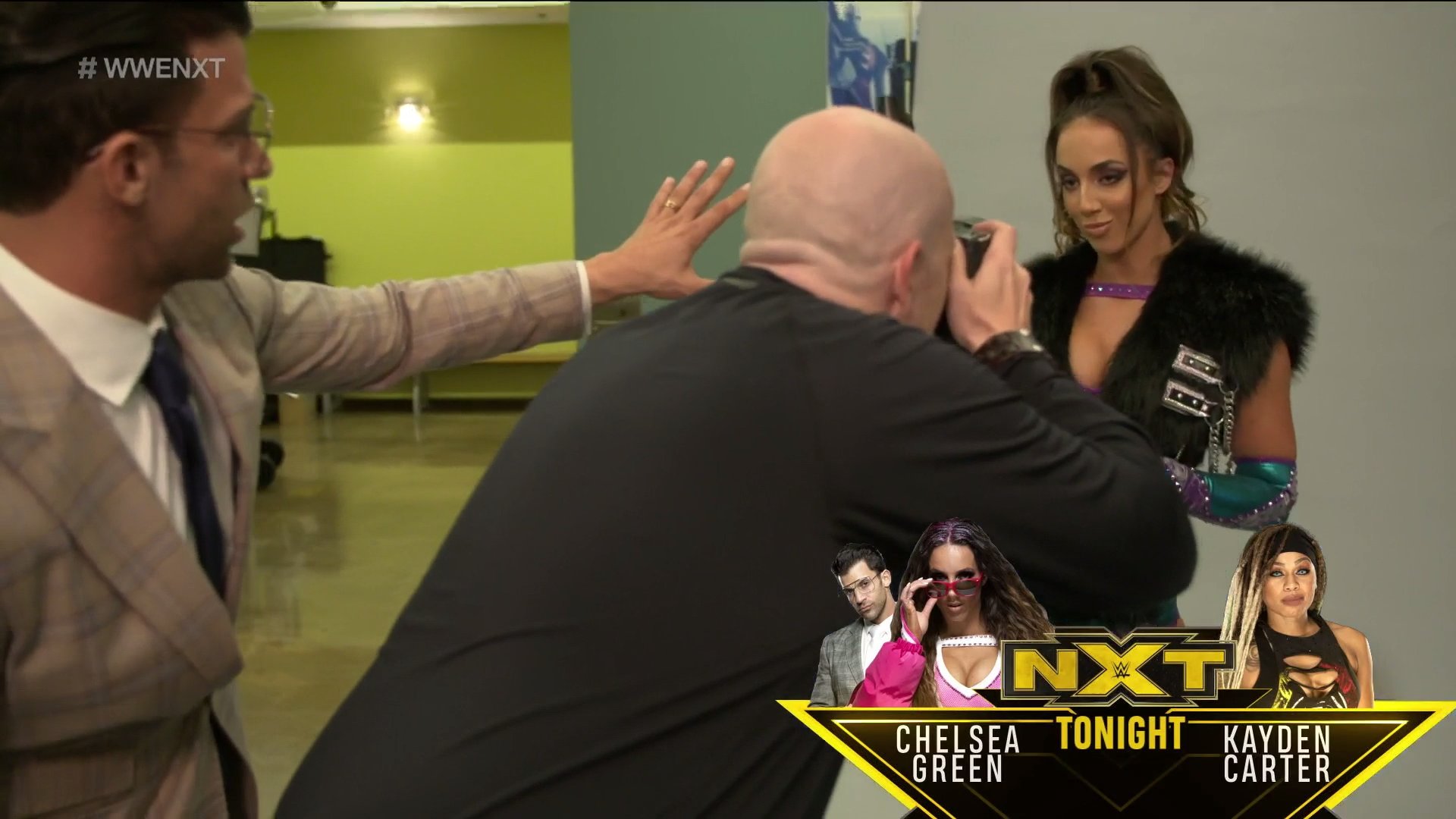 Backstage, Robert Stone and Chelsea Green are having an impromptu photo-shoot before Green's rematch against Kayden Carter.
---
Backstage: Finn Balor
Finn Balor performs a monologue in a dimly-lit room telling people to see what he'll do next week.
---
Raul Mendoza & Joaquin Wilde vs. The Grizzled Young Veterans
Wilde and Gibson start things off with some wrist work and dropkicks from Wilde. Gibson sent to the corner, Drake runs to the corner and acts as a shield allowing Gibson to bounce back for an elbow. Gibson brings Wilde to the corner, Drake tags in, headlock on Wilde. Wilde sends Drake to the ropes, shoulder tackle from Drake. Drake and Wilde trade leapfrogs from the ropes and Wilde sends Drake down with a headscissors. Mahestrol from Wilde… kick out at 2.
Headlock by Wilde on Drake, Drake off the ropes but is blindly tagged by Gibson. Drake ducks under dueling leapfrogs from Wilde and Gibson, Gibson uncorks a lariat on Wilde. Wilde now being brought to the corner again, Drake tagged in, backbreaker. The vets are in clear control and Mendoza has yet to sniff the ring with constant tags in and out.
Wilde tries to fight back but is sent to the Vets' corner again… but moonsaults off connecting with Drake. Hot tag to Mendoza! Clothesline to Drake in the Vets' corner, punches to Gibson. Gibson sends him to the corner and Mendoza clotheslines Drake again. Clothesline for Gibson. Another for Drake. Gibson with a belly-to-back? Mendoza on his feet, kick to the gut, sends Gibson to the opposite corner. Springboard missile dropkick from Mendoza.
Mendoza brings Gibson up for a suplex, Gibson fights out with a cross chop to the throat… high-angle belly-to-back suplex! Drake tagged in, steps over Mendoza and kicks Wilde off the apron. Mendoza tries to fight back, blind tag by Gibson. They cinch in the Wheelbarrow Codebreaker for the pin!
WINNERS: Grizzled Young Veterans by pinfall
Gibson is on the microphone saying they are now in NXT and going to be the best in the world!
---
Pete Dunne & Matt Riddle vs. Danny Burch & Oney Lorcan
This is a non-title match.
The newly-crowned NXT Tag Team Champions Pete Dunne and Matt Riddle, The Broserweights, are making their way through the crowd, into the ring and Riddle has the mic. "Bro. Where's our golf cart?" "You managed to get it impounded," Dunne replies. "That doesn't matter, all that matters is that The Broserweights are the new NXT Tag Team Champions!"
Dunne and Burch to start things off, tie up and they trade arm-work. Dunne ends up with the upper-hand, stretching Burch out with a Bow and Arrow. Burch fights out and the two tie up in a test of strength. The two trade off quick submissions and end up in a stalemate. Riddle and Lorcan tagged in.
The two trade off mat work but Riddle ends up Gutwrench Suplexing Lorcan down. He goes for another, Burch tries to interfere but Dunne cuts him off the two both end up Gutwrenched and on the outside looking into the ring.
Back from the break and Burch puts Riddle down with a powerbomb. A kick out at 2 but Burch turns the pin into a single-leg Boston Crab, transitions into an STF. However, Riddle powers out and nails a Bro To Sleep! Tags in Dunne, clothesline, snap German Suplex off the corner, X-Plex into an arm bar and tries to split Burch's fingers. Burch rolls Dunne up for a 2, releasing the hold.
Burch with Dunne but Dunne pushes them into his own corner, Riddle blindly tagged in. Dunne powerbombs Burch preceded by a Riddle kick to the back. Cover… 1… 2… Lorcan with the save!
Lorcan sends Dunne out of the ring, Riddle with a Ripcord Knee to Lorcan sends him out of the ring. Burch sends Riddle into the corner, step-up enziguri, mean German Suplex, lariat follow-up! Cover… Kick out at 2 but Burch floats over to a Crossface.
Dunne tries to save but Lorcan cuts him off. Dunne lands on his feet from a Lorcan German, kick to the back! Dunne kicks Burch in the face. Riddle trying to make for the corner and a tag but Burch wants to trade fists. Riddle with the advantage though, powerbomb! He rolls Burch up but Burch puts him down with a right hand.. but ti staggers him into the corner for a Dunne tag.
Enziguri to Burch but he staggers to a Lorcan tag. Lorcan flies in with a European uppercut! He has him up in the opposite corner but Lorcan gets his fingers split! Dunne runs in to tag in Riddle. Tandem offense… cover… 1… 2…. 3.
WINNERS: Pete Dunne and Matt Riddle
---
Keith Lee vs. Kona Reeves
NXT North American Champion Keith Lee makes his way to the ring but before he can say a word, Kona Reeves marches his way to the ring. He calls for a microphone but Lee flat-out tackles him into the corner. A ref gets in… "You might as well ring the bell," Lee proclaims.
Kona Reeves is in a Fireman's Carry on Lee's shoulders. Big Bang Catastrophe! 1… 2… 3.
WINNER: Keith Lee (c) via pinfall
Suddenly, Domink Dijakovic is in the ring and say he's not ready to move on yet. "You and I both know that I had you beat at Takeover. If it weren't for my lower back going out on me…"
"If, if, if. You can say 'if' all you want, but what matters is I won the match. I always hear the same thing every time you and I set foot in the ring though…" The crowd chants FIGHT FOREVER. "And based on that, you didn't win that match but they're with it and I'm always for a challenge. If you can convince Regal to it, we'll do it."
---
Kayden Carter vs. Chelsea Green
Back from break and Kayden Carter is making her way to the ring. Robert Stone is on the mic at the top of the ramp.
"Could I have your attention please. Representing the Robert Stone Brand, she is the face of the women's division: Chelsea Green." Green makes her down the ramp for this rematch.
The two tie up and Green has Carter up for a body slam but Carter rolls her up! Kick out at 2. Green with a handful of Carter's hair but Carter fights out and gives her a massive clothesline! Carter off the ropes, wheelbarrow roll-up, kick to Green's face, cover! Another kick out at 2.
Wristlock on Green, Carter tries to walk the ropes but Green kicks her legs out and Carter crashes down to the mat. Green with a wristlock on Carter and starts driving her knee into her gut. Quick cover, kick out at 2. Green with a Camel Clutch on Carter now wearing her down.
Carter powers out but Green sits down on her back. Carter crawling to the apron but Green guillotines her on the bottom rope. Cover, kick out at 2.
Green sends Carter to the corner… but Bianca Belair is in the ring with a microphone!
"Now girl, I done told you you don't come here! Now you put your hands on me, I want you here! It don't matter if it's here or there…. Charlotte Flair, I'm gonna' whoop that ass!"
Belair leaves the ring and Carter tries for a Schoolboy! 1… 2… kick out! Backslide by Green, kick out at 2! Carter with a superkick but Green rolls out of the ring. Carter sends her back in but Stone on the outside trips Carter up getting back in. Green with The Unprettier. 1… 2… 3.
WINNER: Chelsea Green via pinfall
---
Next Week
…and, in TWO WEEKS TIME, @TeganNoxWWE_ and @DakotaKai_WWE will meet inside a #SteelCage! #WWENXT pic.twitter.com/IyIx01D6I4

— WWE (@WWE) February 20, 2020
Tommaso Ciampa vs. Austin Theory
Finn Balor will appear.
In two weeks: Dakota Kai vs. Tegan Nox in a steel cage
---
Velveteen Dream vs. Roderick Strong
The two tussle around with Strong grabbing Dream's legs and sending him to the ropes for a break. Strong goes off the ropes for a forearm but Dream almost flattens him with a right hand! Strong rolls to the outside for a breather and makes his way to the apron. Strong is almost in but Dream flails at Strong with his belt! The ref takes it away, Strong paces to the opposite side of the ring.
There's nothing pretty about this, the two are just tussling and flailing with no sense of strategy and only the sense of getting under each other's skin. Dream rolls to the outside taunting Strong, Strong chases him back in and eats a Dream dropkick. Strong sent to the corner and onto his knees. Dream drops to his and slaps him straight in the mouth.
Dream tries to get Strong off the ropes but gets poked in the eye. Strong now stomping down on Dream then brings him up for a backbreaker. Dream rolls to the outside, writhing in pain. Strong goes to the outside but Dream baits him in for a clothesline. Strong pushes Dream into the ring apron but Dream sends Strong into the ring steps.
Strong has Dream in a Sleeper Hold but Dream is fighting his way out of it. Strong with the double-underhook but Dream back body drops him off. Strong and Dream now trading fists and then collide in the corner, knocking heads. The two are back to their feet and go back to trading lefts and rights. Strong off the ropes, big clothesline by Dream.
He sends Strong into the corner, a backbreaker of his own to follow. Another backbreaker! Dream off the ropes, sees the back body drop and tries to underhook but Strong fights out and lands a forearm. Strong trying to cinch Dream up but takes a DDT. Cover! Kick out at 2!
Dream climbs to the top, double axehandle connects! Dream and Strong continues to trade fists but Strong ends up hoisting Dream over the top turnbuckle with the ringpost nailing Dream in the stomach. Strong meets him up there and the two tussle for supremacy. Strong lifts Dream up, slamming Dream down on the turnbuckle like a backbreaker! Cover… kick out at 2.
Strong trying to get Dream up in a suplex but Dream fights back. Strong connects with a right and nails a Tiger Bomb. Dream kicks out at 2 but Strong grabs his legs for a Boston Crab. Dream struggles his way to the bottom rope to break the hold.
Strong tries for the Crab again but Dream kicks Strong out of the ring. Strong to the apron, Dream meets him, Strong leaps over Dream for a sunset flip but Dream rolls out of it and flattens Strong with a right hand. The two slowly get up and continue to trade boots and fists with no regard for sport.
Strong leaps for a dropkick but Dream catches him with a boot. Dream Valley Driver on Strong! Dream takes off his shirt and tights to reveal Marina Shafir's face on the front and back of his undertrunks. Dream climbs to the top but the rest of Undisputed Era has run down to ringside. Dream leaps off onto them and climbs back to the apron. He springboards off the top rope but eats a superkick from Strong! Cover! 1… 2… kick out!
Dream slowly gets up, hits another Dream Valley Driver! Cover… 1… 2… 3!
Winner: Velveteen Dream
The rest of Undisputed Era rushes into the ring, completely maul Velveteen Dream and stand over him as we fade out.