February 5, 2020
Winter Park, Florida
Commentary: Mauro Ranallo, Nigel McGuinness, and Beth Phoenix
Results by: Mike Tedesco of Wrestleview.com
---
Quick Match Results
Angel Garza defeated Isaiah "Swerve" Scott via the Wing Clipper
Dominik Dijakovic defeated Killian Dain via Feast Your Eyes
Mercedes Martinez defeated Kacy Catanzaro via Fisherman Buster
Jordan Devlin defeated Tyler Breeze via a Devil Inside
Tommaso Ciampa, Matt Riddle & Pete Dunne defeated The Undisputed ERA (Adam Cole, Bobby Fish & Kyle O'Reilly) by disqualification when Roderick Strong attacked Ciampa
---
In-Ring: Matt Riddle, Pete Dunne, Kyle O'Reilly, Bobby Fish
The BroserWeights drive into the arena in a modified golf cart with the Dusty Rhodes Tag Team Classic Trophy on the back. Matt Riddle and Pete Dunne get in the ring to a good reception. Riddle says they are the Dusty Rhodes Classic champions. The celebration continues tonight. Riddle mentions the trophy on the new BroserWeight-Mobile. Dunne says the last thing he ever thought he'd do is be in a tag team with Riddle. Riddle says it was meant to be. Dunne says they have the trophy and at TakeOver: Portland they'll become the new NXT Tag Team Champions. Riddle has one question: how are the three of us…?
NXT Tag Team Champions Kyle O'Reilly and Bobby Fish interrupt them. O'Reilly says they're not acknowledging them as a team. The only thing they've done as a team is disrespect the legacy of the Dusty Rhodes Tag Team Classic. They don't want to wait for Portland. Roderick Strong runs down and talks them out of charging the ring. Bobby Fish says they'd love to end the celebration, but they've got the "loser-weight mobile" in the ring. They have bigger fish to fry tonight.
Riddle loves that Bobby Fish just said "fish." Dunne isn't laughing. Riddle asks, "Riddle me this: how much fish could Bobby Fish fry is Bobby Fish could fry fish?" Dunne tells him to not worry about how much fish Bobby Fish could fry fish. Riddle says it's a thing and gets the arena to chant it. The crowd is loving this and chants, "Bro!" Dunne says all that matters is at TakeOver the BroserWeights will smoke the Undisputed ERA.
---
Angel Garza vs. Isaiah "Swerve" Scott
Garza charges, but Scott avoids him. They whiff on a bunch of stuff and wind up in a stalemate. Scott kips up, but Garza wraps the arms under him. Garza begins to attempt something complicated on the ropes, but Scott leaps onto the ropes and hits a head-scissor takeover! Garza avoids a shot on the apron, but Scott sweeps the legs and superkicks him. Scott goes for a handspring plancha, but Garza superkicks him on the way out. Garza smiles and appears to be bleeding from the mouth as we go to commercial.
We come back from the break to see Scott give Garza a drop-toe-hold into the turnbuckle. Scott goes for a head-scissor, but Garza hits a sit-out facebuster to counter. Garza rips off his pants to a big ovation. Garza superkicks Scott for a near fall. 2-5-20 pops up in the corner of the screen. Garza goes for a slingshot inverted suplex, but Scott lands on his feet. Scott hits a German Suplex followed by a flatliner for a near fall.
Scott slaps Garza before kicking him into the ropes. Scott punches him in the face. Garza drops him on the apron, but Scott kicks him back. Scott goes for a slingshot maneuver, but Garza superkicks him out of mid-air. Garza has blood on his forehead. Garza and Scott trade chops from their knees. Garza head-butts away at Scott before going for a slingshot, but Scott counters into a sit-out slam for a near fall! Wow!
Scott goes to the second rope, but Garza rolls away. Scott follows and goes to the top rope. Garza hits a step-up enzuigiri and climbs the ropes. Scott pushes him off, but Garza flips through and lands on his feet. Scott dives off the top rope, but Garza throws his pants at him. Scott connects with the House Call for a near fall! The crowd is chanting, "This is awesome!" Scott goes for the end, but Garza powers him to the corner. Scott takes him down and goes for a springboard. Garza quickly crotches him on the ropes before hitting the Wing Clipper for the win.
Winner by Pinfall: Angel Garza
Garza grabs a microphone. There is blood on his chest. Garza says he just beat Swerve and took out his cousin Humbert Carrillo on Monday. He also took out Rey Mysterio. Garza says he didn't lose his title. Garza wants his NXT Cruiserweight Championship back. He knows Jordan Devlin is in the building is back tonight. Garza will be watching.
---
Backstage: Undisputed Era
#UndisputedERA…they're looking for @NXTCiampa! (Just like how DADDY is looking for GOLDIE!)#WWENXT pic.twitter.com/NkfebQ4CSM

— WWE (@WWE) February 6, 2020
We go backstage to see The Undisputed ERA attacking some stagehands. They're looking for Tommaso Ciampa. They bother a guy randomly getting a haircut backstage. Roderick Strong walks over, grabs the clippers, and shaves off part of the guy's hair! They go outside looking for Ciampa.
---
WWE Hall of Famer Sgt. Slaughter is shown at ringside. TEN-HUT!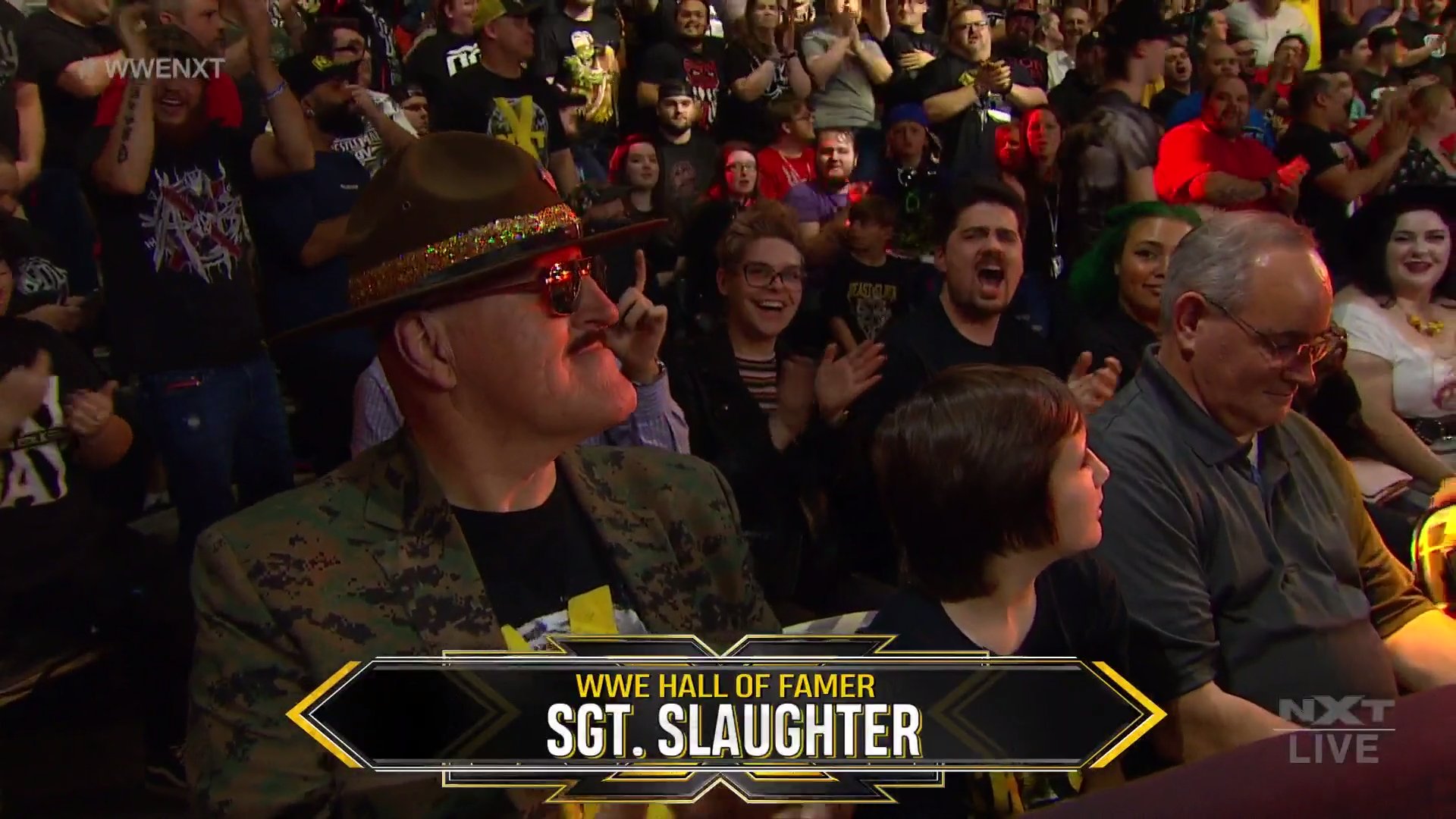 ---
Dominik Dijakovic vs. Killian Dain
Footage is shown from earlier in the day of Dijakovic and Dain getting into a confrontation at the WWE Performance Center. Dain says Dijakovic is in his way.
Dain tackles Dijakovic into the corner. Dijakovic fights out, but Dain punches him back. Dain whips him to the opposite corner, but Dijakovic avoids the avalanche. Dijakovic punches him before hitting an elbow to the neck. Dain pushes him before hitting a sloppy snapshot on the top rope. Dain then clotheslines him over the top rope. A "Shave Your Back" chant fires up. Dain scoops Dijakovic up, but Dijakovic slides off and sends him into the steel steps. Dijakovic hits a cannonball off the steel steps. Dijakovic gets him in the ring and sizes him up. Dijakovic goes for a discus clothesline, but Dain wipes him out with a running cross-body block.
We come back from the break to see Dijakovic make a comeback with a release suplex. Dijakovic grabs him by the throat and hits a sit-out chokeslam for a near fall. Dijakovic goes to the top rope, but Dain cuts him off. Dain crushes him with a fisherman's superplex. Dijakovic nearly landed at a bad angle. Dijakovic soon boots Dain back, but Dain absolutely smokes him on the back end with a kick. Dain hits the ropes, and Dijakovic wipes him out with a big boot. Dijakovic goes to the top rope for a moonsault, but Dain moves. Dain hits a big dropkick followed by a senton splash. Dain goes to the second rope for a Vader Bomb, but Dijakovic grabs the ankle. Dijakovic kicks him and hits Feast Your Eyes for the win.
Winner by Pinfall: Dominik Dijakovic
Dominik Dijakovic will face Keith Lee for the NXT North American Championship at NXT TakeOver: Portland. Keith Lee walks out onto the stage and has a face-off with Dijakovic. They stare at each other before shaking hands.
---
Backstage: Undisputed Era, Kushida, Bronson Reed
NO ONE is safe while #UndisputedERA hunts for @NXTCiampa.#WWENXT @roderickstrong @AdamColePro @KORcombat @theBobbyFish @bronsonreedwwe pic.twitter.com/yahyiLzjcY

— WWE NXT (@WWENXT) February 6, 2020
The Undisputed ERA are backstage. They find Kushida and asks him where Tommaso Ciampa is. They then assault him and slam him into a garbage can. Bronson Reed comes up and says they have a problem with him. They quickly wipe him out and keep walking.
---
Interviews: Johnny Gargano, Finn Balor
Finn Balor and Johnny Gargano are shown on split screen. Mauro Ranallo will interview them. Balor immediately cuts him off and says this was supposed to happen at WarGames, but Gargano wasn't cleared for three months after he dropped him on his head. Gargano says he's been counting down the days to meet the Prince. Balor has been counting down the days for four years to get to him. All he's heard about is Gargano. Everyone will find out that Gargano isn't the next Finn Balor. Gargano says he is the first and only Johnny Gargano. He's the first Triple Crown winner in NXT history and has more TakeOver main events than anyone. Gargano wants to beat the longest reigning NXT champion of all time to solidify his legacy.
Gargano says Balor needs this match as much as he does. Balor says he doesn't need a Match of the Year. He doesn't get paid by the hour. Gargano says this is the Balor he wants at Portland. Gargano says he wants NXT Balor, not Raw and SmackDown Balor who lost to Bobby Lashley 17 weeks in a row. Balor says that guy is dead long ago, but Gargano will wish he was still around. Balor is here to have the last match of Gargano's life. Gargano says he will take the NXT flag Balor left and shove it through his heart. Balor says he doesn't have a heart.
---
Mercedes Martinez vs. Kacy Catanzaro
Video Package: Kacy Catanzaro highlight package
The bell rings, and Catanzaro applies a waistlock. Martinez gets out and hits a vicious spinebuster for a two count. Martinez forearms her down and chops the chest. Martinez goes for a delayed vertical suplex, but Catanzaro gets out. Catanzaro sweeps the feet and dropkicks her. Catanzaro connects with a hurricanrana followed by a corner clothesline. Martinez throws off a head-scissor, but Catanzaro rolls her up with a hurricanrana for a two count. Catanzaro goes for a springboard, but Martinez forearms her down to the floor.
Martinez goes outside and clubs the back before viciously sending her into the ring post. Martinez powers her into the ring apron before sending her into the barricade. Martinez sends her into the barricade once again before putting her back in the ring. Martinez hits a fisherman's buster for the win.
Winner by Pinfall: Mercedes Martinez
---
Backstage: Rhea Ripley
NXT Women's Champion Rhea Ripley is backstage with Cathy Kelley. Ripley says her number one concern is Bianca Belair, but it's nice for The Queen to show up.
---
Segment: Undisputed Era, Tommaso Ciampa
The Undisputed ERA are walking outside when Tommaso Ciampa attacks them with weapons. Ciampa and NXT Champion Adam Cole brawl into the NXT Arena. They brawl in the crowd and by the commentary table. Ciampa bounces Cole off the commentary table a bunch of times before ripping the top off. Ciampa pats himself on the back and lifts Cole up.
The rest of the Undisputed ERA come up and attack Ciampa. They fight into the ring, and it's 4-on-1. The BroserWeights run down to make the save. Referees run down to restore order. NXT General Manager William Regal runs out. If they want to fight, they should get their gear on and settle this tonight! The crowd roars in approval.
The Undisputed ERA gets back in the ring, and the brawl continues. The brawl spills all over the arena. Riddle wipes out Bobby Fish and goes up the stage. They all brawl on the stage before getting pulled apart.
---
Jordan Devlin vs. Tyler Breeze
NXT Cruiserweight Champion Jordan Devlin from NXT UK makes his way to the ring. He'll be facing Tyler Breeze. Devlin viciously dropkicks Breeze off the apron as he lays there for his entrance! Devlin stomps away at him before clubbing the back. Devlin gets in the crowd and taunts the crowd before lifting the NXT Cruiserweight Championship up.
We join the match in progress. Devlin is shouldering Breeze in the corner. Breeze soon slingshots over him and punches before kicking him in the head. Breeze covers for a two count. Breeze goes to bounce him in the corner, but Devlin blocks it. Devlin hits a snapmare followed by an elbow to the neck. Devlin applies a double underhook, but Breeze sweeps the feet and elbows away at the knees. Breeze pulls him to the ring post, and Devlin begs him off. Breeze slams Devlin's leg off the ring post. The crowd chants, "One more time," so Breeze obliges. Breeze gets in the ring and wraps the leg on the second rope before jumping on it. Devlin soon fights back and hits an over-the-shoulder backbreaker for a near fall.
They start trading chops before Breeze unloads on him and hits a dropkick. Breeze gets the crowd going before elbowing away at Devlin's neck. Breeze applies a neck vice. Devlin fights up and uppercuts Breeze. Breeze reverses a whip and hits a back body drop before clotheslining him out of the ring. Breeze goes outside and sends Devlin to the apron. Devlin hits a PK Kick from the apron before hitting a moonsault off the second rope to the floor!
Breeze and Devlin both get into the ring before being counted out. Devlin punches Breeze down, but Breeze fights back. Devlin quickly hits a uranage followed by a standing moonsault for a near fall.
We come back from the break to see Devlin stepping on Breeze's face before hitting an arm breaker. Breeze quickly fights back and takes him down for a two count. Devlin fights back and jumps over him before connecting with a big cross-body block, but Breeze rolls through and picks up a two count. Devlin quickly hits a standing Spanish Fly for a near fall. Devlin goes to the top rope for a moonsault, but Breeze gets the feet up. Breeze then applies a single leg crab. Devlin twists out and catches him with an inside cradle for a two count. Breeze quickly follows up with a Supermodel Kick for a near fall.
Breeze sets up for an Unprettier, but Devlin goes for a back suplex. Breeze flips through and knees him. Devlin avoids an avalanche and hits a slingshot cutter for a near fall. The crowd chants, "This is awesome." Devlin punches away at Breeze before Breeze hits a step-up enzuigiri. Devlin quickly stuns him with a head-butt and hits a Devil Inside for the win.
Winner by Pinfall: Jordan Devlin
---
In-Ring: Bianca Belair, Charlotte Flair, Rhea Ripley
Bianca Belair makes her way to the ring twirling her long hair around. Belair says in a little over a week, she'll be heading to Portland to become the NXT Women's Champion. Apparently Rhea Ripley forgot all about that because she went to Raw and got into Charlotte's business. She doesn't care about a Queen. She wants Rhea Ripley…
Charlotte Flair's music hits, and the winner of the 2020 Women's Royal Rumble comes out to the stage to a big ovation. A loud "Welcome Home" chant fires up. Flair says she loves an "NXT WOO." Flair says she has a lot of respect for Belair and thinks she's an amazing athlete, but she is not her. Flair is tickled Belair and Ripley are fired up talking about The Queen, but it was Ripley that overlooked Belair. Belair made it all about herself.
NXT Women's Champion Rhea Ripley's music hits. Ripley gets in the ring. Flair puts her hand in Belair's face, and Belair is shook. Ripley says if Flair is here for a purpose then she can spit it out because she wants the Queen at WrestleMania. Belair steps between them and says Flair doesn't even go here. Belair says it'll be her and Flair at WrestleMania. She's the EST of NXT. Flair can't whoop her. Flair says this is a conversation for champions, so she can stand in the corner and fix her braid.
Ripley is not happy with this. Ripley says she didn't disrespect Flair in her house, so she better not come in here and disrespect them. Ripley and Belair will tear each other apart at TakeOver, but they are NXT. They attack Flair before lifting her up in the electric chair and dropping her down! An "NXT" chant fires up. Ripley and Belair stare at each other before walking off.
---
The Undisputed ERA (Adam Cole, Bobby Fish & Kyle O'Reilly) vs. Tommaso Ciampa, Matt Riddle & Pete Dunne
The Undisputed ERA make their entrance, and they're attacked from behind by Tommaso Ciampa and The BroserWeights! Pete Dunne kicks and punches away at Bobby Fish. Dunne bends the fingers, but Fish forearms out. Ciampa and Riddle brawl with Roderick Strong. Dunne hits an X-Plex on Fish on the apron. O'Reilly misses a PK Kick, and Ciampa knees him down. Ciampa and The BroserWeights triple-team Strong before sending him into the barricade.
NXT Champion Adam Cole and NXT Tag Team Champions Kyle O'Reilly and Bobby Fish represent the Undisputed ERA.
Order is finally restored, and O'Reilly will start against Ciampa. Ciampa quickly knees and punches him down before having a whip to the corner reversed. Ciampa quickly explodes out of the corner and clotheslines him. Matt Riddle tags in and kicks away at O'Reilly. Bobby Fish tags in, and they exchange punches. Riddle takes Fish down for an arm bar, but Fish rolls him up for a two count. Adam Cole tags in, and Riddle quickly kicks him down. Dunne tags in, and he flips Riddle onto Cole. Dunne follows up with a dropkick. Cole elbows Dunne back, avoids a moonsault, but Dunne hits a snap kick. Cole gets out of the Bitter End and drops him on the apron. Fish grabs Dunne's ankles. Dunne hits Fish with a moonsault off the apron. Roderick Strong slams Dunne off the apron while the referee is distracted. Cole punches away at Dunne and tags Fish in. Fish hits a snapmare and connects with a slingshot senton. Fish knees Dunne to the corner and tags O'Reilly in. O'Reilly attacks before tagging Fish back in. Dunne elbows O'Reilly and drops Fish out of the ring. Dunne hits a missile dropkick to O'Reilly's knee. Fish pulls Dunne back and ducks an enzuigiri. O'Reilly takes it instead.
Riddle tags in and runs wild before hitting O'Reilly with an overhead kick. Riddle hits a pair of exploder suplexes on Fish and O'Reilly before hitting Brotons on them. Cole pulls them out to regroup at ringside.
We come back from the break to see Fish applying a front facelock to Riddle. Riddle fights up and punches out. Fish quickly hits a drop-toe-hold before tagging Cole in. Cole applies a chin lock, but Riddle fights up. O'Reilly tags in, and Cole drops Riddle on his knee for a two count. Riddle punches back at O'Reilly, but O'Reilly applies a guillotine. Riddle powers out, but O'Reilly gets out. O'Reilly blocks a Ripcord Knee and hits a German Suplex. Riddle hits a German Suplex of his own. O'Reilly forearms him, and Riddle takes him out with a PK. They're both down.
Strong distracts Ciampa, and Dunne is pulled off the apron. O'Reilly attacks Riddle, and they take each other out with kicks. Dunne and Cole tag in. Dunne clotheslines Cole and knocks Fish off the apron. Dunne slams Cole before stomping the hands. Dunne kicks Cole in the head before giving O'Reilly an X-Plex onto Cole. Dunne kicks Cole for a near fall. Dunne goes to the top rope for a moonsault, but he lands on his feet. Cole hits a running knee to the head before coming off the ropes. Dunne forearms him out of mid-air, but Cole immediately comes back with an ushigoroshi to pick up a near fall. Fish tags before tagging O'Reilly. Dunne gets out of a double-team and tags Ciampa in.
Ciampa turns O'Reilly inside out before taking Fish down. Cole retreats. Ciampa knees Fish before hitting a belly-to-belly throw on O'Reilly. Ciampa knees O'Reilly before hitting a draping DDT on Strong. O'Reilly kicks Ciampa, but Ciampa takes him down. Ciampa connects with Project Ciampa, but Fish breaks it up. Riddle comes in and spears Fish down. Ciampa grabs O'Reilly before letting him go to tag Cole in. Cole is tagged in. Cole and Ciampa get into a brawl. Cole kicks him back. Dunne and Fish run in. Dunne takes Fish and O'Reilly out. The BroserWeights take Fish out. Cole avoids a double superkick. Strong runs in and knees Ciampa down!
Winners by Disqualification: Tommaso Ciampa and The Broserweights
Strong stomps away at Ciampa. Outside the ring, Fish and O'Reilly hit Dunne with Chasing the Dragon on the floor! They then hit the High/Low on Riddle on the floor! In the ring, Strong hits Ciampa with a backbreaker. The Undisputed ERA stand tall over Ciampa. Cole takes a can of yellow spray paint. The Undisputed ERA holds Ciampa while Cole spray paints an "X" on his back. Cole talks trash before pulling his knee pad down.
All of a sudden the lights go out. 2-5-20 appears on the screen. THE VELVETEEN DREAM IS BACK!! The Velveteen Dream comes off the top rope and attacks the Undisputed ERA! Dream unloads on them while the crowd chants, "Velveteen." Dream superkicks Cole before hitting Strong with a Dream Valley Driver! Dream rips off his tights and reveals another pair of tights with Marina Shafir's face painted on them. Shafir is Strong's wife. Dream stands tall as the show ends.