February 10, 2020
Ontario, California
Commentary: Tom Phillips, Byron Saxton, and Jerry "The King" Lawler
Results by: Mike Tedesco of Wrestleview.com
---
Quick Match Results
Raw Women's Championship: Becky Lynch (c) defeated Asuka via sambo suplex
The Street Profits defeated Mojo Rawley & Riddick Moss via The Cash Out on Moss
24/7 Championship: Riddick Moss defeated Mojo Rawley via small package to win the title
Angel Garza defeated Cedric Alexander via the Wing Clipper
Rhea Ripley defeated Sarah Logan via Riptide
Ricochet defeated Bobby Lashley via 630
Aleister Black defeated Akira Tozawa via Black Mass
Seth Rollins, Murphy & AOP defeated Kevin Owens, Samoa Joe & The Viking Raiders via the Stomp by Rollins on Joe
---
In-Ring: Seth Rollins, Kevin Owens, Samoa Joe, Others
Raw Tag Team Champions Seth Rollins and Murphy are in the ring with AOP. Rollins welcomes the crowd to Monday Night Raw. Rollins is proud to stand here as the Monday Night Messiah. At first this name they gave him he wasn't so sure of, but it's grown on him. Rollins has come to realize how difficult it is for the crowd to speak from their hearts and make difficult decisions. Rollins is here to speak truths and make the tough decisions. Rollins is here to lead them into the future.
Before he can take them into the future, he has to talk about when his disciples AOP and Murphy took on Owens and the Viking Raiders last week. Rezar won the elimination match over Owens. Rollins says Owens and the Raiders interfered later in the night to cost him a shot at Brock Lesnar and the WWE Championship. Forgiveness is a virtue, but his patience is growing very thin when it comes to Kevin Owens and his friends. Rollins says they aren't here to preach a message of divisiveness. They're preaching a message of unity and oneness. They're not leaving until that message is heard.
Kevin Owens' music interrupts Rollins. Rollins warns Owens to not get in over his head. Samoa Joe got in over his head, as did the Viking Raiders, and look what happened to them. Rollins says he is the universe's Monday Night Messiah. If Owens want to be a martyr, that's fine. If he stands alone, he will fall alone. Owens says every week Rollins runs his mouth and sounds stupid as hell. Now he looks stupid. Owens will just keep fighting because he is not alone. The Viking Raiders join him at his side. Rollins says the problem for Owens isn't finding partners… it's keeping them upright. Owens tries to push and shove the Viking Raiders down, but they don't budge. Owens says they're fine and they're ready to go. Owens and the Viking Raiders march down to the ring, and they're cut off by AOP and Murphy. They brawl at ringside while Rollins shouts from the ring.
Samoa Joe all of a sudden comes up behind Rollins and applies the Coquina Clutch. AOP and Murphy break it up, but they're soon sent from the ring by Owens, Joe, and the Raiders. Murphy is hit with a Stunner by Owens to end it.
---
Raw Women's Championship
Becky Lynch (c) vs. Asuka
Raw Women's Champion Becky Lynch comes out while Owens, Joe, and the Viking Raiders are celebrating. She'll face Asuka, next!
WWE Women's Tag Team Champions the Kabuki Warriors come out to the ring. Asuka is laughing and shouting in Japanese on the microphone.
They circle the ring and lock up. Asuka wrenches the arm a few times before Lynch hooks the head. Asuka gets out and applies a side headlock. Asuka takes her down and cinches it in. Asuka then takes her down and taunts her. Lynch quickly boots her and wrenches away at the arm. A "Becky" chant picks up. Asuka forearms her before applying a side headlock. Lynch takes her down. NXT Women's Champion Rhea Ripley will be out later tonight according to the graphic in the corner. Lynch then hits the ropes and shoulder blocks her down before flexing. Lynch blocks a kick and hits a dragon screw. Lynch forearms Asuka back. Sane gets on the apron to taunt Lynch, so Asuka hits a hip attack to send her to the floor.
We come back from the break to see Asuka stomp Lynch and apply an arm bar. Lynch fights up and hits the ropes, but Asuka follows her in and hits a hip attack. Lynch shoves Asuka off and elbows her. Lynch connects with a pair of clotheslines followed by a dropkick. Lynch kicks her in the midsection and hits a diving shoulder block for a near fall. Asuka blocks a right and connects with an inside cradle for a two count. Asuka gets out of a takedown before kneeing Lynch in the face. Asuka hits a sit-out spinebuster for a near fall. Lynch sidesteps Asuka and sends her out of the ring. Lynch connects with a baseball slide. Lynch then comes off the apron with a diving forearm on Sane. Sane shoved Asuka out of the way before Lynch hit that move on her.
Asuka attacks Lynch from behind. Asuka gets her in the ring, but Lynch boots her back. Lynch comes off the ropes, but Asuka counters into a codebreaker for a near fall. Asuka goes for a running hip attack, but Lynch moves. Lynch then applies a Dis-Arm-Her on the ropes. Lynch and Asuka then fight it out on the apron before Lynch hits a reverse DDT.
We come back from the break to see Asuka hit Lynch with a superplex for a near fall. Asuka kicks her in the face for another near fall. Asuka immediately goes to an arm bar. Lynch fights out, but she soon gets caught in a triangle choke. Lynch gets to her feet and pulls Asuka up with one arm before slamming her. The momentum sends Lynch's head into Asuka's jaw. Lynch covers, but Asuka kicks out.
Lynch goes to the top rope for a diving leg drop, but Asuka moves. Asuka immediately goes to the Asuka Lock. Lynch struggles and prevents Asuka from fully applying it. Asuka rolls her up for a near fall. Lynch avoids a kick and rolls her up for a two count. Lynch grabs the arm, but Asuka rolls her up. Lynch then hits a sambo suplex for the win.
Winner by Pinfall and still Raw Women's Champion: Becky Lynch
Segment: Shayna Baszler, Becky Lynch
All of a sudden, Shayna Baszler attacks Lynch from behind! She punches away at Lynch before applying the Kirifuda Clutch. Baszler shoves Lynch down and stands over her. Baszler clears the hair off the back of Lynch's neck and bites down! Lynch screams in pain. When Baszler releases, her mouth is covered in blood from breaking the skin! Baszler leaves the ring as Lynch screams in pain. The referee checks on Lynch.
After commercials, we go backstage to see trainers checking on Becky Lynch. She shouts that it's just a flesh wound.
---
Mojo Rawley & Riddick Moss vs. The Street Profits
WWE 24/7 Champion Mojo Rawley is in the ring with Riddick Moss. The Street Profits come out and mock Rawley for riding Rob Gronkowski's coattails.
The Street Profits make quick work of Riddick Moss, finishing him off with a double-team spinebuster/frog splash for the win. They're calling the move the Cash Out.
Winners by Pinfall: The Street Profits
After the match, a shocked Mojo Rawley, who was never tagged in because the match was so short, gets rolled up by Moss. There's no referee so they're just doing the roll up for a few seconds. The referee then counts the pin, and Riddick Moss escapes with the WWE 24/7 Championship.
New 24/7 Champion: Riddick Moss
---
Backstage: Becky Lynch
Was that @BeckyLynchWWE BEHIND THE WHEEL?!#Raw 🚑🚑🚑🚑🚑🚑🚑🚑🚑🚑🚑 pic.twitter.com/4PTmnW0KxD

— WWE (@WWE) February 11, 2020
We go outside to see Becky Lynch being brought to an ambulance. She does not want to go to the hospital. She kicks the door shut and shoves an EMT. Then she pulls another EMT out of the driver's seat and drives herself to the hospital.
---
In-Ring: VIP Lounge with MVP and Drew McIntyre
MVP is in the ring for the VIP Lounge. MVP says he shouldn't have left, but it's been 10 years. Here at the VIP Lounge, big things are still poppin', little things are stoppin', and the VIP Lounge is still for people better than you. MVP introduces Drew McIntyre to the ring.
Drew McIntyre comes out to a big reception and kicks through the rope barrier to the VIP Lounge. MVP says he's done a lot and is going to WrestleMania. McIntyre says whenever someone mentions WrestleMania, he has to point at the sign. MVP says a lot of non-VIP people are saying that McIntyre is not ready to be WWE Champion yet. The crowd boos. MVP says they're unimportant people. They go way back and will change that line of thinking. McIntyre asks why MVP said "we." They did not win the Royal Rumble together. MVP says McIntyre's best days are ahead of him while his in-ring days are behind him. MVP says McIntyre doesn't need to worry about all the interviews and such that come with this. McIntyre needs somebody like him. The crowd boos. MVP shouts for them to be quiet. That's why the crowd is out there and they're in here.
McIntyre asks the crowd what they think, and the crowd doesn't like it. McIntyre says MVP wants to be his advocate, his Paul Heyman. MVP says he'd be a better looking Paul Heyman. McIntyre says unlike Brock Lesnar, he doesn't need an external brain thinking or talking for him. He definitely doesn't need a business partner like MVP kissing his ass. MVP says he's never been an ass kisser. He's always been an ass kicker. McIntyre goes to walk off, so MVP grabs him by the wrist. MVP warns him not to turn his back while he talks to him. McIntyre gives MVP the Glasgow Kiss and throws a table out of the ring. McIntyre takes his shirt off to a big reception before counting down and hitting a Claymore Kick that sends MVP over a couch! McIntyre celebrates and mocks MVP's taunt.
---
Cedric Alexander vs. Angel Garza
Zelina Vega says she'll show everyone why Angel Garza is a man's man. Footage is shown of Garza attacking his cousin Humberto Carrillo before hitting a Wing Clipper. Garza pulls the ringside mats back until Rey Mysterio ran down for the save. Garza attacked Mysterio from behind and gave him a DDT on the concrete floor. Garza is laughing and asks if the crowd saw that. Yes, he is a man's man because no other man has measured up. He's also a ladies man because no woman in the world can resist him.
Humberto Carrillo runs down and viciously takes him down before punching away at him. Carrillo hits another takedown and punches away at his cousin. Referee and security pull Carrillo back and pull him to the back. The referee tells Garza to get in the ring and face Cedric Alexander.
Zelina Vega almost immediately distracts Alexander, allowing Garza to take him down. Garza applies a straitjacket submission. Alexander reverses it. Garza puts him on the apron, and Alexander quickly knocks him back before hitting a hurricanrana. Alexander kicks him back before hitting a running forearm in the corner. Alexander dropkicks him in the neck before going for a baseball slide. Garza catches him and slams him down on his face on the floor. Garza goes to pull the ringside mats back, but he stops when he sees Alexander isn't totally out. Alexander quickly knocks him into the steel steps and puts him in the ring. Alexander comes off the top rope, but Garza dropkicks him out of mid-air. Garza rips his pants off before hitting Alexander with the Wing Clipper for the win.
Winner by Pinfall: Angel Garza
---
Backstage: Rhea Ripley, Sarah Logan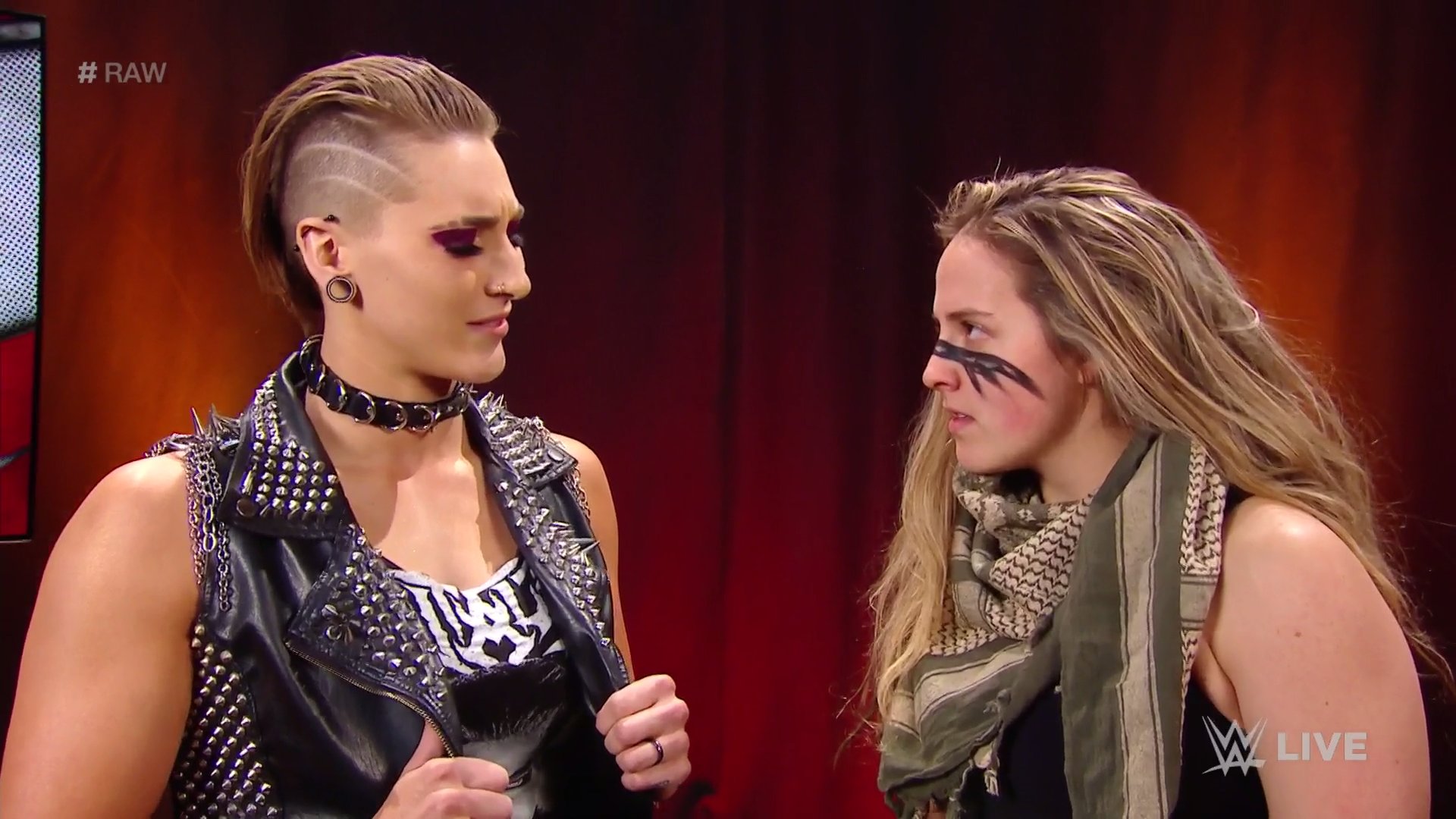 Footage is shown of NXT Women's Champion Rhea Ripley challenging Charlotte Flair last week on Raw.
Charly Caruso is backstage with NXT Women's Champion Rhea Ripley. Charly asks if she's still waiting for an answer from Charlotte Flair. Ripley says she doesn't wait for anything. She gets what she wants. Charly asks if she's getting ahead of herself since she still has to defend the NXT Women's Championship against Bianca Belair at NXT TakeOver: Portland this Sunday. Sarah Logan comes up and confronts Ripley. Ripley asks who she is and walks off.
---
This Friday on SmackDown, Bayley will defend the SmackDown Women's Championship against Carmella.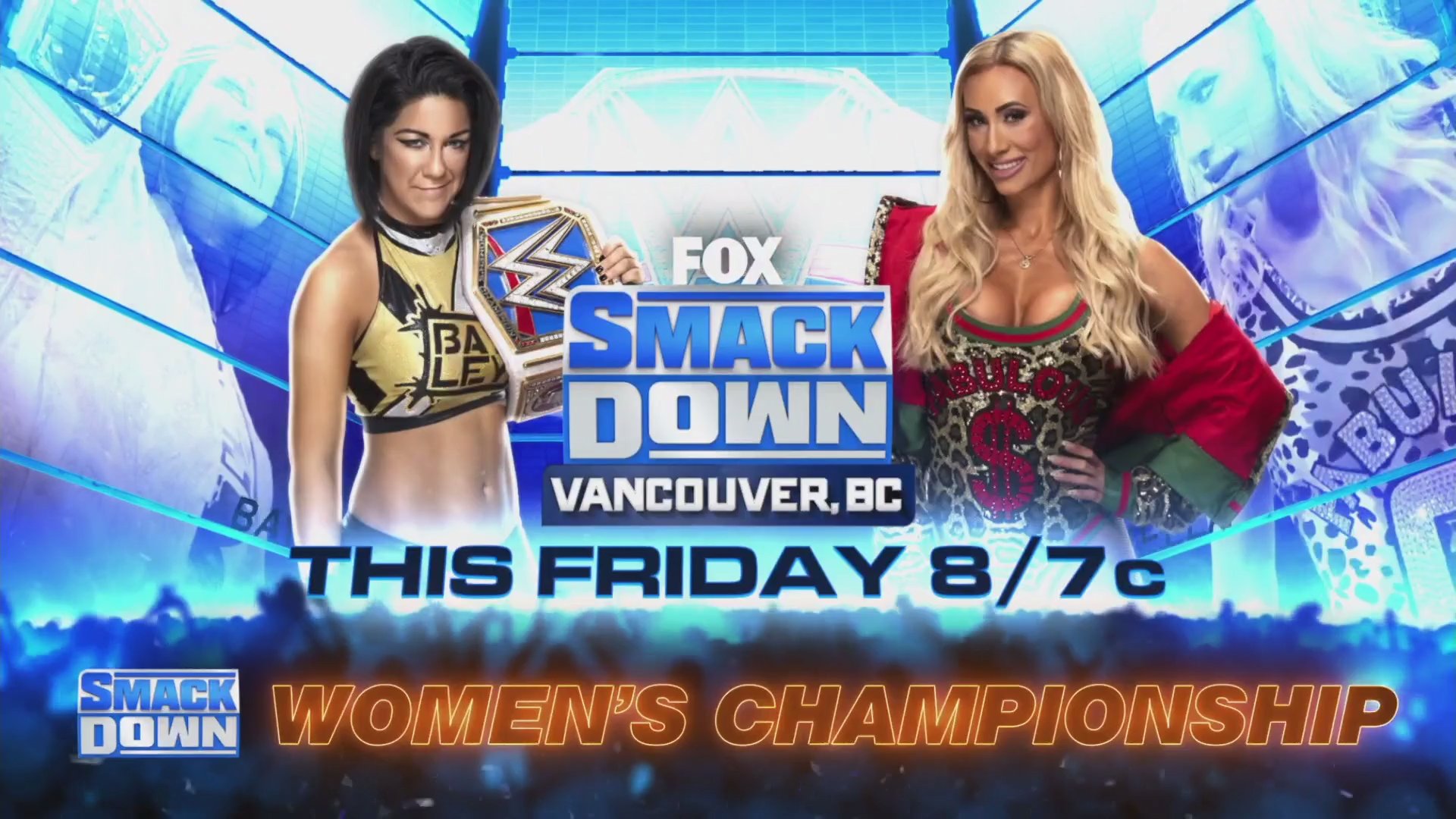 ---
Backstage: Bobby Lashley, Lana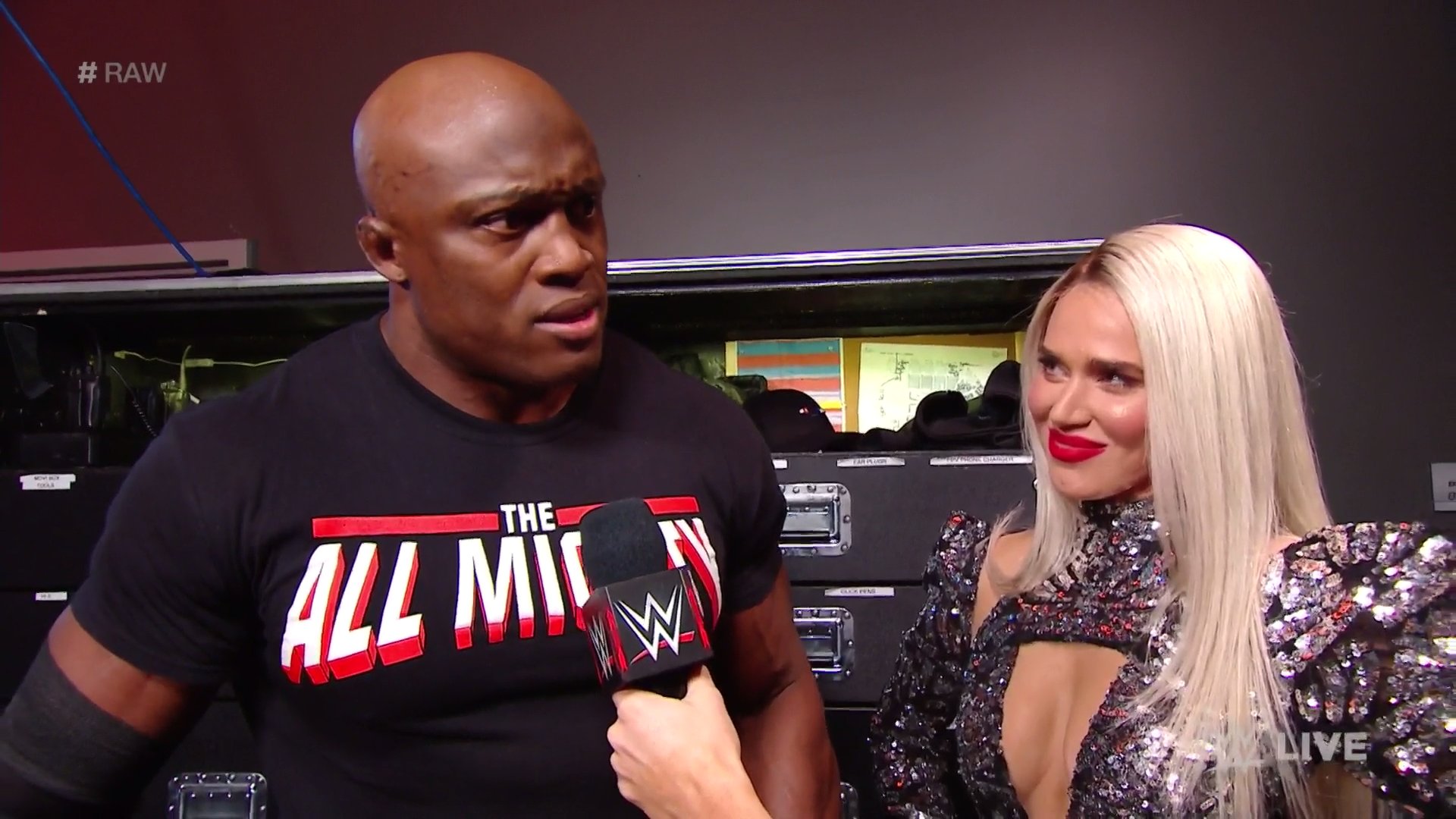 Sarah Schreiber is backstage with Bobby Lashley and Lana. Schreiber mentions that last week didn't go as he'd hoped. Lana cuts her off and tells her to be respectful. Lana says it was Bobby Lashley's dream to face Brock Lesnar at Super ShowDown. Lashley says Ricochet took his opportunity, but never dreamed what he'd do to him. Lashley says Ricochet won't make it to Super ShowDown. Brock Lesnar can thank him for this one.
---
Sarah Logan vs. Rhea Ripley
Sarah Logan is walking out to the ring. If Rhea Ripley wants to know who she is, she is Sarah Logan. The crowd boos. Logan says she will defend her turf by any means necessary. Logan orders Rhea Ripley to get out here right now. Ripley obliges.
Before the match begins, Charlotte Flair walks out to the stage to watch.
Ripley immediately big boots Logan before hitting a short-arm clothesline. Ripley pulls her up and hits another short-arm clothesline while staring at Flair. Ripley dropkicks Logan down before hitting the Riptide for the win.
Winner by Pinfall: Rhea Ripley
Flair smiles from the stage. Ripley asks for her answer. Last week, she invited Flair to challenge her at WrestleMania for her NXT Women's Championship. She traveled to Raw, no answer. Flair came to NXT, no answer. Flair says that's maybe just how The Queen operates. Ripley says maybe Flair just enjoys being a royal pain in her… Flair cuts her off and asks how we even know Ripley will be the NXT Women's Champion after NXT TakeOver: Portland. Flair lets out a "WOO."
---
WrestleMania 37 is going to Hollywood on March 28, 2021.
Mark your calendars. @SoFiStadium #WrestleManiaGoesHollywood pic.twitter.com/O4WKGLWasZ

— WWE WrestleMania (@WrestleMania) February 11, 2020
---
Bobby Lashley vs. Ricochet
Video Package: Ricochet wins a triple threat to face Brock Lesnar at WWE Super ShowDown for the WWE Championship. Ricochet says nobody is going to take this opportunity from him. This is the biggest opportunity of his career.
Ricochet starts off quickly with some flying forearms. Lashley reverses a whip to the corner, but he runs into a boot. Lashley quickly responds with a corner clothesline. Lashley sends him to the corner, but Ricochet slingshots over him. Ricochet hits the ropes, but Lashley clotheslines him down. Lashley goes for a press slam, but Ricochet gets down. Lashley kicks Ricochet and sends him to the corner. Ricochet twists out of the way. Ricochet kicks him back and hits a springboard dropkick to take him out of the ring. Ricochet hits a suicide dive and puts Lashley in the ring. Ricochet sidesteps Lashley and sends him out of the ring again. Ricochet then hits a beautiful somersault plancha!
We come back from the break to see Lashley whip Ricochet into the corner, sending him up and over a la Harley Race. Lashley goes outside and tries to send him into the steps, but Ricochet jumps to the top of the steps. Ricochet kicks him back and hits a moonsault block! Ricochet gets him in the ring for a two count.
Lashley drops Ricochet onto the apron, but he's kicked back. Lashley quickly comes back and sends Ricochet into the ring post. Ricochet falls to the floor. Lashley talks trash and steps on his face. Lashley viciously whips him into the barricade before putting him in the ring. Lashley applies a chin lock while they show an advertisement for the Sonic the Hedgehog movie. Ricochet dropkicks Lashley twice before hitting a running shoulder block. Ricochet hits a springboard cross-body block before connecting with a standing shooting star press for a two count. Lashley fights back and hits a scary back body drop. Lashley then hits a one-armed slam for a near fall.
Lashley goes for a top rope back superplex, but Ricochet flips through and lands on his feet. Even Ricochet is stunned. Ricochet takes Lashley down and hits a 630 for the win.
Winner by Pinfall: Ricochet
---
In-Ring: Randy Orton, Matt Hardy
Randy Orton comes out and walks around for a bit. Orton says he still owes everyone an explanation. What he did to Edge hurt him more than it did Edge.
Matt Hardy's music hits, and he comes out to the ring. Hardy says everyone wants to know why Orton did it. Hardy knows what Orton is thinking right now. Why does Matt give a damn about Edge? Everyone knows the history with Hardy and Edge, it's no secret. A "Lita" chant picks up. Hardy says there was one point in time when no one on Planet Earth hated Edge more than him. Before that, they were best friends for years. The Hardy Boyz and Edge and Christian would stay in the same hotel room just to save a few bucks. They were young, hungry kids trying to live their dreams. At No Mercy in 1999, they revolutionized the Ladder Match. A "TLC" chant picks up. Hardy says they invented the TLC match. The TLC match became so iconic, it will be a staple of WWE forever. Those young kids that had big dreams went to WrestleMania and stole the show on more than one occasion. They didn't do it alone. They did it together. That means something.
When he saw that Edge was forced to retire due to injury, any hate or disdain he had was gone. In so many ways, Hardy and Edge are similar. They love performing for the WWE Universe. Hardy couldn't imagine if this was taken from him before he was ready. After Edge retired and they were cool, Edge would call Hardy and ask, "What if…" Nine years later after he retired due to injury, Edge made the most miraculous return ever. Orton took that away. Orton puts his head down. Hardy asks what in the hell is wrong with Orton.
Orton goes for an RKO, but Hardy pushes him off and attacks. Orton shoves him off and hits an RKO. Orton goes outside and grabs two chairs. Orton then gives Hardy a one man con-chair-to. Orton looks down at the destruction before walking off.
---
Backstage: Ruby Riott
.@RubyRiottWWE explains that she returned to put @YaOnlyLivvOnce "back in her place." #RAW pic.twitter.com/GtUaMunWBI

— WWE (@WWE) February 11, 2020
Replays are shown of Ruby Riott returning to take out Liv Morgan.
Sarah Schreiber asks Ruby Riott why she has so much animosity toward Liv Morgan. Riott says she knows the real Liv Morgan. She can take the pink out of her hair, change her clothes, and pretend she went through a metamorphosis. Morgan will always be a follower. Riott had to babysit. She's back to put Morgan in her place. Morgan strikes when Riott says so.
---
Akira Tozawa vs. Aleister Black
The bell rings, and they circle the ring. Black soon back elbows him down before forearming him in the corner. Black sends him to the opposite corner, but Tozawa boots him back. Tozawa hits a missile dropkick. Black quickly comes back with a pop-up knee strike. Black lifts him with his foot and connects with the Black Mass for the win.
Winner by Pinfall: Aleister Black
Black says he's enjoyed for the past few weeks sharing these intimate moments with the crowd. That is what it is all about. Everyone here tries to escape their given idea of paradise one way or the other. Black knows a thing or two about rebelling against paradise. As for himself, he's starting to feel like an animal inside a cage. Black sits in the middle of the ring. For those that venture out here, know that it's not him that's in there with them. It is them that shall be trapped inside this metaphoric cage with him.
---
Segment: Becky Lynch
Raw Women's Champion Becky Lynch drives back to the arena and gets out of the ambulance. She's walking with a purpose despite allegedly missing a lump of skin near her brain stem.
After commercials, Becky Lynch walks out with blood still on her hands. Lynch has some bandages on the back of her neck. Lynch calls out Shayna Baszler and says if she wanted to get her attention, she didn't need to sink her rat teeth into her skin. She has Lynch's attention. Lynch will break her down week by week until she beats Baszler. Baszler better find her before she does. Lynch walks off.
---
The Tuwaiq Trophy Gauntlet Match has been added to WWE Super ShowDown. AJ Styles, R-Truth, Rusev, Rowan, Andrade, and Bobby Lashley will participate.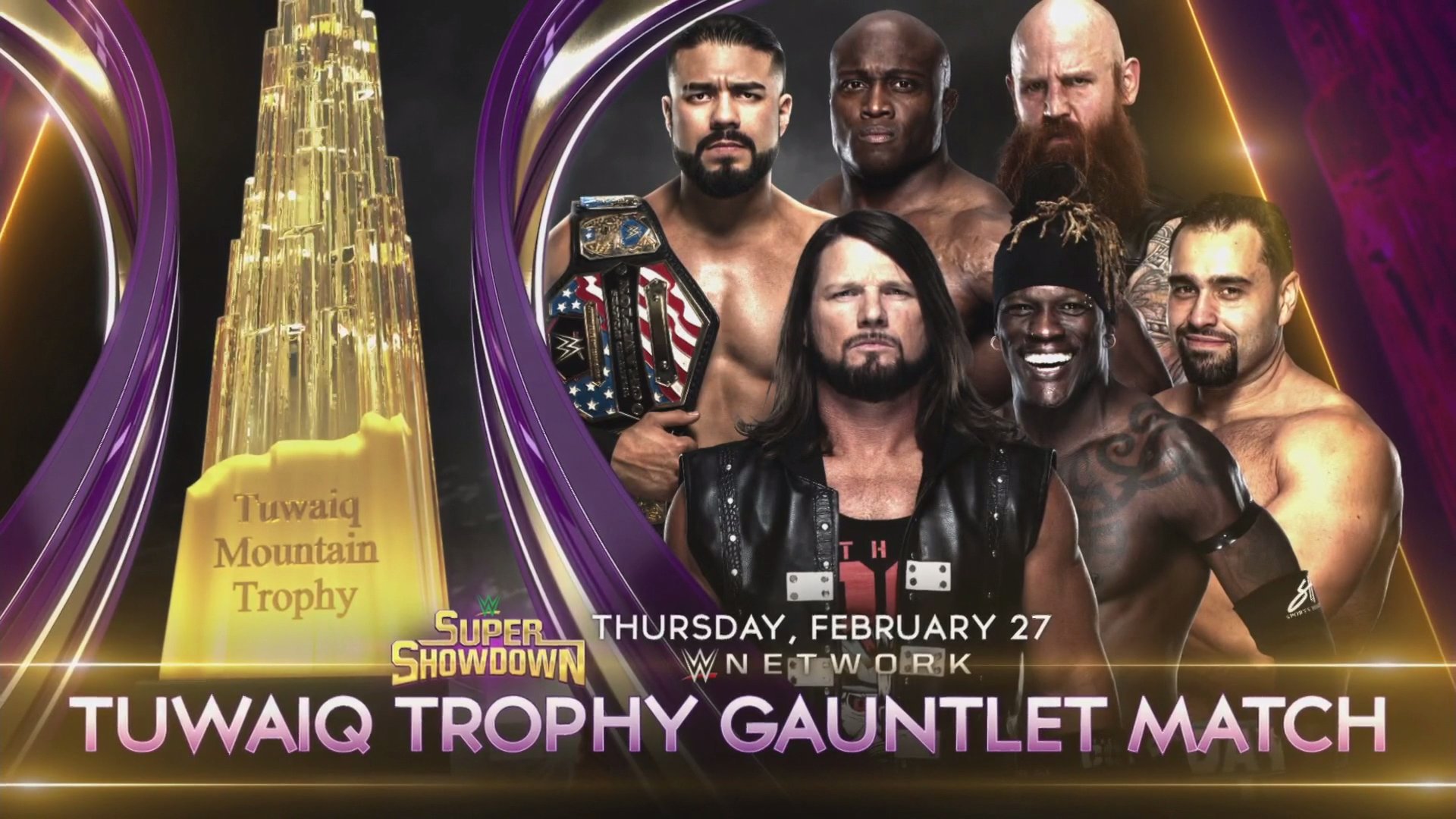 ---
Kevin Owens, Samoa Joe & The Viking Raiders vs. Seth Rollins, Murphy & AOP
Seth Rollins was trying to delegate who would start, and a brawl breaks out.
We come back from the break to see Erik slam Murphy down. Ivar tags in and knees Murphy before sending him into Erik's knee. The Viking Raiders celebrate. Ivar viciously slams Murphy before tagging Samoa Joe in. Joe jabs away at Murphy before beating him down. Joe sends Murphy to the corner and hits a running back elbow before connecting with a snap kick. Owens tags in and hits a slingshot elbow drop. Owens tells Rollins to "suck it," infuriating him. Ivar scoop slams Murphy before Erick slams him onto him. Erik picks up a two count.
Murphy quickly knees Erik back before tagging Akam in. Erik knees Murphy in the face and turns into a spinebuster from Akam. Rezar tags in, and Akam slams Erik into Rezar's knee. Rezar picks up a two count. Rollins tags in and kicks Erik in the midsection before ripping at the face and applying a chin lock. Erik fights up and tags in Ivar. Ivar hits a clothesline.
We come back from the break to see Rezar attacking Owens at ringside. Murphy tags in, and Owens hits a fallaway slam into the barricade. Rollins puts Owens and Murphy in the ring. Rezar tags in and stops Owens from making the tag. Rezar applies a neck vice. Owens eventually fights up and tags Samoa Joe in.
Rollins also tags in. Joe takes Rollins down with an inverted atomic drop and a senton splash. Joe sets up for a suicide dive, but AOP blocks him. The Viking Raiders then take them out. Joe, Erik, and Ivar then hit suicide dives! In the ring, Rollins kicks Joe and sets up for a Stomp. Joe counters into a Coquina Clutch attempt. Rollins hits a jawbreaker, so Joe comes back with a uranage. Murphy breaks up the pin. Owens superkicks Murphy, and Akam big boots Owens. Erik hits an exploder suplex on Akam. Rezar takes out Erik, and Ivar gives him a seated senton. Murphy quickly knees Ivar down and gets out of the ring. Owens climbs to the top turnbuckle, stands on the ring post, and wipes everyone out with a crazy somersault senton to the floor!
in the ring, Rollins misses a Stomp. Murphy blind tags in. Joe goes for a Coquina Clutch on Rollins, but lets go when Murphy comes off the top rope. Joe applies the Coquina Clutch to Murphy and he taps out, but the referee is distracted by AOP. Rollins hits Joe with the Stomp, and Murphy picks up the win.
Winners by Pinfall: Seth Rollins, Murphy, and AOP